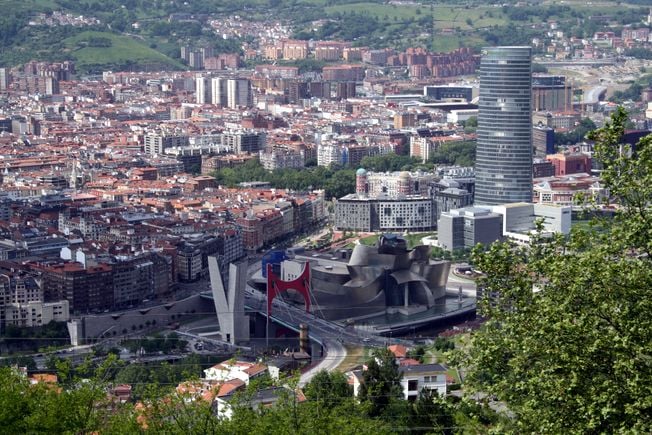 Sunshine, beaches, flamenco dancers and bull fights-- images of typical Spain, right? If you're talking about Andalusia, perhaps, but Spain is an extremely diverse country and offers a lot more than sunshine and sangria. Ale and I had the chance to visit Bilbao for our anniversary; it was our first time in Northern Spain as tourists (we had both been previously for work). Our preconceptions of a gloomy, industrial city were thrown out the window as we were met with sunny and colorful Bilbao.
I had surprised Ale with the trip for our anniversary gift. Since we have two anniversaries, our plan is that I take care of our first anniversay (June 3rd) and he takes care of the second (July 30th). We'll see what he has planned for me...
We flew to Bilbao with Ryanair, which offers summer flights for around 40€ per person round trip. Ryanair may have a shady reputation, but you just can't beat that price! Upon arrival, the airport bus whisked us into the city in about 20 minutes. I've lived in Spain for three years now, but I am still wowed by the public transportation options.
Located just across from the architectural marvel that is the Guggenheim Museum, we stayed at the lovely Hotel Miró. The view from our room could not be beat!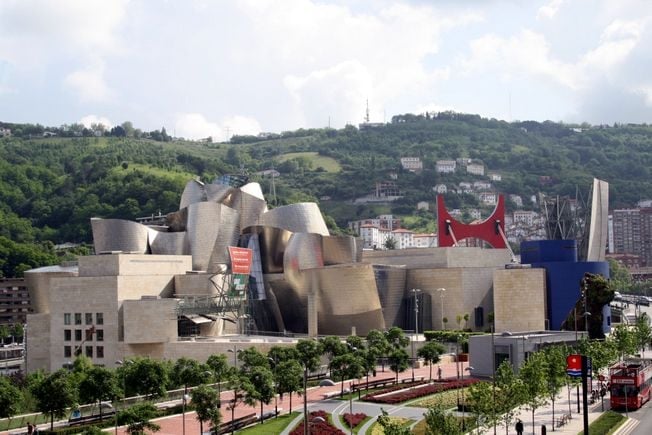 Hotel Miró was a fantastic choice. It offers a great location, beautiful views, comfortable rooms, a breakfast buffet, and a complimentary beer and sangria bar all day long.
Bilbao is the largest city (although not the capital) of Basque Country (País Vasco). If you aren't familiar with Spanish history and politics, Basque Country is one part of Spain where there are groups of people who would like to see it become its own separate country. Interestingly, the native language in Basque Country, Euskara, is one of the oldest languages spoken in Europe, with hardly anything known about its origin. It is seemingly unrelated to any other language in the modern world. It's said that about 30% of people in Basque Country speak Euskara, but, surprisingly, we never heard it while in Bilbao.
Bilbao is also known for being an industrial city, and we were expecting grey, boring buildings and not much in terms of architecture besides the famous Guggenheim. We were surprised that, in addition to the stunning museum, the city was full of beautiful buildings and cathedrals, as well as modern scultpures and art.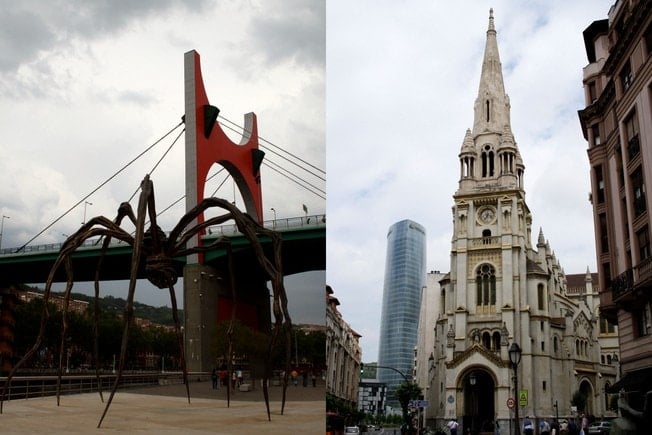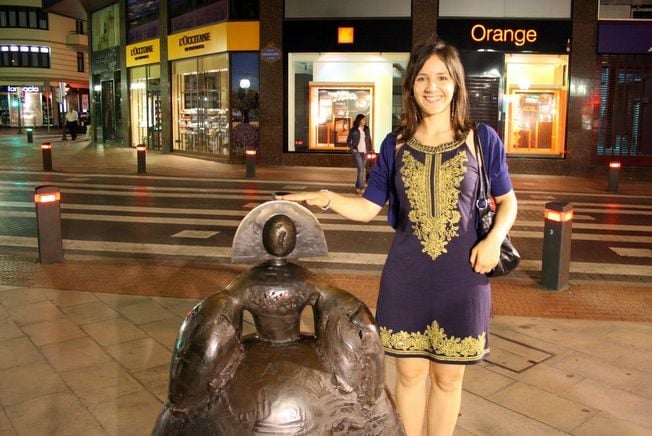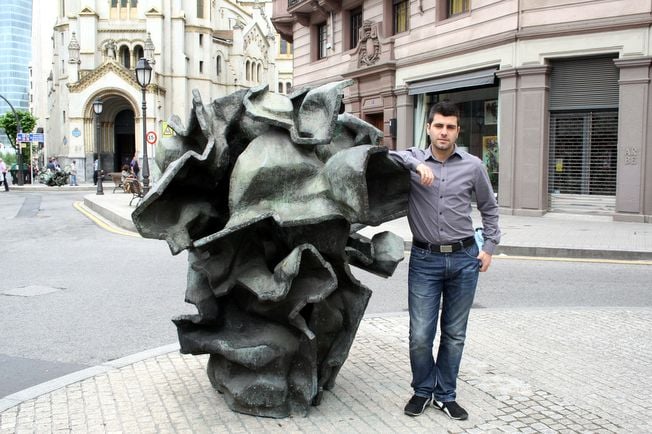 I was expecting to find some great pintxos in Bilbao, and armed with suggestions from friends like Christine in Spain and after spending our first night out with Bilbao local Liz en España, I discovered more than enough amazing pintxos to enjoy in only one weekend.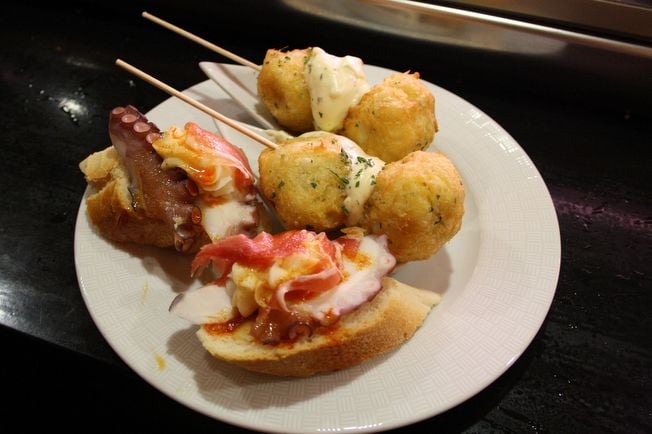 I would recommend Bilbao as a weekend getaway for anyone living in Spain. It especially makes an excellent and inexpensive trip from Madrid.
If you get the chance to visit Bilbao here is what you can't miss:
Marvel at the Guggenheim
The Guggenheim Museum is a modern art museum, but the real appeal is the building itself. We didn't end up going inside, but we did spend hours throughout our trip just staring at it from different angles and at different times of day.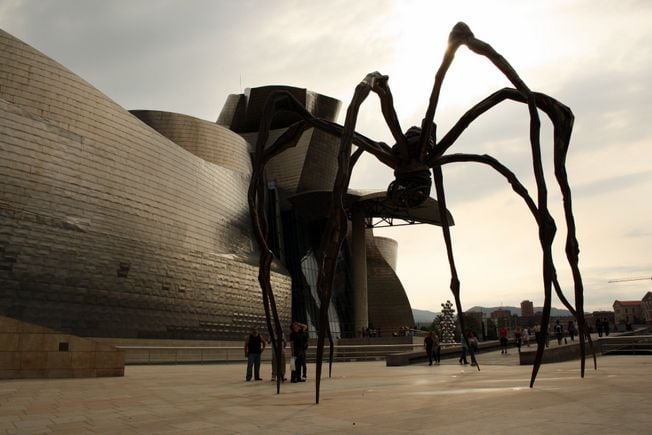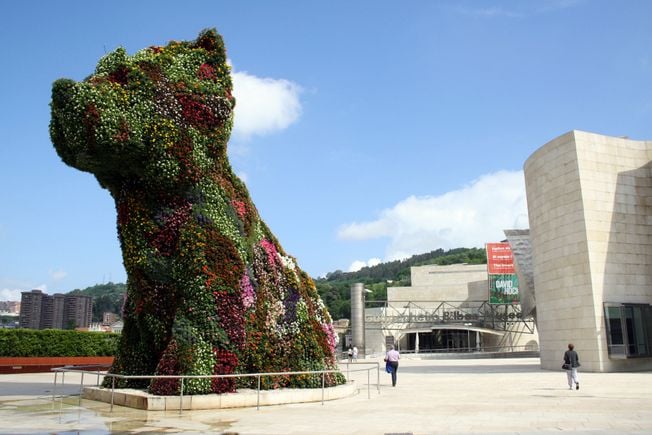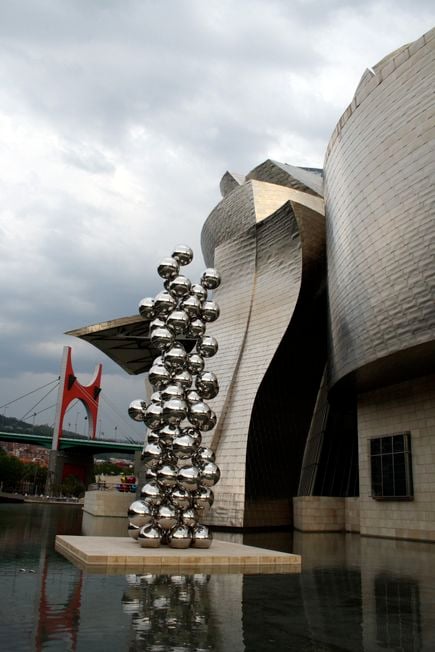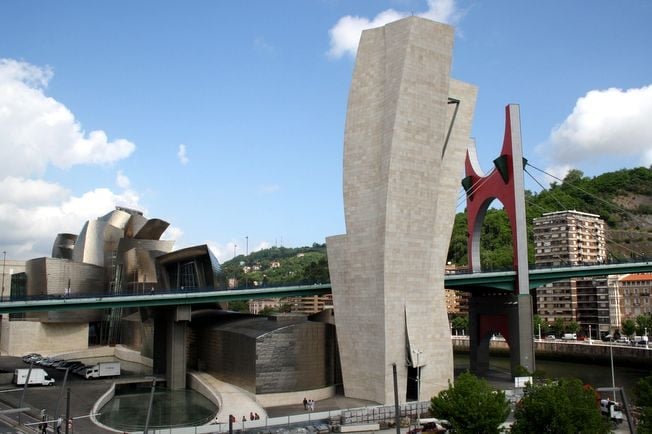 Eat Pintxos
The food in Bilbao was incredible and cheap. Just about any bar had a variety of tempting pintxos to choose from, and they were a deal, ranging from 1€-3€ per pintxo. My favorites made use of the area's world renowned seafood, like this skewer with grilled octopus and shrimp.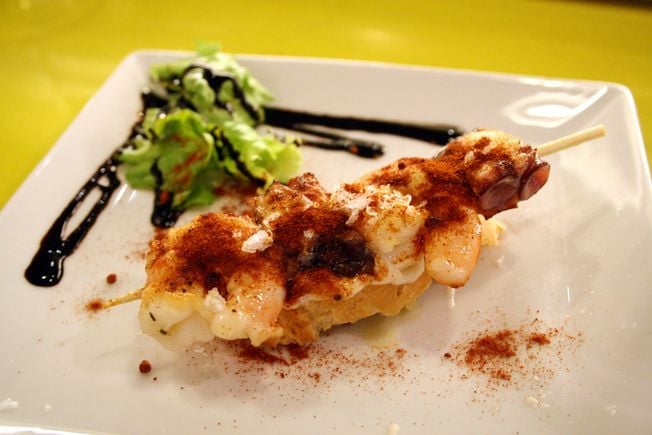 See Bilbao from Above
Normally, you are able to take a cable car up the hill to see a fantastic view of Bilbao from above. Unfortunately, the cable car service was suspended when we visited, but taking the bus up was still well worth it. The views are gorgeous and the small park at the top is peaceful and romantic.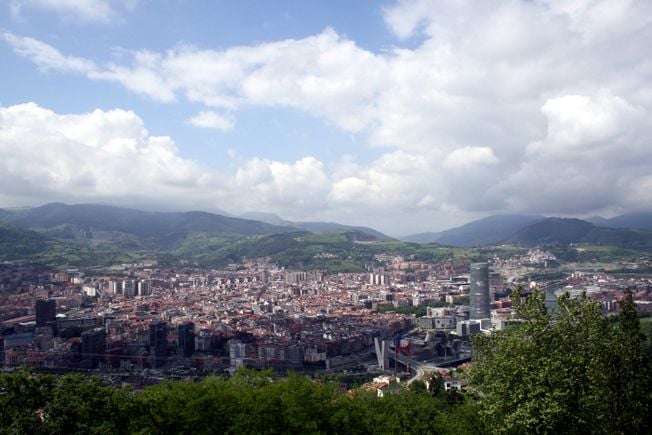 Take a Stroll along the Nervión River
Bilbao's Nervión River is beautiful, and taking a walk from the Guggenheim to the old part of town will take you about a half an hour. On the way you will pass modern bridges and get some great shots of the Guggenheim from afar.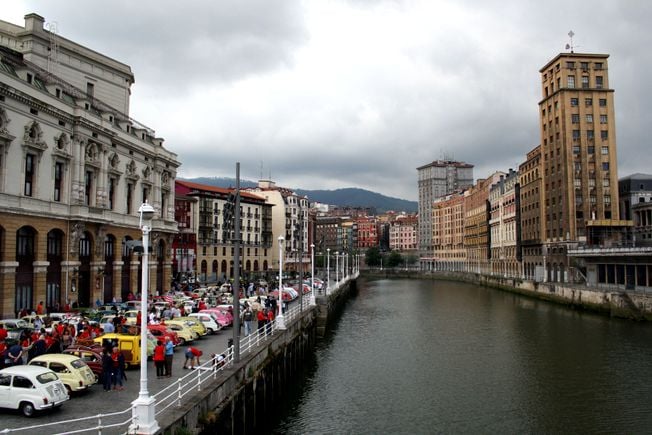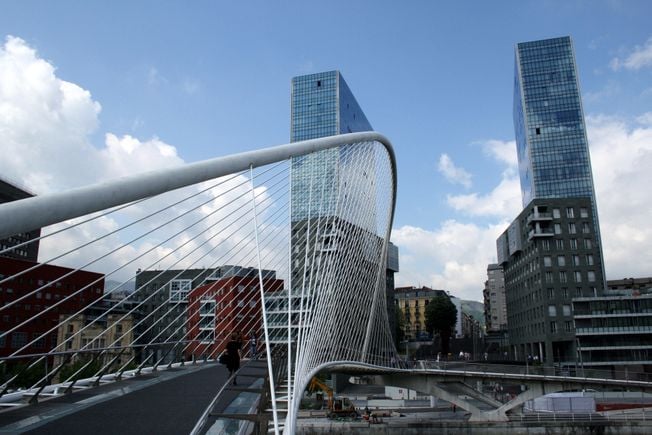 Explore the Old Town
The old quarter of Bilbao is very charming, with narrow streets and towering churches. Filled with small shops and pintxo bars, it is the perfect place to get lost and grab a snack whenever you get hungry.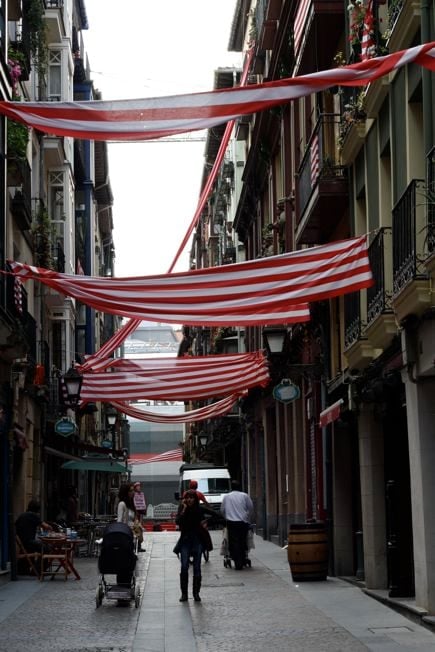 Visit the Alhóndiga
Alhóndiga Bilbao is a former wine warehouse turned cultural center. Offering restaurants, art, architecture, a public swimming pool, and even a posh rooftop bar, the Alhóndiga is a must see both during the day and at night.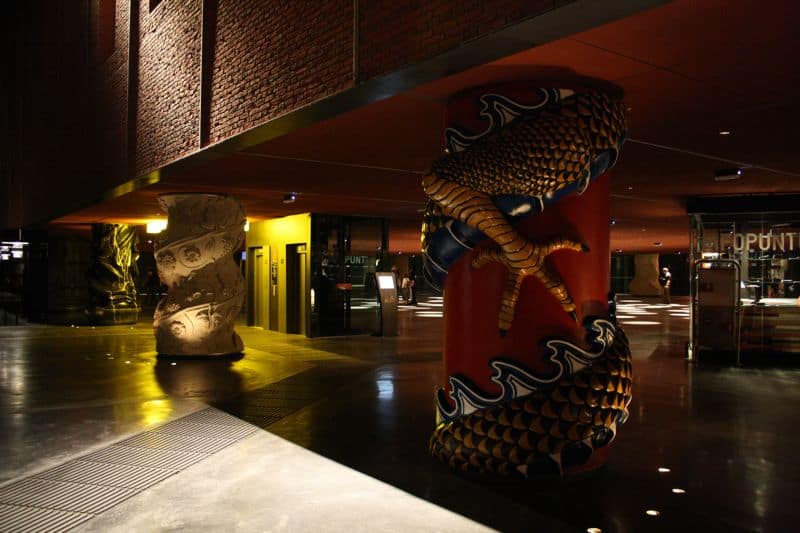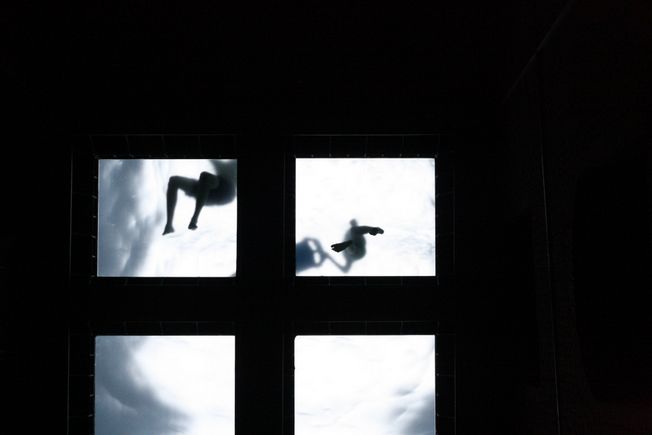 Bilbao was fantastic and I can't wait to return. Next time we get a chance to go up north, I'm dying to visit nearby San Sebastián, and check out some of the area's beaches too. I seriously recommend Bilbao to anyone traveling-- whether with friends, family, or alone, and with any budget-- from five star luxury to budget backpacking.
Pin me!