Today Melissa breaks down a great plan for 24 hours in Madrid (though we both agree - you should always stay longer!)
Madrid is too often overlooked by international travelers. Far from the beaches of Valencia and San Sebastian, the whitewashed villages of Andalusia, and the iconic architecture of Barcelona, tourists may not place it at the top of their travel lists-- but they should. Once people experience the vibrancy and hospitality of Spain's capital city, there's no denying it's one of Europe's treasures.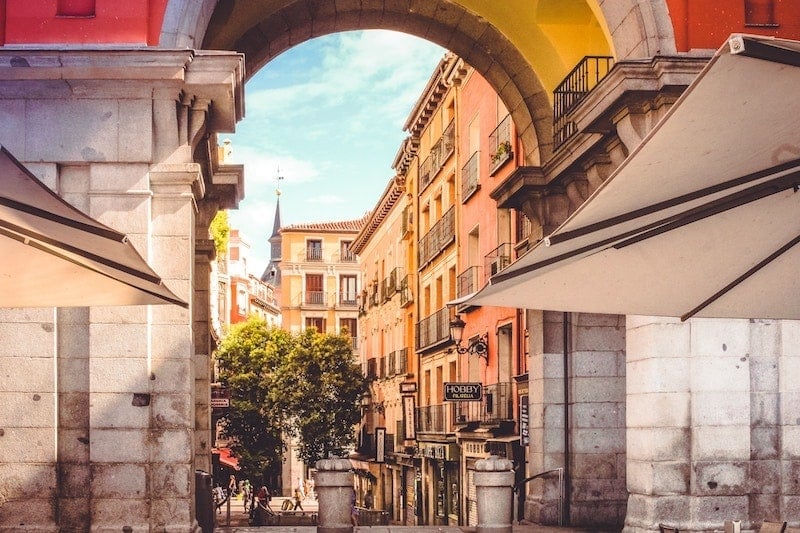 The Spanish capital is rich in history, culture, food, art, shopping and so much more. So even if you're only here for only one night, it's worth your while to experience the city. Make the most of your time with this guide to what to do in Madrid in 24 hours -- hopefully next time you'll stay longer 🙂
The perfect day: 24 hours in Madrid
Here's my step-by-step guide to experiencing the top spots in Madrid in just one day.
8:00 a.m. – Rise and shine
You'll want to get started early to take full advantage of the day, especially in the scalding summer months to avoid the afternoon heat!
Head to a café for a quick and traditional Spanish breakfast: toast with tomato and olive oil or butter and jam. Wash it down with a café con leche for a quick kick of caffeine. It's not the world's heartiest breakfast... but there will be plenty of time for snacks later.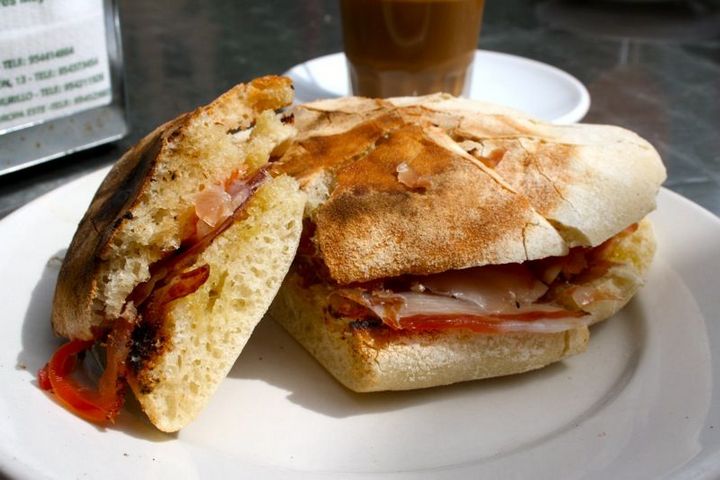 Make it at home: Spanish Café con Leche Recipe
9:00 a.m. – See the essential sights
Madrid is an incredibly walkable city, and it's easy to visit all the main landmarks on foot. Start at the center of it all: Puerta del Sol, featuring the famous statue El Oso y el Madroño (The Bear and the Strawberry Tree).
From there, walk down Calle Mayor toward the river. Stroll by the Teatro Real, the Royal Palace, and Almudena Cathedral. Since you're short on time, don't worry about going inside; these places are just as impressive from the outside as they are within.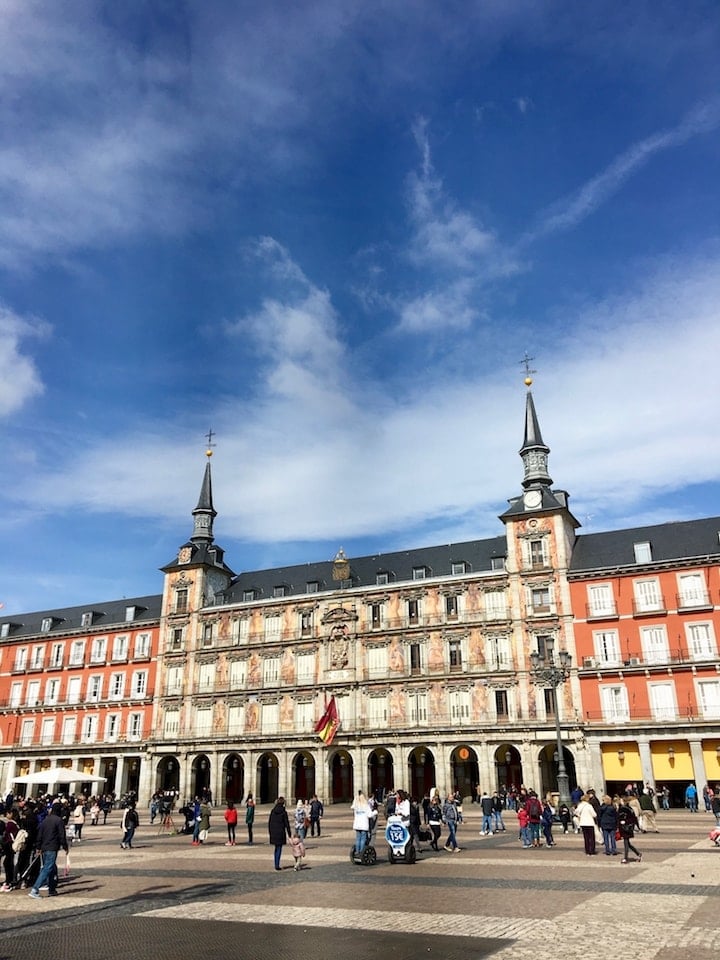 Wander down to La Latina and admire the old buildings and their balconies. The narrow, winding streets make it easy to get lost, but that's part of their charm. Find your way to Plaza Mayor for a glimpse of the city's iconic central square.
11:00 a.m. – Rest and refuel
Take a break and grab something from one of Madrid's many bakeries. I suggest a croissant or a chocolate-filled napolitana. A mid-morning snack is essential to keep up your energy, as Spanish lunchtime isn't until 2 or 3 p.m. This is a great time of day to relax on a terrace and do some people-watching!
See also: 9 best pastry shops in Madrid
Alternatively, you can visit the historic Mercado de San Miguel near Plaza Mayor, one of the city's most vibrant displays of Spanish cuisine. Opened in 1916, this gorgeous iron-sided market hall offers everything from fresh fish to artisanal chocolates, to suit every appetite.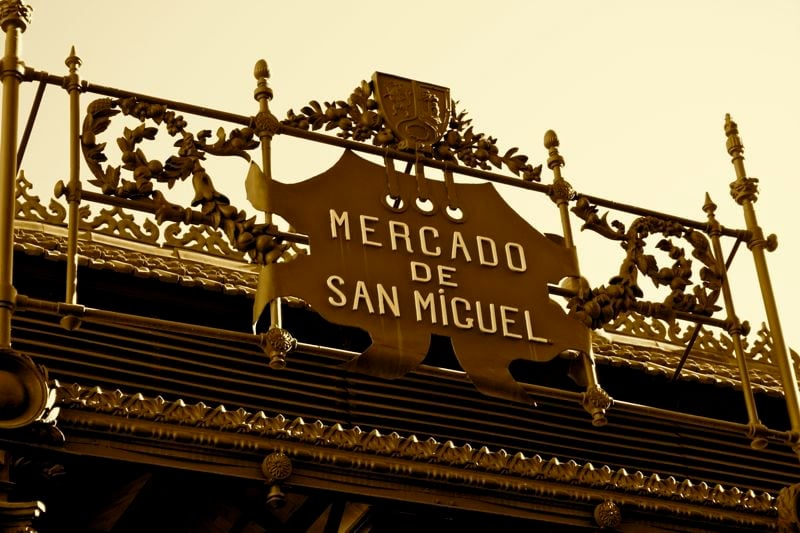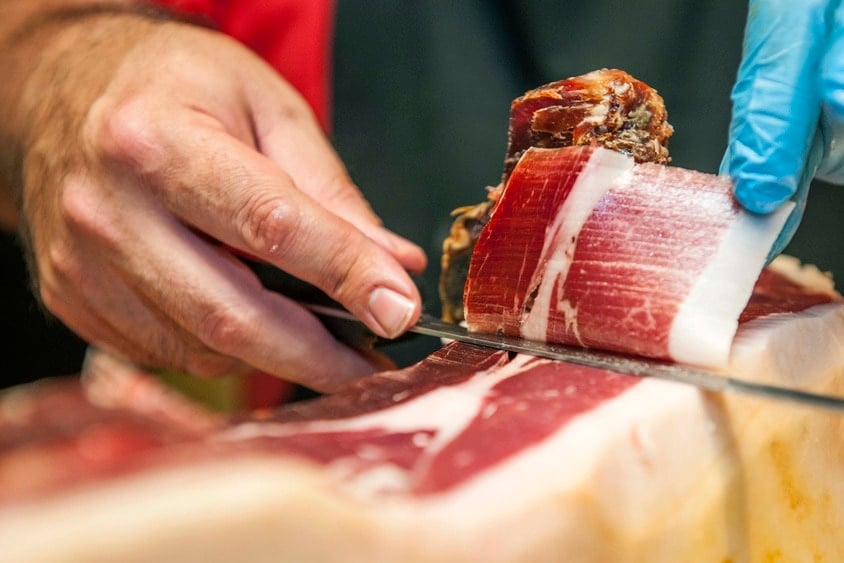 12:00 p.m. – Search for souvenirs
You can't leave Madrid without getting a souvenir. If you haven't already picked up some local Spanish products to take home from the market, now would be a good time to do so. If you're looking for something a bit gaudier (no judgment) there are plenty of kitschy shops scattered around the center.
Gran Vía is Madrid's main shopping street, with all the major brands. From Primark to Nike to Zara, you can find just about any kind of clothing or accessories here. Even if you're just window shopping, it's worth wandering down the street to marvel at the juxtaposition of ornate buildings and giant Times Square-style ads.
For more of a boutique experience, head north of Gran Vía into the Malasaña and Chueca neighborhoods. Stroll the small streets in search of the perfect indulgence.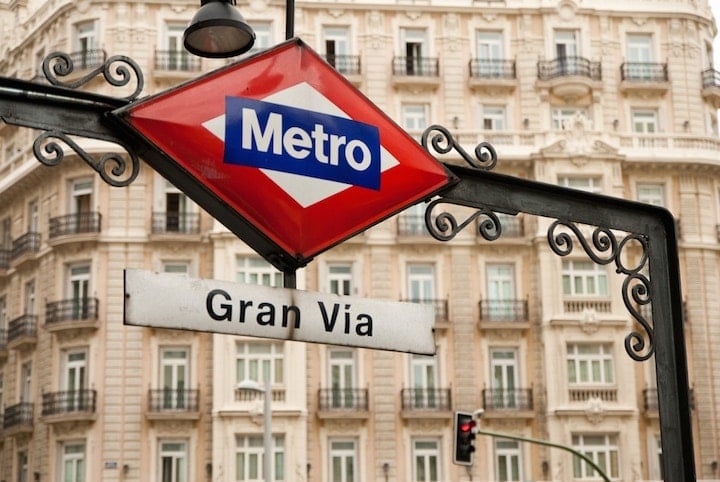 2:00 p.m. – Lunchtime!
After all that shopping and walking, you're sure to be hungry by now. If it's a weekday, take advantage of the menus del diá many restaurants offer. For 10 to 15 euros, you'll get your choice of a first course and second course, plus a drink, bread, and dessert or coffee.
Not sure where to go? When in doubt, follow the locals. Avoid places advertising their menus with bright photos and signs in English. The best food can often be found in the quieter spots, many of them tucked into the alleyways of La Latina and Lavapiés. I can personally recommend Badila, a no-frills spot with fresh seafood, hearty entrées, and an authentic atmosphere.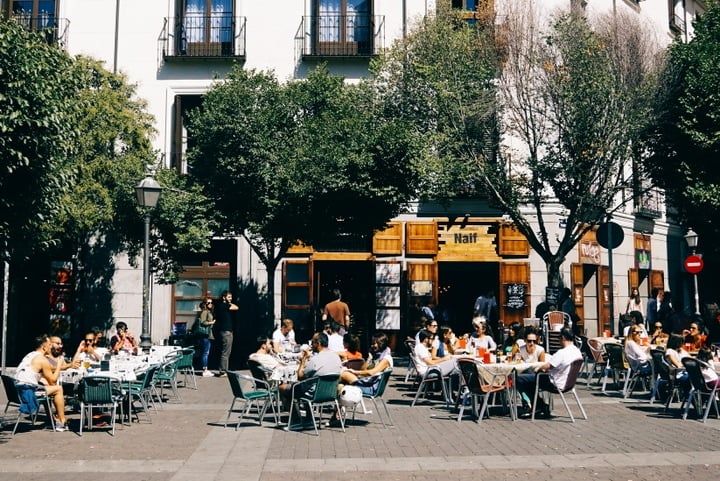 Want to truly delve into the world of Spanish food? Try a Madrid food tour! The Ultimate Spanish Cuisine Tour gives you exclusive access to the city's most iconic eateries.
4:00 p.m. – Get your dose of culture
Madrid is especially famous for its museums; three of Europe's best are within walking distance of each other, in the city's "Golden Triangle of Art." Even if you're in a rush, I suggest choosing one and spending a couple of hours there.
See also: Tips for Visiting the Reina Sofía and the Prado Museum
There's the Prado, with its world-famous collection of classical art (including The Garden of Earthly Delights and Velazquez's Las Meninas). Then there's the Thyssen-Bornemisza, with its private collection of European masterpieces. But my favorite is the Reina Sofía, featuring the work of contemporary Spanish artists like Dalí, Miró, and Picasso—including Guernica, one of the latter's most famous paintings.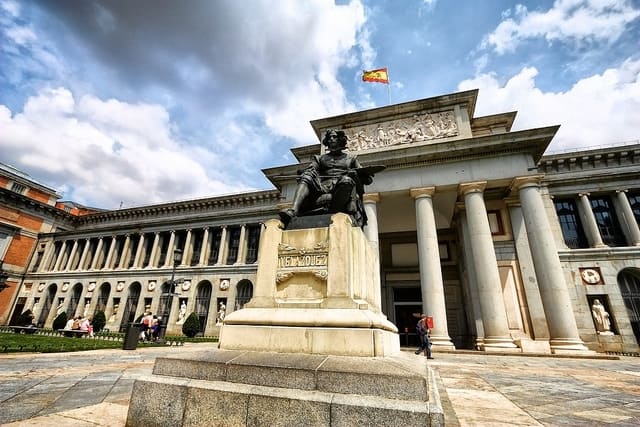 For an unforgettable experience, take a Prado Museum Tour and enjoy a VIP lunch at the world's oldest restaurant!
6:00 p.m. – Relax in the park
After wandering around indoors for a while, get some fresh air. There's no better place to do it than Retiro, Madrid's most popular park. It's conveniently located right beside the museums, making it a natural next stop on your whirlwind tour.
Explore the park's many paths, discover its impressive rose garden, marvel at its glass palace, and row a tiny blue boat on its picturesque lake. You can grab a merienda (mid-afternoon snack) from one of the cafés or food vendors. Or just find a patch of grass, relax, and soak in the sunshine.
8:00 p.m. – See the city's best sunset
If there's one iconic image that represents Madrid, it's the panoramic view of Gran Vía and the Metropole building from one of the city's coolest bars. Head back toward the center from Retiro and ascend to the azotea (rooftop terrace) of the Círculo de Bellas Artes.
Seven floors above the city, this bar and restaurant has a nearly 360º view of Madrid's historic heart. It makes for the city's most spectacular sunset and infinite Instagram opportunities. There's a small fee to enter and the drinks aren't cheap, but the experience is worth it.
10:00 p.m. – Tapas time!
After the sun sinks below the horizon, it's time to take part in my favorite Spanish tradition: tapas. Rather than posting up at a restaurant, I suggest hopping from bar to bar to experience as many places as possible. Order a few tapas to share at each place, along with a drink.
See also: A Guide to the Most Typical Spanish Tapas in Madrid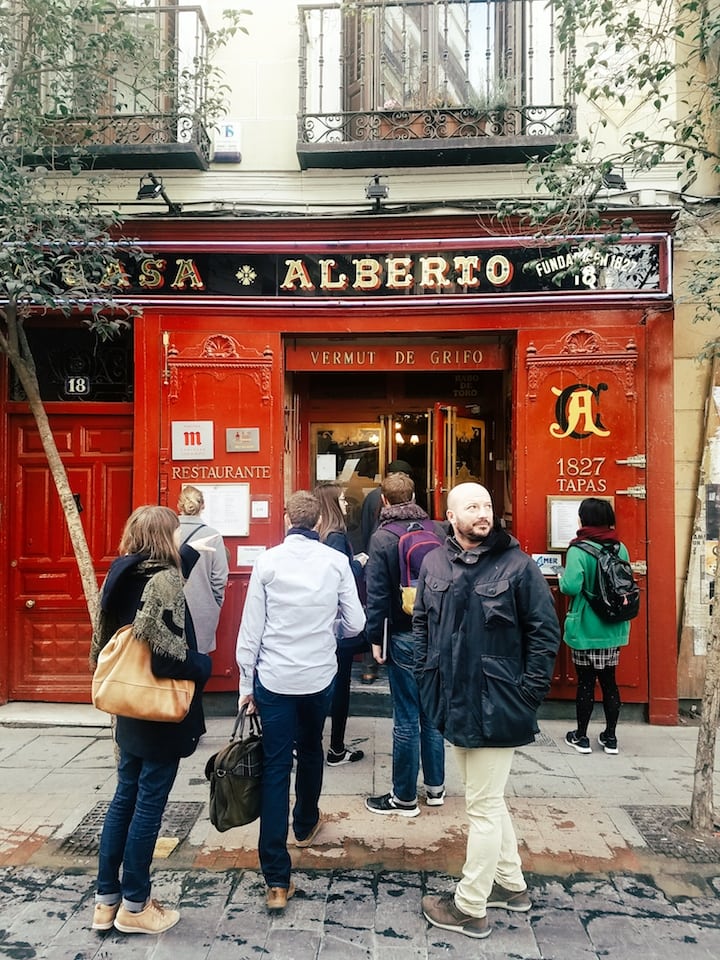 One of the best tapas areas is Huertas, a neighborhood known for its rich literary history. Here you can have a glass of sherry in the intensely atmospheric La Venencia, or a vermouth—and torreznos—from the legendary Casa Alberto. If you want to walk back to La Latina, check out Calle Cava Baja: one long street populated by dozens of historic establishments serving up Spanish specialties.
For the most authentic tapas experience, try the Tapas Like a Local Tour!
12:00 a.m. – Hit the clubs... or not
It's been a long day, and if you're ready to get some rest, I don't blame you. But if you want to have a true Madrileño night, the party is just getting started. In Spain it's customary to go out quite late; after 12 is acceptable, but 2 a.m. is average. If you're feeling adventurous, toss back a café con leche and head out on the town... and don't expect to come back until sunrise.
See also: Where to Stay in Madrid
7:00 a.m. – Say goodbye with a signature snack
Whether breakfast is an extension of the wild night before or you're well-rested after a good night's sleep, greet the morning with the classic Spanish sweet: churros con chocolate. These crispy, sugar-coated strings of fried dough are traditionally eaten early in the morning, dunked into a cup of thick, rich hot chocolate.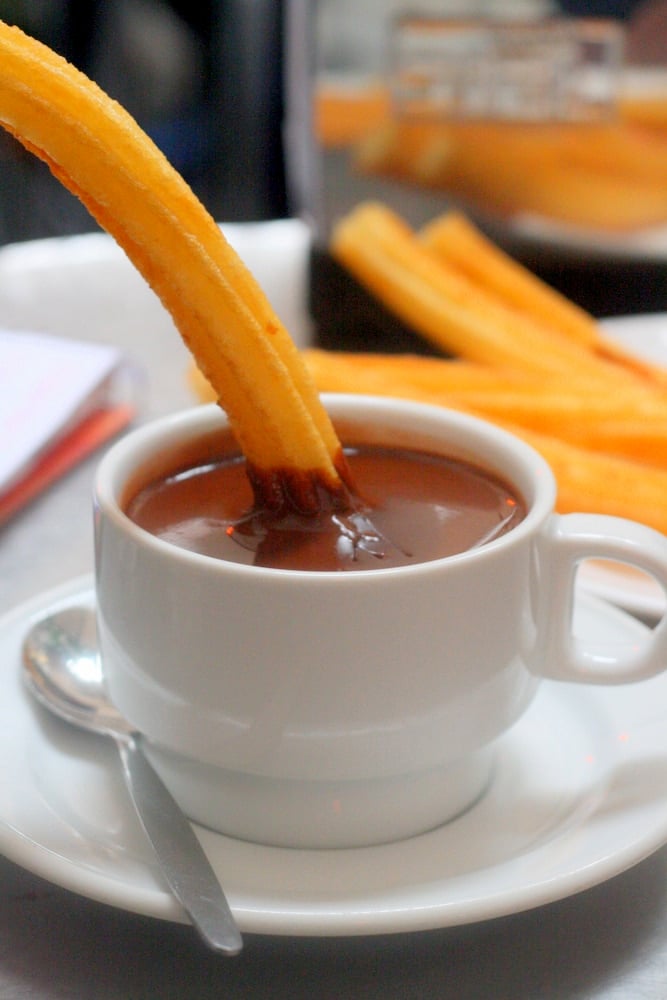 Chocolatería San Ginés, near Puerta del Sol, is open 24 hours and is the most quintessential setting to indulge in this snack. And you deserve to treat yourself–you've made it through 24 action-packed hours in the Spanish capital!
Make it at home: Spanish churros recipe
Got any tips or ideas about how to best spend 24 hours in Madrid? Let us know in the comments!