How I Visited Toledo for Only 25 Euro!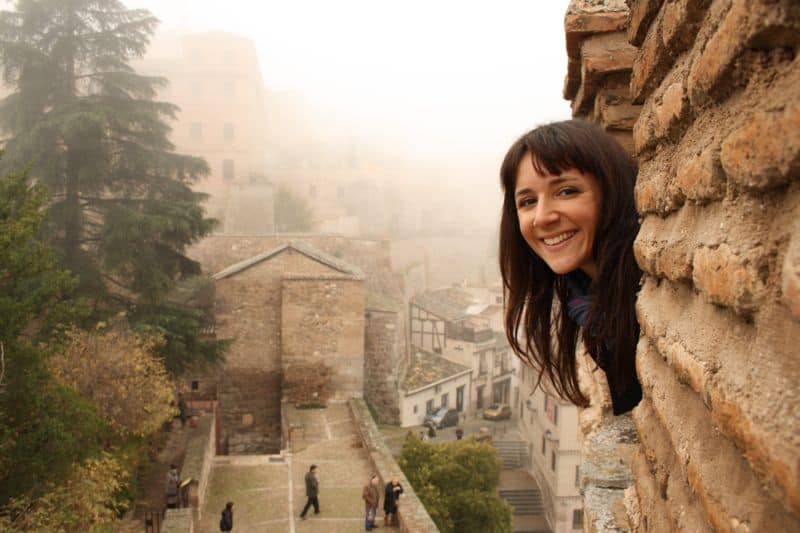 Every year Ale and I have gone away for the puente (4 day weekend) in December. Our first trip together was to beautiful Ronda and the second ended up being a weekend in Cadiz.
This year we'd just moved to Madrid and didn't have the funds for anything big. We've both been working hard at starting our businesses, and barely going out. I was dying to do something– especially since all of my private class students had canceled on me! Luckily, there are plenty of incredible day trips from Madrid. We debated between recommendations such as Ávila, Segovia, Alcalá de Henares, and other quaint sounding, nearby towns. Finally, we decided on the mountaintop city (and UNESCO World Heritage Site) Toledo.
Getting to Toledo: Your Transportation Options
Toledo is the number one recommended day trip from Madrid so we figured it would be easy to get to. We were right; there are frequent buses and trains to and from the city (even on holidays!).
Train Option: The train leaves from Atocha every one or two hours starting around 7:00 am on weekdays and 9:00 on weekends and holidays. Its last trip back leaves Toledo between 7:00 pm and 9:30 pm (depending on the day).
The train costs 12,90€ for a one-way ticket and 20,60€ for a roundtrip (2018 prices).
Bus Option:
The bus schedule was difficult to find on
Alsa's website
, but we saw that there should be a bus every half an hour or so. The buses leave from the
Plaza Eliptica Station
which is easily reached by Madrid's Grey Line (Line 6). We got to Plaza Eliptica and waited in a long line for a ticket (there were, however, ticket machines and online purchase options too). The tickets we bought didn't have a certain time, but the bus was already there waiting and as soon as it was full we left for Toledo. It's important to try to take the direct bus, which only takes about 45 minutes. I've heard that the other makes many stops and can take double the time!
The bus costs 5,47€ for a one-way ticket and 9,78€ for a roundtrip (2018 prices).
We decided on the bus because of our budget but would probably try the train in the future to save some time. That being said, the bus was comfortable too!
Spent so far: 9,00€ per person (11,00 if you include the metro ticket to Plaza Eliptica – in 2011 – though prices haven't risen much!)
What to Eat in Toledo
Toledo is known for its hearty food. Venison, boar, game birds, stuffed peppers, sausage and eggs…it is the perfect cuisine for a cold winter day! We needed a place where we could try some of Toledo's typical cuisine but not spend a fortune. Luckily, we stumbled upon the perfect place.
Café Bar Toledo Cervecería Calle Armas, 15
Nervous to eat in a restaurant with the name Bar Toledo (we were afraid it was a tourist trap) we quickly Googled it for reviews. But the only thing that came up for that address was a Bar Zorba so we weren't sure if it had changed names or owners… and decided to just risk it. It turned out to be a good idea. The restaurant is comfortable and quaint and the food is typical of the region and a good value.
We tried:
Tostada con carne de cerdo, brie, y balsamico: A toast with ground pork, melted brie, and balsamic reduction.
Huevos Rotos con Chistorra: A fried egg on top of fried potatoes with some fried Spanish chistorra sausage (hearty indeed!)
Venado con Salsa de Champiñones: Venison in a mushroom sauce.
Carcamusa: A very typical dish in Toledo! Stewed pork with tomato, peas, and a slightly spicy sauce (Spanish "spicy")
Ale had two beers and I had a glass of dry white wine. We left stuffed and satisfied. Our food wasn't life changing, but it warmed us up on a very cold afternoon and the service was friendly.
Lunch cost: 19,50€ (We left 20,00€)
Spent so far: 20,00€ per person
Check here for a more comprehensive guide to eating in Toledo!
Sights to See
Toledo is full of historic monuments (enough for another 10 blog posts– seriously!) and a day trip to Toledo barely scratches the surface, but here are some must see places in Toledo!
La Puerta del Sol
La Catedral Primada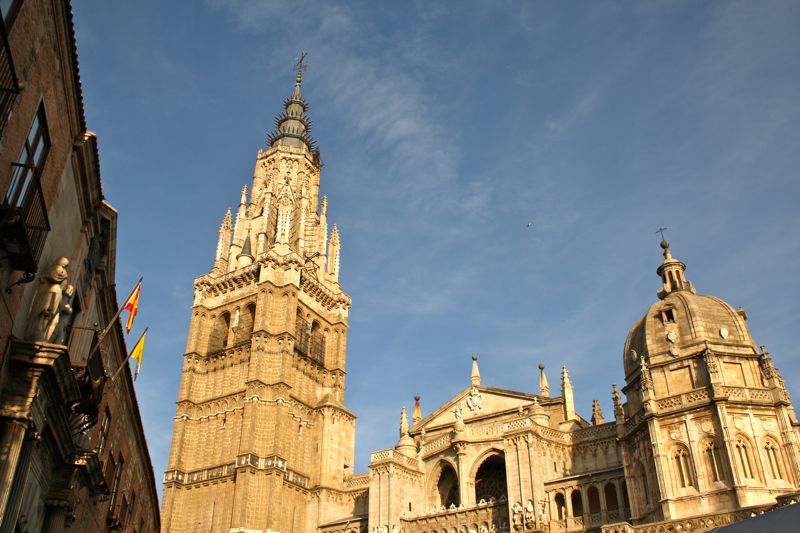 El Río Tajo
Spent so far: Still 20,00€ per person since we didn't pay to enter in any of the monuments that day (though we can always come back). We loved just exploring the streets and taking some pictures!
What to Buy in Toledo
Swords and sweets! Most people know that Toledo is a famous producer of swords. There are many shops where you can buy your own. They were actually a lot less expensive than I thought (around 150€ for what seemed like a really nice one!) but to Ale's disappointment they didn't fit the budget…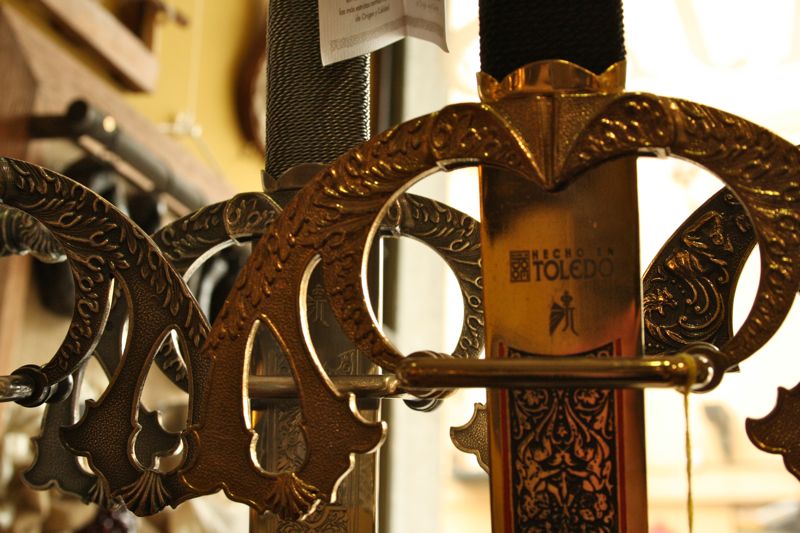 Marzipan: Toledo is also famous for its homemade marzipan. Pastry shops and gourmet food stores all over town sell the sweet almond paste. I've never been a marzipan person, but I had to try it. It was actually delicious. I tried one with almonds and another with sweetened egg yolk. Both were excellent. We bought a small box for my mother, although I don't know if they'll last until Christmas!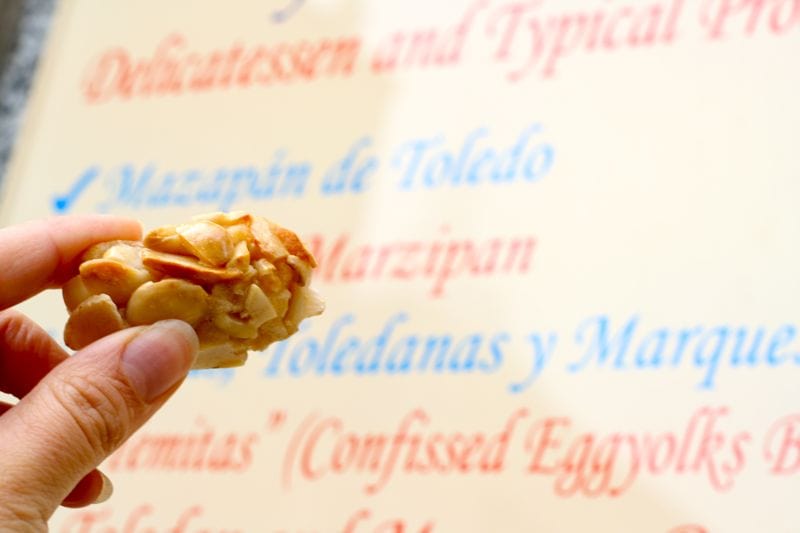 Spent so far: 22,50€ per person (A small box of marzipan costs around 5,00€)
And When You've Had Enough…
Have a hot coffee in front of one of the many beautiful monuments before heading back to the bus station. We sat down at a heated terrace near the Alcazar.
Spent so far: 25,00€ per person
And there you have it: a really beautiful, inexpensive day trip from Madrid. For only 25 euro you can see Toledo, eat and drink some great food, and even buy your mother a souvenir!
Where to Stay in Toledo on a Budget
Although we headed back to Madrid, spending the night in Toledo would be beautiful, and allow you to soak in the village-like ambiance in the evenings. Despite being a fairly large city, Toledo's historic center feels like a village to me! Here are some great options for budget hotels in Toledo. I like using this site to book because you can usually reserve various places without any deposit due or cancellation fees. Very helpful when comparing lots of prices!
Do you have any travel tips for day trips from Madrid? Or maybe you have a suggestion for a day trip to Toledo? Leave any suggestions as a comment!
Click here to see my top 5 food-focused day trips from Madrid!
And don't miss 8 cheap weekend breaks from Madrid too!
If this post was helpful, follow Spanish Sabores on Facebook and Twitter. Or sign up for free email updates to never miss a post!
Pin me!