Wondering how to visit Toledo on a budget? Check out my tips for visiting this beautiful place without breaking the bank. A Toledo day trip from Madrid is one of the best ways to escape the city without spending too much!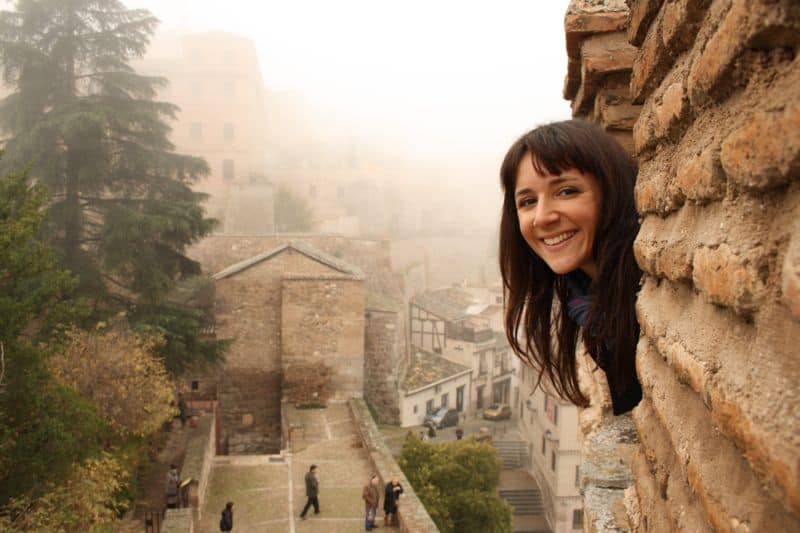 There's no question that Madrid is a wonderful city—but sometimes you need a change of scenery! And if you want to take an affordable day trip from Madrid, one of the best places to go is Toledo.
This gorgeous city is located just a 35-minute train ride from Madrid, and is jam-packed with culture and history. Known as the "city of three cultures," it has a fascinating mix of Christian, Jewish, and Muslim heritage. Plus, it's totally possible to visit Toledo on a budget!
The first time I went to Toledo, it was because Ale and I wanted to go somewhere for the puente (long holiday weekend) in December. But we didn't have the funds for a big vacation, so we decided to do a day trip to Toledo instead.
That was several years ago, and back then our Toledo day trip only cost us €25 per person. Prices have gone up a bit since then, but it's still relatively easy to visit this city without spending a ton of money.
Here are my tips for enjoying Toledo on a budget!
How to Get to Toledo on a Budget
Toledo is the number-one recommended day trip from Madrid, which means it's super easy to get there. There are plenty of trains and buses from Madrid to Toledo, even on public holidays.
One of the best options is the high-speed Renfe Avant train. It leaves from Atocha station in Madrid about once every hour, and it only takes 35 minutes to get to Toledo. As of 2023, the price for a round-trip ticket is about €22—not bad at all!
The earliest train to Toledo is at 6:40 a.m. on weekdays and 8:40 a.m. on weekends. The latest train back to Madrid is at 9:40 p.m. on weekdays and 8:40 p.m. on weekends. You can buy tickets on the Renfe website.
An even cheaper option is to take the bus. ALSA buses leave from the Plaza Elíptica station in Madrid every 30 minutes, and the trip takes between 1 hour and 1 hour and 45 minutes. Choose a direct bus for the fastest route!
Although the bus takes almost twice as long as the train, it also costs half as much—about €11 round-trip in 2023. It's a great option if you're on a tight budget and don't mind a longer journey. It also has options to go and return slightly earlier and later in the day than the train.
Where & What to Eat in Toledo
Toledo is known for its hearty food. Venison, boar, game birds, stuffed peppers, sausage and eggs… It's the perfect cuisine for a cold winter day! The trick is to find a place where you can try Toledo's typical dishes without spending a fortune. Luckily, I know the perfect spot!
Taberna Skala is a super traditional Spanish bar that claims to be the oldest taberna in Toledo. Here you'll find a variety of pinchos (small plates, like tapas), raciones (larger sharing plates), and media raciones (half the size of a ración).
The menu is written in chalk on large boards behind the bar. Pinchos range from €1.50 to €3 (as of 2023) and include everything from chorizo to mussel croquettes to morcilla (blood sausage—better than it sounds).
The raciones and media raciones range from €8 to €16 and feature local delicacies like carcamusas (stewed pork and peas with tomato), pisto con huevo (slow-simmered tomatoes and vegetables topped with a fried egg), Manchego cheese, and much more!
Taberna Skala is open for lunch every day except Tuesday, and open for dinner on Fridays and Saturdays. It's located at Cuesta Sal, 5—super close to the cathedral.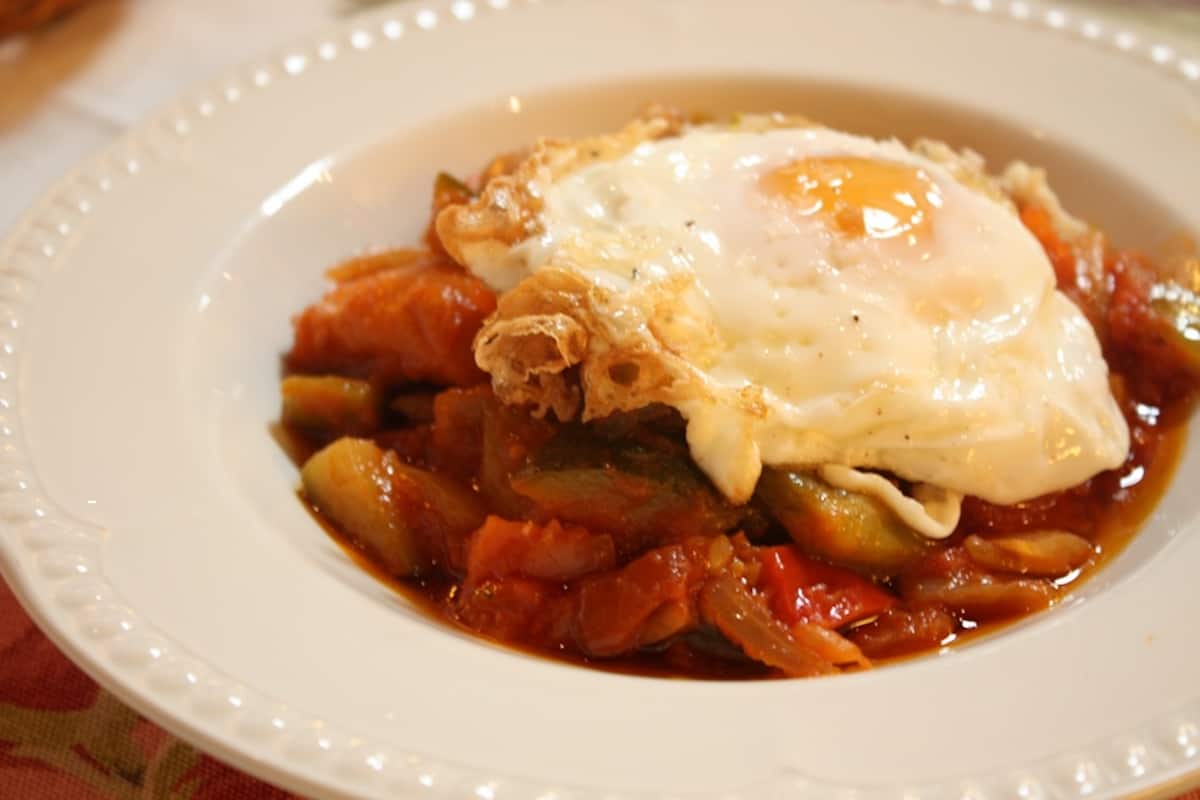 At a traditional place like this, you can get a delicious and authentic meal for a great price. For example, a pincho, a media ración, and a drink at Taberna Skala will only set you back about €10–15.
The other great thing about Spanish bars like this one is that you can order one pincho or plate at a time until you're full. You don't have to risk ordering (or paying) too much for your appetite!
Want to learn more? Check out this guide to what to eat in Toledo! And if you're willing to spend a bit more, consider eating at Restaurante Fábula.
What to See & Do in Toledo
There are so many things to see in Toledo! One of the best things to do is to simply walk around and enjoy the gorgeous scenery and architecture. Of course, this is totally free! You can stroll through the grand Puerta del Sol or cross the ancient Alcántara Bridge without spending a dime.
Toledo is also full of historic monuments and museums that are well worth visiting. Many of them have entry fees, but keep in mind that you don't need to go inside every building! Choose which places you're most interested in and prioritize those—and admire the rest from the outside.
If you want to visit several places and save on entry fees, you can buy the Toledo Tourist Wristband. For just €12, it gives you access to seven of the city's most famous monuments.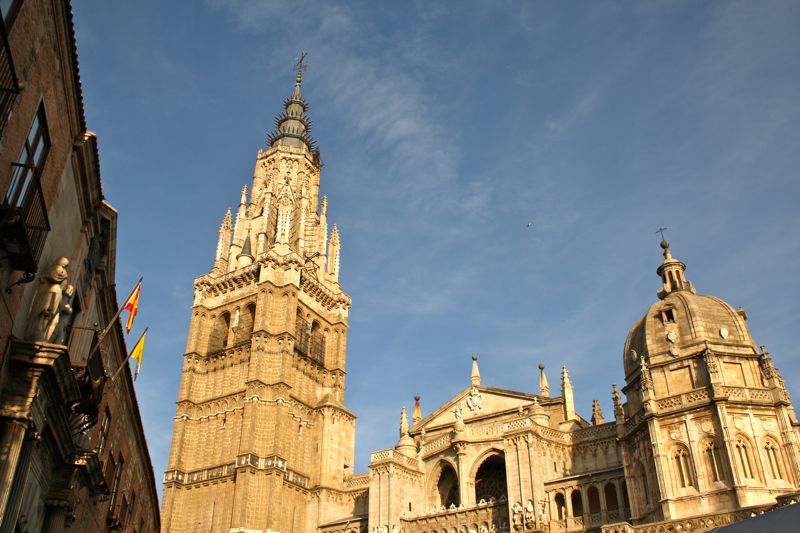 What to Buy in Toledo on a Budget
There are two main things to shop for in Toledo: swords and sweets. The city has a long legacy of crafting exceptional steel swords. Today you can get a decorative reproduction from one of its artisanal sword shops—but if you're on a budget, this will be somewhat of a splurge.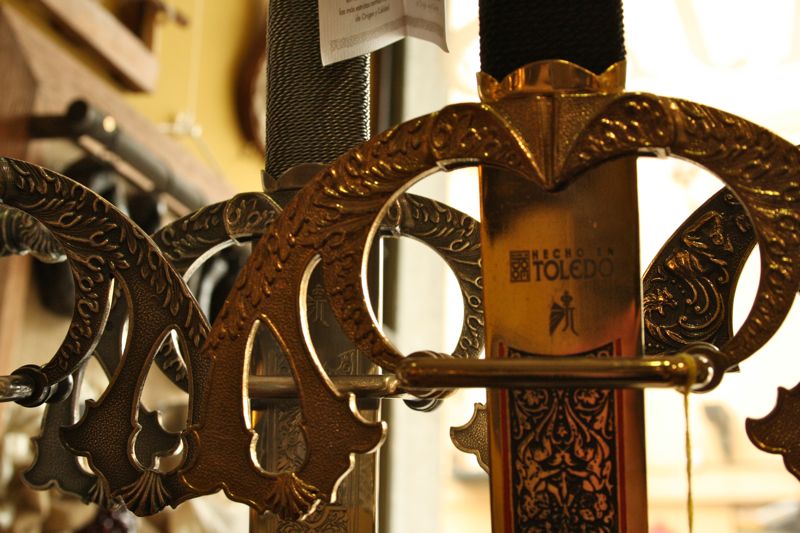 For a more affordable (and delicious!) souvenir, consider buying some of Toledo's other specialty: marzipan. Pastry shops and gourmet food stores all over town sell this sweet almond treat. You can find versions with sliced almonds, sweetened egg yolk, and infinite other variations.
You can get a small box of mazapán de Toledo from the city's most famous marzipan bakery, Santo Tomé, for under €10. But if you're not sure that you'll like it, you might want to try an individual piece first! I suggest pairing it with a coffee to counter the sweetness.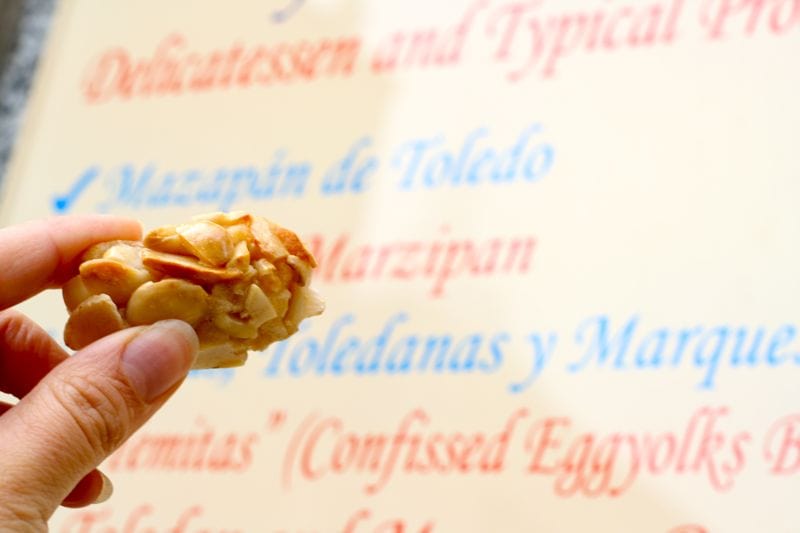 Itinerary for a Day Trip to Toledo
For such a small city, Toledo has an endless number of things to do and places to see! But to give you an idea of how much a budget day trip to Toledo might cost, here's a suggested itinerary with estimated prices (as of 2023).
Catch the bus to Toledo: €11 for a round-trip ticket
Walk around the city and admire its historic churches, synagogues, mosques, and monuments: free!
Have lunch at Taberna Skala: €10–15 per person
Buy a box of marzipan to take home: €7–8
Have a coffee on a café terrace: €1–3
If you follow this itinerary, a day trip to Toledo only costs about €30–35 per person. If you decide to take the train, enter any of the historical sites, or buy the Toledo Tourist Wristband, the price will be a bit higher.
Where to Stay in Toledo
Although you can absolutely enjoy Toledo in one day, staying the night gives you the chance to take your time and really hit all the highlights. If you turn it into a weekend break from Madrid, you can also enjoy the evening ambience—and sample more local food (always my priority)!
There are some great hotels in Toledo, many of which aren't that expensive. I like using this site to book because I can reserve places without making a deposit or risking cancellation fees—super helpful when you're trying to save money.
Toledo on a Budget FAQs
What's the cheapest way to get to Toledo from Madrid?
The cheapest way to get to Toledo is by taking the ALSA bus from Plaza Elíptica. A round-trip ticket costs about €11 and the journey takes anywhere from 1 hour to 1 hour and 45 minutes. Taking the train only takes 35 minutes, but costs twice as much.
How much does a Toledo day trip cost?
This depends on what you do, but it's possible to visit Toledo for as little as €30 per person! If you take the bus or train, eat at a local taberna, and choose to walk around instead of paying multiple entry fees to monuments, you can enjoy a great day in Toledo on a budget.
Is Toledo a walkable city?
Yes! Toledo is relatively small and super easy to explore on foot. Within the old town, everything is within walking distance. You can even walk from the train or bus station to the city center, which takes about 15–20 minutes.
Is it worth spending the night in Toledo?
It's totally possible to enjoy Toledo's main highlights in one day, but staying the night is worth it if you want to take your time, see more sights, and eat more food! There are plenty of nice budget-friendly hotels in Toledo.
Love Spanish food? Sign up for my free weekly newsletter and receive a new Spanish recipe once a week! Join today and get my FREE Spanish ingredient essentials guide!