Pie Time: Mini Apple Pie-Crisps
Thanksgiving is on its way and that only means one thing: pie time. For those of you that don't know me, I LOVE pie. Sweet pies, savory pies, empanadas, turnovers, tarts… basically give me anything that resembles a pie and it's sure to make me happy. In fact, at my American wedding we even had a pie buffet in addition to our wedding cake!
So last night I was bored. I wanted to use the new apples I'd bought to bake something. But I didn't have much in the house!  So instead of following a recipe I decided to invent one.
I'll call them Mini Apple Pie-Crisps and, guess what? The crust is made with olive oil! That's right, another successful example of baking with olive oil.
These are quite easy to make and the end result was delicious. The apples were caramelized, the crust was flaky, and the top was browned and crispy. Our only regret was not having any vanilla ice cream to put on top. Oh well, next time!
Mini Apple Pie-Crisps (Makes 2 Servings)
Ingredients:
Crust:
- 1 ¼ Cups all-purpose flour
- ½ teaspoon salt
- ½ teaspoon sugar
- 1 ½ Tablespoons cold milk
- ⅓ cup olive oil (you can use vegetable or canola too)
Filling:
- 3 Small Apples (tart baking apples like Granny Smith)
- Pinch of salt
- ⅛ c sugar
- 1 ⅓ T flour
- 1 t cinnamon
Topping:
- 2 T unsalted butter (softened)
- ¼ sugar
- ¼ flour
To make the crust, combine the dry ingredient first. Then add the wet ones and mix until it just forms a ball. Divide the dough in two parts and mold into the baking dishes. It should cover the bottom and the sides.
For the filling, dice the apples and mix the dry ingredients together. Add a handful of apples to each of the mini pies and top each mini pie-crisp with ¼ of the dry mixture (so you'll have half of the dry mixture left). Repeat this process for another layer (you should have used all the apples by now!)
For the topping simply mash the three ingredients with a fork until you have coarse crumbs. Divide between the two minis! Off to the oven…
Bake at 425 F (220 C) for 15 minutes and then turn down the heat to 375 F (190 C) for another half an hour. The apples should be bubbling and the top should be browned when you take them out. Let cool and enjoy!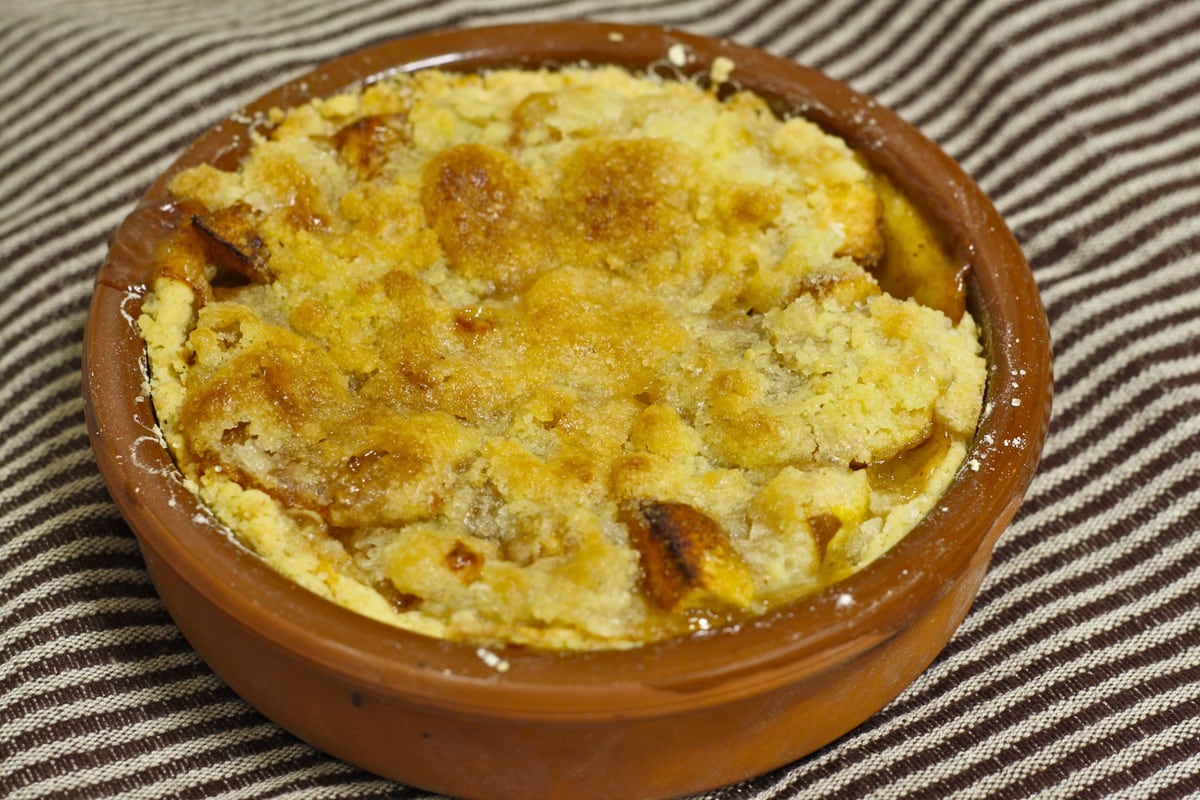 There you have it, Mini Apple Pie-Crisps! Have you even invented something in the kitchen?
Stay updated with all posts and recipes by subscribing in the sidebar. Just enter your e-mail and all of my experiments will be delivered to your inbox!