The concept of baking with olive oil may be new to even the most experienced home cooks.
Can you just substitute olive oil for vegetable oil in a recipe? And how do you substitute olive oil for butter? Is it even possible—and what proportions would you even use if so?
If you're asking yourself one or more of the above questions, you're not alone! Read on to discover how to bake with olive oil—including how to use it as a substitute—and learn how to choose the best olive oil for baking.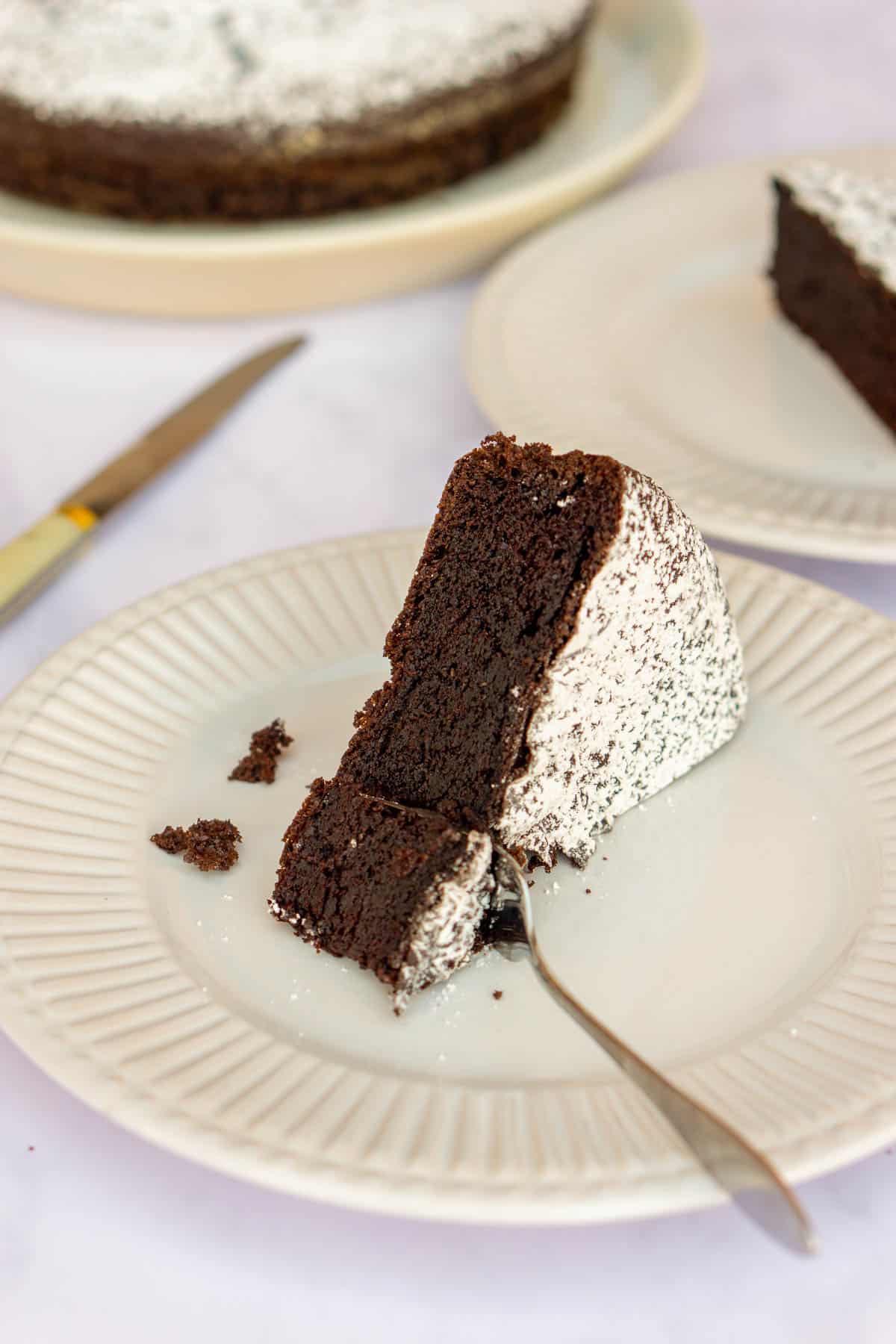 When I first started working at the wonderful Ristorante di Paolo in western Massachusetts, I was immediately drawn to one of pastry chef Ellen Darabi's famous desserts: lemon olive oil cake.
The idea of baking a cake with olive oil sounded a bit strange to me at the time, and I wasn't sure how the strong flavor of olive oil would complement the dessert. But, like most olive oil concoctions I once thought were strange (olive oil on toast for breakfast, olive oil and sugar as a body scrub, deep frying in olive oil, etc.), I grew to love this delicious creation in no time.
Before long, I was secretly hoping a fellow co-worker would make a mistake and prepare this delicious cake for a customer by mistake, and, alas, the staff would have to eat it since the whipped cream and strawberries on top would soon spoil. Sometimes I would take a piece home at night, taking advantage of my employee discount.
I won't lead you on anymore. I don't have her recipe! But I do bake with olive oil (always virgin or extra virgin) and I've created some delicious recipes of my own—including my own lemon olive oil cake!
Read on to discover everything you need to know about baking with olive oil—and get some more of my favorite recipes so you can try it for yourself.
Can You Bake With Olive Oil?
The short answer: Yes!
Here in Spain, many people do bake with olive oil. In fact, in almost all baked goods (quick breads, cakes, and cookies) use olive oil as an ingredient. Where my family's recipes for baked goods call for heaps of butter or canola oil, my mother-in-law's call for pools of olive oil.
Generally speaking, you can substitute olive oil for other cooking oils for most quick breads, cakes, and brownies with very little change. You can even use it as a substitute for butter in many baked goods. But there are a few key things to keep in mind when doing so.
Firstly, know that there are hundreds of different olive varieties in the world used to make olive oil, and each variety has a distinct flavor. Some flavors are really strong (very "green" olive oils can taste of freshly cut grass or tomato vines). Be sure to taste your olive oil before using it in a recipe to make sure the one you've chosen compliments that recipe!
Next, make sure your olive oil is in good condition. Think of olive oil as a juice rather than a fine wine—it gets worse with age! Keep it away from heat and light, and use it within two years of when it was bottled (good olive oils should have this date on the bottle).
Top Reasons to Bake with Olive Oil
One of the main reasons why baking with olive oil is a good idea: it's healthier!
Virgin and especially extra virgin olive oils are high in healthy fats, vitamins, and antioxidants. Regular consumption has been shown to reduce everything from inflammation to cholesterol to even the risk of cancer and heart attacks.
However, these olive oils are the only ones that will bring any health benefits to a recipe. If you substitute just plain olive oil (known as "lampante" oil here in Spain), there's really no point. These are low-quality oils that, aside from having no health benefits, also provide no flavor.
As if that weren't enough, baking with olive oil is one of the most common ways to prepare sweet treats here in Spain. The olive oil does often add a distinct hint of flavor (though some are stronger than others) that will give any dessert a uniquely Spanish touch!
Last but not least, olive oil can also upgrade the texture of your baked goods. The results are often light yet moist, and don't feel as heavy as sweets made with butter or other fats.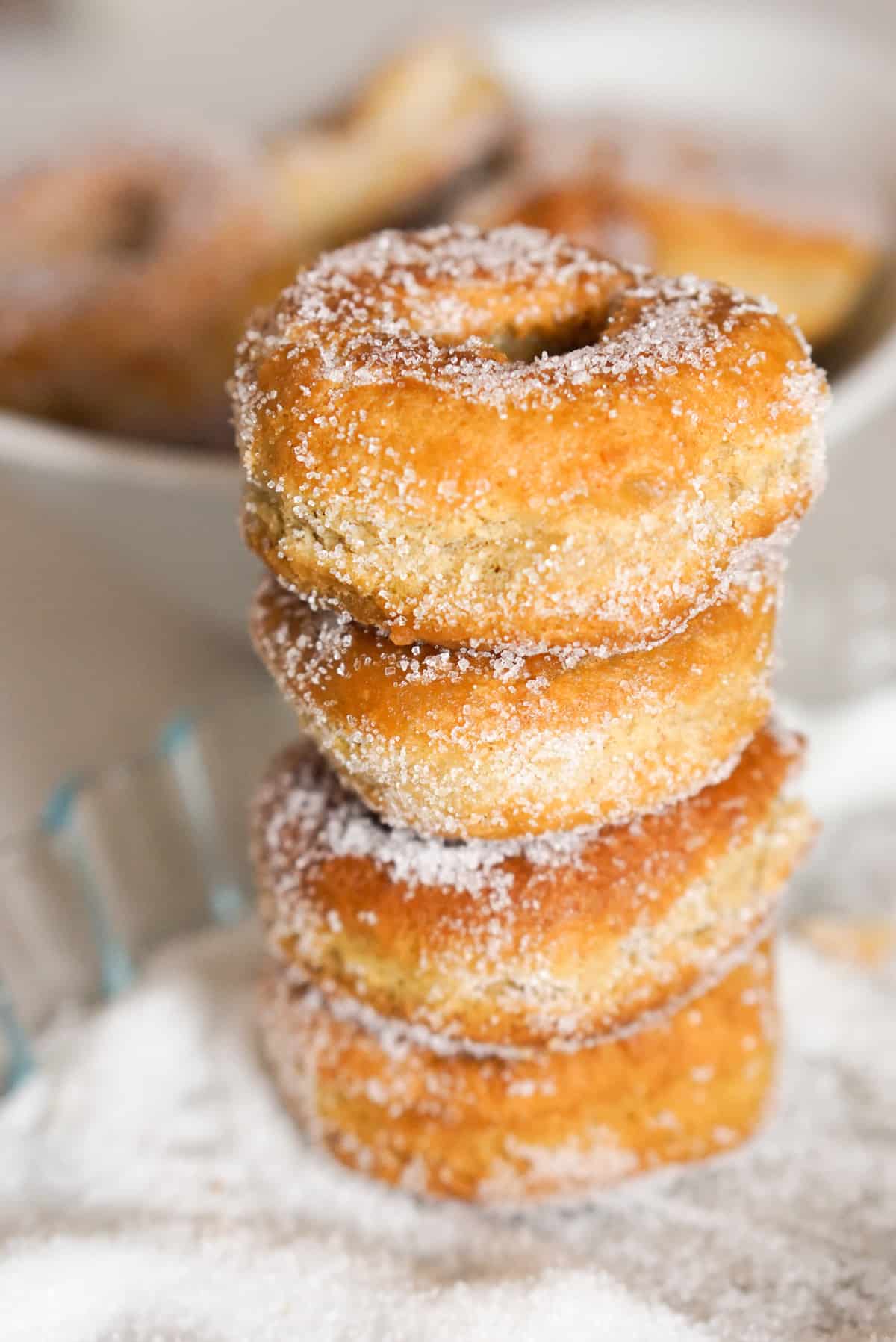 How to Substitute Olive Oil for Butter
Not sure how to substitute olive oil for butter? Doing so is not only easy, but your baked goods will actually be quite healthier as a result!
Whereas butter is high in unhealthy saturated fat that's bad for your heart, olive oil is a healthy fat that can help lower cholesterol. Substituting olive oil for butter is also a great way to make a recipe vegan (if all other ingredients are plant-based), as butter is an animal fat.
You can easily substitute olive oil in recipes that call for melted butter. Use three parts olive oil to every four parts butter—a 1:1 ratio isn't possible here and will make the recipe turn out way too greasy and oily.
Here are a few common conversions to get you started.
| | |
| --- | --- |
| Amount of Butter or Margarine | Amount of Extra Virgin Olive Oil |
| 1 tablespoon | 2 ¼ teaspoons |
| ¼ cup | 3 tablespoons |
| ⅓ cup | ¼ cup |
| ½ cup (1 stick) | ¼ cup + 2 tablespoons |
| ⅔ cup | ½ cup |
| ¾ cup | ½ cup + 1 tablespoon |
| 1 cup | ¾ cup |
The only time you cannot substitute olive oil for butter when baking is when a recipe calls for room temperature butter. This usually means that the soft but solid butter will need to be creamed together with a type of sugar, and olive oil simply won't produce the same results. Most frostings and certain light, airy cakes and cookies are a good example of this.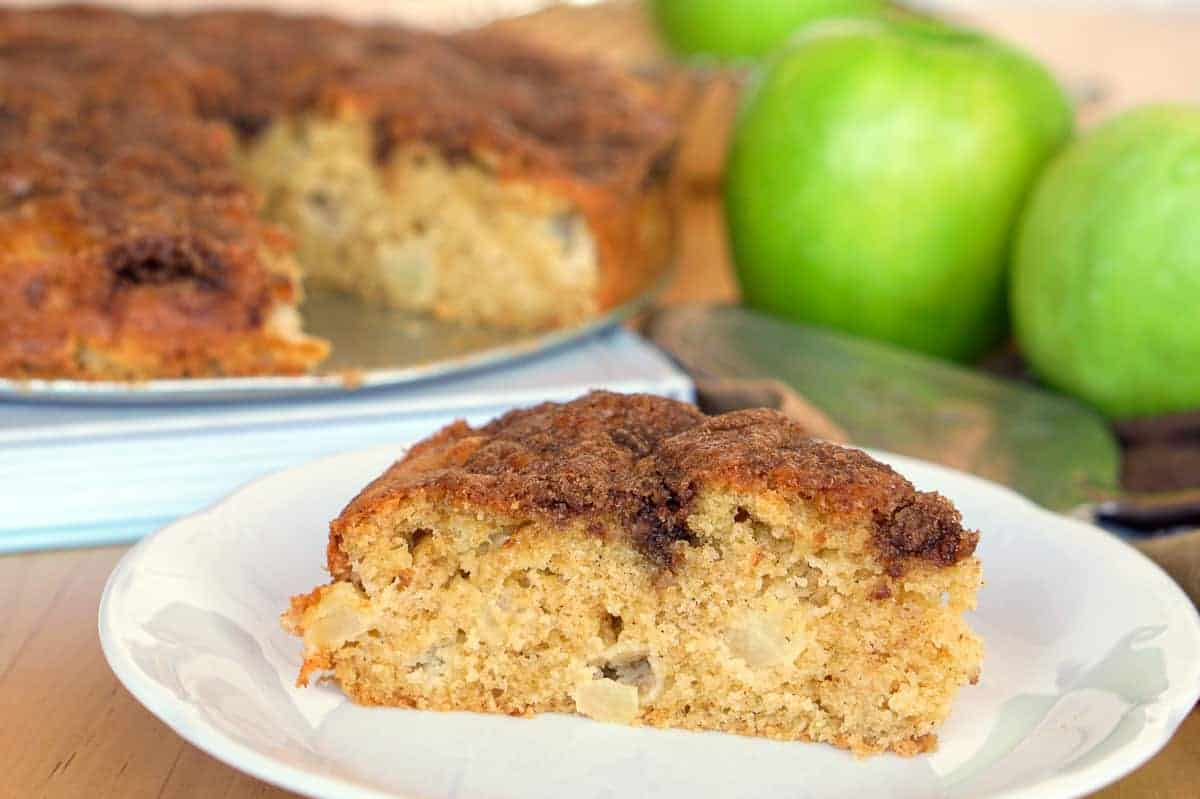 Can You Use Olive Oil Instead of Other Oils?
Indeed you can! This is where it gets easier—simply follow a 1:1 ratio to evenly substitute olive oil for any other type of oil when baking.
Vegetable Oil vs. Olive Oil
Any dessert recipe that uses vegetable oil can easily sub in olive oil instead. The flavor will be more enhanced and nuanced, and the end result will be much healthier, too! This is a great swap to try in recipes like brownies that typically call for vegetable oil.
Grapeseed Oil vs. Olive Oil
Grapeseed oil is a bit healthier than many other oils. In particular, grapeseed oil is high in polyunsaturated fats and olive oil in monounsaturated fats—both of which are healthy and essential fatty acids that your body needs.
However, olive oil definitely takes the cake when it comes to overall health benefits, and imparts much more flavor to baked goods than grapeseed.
Sunflower Oil vs. Olive Oil
Sunflower oil is also relatively healthy compared to other oils, but doesn't have much of a flavor. Substitute a light, fruity olive oil in recipes that call for sunflower oil for a subtly enhanced flavor and even more health benefits.
Canola Oil vs. Olive Oil
Canola oil is one of the most commonly used oils in baking, but replacing it with olive oil yields even more impressive results. Olive oil will make your baked goods even richer and moister than canola oil, while adding more flavor as well.
Coconut Oil vs. Olive Oil
Olive oil is much healthier than coconut oil, which is high in unhealthy saturated fats. Substituting olive oil for coconut oil in baking will also change the flavor a bit, as coconut oil is sweeter, though this isn't necessarily a bad thing.
Popular Olive Oil Cakes
Baking with olive oil is an especially popular choice here in Spain for light snacking cake recipes. It makes cakes more moist than they would be if using butter, and I love the extra flavor that olive oil adds to cakes.
The end result is so perfect that most olive oil cakes need very little (if any!) additional garnishes. A light dusting of powdered sugar tends to do the trick in most cases—you won't even miss the frosting!
Here are a few of my favorite Spanish olive oil cakes to get you started.
Spanish Olive Oil Desserts
Craving something different? There are dozens (if not hundreds) of typical Spanish desserts that are made with olive oil. Some incorporate the olive oil into the dough itself, but many Spanish pastries are even fried in olive oil. In this case, keep in mind that the frying oil you use will also have an effect on the taste, so choose accordingly.
Here are just a few incredible Spanish desserts that are made with or fried in olive oil.
Rosquillas: These donut-like treats are typical in Madrid, where we enjoy them during the San Isidro festival in May. Try them plain (known as tontas) or with a sugary glaze (listas).
Torrijas: A cross between bread pudding and French toast, these typical treats are commonly associated with Holy Week in southern Spain.
Tortas de la abuela: These are fritters of fried dough soaked in honey—what's not to love?
Pestiños: Another take on fried dough with roots in Spain's Moorish days, which can be drenched in honey or sprinkled with sugar.
Churros: One of the most iconic Spanish sweet treats! Churros fried in olive oil and dunked in thick, rich hot chocolate are a popular choice for breakfast or a late afternoon snack.
Buñuelos: These deep-fried treats can be enjoyed in any number of delicious ways. Sprinkle them with sugar, stuff them with chocolate...the possibilities are endless!
Magdalenas: Simple Spanish muffins where the flavors of olive oil and citrus really shine through.
Best Olive Oil for Baking
While this can vary depending on personal preference, the best olive oils to use for baking tend to have a smooth, light, and fruity flavor that's noticeable but not overpowering. I like to bake with arbequina as well as hojiblanca—the latter makes dough particularly easy to work with due to its higher fat content.
Be sure to taste the olive oil on its own before baking with it to get a better idea of what to expect as far as taste. Don't bake with an oil you don't enjoy the the taste of, but also consider how the flavor profile of that oil will affect the final result. And of course, be sure to only use virgin or extra virgin oils to take advantage of those health benefits!
Baking with Olive Oil FAQs
Is baking with olive oil safe?
Baking with olive oil is perfectly safe and provides numerous health benefits without compromising the flavor of your baked goods. Here in Spain, generations of home cooks have been baking with olive oil for centuries with delicious results!
Can you use olive oil for brownies?
Yes you can! Oil is the preferred fat for brownies (rather than butter) due to the soft, gooey, fudgy texture it provides. Most brownie recipes call for vegetable oil, but you can easily substitute the same amount of olive oil. A lighter tasting olive oil like hojiblanca or arbequina would be best here.
Can you use extra virgin olive oil for baking?
Yes—in fact, it's what you should be using! Plain olive oil has none of the health benefits associated with extra virgin, and little to no flavor. Extra virgin olive oil, on the other hand, is incredibly healthy and adds a beautiful flavor to baked goods. It's more expensive, but well worth it.
Update Notice: This post was originally published on October 21, 2011 and was republished with new text and photos on April 22, 2021.
Hungry for more? Sign up for my free weekly newsletter and receive a new Spanish recipe once a week! Join today and get my FREE Spanish ingredient essentials guide!