Wondering about baking with olive oil? Can you just substitute olive oil for vegetable oil in a recipe? What about baking with extra virgin olive oil? I had the same questions!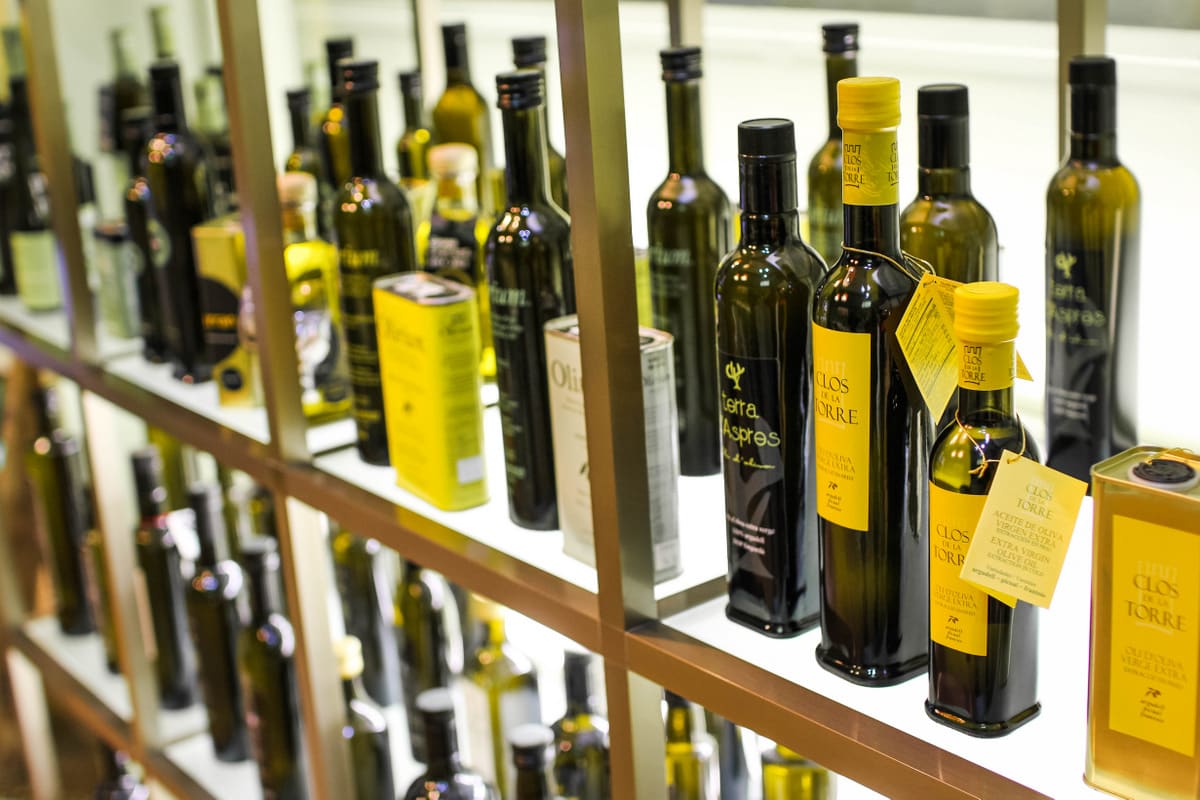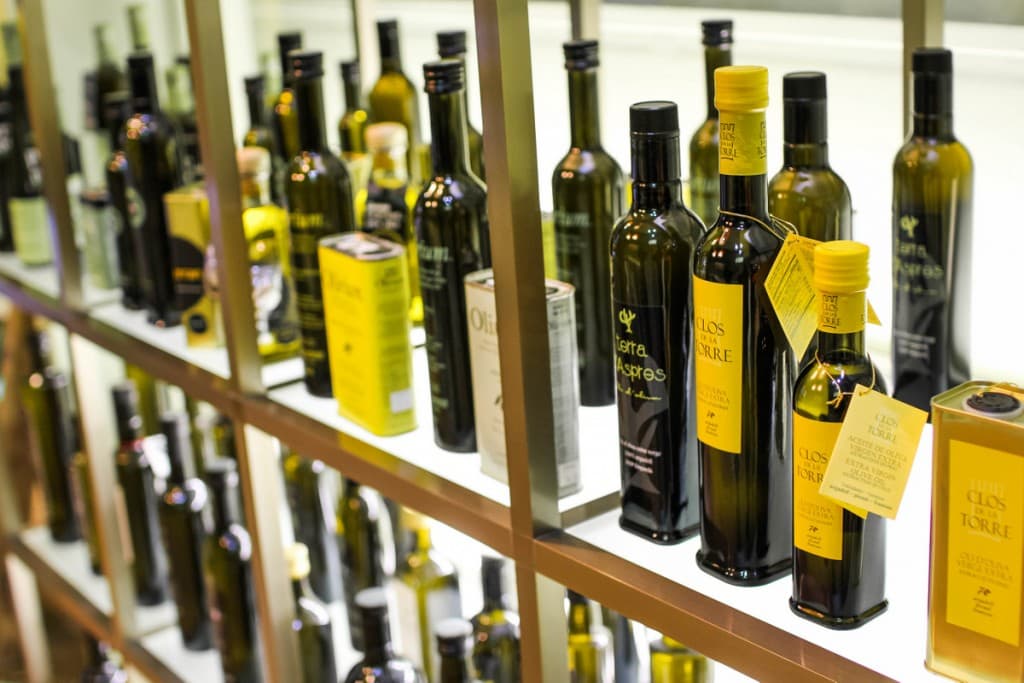 When I first started working at the wonderful Ristorante di Paolo in Western Massachusetts, I was immediately drawn to one of pastry chef Ellen Darabi's famous desserts: Lemon Olive Oil Cake.
The idea of baking a cake with olive oil sounded a bit strange to me at the time, and I wasn't sure how the strong flavor of olive oil would complement the dessert. But, like most things I once thought were strange involving olive oil (olive oil on toast for breakfast, olive oil, and sugar as a body scrub, deep frying in olive oil, etc.), I grew to love this delicious creation in no time.
Before long, I was secretly hoping a fellow co-worker would make a mistake and prepare this delicious cake for a customer by mistake, and, alas, the staff would have to eat it since the whipped cream and strawberries on top would soon spoil. I would sometimes take a piece home at night, taking advantage of my employee discount.
I won't lead you on anymore. I don't have her recipe! But I do bake with olive oil (always virgin or extra virgin) and I've created some delicious recipes.
While my recipe for lemon olive oil cake may not be Ellen's, it's still absolutely delicious. Sometimes I still serve it with sliced strawberries and basil marinated in balsamic vinegar and sugar.
Baking with Olive Oil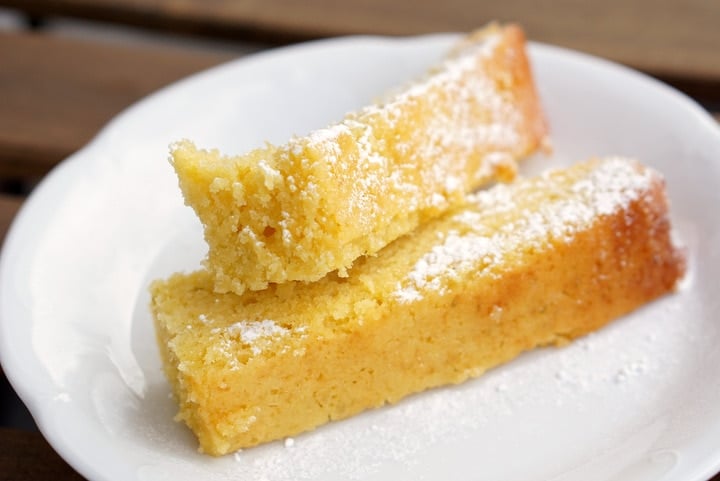 Read also: Olive Oil 101
Here in Spain I quickly realized that many people bake with olive oil. In fact, in almost all baked goods (quick breads, cakes, and cookies) that I've eaten here use olive oil as an ingredient. Where my family recipes call for heaps of butter or canola oil, my mother-in-law's recipes call for pools of olive oil.
Get the recipe: Try my delicious and simple Spanish magdalenas recipe for fluffy olive oil and lemon infused muffins
The Facts about Baking with Olive Oil
You can substitute olive oil for other cooking oils for most quick breads, cakes and brownies with very little change.
Virgin and extra virgin olive oils are the only ones that will bring any health benefits to the recipe (if you substitute just plain olive oil there's really no point)
There are hundreds of different olive varieties in the world– each one produces juice (aka olive oil). Each juice has a different flavor. Some flavors are really strong (very "green" olive oils can taste of freshly cut grass or tomato vines). Taste your olive oil before using it in a recipe to make sure the one you've chosen compliments that recipe!
Make sure your olive oil is in good condition– remember it is a juice– it gets worse with age! Keep it away from heat and light (away from the stove!) and use within two years of when it was bottled (look for this date on the bottle– good olive oils have it).
Spanish Olive Oil Cakes
Some of the best examples are Spanish bizcocho recipes. A bizcocho is basically just a quick bread (like zucchini bread or banana bread) that rises without the use of yeast. Like the similar "bread" in English or "plum cake" in British English, a bizcocho can be made of just about anything. Popular variations include orange, chocolate, yogurt, apple, and vanilla.
I decided to experiment with a recipe for Bizcocho de Yogur con Manzana (Apple Yogurt Bread) to potentially include the recipe in a future cooking class and took over my mother-in-law's kitchen once again (despite past experiences). The cake came out good, but not great, due to my ongoing Spanish oven difficulties. Why isn't there a bake mode?! It started to burn on the top after a very short time so I ended up having to lower the heat and turn off the top burner of the oven… quite the experiment! When I got back to Madrid I baked it again in my own oven and tried it with grapes instead of apples.
It was quick, easy, and delicious. We ate a slice with our afternoon coffee and I enjoyed the rest for breakfast over the next few days. It's not a very complex cake, but it's sweet and airy and stayed moist all week long. Let me know how you like it!
Apple Yogurt Bread (Bizcocho de Yogur con Manzana)
Author:
Prep time:
Cook time:
Total time:
Baking with olive oil is easy! Try this apple yogurt bread recipe and enjoy!
Ingredients
1 lemon yogurt
1 yogurt cup of olive oil
2 yogurt cups of sugar
3 yogurt cups of flour
3 eggs
1 packet of baking powder (in Spain baking power comes in packets)
1.5 cups of fruit (such as diced apple, grapes, or berries)
Butter
Flour
Powdered sugar (azúcar glacé, found at many supermarkets but I usually buy from Mercadona)
Instructions
In a large bowl beat the eggs and sugar.
Add the flour and baking powder (sift if possible) and mix very well (use an electric mixer at a medium speed if you have one!)
Now add the yogurt and oil and continue mixing until the batter is smooth.
Butter and flour the pan (I use a 9×9 round) and pour in the batter.
Sprinkle the fruit on top and it's ready to go in the oven.
Bake at 170 Celcius/340 Fahrenheit for about 30 minutes. (Time will depend on the pan you use).
It is ready when a toothpick inserted in the center comes out completely clean. Let the cake cool and top with powdered sugar.
Enjoy for your <g class="gr_ gr_4529 gr-alert gr_spell gr_inline_cards gr_run_anim ContextualSpelling" id="4529″ data-gr-id="4529″>merienda</g> (afternoon snack) with coffee or tea.
What do you think about baking with olive oil? Are you convinced? I hope so!