Sleeping in a Historic Convent in Guimarães, Portugal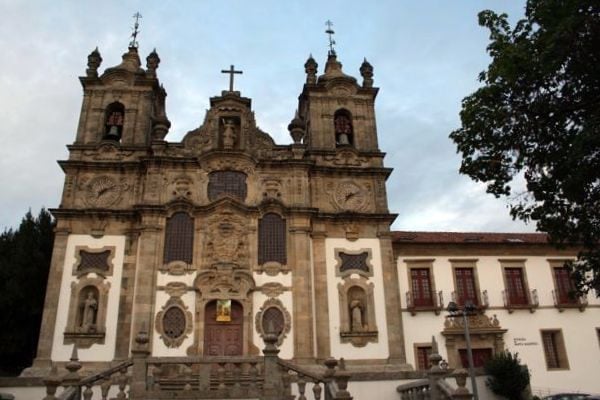 I knew that the hotels for our post TBU conference blogtrips would be nice, but the Northern Portugal Tourism Board really went all out with their selections. Our group stayed both nights of the trip in different pousadas, restored historical buildings similar to the Spanish paradores.
We got our first glimpse at the Pousada Santa Marinha in Guimarães, Portugal at the end of a long day of touring and traveling. After a transportation delay due to our tour bus breaking down, we were all eager to check in at our hotel for the night. As we made our way up a windy hill, I caught a glimpse of pumpkin patches and fig trees in the locals' gardens. As tired as I was, I craved to escape from the bus and walk leisurely up the hill. Rationality kicked in, however, and I stayed seated until we arrived at the top-- just in time to see the sun set over the city of Guimarães.
I don't think any of us really expected the beauty of the Pousada Santa Marinha. Our guide, Marta, had told us that  it was a former monastery, but I guess I hadn't thought it would be such a beautiful one, and so well kept.
The staff provided us with our room keys and we only had a half an hour before we had to leave for dinner. It was just enough time to take a look at our rooms and wander around for some pictures.
I walked into the room, not knowing what to expect, and was pleasantly surprised with a spacious, lovely bedroom with a sitting area and French doors looking out over the city of Guimarães. I watched the sun go down as I spruced up, and then headed outside to look around.
I quickly discovered a unique part of the hotel-- and something that will probably either fascinate or scare future guests. The Pousada Santa Marinha is located on a cemetery! Right beside the hotel entrance is a lovely, albeit slightly creepy, graveyard with gorgeous decorated stones.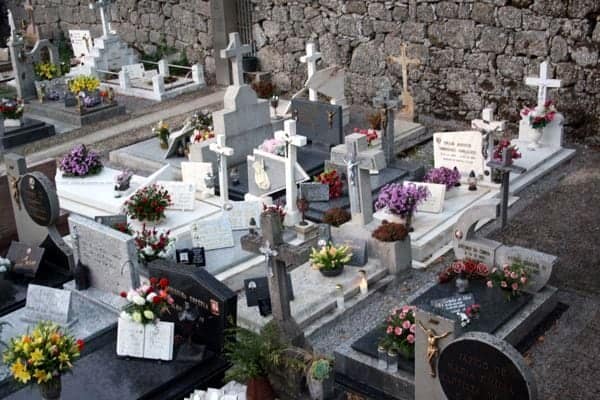 I slept wonderfully that night, although I was so exhausted from my awful hostel in Porto that I probably could have slept comfortably just about anywhere! As all of the hotel offers at the Pousada Santa Marinha all include breakfast for its guests, I made sure to wake up with plenty of time to indulge. The breakfast was filled with local meats and cheeses, and an assortment of breads and cakes to try.
We had to move on to our next destination at 9:00 a.m. so I quickly snapped a few more photos before leaving. I would have loved to stay a bit longer to enjoy the different peaceful areas the pousada offers its guests.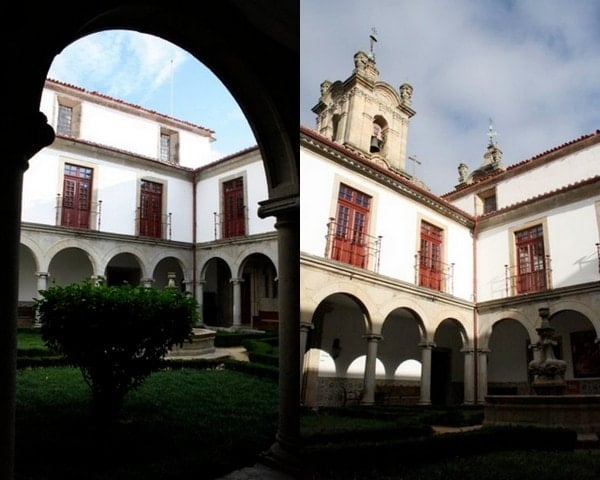 The Pousada Santa Marinha is the perfect place to stay while visiting the picturesque town of Guimarães, Portugal. Rates start as low as 100.00€ per night, which I consider an amazing deal for the fantastic quality and chance to sleep in a such a historic place.
Disclosure: I received my complimentary stay at Pousada Santa Marinha by participating in the post conference blogtrips at TBU Porto. Thank you to all involved in making our stay so enjoyable!