If you are looking for a romantic city, a bit smaller and less touristic than Paris or Venice, you should look to Portugal. Specifically, try the Ave Valley and the small city of Guimarães. Never heard of Guimarães? Don't worry, I hadn't either, but now that I've been there I feel obligated to share my experience with the world-- it's that amazing.
Now, it's not like Guimarães has been completely off the map-- it is the 2012 European Capital of Culture (a big deal!), and people should be lining up to visit! I'm willing to bet that they soon will be, as this small city of 55,000 people offers amazing accommodation, traditional food, and fascinating history, all in a fairytale-esque setting.
In another post I'll show you the city center and tell you about its history but for now, I leave you with Guimarães at night, possibly the most romantic city I've ever had the pleasure of strolling through in the evening. We were lucky to arrive right at dusk, moments after the sun went down, making the sky bright blue, but still dark enough for the city to turn on all of its decorative lights. Welcome to the fairytale.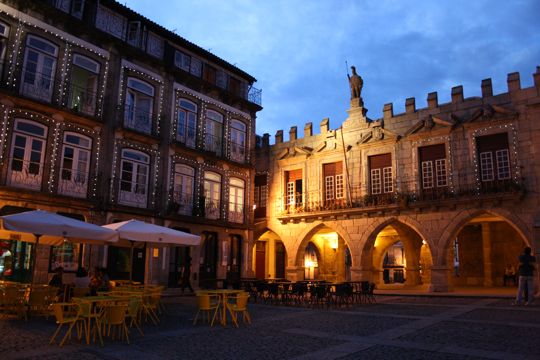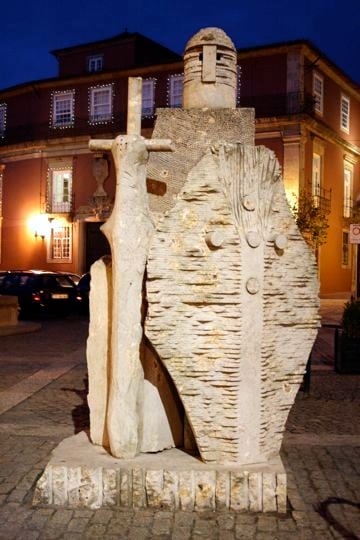 Finally, we reached our destination. We were treated to a lovely dinner at Histórico by Papaboa, a traditional Portuguese restaurant with great food and wine. As we rolled out of the restaurant a couple of hours later, we were exhausted, but no one complained about the gorgeous walk back to our bus. How could you?
Visiting Lisbon too?
Don't miss these top posts all about the Portuguese capital!