Santiago de Compostela is a magical place to visit in winter. The Christmas lights, the decorated shop windows and all the great seasonal eats make this one of the best times of the year to visit.
Santiago de Compostela's historic center isn't overflowing with tourists at this time of year because the camino de Santiago pilgrimage is much more difficult to do in wintry weather. As a result, it's the perfect season to plan a trip to the Galician capital to rub shoulders with the locals and see the city in a more authentic way. Here are some fun ideas for things to do in Santiago de Compostela in winter!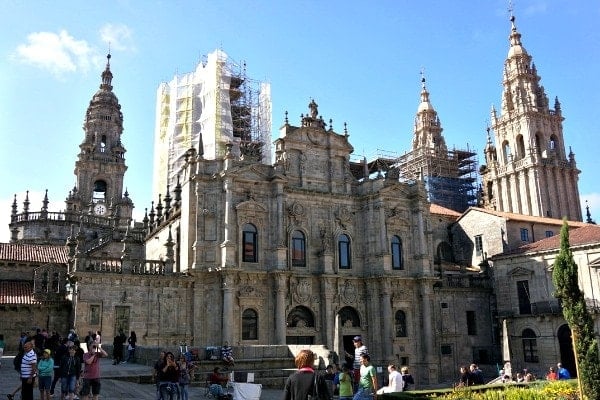 What to do in Santiago de Compostela in winter
1. Enjoy a delicious cup of Spanish hot chocolate and churros
Everyone loves this traditional breakfast treat, and for good reason! The mouthwatering combination of thick, sweet Spanish hot chocolate and crispy, fried-to-perfection churros is perfect at any time of day, whether for a cozy breakfast, a midday warm-up (necessary when visiting Santiago de Compostela in winter!), or a late-night snack. Try some of the best at Café Metate (Rúa do Preguntoiro, 12) in Santiago's historic center.
2. Take a walk around Belvís Park
Despite the cold, sometimes you just want to get out and about in Santiago de Compostela in winter. A lovely little green space on the edges of the historic center of Santiago, Belvís Park is the perfect place to take a relaxing walk. Don't miss the picturesque As Trompas path and the views of the city from its gentle hills. Keep an eye out for the historic Convent of Belvís and the seminary bordering the park.
3. Explore the quaint local shops
Everyone loves to shop when they're on vacation. After all, finding the perfect souvenir takes time and patience. Head to Rúa do Preguntoiro in the heart of Santiago de Compostela for a great selection of local shops selling everything from high-quality Spanish leather shoes, spices, children's clothing and even gorgeous dresses for special occasions. There are plenty of pastry shops along the way too, so you can always stop for a quick treat while shopping!
4. Indulge in a traditional Galician winter dish
Galician food is top-notch. In winter, locals indulge in home-cooked comfort dishes that they've been eating since childhood.
One particular favorite is cocido, whose name literally means "boiled" and is quite apt—everything is boiled! Comfort food at its finest, this is a popular dish to share among friends and family. It typically includes chorizo, pork shoulder, pork ears and other parts of the pig, cabbage, turnip tops, chickpeas and potatoes. Pile everything high on your plate, drizzle it with olive oil and add a sprinkle of spicy paprika. If that doesn't set you up for an afternoon siesta nothing will!
Insider's tip: Look out for restaurants which advertise the dish with a notice in the window—usually something along the lines of "Hay Cocido" ("cocido is available"). Most places only have it on the menu one day per week in winter. This local delicacy is the perfect way to warm up when visiting Santiago de Compostela in winter.
See Also: What to Do on Christmas and New Year's Day in Santiago
5. Discover Santiago's fascinating history
You can't leave Santiago de Compostela without delving a bit deeper into its history and culture. A great place to do that is the Pilgrimage Museum (Praza das Praterías, 2) next to the Cathedral of Santiago. You'll get a greater understanding of the importance of the pilgrimage to the city over the centuries and how it all started. This fascinating museum is a must-visit for those who want a real understanding of the Galician capital beyond scallop shells!
Read more: Discover Galicia's must-try dishes in this complete guide to eating in Santiago de Compostela!
Pin me!