Santiago de Compostela is a shopping mecca for those who want to take home some great quality, original presents for others or just for yourself! This guide to where to shop in Santiago de Compostela will show you where to get your retail therapy fix in the happening Galician capital.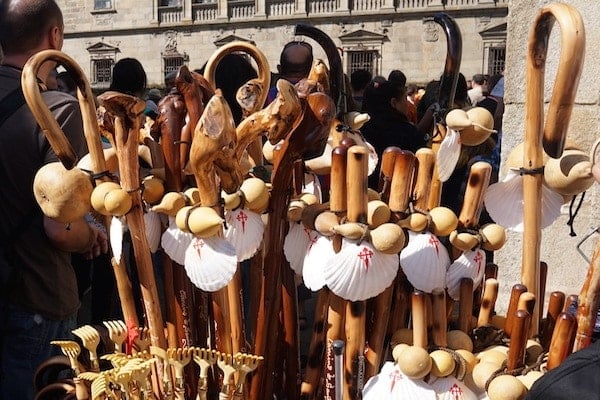 Where to Shop in Santiago de Compostela
1. Galería Sargadelos
This Galician ceramic company is one of the best options for where to shop in Santiago de Compostela if you want to take home an authentic piece of Galician history. They've been making high-quality ceramics, such as gorgeous dinnerware, ornaments and jewelry, since the early 19th century. The pieces feature such original designs and outstanding quality that they're often given by locals as wedding presents!
Address: Rúa Nova, 16
2. Pili Carrera
If anyone in Santiago de Compostela knows royal fashion, it's Pili Carrera. Known as the "stylist of the princesses," this Galician baby and children's clothing designer's creations are worn by many a European royal baby, as well as many well-dressed babies and children all over the world! If you're looking for delicately made dresses, sophisticated patterns and on-trend styling for your little one, you won't want to miss this charming shop.
Address: Rúa do Xeneral Pardiñas, 8
3. Roberto Verino
Roberto Verino is a famous Galician designer known for his flair, top-quality materials and elegant clothing. His pieces is a must for those who want to walk away with some home-grown design talent in their suitcase. If you're looking to splurge on a timeless piece you'll wear and treasure forever, this is definitely your best bet for where to shop in Santiago de Compostela.
Address: Rúa do Xeneral Pardiñas, 36
4. ElsaVaDeBoda
Looking for the perfect outfit for the next special event or wedding on your calendar? You'll love the gorgeous designs at ElsaVaDeBoda. The original looks, bright colors and great styling of the clothes (as well as the shop itself) make these beautiful outfits truly one of a kind. Don't forget to ask the staff for advice—they really know what they're talking about!
Address: Rúa do Xeneral Pardiñas, 22
5. O Graneiro de Amelia
You'll smell this shop before you even go in! That's because they specialize in spices, teas, flours, beans, artisan pastas, nuts and more, all sold by weight. Don't miss out on their paella spice mix so you can try this classic Spanish dish back home.
Address: Rúa do Preguntoiro, 16
6. Buenjamón
Feeling hungry throughout your shopping spree? Head to Buenjamón, a specialty Spanish cured ham shop where you can get an exquisite ham bocadillo (sandwich), as well as cured Spanish sausages, olive oils, wines and liqueurs. If you don't want to commit to a whole bocadillo, get one of their paper cones filled with pieces of cured ham or tiny sausages to snack on while you continue your tour of the shops!
Address: Rúa da Caldeirería, 40
See also: Finish your sightseeing tour of Galicia's capital with this guide to what to see in Santiago de Compostela!
Pin me!