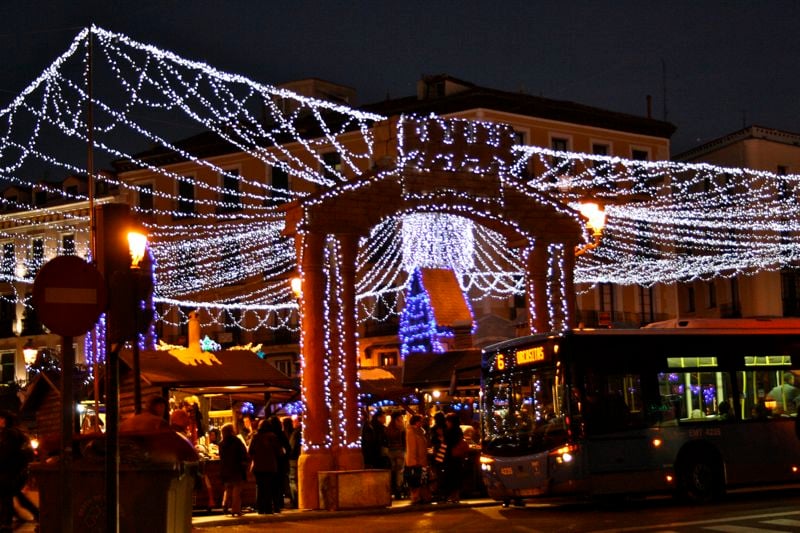 Giant cone-shaped light trees that stretch to the stars, the sweet smell of caramelizing almonds that tantalizes from afar and more tiny wise men figurines than you can possibly imagine. This can only be one place: a Spanish Christmas market.
Small wooden houses are popping up in rows throughout the central plazas of Spain as each town and city prepares for their annual Christmas market. Over the next two weeks, these little wooden stalls will fill with all types of Christmas decorations, sweets and toys. Throngs of people will weave through these newly created Christmas-covered streets to the tune of festive holiday music.
While nearly every city in Spain - from towns of 300 to cities of 3 million - hosts some type of Christmas market, these nine stand out from the rest. As Spain's main holiday celebration is not until Three Kings Day on January 6th, many of the Christmas markets in Spain have the added bonus of staying open longer than anywhere else in Europe!
Learn more: Top Spanish Christmas Traditions
Madrid: Dulce Navidad
Plaza Isabel II in front of Madrid´s Opera house transforms into a Christmas treats wonderland every December. Pastry chefs, bakers and skills sweets makers set up shop in the plaza, selling freshly made churros with chocolate, candied fruits, caramelized nuts, turrón Christmas chocolate, polvorone Christmas cookies, marzipans and dozens of other traditional Christmas desserts.
Open from November 29 until January 10th, approximately from 10 a.m. until 10 p.m. during the week and until midnight on weekends.
Madrid: Plaza Mayor
For one month a year, local Madrileños retake the beautiful central plaza of their city, making it one of the central points of Christmas cheer. More than one hundred stalls fill the plaza selling all types of Christmas supplies.
Some of the most popular stalls are those laden with mountains of figurines, tiny trees and miniature mangers. Here you'll find everything you could possibly need to create the most elaborate nativity scene in Spain, including live moss!
Beneath the canopy of lights that hang over this market you'll also find plenty of trickster toys for the Día de los Santos Inocentes on December 28th, Spain's equivalent of April Fools' Day.
Open from November 27 though December 31st from 10 a.m. to 9:30 p.m.
Seville: Plaza Nueva
Seville, the third largest city in Spain, goes all out at Christmastime. Lights dangle across nearly every street, cone-shaped Christmas trees reach three and four stories high in plazas throughout the city and street lamps are wrapped with garlands.
This festive spirit is perhaps most visible in Plaza Nueva, just few strides from Seville's enormous gothic cathedral. It is here that 72 artisans gather each December to sell their handmade crafts. It is a God send to anyone who is looking for unique Christmas gifts!
Open from Decembr 15 through January 5.
Seville: Exposición de Dulces de Conventos de Clausura de la Archidiócesis Sevillana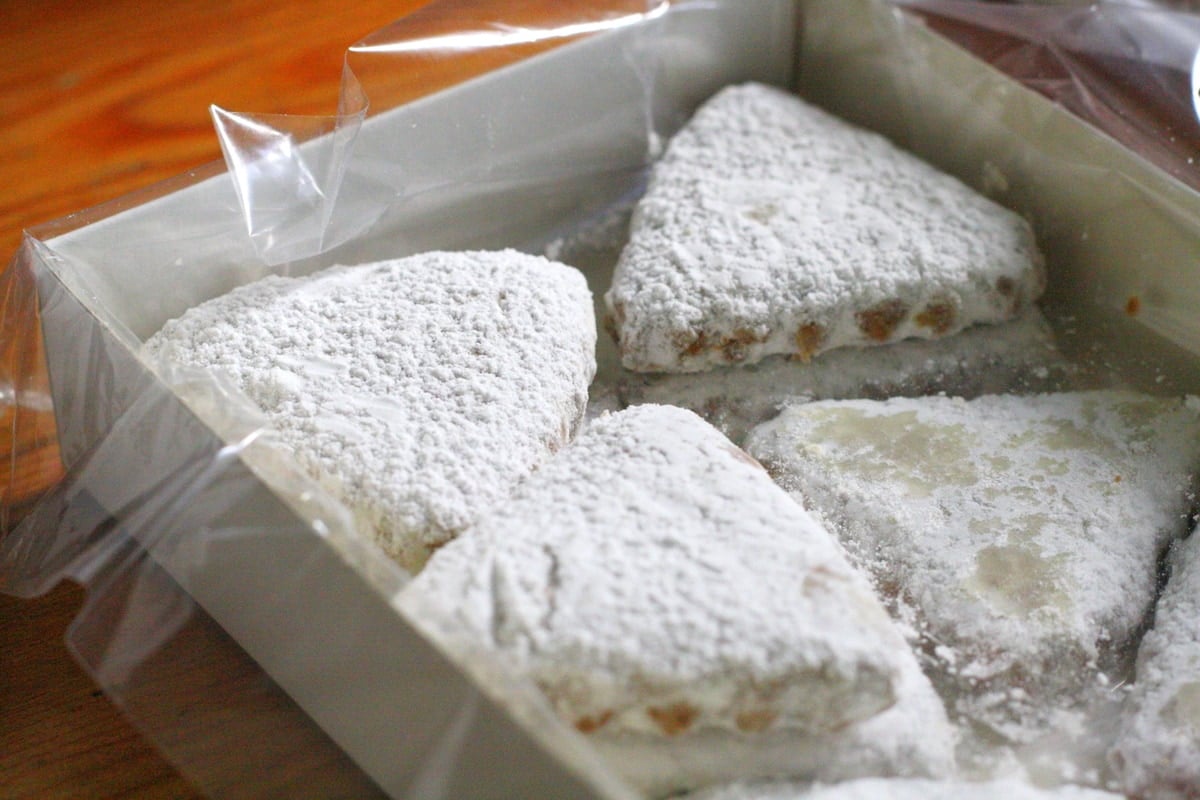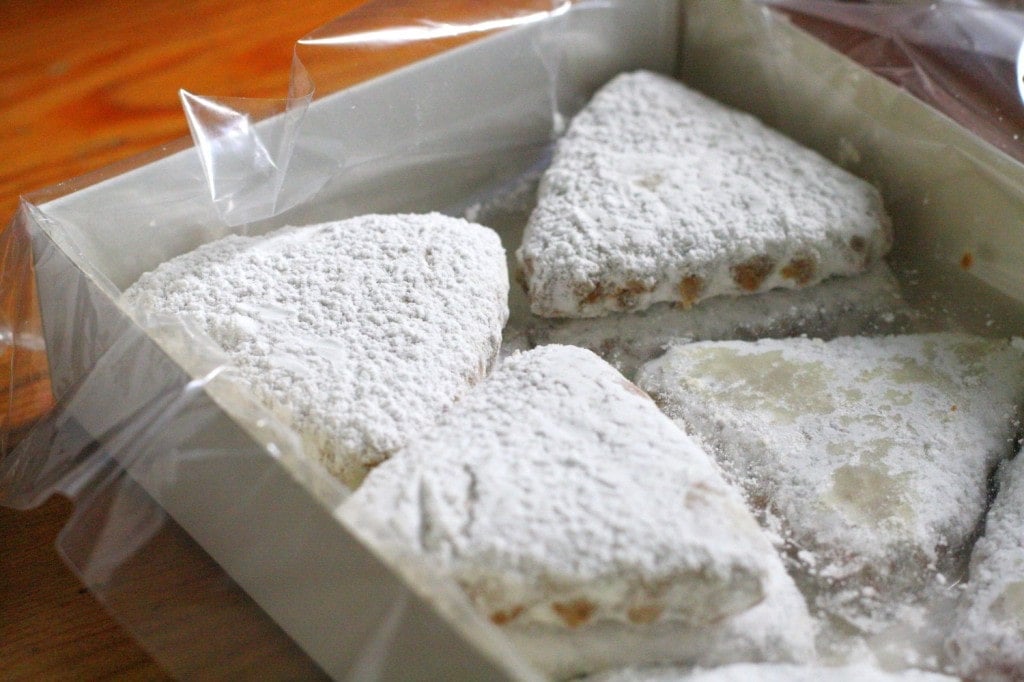 Towers of boxes teeter upon white-clothed tables inside Seville's Royal Alcázar palace for one week each December. But these are no ordinary boxes of cookies. Each was handmade by a convent of cloistered nuns.
Besides having the longest name in the history of Spanish Christmas Markets, the Exposición de Dulces de Conventos de Clausura de la Archidiócesis Sevillana also has an enormous variety of nun-made Christmas sweets! From muffins and truffles to anise flavored doughnuts and almond powder cookies, there are more sweets on display than anyone could possible eat in just one Christmas!
If nun's sweets sound like your kind of thing, join Devour Seville Food Tours for their daytime Tastes, Tapas and Traditions of Seville food tour where you'll visit a convent to buy cookies!
Open the week of December 5.
Barcelona: Fira de Santa Lucia
For 229 years the plaza in front of Barcelona's gothic cathedral has been home to one of the largest Christmas markets in all of Spain, the Fira de Santa Lucia. This sweeping market is bursting with traditional Christmas fares and few oddities that you'll only find here in Catalonia.
Among the nativity scene sculptures of the Virgin Mary and humble shepherds at Fira de Santa Lucia is a much cruder figurine: the caganer, or crapper. This infamous pooping character has been hiding in religious nativity scenes across Catalonia for centuries. While the traditional caganer wears peasants' clothing, it's not uncommon to find him depicted as politicians, soccer stars or other famous people.
Things that poop is a bit of a trend in Catalonia Christmases. Another of the most popular items at the Fira de Santa Lucia is the Tió de Nadal, a log that poops toys and treats when beaten with a stick.
Read all about Catalan Christmas traditions here!
Open from November 27 through December 23 from 10:30 a.m. until 8:30 p.m.
Zaragoza: Plaza de Pilar
One of the hallmarks of Christmas is Spain is the lavish nativity scenes that are constructed in churches, schools, businesses and homes. In Zaragoza this Spanish Christmas tradition is taken to a whole new scale. Human scale to be exact!
In the shadow of the magnificent Basilica del Pilar, a giant 1,500 square meter nativity scene sprawls out like a maze. Nearly 50 life-size figures are used to recreate the night that Jesus was born.
Zaragoza's main Christmas market is in the plaza adjacent to the nativity scene. Beyond the typical Christmas decorations and sweets, the market has activities for kids, and parades and bands throughout the month that it is open.
Open from December 12 through January 6.
Valencia: Feria de Atracciones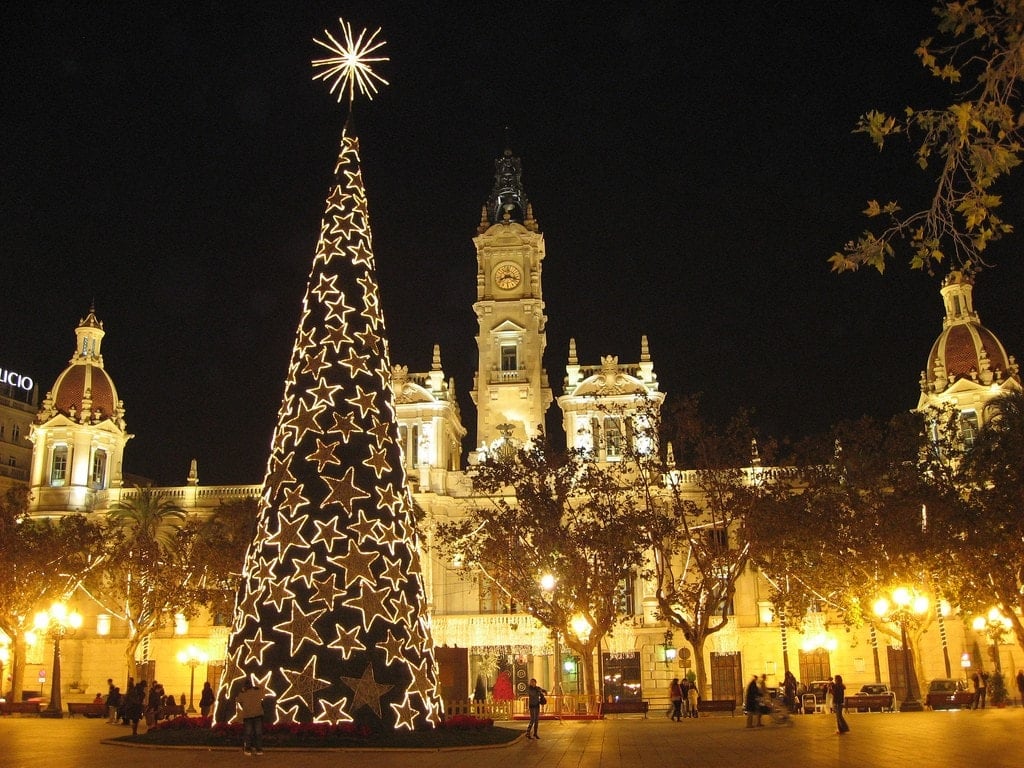 In the sunny Mediterranean coastal town of Valencia, the annual Christmas fair looks a lot different than your snowy northern markets. With temperatures in the high sixties throughout the month, Valencians swap hot chocolate for cotton candy at their annual Christmas amusement park!
While there are a handful of traditional Christmas markets in Valencia, the city also hosts a fair during the holidays that includes everything from a giant ferris wheel to mini roller coaster. This is one way to add some adrenaline to your holidays!
Open from the last week in November until the last week of January.
Bilbao: Mercado Santo Tomás
In the Basque Country, Christmas starts a bit early. On December 21 the region's major cities are filled with festive agricultural bliss in celebration of St. Tomas Day. Farmers, ranchers, cheese makers and chefs fill the center of Bilbao aand thousands of festival-goers flock to greet them the Arenal plaza and Plaza Nueva.
Txakoli (Basque white wine) and Sidra (local hard cider) flow and talos con chorizo (traditional tortilla-like wraps stuffed with thin links of chorizo) are sold by the thousands. This Mercado Santo Tomás is a delicious way to kick off the holidays and load up on local products for your homemade holiday feasting!
Open all day on December 21st
Bilbao: Dulce Navidad del Convento
The sweetest time to visit Bilbao's Diocesan Museum of Religious Art is definitely in December. Nuns from more than a dozen convents around Bilbao set up shop in the museum to sell traditional Christmas treats. Feast on typical Christmas sweets like turrón (almond or toffee bars), chocolates, polvorones (powdery almond cookies), mantecados (slightly less powdery almond cookies) and marzipans.
The typical treats that the nuns make year round like rosquillas (anise doughnuts), tejas (crunchy almond bark), pastas de limón o café (lemon or coffee flavored cookies), and perrunillas (cinnamon cookies), jams and various liqueurs are also available to tickle your tastebuds.
What are your favorite Christmas markets?
Pin me!