Spain is a country full of unique customs, and some of them may surprise you. From December Fool's Day and a pooping log to fire jumping and an intense national lottery, Spanish Christmas traditions are more unique than you might think!
The Christmas season in Spain kicks off in late November, when festive lights and charming holiday markets spring up in cities and towns throughout the country. From there, it's a non-stop festive extravaganza that doesn't end until the roscón de reyes gets polished off.
So, how does Spain celebrate Christmas? Here are 15 Spanish Christmas traditions that you need to know.
1. A Visit from the Three Kings
Fun fact: Santa Claus doesn't traditionally come to Spain. Instead, Spanish children get their presents from the Three Kings (or Three Wise Men).
And these Reyes Magos don't come on December 25th, either! Nope, kids here have to wait until January 6th, the day of the Epiphany, to open their gifts.
But it's worth the wait! The day before the Reyes come, locals flock to the streets to greet them. There's a massive parade, and people dressed as the Three Wise Men ride atop floats and throw candy to the masses. Known as la cabalgata de los Reyes Magos, this parade is one of the highlights of Spanish Christmas.
But if waiting those 12 extra days seems too hard, don't worry. Nowadays, kids in Spain usually open a few presents on Christmas Day as well. It's also traditional in some areas for children to sing Spanish Christmas songs to their neighbors or family members on December 25th in exchange for sweets or small presents.
Fun Fact: In Galicia, kids also get a visit from the Apalpador, a giant coal miner who brings them treats and gifts. And in the Basque Country, there's the beret-clad Olentzero. He may not look much like St. Nick, but legend says this traditional character visits Basque towns on Christmas Eve to leave presents for children. Sound familiar?
2. The Christmas Lottery
The Spanish Christmas lottery is the biggest in the world, paying out more than 2 billion euros each year. For that reason, it's colloquially known as El Gordo: "the fat one." Almost everyone in the country plays, usually going in with their friends and coworkers and only buying a share of a single ticket.
If a certain group's numbers win, the prize is distributed between all of the people who went in on that ticket. And the number of people who share a single ticket can get pretty out of control.
In 2011, an entire town shared one set of numbers—and won. Everyone from Sodeto got part of the 950 million euros that went to the winning ticket, save for one man!
The results are announced on the morning of December 22, with a drawing presented live across the nation. As each number is chosen, a choir of schoolchildren sings it aloud.
3. Festive Feasts
Of all the Spanish holiday traditions, one of the best by far is the abundance of multi-course meals. Christmas is the perfect time to enjoy some of the country's most beloved dishes, which are served up in long and elaborate holiday feasts.
The fun starts on Christmas Eve with an indulgent dinner, often including several types of tapas, soup, seafood, and roasted and cured meats. You might want to have a light breakfast the next morning, because Christmas Day lunch is equally impressive.
Just a week later, this pattern is repeated on New Year's Eve and New Year's Day—and then again for Three Kings Day in early January. If you want to celebrate Christmas like a true Spaniard, you'd better show up with a big appetite!
4. Hearty Dishes
When the weather gets chilly, the platos de cuchara (literally "spoon dishes") come out. Think hearty soups and stews that are indeed best eaten with a big spoon, ideally beside a crackling fire.
One of the most common winter dishes in Madrid is cocido madrileño: a multi-course experience involving caldo (a rich broth), chickpeas, garlicky cabbage, and almost every kind of meat imaginable. In Catalonia, you'll find escudella i carn d'olla: hot broth with giant shell-shaped pasta called galets, various meats and vegetables, and a massive meatball called a pilota.
It's also common to enjoy hearty dishes of lentils, beans, and other legumes, usually accompanied by chorizo or other meats. A traditional Christmas meal may include a soup course before the main event—but sometimes Spanish soups and stews end up stealing the show.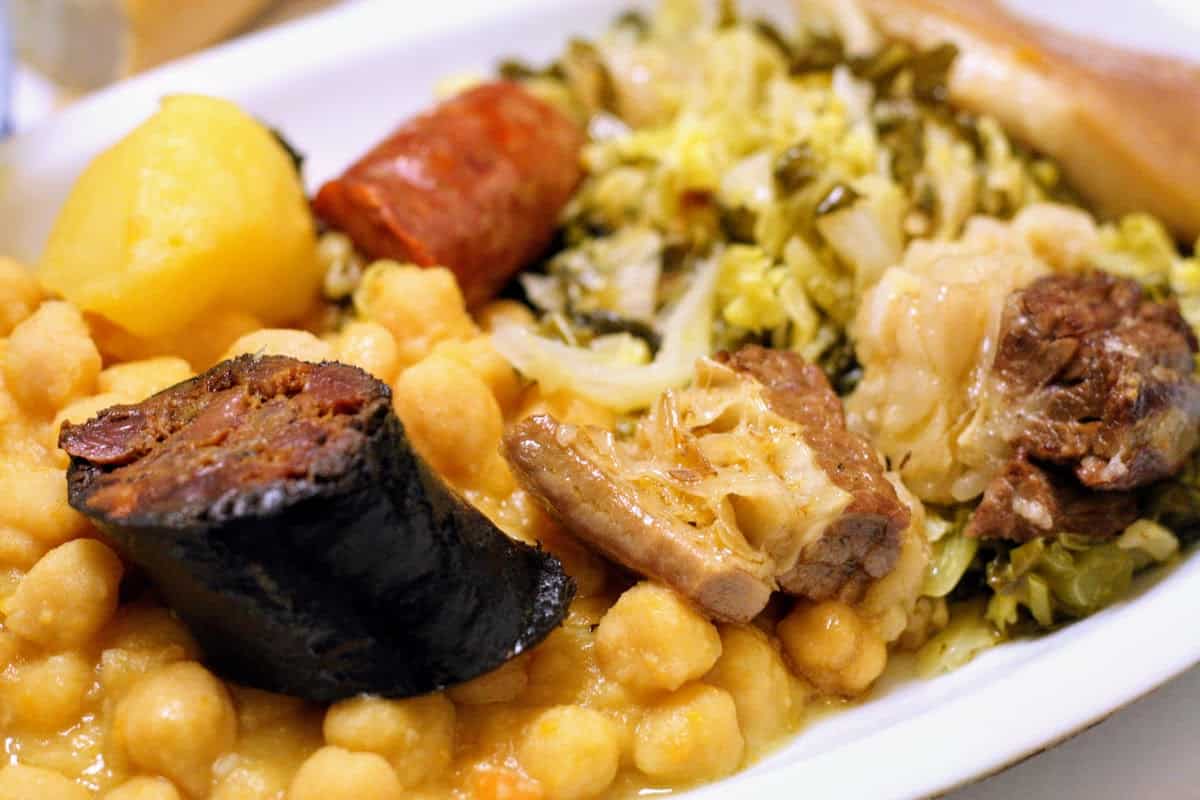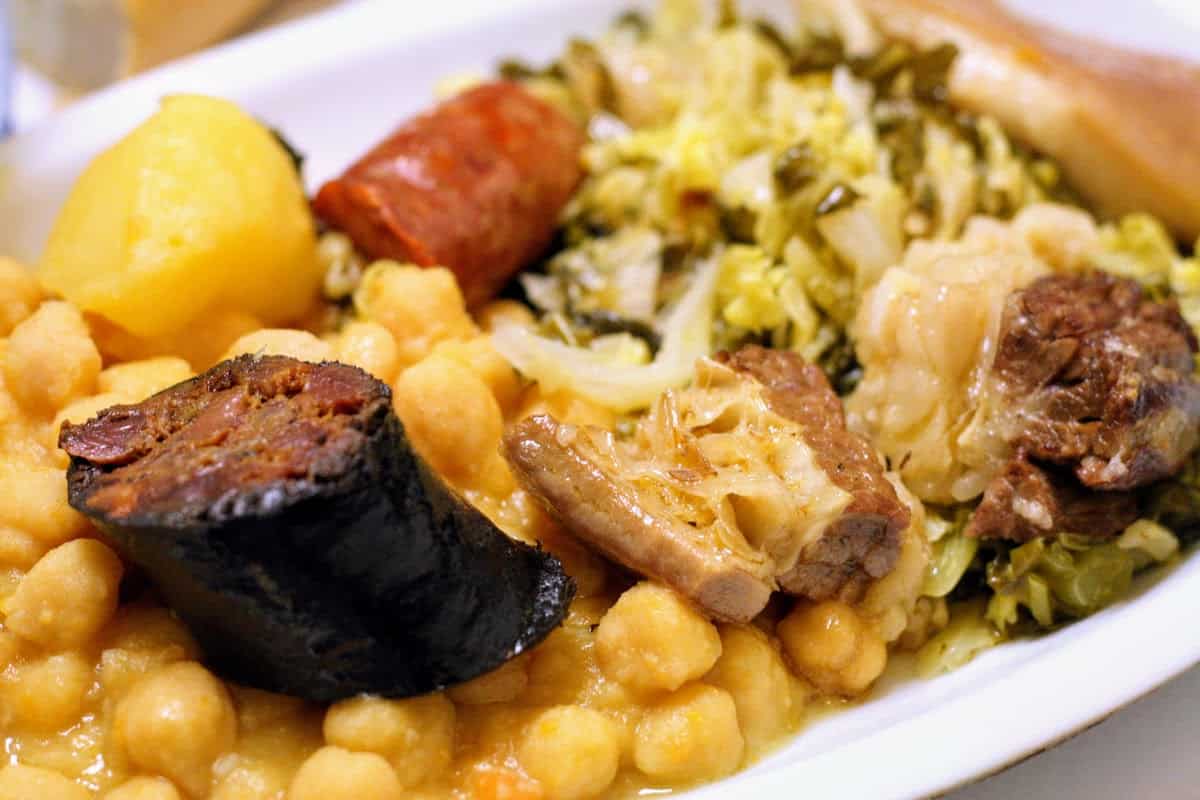 5. Spanish Christmas Sweets
No holiday is complete without some iconic sweets. When in Spain, forget the candy canes and sugar plums, and grab some polvorones and mantecados instead. These crumbly, melt-in-your-mouth cookies are often served after a big meal, alongside other Spanish Christmas desserts.
The best part? They're super easy to make at home! Check out our polvorones recipe and mantecados recipe to create a dessert spread that would make any Spaniard proud.
Another common Christmas sweet is turrón, which is a kind of nougat that can be hard or soft, and comes in many different flavors. And then of course there's the most iconic Spanish Christmas dessert, which definitely deserves its own section...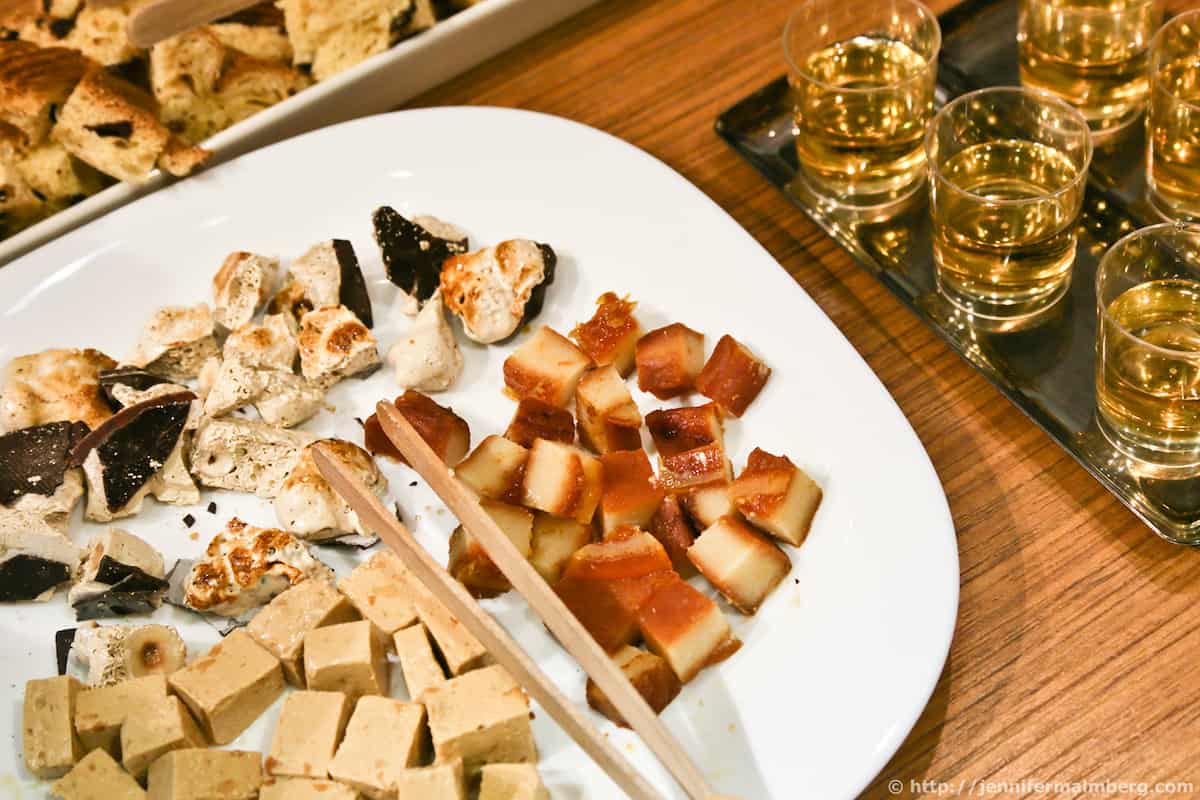 6. Roscón de Reyes
Each Spanish holiday meal, from Christmas Eve to New Year's Day, is followed by delicious dessert. But on the eve of the Epiphany, the star of the season appears: roscón de reyes.
This "Kings' cake" is a Christmastime staple, consisting of sweet brioche stuffed with pastry cream and topped with candied fruit. Its doughnut shape is said to be inspired by the crowns the Three Wise Men wear.
And here's the fun part: When each family member bites into their slice of cake, they're crossing their fingers, hoping they'll find a small ceramic toy (traditionally shaped like the baby Jesus).
If you chomp on the toy, you get good luck for the whole year! But if you're unlucky enough to bite down on a dried fava bean, you have to pay for next year's cake. This is one of the most beloved Spanish Christmas traditions, and one that you can easily recreate at home with this roscón de reyes recipe.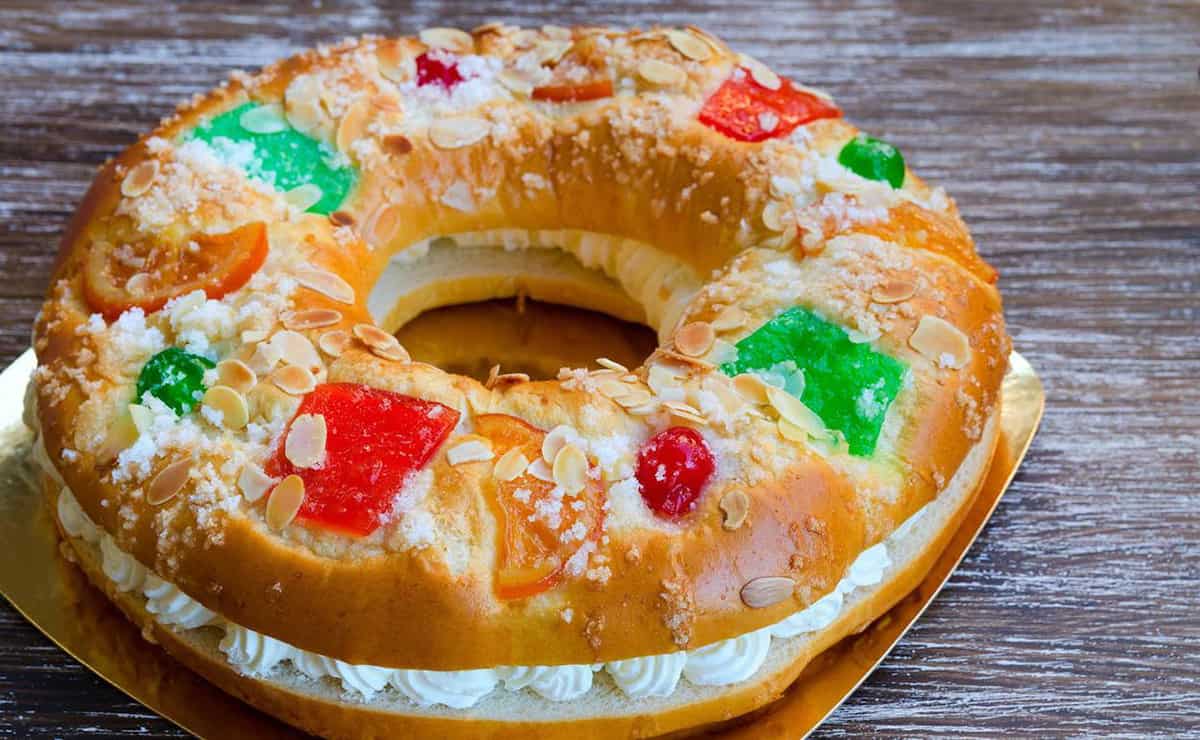 7. Midnight Mass
Most people in Spain identify as Catholic. So it makes sense that after Christmas Eve dinner, many families head to church for the Misa de Gallo, or Midnight Mass (literal translation: "Rooster's Mass").
This special service is an affirmation of faith, and one of the most-attended Church events of the year. While it's not the flashiest Christmas tradition in Spain, the Misa de Gallo is an important opportunity for families to get together each year and give thanks.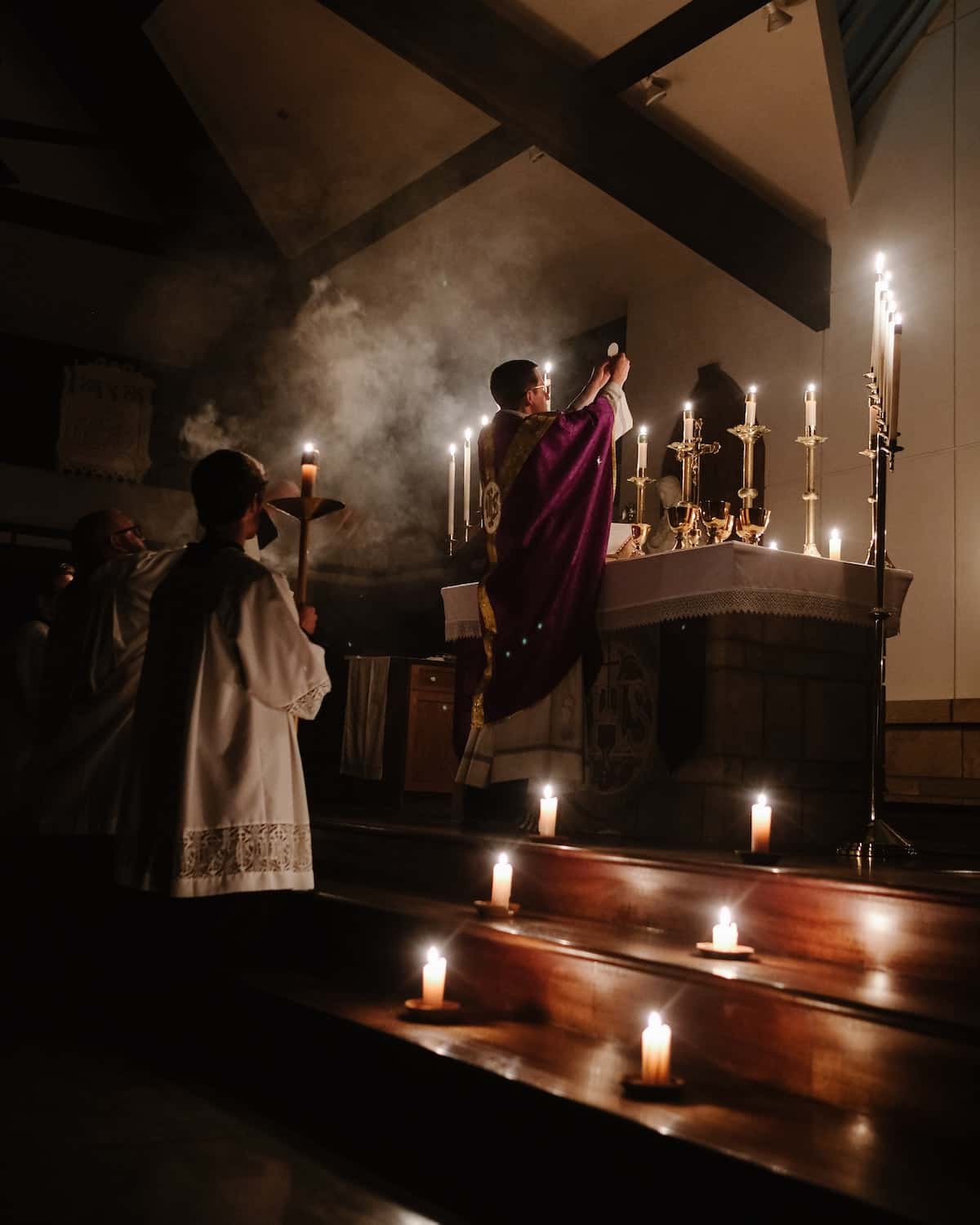 8. Beautiful Nativity Scenes
If you visited Spain 50 years ago, you might have struggled to find Christmas trees during the holidays. Although they're more common now, trees are a pretty recent addition to the Navidad lineup. But nativity scenes are a different story.
In more traditional households, you'll still find the classic portal de Belén (also known as the belenismo). Incredibly ornate, these gorgeous nativity scenes are the old-school way of decorating your house for Christmas.
You'll see them appearing in store windows from the start of December in Spain. Many big companies also open their doors to families to show off their elaborate nativity scenes to the public.
There are plenty of Christmas markets across the country that specialize in handmade figurines and icons for these scenes—from the baby Jesus and the Three Wise Men to a flock of sheep and the classic Catalan caganer.
9. Christmas Markets
If you're into shopping (or sweets), you'll love Spanish Christmas markets. When the holiday season officially begins in December, outdoor markets are set up in city centers all over Spain. The vendors sell everything from Spanish Christmas decorations and belén supplies to toys and traditional candies.
One of the best things to do when visiting Spain in December is to grab your coat and stroll through the stalls. Even if you're not in the market (pun intended) for any Spanish Christmas ornaments or festive knick-knacks, there's no better place to soak up the holiday spirit.
Tip: In addition to the usual market stalls, the city of Valencia hosts the Feria de Atracciones de Navidad: a Christmas-themed amusement park! It's one of the best things to do if you're visiting Valencia during the holidays.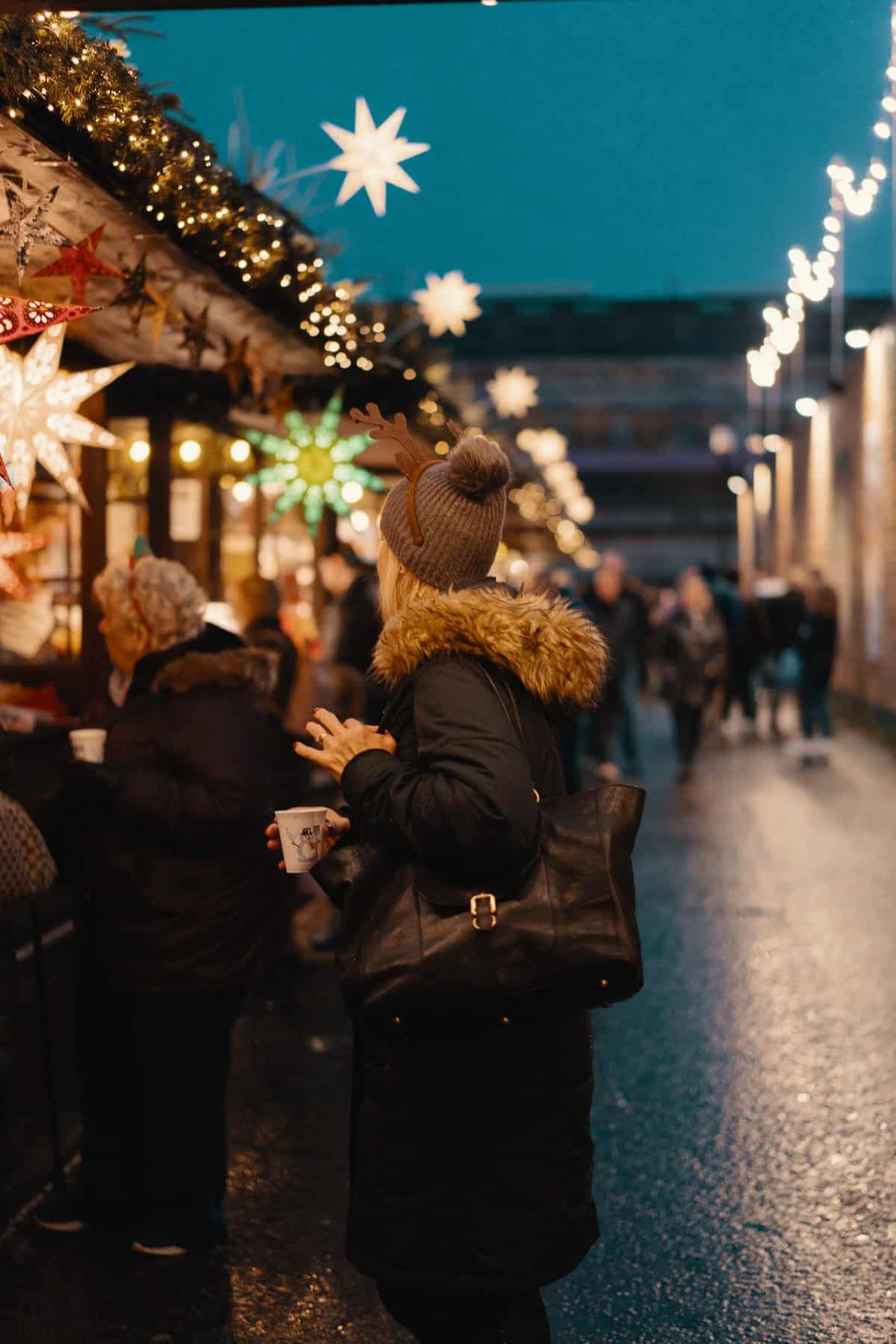 10. The Caga Tió
Not to be outdone by the rest of the country, Catalonia also has its own unique Christmas traditions. This one might sound a bit weird, so bear with us here.
Each December, Catalan families decorate a wooden log with a face and legs. It's kept in the house or garden, and covered with a blanket to keep it from getting cold. This log is called the Caga Tió—the "pooping log." Why?
Well, on Christmas Day, children gather around the log and start to beat it with sticks. While they whack, they sing a song asking the log to poop out candy for them to eat on Christmas. Once the song is finished, they pull back the blanket to discover a treasure trove of hidden sweets.
11. St. Stephen's Day
This is another tradition unique to Catalonia (although it's also observed outside of Spain). Here, the day after Christmas is known as Sant Esteve, or St. Stephen's Day.
It has an interesting origin story; when Catalan families used to gather for Christmas, they often wouldn't be able to get home the next day due to bad weather. So they started celebrating on December 26th as well!
If you're a fan of leftovers (and who isn't?) then you'll love the traditional Catalan food served on Sant Esteve: canelons, the Catalan version of cannelloni. This cylindrical pasta is usually filled with leftovers from the previous day's feast, such as meat from the escudella. It's then topped with creamy béchamel to create the ultimate wintertime comfort food.
12. Día de los Inocentes & Els Enfarinats
While most of the rest of the world is pulling pranks on April 1, the Spanish are patiently biding their time. But come December 28, Spaniards start watching their backs. El Día de los Santos Inocentes is anything but innocent—but if you don't feel like playing pranks, you can just dress up in a wig instead!
If you visit Madrid's Christmas market in the weeks leading up to this holiday, you'll probably notice some vendors selling small prank gifts: perfect for el Día de los Santos Inocentes.
Fun Fact: In Alicante, this holiday is extra fun—and messy. It includes the traditional Spanish festival of Els Enfarinats, which involves throwing eggs and flour at one another in the streets!
13. El Arrastre
The children of Cádiz, a beach town in southwestern Spain, have their own special Christmas tradition. It's called El Arrastre ("The Drag"), and takes place on January 5: the day before Three Kings Day.
In order to remind the Reyes Magos to come and give them presents, the kids take to the streets to drag around strings with metal cans attached, making a ton of noise to get the Kings' attention.
Fun Fact: Some people also say that the purpose of El Arrastre is to scare off a giant who would otherwise cover the sky in smoke so that the Three Kings can't visit!
14. Santa Claus Race
Okay, we know we already said that Santa Claus isn't a thing in Spain, but there is at least one big exception. Every year in December, thousands of people dressed up as Santa take over the streets of Madrid. They're participating in La Carrera de Papa Noel, a charity run with a festive twist.
The race route winds through Madrid's city center, creating a unique spectacle that can put a smile on even the biggest Scrooge's face. The best part? All proceeds from the race go to charitable causes such as the Cruz Roja (Red Cross).
15. Holiday Bonfires
Everybody loves a roaring fire in the hearth at Christmastime—but in Andalusia, they take this tradition one step further. Some southern Spanish cities celebrate the holidays with giant bonfires.
In Granada and Jaén, the Hogueras de Navidad ("Christmas Bonfires") take place on the winter solstice, a few days before Christmas. Jumping over the flames supposedly brings good health in the following year!
More Holiday Traditions in Spain
Spanish Christmas Traditions FAQs
What is Christmas called in Spain?
The Spanish word for Christmas is Navidad. Christmas Eve also has its own name: Nochebuena. And although these are the major holidays, the Christmas season usually lasts for several weeks, from early December to Three Kings Day on January 6.
What does Spain eat for Christmas?
There are tons of traditional Christmas foods in Spain! The main meals on Christmas Eve and Christmas Day usually include all kinds of seafood, meats, and traditional dishes. Cured Iberian ham is a common Christmas gift, so you'll probably find it on the table. Desserts are just as diverse, ranging from sugary almond cookies and turrón to the famous roscón de Reyes.
What food is eaten on Three Kings Day in Spain?
The most famous Three Kings Day food is roscón de Reyes, or "Kings' cake." It's a doughnut-shaped cake, usually filled with whipped cream and topped with candied fruits. Before dessert comes, there's also a feast of Spanish specialties, similar to the big meals served for Christmas and New Year's.
Does Spain have Santa Claus?
Traditionally, Santa Claus is not the central figure of Christmas in Spain. Instead of receiving gifts from him, children are visited by the Three Kings on the night of January 5 (and other Santa-like figures in certain parts of the country). However, Santa has become more common in Spanish culture—as evidenced by Madrid's annual Santa Run!
When are gifts exchanged at Spanish Christmas?
Usually, Spanish kids open their presents on January 6th: the day of the Epiphany, aka Three Kings Day. But these days it's also common to exchange some gifts on Christmas Day.
What are typical Christmas drinks in Spain?
The most iconic Spanish Christmas drink is probably cava, Spain's famous sparkling wine. It's festive, fun, and perfect for parties. Holiday dinners typically include plenty of red and/or white wine, and often end with a dessert wine or digestif (such as brandy or orujo). Depending on the region, you might also find some Spaniards sipping cider or sherry at the holidays.
Update Notice: This post was originally published on December 2, 2019 and was updated with new text and photos on June 16, 2021.
Love Spanish food? Sign up for my free weekly newsletter and receive a new Spanish recipe once a week! Join today and get my FREE Spanish ingredient essentials guide!