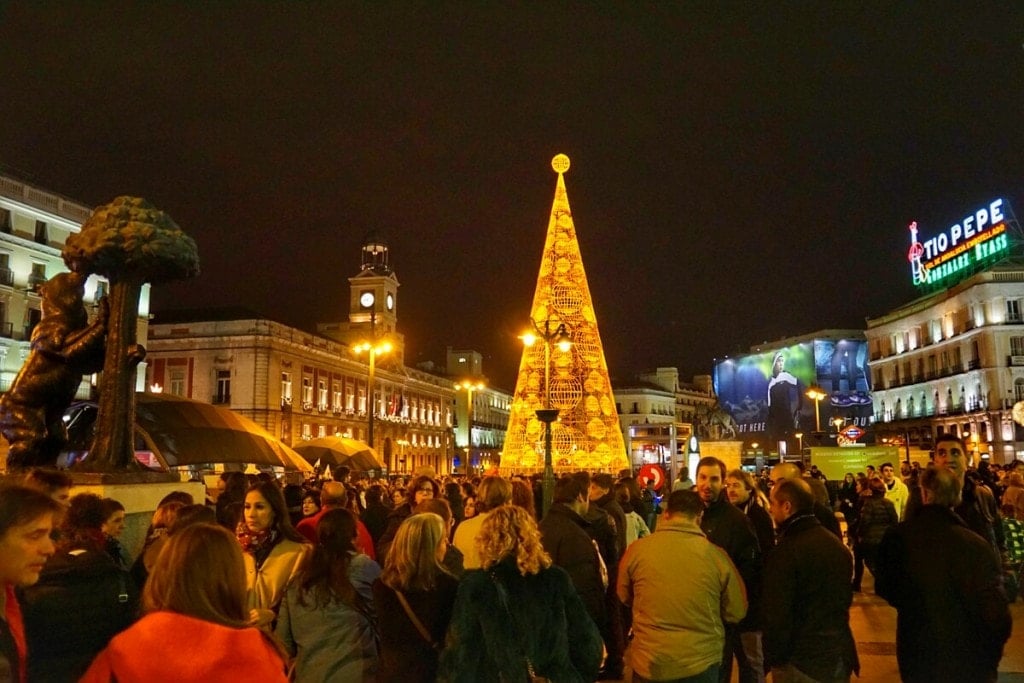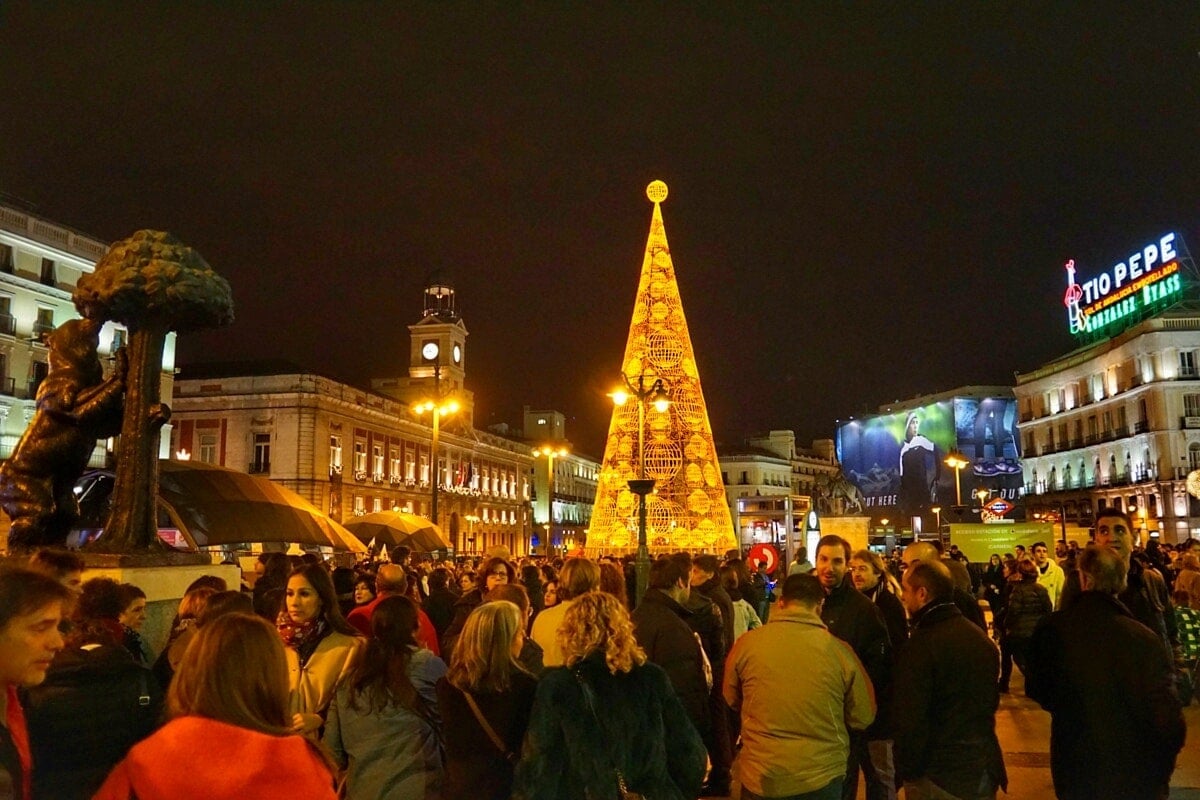 Christmas in Spain is a marvel all its own. Where I am used to strings of lights and wire reindeer, in Madrid I find metal light panels and sparkly garland. When I look for candy canes, I find holiday turrón. In place of TV ads for Christmas sales, I see back-to-back commercials for sparkling wine and lottery tickets.
This may not be the Christmas I'm used to, but its just as festive and fantastic. And in Spain, Christmas has the added bonus of lasting two weeks longer! The celebrations continue all the way up until Three Kings Day on January 6 when most families exchange gifts.
As the countdown to Christmas begins, the holiday spirit in Spain is reaching a fever pitch. No matter if you are visiting a tiny village or strolling through downtown Madrid, here are nine ways you know it's almost Christmas in Spain.
See More: Top 7 Spanish Christmas traditions
1. Long Lines Snake out of Lottery Shops
To say the Christmas lottery is a big deal in Spain would be the understatement of the year. El Gordo, which means "the fat one," doles out nearly €1 billion every Christmas, making it the biggest lottery in the world. While hundreds of smaller prizes are given out, only one ticket gets the grand €4 million first prize.
The lottery shops that sold the big winners in previous years are highly sought after as many people believe they have good luck. Insanely long lines stretch out of these tiny shops for nearly a month before the lottery draw on December 22.
2. Central Streets Smell Like Roasted Chestnuts
In Spain chestnuts really do roast on open fires. Many of those fires burn in black barrel grills along the sidewalks from farming villages to capital cities. The smoky, sweet smell of roasting chestnuts begins to waft into plazas at the end of November. That irresistible sent is one of the first signs of the holiday season, filling the streets long before the lights or trees go up.
3. Rectangles of Twinkling Lights Line Every Avenue
Spanish cities save themselves the hassle of disentangling those gray-hair-inducing strands of Christmas lights. Instead of light strings painstakingly strung around trees and buildings, most Spanish cities opt for giant wire frames of lights that are hung between buildings and over avenues.
Without wire, Spanish Christmas decorations wouldn't exist. Rather than real pine trees, the Christmas trees around Spanish cities are cones of wire supporting patterns of lights. The giant 35 meter metal tree in Madrid's Puerta del Sol is one of the most famous images of Christmas and the site of Spain's giant New Year's Eve countdown.
4. Mountains of Turrón Take Over the Supermarkets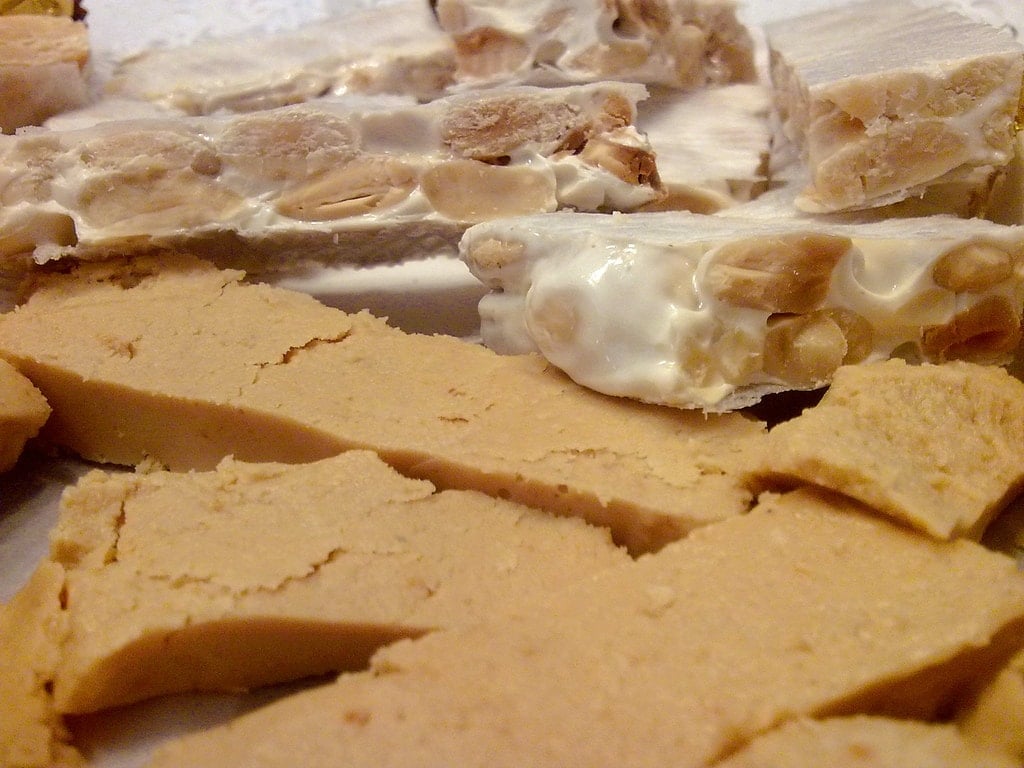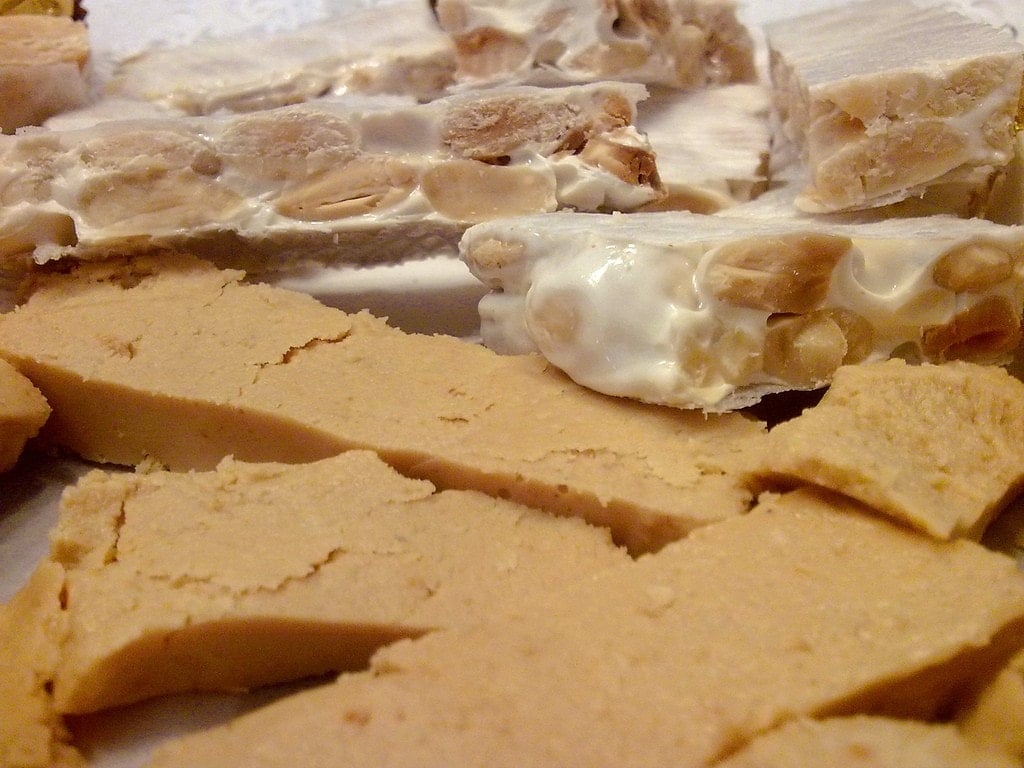 It's on every display, it's stacked head-high on tables squeezed into any open spaces, it has even crowded out most of the dried fruit and nuts. My supermarket has been overrun by turrón, generally an almond toffee or nougat or chocolate Christmas candy bars.
Spaniards buy a staggering 25 million pounds of turrón each year. Traditionally, there are only two varieties of turrón: blando (soft, almond paste bars from Jijona) or duro (crunchy toffee and almond bars from Alicante). Nowadays chocolate turrón (which is like a jumbo Crunch bar) is a favorite along with all kinds of inventive flavors like candied fruit, coconut or any combination of the above.
Check out more traditional Christmas sweets here.
And here are our favorite Spanish Christmas cookies!
5. Cava and Lottery Commercials Flood the Airwaves
From Freixenet's golden dancers to the national lottery's heartwarming mannequins, these commercials mark the start of Christmas almost as much as the official lighting of the Christmas lights. Cava is a staple of holiday dinners, from the Christmas Eve toast before dessert to the New Year's Eve gulp to wash down the 12 lucky grapes at midnight.
Spaniards drink nearly 6 times as much cava in the month of December as in any other month of the year! And while almost all of that comes from the northeastern province of Catalonia, cava is produced in a handful of regions across the country.
6. The Price of Shellfish Skyrockets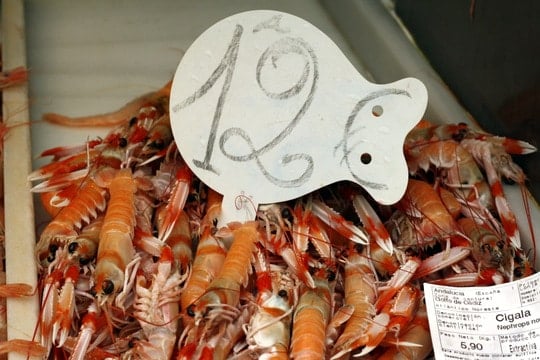 With nearly every family in the country rushing their local fishmonger's this month, the price of fish and seafood goes through the roof. For example, shrimp that sold for 15 to 20 euros per kilo in November are now weighing in around 4o euros per kilo.
Overall, the price of most fish and seafood nearly doubles during the holidays and the weeks prior. Prized gooseneck barnacles or percebes can as much as triple in price this time of year!
Check out our guide to holiday seafood!
7. Ring-Shaped King's Cakes Appear in Bakery Windows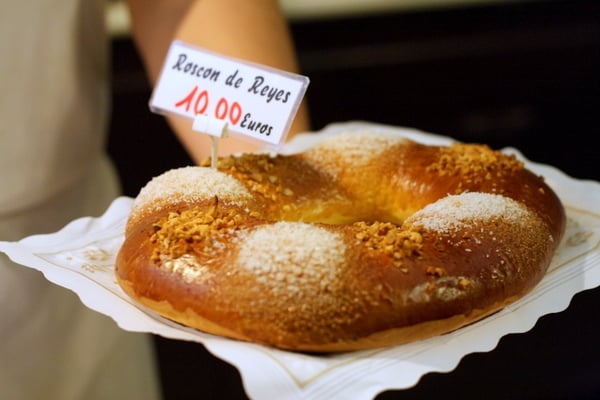 They start small. In mid-December salad-plate sized Roscónes de Reyes in their classic ring-shaped form start to pop up in select bakeries. By the last week of the month, the roscónes are twice as large, available in 4 or 5 varieties and crowd out nearly every other pastry in the bakery.
The Roscón de Reyes is a must on Three Kings Day, January 6. The sweet-bread cake is topped with candied fruit and sometimes filled with a layer of whipped cream or custard.
8. Insanely Elaborate Manger Scenes Stop Sidewalk Traffic
Manger scenes in Spain are true works of carpentry. Mountains, rivers with flowing water, trees, moss-covered rocks and flickery light "fires" are common sights in these hugely elaborate scenes.
Known as the belén, many businesses, churches, office buildings and homes display these extensive nativity scenes. Besides Mary, Joseph, baby Jesus and the three wise men, it is also common to see shepherds with their flocks, townspeople, women collecting water and even, in the region of Catalonia, a contemporary famous person taking a poo!
9. Cured Ham starts Growing in Trees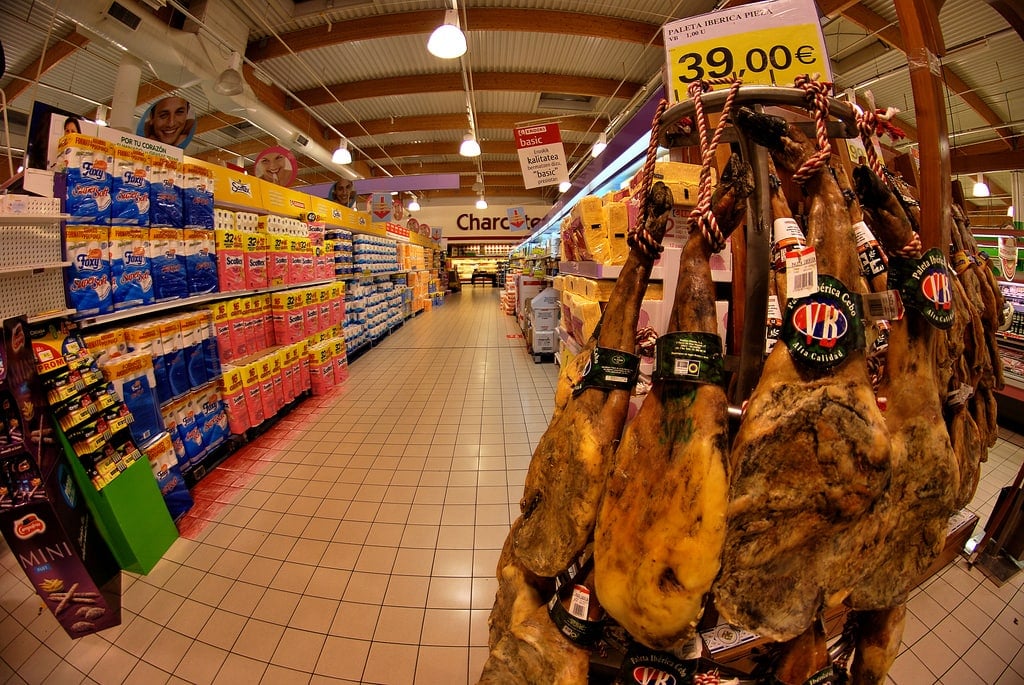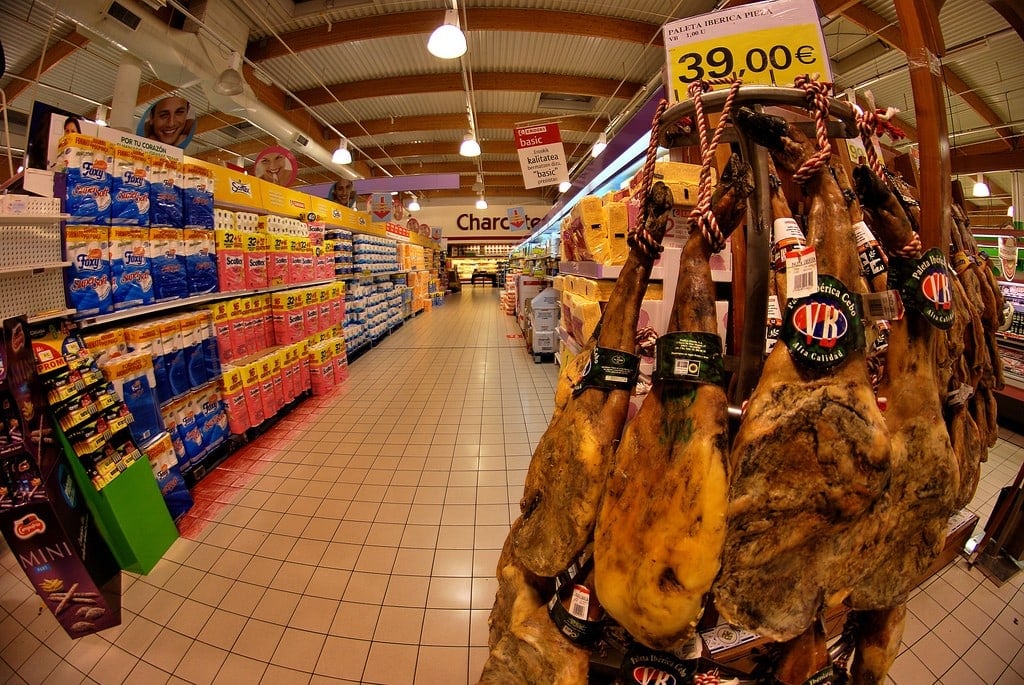 I walked into my neighborhood cured meats shop this week and almost ran straight into a tree of ham. Adding that to the list of things that can only happen in Spain.
Cured ham legs are a go-to Christmas gift here, meaning shops are stacked to the brim with them. A convenient (and festive!) way some shops have found to display all these 17 pound legs of jamón is in the shape of a Christmas tree.
What do you look for at the start of every Christmas season? Any telltale signs of Christmas in Spain that we've missed?