After changing our plans to make our Poland vacation into a Poland family reunion, my mother and I started our journey in Krakow, Poland's second largest city and a place largely untouched (arhitecturally) by World War II. Due to our change of plans we had only one full day in Krakow, and we were set making the most of our limited time in the city.
Where we stayed
If we'd been staying any longer I probably would have searched for a hotel or rental apartment somewhere in the city center. But since the visit was short and involved arriving and departing by train and bus, we opted for the wonderfully located Andel's Hotel. Located in the same square as the train station and only a 10 minute walk from the bus station (which you can walk to through a very well lit and modern shopping mall), the hotel was also only two blocks from the old town. Rooms were nice and modern, although the mattress and pillow were pretty soft for my liking. Their restaurant also under delivered (avoid it), something we sadly found out after eating our first meal there. I rarely would choose to eat at a hotel restaurant anyway, but it was already 10:00 when we arrived, far past a Polish dinnertime, and it was the most convenient choice.
City Tour
We hadn't planned to take a walking tour, but as we headed out in the morning we literally walked into one that had just started. In retrospect it was one of the best things we could've done. We went out with cracowfreewalkingtour.com, whose guide was well spoken and interesting. The three hour tour brought us to most of the city's highlights, places we otherwise would have had to figure out on the map (and we were so nervous about meeting our Polish family that our map skills were probably far from perfect!). I've taken various free city tours since arriving in Europe (always tipping the guide at least 10 euros) and they've yet to disappoint. It was a really good option considering the time crunch.
Lunch
After the previous night's disappointing (and expensive) dinner at the hotel's restaurant, we were ready for some real Polish food. I'd been reading about Krakow's Bar Mleczny, or milk bars, for months and knew we had to eat lunch at one. Milk bars were created as places where workers could have a dose of dairy, hoping it would offer a better alternative to booze. They started serving just milk, and later included other dairy options like yogurt and cheese. Eventually they evolved into full scale cafeterias, where you'd get a very cheap meal.
Nowadays, milk bars are endangered, surviving only on government subsidies and local interest. Some are still quit rough around the edges, and may serve anyone from a homeless person to a university student at the same table.
I was itching to try a real authentic cafeteria style place, but also wanted to have a nice luch with my mom on our first day in the her birth country. The perfect solution was Bar Tomaszka, a modern milk bar, if you will. Small and cute, you order at the counter and then they bring the food to the table. The menu consists of traditional choices and also more international cuisine (many locals seemed to order their burgers!). But when I read that they have some of the best pierogis in town, I was sold.
It was difficult narrowing it down, but we finally opted to try their fresh squuezed pomegranate-grapefruit juice, the beet root soup, cabbage and mushroom pierogis, and cheese and potato pierogis. For dessert, we ordered two orders of nalesniki , polish style crepes stuffed with sweet cheese, yogurt and peaches. Here we really overordered, as the nalesniki were a meal of their own!
Everything was delicious, especially the soup and pierogis. We ate until we nearly had to unbutton our jeans from being so full. The price for two? Less than $25. It was enough to make me consider moving to Poland!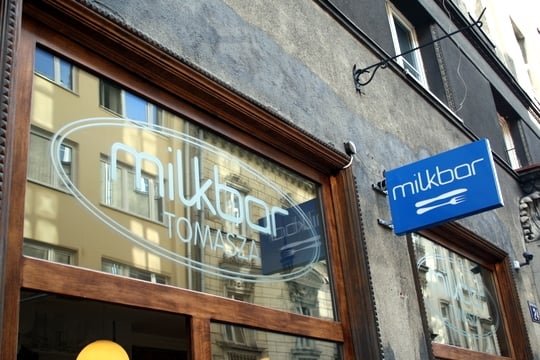 Coffee Break
For a quick latte, we stopped at Castor Coffee Club, a nice coffee shop located right off of the main square. I tried their pistachio latte, and while not cheap at 12 PLN (about $4), it was delicious.
Shopping
My mother loves to shop and was especially excited to buy some special souvenirs from her first visit to Poland as an adult. Touristic as can be, the main market's "Cloth Hall" was actually the perfect place. Prices were decent (especially compared to the terribly overpriced souvenir shops) and it was an all-in-one stop (perfect for me who does not share in the shopping gene!) . We went stall by stall, deciding on Polish pottery and Polish crystal. I bought some crystal liquor glasses which I'm excited to use (carefully) on special occasions.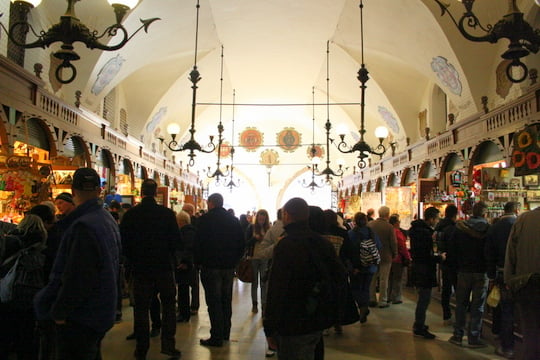 Dinner
We didn't want a big or time consuming dinner, so I knew just the thing. I'd read about a legendary kielbasa food cart (kielbasa is a type of Polish sausage). It looked close to the hotel on the map. So we set off in search of sausage. It was a bit farther than I thought (and the surrounding streets were a bit dark and quiet), but the kielbasa were quite delicious. It was my mother's first experience with what I do when I travel (search out food like a crazy person). She thinks I'm a bit obsessed, but that's okay.
Before getting back to the hotel we made a quick stop at the local mall, and popped into Carrefour in search of Polish candies. We bought a variety of things my mother vaguely remembers from childhood and put them to the test for dessert. Delicious!
Before we knew it the day was over and the next morning we reluctantly left beautiful Krakow behind. I feel like a barely scratched the surface, and will definitely be back!
Have you been to Krakow? Any tips for my next visit?