Spanish children never cease to surprise me. Especially at lunch time. After working in four elementary schools and a handful of sleep-away summer camps, I can without a doubt say that I have never seen kids eat the way Spanish children eat.
As I curiously prod at my lunch tray I often look up to see the students around me (some as young as 2 years old!) devouring the dish that has me stumped. Every time I think to myself, "There is no WAY the kids will eat this," I glance around to find that I am resoundingly wrong.
In Spain, it seems, there is no such thing as "kid food." Children dig in to whatever the adults are eating, be it seafood, fish, stews or steaks. While there are some foods that seem to be a kid favorite (white rice with tomato sauce, anything with pasta, fried ham and cheese squares, to name a few), even the most exotic meals are scarfed down by these niños.
So exactly what do kids eat in Spain? Here are a few of the shocking things that I've seen make it onto the kids' menu!
1. Squid Stroganoff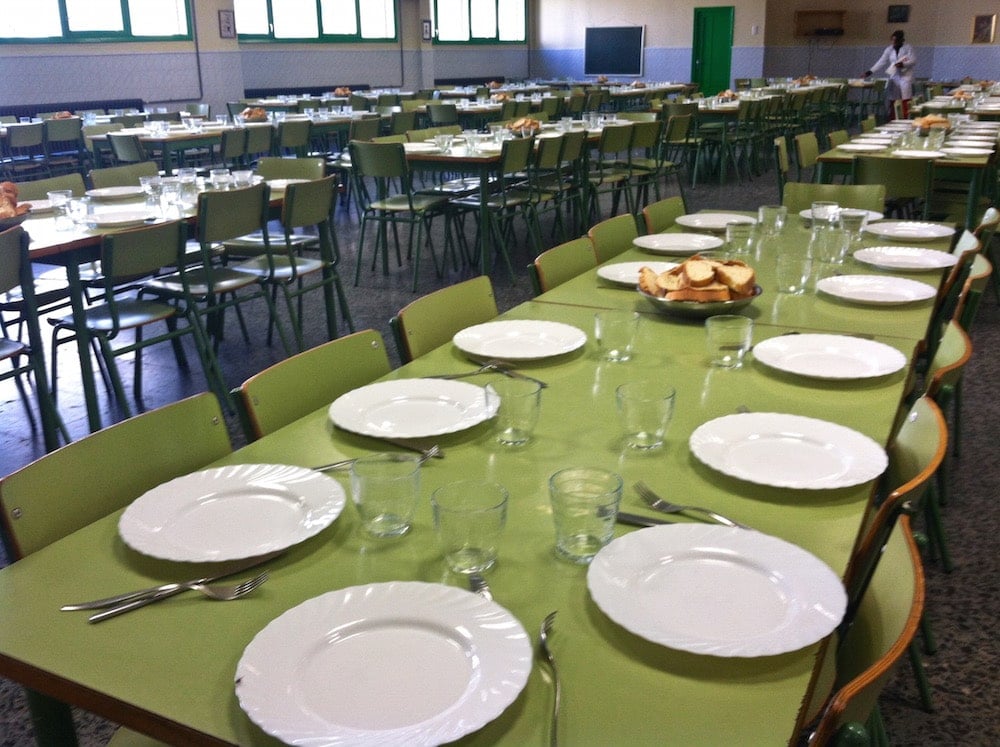 The first Spanish elementary school I worked at was in a small Galician village in the sparsely populated northwestern corner of Spain. While almost everything about living there was completely different from what I was used to, few things shocked me as much as the school's lunch room.
Tables of about 12 students were set with glass dishware and full sized silverware. Pitchers of water and bowls of sliced bread formed a line down the middle and at each end sat a 5th or 6th grade student. These eleven-year-old heads of the table served their classmates from large bowls or dishes. Two hundred kids aged 3 to 12 ate family style with little to no help from adults every day at school. To say I was impressed was an understatement.
Many of the dishes they served there were the exact opposite of what I think of when I think of kid friendly food. The most striking, perhaps, was squid stroganoff. One twelve year old scooped out a small mountain of white rice then passed the plate down to another twelve year old who ladled a thick brown broth full of small squares and tentacles of squid. And the kids loved it.
2. Cocido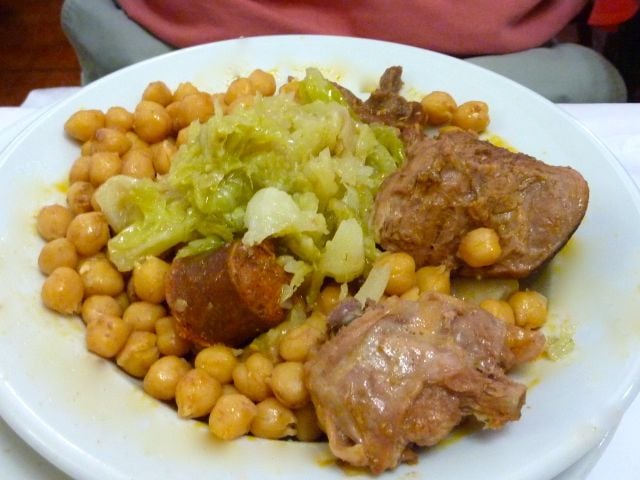 Cocido is a hearty stew that is hugely popular in Madrid and throughout northern Spain. It consists of garbanzo beans stewed with chorizo and a huge conglomeration of stewed meats (everything from the pigs ears and snout to ribs and tail). While each region does cocido a bit differently, I've watched many a kid gobble them all up.
The tricky part of cocido is the meat, much of which is still attached to bones and cartilage. I often struggle to decipher which parts are edible and how to go about eating them. I've finally learned to just watch the kids! They are cocido-eating experts, clearing their plates before I've even finished identifying what's on mine.
3. Squid Rings
One of my favorite foods as a kid was onion rings. Thus the other day when I spotted the typical fried rings in the lunch line I was super excited. One bite, though, and I was reminded just how different food in Spain is from the food of my all-American childhood.
The fried rings were actually circles of fried squid! The kids ate them like candy. Apparently one rule of kid friendly food rings true in both countries: if you fry it, they'll eat it!
4. Deviled Eggs
No matter how you make them, Spanish children love eggs. While it is far more common to find them in omelet form, eggs are a go-to Spanish food for kids in all forms. Including, apparently, deviled.
Often there deviled eggs are hard boiled and stuffed with egg yolk, plenty of mayonnaise, canned tuna and lettuce. Seeing as finger food is a very rare commodity in Spain, these fork-free eggs are a huge hit (although I think it may be more for the novelty of using their hands than anything else…).
Spanish Egg Recipes:
5. Tuna Tortilla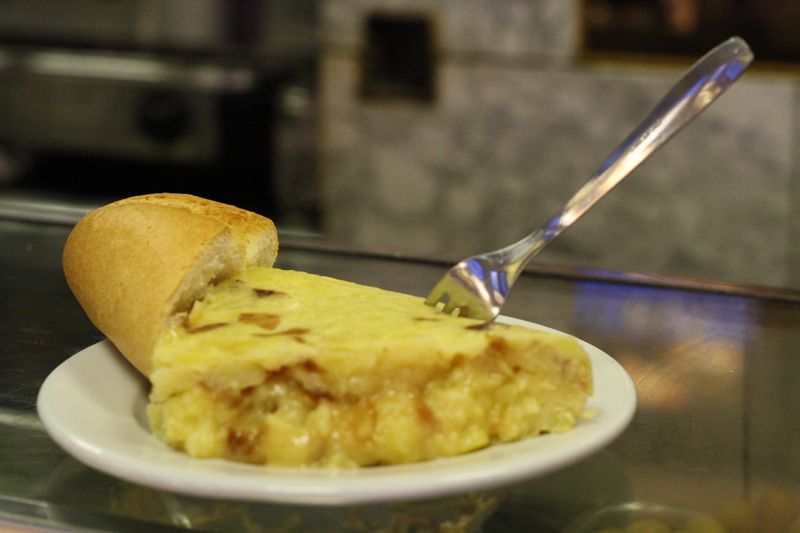 Tuna deserves its own section in the Spanish food pyramid. Whether it is fancy jars of whole tuna steak strips soaked in olive oil or the crazy cheap 50 cent cans of tuna, the fish finds its way into everything! Salads are topped with it, empanadas are stuffed with it and pasta sauces are filled with it.
And when it comes to Spanish food for kids, tuna is staple. Mix it a can of tuna with some beaten eggs, pop the mix in a pan and you've got a go-to quick meal that children here seem to love: tortilla de atún!
Spanish Tuna Recipes:
6. Pate Sandwiches
Spanish children opperate under a 5 meal per day system. Breakfast is light, usually a glass of milk and cookies. By 11 a.m. it´s time for the mid-morning snack, aka second breakfast, where kids chow down on things like fruit, sausage, half a sandwich or more cookies.
Lunch is a giant two-course affair around 1:30 p.m. and the moment school gets out (between 4 p.m. and 5 p.m.) the afternoon snack begins. This is where the most creative of sandwiches make their appearance. The fillings vary from the elusive and infamous chorizo with nutella to the classic mixto of ham and cheese. But by far one of the most popular afternoon sandwiches is paté. Ham paté, chicken paté, duck liver paté… all shades of spreadable meat are Spanish children approved.
7. Baked Fish Filets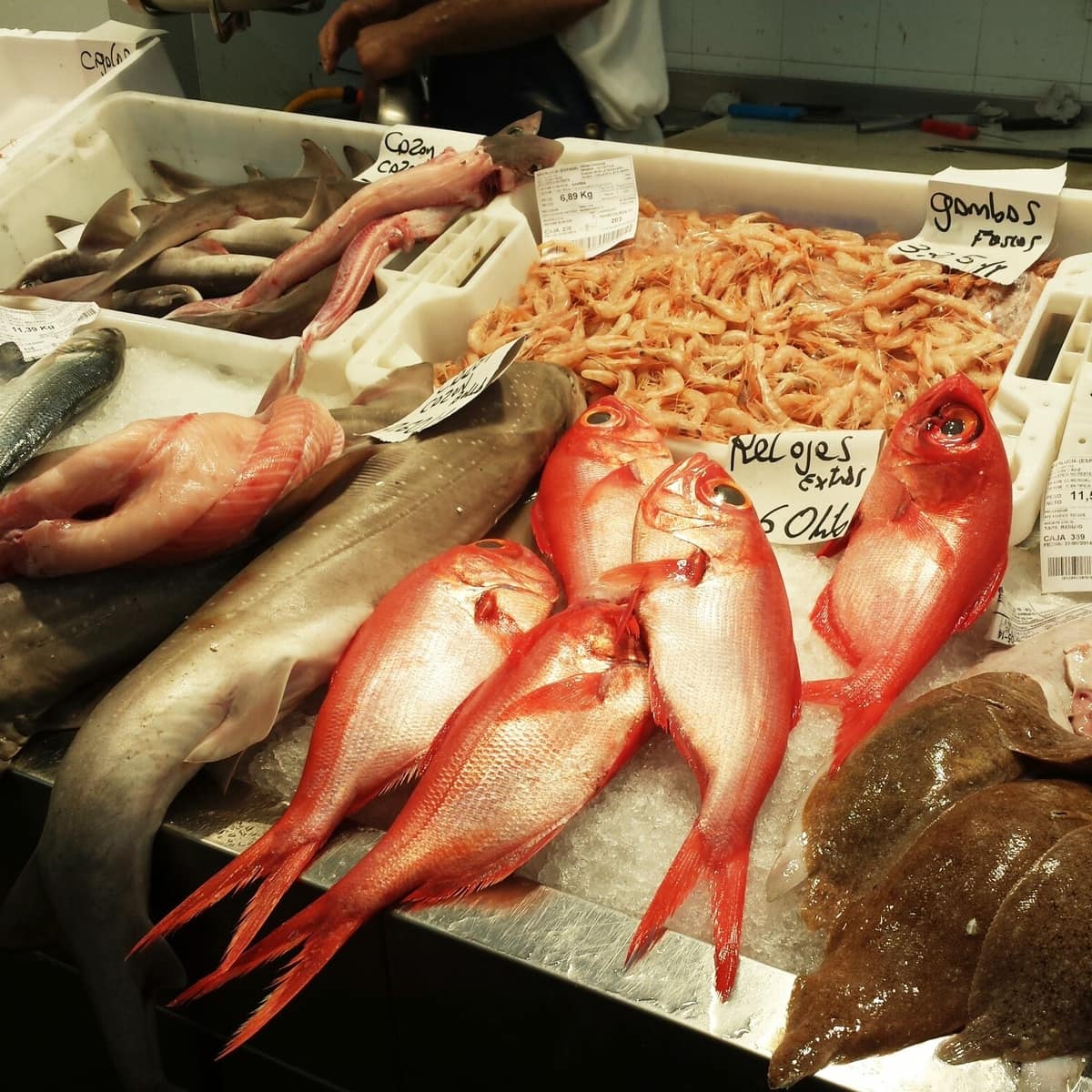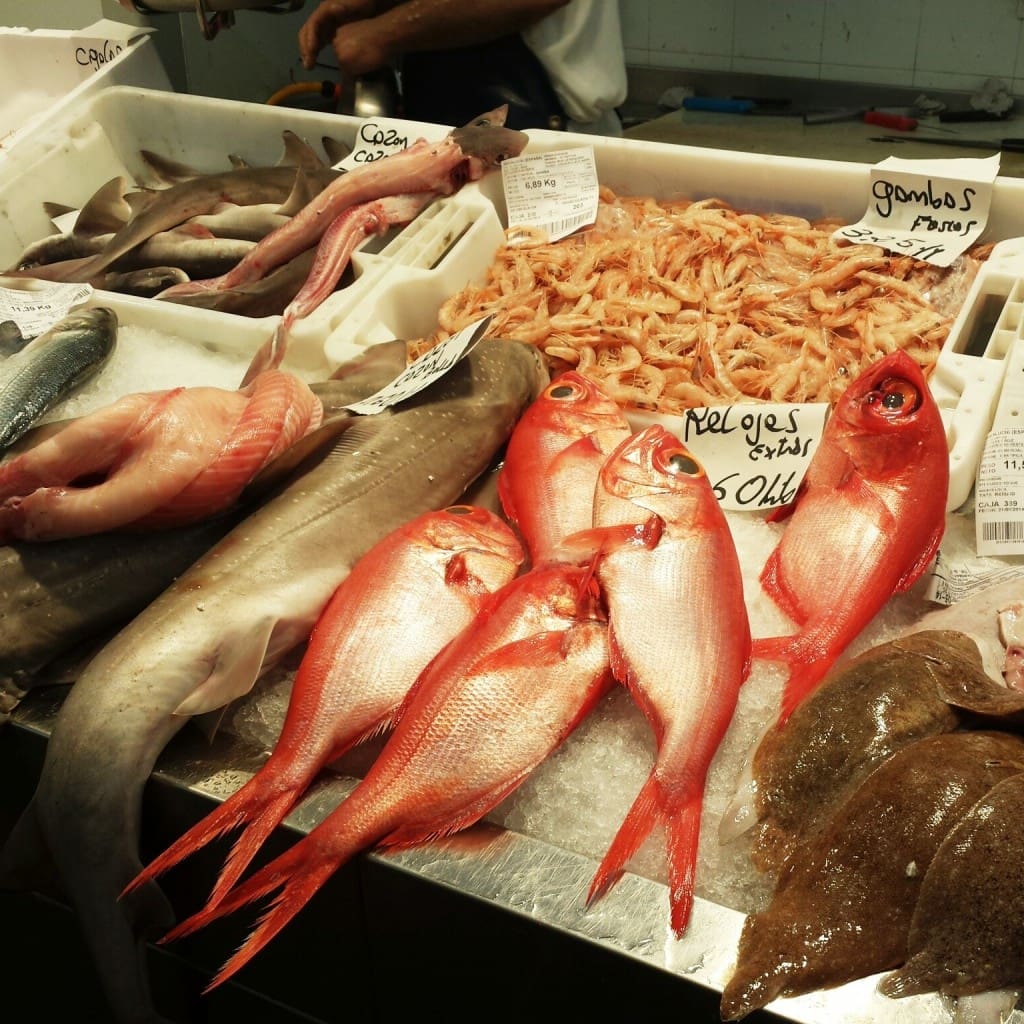 Swordfish, hake, saltwater cod, dogfish, flounder… these are just a few of the fish options on the elementary school lunch menu this month. Some come topped with sauce, some are served with a mere sprinkling of salt, but all are baked. You won't find breaded fish sticks here!
In an unofficial poll of full 5 year olds today (hake day), lunch was "rico, rico, rico!"
8. Vegetable Puree
Every school lunch has two courses. Some schools serve them both on the same tray at the same time. Some schools — like the one I mentioned earlier in Galicia — served one, cleared the plates and then served the second course. One of the most popular first courses is some type of vegetable puree.
These creamy, thick broths come in just about every color of the rainbow. There's the bright green pea purée and bold orange pumpkin and potato purée. While some of them bear a shocking resemblance to baby food, they are a scrumptious way to get kids to scarf down a healthy heap of vegetables!
Tasty Kid-Approved Puree Recipes:
What is the craziest kid-approved food you've ever come across? 
Squid rings photo from jlastras on Flickr CC.