Spanish food has gained more and more international fame over the past few years. At its heart, its beauty comes from the use of simple ingredients and cooking methods to achieve deliciously memorable results.
In other words, that means that Spanish food is incredibly easy to recreate at home. And Spanish cookbooks like these have made that option accessible to everyone!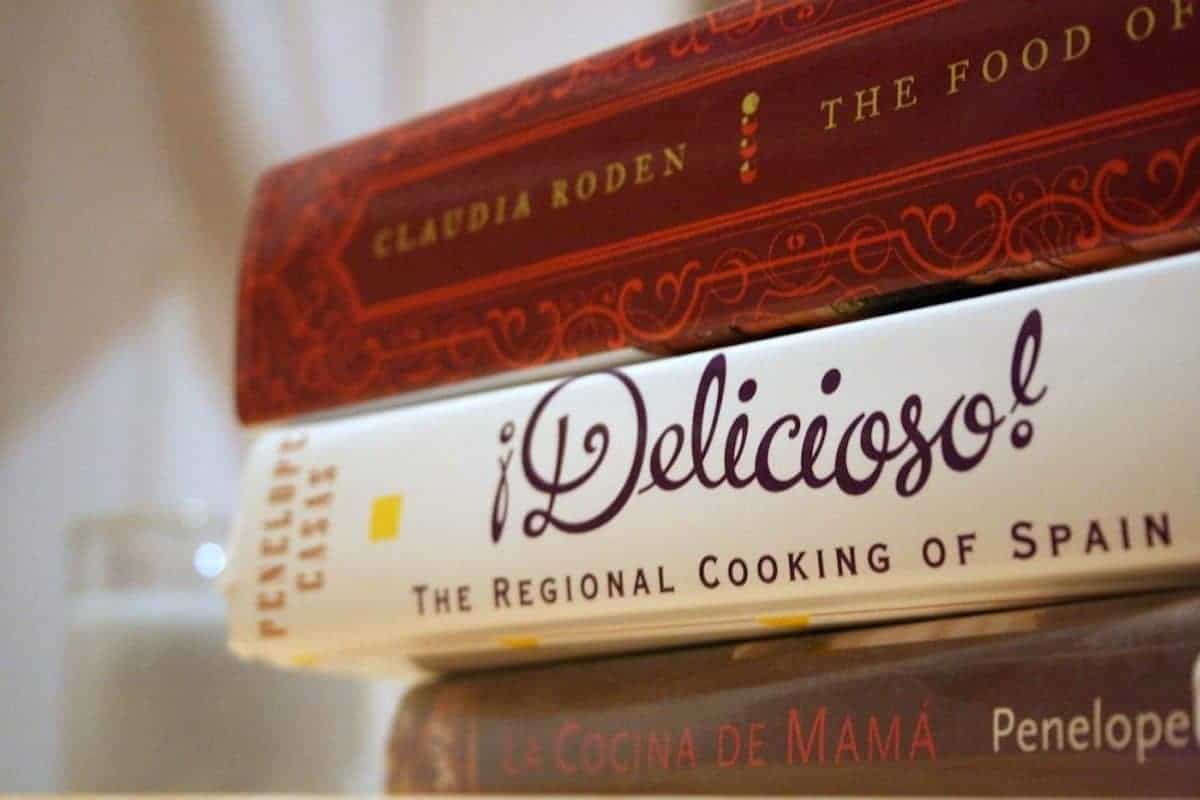 I've always loved to read. Before I even learned, I would memorize the books my mother would read me, and complete the sentences as she turned the pages. As a child I'd take out about 15 library books a week, and devour them all.
These days I don't read as often as I'd like. When I do, fiction takes a back seat to books on food history, business and personal development. But I still enjoy every page.
But recently I've made sure to purchase plenty of reading material. I wanted to stock my shelves with the best Spanish cookbooks, and the most interesting and colorful books on food culture and food history. I'm still working my way through, but I've discovered many gems that I can't imagine being without.
Here are some of my favorite Spanish cookbooks that you absolutely must own if you are a Spanish food lover and home cook.
This is an absolute must for any home cook interested in Spanish cooking, and a fantastic Spanish cookbook overall! Claudia Roden's recipes are simple and easy to follow. Everything I've made from this book to date has been a hit.
I've used her recipes to make the most amazing chicken in almond sauce I've ever had, delicious tuna empanadas, gorgeous saffron meatballs and much more.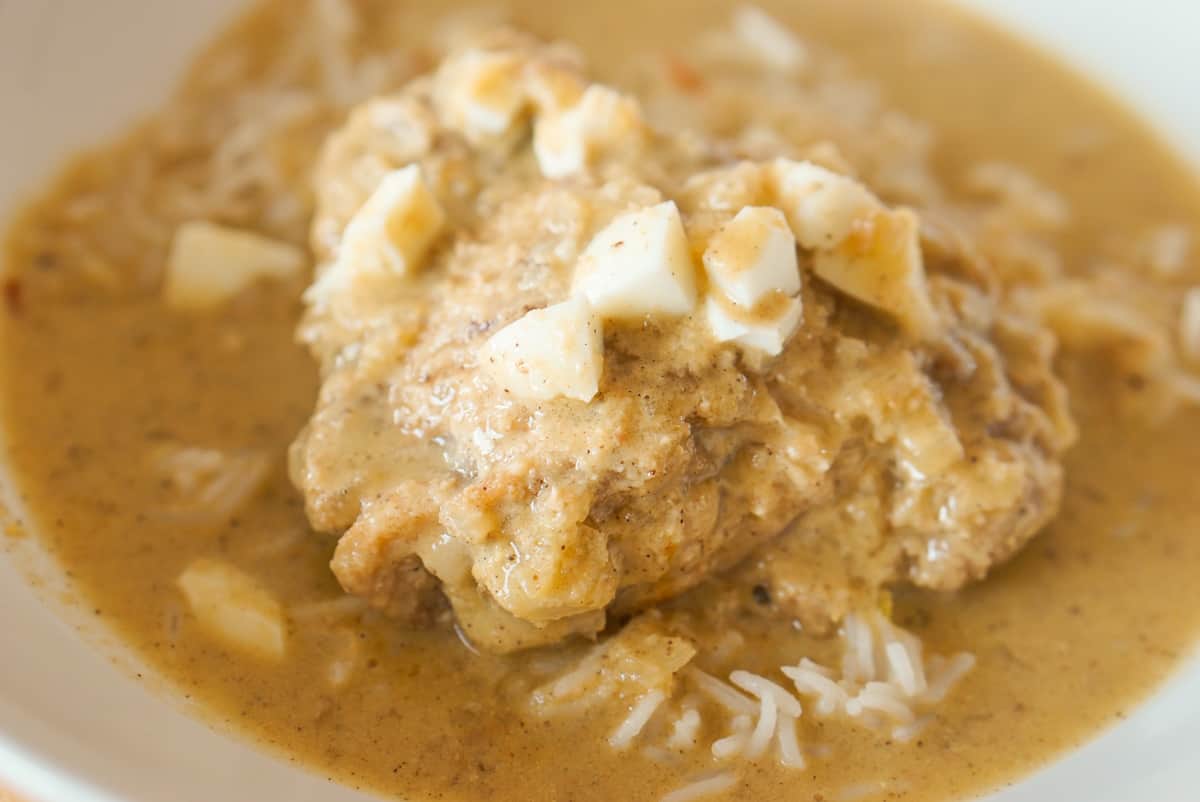 Penelope Casas was one of the most influential people in bringing Spanish cuisine to the US. An American married to a Spaniard, she wrote various cookbooks throughout her life. Her most famous, published in 1985, focused on tapas— perhaps the first large-scale introduction Americans had to Spanish small plates.
But 1,000 Spanish Recipes was her last book, published posthumously in 2014. And it is truly epic: 18 takes on tortilla, 50 Spanish rice dishes, and hundreds more recipes that span all corners of the country. This is the book to check out if you want to learn the classics and so much more.
See 1,000 Spanish Recipes here.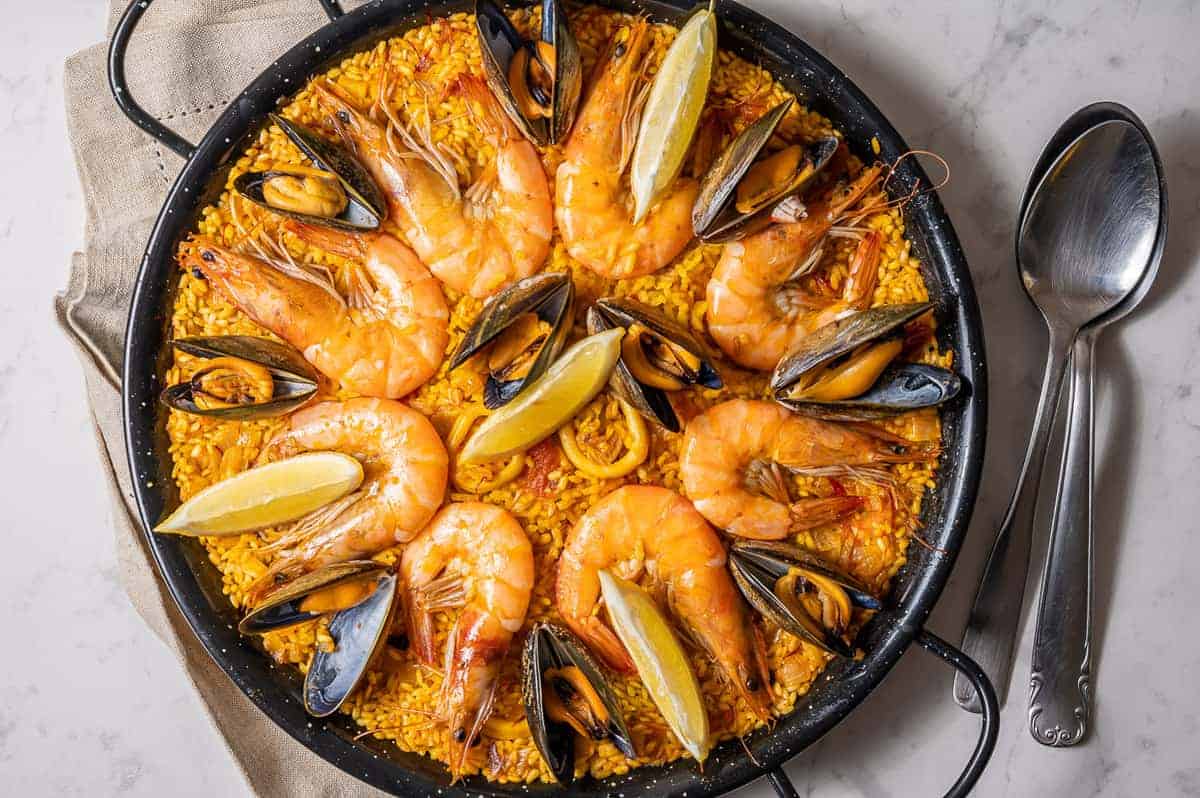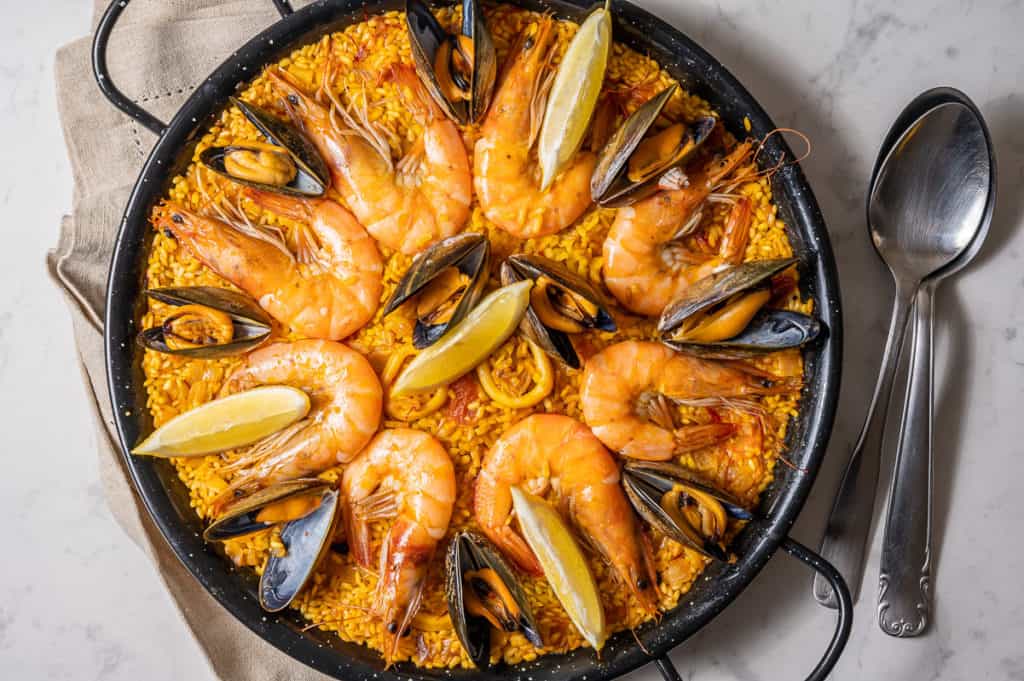 Honestly, I would recommend all of Penelope Casas' books! But apart from 1,000 Spanish Recipes, I think this one is another must.
I love the concept behind this book—recipes passed down by generations of women. Reading it makes me feel like I'm cooking with my mother-in-law in Cadiz. It's a beautiful book to have and read again and again.
An awesome narrative by the founder of Roads & Kingdoms, this is not quite a recipe book—but it will definitely inspire you to cook!
This is THE book to read before coming to Spain, as it's also filled with great tips on how the locals eat and drink.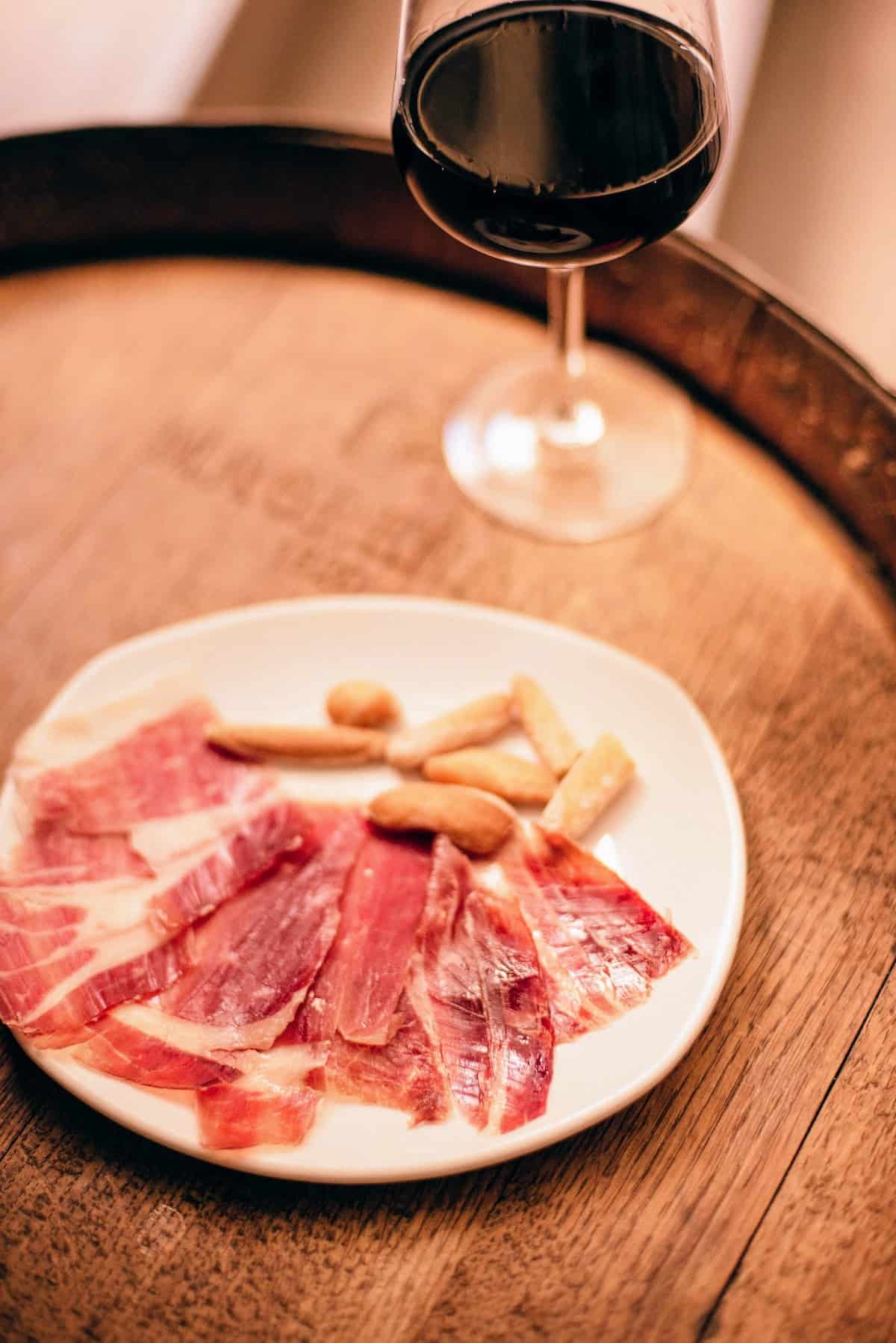 5. Moro by Sam and Sam Clark
The history and cuisine of Andalusia is something that absolutely fascinates me. Many don't realize the impact the Moors had on modern day Spanish cooking, bringing everything from rice and almonds to sugarcane and oil.
This colorful cookbook, written by the chefs and owners of Moro restaurant in London, is a perfect addition to any Spanish cookbook library. It's a love letter to Moorish cuisine and its lasting legacy on modern Spanish gastronomy, with a beautiful design and fascinating insights.
I first became familiar with UK celebrity chef Rick Stein when we were planning our Seville food tours. One of our tour partners, an ice-cream shop, proudly displayed his book—they were featured inside!
In creating this book, the mega-famous Stein made his way through lesser-known parts of Spain, seeking lesser-known dishes. He did a great job curating—now I just have to get cooking!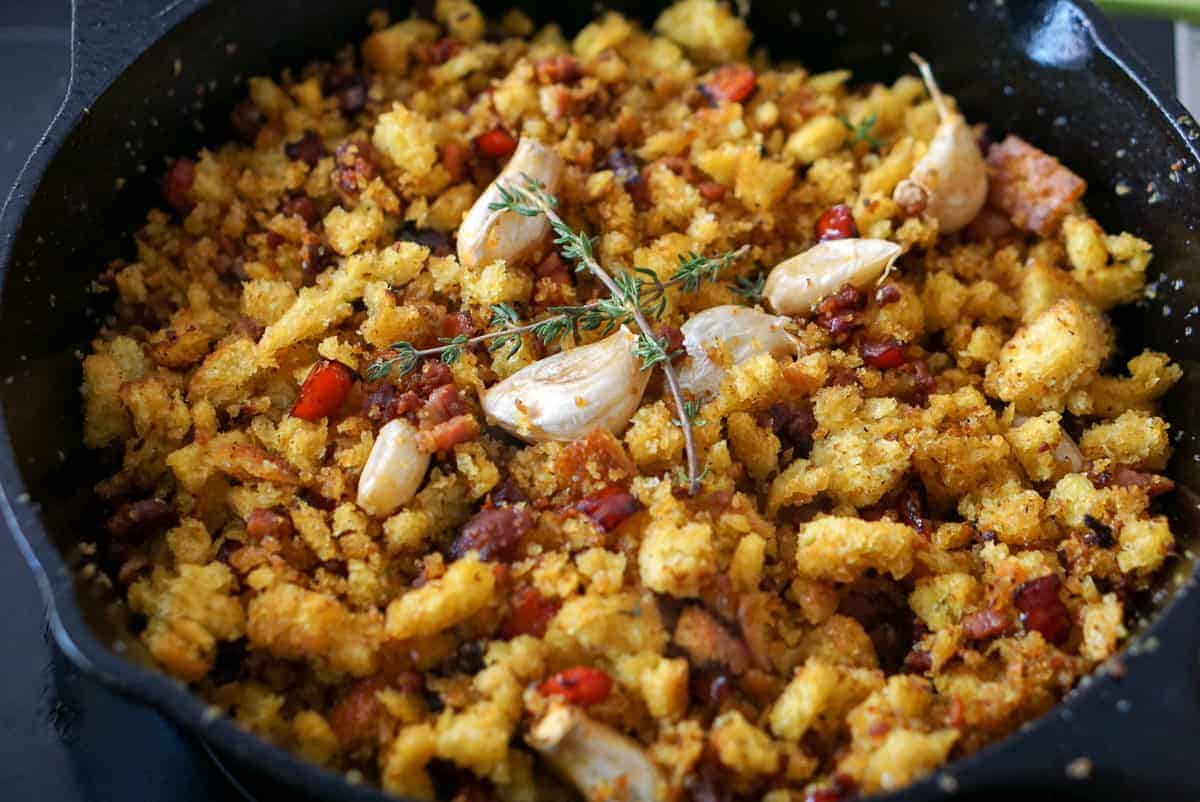 I first discovered Mark Kurlansky in the Basque Country when I picked up his book The Basque History of the World: The Story of a Nation. I enjoyed his writing and since then have gobbled up his other books, the most famous of which (and a James Beard award winner!) is this one.
Cod is not exactly a cookbook, and is not strictly about Spain. But it does tell the history of one of Spain's most important products, salt cod. The history is riveting and the recipes sound delicious (even the ones from long ago!).
I consider this one a must read for all food lovers, but especially those of us with a special interest in Spanish cuisine.
Named after his UK-based restaurant group, Tapas Revolution is the first cookbook from celebrated Spanish chef Omar Allibhoy. This is one of the best Spanish cookbooks out there for everything from tapas bar menu staples to home-cooked classics.
Allibhoy's detailed instructions (including step-by-step photos of the tortilla-making process) and careful explanations help make Spanish cooking accessible to everyone. The recipes, while simple enough, yield seriously impressive results—this is a great book to pull from when planning a tapas party!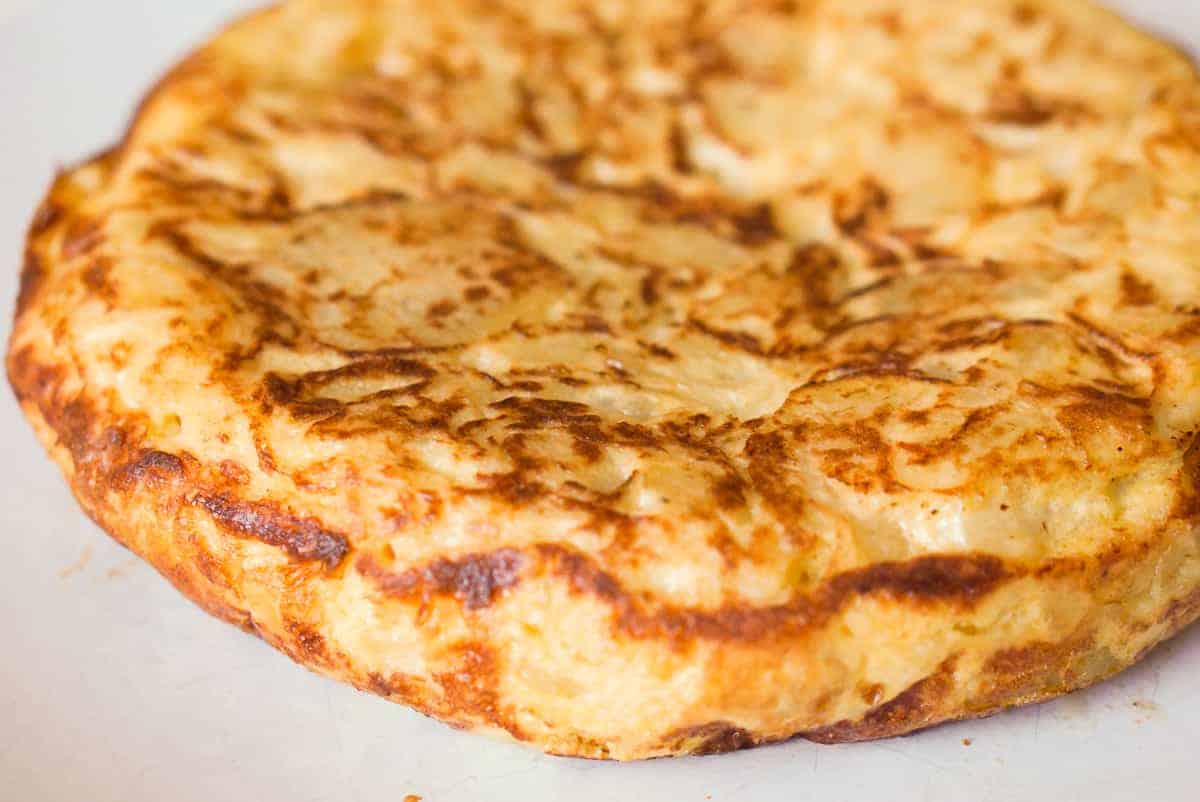 9. Cúrate by Katie Button
American chef and restauranteur Katie Button has quite the impressive resume, having studied under Spanish culinary greats such as Ferran Adrià and José Andrés.
In the same spirit as her Asheville restaurant of the same name, Cúrate brings a fresh, vibrant look at Spanish cuisine. From classic chicken paella to a detailed breakdown of Spain's famous gin & tonics, this cookbook is packed with recipes that will transport you straight to a bustling tapas bar from the first taste.
Acclaimed Basque chef Nieves Barragán has made waves on the Spanish food scene in London. She earned Barrafina's Frith Street location a Michelin star during her tenure as executive chef there, and is now at the helm of her own (also Michelin-starred) Spanish restaurant, Sabor.
Her cookbook, Sabor, goes back to her roots: the good, honest, Spanish home cooking she's loved her whole life. From hearty stews to light tapas, every dish is a testament to the beauty of Spanish cuisine.
11. Morito by Sam & Sam Clark
Another excellent Spanish cookbook from the team behind Moro, Morito shines its spotlight on tapas. Like its predecessor, it does a wonderful job of highlighting Moorish and Arabic influence on Spanish food, with a delicious selection of both classic and contemporary dishes.
Inspired by the author's decades of travel in Spain and conversations with everyone from village tavern owners to Ferran Adrià, The New Spanish Table masterfully bridges the gap between classic and contemporary Spanish cuisine.
Here, you'll find modern twists on everything from gazpacho to paella, alongside tried-and-true classics. Together, the recipes serve as a beautiful reference to the evolution and diversity of Spanish cuisine.
See The New Spanish Table here.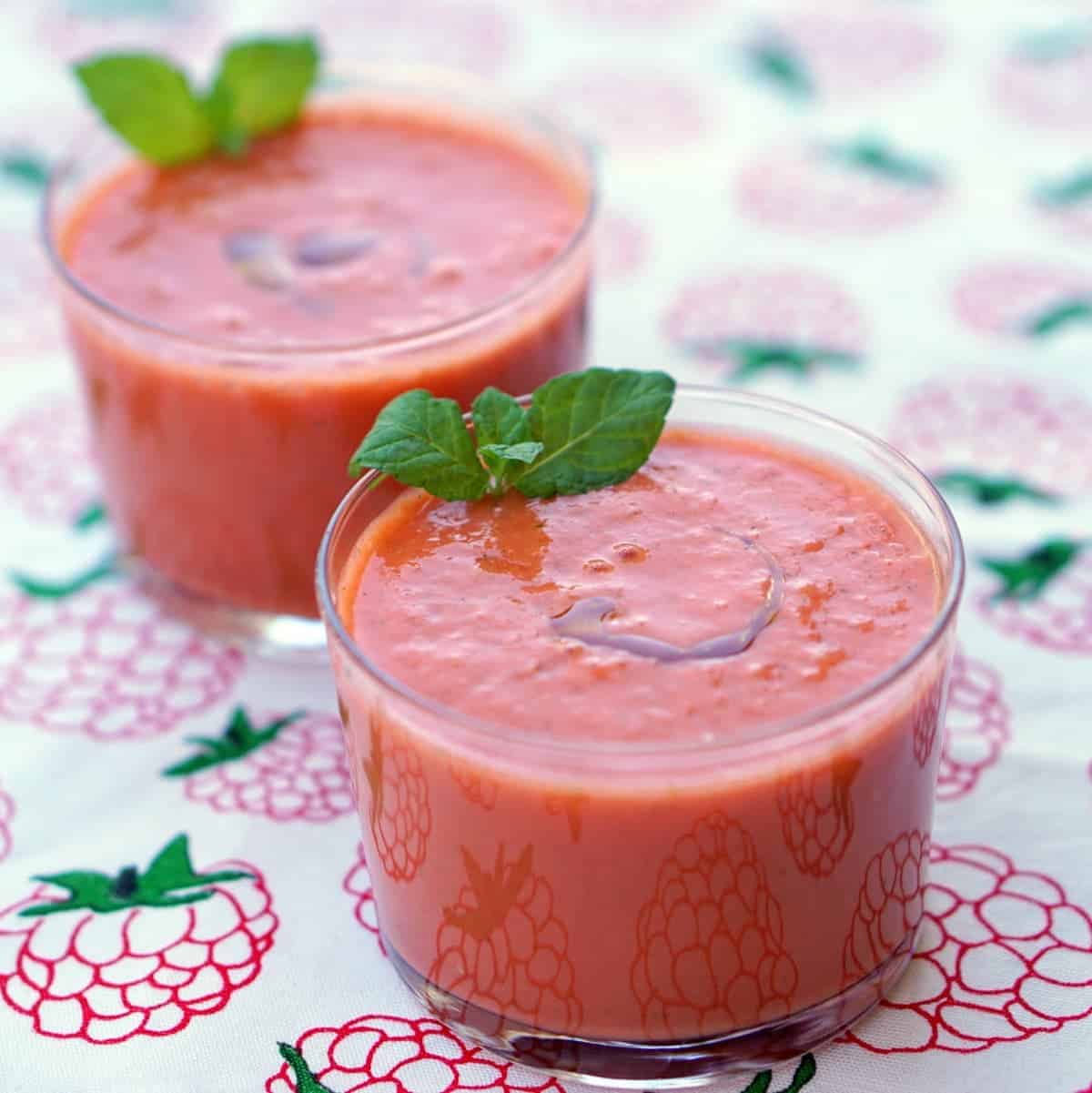 If there ever were a Bible of Spanish cuisine, this would be it. 1080 Recipes has become a reference for generations of home cooks from all corners of Spain, and is widely considered one of the most definitive Spanish cookbooks out there.
As you may have guessed from the title, this book covers it all: every course of every meal, with recipes from every region of the country. A copy of this beloved Spanish cookbook deserves a place on every home cook's shelf!
It comes as no surprised that we love our cured meats here in Spain: the ruby-colored, melt-in-your-mouth gem that is jamón ibérico, lesser-known favorites like salchichón studded with flavorful black pepper, and everything in between. Charcutería is a deep dive into the tradition and technique of this culinary staple, accessible enough for everyone from professional butchers to amateur home cooks.
As the first book of its kind, Charcutería demystifies Spain's time-honored meat curing techniques. Spend a few hours pouring through this book (complete with gorgeous photos of idyllic Spanish landscapes) and you'll see that there's no need to wait until you get back to Spain to taste incredible local charcuterie again.
15. Rustica: A Return to Spanish Home Cooking by Frank Camorra
Everything about Rustica captures the essence of Spanish food at its purest. The eye-catching photography and Camorra's absorbing anecdotes will transport you straight to an authentic Spanish kitchen.
This book does an excellent job of highlighting several different facets of Spanish cuisine, from regional contrasts to the ingredients that every Spanish cook has on hand. Camorra's easy-to-follow instructions and clear explanations make this book an excellent choice for beginners, while also providing plenty of fresh ideas for experienced cooks.
A household name in both his native Spain and his adopted home of the US, José Andrés has been a force on the Spanish food scene for decades. Made in Spain is no different, and solidifies his stance as one of the most authoritative voices in Spanish cuisine.
Organized by region in order to highlight the beautiful diversity present in each subset of local cuisine, this book is a must for anyone looking to dive deeper into the gastronomy of Spain. Recipes are uncomplicated and yield delicious results, and many even include substitutions for Spanish ingredients that may be harder to find abroad.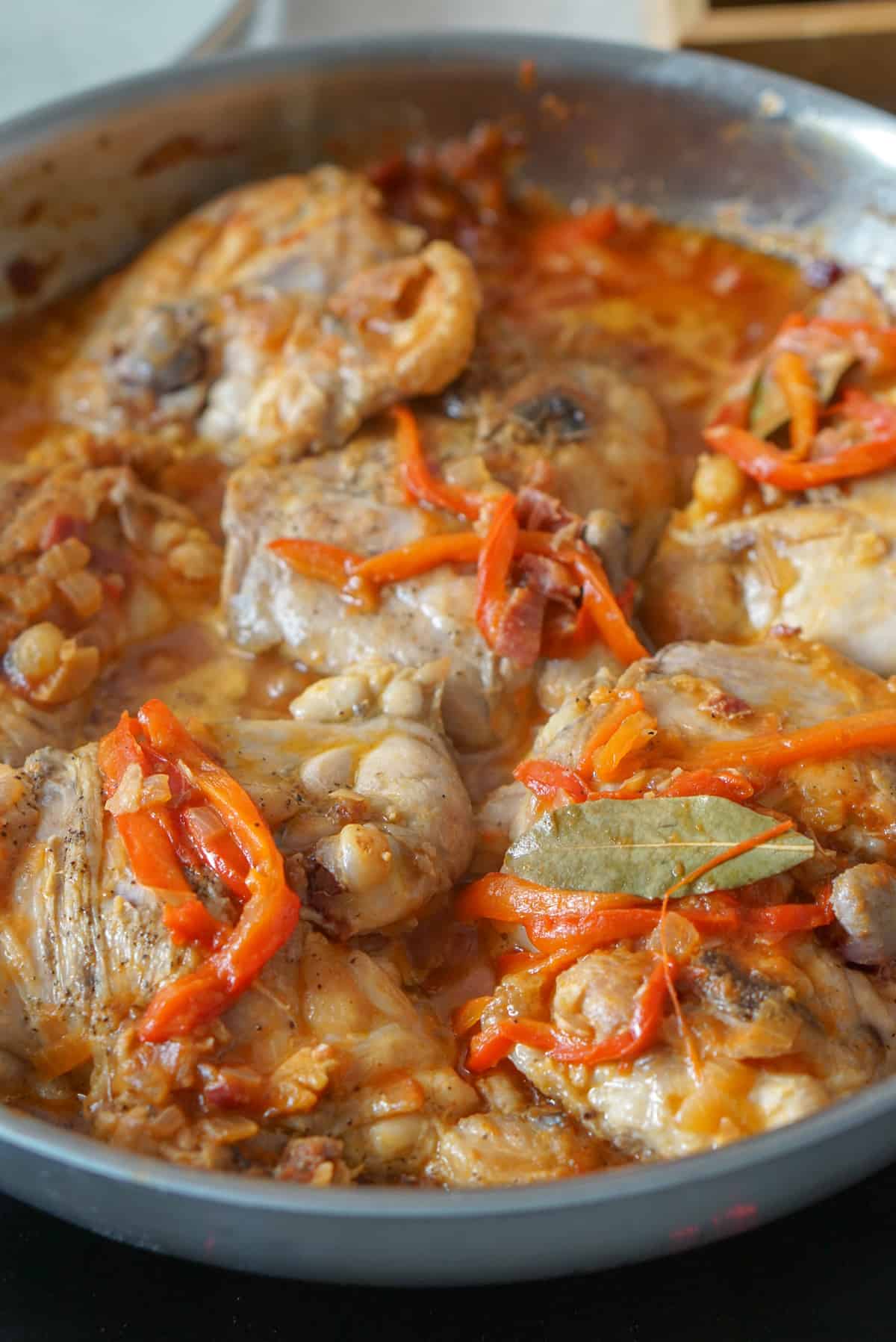 17. Recipes from the Devour Tours Kitchen by the Devour Tours Team
When the evolution of the COVID-19 pandemic in March 2020 forced us to stop giving tours virtually overnight, we at Devour Tours had to get creative. How could we continue sharing our favorite Spanish and European foods and traditions with our guests when the world had essentially shut down?
The answer: a digital cookbook!
Recipes from the Devour Tours Kitchen is a collection of 50+ recipes (half of which are from Spain) from the cities we explore on our food tours. These are the dishes locals know and love, many of which we also sample on tour (like La Casa del Abuelo's famous garlic shrimp!). This book was a labor of love, and we hope its recipes and stories hold you over until you're able to travel again!
See Recipes from the Devour Tours Kitchen here.
18. Spanish Feasts from the Devour Tours Kitchen by the Devour Tours Team
The most important aspect of any Spanish celebration is the food. Families come together over recipes that have been passed down through generations, talking and laughing together long after the last bite has been swallowed.
During the 2020 holiday season, we wanted to keep this spirit alive, despite knowing that many family gatherings would look quite different: scaled down or even entirely virtual. Spanish Feasts from the Devour Tours Kitchen features more than 50 recipes often associated with holiday feasts in Spain. No matter what your celebrations are looking like these days, we hope some of these dishes earn a place at your table!
See Spanish Feasts from the Devour Tours Kitchen here.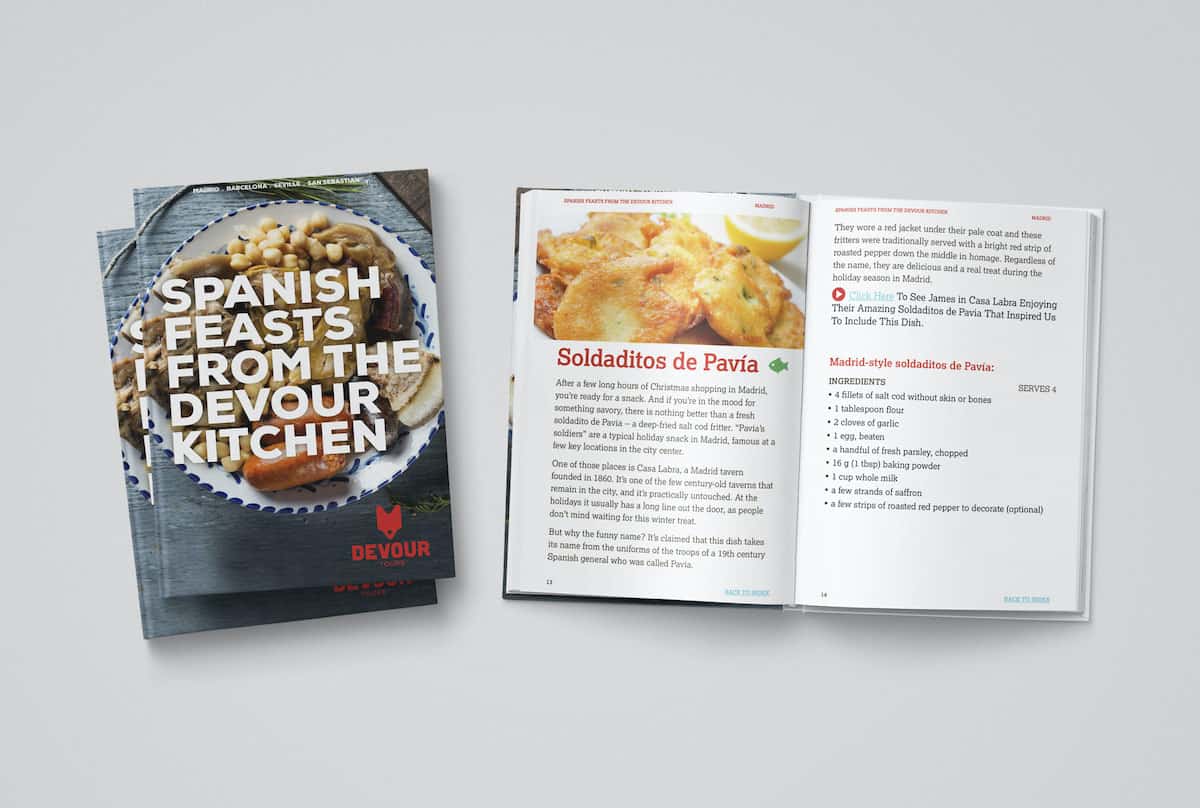 Northern Spain's Basque Country is considered one of the best regions in the world for foodies thanks to its innovative pintxos bars and dozens of Michelin-starred restaurants. This excellent cookbook takes a deeper dive into this region's fascinating cuisine, along with the history, culture, and traditions that shape it.
From bite-sized pintxos to hearty stews to the legendary La Viña cheesecake, Basque Country is the essential cookbook for anyone looking to learn more about Spain's most culinarily innovative region.
20. Delicioso: A History of Food in Spain by María José Sevilla
This one is an honorary mention—it's not a cookbook, but still a must-read for anyone even remotely interested in Spanish gastronomy!
Delicioso traces the fascinating story of Spain's food over thousands of years, from prehistory to the Roman and Moorish days to the modern chefs revolutionizing contemporary Spanish cuisine—and everything in between. There's nothing better to read while savoring a glass of wine—and you'll end up with plenty of inspiration for future cooking endeavors.
Spanish Cookbooks FAQs
What is the traditional food of Spain?
Open any of these Spanish cookbooks and you'll soon see that there's no clear answer! Spanish food is incredibly regional, and what you'll eat down in the southernmost region of Andalusia bears little resemblance to the cuisine of northern Spain. However, dishes like the tortilla española (potato omelet) and cured meats like jamón ibérico are beloved throughout the entire country.
Why is Spanish food popular?
Spanish food has enjoyed a massive surge in popularity over the last few decades, and one that's well deserved. Spanish cuisine is proof that even simple ingredients and cooking techniques can result in vibrant, flavorful, memorable dishes that appeal to a wide variety of palates.
Update Notice: This post was originally published on December 16, 2015 and was updated with new text and photos on April 14, 2021.
Hungry for more? Sign up for my free weekly newsletter and receive a new Spanish recipe once a week! Join today and get my FREE Spanish ingredient essentials guide!
Please note that this post contains affiliate links to these books on Amazon. If you purchase any of these books using these links I will receive a small commission.