Wondering where to eat in Barcelona? Not only will I share my favorite local spots below, I'll also tell you the 27 must-try foods (and drinks) in Barcelona so you can be sure to order well in this foodie paradise!
The first time I visited Barcelona back in 2007, I was trembling with excitement. It seemed like everyone I'd ever met had only raved about Barcelona's charm and beauty—I imagined a seaside port city where everything was magical. After seeing photos of Gaudí's Sagrada Familia and the colorful Boqueria Market, I prepared myself for love at first sight.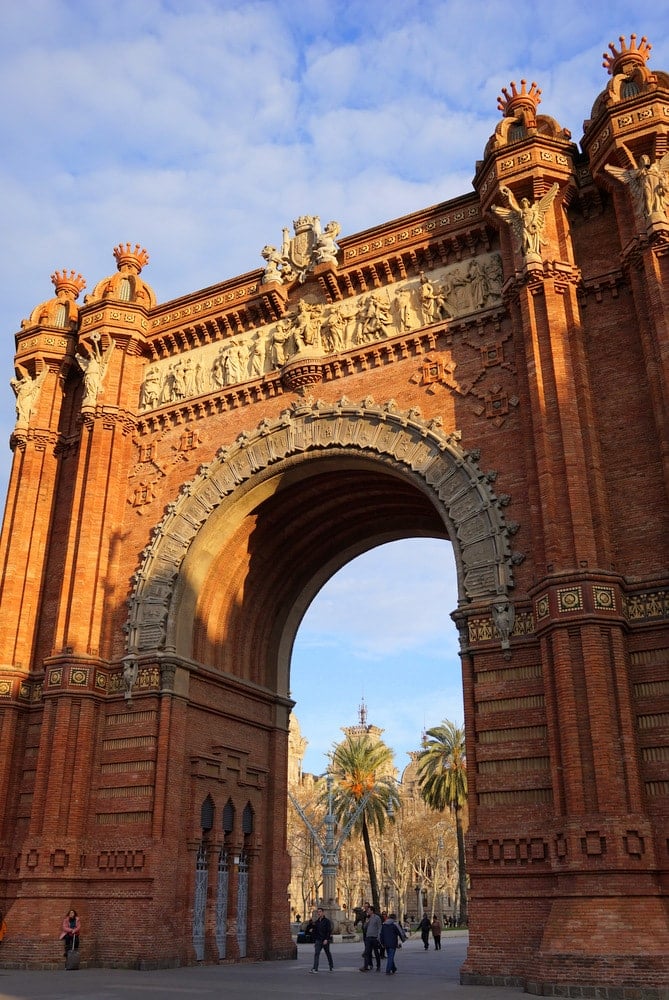 It didn't happen.
I left Barcelona confused and disappointed; unsure of how I'd missed out on what everyone else seemed to have fallen for.
In retrospect, it's totally normal that I didn't love Barcelona right away.
My hotel was on the Parallel, a huge, noisy street that wasn't even close to the quaint Barcelona I'd been expecting. And back in 2007, I rarely used the internet—so I chose what to do and where to eat based on hotel recommendations and guide books. I didn't know about blogs. Oh, how things have changed!
Falling Hard for Barcelona
So it wasn't love at first sight—but today, I DO love Barcelona.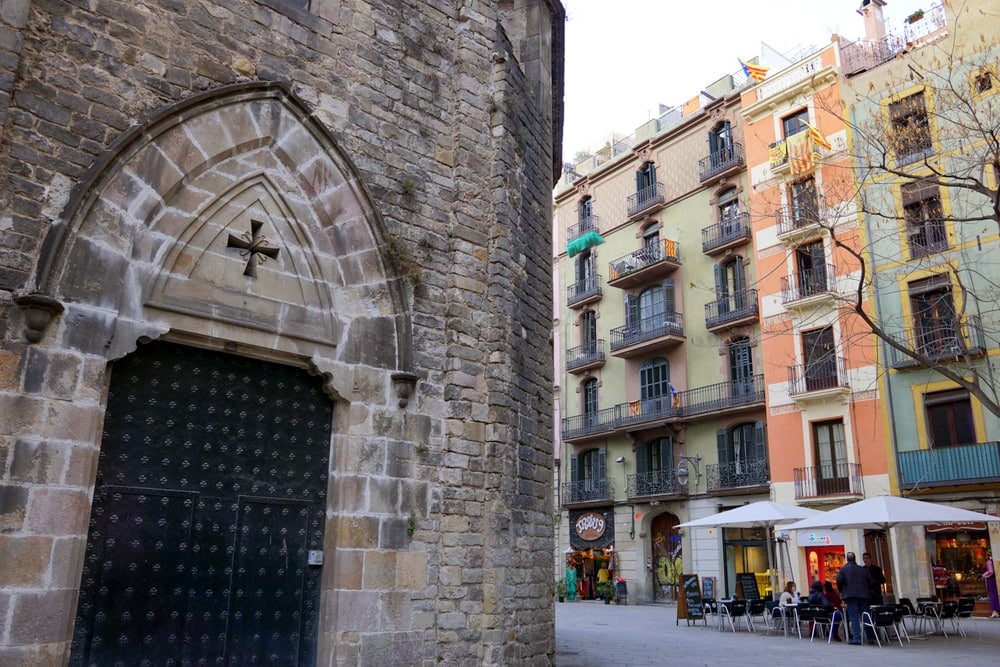 Fast forward to 2011, when I decided to give Barcelona another chance. This time, I went prepared with plenty of research, and personal recommendations from friends and family. I encountered a whole new Barcelona—one I even dreamed about living in!
I stayed in the village-like Gracia neighborhood, one of my favorite places to stay in Barcelona even today, and spent the trip exploring Barcelona's incredibly diverse neighborhoods, this time free of any misleading preconceptions!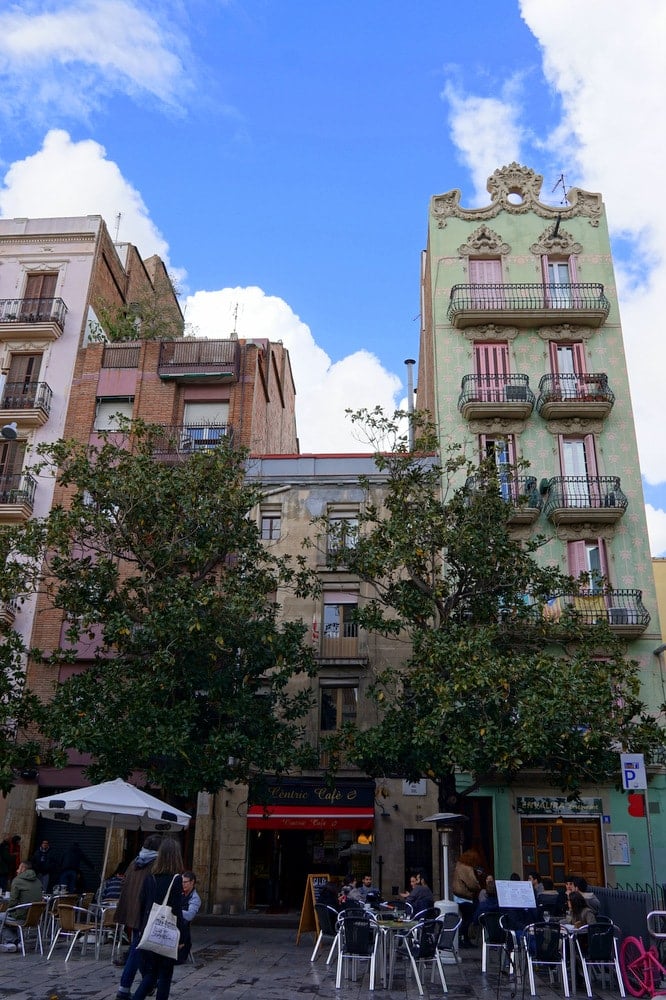 After multiple trips for both business and pleasure, in 2014 it only made sense to expand my Devour food tours to include Barcelona—in fact, we probably should have started there! Why, you may ask?
Because it is SO EASY to eat poorly in Barcelona (which I know from plenty of personal experience!). Yet at the same time, Barcelona welcomes thousands upon thousands of foodie tourists each year. And while many of them are able to navigate with today's great blogs and travel guides, many fall into the same traps I have.
The mission of our food tours in Barcelona is to bring people off the tourist track, and into Barcelona eateries that are family-run and serving real, delicious, and not "made-for-tourists" food.
It was very difficult—much more so than in Madrid or Seville. But today I am SO PROUD of our awesome food tours in Barcelona, which achieve the goal of bringing curious food lovers to the best traditional family-run eateries and restaurants in town!
For More Info: Listen to our feature on NPR!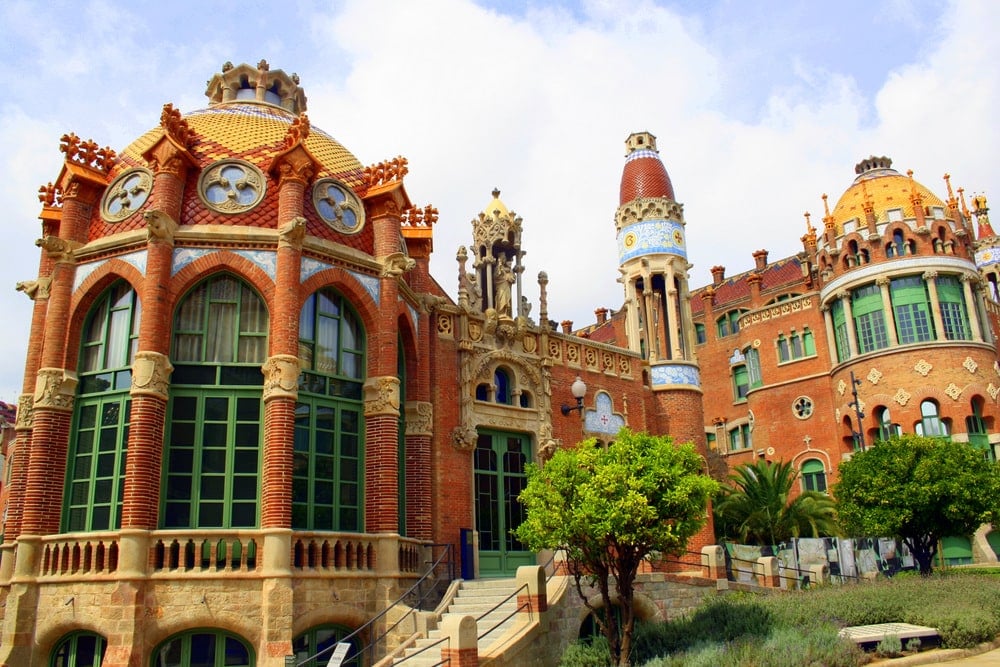 I now adore Barcelona.
When people ask me, "Madrid or Barcelona?" I have no response! Why choose? They're completely different cities and I truly love them both.
I'd love to live in Barcelona for a time—the closest I've come is spending a couple of months at a time there when planning new tours. And although frequent stays multiple times per year have given me a good idea of the city, there's nothing like actually living in a place long term!
Eating in Barcelona
Ok, now for the good stuff! Barcelona is filled with amazing eateries—from simple and traditional to gourmet and extravagant.
I've been meaning to write this gastro guide to eating in Barcelona for the past year—but, to be perfectly honest, it was an intimidating task! There are SO MANY amazing places to eat in Barcelona, and I wanted to make sure to do the city justice with my recommendations.
Yet after getting back from planning new tours in Barcelona (including a super traditional Barcelona food tour, a delicious Barcelona tapas tour, and a fun Barcelona wine tasting tour), I finally feel ready to share my personal Barcelona restaurant recommendations and food tips with the world.
I hope that these tips will save many from my fate back in 2007, because Barcelona is full of great food—but also has plenty of awful food!
So this guide will tell you what to eat in Barcelona, and later where to eat in Barcelona. I hope it's helpful!
Barcelona Tapas 101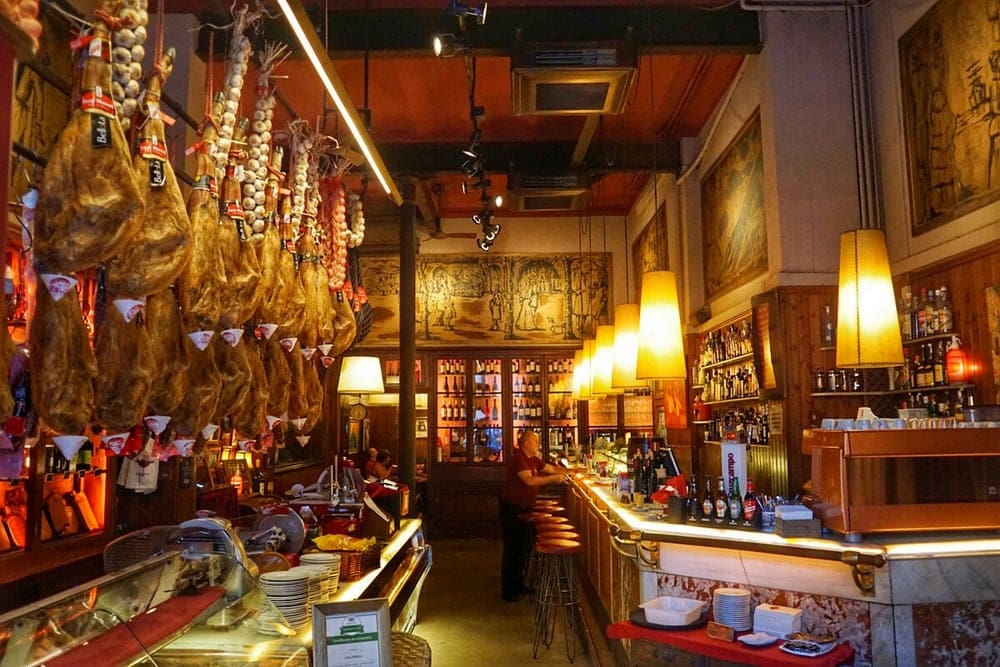 So tapas aren't actually from Barcelona—crazy, huh?
On the one hand, that means that many places in the city that claim to be "tapas bars" should actually have a sign that reads "tourist trap." There are plenty of these in Barcelona, likely more than any other city in Spain. But don't worry, there's hope!
Because there are also some fantastic tapas bars in Barcelona, and I'd categorize them into three groups:
Catalan bodegas: While technically not tapas bars, these are the closest that Barcelona gets to the traditional concept of small plates. These are old-fashioned wine shops where people fill their empty bottles with barrel wine. The food on offer is almost always cold—think charcuterie, cheese, and (delicious) Spanish canned goods.
Traditional tapas bars from other parts of Spain: Many Spaniards have immigrated to Barcelona over the past centuries, as it's been a center of Spanish industry. And each group of immigrants brought their food and traditions. So the famous pimientos de Padrón? From the north of Spain! The concept of tapas (small plates) with a drink on the way home from work? From the south of Spain! Thanks to immigration, Barcelona is a whole lot more delicious!
Modern tapas bars: Of course the locals realized that the idea of tapas is a great one (and one that tourists demand), and so over the past two decades countless tapas bars have opened in the city. Usually, they are a bit more modern and often serve sharing plates (raciones) versus the individual tapas portions so typical of Andalusia (in the south of Spain).
See More: Read my gastro guide to eating in Seville for tips on how Andalusians eat!
Fun Fact: The Catalans have a reputation for being a bit stingy—whether or not it's true, it's not common to get a free tapa with your drink in Barcelona (as it is in Madrid, Salamanca, or much of Andalusia).
Tapas with an expert: As I love both Barcelona's tapas and its history, I couldn't separate the two! You can join my company, Devour Tours, on our 2-in-1 Tapas, Taverns & History Tour for a fantastic evening out. You'll learn lots, eat lots, and drink lots—my kind of night 🙂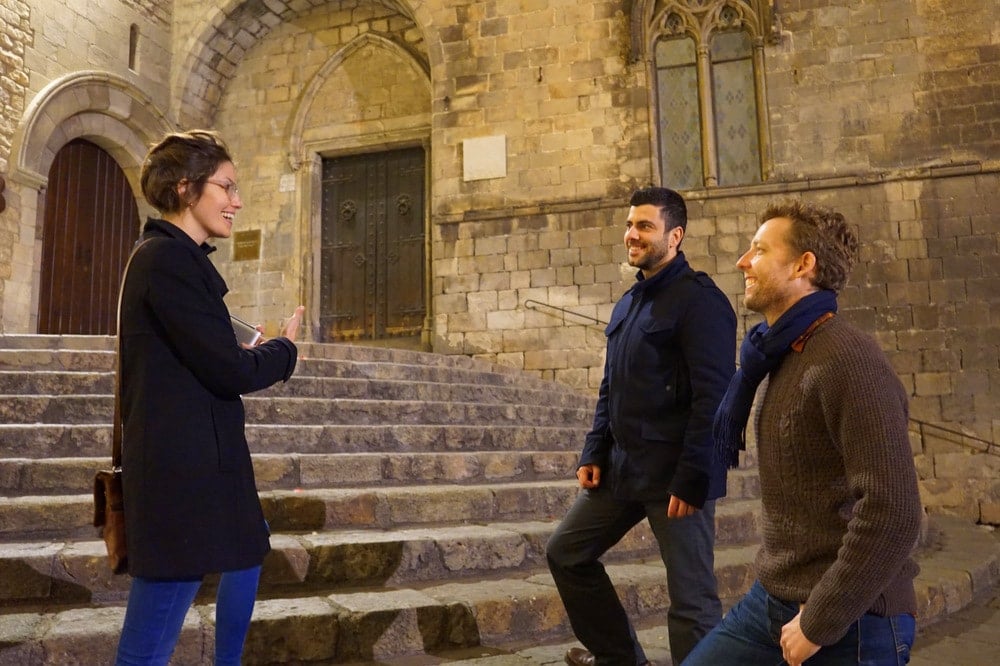 What to Eat in Barcelona
Barcelona is home to both traditional Catalan food and international cuisine. You can eat pan con tomate for breakfast and modern fusion tapas for dinner—with a vegan smoothie for lunch! Here I focus on local classics (mostly traditional): things you will only find in Barcelona and the surrounding area!
Croissants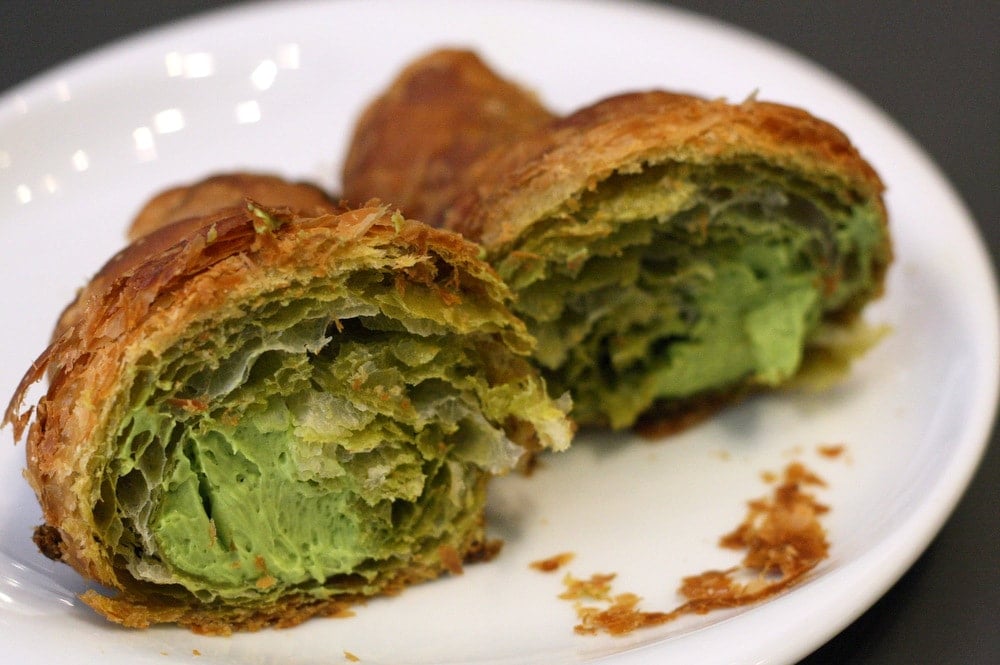 Croissants in Barcelona?! Yes—and they're delicious. Barcelona is super close to France and has been French-occupied multiple times. The result? French influence—namely, amazing croissants!
Entrepans (Sandwiches)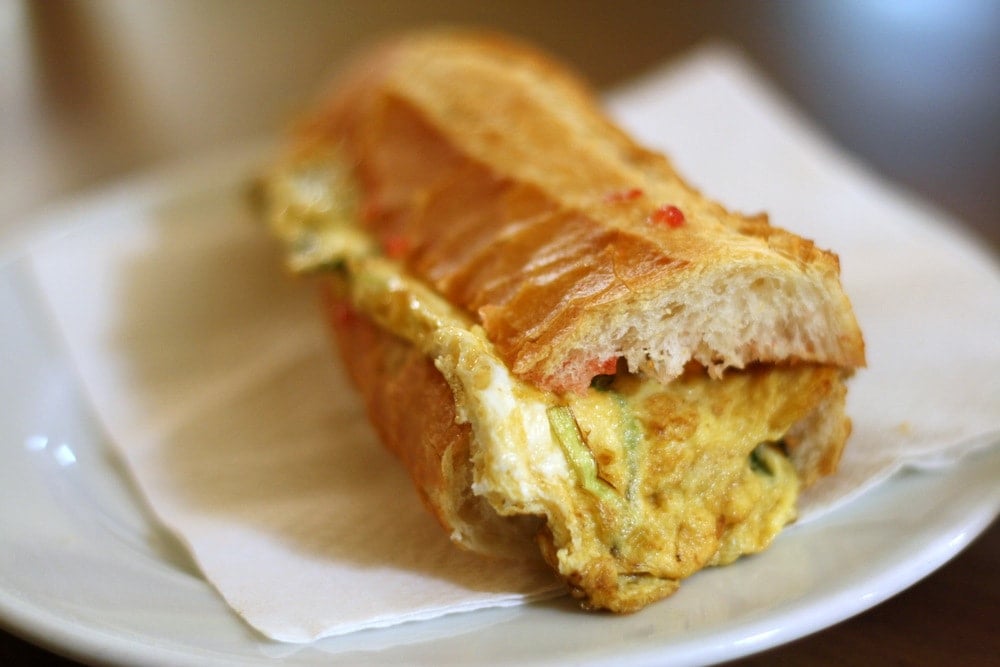 A very typical Barcelona breakfast food is a sandwich (entrepà in Catalan and bocadillo in Spanish). It might be filled with ham and tomato, cured Catalan sausage, cheese, or tortilla (Spanish omelet). If you're really hungry, you can get it with grilled botifarra sausage—my personal favorite!
Tip: We try the Gracia neighborhood's best entrepà on our Gracia neighborhood food tour!
Churros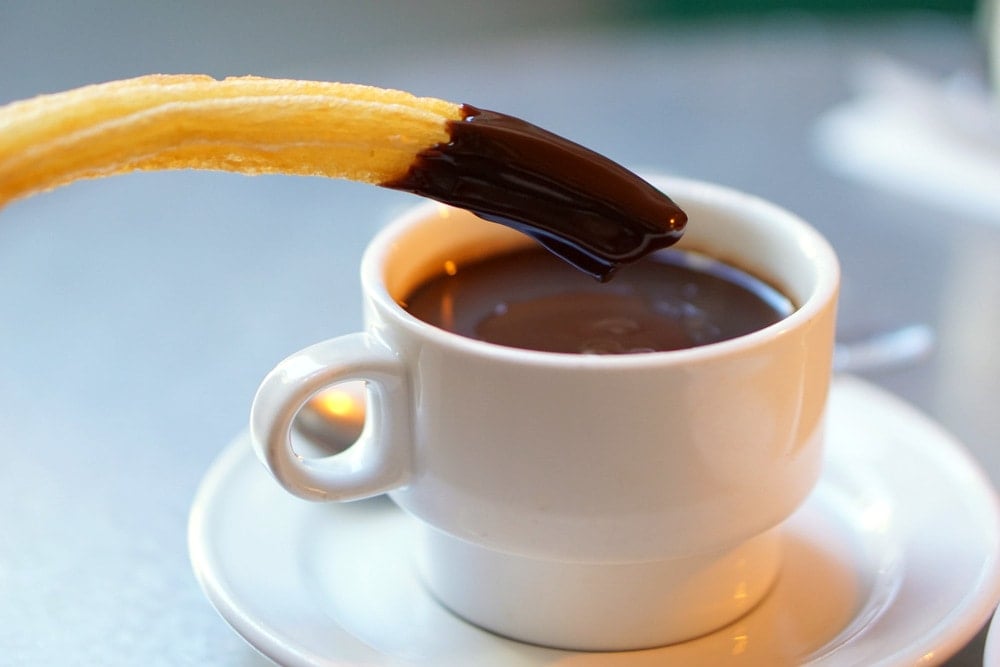 I think the best place for churros in Spain is the south, but Barcelona certainly has some great places to indulge. If you are craving fried dough while visiting Barcelona, I give you permission to go ahead! But make sure to go to a place known for their churros, rather than ordering at any old breakfast bar (where they'll likely be frozen).
Ensaimadas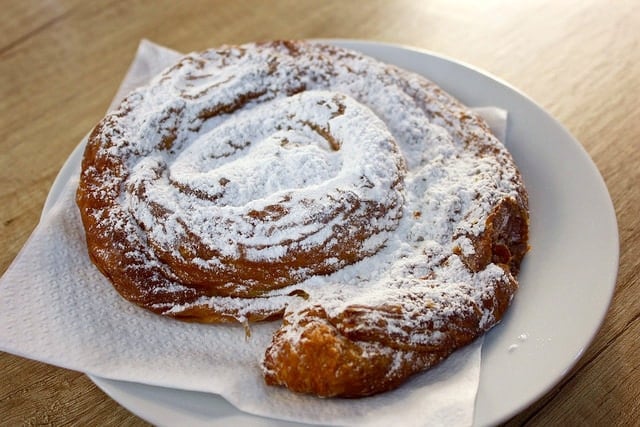 Originally from the Balearic Islands, ensaimadas are a delicious lard-based pastry that is often served on its own, or enjoyed with coffee or thick Spanish hot chocolate.
Charcuterie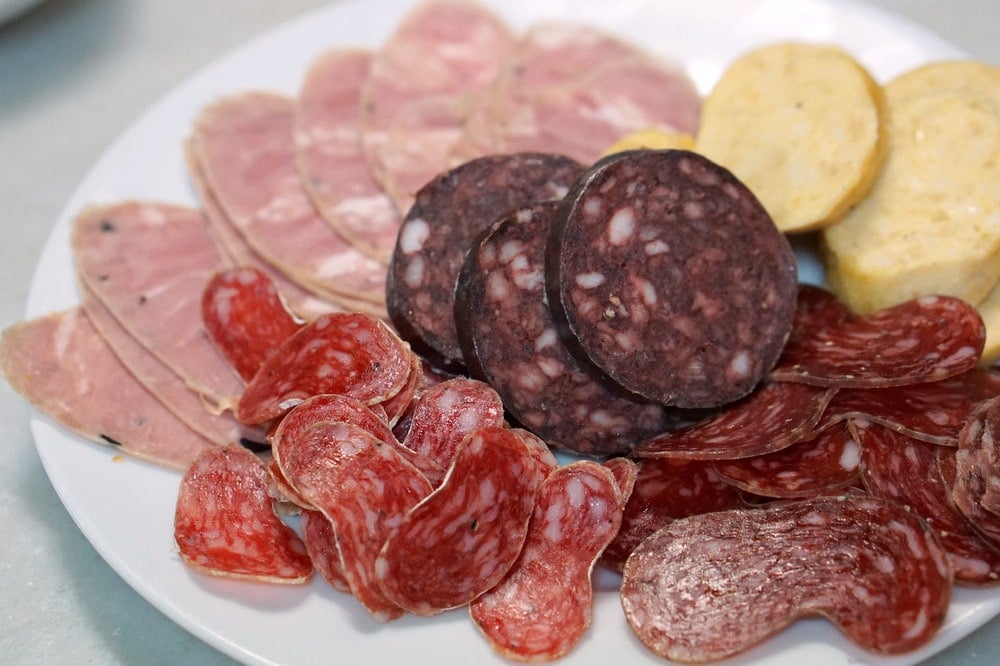 Catalan charcuterie is incredibly delicious, and there is a lot of variety. From fuet (my personal favorite) to Iberian ham (not produced in Barcelona, but certainly available!) to black blood sausages, there's something for everyone here.
Beans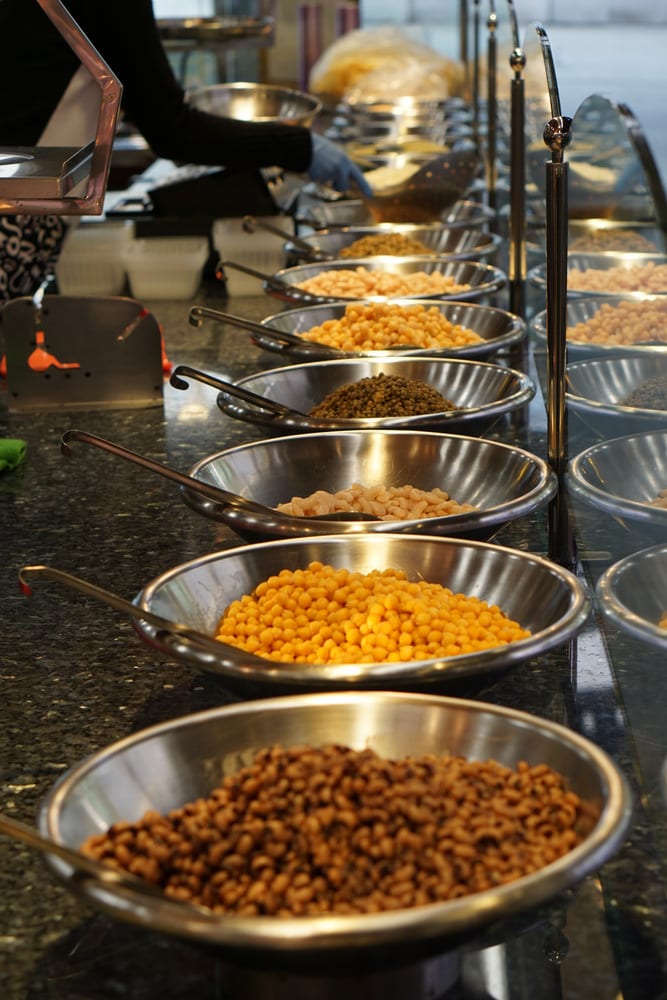 Who would have thought that beans would be one of the most typical foods in Barcelona? Well, they are—and I love them! Beans and sausage (botifarra) is a very typical "farmer's breakfast" (a hearty brunch-type breakfast served in the countryside) and also a typical lunch dish.
Beans are eaten all around Spain and usually sold one of two ways: in jars or dry. But in Catalonia they are also available homecooked in the local markets. This is such a time saver—but allows you to eat perfectly cooked beans instead of the mushy jarred ones!
Cheese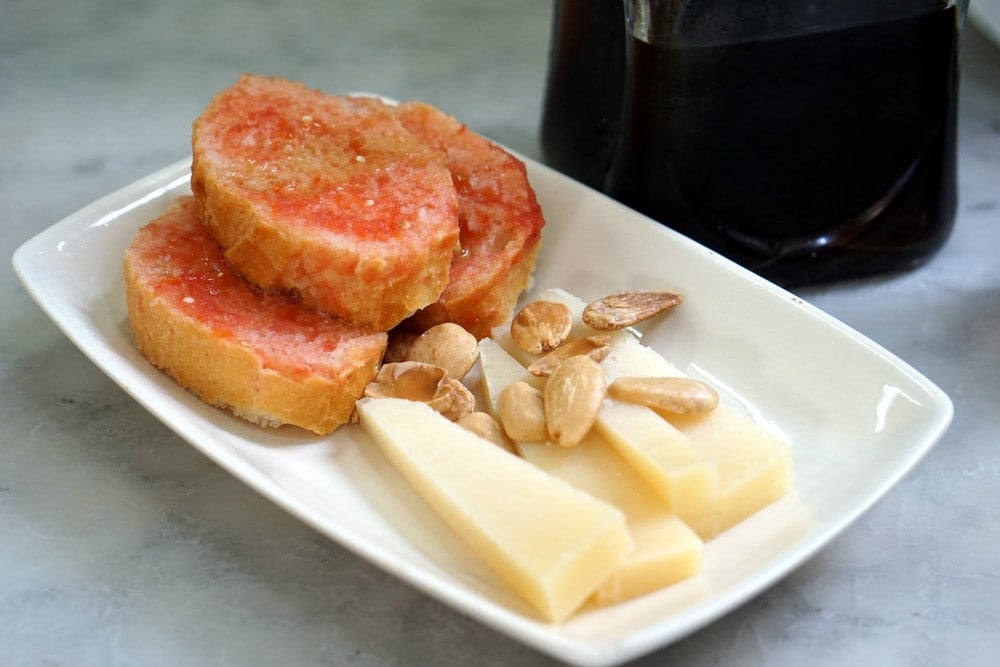 Let's go back to that French influence—and talk about cheese! Catalan cheeses (and Spanish cheeses in general) are wonderful. And in Barcelona you can choose to enjoy a cheese plate as a starter (as in the rest of Spain) or for dessert (like in France!).
Taste delicious cheeses on our Boqueria Market Tour!
Vermouth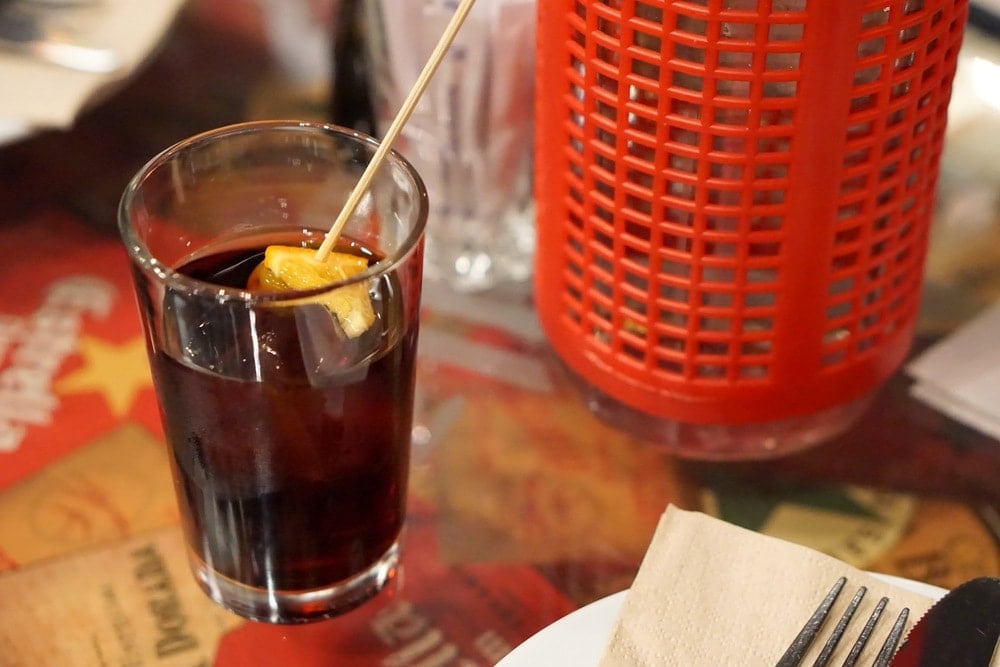 No visit to Barcelona is complete without tasting vermouth. Despite its sometimes doubtful reputation, vermouth is a delicious fortified and aromatized white wine (though "red vermouth" is actually brown in color) that Barcelona does right. Forget any prejudices you might have and order a glass—you'll thank me later!
Learn More: Taste vermouth and learn about its history on our Barcelona Wine Tour!
Fish & Seafood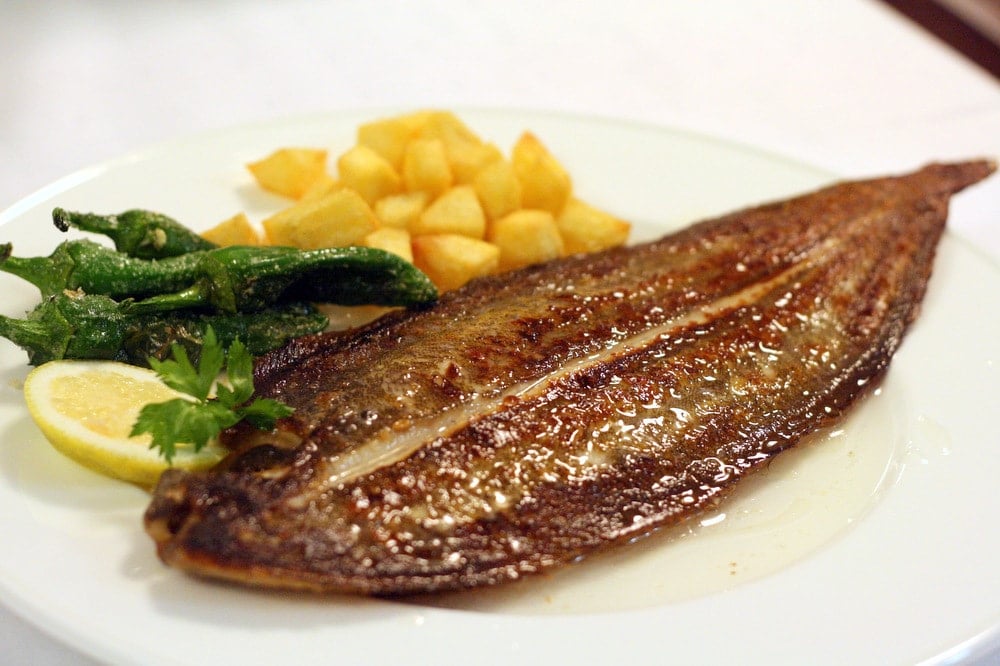 When up in the Gracia Neighborhood or visiting the Catalan mountains and wineries, it's often easy to forget that Barcelona is right on the Mediterranean! The city's amazing location means that its markets are filled with some of the most delicious fish and shellfish in Spain. Some common menu items will be:
Rape: Monkfish
Merluza: Hake
Bacalao: Cod
Cabracho: Scorpion Fish
Sardinas: Sardines
Boquerones: Anchovies
Atún: Tuna
Lenguado: Sole
Gallo: Dory
Dorada: Bream
Gambas: Shrimp
Langostinos: Jumbo Shrimp
Cigalas: Norway Lobster
Ostras: Oysters
Rajas: Calamari strips
Almejas: Clams
Sepia: Squid
Mejillones: Mussels
Fideuà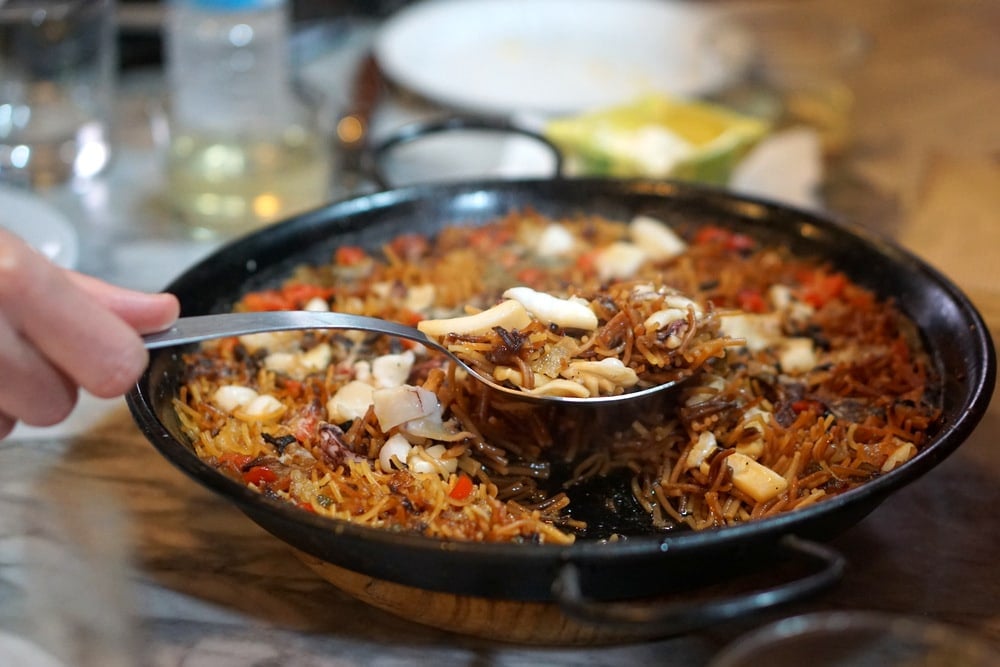 We can't talk about seafood and not mention fideuà! Fideuà is paella's (arguably yummier) cousin. It's made with buckwheat noodles instead of rice, usually includes seafood, and can also be prepared with black squid ink. Served with alioli (a garlicky emulsion), it is delicious and a must-eat in Barcelona.
Tip! Try Mama Carmen's homemade fideuà on our Tastes & Traditions of Barcelona food tour.
Salt Cod
As Barcelona is a port city, salt cod (bacalao) has been extremely important to its gastronomy throughout history. Salt cod is made by salting and drying Atlantic cod. This fish can then last for months (if not years) making it the perfect food for tough times in Catalan history.
To eat it, you must soak it in water for about 36 hours to "bring it back to life" and then prepare it how you wish. Nowadays it's a very expensive fish, but is still the cornerstone of many traditional Spanish dishes.
Foods made with salt cod in Barcelona:
Esqueixada: A cold salt cod, tomato, onion, and pepper salad
Croquetas de Bacalao: Salt cod croquettes with creamy bechamel
Buñuelos de Bacalao: Salt cod fritters with big chunks of cod
Learn More: Visit any of Barcelona's food markets to see salt cod vendors soaking the cod. Sometimes they'll have snacks for sale too!
Recipe: Try my recipe for salt cod croquettes—yum!
Wine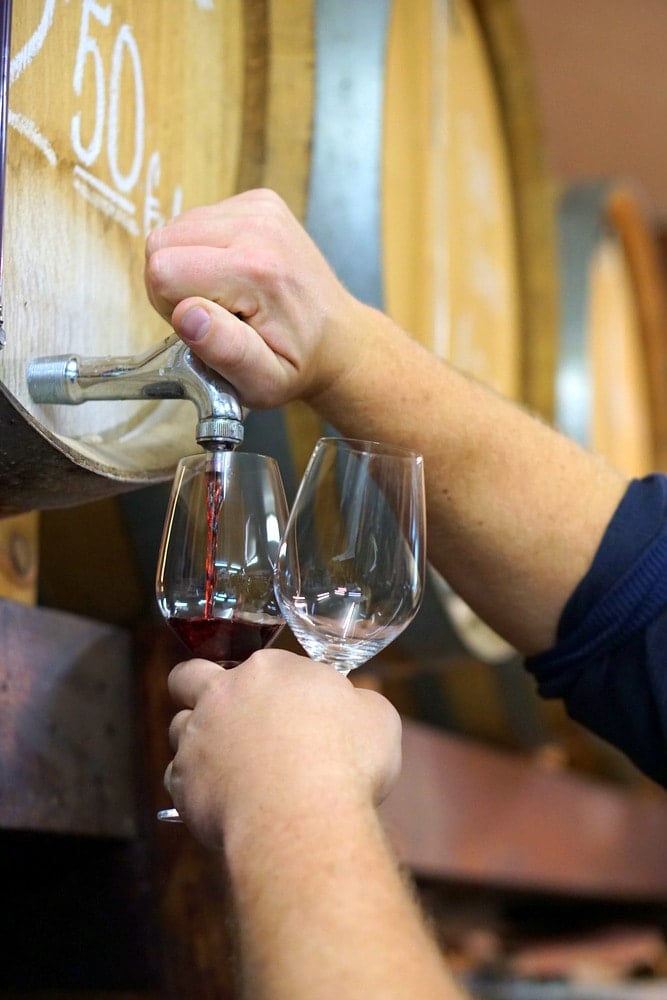 Did you know that Catalonia alone has 11 official appellations of origin (official wine regions, or D.O. regions in Spanish)? You better bet that means a lot of amazing local wine!
The area is surprising, due to the drastic changes in geography and climate, and the region produces about 25% of all Spanish wine, so there is a big difference in quality if you don't know what to look for.
Wine & Tapas Tour: Join our sommelier-led Barcelona wine tour to really dive deep into the world of Catalan and Spanish wines. We can also plan private Barcelona wine experiences!
Looking to visit the vineyards? Don't miss our exclusive Barcelona winery tour—a day trip to a farm-to-table organic wine region!
Wine Tasting Experience: We also offer an intimate Spanish wine tasting in Barcelona—with tapas of course!
Olive Oil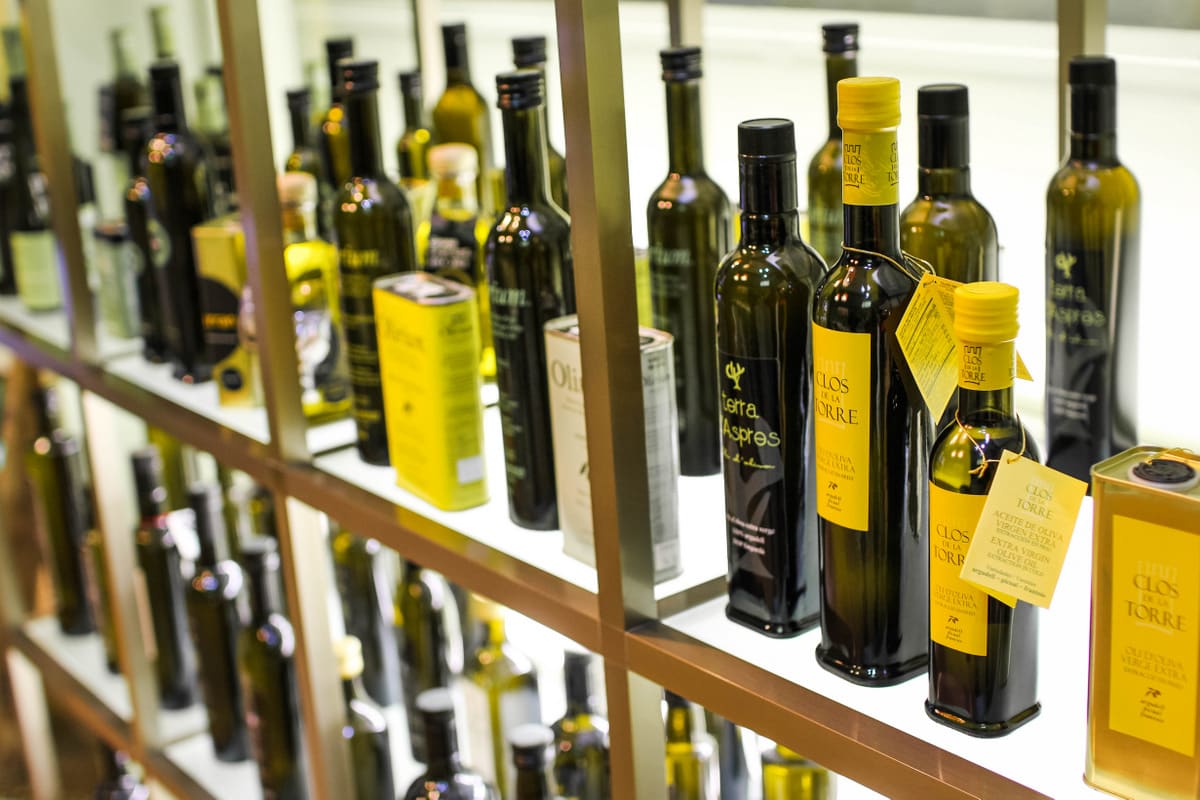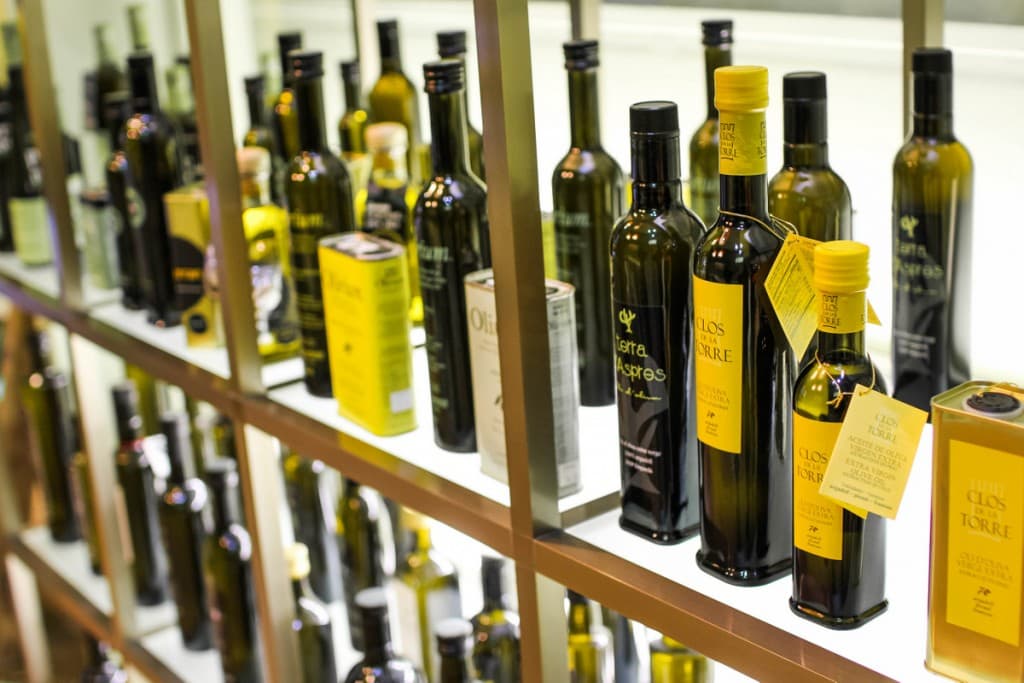 Home to 1,000-year-old olive trees, Catalonia is a wonderful region to buy extra virgin olive oil. Barcelona is home to some great olive oil shops too—like Oli Sal, which we visit for a tasting on our Gracia neighborhood tour!
Botifarra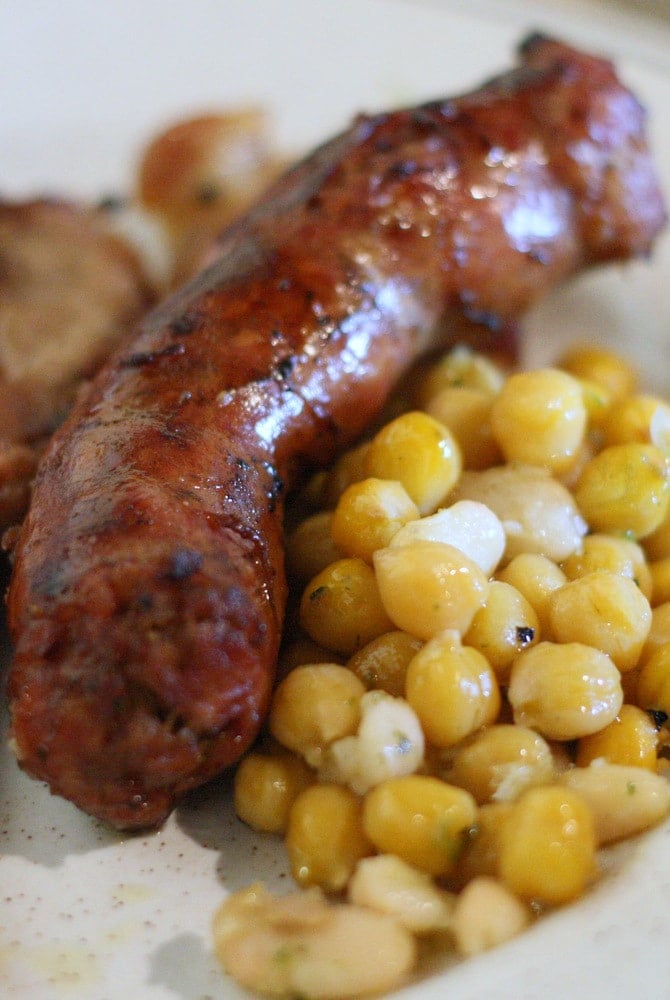 Botifarra is sausage, but in Catalonia there are plenty of delicious types to try—any time of day! You can stuff it in a sandwich or serve it with beans for a hearty "farmer-style" breakfast, have it for lunch with vegetables and salad, or for dinner. The best way of all? Going to a Catalan barbecue and eating it right off the grill!
Calçots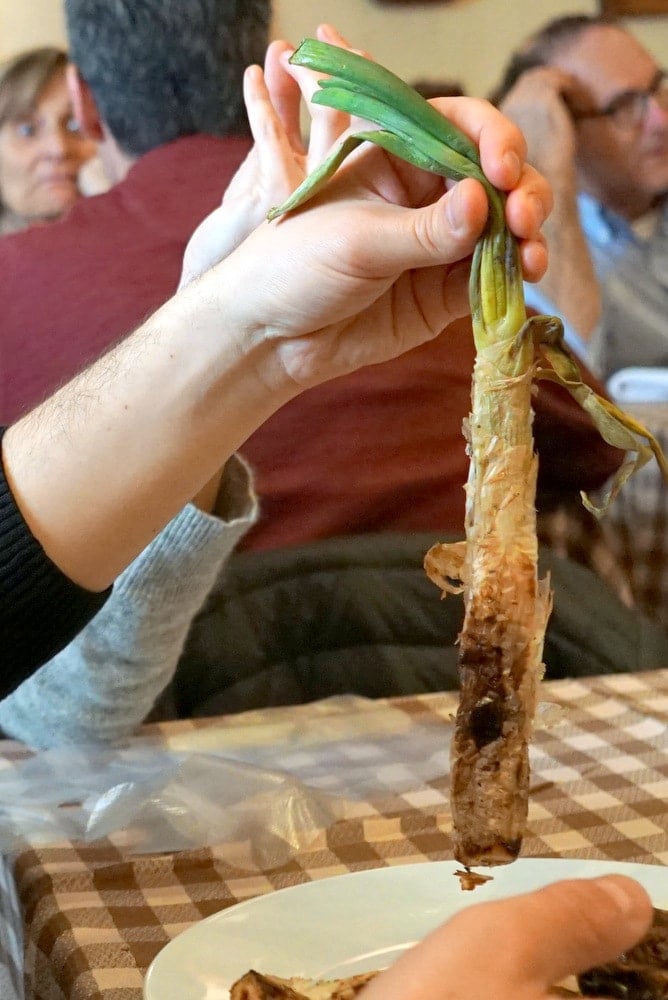 So much more than a humble onion, the calçot is a type of onion that grows in Catalonia and is available for a very short season (from January to early March).
They're best enjoyed out in the countryside, where experts grill hundreds at a time over a charcoal barbecue. They're then presented on large platters, and served with romesco sauce (or the similar calçot sauce). Save room, because the next course is platters of grilled meats!
Crema Catalana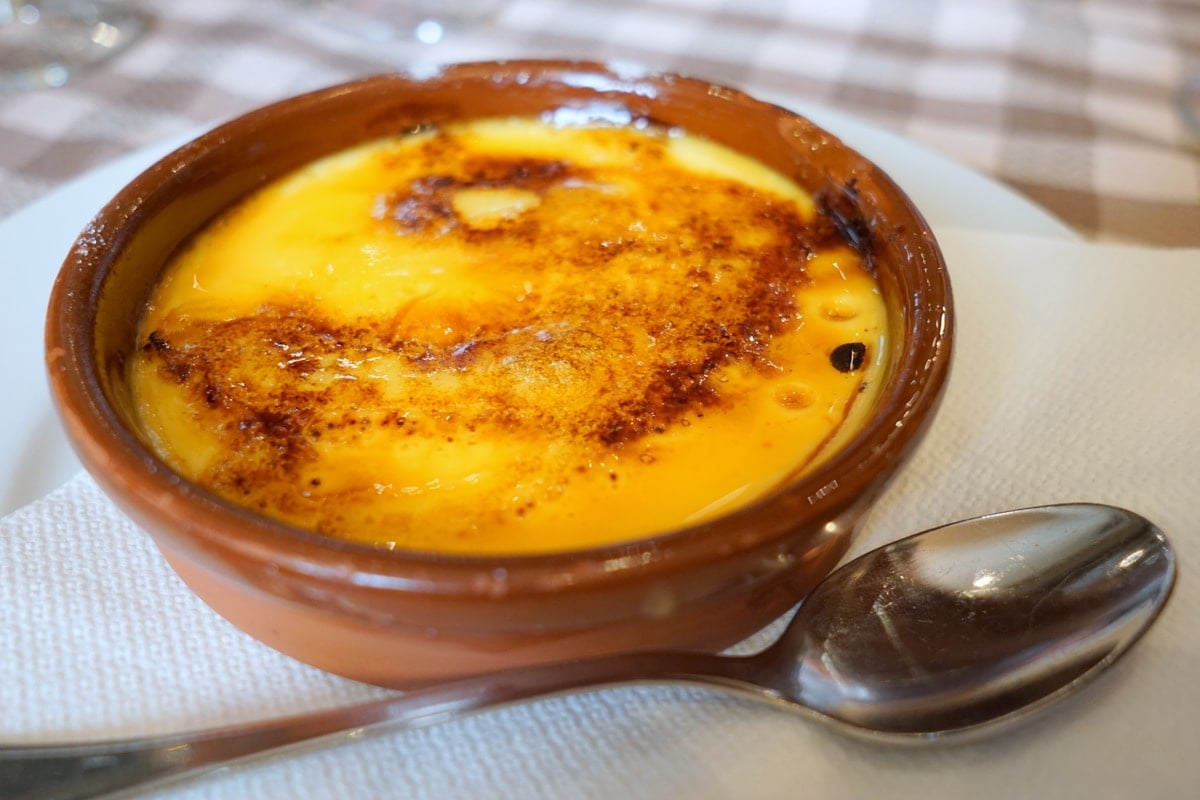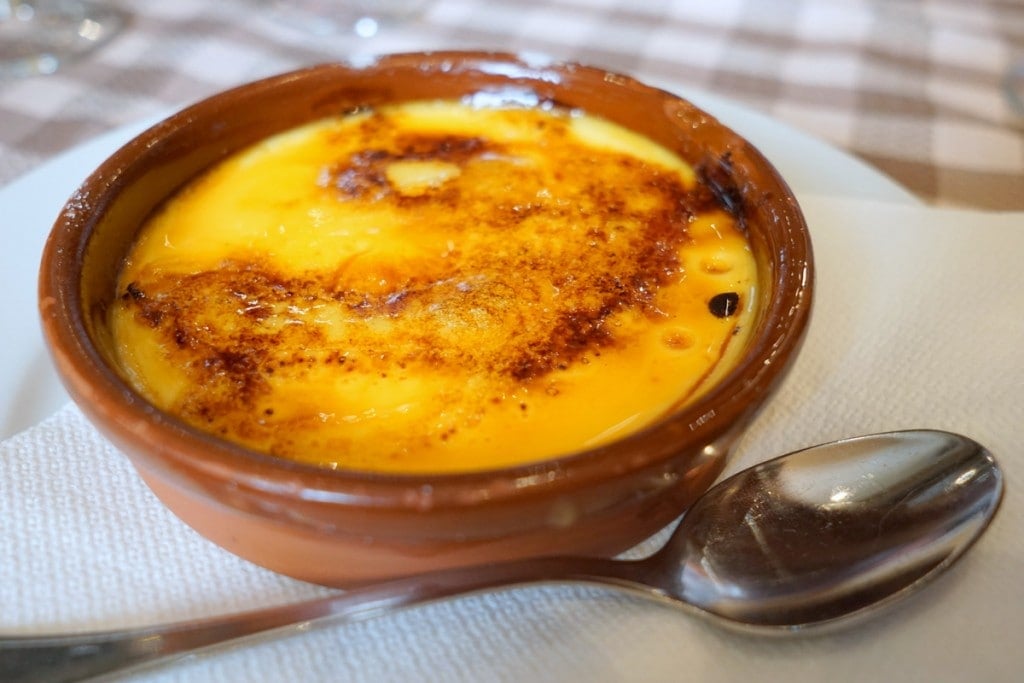 The most famous local dessert, this is the local version of crème brûlée (the Catalans claim they invented it first)! You'll find it on most dessert menus, and it's usually flavored with lemon peel and cinnamon (as opposed to the vanilla-infused French version).
Recipe: Try my crema catalana recipe here!
Pa Amb Tomàquet/Pan Con Tomate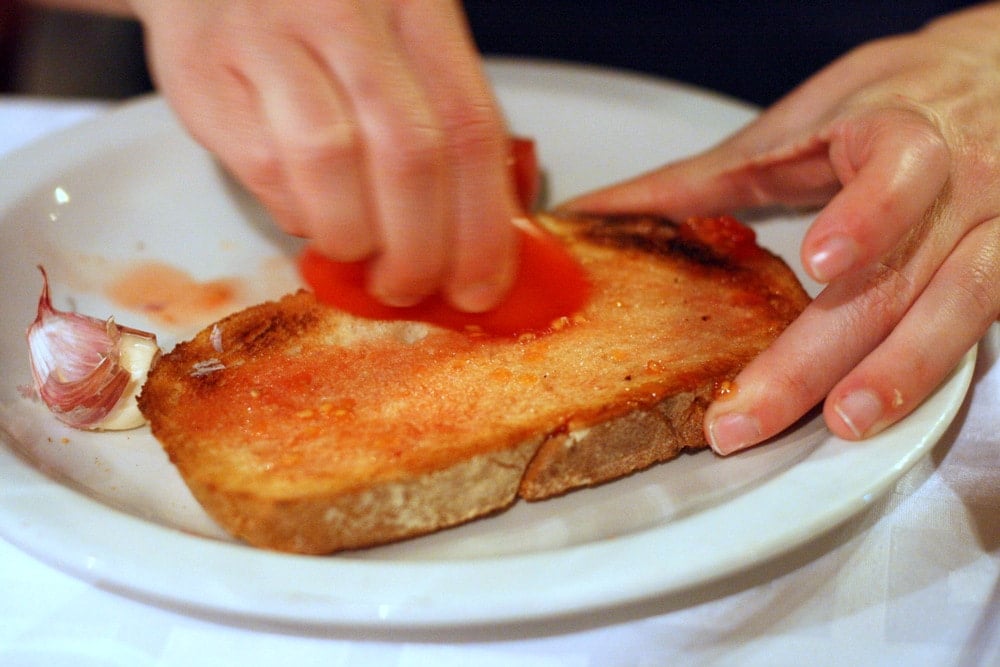 You will almost always be asked if you want bread with tomato in Barcelona—and if you say yes, expect to pay for it! It's not a tourist trap, however, as many Catalan people eat each meal with this yummy tomato bread. It's also simple to prepare on your own: toasted bread, good-quality tomatoes, extra virgin olive oil, and salt!
Cava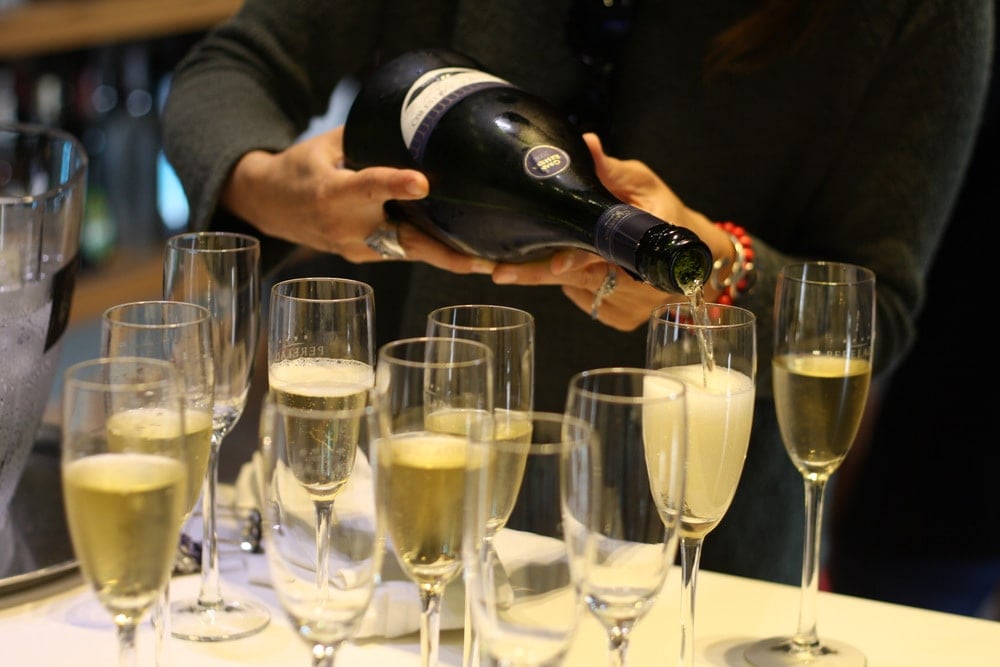 Spain's champagne (same method, different grapes—usually a much better value) is the thing to drink in Barcelona at any time of day. That's right—you can have cava for breakfast (and we do on some of our tours!).
Learn More: All About Spanish Cava
Snails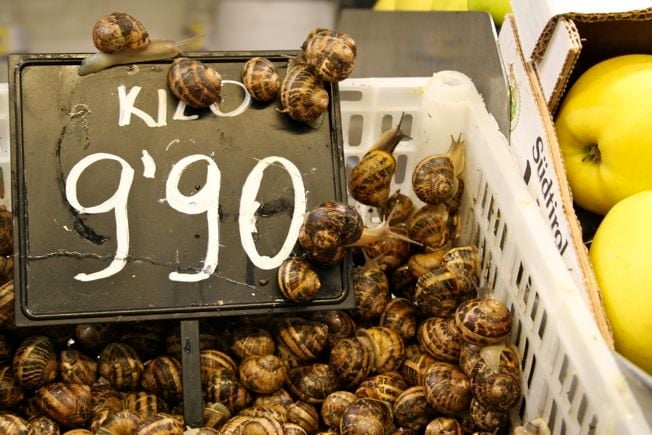 They're not my thing (at all!) but Barcelona (like Madrid) is also known for snails, and has entire restaurants dedicated to them. I especially love Can Cargol (though I can't speak for the snails...).
Escudella
This is the most typical Catalan stew, and it's a hearty one! Perfect for cold weather, it includes all sorts of different meats (chicken, beef, pork, lamb...) and often offal parts like pig trotters or ears. It also has chickpeas and plenty of vegetables.
Xuxos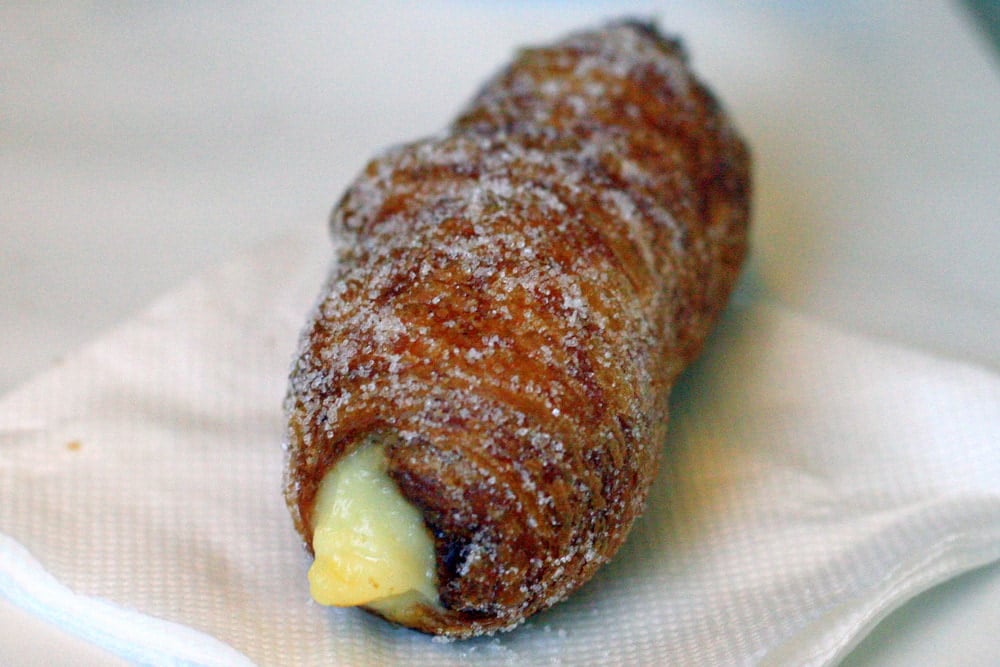 This is the authentic Catalan donut—stuffed with pastry cream and covered in sugar. Look for them in pastry shops and get ready for a sugar rush! We taste Barcelona's best xuxo on our Tastes & Traditions of Barcelona Food Tour!
Suissos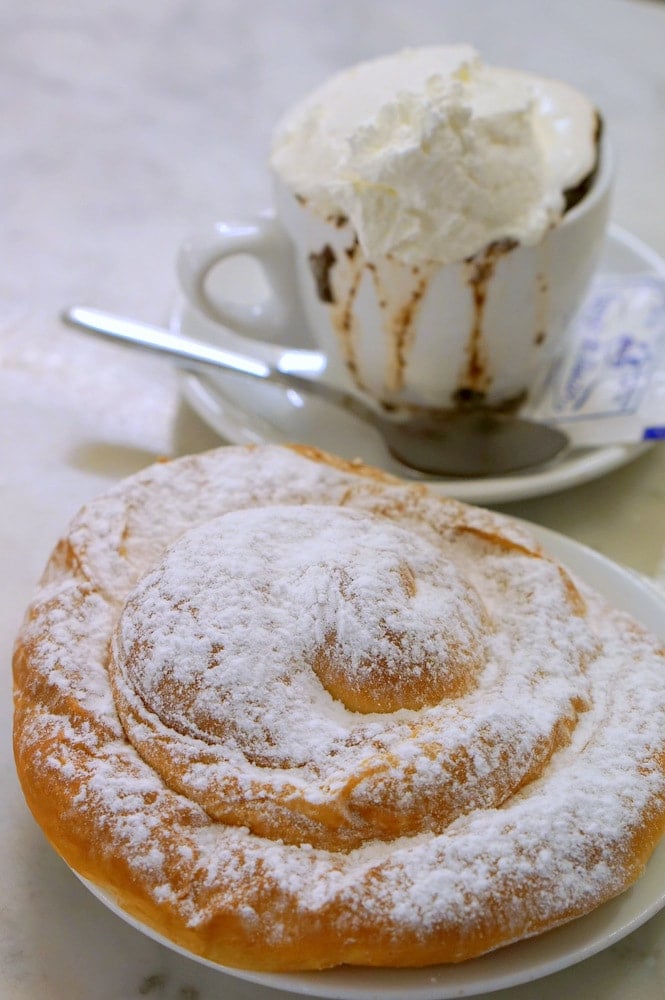 The suisso is intense—full warning! It is basically the extremely rich and thick Spanish hot chocolate covered in whipped cream! It's best when the cream is homemade—which is always the case at the famous Granja Viader (a stop on our Boqueria Market Tour!).
Cocas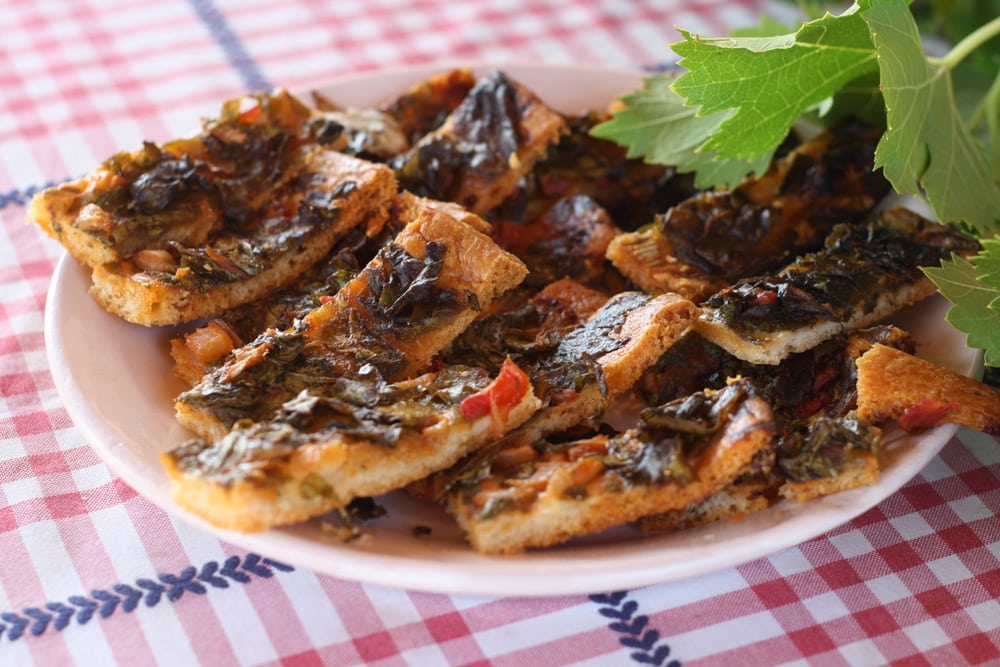 Cocas are a type of Catalan flatbread or pastry—they can be either sweet or savory. I personally love the savory ones, which are served hot or cold, and include toppings such as spinach and pine nuts or onion and sausage.
Bomba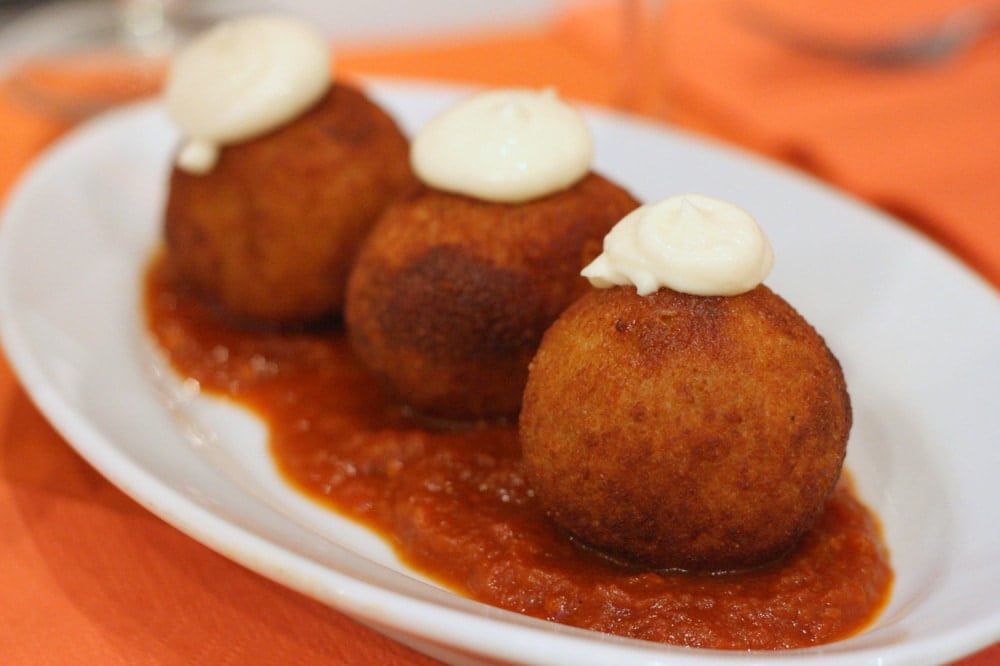 The "bombs" of Barcelona are worth seeking out—but only the good ones! Nowadays it seems that everyone offers these deep-fried, meat-filled potato balls on their menus, but there are only a few places that do them right.
Among them are the inventors of this snack, the people at La Cova Fumada, who decided to top this delicacy with bravas sauce and alioli to make it look like a mini bomb!
Patatas Bravas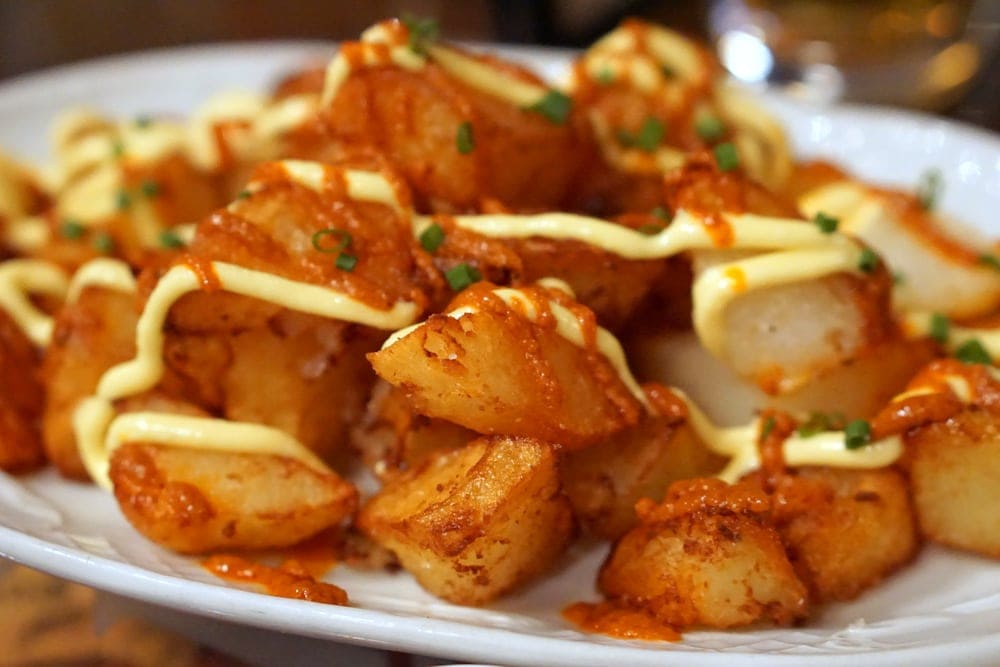 Possibly the most common "tapa" in Barcelona, everyone seems to claim to have the best bravas in the city. Patatas bravas in Barcelona generally consist of deep-fried potato wedges, topped with a blend of slightly spicy bravas sauce and garlicky alioli.
Suquet de Peix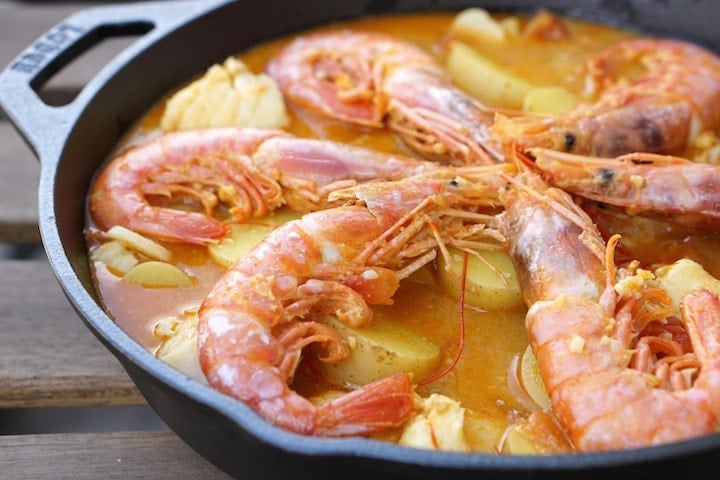 One of the best Catalan recipes I know, this fisherman's stew is so delicious. I usually make my own, but you can find it in traditional Catalan restaurants.
Get My Recipe: Suquet de Peix
Romesco Sauce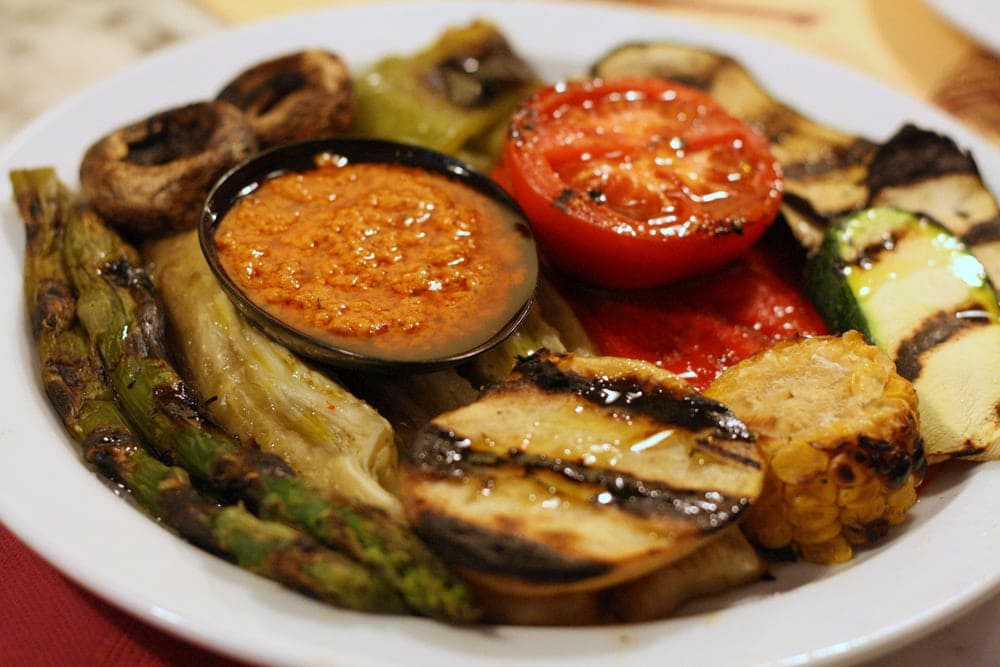 This is quite possibly the best sauce I've ever tasted! It's the perfect combination of toasted almonds, hazelnuts, peppers, and garlic—and so delicious with grilled vegetables or Barcelona's famous calçots!
Where to Eat in Barcelona
Tripadvisor alone lists nearly 8,000 different restaurants in Barcelona, so you really are spoiled for choice! Here are my all-time favorite places to eat in Barcelona and why. Hope you love them as much as I do!
Bar Cañete
Let's start with a classic. This is one of the best tapas bars in all of Barcelona, great for sipping a vermouth or a glass of wine with some of the best tastes in town. Think Iberian ham, baby squid, sauteed clams... Make sure to eat in the bar area for better prices and also for the ambience! It does get very busy, however, so be prepared to go early or wait.
Carrer de la Unió, 17
El Vaso de Oro
Another amazing choice for traditional Spanish tapas in Barcelona is called El Vaso de Oro, and it's practically hidden away in the Barceloneta neighborhood. This place gets BUSY and is full of atmosphere. Order a draft beer and some tapas, and you'll definitely know that you're in Spain!
Carrer de Balboa, 6
Celler Cal Marino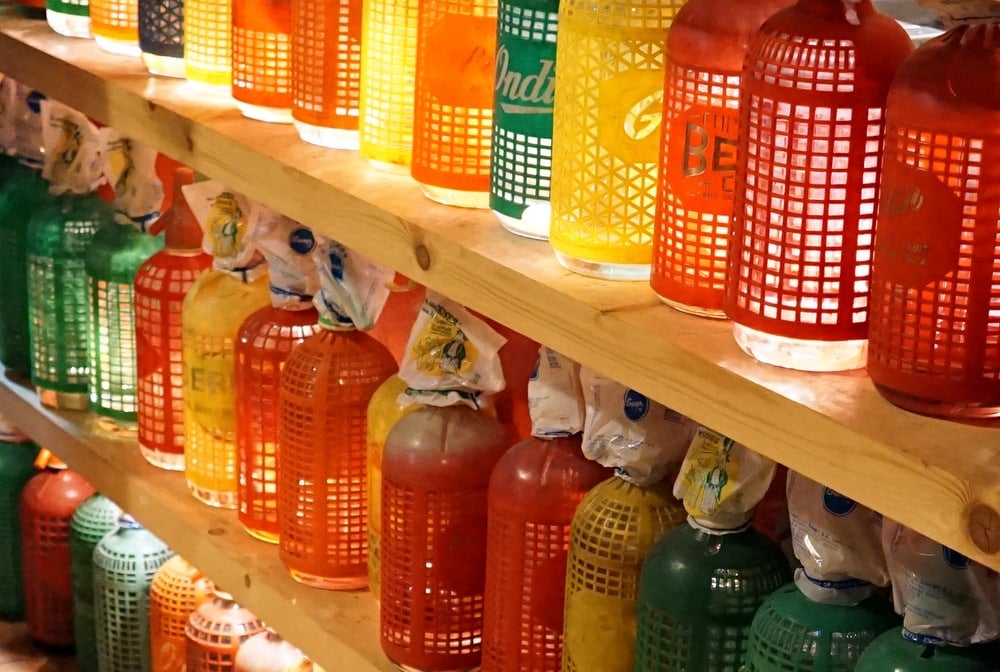 This is a great little Barcelona wine bar in the Poble Sec neighborhood. I love it because it really feels totally off the beaten path, full of local atmosphere and the wines are delicious! I wouldn't recommend dining here, however, as they don't seem to have much of a kitchen.
Carrer de Margarit, 54
Bar del Pla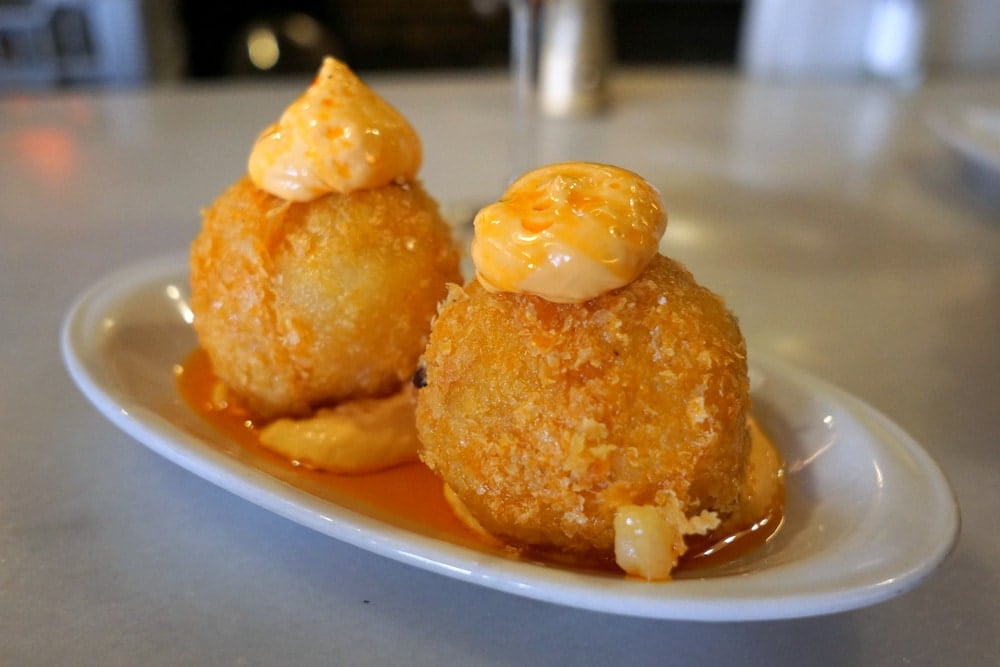 My favorite central Barcelona tapas bar, Bar del Pla is comfortable and familiar, and serves great food. I love their stewed beef cheeks and octopus croquettes. They also have some delicious Catalan wines by the glass!
Carrer de Montcada, 2
La Panxa del Bisbe
Another of my Gracia recommendations, this wonderful tapas bar isn't too far from Parc Güell and is totally worth the detour. It's another of the places on this list that feel completely off the beaten path, and its farm-to-table menu is worth multiple trips!
Carrer del Torrent de les Flors, 158
el SET
I love this central Barcelona tapas bar for its beautiful charm. It's the perfect place for cheese, charcuterie, and wine—I'd stick to these staples as they have no full kitchen. It's as beautiful as it is tasty, making it a romantic choice too!
Carrer de l'Esparteria, 7
Can Solé
Founded in 1903, Can Solé is considered by many to be THE place for paella in Barcelona—which isn't actually paella at all (that's from the Valencia region) but an arroz (rice dish). This restaurant is special for me because it's where we had our only good meal back in 2007—and I still remember the first time I tasted this type of food! It's a bit pricey, but you're guaranteed quality and ambience.
Carrer de Sant Carles, 4
Vila Viniteca – La Teca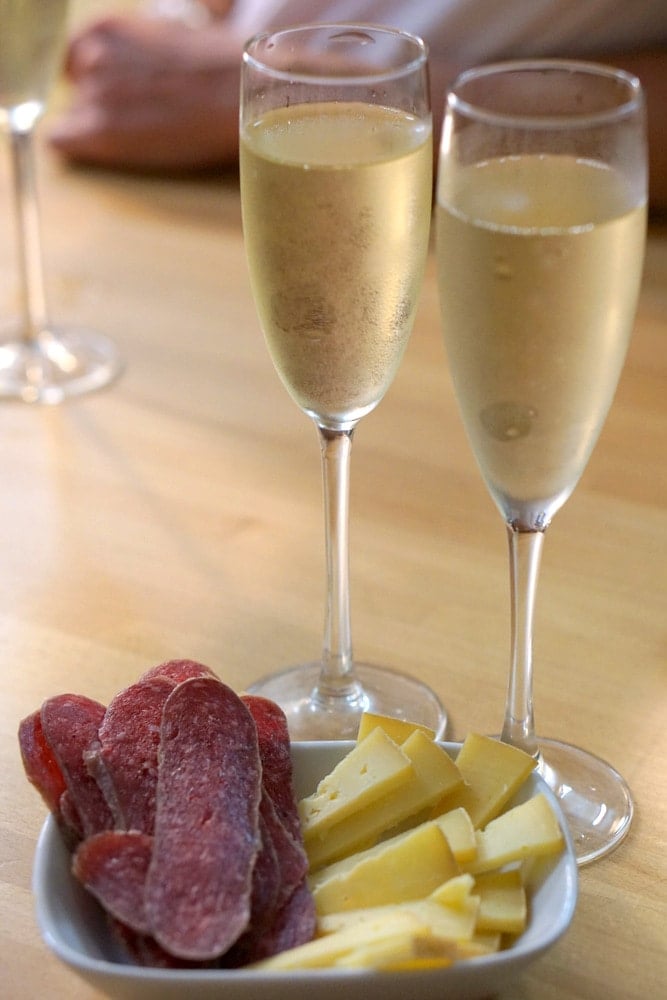 One of the best gourmet wine and cheese shops in all of Barcelona, this place is a haven for foodies! It's simple, but you can try some of the best-quality cured meats, cheeses, and wines at their tasting tables, or stock up on goodies for home!
Carrer dels Agullers, 7
Entrepanes Díaz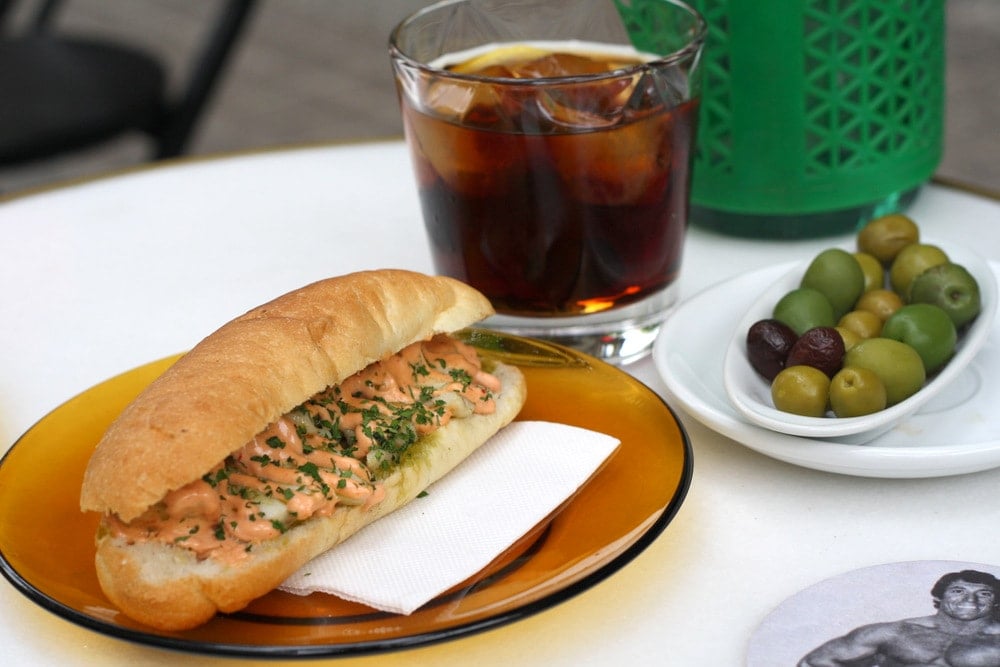 This beautiful gourmet sandwich shop on the border of the Eixample neighborhood and Gracia is a great place for a modern twist on your entrepà. Last time I tried a delicious grilled fish sandwich with a cold vermouth on the terrace—needless to say, I was in heaven!
Carrer de Pau Claris, 189
Satan's Coffee Corner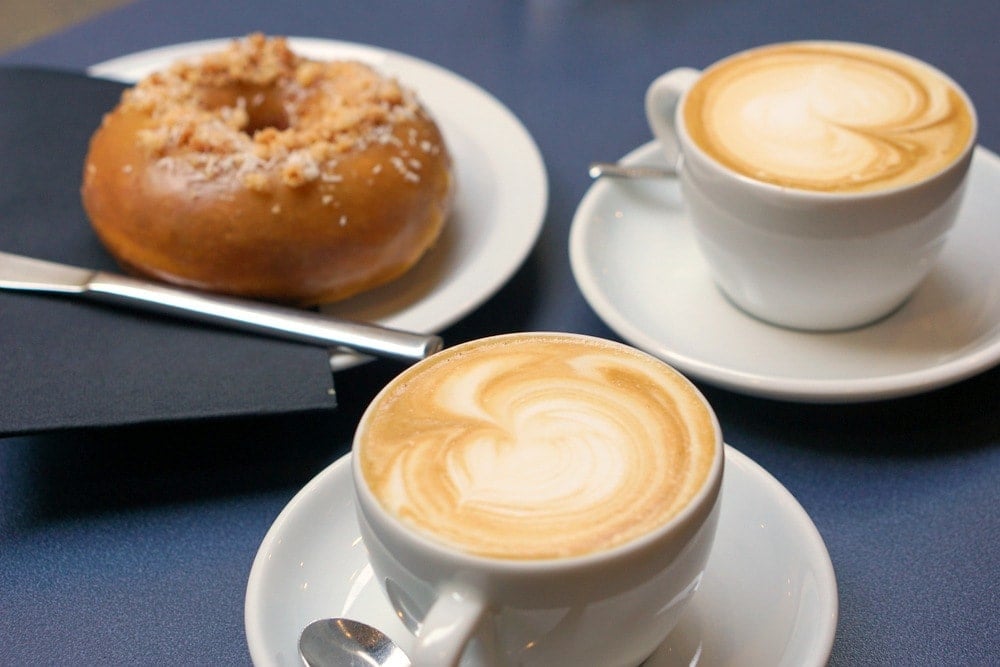 I love the coffee at Satan's Coffee Corner, which is centrally located (steps away from the Barcelona Cathedral) and a perfect stop before a long day of sightseeing. It opens early, and also serves food (though I prefer the coffee myself!).
Carrer de l'Arc de Sant Ramon del Call, 11
Nomad Coffee Lab
I made the trek to the famed Nomad Coffee one day and took a seat at the small bar. It was the type of place where staining my coffee with milk seemed like it could get me in trouble—so I ordered the weekly brew, straight up. It was absolutely delicious and a jolt of caffeine I needed at that moment. Recommended for coffee addicts (warning—it's pretty hipster in there!).
Passatge Sert, 12
Can Cargol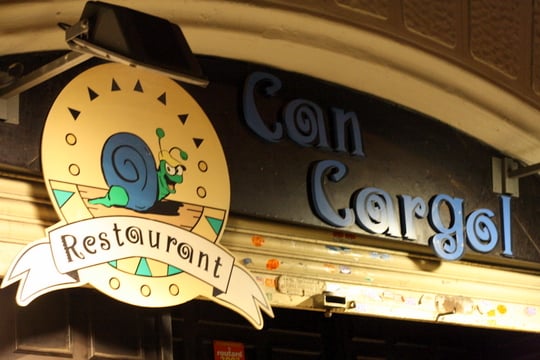 A friend of mine who lives in Barcelona first brought me to Can Cargol (the house of snails). Their specialty, you guessed it, is indeed stewed snails. But they have plenty more on offer; we loved their grilled artichokes and calçots (both seasonal) and traditional Catalan salads. It's one of those simple, rustic places that makes you feel at home!
Read More: My review of Can Cargol
Carrer de València, 324
Vermuteria Lou
This off-the-beaten-path vermouth bar in the Gracia neighborhood serves my favorite bravas in all of Barcelona (to date!). It has a real neighborhood feel, which I love.
Carrer de l'Escorial, 3
Bar La Plata
Quite possibly the last standing authentic Spanish tapas bar in the Gothic Quarter, La Plata is a tiny place with only four things on the menu: tomato salad, botifarra sausage, fried anchovies, and pickled and salt-cured anchovies on bread. I love each of them, which makes it the perfect place to fill up on delicious food and wine.
Carrer de la Mercè, 28
Bar Bodega Quimet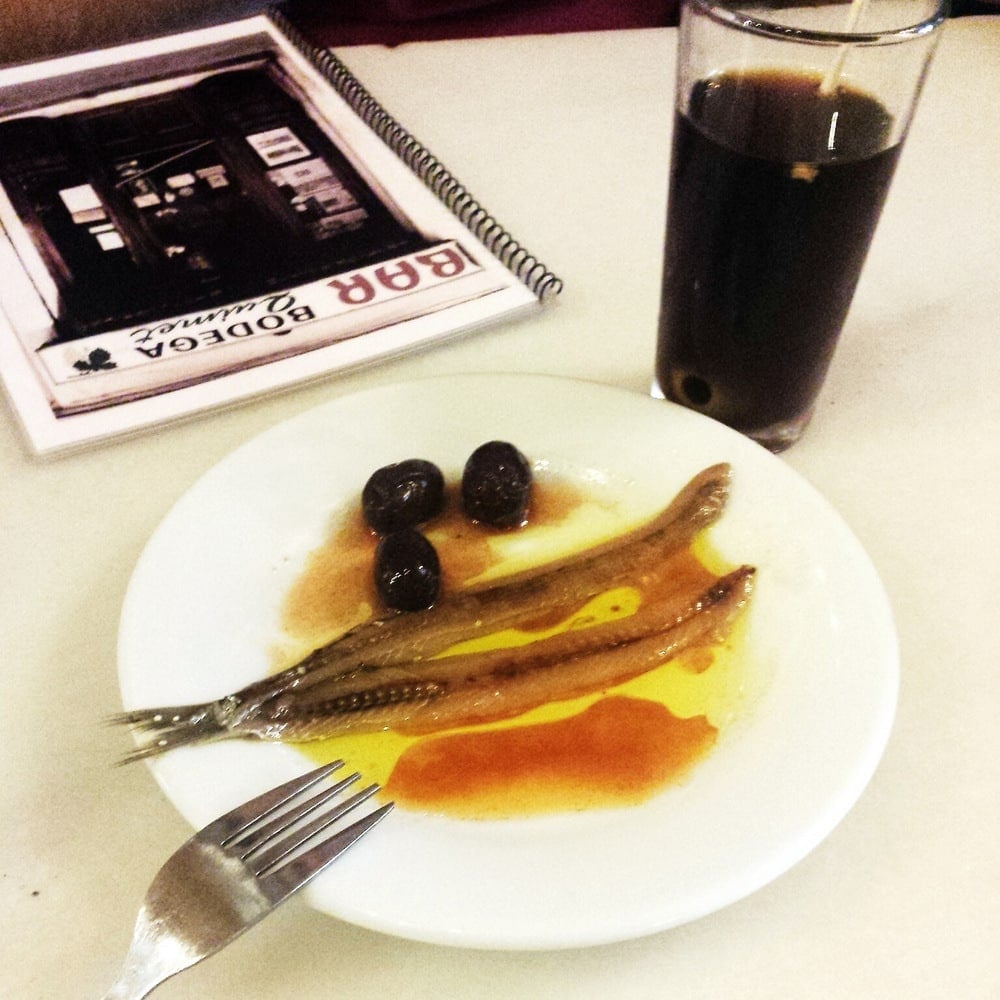 Another hidden vermouth bar in the Gracia neighborhood (are you seeing a pattern yet?). Bar Bodega Quimet (not to be confused with Quimet & Quimet) is a lovely, traditional bodega with a short tapas menu and delicious vermouth. I always stop by when in the area!
Carrer de Vic, 23
Casa Mariol
Not too far from the Sagrada Familia, you'll find the hole-in-the-wall Casa Mariol, which is more modern than other vermouth bars on this list. I love Casa Mariol's vermouth, which is more spicy and bitter than some others. I'd say it's a must when nearby!
Carrer del Rosselló, 442
Xiringuito Escribà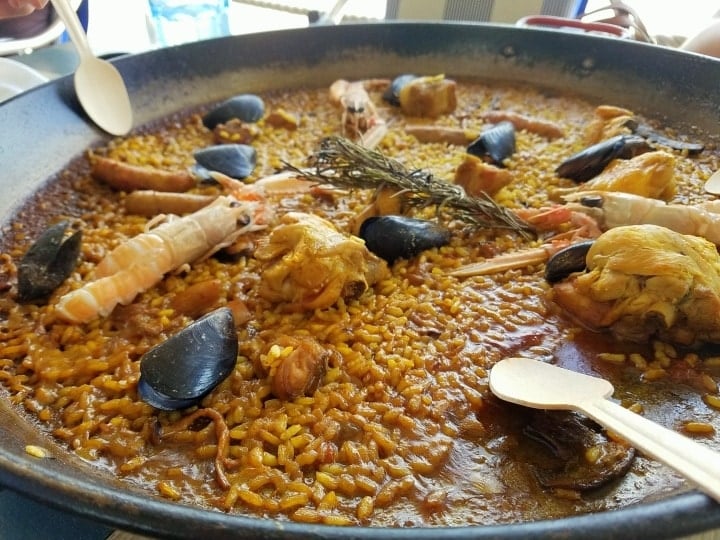 Another great place for paella in Barcelona. I really love that Xiringuito Escribà uses the best products with a creative touch. The seaside views and great service are a bonus!
Avinguda del Litoral, 62
La Cova Fumada
The place that invented the bomba tapa, La Cova Fumada is an absolute classic in La Barceloneta neighborhood. It fills to the brim (there's often a line), so it's definitely not a place to go for fine dining or romance. But I adore its authenticity and atmosphere—and I think you will too!
Carrer del Baluard, 56
Casa Mari y Rufo
Hidden in plain sight right across from the Santa Caterina Market, this mom-and-pop fresh fish restaurant is one of the best! Mari and Rufo serve up simple but delicious market-fresh fish and seafood. There's often a wait, but it's worth it for their fantastic food.
Carrer de Freixures, 11
Baluard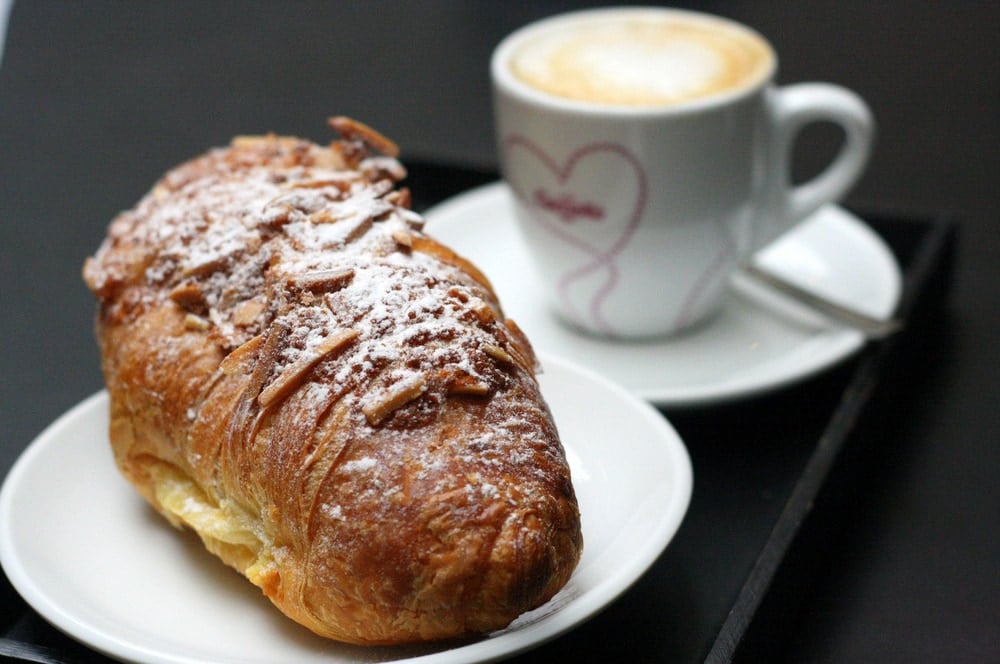 The smell of freshly baked bread and pastries would lure anyone into this incredible shop. Baluard is one of Barcelona's best bakeries, and you really can't go wrong with any of their delights. One of my all-time favorites is the almond croissant—just try it!
Carrer del Baluard, 38 (and several other locations)
Pastelería Hofmann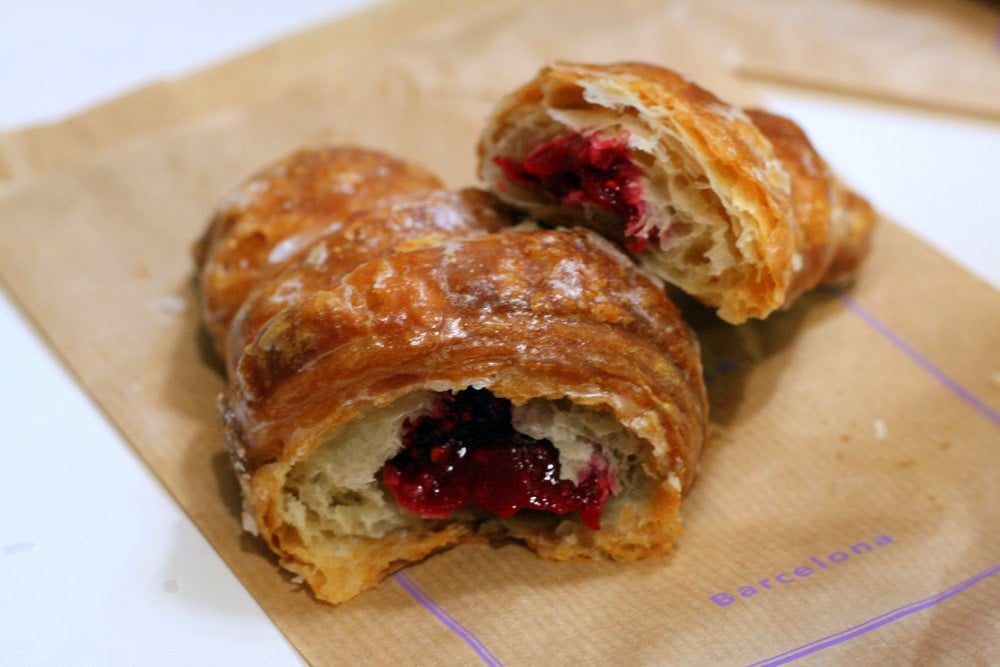 To say I'm obsessed with the stuffed croissants from Hofmann would be an understatement! You can choose from raspberry, mascarpone, chocolate... the list goes on.
Carrer dels Flassaders, 44
Granja Viader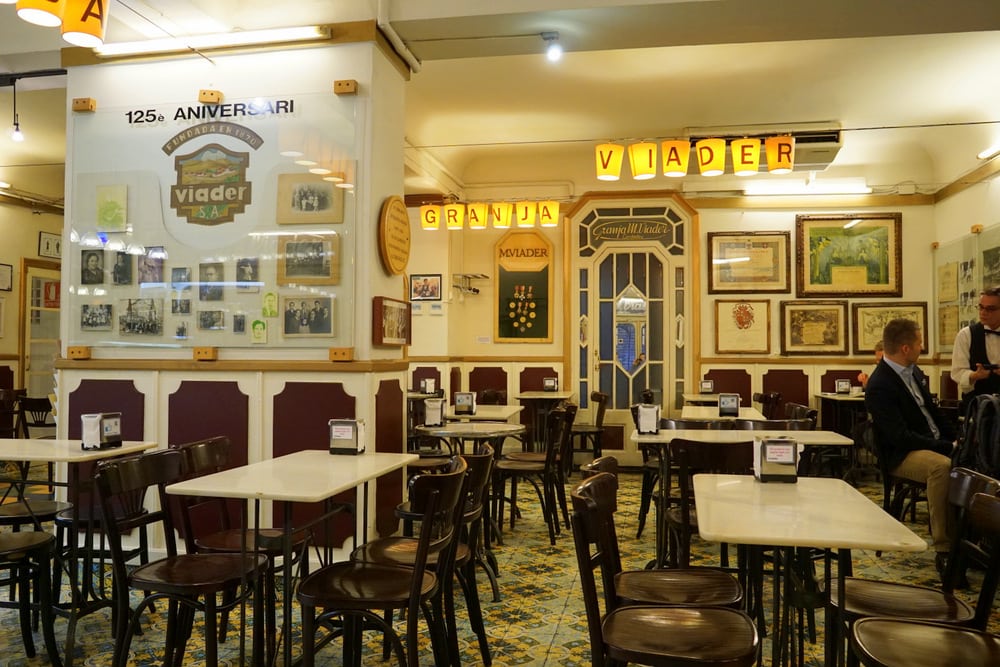 A granja is a Barcelona establishment that used to make its own milk—supposedly there were even cows in the city center! Of all the granjas in Barcelona, this is one of the best. It's famous for its suisso, hot chocolate with fresh whipped cream! They also serve churros and ensaimadas (so that you have something to dip).
Carrer d'en Xuclà, 4
La Vinya del Senyor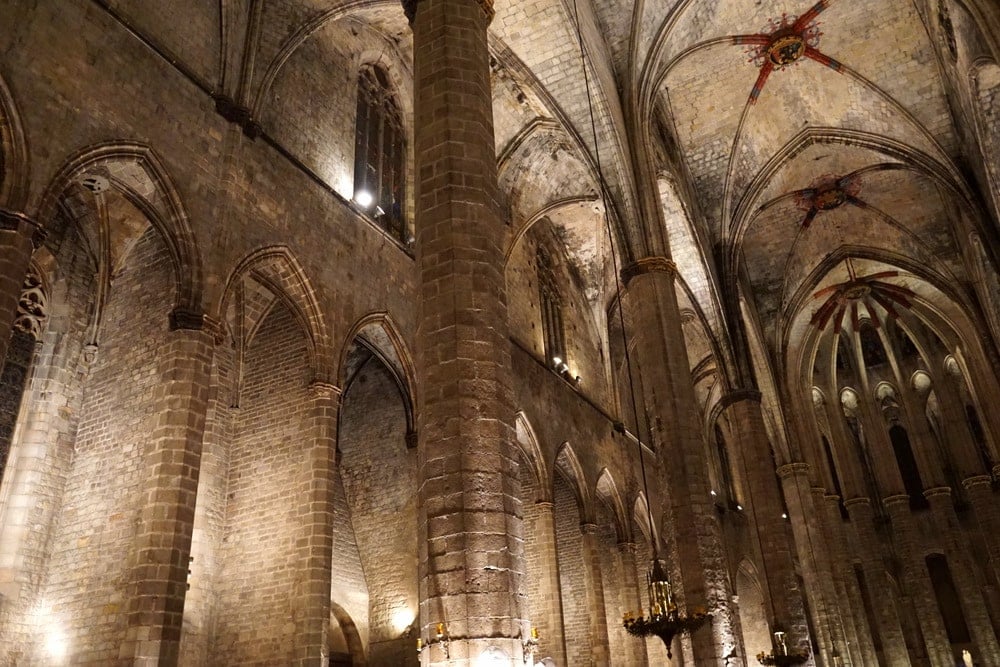 This quaint, beautiful Barcelona wine bar is located right across from my favorite church in the city. Sagrada Familia? Nope! The Cathedral? Nah! The Santa Maria del Mar church in the Born neighborhood is my personal favorite. You can learn why on our Barcelona Tapas, Taverns & History Tour!
The wines by the glass at this bar are all fantastic, and the lovely bartenders are happy to advise!
Plaça de Santa Maria, 5
Taverna Can Margarit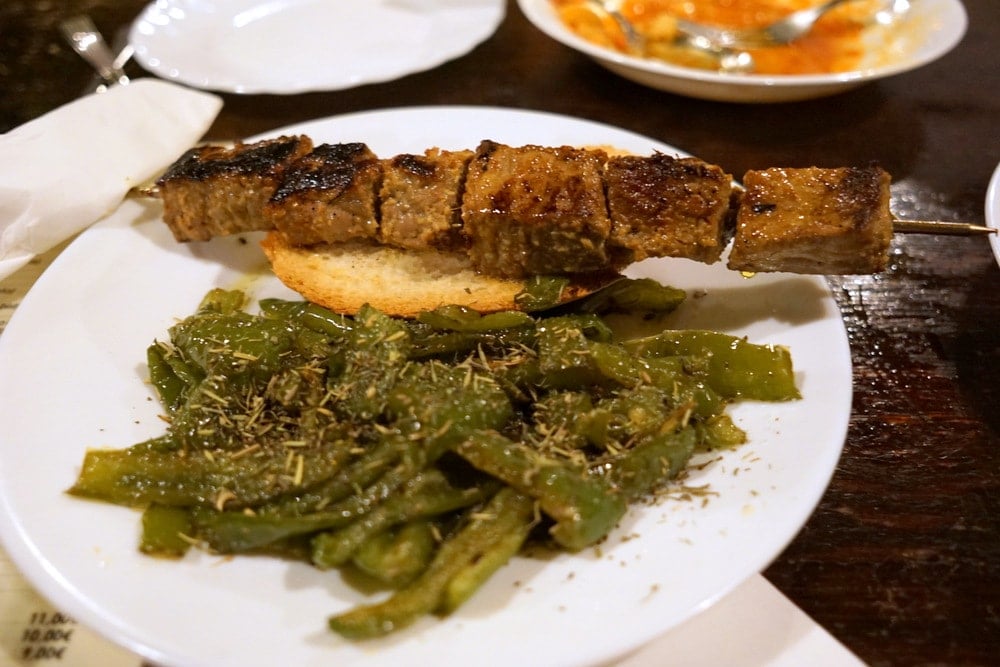 This is definitely one of Barcelona's most unique taverns. You walk in and are offered free wine (score!). Once you're seated, the main event is the Catalan-style rabbit (though there's plenty more on offer). The food is rustic and traditional and this is definitely a local hangout. But don't go expecting haute cuisine!
Carrer de la Concòrdia, 21
Bar Jai-Ca
This is one of my favorite tapas spots in Barcelona. They serve simple, rustic and good-value-for-money fare, dishes like fried squid and Padrón peppers. The atmosphere is lively (there's often a wait to get in) and the waiters are gruff (but mean well!).
Carrer de Ginebra, 13
La Bombeta
I love the buzzing atmosphere in La Bombeta, another place known for its bomba tapa. The place sets the tone with a big sign that says "We don't have WiFi, talk among yourselves." It's old-school in a good way, with traditional Catalan food, plenty of locals, and some in-the-know tourists too!
Carrer de la Maquinista, 3
Quimet & Quimet
I don't think I've ever met anyone who hasn't loved Quimet & Quimet. This legendary Barcelona hole-in-the-wall serves some of the best tapas in town, including delicious montaditos (small sandwiches). This is the type of place I wish I lived next door to—I'd literally be there all the time (if I could get in!).
Carrer del Poeta Cabanyes, 25
Guide to Eating in Barcelona – Know Before You Go
A bread and service charge is often added to the bill and ranges from €1 to €3 per person, depending on the place. A lot of times the waiter will ask "quieres pan con tomate?" (do you want tomato bread?) or they will just assume that you do. If you don't want bread brought to the table, specify "sin pan por favor," but unfortunately sometimes you'll still be charged. Feel free to complain if this is the case, though the easiest thing to do is to eat like a local and enjoy your bread!
Don't take offense when in the classic tapas bars the waiters seem like they don't want to be bothered. They're not being rude—just busy! You often have to be assertive to get a waiter's attention—feel free to signal them over. This is not rude. Don't expect to be asked if you want a second drink, more food, the check, etc. Just be assertive and ask!

You aren't required to tip in Barcelona, but rounding up the bill and leaving up to 10% for excellent service is definitely appreciated (I always tip my servers). Waiters work hard and earn a very low monthly wage.

At some traditional places the menu won't be available in English—or in Spanish. Don't forget that in Catalonia many speak Catalan! But don't worry, most people are more than happy to try to help—just ask 🙂
See Also: Where to Eat in Madrid
Where to Stay in Barcelona
This city is filled with fantastic hotels, hostels, and rental apartments at a variety of budgets. I've written my own insider's guide to Barcelona's best hotels—check it out!
Barcelona Food Tours
If you're planning to visit Barcelona, we'd love to have you join one of our Barcelona food tours. Our tours are unforgettable experiences where you'll try different local foods and wines at a variety of traditional, family-run establishments. Between bites, you'll learn plenty about Barcelona's unique culture, cuisine, history, and politics.
We currently offer five fantastic tours here. They really capture the soul and identity of Barcelona, and are a lot of fun (and I'm not just saying that because I helped design them)! Book a Barcelona food tour online to reserve your spot.
Love Spanish food? Sign up for my free weekly newsletter and receive a new Spanish recipe once a week! Join today and get my FREE Spanish ingredient essentials guide!