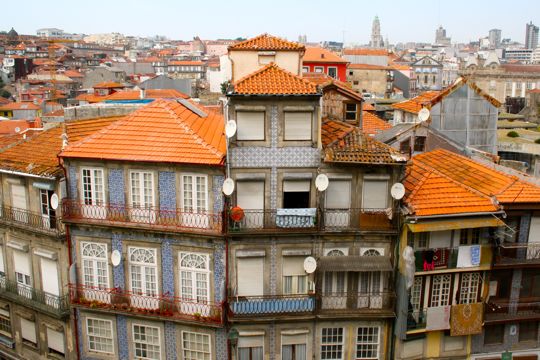 Porto, Portugal is probably one of Western Europe's best kept secrets, but it wasn't even on my radar until Ale had to visit on business in 2010. I was excited to come along, tempted by talk of the Douro River and Port wine. Although my first short visit to Porto was tainted with a scary experience, I still enjoyed the city and knew I would be back to give it a second chance. Luckily, I didn't have to wait long before returning for the TBU conference in September, 2012.
There is plenty to do in Porto, whether you enjoy food and wine (like myself), shopping, history, architecture or music. Honestly, there is a little something for everyone, and the city's historic beauty can't be overlooked. It seems that around every corner a postcard is waiting to be photographed, and the townspeople are always looking out their windows as if to say "I love my view" (and why wouldn't they?).
I regret that I didn't do much research for my first trip to Porto, and besides wandering the gorgeous streets and taking a Port wine tour, I missed some pretty cool sights. Luckily, this past trip I got to see a lot more (although I definitely need to visit again to explore even further). The following are some of the things I think are essential when visiting Porto, so if you only have a day or two make sure not to miss them!
Top 5 Things to do in Porto
1. Try Port Wine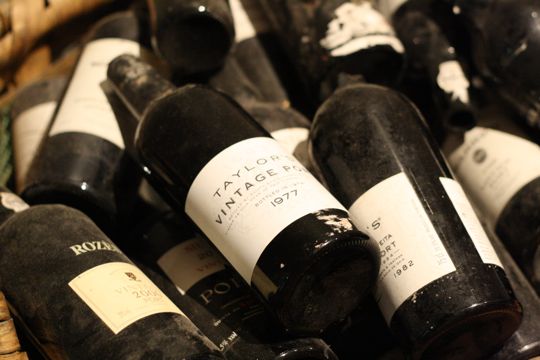 When I used to work as a waitress, I thought that the people ordering port wine were a bit crazy. Often around $12 a glass (and up) in the restaurant where I worked, I couldn't understand why someone would bypass a decadent dessert for another glass of wine. Oh how little I knew! The first time I tried port wine was in Porto on the Sandeman winery tour. The tour was entertaining enough (especially after the exposure incident) and when we got to the tastings I was simply blown away. I now understand skipping dessert for a glass of port (although I'd probably be the girl to get both!).
2. Check out the Harry Potter Bookshop
The Livraria Lello is thought to be where JK Rowling was inspired for parts of the Harry Potter series. It is easy to see why when you enter this beautiful bookshop. It is quite small, but its incredible ceiling and stunning staircase make it worth your time to visit.
3. Take a River Cruise
I rarely take a river cruise when traveling if it isn't necessary to get from point A to point B, but, to my surprise, our TBU tickets included an evening river cruise before arriving at a gorgeous pousada for the opening night welcome party. Let me just say that I've changed my mind about the appeal of river cruises and will definitely consider them again in the future. I still don't think they are especially informative (we could hardly hear the guide speaking) but the views you get from the river are unbeatable and there is something calming about being out on the water. We cruised with Porto Cruz and I would definitely recommend them when you visit.
4. Order a Francesinha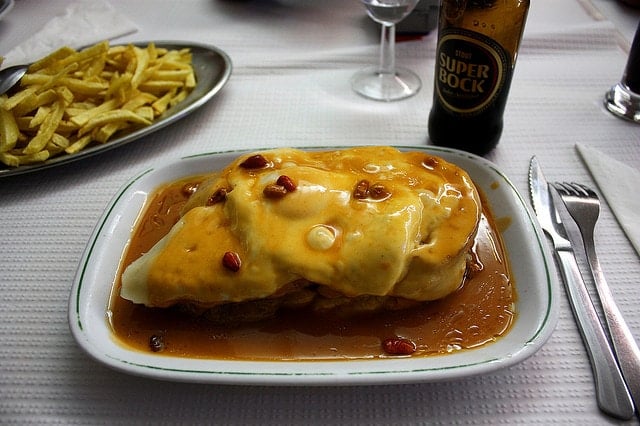 It's the type of dish you order once, and probably never again. All the same, it is a must try when in Porto. The francesinha is a monster of a sandwich (if that's what you'd even call it) and definitely weighs over one pound easily. There are many different versions, but the most typical version is made with two thick slices of bread, cured ham, sausage, roasted meat, and is then covered with gravy and melted cheese-- and served over french fries. Other additions include shrimp, mushrooms and cream, and cod, often all at once!
5. Take in the view from the Porto Cathedral
The Porto Cathedral is beautiful on its own, but the views that it offers are even better. Go at sunset for a gorgeous look at the city as it comes alive at night. When you finish taking in the sights you are right near the river and lots of great bars and restaurants to continue your evening.
Porto is a very dynamic city offering lots of different things to see and do. While I consider these 5 things to do in Porto essential for any first time visitor, some may disagree! If you've been to Porto feel free to share your opinion on the best things to do on a visit to Portugal's second biggest city.
Photo Credits: lilivanili (bookshop), iNelsonRocha (francesinha)