Ever heard of a Francesinha? If you've been to Porto, chances are the answer is yes. This famed local dish graces menus all over the city—and the country, for that matter. Ask anyone what you need to eat on a trip to northern Portugal, and there's a good chance they'll bring it up.
So what exactly is this mysterious mountain of bread, meat, and cheese? And is it worth dedicating an entire meal to it?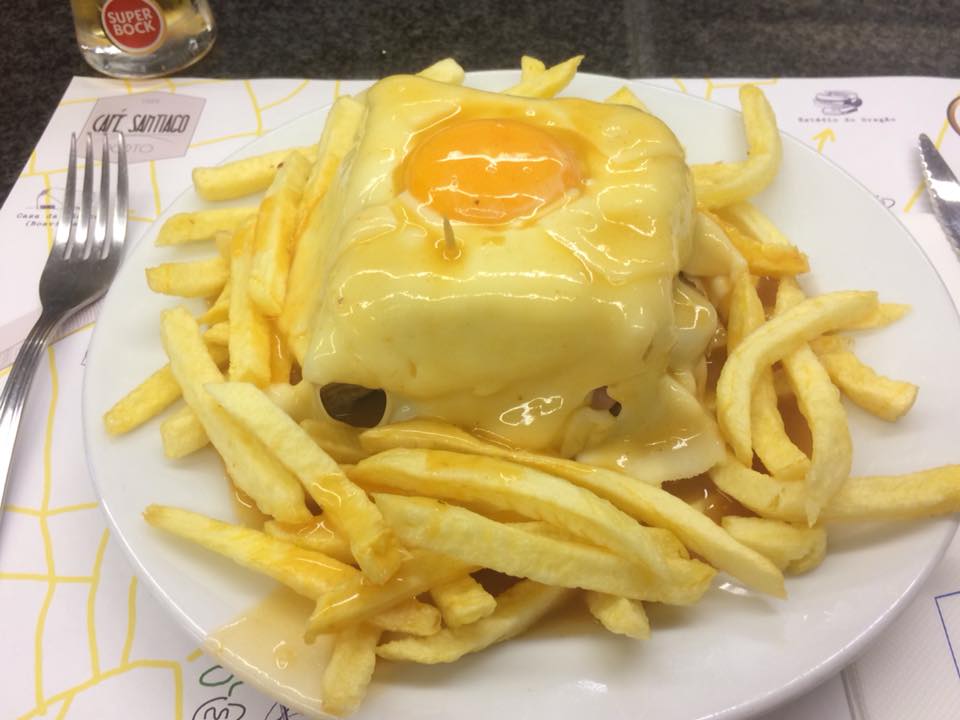 Debatable. First of all, if you're not in the mood for meat, don't bother. And if you're not a fan of heavy, rich foods, maybe just try a bite of someone else's instead. But if you truly want the full experience—and somewhat of a challenge—order one for yourself. It'll be a meal to remember.
What is a Francesinha?
To put it simply, a Francesinha is a massive sandwich. It's composed of several layers: bread, cheese, ham, fresh sausage, linguiça (smoke-cured pork sausage), veal steak, more bread, and finally, a fried egg (although the specific fillings can vary). The whole thing is covered in melted cheese and smothered in a rich and flavorful sauce. And as if that wasn't enough, fries are heaped around the perimeter to complete the masterpiece.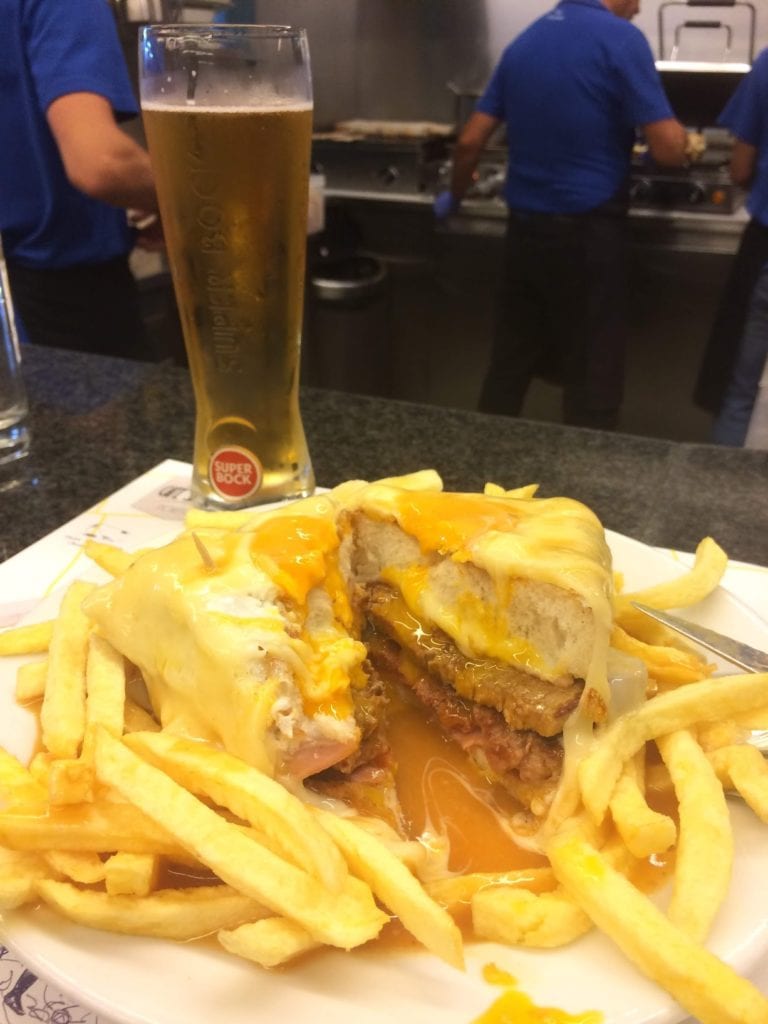 The Secret's in the Sauce
In my opinion, the sauce is the most important element of a Francesinha, and what really makes it unique (and addictive). Its main ingredients include beer, broth, tomato, onion, garlic, and several spices. There are also some secret ingredients that vary from place to place; you might taste a hint of Port wine or even whiskey. All of this is thickened up with cornstarch to create a dense, soupy concoction that soaks into the sandwich and is the perfect dipping sauce for fries.
Want to discover more Portuguese delicacies? Check out our food tours in Lisbon!
Seriously, whose idea was this?
You can blame Daniel da Silva for dreaming up this Frankenstein of a sandwich. In the 1950s, he moved back home to Portugal after living in France and Belgium. He wanted to adapt the croque-monsieur to local tastes—so essentially, he added a ton of extra meat and the legendary beer-based sauce. He called it a "Francesinha" to reflect this French inspiration; the name literally means "Frenchie" or "little French girl." A few decades later, it's already considered to be among the most traditional Portuguese dishes.
Where to Eat a Francesinha in Porto
When I was in Porto, I was determined to find the best possible version of the Francesinha. I knew I'd only be able to eat it once (super heavy foods are not usually my forte), so I wanted to make it count. I got several recommendations from locals, tourists, and foodie websites, but in the end, I went with a classic: Café Santiago.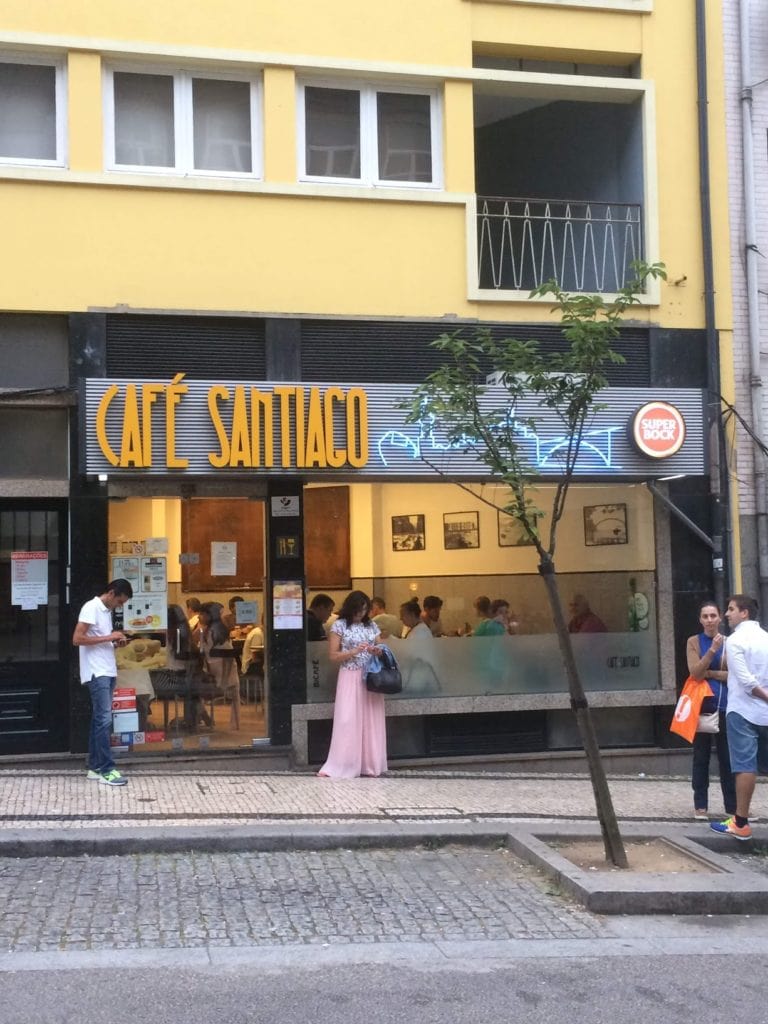 I did not regret this choice. Café Santiago is a local institution, and although they serve other things, the Francesinha is the star. It's truly enormous, with all the classic ingredients but no extra bells and whistles. Sit at the shiny metal bar and order a Super Bock beer to go with it; people say this helps you digest the massive amount of food. I'm not sure about the science behind that, but I can attest to the fact that a cold beer is the ideal accompaniment for this feast.
Challenge accepted—and achieved
When they brought me my Francesinha, I knew I'd never be able to finish the whole thing. And then I did. It was just that good. Remember how I said heavy food isn't my thing? This was an exception. I destroyed that sandwich, and most of the fries. And the best part was that while I ate, I got to watch the chefs execute a seamless ballet of grilling meat, toasting bread, and assembling sandwich upon sandwich for the endless parade of customers.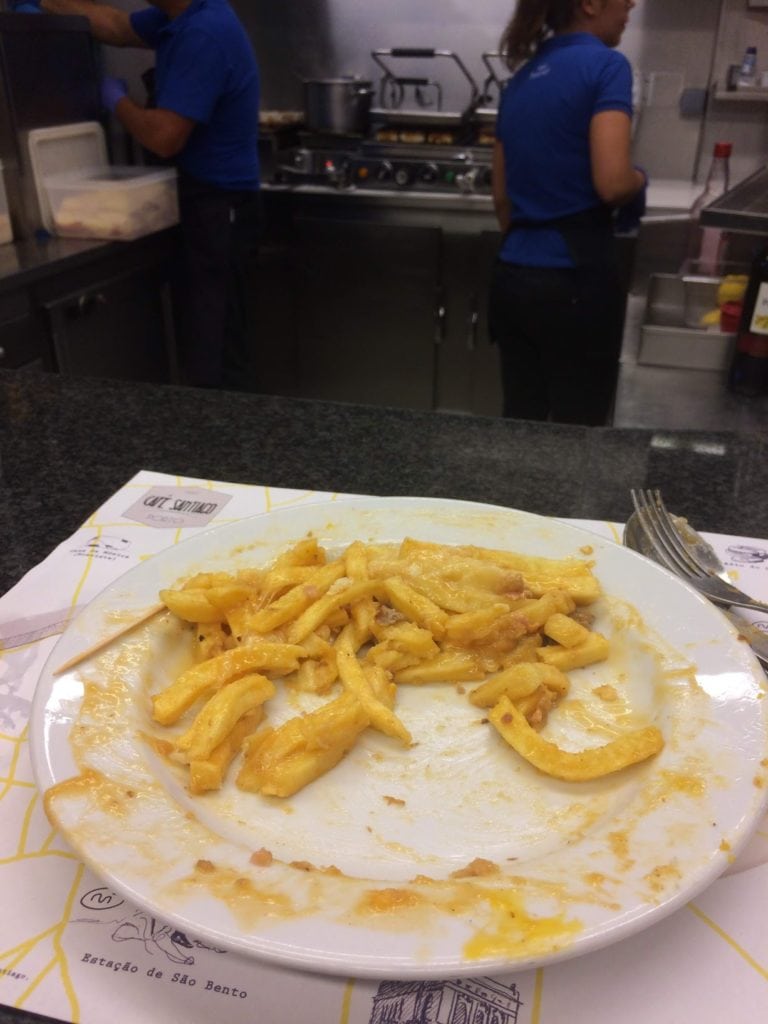 If you're looking for a Francesinha, there's certainly no shortage of options. Nearly every restaurant and café that caters to tourists offers it. But if you want the real deal, it's essential to do your research. Ask around, query locals, or take my advice and go straight to Café Santiago. Other places with a good reputation include Lado B and Churrasqueira Lameiras—but you'll find that everyone has a different opinion on who's the real Francesinha king.
Got room for dessert? Try Portugal's classic pastry: the famed pastel de nata.
New Twists on the Francesinha
Although the original recipe leaves nothing to be desired, plenty of creative chefs have decided to put their own spin on this classic dish. Some places make it with roast pork, seafood, chicken, or mushrooms. Others even offer a vegetarian version, which is hard to imagine but probably delicious in its own right. Certain restaurants are known for serving extra-large Francesinhas, like Restaurante Cunha, while others give you the option of ordering a half portion.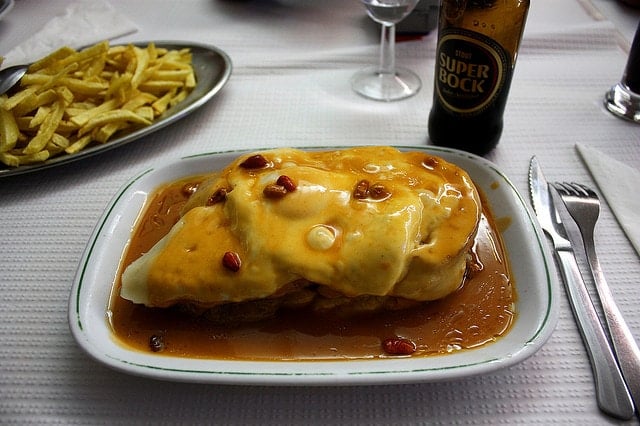 The fillings vary from place to place, as does the assembly of the sandwich itself. But of course, the biggest variant is the special sauce. Every café and cook has their own secret recipe. Some are spicier than others, or lighter on the tomato. The color of the sauce can range from bright orange to darker red. What do they all have in common? An intense, one-of-a-kind flavor that you won't find anywhere else.
If you can work up enough of an appetite to sample several versions, you'll have the privilege of comparing them to find your favorite. If you do, let me know—it's been a year since my last Francesinha, and I'm almost ready to take on the challenge again.
Have you tried a Francesinha in Porto? What's your take on this iconic Portuguese dish? Let us know in the comments!