Wondering what to eat in Aragon? Local Spain expert Trevor Huxham shares his tips from the road! Don't they sound delicious?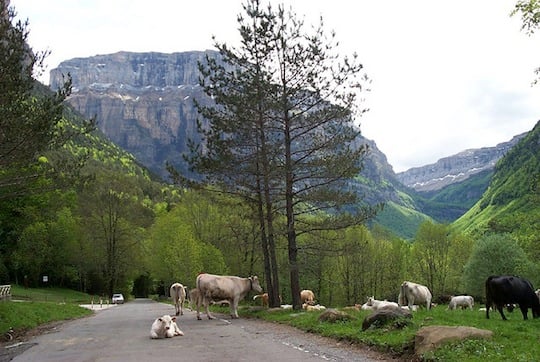 For the carnaval school break this year between February and March, I made a whirlwind circuit of Aragón in eastern Spain. A "flyover state" for people traveling between Madrid and Barcelona, Aragón occupies a vast smath of the country and has an impressive architectural heritage. One of my favorite parts about traversing the region, from far-south Teruel to Huesca at the foothills of the Pyrenees, was enjoying Aragonese cooking. Although the cuisine is probably a vegetarian's nightmare, I loved chowing down on hearty plates of jamón, sausage, fried eggs, and potatoes while trying to escape the bitter cold of a dark winter night.
If you're ever passing through this often-forgotten corner of Spain, make sure you try some of the following menu options.
Migas
Although migas means breadcrumbs, this dish refers to the fluffy part of the bread that has had its crust removed and is then fried in olive oil with garlic, sausages, and peppers. Aragón is hardly the only region in Spain this dish calls home, but it's here that they take migas to the next level: some people add juicy green grapes, others ask for succulent sausages on top, and still others like it with a fried egg and morcilla (blood sausage). Check out La Miguería for literally dozens of varieties to try the next time you're passing through Zaragoza.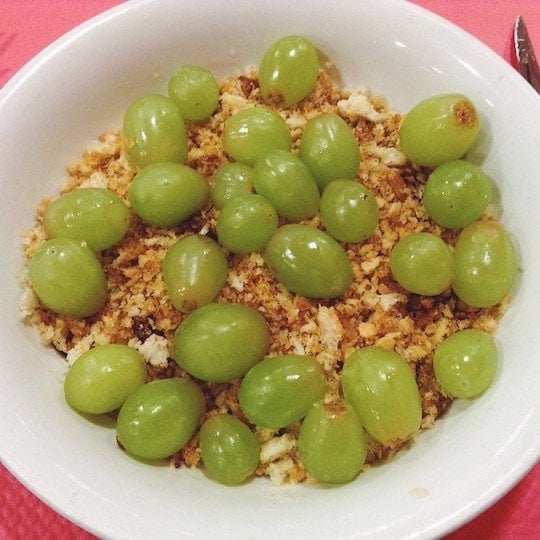 Longaniza
Spain has a long and proud sausage-making tradition, and the local specialty in Aragón is called longaniza. It's like most other Spanish embutidos in that it's a long, slender tube filled of pork meat and various herbs and spices—all except pimentón, Spanish smoked paprika. Longaniza tastes great grilled, fried, or served on top of a bowl of migas.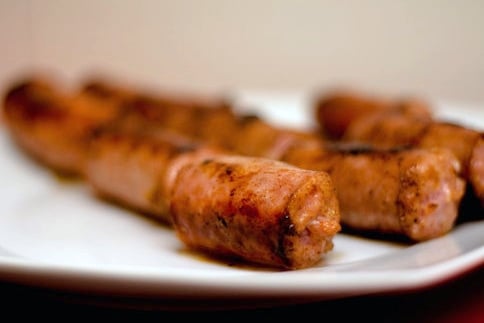 Jamón de Teruel
Move over, Salamanca. Make some room, Huelva. You've got company. While most of the savory jamón ibérico (high-quality cured Iberian ham) comes from Spain's westernmost provinces, it's a well-kept secret that equally tasty jamón can be found in lonely Teruel…for half the price! Teruel province, south of Zaragoza, is a really windy and dry corner of Aragón, which makes it a perfect setting for naturally curing endless legs of ham.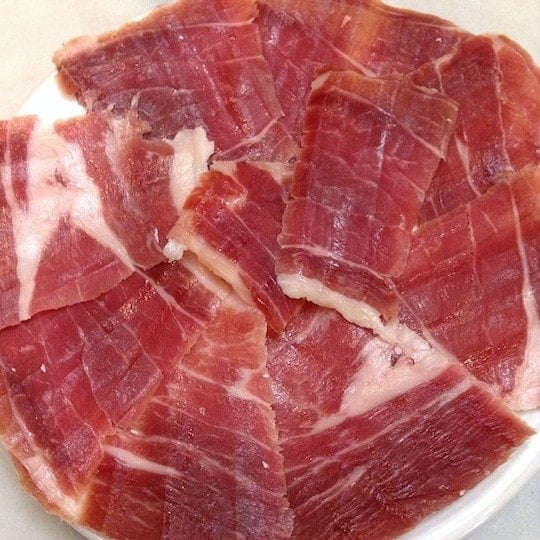 Huevos rotos con jamón
The name might sound kind of funny—it literally means broken eggs with cured ham—but this is no laughing matter. In the cold, windy days of an Aragonese winter, hearty dishes like this one will warm you up with fried potatoes, eggs fried sunny side up (with the yolk oozing out), and thin strips of cured ham all around.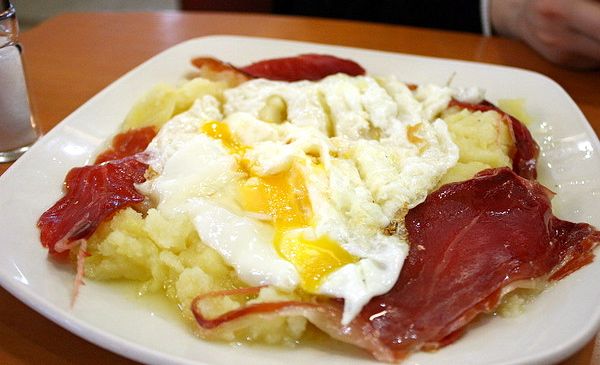 Ternasco asado
Traditional Spanish cooking seems to have a thing for young animals, from cochinillo (suckling pig) to ternera (veal). Aragón is no exception, and their ternasco asado, or roast lamb meat, is a delicious protected regional variety, not to be confused with cordero lechal—younger lamb that hasn't been weaned off its mother's milk. This rich, tender meat pairs nicely with sides of home fries and a simple salad.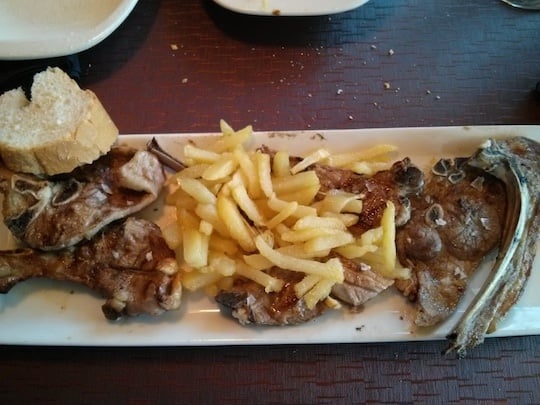 Bacalao al ajoarriero
In this dish, desalted salt cod is cooked in a frying pan in a sauce called ajoarriero, which is made up of potatoes, garlic, onion, and beaten eggs. It is a must try!
Trucha
The mighty Ebro River passes through Zaragoza, and its many tributaries flow down from northern Huesca and southern Teruel. It's no surprise, then, that trout caught from the region's rivers is a typical dish in Aragón, whether pan-fried with lemon juice or cooked and stuffed with peppers and bacon.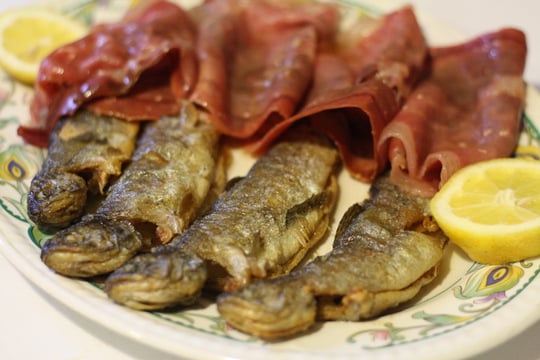 Frutas de Aragón
Strolling through the Mercado Central in Zaragoza, I was taken aback when I saw several stands selling these colorfully wrapped candies in clear plastic bags. After talking with some shopkeepers, I found out that these frutas de Aragón (also called delicias de Aragón) are typical in the region and are basically little nobs of sugary, syrupy confection flavored with orange, lemon, peach, fig, or cherry fruit, all covered in chocolate.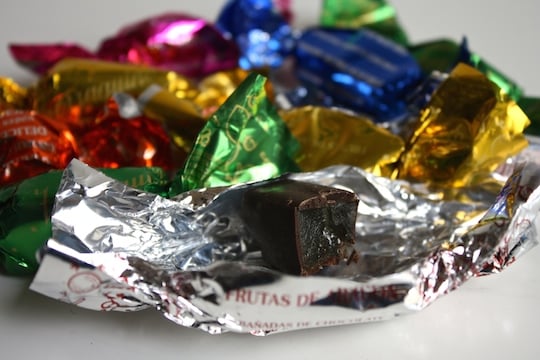 Churros at La Fama Churrería
I love me some churros—long, donut-like fried dough—but I'm also really picky about how they're made. There are generally two varieties in Spain: churros—skinny, crunchy guys with fluting on the sides—and porras, which are larger and spongier. The accompanying chocolate also has to be just right: sweet and thick, never runny. Thankfully, in the heart of Zaragoza's old town there's a joint called La Fama that serves both varieties of churros, with sugar drizzled on top and alongside a quality cup of chocolate for dipping. La Fama is hardly a secret (it's been around since 1949!), so come here early in the afternoon for a pick-me-up snack.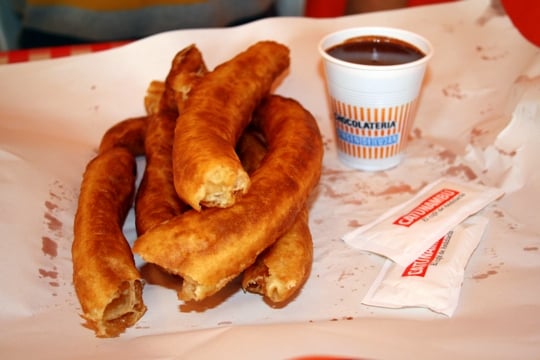 Almojábanas in Albarracín
These little rosquillas or ring-shaped pastries are made following a simple recipe that dates back to Moorish times: a dough of water, oil, flour, and eggs garnished with sugar and anise flavoring after baking. You can look for these almojábanas in the tiny but beautiful hillside village of Albarracín (Teruel province), but only on the weekends when the local bakery is open.
About the author: Trevor Huxham teaches English at an elementary school in a small Galician coastal village but calls the capital city of Santiago de Compostela home. When he's not teaching, you can usually find him hunting down the next best free tapa in town or sharing a plate of octopus with friends. Follow his stories and photos of life abroad and travels across Spain on his blog, A Texan in Spain, on Instagram, or on Twitter.
Photo credits: National Park by Carlos Buetas, Ternasco by Mover El Bigote, Huevos rotos by Krista, Longaniza by Roberto Ruiz
Pin me!