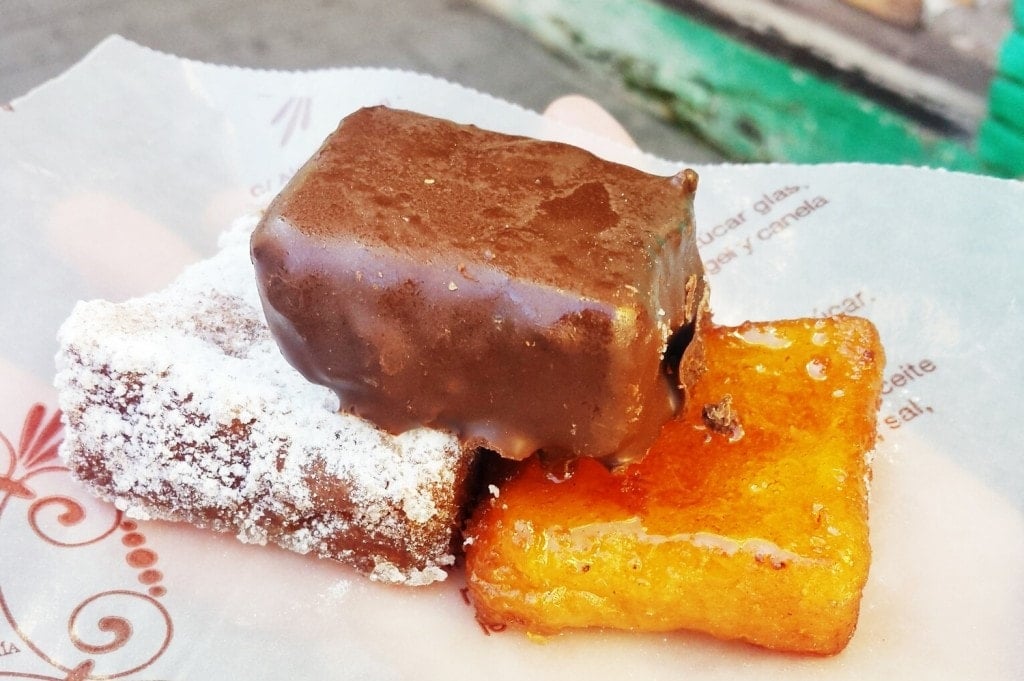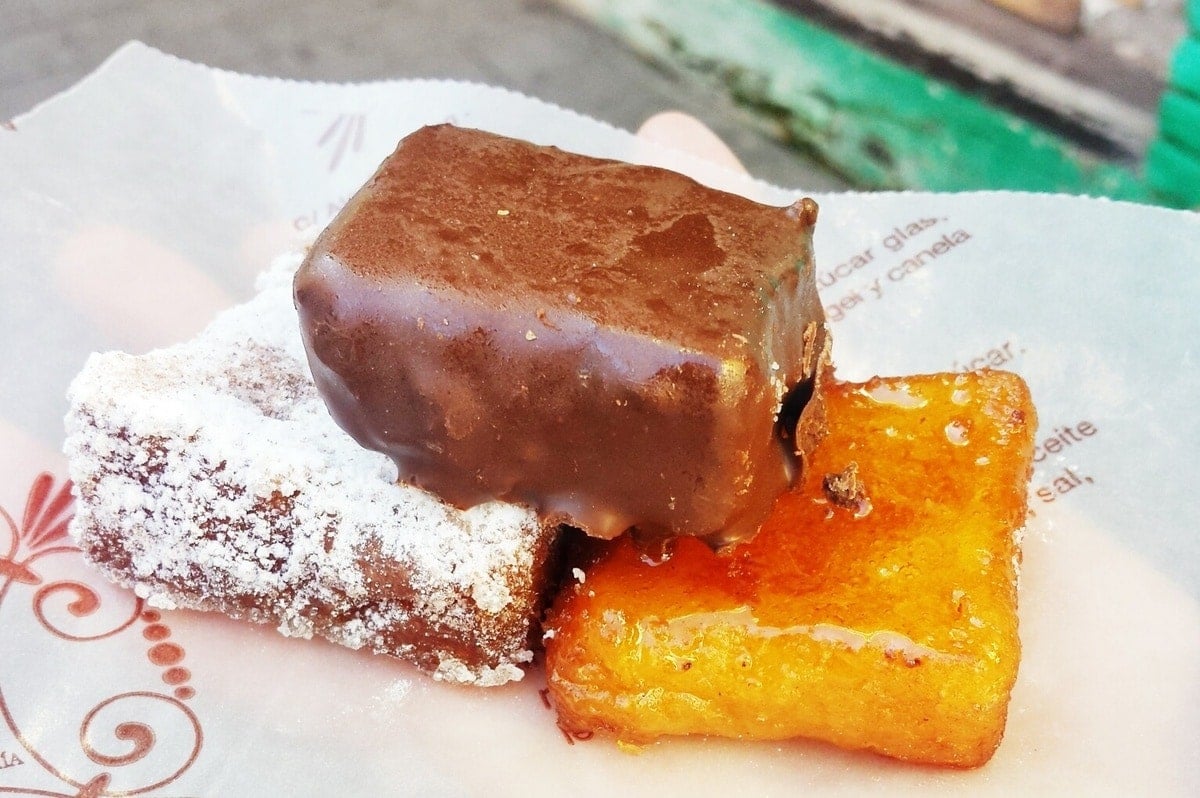 March is a month of transitions in Spain. The almond trees start blooming, yet chilling winds still rip through most of the peninsula. The hearty vegetables of winter are starting to disappear but the bright fruits of spring are only just starting to bud.
Luckily, Semana Santa (aka Easter Holy Week) is coming early this year, meaning  a whole host of Easter treats are flooding the markets, bakeries and butchers' shops this month. Easter is a major holiday in Spain, marked by intensely religious processions, nearly two weeks of school vacations and (in typical Spanish fashion) a huge variety of traditional foods.
Here are the six things you definitely don't want to miss eating and drinking in Spain in March!
Torrijas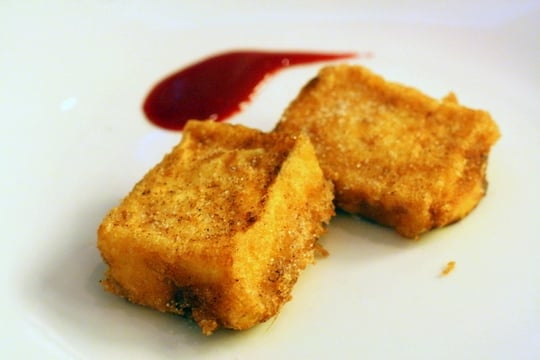 Holy Week is my absolute favorite Spanish holiday-- but not for the emotional processions or the devout citywide decorations. This holiday ranks No. 1 in my book because of the torrijas, a traditional treat that only makes an appearance around the Easter holidays.
Torrijas are similar to French toast, but about 1 million times more delicious. Thick slices of day-old baguette-style bread is soaked in milk, doused in egg and then then flash fried in olive oil. They are then soaked overnight in a light honey and cinnamon syrup. There are also milk and wine based versions. For a full torrija recipe, click here: Torrijas: Spanish Style French Toast Recipe with Cinnamon and Honey.
Lamb (Cordero)
With the first signs of Spring come the first Spanish lambs. March is one of the best months for the Spanish delicacy cordero asado, roast lamb. As the saying goes, "Enero y febrero preparan el buen cordero" which translates to "The good lamb is made in January and February."
The most popular (and delicious!) way to eat lamb in Spain is by slow roasting it in traditional wood burning ovens. Lamb chops are also hugely popular here and are also usually prepared roasted. Both dishes are often served over Easter.
Cod (Bacalao)
Whether it's crumbled into fritters, baked in filets, rolled into codfish balls, stewed in soups or stirred into Spanish omelets, cod is everywhere during the Spanish Easter season.
As meat was traditionally prohibited during Lent, Spaniards turned to their favorite fish: cod. Almost always conserved in salt, cod's popularity extends across the Peninsula. Be sure to try the potaje de vigilia (a hearty cod and chickpea stew) and buñuelos de bacalao (fried codfish balls), both of which are on most Holy Week menus.
Our Favorite Cod Recipes:
Hornazos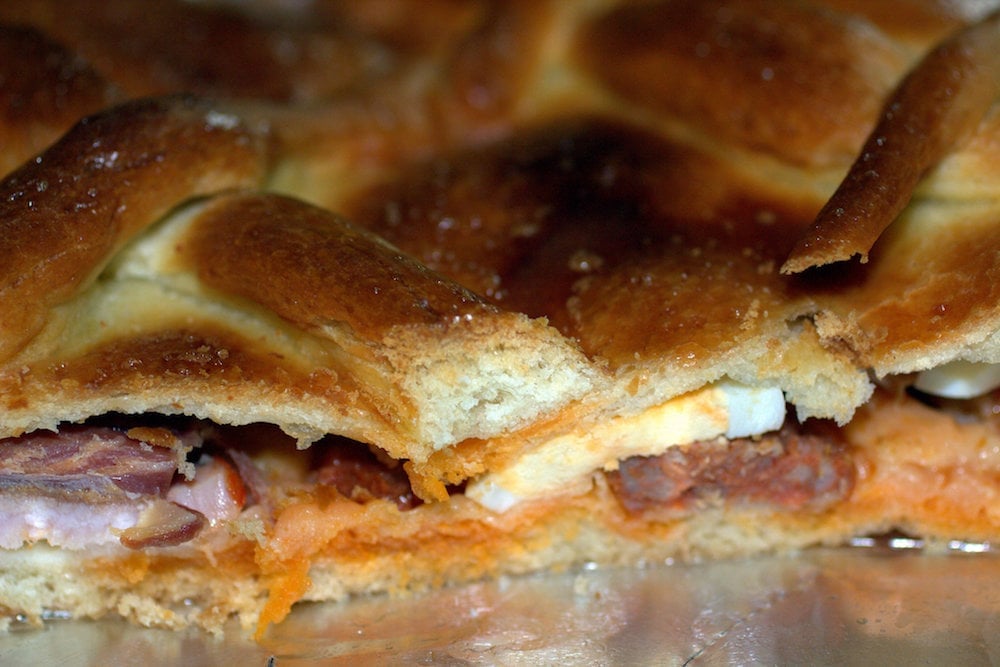 These often personal-sized empanadas are another staple of Easter in Spain. The story goes that long ago eggs were considered meat and therefore could not be eaten during Lent. But no one told the chickens, who (obviously) kept laying eggs despite the religious holiday. In order to conserve the eggs, Spaniards hard boiled them.
In the days after Easter, when they could again eat eggs, those hard boiled stockpiles were used to fill empanadas, now called hornazos. Nowadays you'll find these round, bready treats in the weeks before and after Holy Week in many Spanish provinces.
Asparagus (Esparrago)
In Spain asparagus come in two colors with two very distinct flavors. Green asparagus (often called trigueros) are often served simply pan seared in olive oil and sprinkled with coarse salt. White asparagus, on the other hand, are much more common here than their green counterparts and are often served boiled or conserved in vinegar.
Asparagus is an ancient food that has been around for upwards of 6,000 years. It was one of Roman Emperor Augustus's favorite foods. During the Renaissance asparagus were considered an aphrodisiac and thus were banned in convents!
Asturian Hard Cider (Sidra)
March marks the beginning of Espicha season in Asturias, a three-month-long tribute to the region's most famous beverage: hard apple cider. After nearly three months of barrel fermentation, the tart cider is ready to start being bottled in March.
But after months of waiting for the sidra to be ready, Asturians just can't wait any longer! They skip the bottle and go strait for the glass. The ceremonial opening of the first sidra barrels of the year is celebration with a weekend-long festival to all things Asturias: Cabrales cheese, chorizo and plenty of folk dancing all accompanied by glass after glass (or culín after culín) of fresh hard cider.
What will you being eating this month where you live?