Navigating a Spanish city on Sundays can be challenging for new visitors, but it's actually one of the best days to enjoy the city. Don't even think about getting any shopping done (you won't be able to), but the relaxed pace of life in Valencia on Sundays can't be beat. It's the best day of the week to sit down to a delicious meal and enjoy good conversation with friends long after the last bite. Sound good? Here's where to eat in Valencia on Sundays to end your weekend on a high note.
Where to Eat in Valencia on Sundays
1. Cervecería Aquarium
Step back in time at this popular tapas joint, which keeps the same decor as when it first opened in 1957! Cervecería Aquarium is where to eat in Valencia on Sundays if you're looking for classic Spanish tapas in a fun, local atmosphere. If you need a little pick-me-up, they also have an amazing selection of cocktails made right in front of you by expert bartenders. Eating here is an experience not to be missed!
Address: Gran Via del Marqués del Túria, 57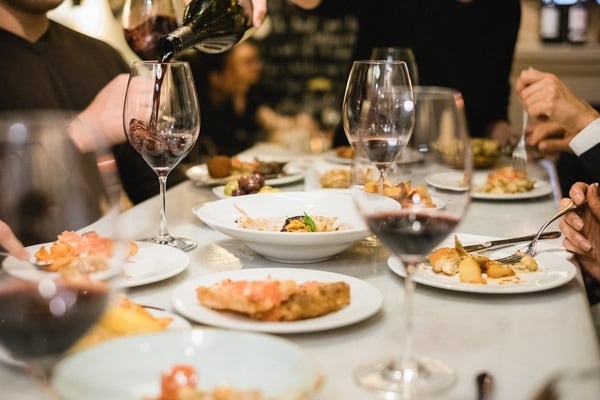 2. La Pilareta
This iconic bar nestled into the heart of historic Barrio del Carmen has been a favorite among valencianos for a century. La Pilareta is where to eat in Valencia on Sundays if an authentic dining experience at a packed tapas bar is what you're after. They're especially famous for their clóchinas (grilled-to-perfection mussels). Grab a spot at the bar and eat like a local!
Address: Carrer del Moro Zeit, 13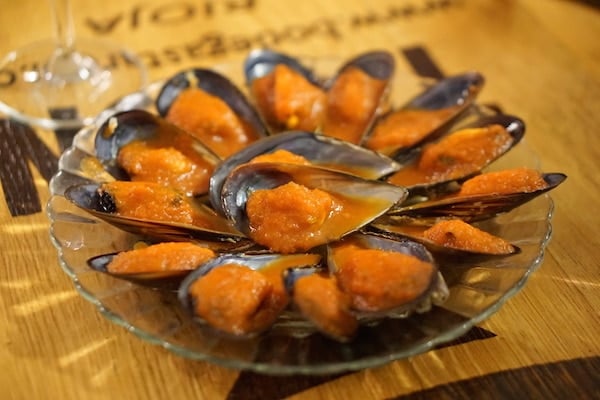 3. La Riuà
Hungry for paella? Say no more. While not all paellas are created equal, La Riuà is where to eat in Valencia on Sundays if you're hungry for the region's most iconic rice dish. Beautifully decorated with ceramic tiles and run by a family who treats each guest as one of their own, it's easy to see why this place has won several awards.
Address: Carrer del Mar, 27
See Also: The Best Places for Paella in Valencia
4. Tinto Fino Ultramarino
Amazing Spanish-Italian fusion with an extensive wine menu: what more could you want? Tinto Fino Ultramarino offers a unique, fun dining experience in the heart of the city. This stylish urban bistro is just steps away from the cathedral, but packed with locals enjoying a menu that pays homage to two of the best cuisines in Europe. If you're still hungry, they also have a shop with delicious gourmet food products to take home!
Address: Carrer de la Corretgeria, 38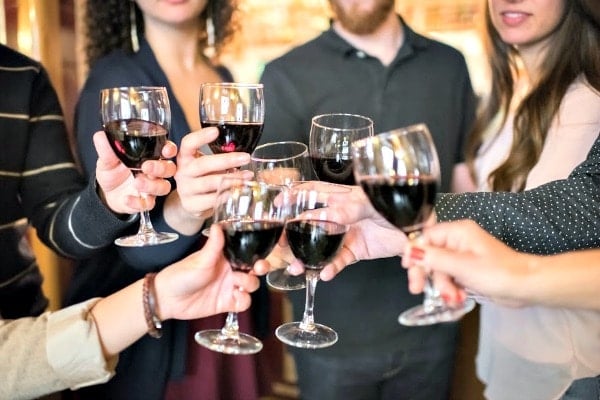 5. Canalla Bistro
Casual, modern Canalla Bistro offers delicious small plates made with local ingredients fresh from the market. Valencia-born, Michelin-starred chef Ricard Camarena's most eclectic restaurant is a true culinary trip around the world. Experience the flavors of New York, Japan, Mexico and more all from Valencia's hip, vibrant Ruzafa neighborhood. This is definitely where to eat in Valencia on Sundays for a dining experience you'll never forget!
Address: Carrer del Mestre Josep Serrano, 5
6. Casa Montaña
Time stands still at Casa Montaña, where simple, traditional plates and top-notch service are king. This classic Valencian locale, in an off-the-beaten-path seaside neighborhood, is easily one of the best tapas bars in town and the perfect place for a Sunday meal.
Address: Carrer de Josep Benlliure, 69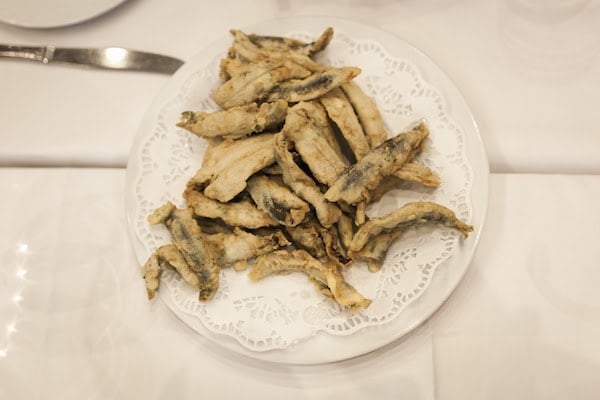 See Also: Top Tapas Bars in Valencia
Pin me!