Where to stay in Valencia? It's an important question when planning your trip. City center or beach? In the heart of the nightlife, or surrounded by peace and quiet? Luckily, Valencia is home to a variety of neighborhoods, each with its own vibe—from charming European cobblestone streets to trendy hipster hangouts, there's a place to stay in Valencia for everyone.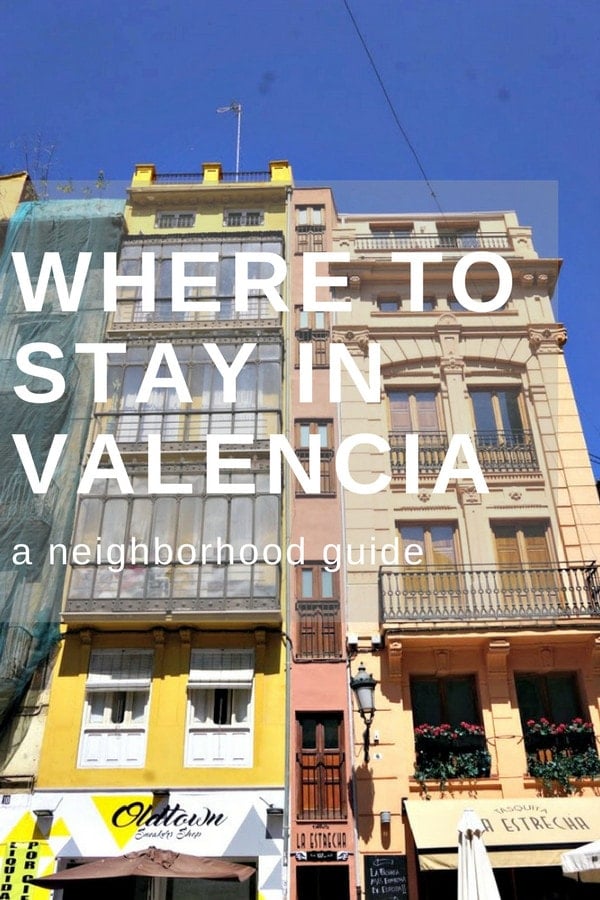 It's nearly impossible to get bored while exploring Valencia's diverse variety of neighborhoods. Even if one district isn't your cup of tea, there's bound to be one that is—and half the fun is figuring out which one!
If you're not sure where to stay in Valencia, don't worry. Our barrio-by-barrio guide will walk you through the city's streets one neighborhood at a time, so you can decide where to stay in Valencia.
Where to Stay in Valencia's Old Town (Ciutat Vella)
Want to be in the center of the action? Valencia's Old Town (Ciutat Vella) is the place to be. This is the historic center of the city, which retains its old-world charm despite being a modern tourist favorite. Many of Valencia's most famous sights, such as the cathedral and the Central Market, are in this area.
The Old Town is centrally located, with easy access to other neighborhoods. It's vibrant, exciting, and easy to navigate. However, its popularity means that it can be quite crowded and noisy at times.
Where to Stay: One of the most popular parts of this neighborhood is known as El Carmen. Located on the northwestern edge of the Old Town, its charming narrow streets and colorful buildings couldn't be more picturesque.
This is the perfect place to take a stroll during the day, but is also quite lively at night. It's home to lots of gorgeous boutique hotels, as well as plenty of guest apartments if you prefer to have a bit more space.
Recommended: You can't go wrong with the Melia Plaza Valencia or the One Shot Palacio Reina Victoria. For a great budget find, check out the centrally located Venecia Plaza Centro.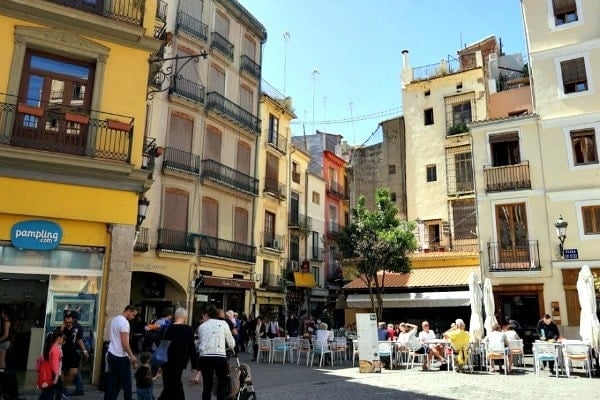 Where to Stay in Ruzafa
Once considered a rough neighborhood, Ruzafa has undergone a fantastic transformation in recent decades. It's now one of Valencia's most hip and modern neighborhoods. Hipster hotspots like craft beer bars, trendy art galleries, and vegetarian cafés line its colorful streets.
Where to Stay: The Petit Palace Ruzafa is a great choice for a comfortable hotel in this bohemian neighborhood. But to truly live like a local in Ruzafa, rent a tourist apartment for a few days. Shop at the local market and enjoy the sun on your balcony!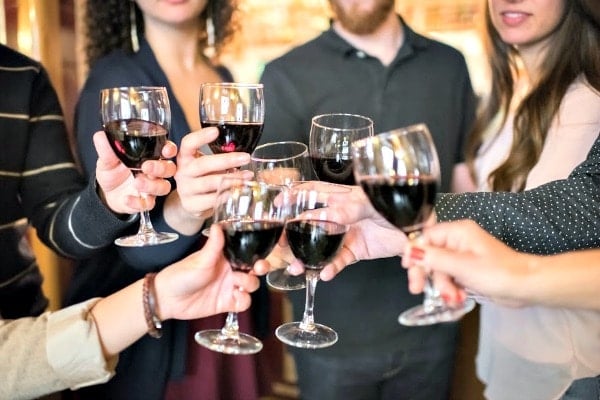 Where to Stay in L'Eixample
This is where to stay in Valencia if you want to shop till you drop! L'Eixample features sprawling avenues lined with trendy boutiques and modernist buildings.
The neighborhood is home to some of Valencia's most spectacular architecture, like the imposing Plaza de Toros (bullring) and the main train station, Estació del Nord, decorated in an impressive Art Nouveau style.
Where to Stay: This is a great part of town for a good night's sleep, as there are plenty of quiet corners once night falls. Hospes Palau de la Mar is among our top picks.
See Also: The 5 Best Markets in Valencia for Shopping Like a Local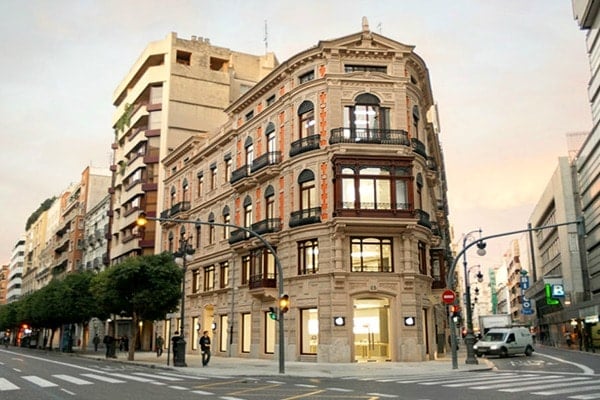 Where to Stay in El Cabanyal
Wondering where to stay in Valencia for a more authentic local experience? The humble fishermen's district of El Cabanyal is for you. Once a completely separate city, El Cabanyal was absorbed by Valencia's expanding urban area. Due to its unique history, it still has plenty of local flavor.
El Cabanyal is a residential neighborhood, so you won't find any tourist sights here. However, it's one of the best places to try authentic paella in Valencia. After you eat, take a stroll and admire the area's charming architecture.
Where to Stay: To find the best accommodation, look in the Poblats Maritims area in addition to El Cabanyal. Try La Arenas Balneario Resort for something special, or the beachfront Sweet Mediterranean Suites, where you can literally step right out onto the sand.
Read More: 6 Essential Experiences for Foodies in Valencia
Where to Stay in Benimaclet
Local yet lively, Benimaclet offers the best of both worlds. This multicultural neighborhood is a great way to experience something new without leaving Valencia. Eat your way through its many international restaurants and pick out a unique souvenir at one of its shops.
This neighborhood is also extremely popular among university students. This means that aside from its diverse array of restaurants, bars, and concert venues, it's extremely well connected to the city center.
Where to Stay: In this part of town you have to book early, because the few rental apartments that exist go quickly!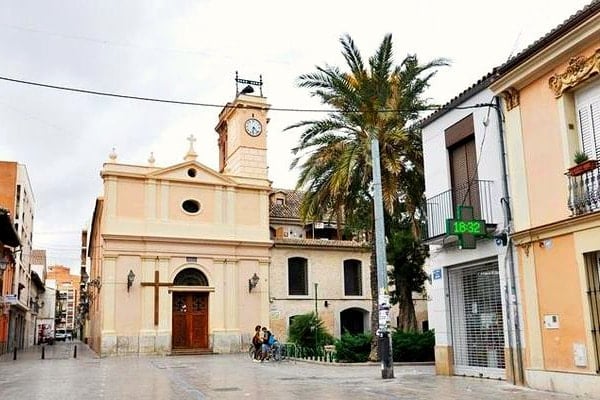 FAQs on Where to Stay in Valencia
What's the best part of Valencia to stay in?
Most visitors to Valencia will enjoy staying in the Old Town, or Ciutat Vella, as this is where many of the main sights are located. Ruzafa and El Cabanyal are ideal for a more local experience, while L'Eixample is great for shopping and Benimaclet is the most international neighborhood.
Is Valencia a walkable city?
In general, it's easy to get around Valencia on foot—especially if you want to stay near the Old Town. However, to visit the city's beautiful beaches you'll need to drive, rent a bike, or take public transportation, as they're a bit far from the center.
How many days should I spend in Valencia?
Valencia is a relatively small city, which means you can see most of the sights in 2–4 days. If you want to explore the surrounding area and spend some time relaxing on the beach, consider staying in Valencia for up to a week.
What's the main part of Valencia?
The Old Town, or Ciutat Vella, is the main part of Valencia. And the area of El Carmen, inside the Old Town, is the most well-known part of it. These are the most popular places to stay and the busiest areas for tourism, thanks to their many attractions and historic sites.
Love Spanish food? Sign up for my free weekly newsletter and receive a new Spanish recipe once a week! Join today and get my FREE Spanish ingredient essentials guide!