On my first visit to Amsterdam, many years ago, it's safe to say that the food was not a highlight. However, there is an excellent food scene in Amsterdam nowadays, and traditional Dutch food can be quite delicious. Here are my must try foods in Amsterdam, from sweet to savory!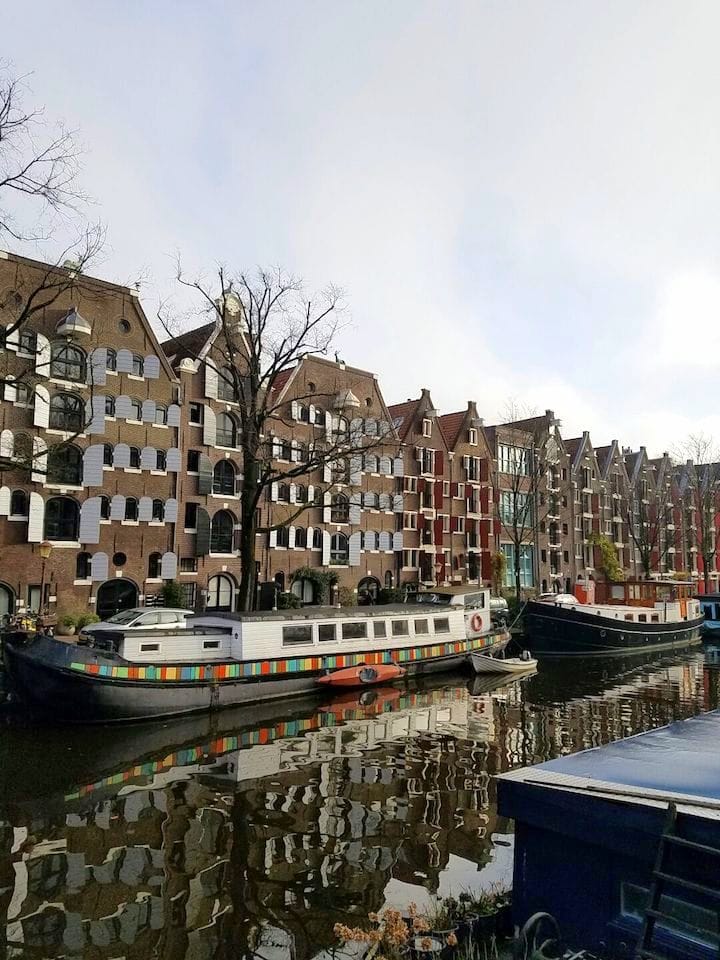 We focused on traditional Dutch foods as well as modern and foreign influences during our last Amsterdam trip and took great two Amsterdam food tours while there (Hungry Birds and Eating Amsterdam). Through the tours and our many meals out, we discovered some must try foods in Amsterdam that you can't miss on your next visit!
Take a food tour: I highly recommend a food tour to get a local's perspective and try way more things than you ever could on your own!
And if you have time to see more than Amsterdam while there, I highly recommend it. There are plenty of options for public transportation or you can rent a car and see most of the country in as little as a week's time!
Read more: Rotterdam food guide
10 Must Try Foods in Amsterdam
1. Stroopwafel
Let's start with one of Amsterdam's sweetest bites-- the humble stroopwafel. This Dutch symbol has gone global in recent years, it's even sold in my local Starbucks! But the packaged stroopwafels you'll find abroad don't compare to the fresh, made-in-the-moment street food variety you'll find in Amsterdam.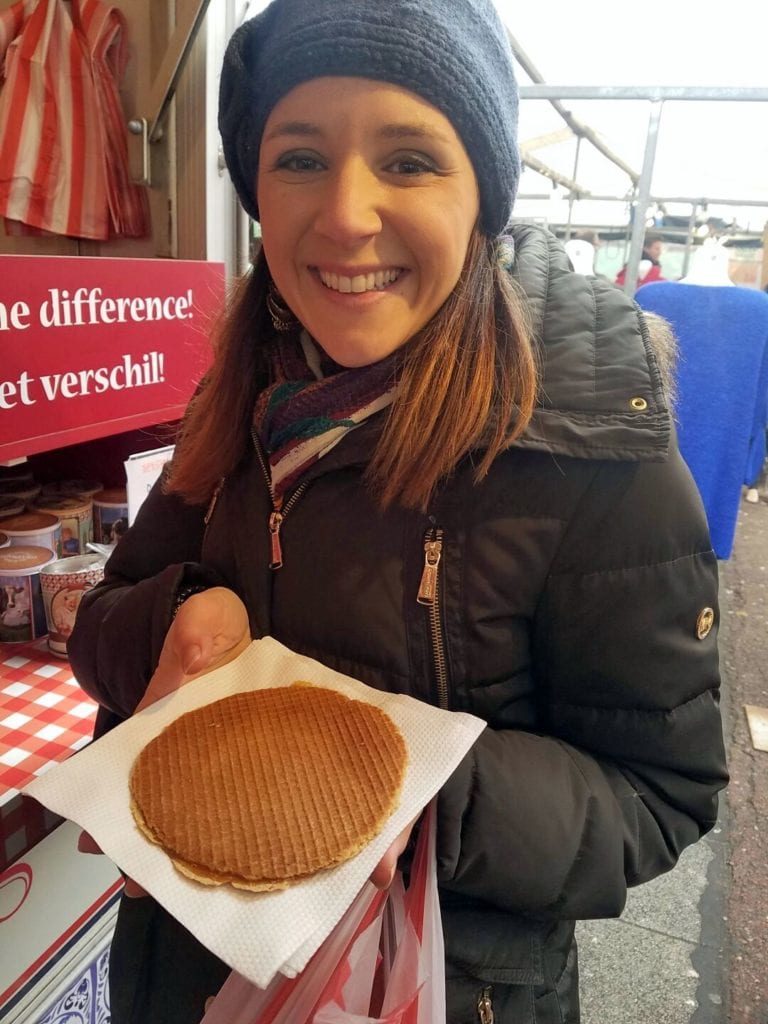 A stroopwafel is made of thin layers of dough filled with an extremely sweet and piping hot caramel syrup. A quick press on the hot griddle and they're ready to be enjoyed. They can also be packaged and will last for ages -- simply put them on top of a hot beverage to make the center gooey again!
2. Herring
Another famous Dutch food, and in my opinion one of the absolute must try foods in Amsterdam, is herring (haring in Dutch).
In Amsterdam herring is a street food, sold at herring booths throughout the city. Dutch herring is sold raw-- though in reality it's been fully frozen (to make sure it's safe) and then semi-cured in salt, aged for a few days in oak, and the bones have also been removed. Served with onions, it's definitely an intense bite, but it's one of my favorite Dutch foods!
While the herring in Amsterdam is delicious, locals tell me I have to check out Volendam, a gorgeous Dutch fishing village located on Markermeer Lake, northeast of Amsterdam. You can buy herring and other seafood at little stalls all around the harbor. Definitely on the list for next time!
3. Cod
While we're talking about fish, we should mention cod. Salt cod is famous throughout the world (especially here in Spain!) and it's no different in the Netherlands. Deliciously fried salt cod is available at many of the fish booths around town. Served with homemade tartar sauce, it makes the perfect lunch.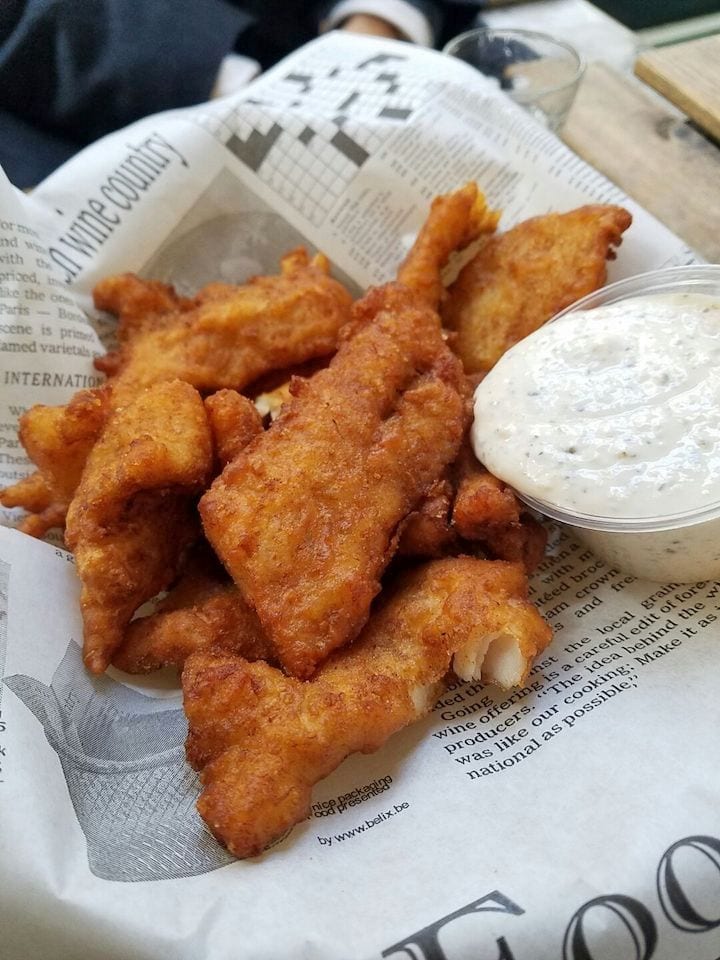 4. Poffertjes
If you can't pronounce this food, don't worry-- just look for it on the menu! These mini Dutch pancakes come covered in sweet sugar syrup, and are fluffy and delicious. On a cold and rainy day in Amsterdam there's nothing better than popping into a local café for a heaping plate!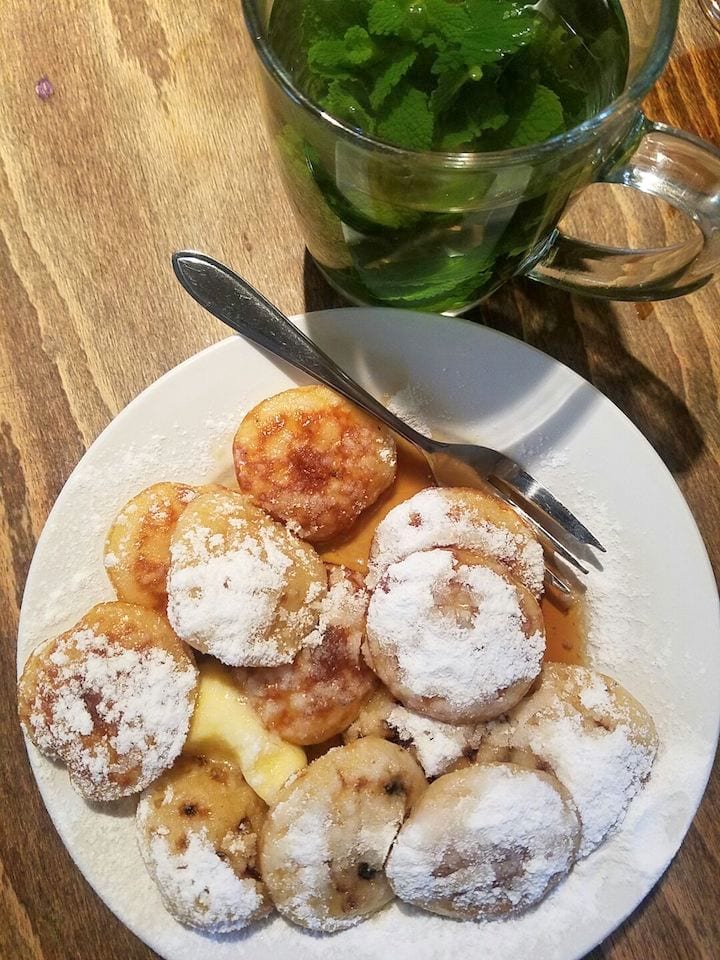 5. Mint Tea
And while you're enjoying your pancakes, sip on a piping hot mug of mint tea. Not actually tea at all, in Amsterdam it's common to order a hot infusion of fresh mint. It sounds simple, but it's really relaxing -- and even better when it comes with a mini stroopwafel on top!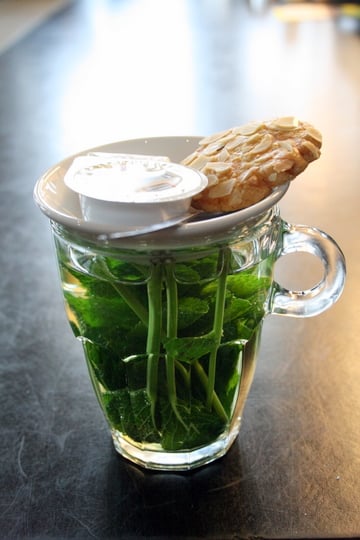 6. Satay
One of my favorite foods in Amsterdam (besides herring!) is satay. Doesn't sound Dutch? Well, it most certainly is a staple of the local Dutch cuisine! Indonesian restaurants and take-away counters are popular throughout Amsterdam, and we ended up eating quite a lot of Indonesian food throughout our trip. I still dream about the spicy peanut sauce!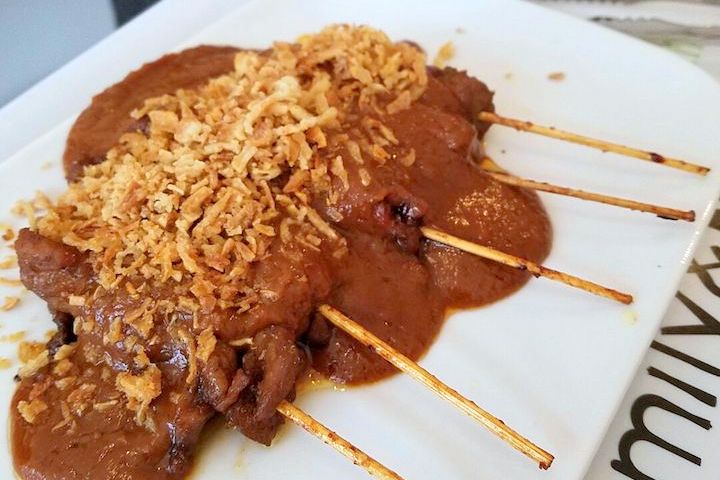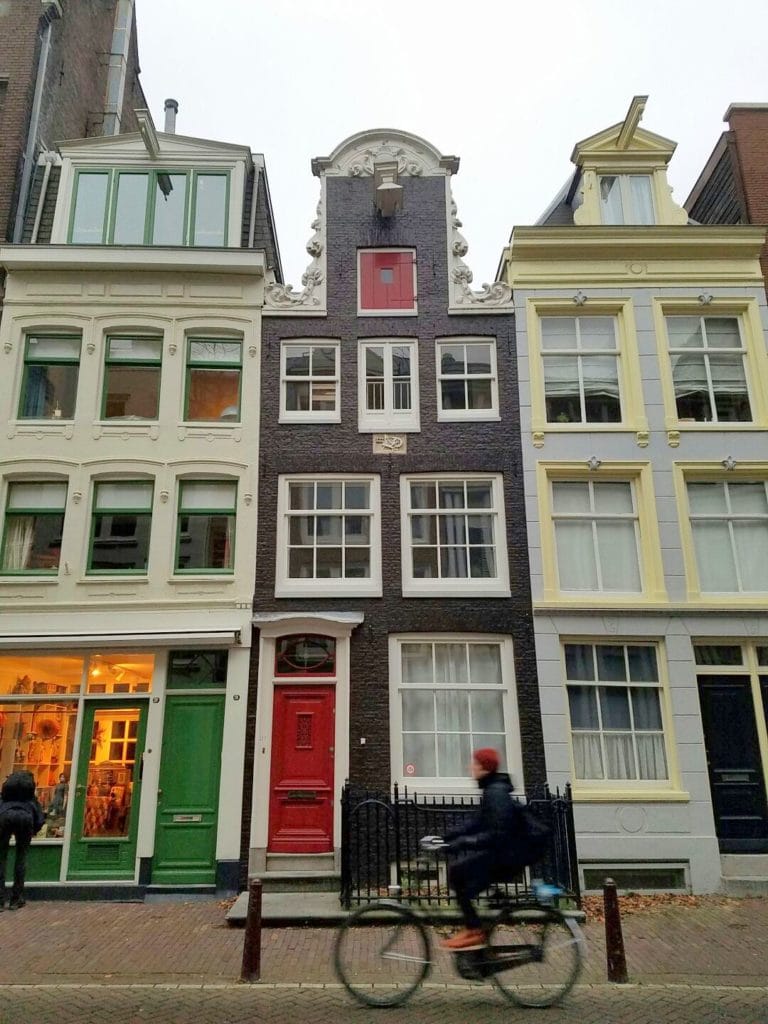 7. Oorlog french fries
When you visit Amsterdam you must visit Vlaams Friteshuis Vleminckx and order the oorlog fries. You'll receive a crispy cone filled with hot homemade fries, topped with mayonnaise, peanut sauce and raw onion. It may sound odd, but after only one cone you'll be hooked for life! It's definitely something worth eating in Amsterdam each and every time.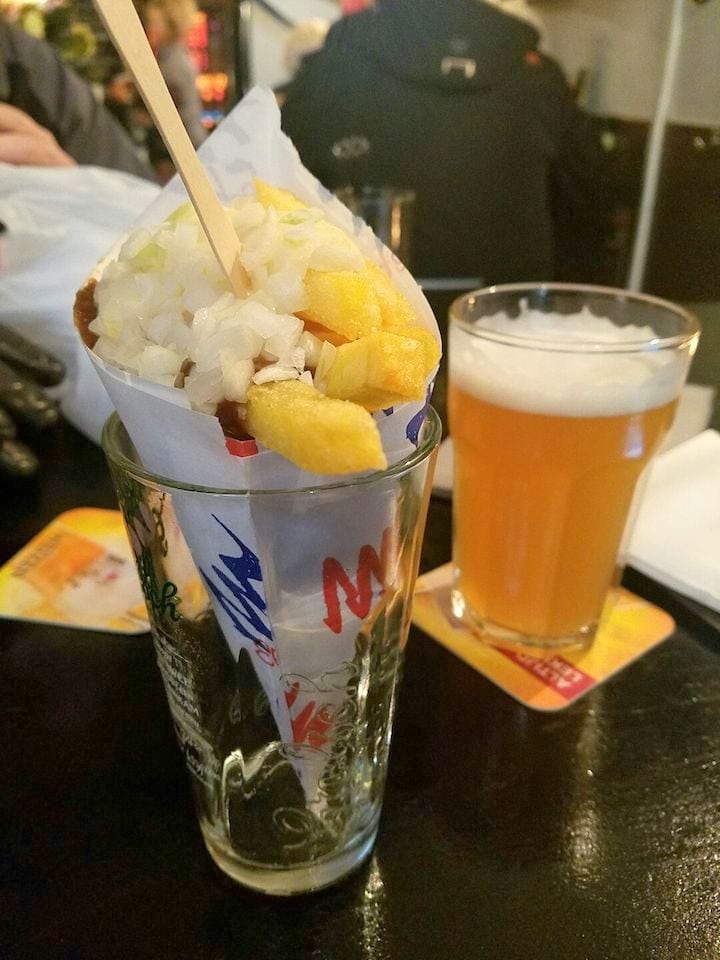 8. Chutney
A totally new food for me this trip was chutney, which we tried on the Hungry Birds tour in an Indonesian and Surinamese specialty shop. We put different chutneys (both sweet and spicy) on top of empanadas, and they were delicious. I bought a bunch to take home!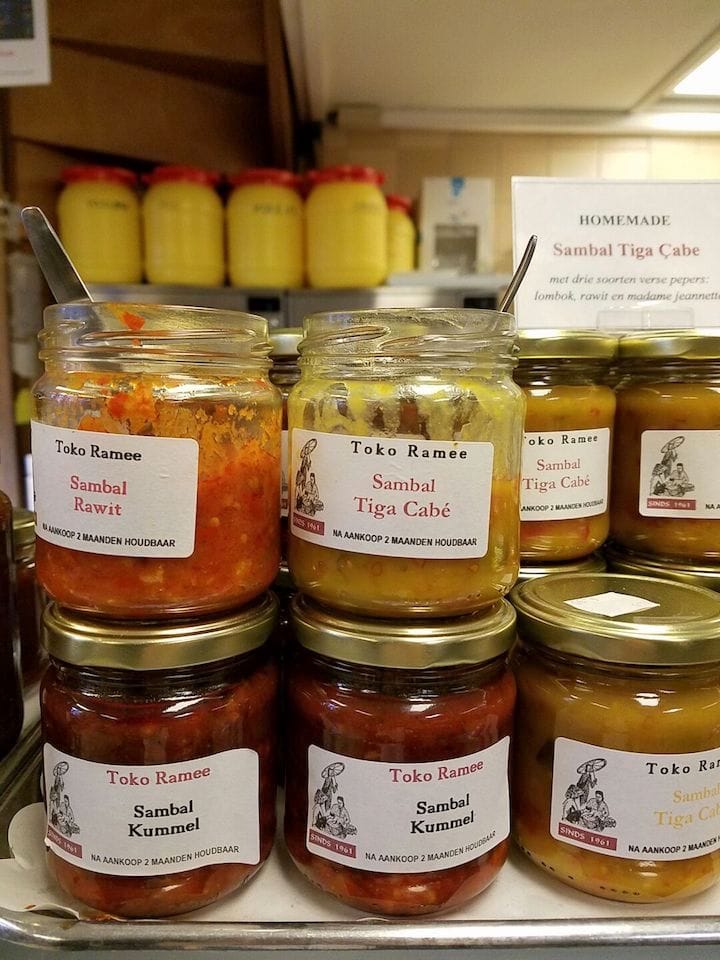 9. Dutch cheese
Touristy as it was, we stopped into the many cheese shops around town. All were extremely generous with their free samples, and really knew how to sell! There were 50+ different types of cheeses on offer, and I loved them all. The most famous is Old Amsterdam, but try the aged Gouda-- it's incredible! I only wish we brought more back.
Next visit I'd love to take a cheese-filled road trip to visit Gouda, I've heard it's amazing!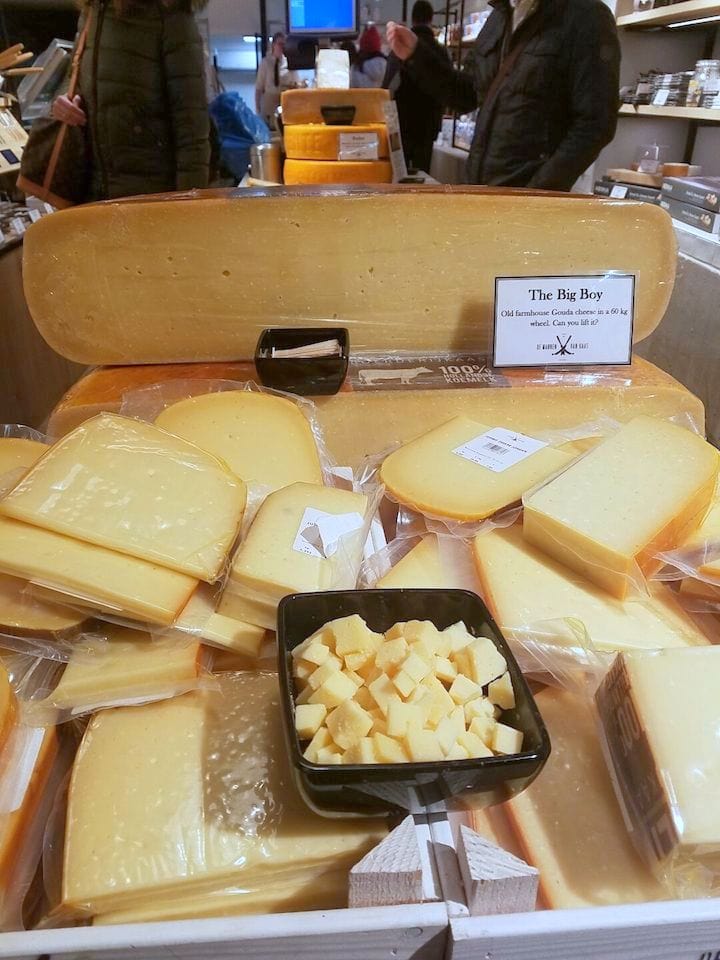 10. Bitterballen
Bitterballen are the ideal bar snack, perfect when ordered alongside a towering Dutch beer. These ground meat croquettes are often served with mustard and are one of the most popular local foods you'll see people ordering. They're not as creamy as Spanish croquettes, but they definitely do the trick!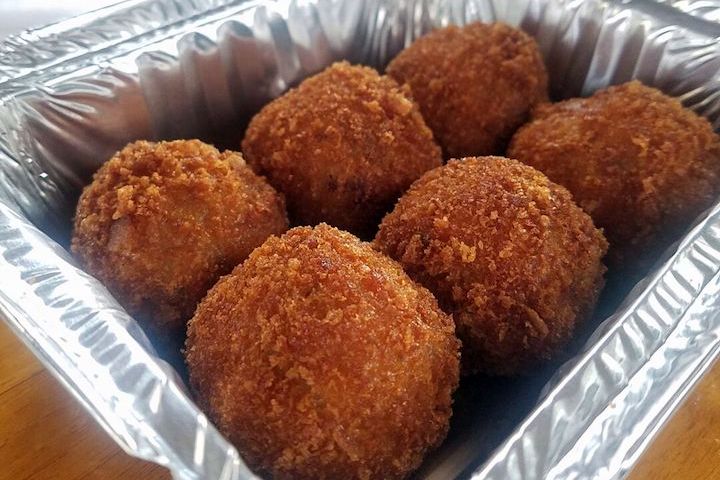 What do you think? Have you visited the Netherlands? Any must try foods in Amsterdam you think I've missed?
If you're visiting soon check out the Amsterdam food tours available while there to try these bites and more!
Pin me!