Let's dive into Lisbon, one of my favorite food cities in the entire world! Below I'll share my list of the top 13 must-try foods in Lisbon, which you can easily check off whether you're in town for a weekend break or a month-long adventure.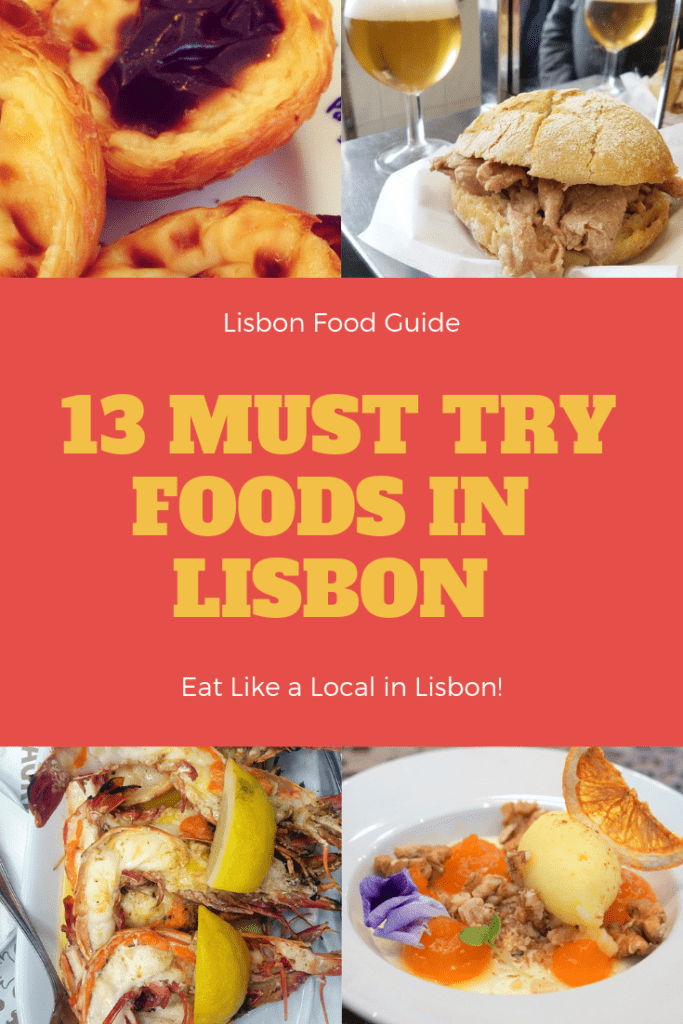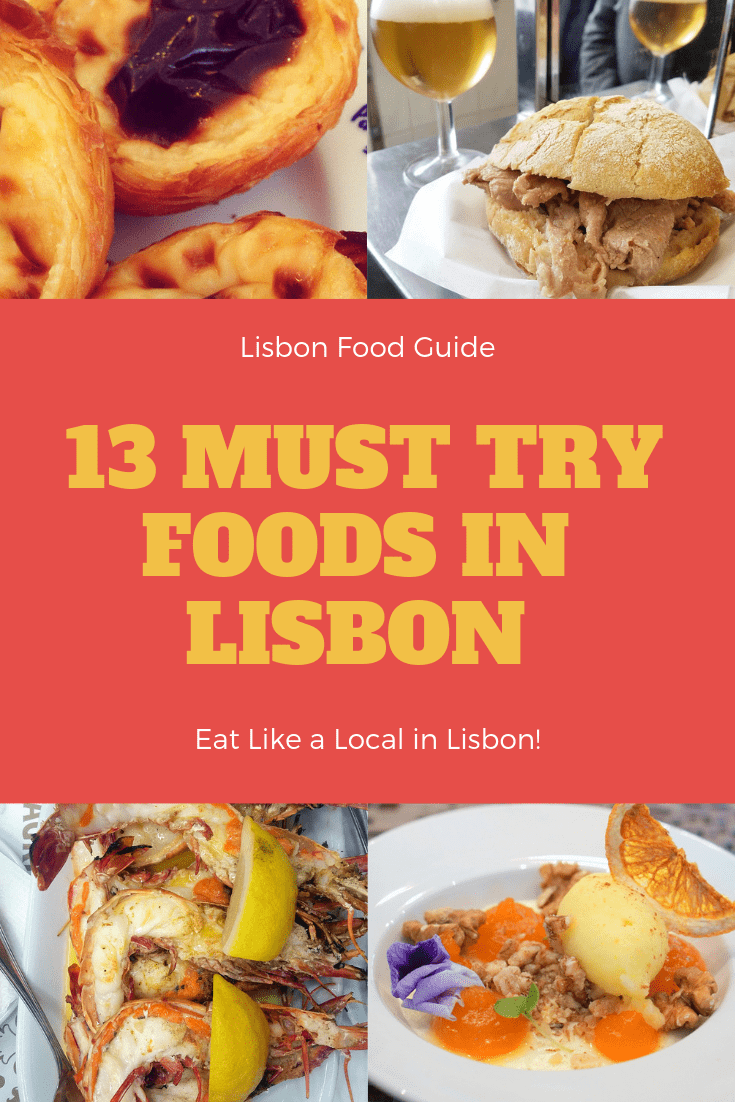 My first visit to Lisbon was in 2007. I was a study abroad student in Granada, and spent a long weekend in Lisbon. This was a time before I had discovered blogs and Tripadvisor—so I pretty much survived the weekend on custard tarts and supermarket ham and cheese.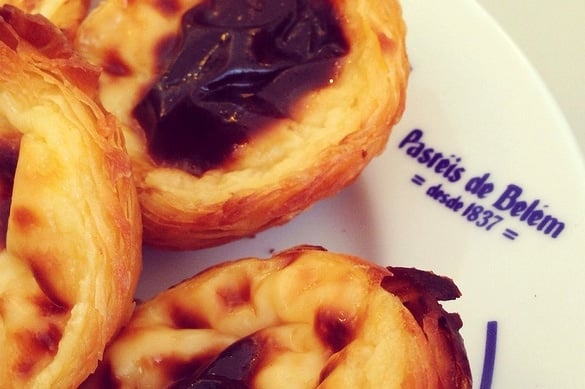 Many years later, Lisbon is one of my favorite cities. It's one of the only places I could truly see myself living (apart from Madrid and Seville), and I hope to get a chance to live in Lisbon in the near future.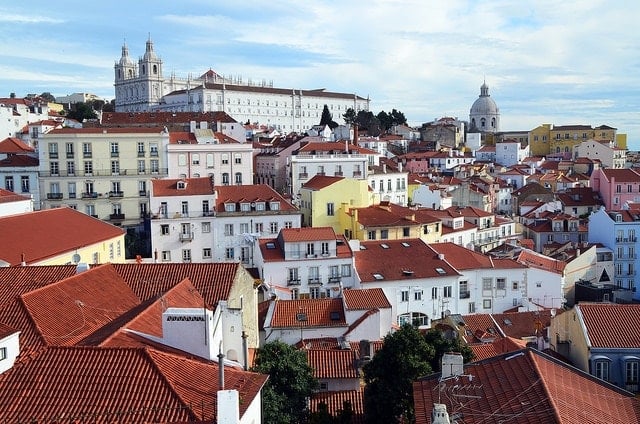 For now, I'll have to make do with frequent trips! Luckily, Devour Tours launched delicious new food tours in Lisbon a few years ago. This gives me plenty of excuses to visit Lisbon—someone has to do quality control, after all!
Eating Our Way Through Lisbon
Because I've been traveling to Lisbon so often, my list of where and what to eat has been growing and growing. I've also put together an in-depth Lisbon food guide. But if you want to simply cut to the chase, these are the things you need to seek out.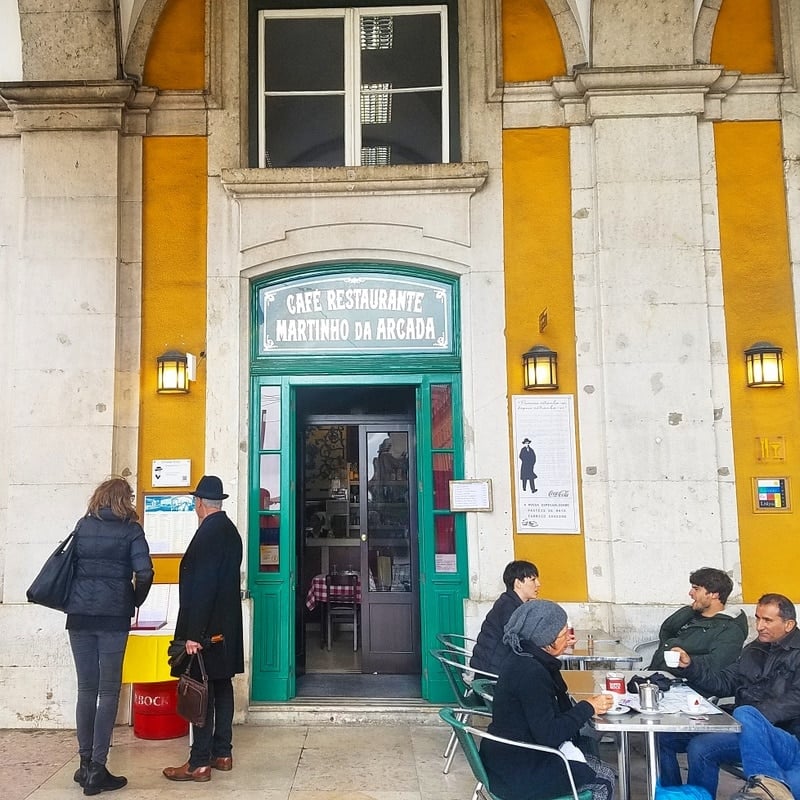 Without further ado, here are the top 13 must-try foods in Lisbon!
1. Pastel de Nata
First on the list is a simple sweet that has become a bit of a viral obsession. But unlike most food trends, this is one with a long legacy.
The humble pastel de nata dates back to the 1800s, when it was invented at Lisbon's Jerónimos Monastery as a way to use up extra egg yolks. The full history of pastéis de nata (also called pastéis de Belém) is fascinating!
Looking for the best pastéis de nata in Lisbon? Everyone has their favorites, but mine are undoubtedly from Manteigaria, where you can see them being made before your eyes and enjoy them fresh out of the oven!
Can't get to Lisbon? Make this treat at home with our pastéis de nata recipe.
2. Bifana
Another of my must-try foods in Lisbon is the humble bifana. This local specialty puts other sandwiches to shame. It's extremely simple, but that's why it really shines.
A bifana consists of thinly sliced pork that's been slowly cooked in white wine, garlic, and spices. It comes out of the pot and goes directly into a crusty bread roll. Some people choose to add mustard or a splash of spicy piri piri sauce. Either way, it's mandatory to wash it all down with a cold beer!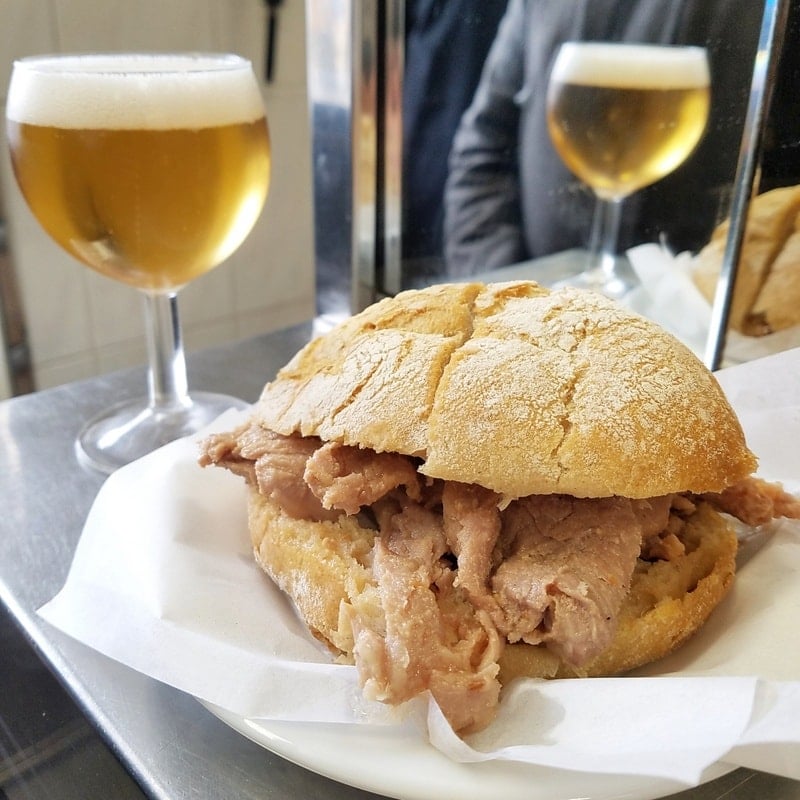 So where's the best bifana in Lisbon? I love the classic spot As Bifanas do Afonso: no seats, no frills—just great bifanas!
See Also: Read all about bifanas here—and make them at home with our bifana recipe!
3. Shellfish
Like Spain, Portugal is one of the best places in the world for fish and shellfish. The variety and freshness is unreal. Clams, mussels, shrimp, lobster... even barnacles. Lisbon has it all!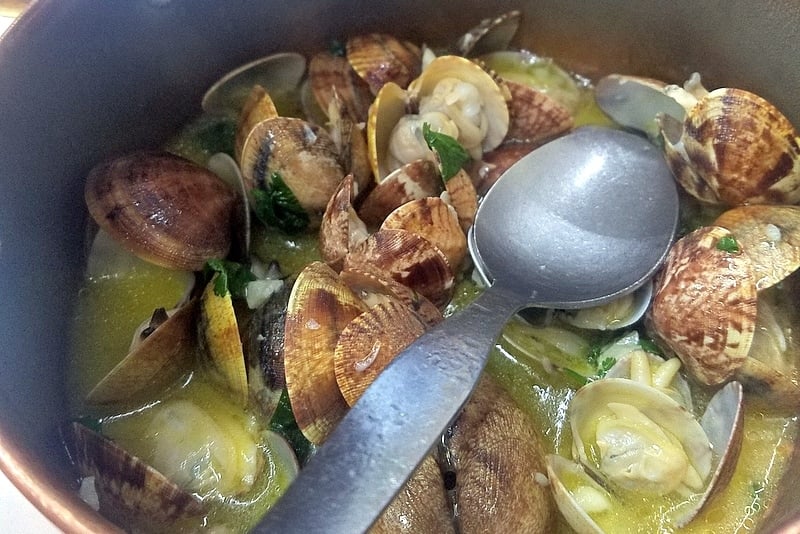 If you're looking for the best shellfish in Lisbon, I have to recommend the famous Cervejaria Ramiro. Although it's touristy and often has a very long wait time, the jumbo prawns are the best I've ever had. Others are obsessed with the brown crabs, and the razor clams are also excellent.
Need more tips? Check out these 8 spots for seafood in Lisbon.
4. Sardines
You'll see adorable cans of sardines throughout Lisbon, with prices ranging from a couple of euros to some serious cash. That's because the quality of canned goods in Lisbon is incredible, and sardines are the city's signature tinned fish.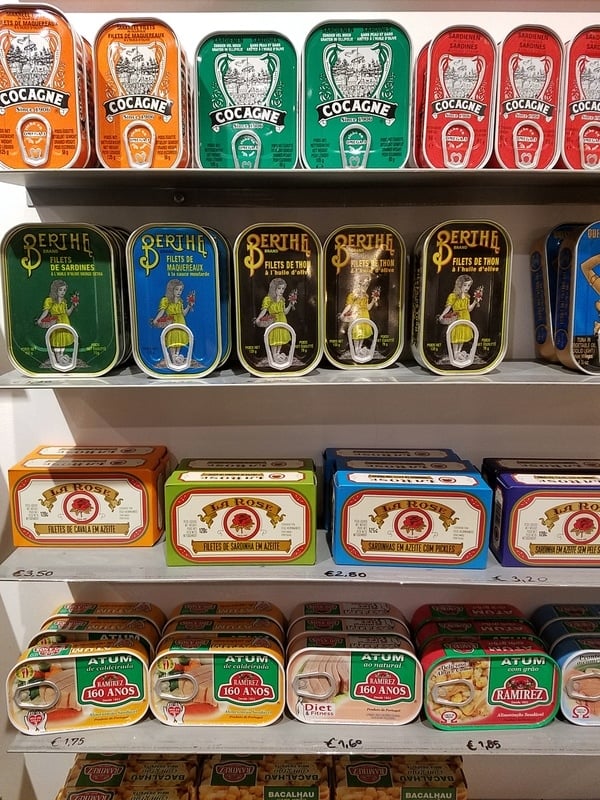 For the best canned sardines in Lisbon, you can't go wrong at Conserveira de Lisboa.
Read More: Check out this guide to conservas to learn everything there is to know about canned fish in Lisbon.
5. Caldo Verde
Often called Portugal's national dish, caldo verde is a satisfying and healthy soup that's definitely one of the must-try foods in Lisbon.
Caldo verde features chouriço (pork sausage) and couve-portuguesa (similar to kale), although many recipes use collard greens or even cabbage instead. This is a dish you'll find in almost all Lisbon restaurants, from tiny taverns with handwritten menus to fine dining in posh hotels.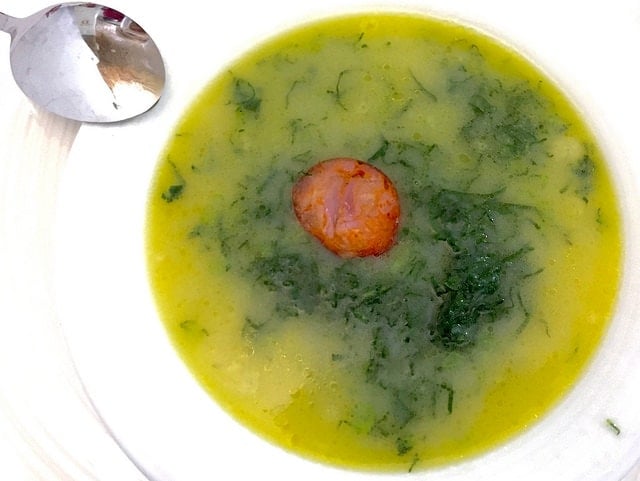 See Also: Try this dish at home with our caldo verde recipe!
6. Prego
Another of Lisbon's famous sandwiches is the prego: a garlicky steak sandwich that you'll find in classic cafés. The prego is absolutely a must-try food in Lisbon, and gives the delicious bifana a run for its money!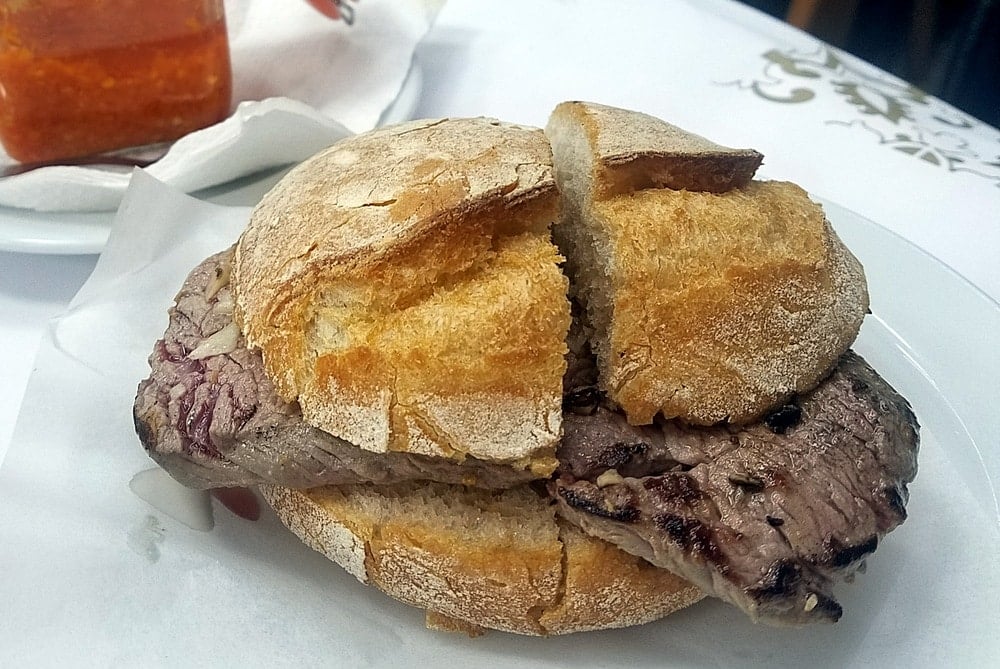 7. Bacalhau
Bacalhau (salt cod) is an integral part of Portugal's history, and one of the most delicious foods to try in Lisbon. There are countless Portuguese salt cod recipes, and even entire cookbooks dedicated to them. There's even a saying that Portugal has a bacalhau recipe for each day of the year!
Some of my favorites are salt cod croquettes, bacalhau com natas (with a cream-based sauce), and bacalhau à Brás (with eggs, black olives, and crispy potatoes).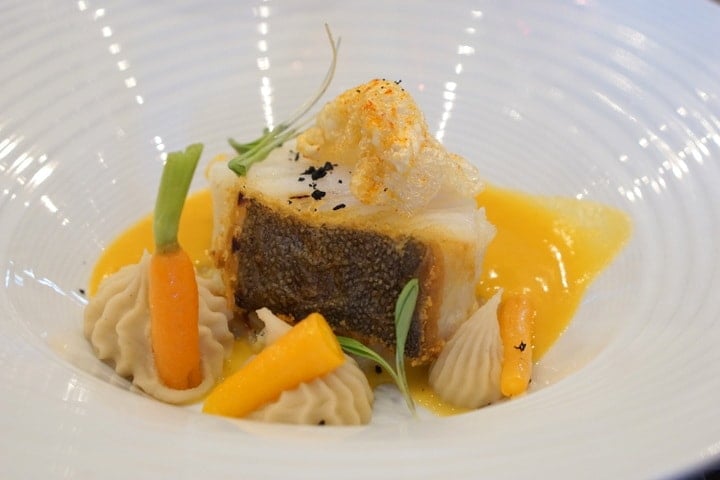 Where can you find the best salt cod in Lisbon? It's a bit outside of the city center, but I absolutely loved everything I tried at Casa do Bacalhau. It's a beautiful restaurant with delicious food. I dream of going back!
Read More: The Ultimate Guide to Salt Cod
8. Frango
Portuguese grilled chicken (frango) is so delicious that it inspired a whole global fast food chain! And in Lisbon, you can easily find delicious piri piri chicken at an abundance of authentic spots.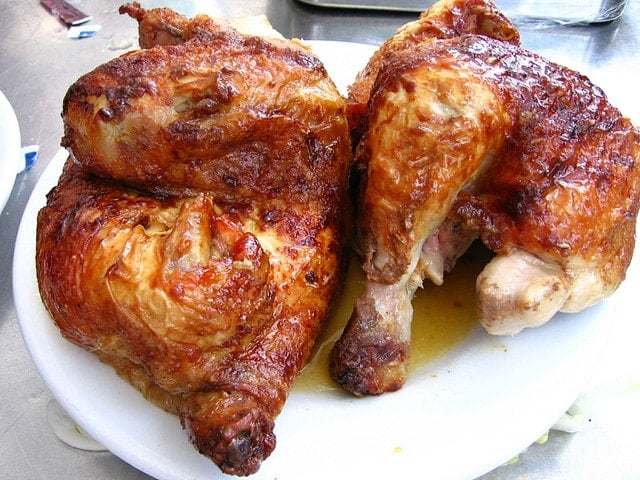 9. Azeitão
This incredible and unique Portuguese cheese is not actually made in Lisbon, but unless you're heading out of town to Setúbal, you should definitely enjoy some while here.
In 2014, queijo de Azeitão was named one of the 50 best gastronomic products in the world! You can find this delicious cheese at some of Lisbon's best wine and cheese bars.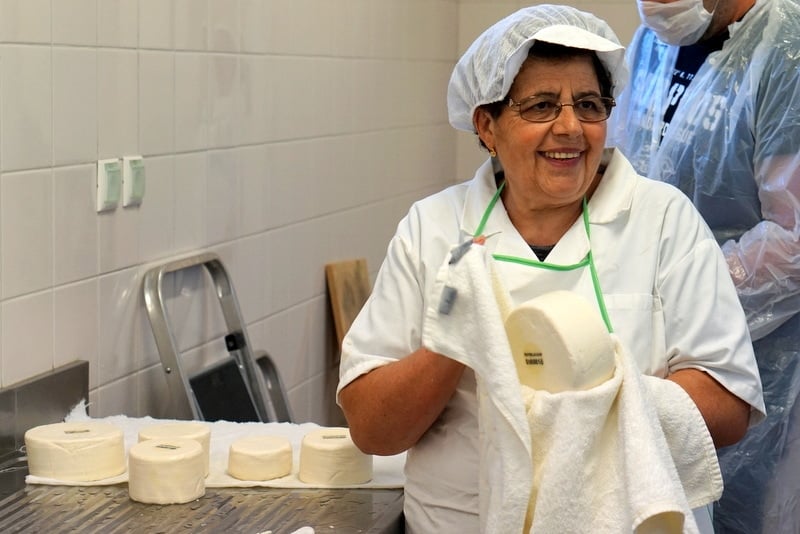 10. Cozido
There's no better way to warm up during Lisbon's cooler winter months than with a heaping plate of cozido.
This Portuguese stew varies by region and chef, but generally consists of a variety of meats (chicken, beef, sausages, pork, even pig ear) and boiled vegetables like potatoes, carrots, and cabbage.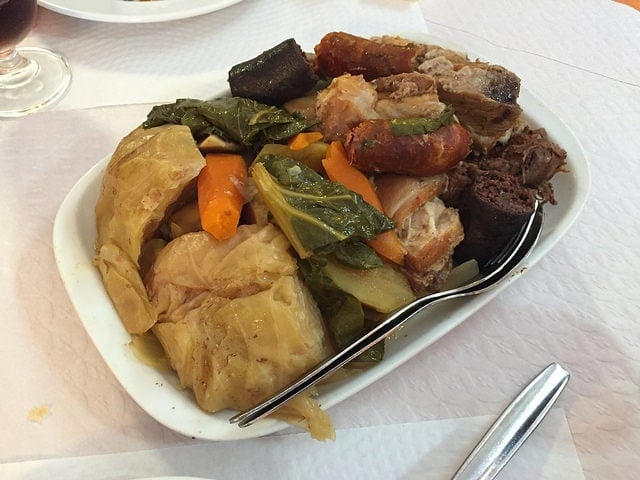 11. Ginjinha
Ginjinha is a sour cherry liqueur that's worth tasting in Lisbon—even if liqueurs aren't usually your thing. The city has a handful of traditional, tiny ginjinha bars that specialize in this delicious drink (see the link below for recommendations).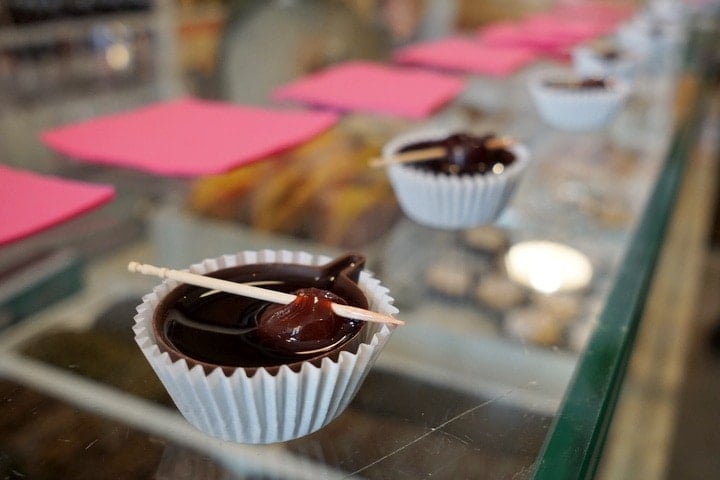 Read More: All About Ginjinha and Why You Need to Try It in Lisbon
12. Alheira
One of my most recent Lisbon food discoveries is alheira: a delicious sausage that you simply must try. The ingredients vary—but unlike other typical Portuguese sausages, it doesn't usually include pork. It's often served with french fries and a fried egg. I love it!
Alheira comes from a Jewish tradition of making sausages that would blend in with the local pork varieties—and thus avoid calling attention to the fact that the Jewish people hadn't truly converted to Catholicism during the Inquisition (since their religion prohibited eating pork).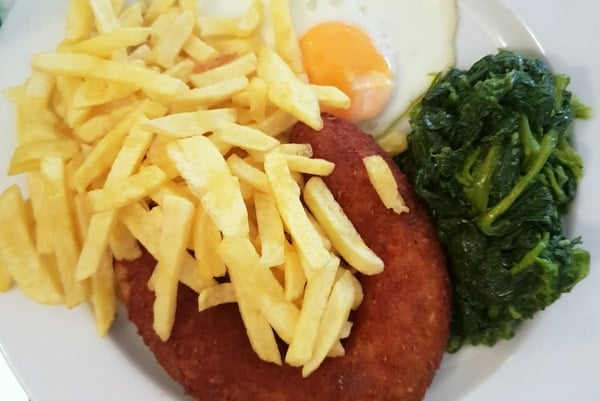 13. Feijoada
Another fascinating food to try in Lisbon is feijoada. This dish made its way across the ocean to Brazil and back, and is now commonly known as a Brazilian specialty! This pork and bean stew is a great example of how Lisbon's history has affected its cuisine—and it's absolutely delicious.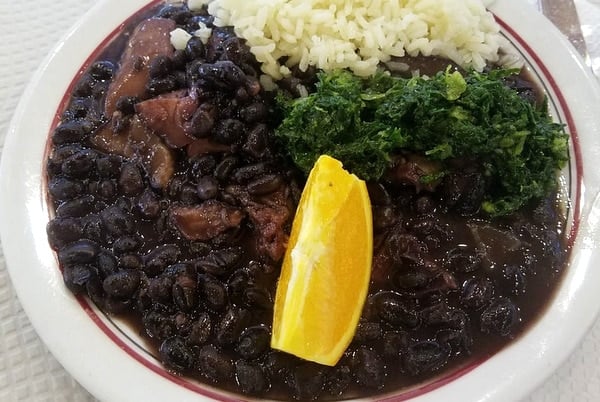 See More: Tips to Eat Like a Local in Lisbon
Discover Lisbon's Cuisine on a Food Tour
Join my team at Devour Lisbon on our Tastes & Traditions of Lisbon Food Tour, Petiscos, Food & Wine Tour, or Lisbon Food & Fado Tour to taste a selection of these delicious bites and more! In between stops you'll learn all about Lisbon's unique culture and history, and meet the locals behind the food!
Must-Try Foods in Lisbon FAQs
What should I eat in Lisbon?
When in Lisbon, sample as many different Portuguese foods as you can! Start with salt cod, sausages, fresh (and canned) seafood, and sandwiches like the bifana and prego. For something sweet, go for pastéis de nata (custard tarts) or maybe a bit of ginjinha (cherry liqueur).
What food is Lisbon famous for?
The most famous food in Lisbon is probably the pastel de nata, a rich custard tart invented in the Belém district. Lisbon is also known for its infinite bacalhau (salt cod) dishes, as well as conservas (canned seafood), caldo verde (traditional soup), and the bifana (pork sandwich)—plus much more!
What is Portuguese food like?
Portuguese food tends to include a lot of meat and seafood, as well as fresh vegetables and abundant olive oil. The traditional cuisine is hearty and unique, featuring local specialties like sardines, roasted chicken, sausages, cheese, and lots of soups and egg-based sweets.
Looking for Spanish recipes? Download my free ingredients guide and get a weekly recipe sent directly to your inbox.