You might think that Santiago's characteristic rainy microclimate would preclude the existence of terrace bar/restaurant/café culture. Fortunately, you'd be wrong!
On those occasional sunny days that make you want to kiss the Old Town's beautiful cobblestone streets, you'll be delighted that Santiago's many plazas—both nearly secret and ostentatiously grand—and abundant greenery lend themselves to some truly special outdoor seating areas. These are some of our favorite terraces in Santiago de Compostela.
Insider's Tip: Not all terraces are created equal. While all of our favorite terraces in Santiago have beautiful surroundings, some are best for enjoying a drink or light snack while others deserve a spot in your vacation meal plan. So, if you happen upon a beautiful terrace and feel compelled to grab an available table (fate!), take a look around at the other tables to see what everyone else is ordering. We recommend this always, everywhere! Trust the locals.
For drinks:
Pub Momo
A Santiago institution inspired by the adored novela by Michael Ende, this bar has an underground, offbeat personality. Pub Momo is a great place to grab a drink no matter the hour or season, but the backyard terrace overlooking Belvis Park and the monastery is really something special. Come a couple of hours before sunset on a long summer day and just bask in Santiago's magic.
Address: Rúa da Virxe da Cerca, 23
Café-Jardin Costa Vella
The garden terrace tucked behind and belonging to Hotel Costa Vella is easily one of our favorite terraces in Santiago. It's a sprawling, enchanted area shaded by trees and ornamented with flowers, fountains and statues. Another perk? In the distance, you can see rooftops of the Old Town and the rolling hills beyond Santiago. There's also an enclosed atrium in the garden for rainy days. So there's no excuse not to visit!
Address: Rúa da Porta da Pena, 17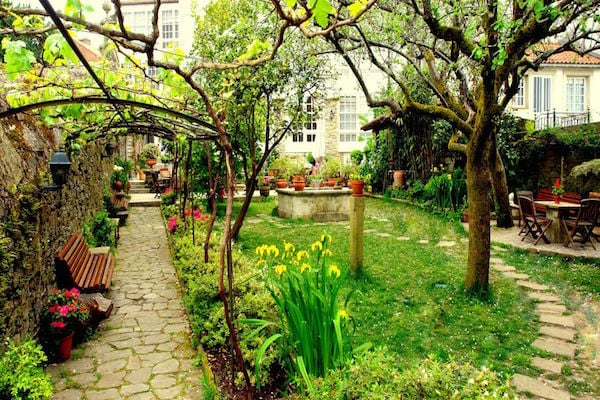 La Radio
The delicious smoothies and cocktails are second only to the ambiance at this place. Good music, a beautiful setting in front of an old church, and being just down the street from the Mercado de Abastos (central marketplace) make this is great place for a liquid snack, day or night.
Address: Praza de San Fiz de Solovio, 2
For a casual bite:
Café-Bar Hamburguesería DACA
This small local joint located a bit off the tourist path has a terrace overlooking the Belvis Park. Order a drink or a plato combinado (an entrée with sides) for a simple, homemade meal.
Address: Rúa do Pexigo de Abaixo, 20
El Caballo Blanco
Tucked between the Mercado de Abastos and the thoroughfare Rúa Preguntoiro, this terrace on beautiful Plaza de Pescadería Vella is perfect for a drink and a few traditional tapas.
Address: Praza da Pescadería Vella, 5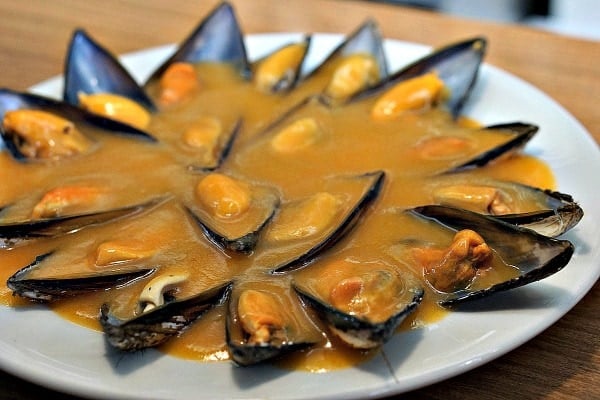 Café Agarimo
With a prime location in Plaza de Cervantes, Café Agarimo is a quintessential place to spend some time in Santiago. Enjoy people-watching along with a coffee, a sandwich or a ración (shared plate) at one of our favorite terraces in Santiago!
Address: Rúa do Preguntoiro, 2
Bierzo Enxebre
Bierzo Enxebre is another one of our favorite terraces in Santiago. Good, traditional food served in large portions on a charming, quiet side street terrace. What more could we ask for?
Address: Rúa da Troia, 10
For great food:
A Moa
Whether you sit downstairs in the restaurant with an open kitchen, upstairs at the bar, or out back in the garden terrace, we always recommend A Moa. Imaginative, quality dishes with a modern rustic touch make this restaurant undoubtedly worthy of a stop. The charming garden terrace is just the cherry on top!
Address: Rúa de San Pedro, 32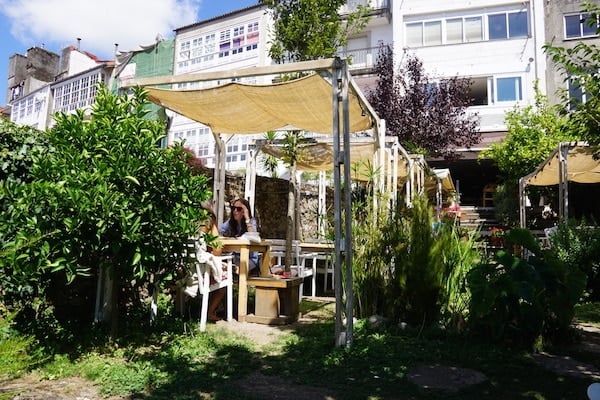 A Taboa de Picar
Though located a little bit outside of the Old Town, the views you'll find on this garden terrace are absolutely worth it. Enjoy simple, polished fare and superior wine choices while taking in the stunning view.
Address: Rúa do Pombal, 17
O Curro da Parra
O Curro da Parra offers a changing seasonal menu so that they only cook up the freshest local products. Note that the lamb and fish options are always outstanding. They're also equipped with a wine cellar with over 80 varieties. It's no wonder this is one of our favorite terraces in Santiago!
Address: Rúa Travesa, 20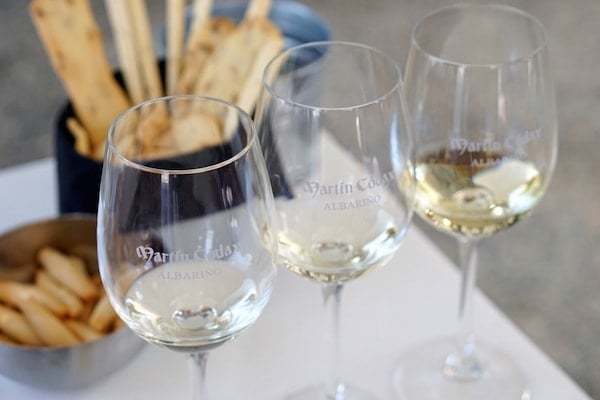 To try some of our favorite Galician dishes, wines and sweets at the best family-run restaurants and shops, join us on one of our tours in Santiago. Hit the streets with a local guide and get the backstory to some of Santiago Old Town's oldest plazas, establishments and customs!
Latest posts by Elyssa Garrett (see all)