Anyone who's ever tasted a bite of melt-in-your mouth boiled octopus, drizzled in paprika and olive oil, atop a bed of potatoes, knows that Galician cuisine is some of the best in Spain. Although financially it may be one of Spain's poorer regions, it's one of the richest when it comes to gastronomy. From prized beef to stunning seafood, this is the definitive list of the typical food in Galicia.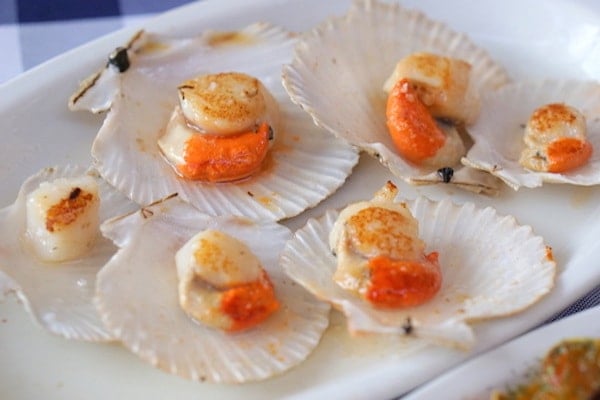 Typical Food from Galicia: 10 Bites You Can't Miss
1. Pulpo a Feira (Market-Style Octopus)
While octopus might sound a bit "out there" to newcomers, it's an authentic Galician dish that—when done right—actually melts in your mouth. This unbelievably simple dish is typically served in markets all over Galicia, but it is also found in many tapas bars. The octopus is boiled until tender and the tentacles are sliced into discs, drizzled with olive oil and sprinkled with smoked paprika (pimentón in Spanish). Placed on top of a bed of perfectly cooked potatoes, this dish doesn't get any more simple or delicious. Pop into Restaurante San Jaime (Calle Raiña, 4) to try this typical food in Galicia at its best in the capital.
2. Mejillones al Vapor (Steamed Mussels)
Mussels are one of Galicia's star products. They are so special they even have their own protected designation of origin (PDO), which is a prestigious quality seal. It is called Mejillón de Galicia—look out for the red and yellow PDO seal to verify the authenticity and quality of the product. Galicians love to eat these huge local mussels simply steamed with a squeeze of lemon. A top tip from the gallegos: never complicate great ingredients—just cook and serve them as simply as possible.
3. Pimientos de Padrón (Padron Peppers)
These peppers are fun to share with friends. Some are spicy and some are mild, but it's impossible to tell until you try them! The peppers are fried whole and sprinkled with rock salt—simple but delicious!
4. Cocido Gallego (Galician Stew)
This traditional stew is a guaranteed winter warmer, full of hearty flavors like pork shoulder, chorizo, chickpeas, pig's ears, cabbage and turnip tops. Boil everything to perfection and serve with a drizzle of olive oil and smoked paprika—delicious!
5. Queixo de Tetilla (Tetilla Cheese)
A dome-shaped cheese, Queixo de Tetilla gets its name because it is reminiscent of a small breast! The creamy texture and mild flavor of this very typical food in Galicia make it a great accompaniment for Spanish ham, wine and olives. Pick some up on your trip to the best market in Santiago de Compostela—Mercado de Abastos in the old town (Rúa das Ameas).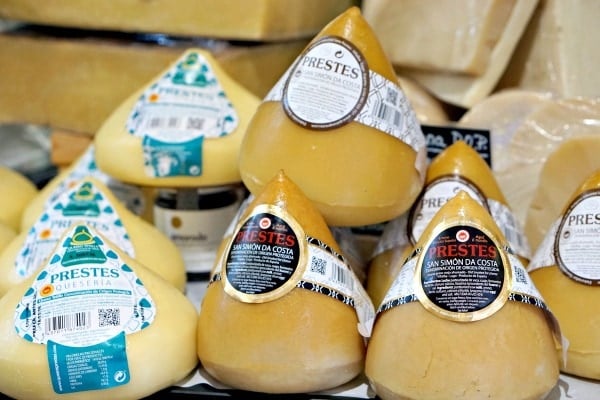 6. Caldo Gallego (Galician Broth)
A firm favorite among locals in the colder months, this typical food in Galicia is a broth made with pork, potatoes, white beans, chorizo and turnip tops, often served as a starter in a winter set menu, or menú del día. It's the perfect comfort food in the chilly wintertime!
7. Empanada Gallega (Galician-Style Empanada)
This typical food in Galicia is said to be distantly related to the Indian samosa brought back from the Portuguese colony of Goa by traders. The empanadas are filled with onion and garlic combined with meat or seafood. Popular fillings include octopus, tuna, cockles, small scallops, salted cod and chorizo—the possibilities are endless!
8. Chuletón de Ternera (T-Bone Steak)
Galician beef is among the best in Spain. The special breed of cows that produce this succulent meat is known as rubia gallega, or Galician blond. The best way to order this delicious beef? A la plancha, or grilled, and finished with a bit of rock salt.
9. Leite Frita (Fried Milk)
What would a list of the typical food in Galicia be without a couple of desserts? Leite frita is a milk custard that is battered and fried, then sprinkled with sugar and cinnamon. This is a delicious way to finish off a traditional meal!
10. Tarta de Santiago (Santiago Cake)
Perhaps the most famous Galician dessert, this cake contains ground almonds, eggs, sugar and sometimes a splash of brandy! Powdered sugar with an outline of the famous cross of St. James, the patron saint of Santiago de Compostela and of Spain, decorates the top of the cake.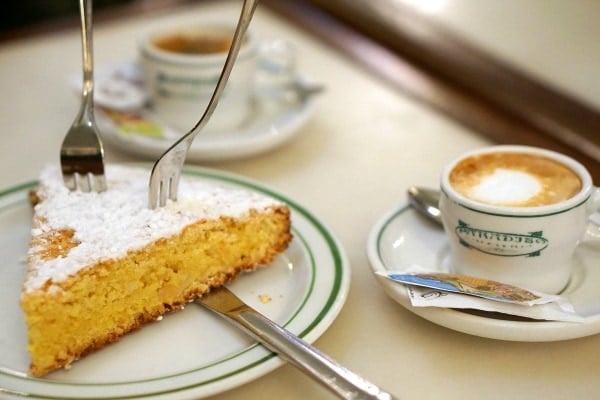 See Also: Satisfy your sweet tooth with one of these tasty typical desserts from Galicia!
Pin me!