For the past few years the Canary Islands have been a blur to me. No matter how many times I looked at a map, I simply couldn't commit the islands to memory. And if I'm going to be completely honest with you, I often confused the Balearic and Canary Islands, a huge faux pas considering that the former are located off the eastern coast of Spain in the Mediterranean, while the latter are 1,600 miles away off of the northwestern coast of Africa!
But then again, who can really blame me, considering the room for confusion-- there is Palma de Mallorca (Balearic) and La Palma (Canaries), and a famous cheese from Menorca (Balearic) called Queso Mahon, while another from Fuerteventura (Canaries) is called Queso Mahorero-- okay, it's not that close, but it still confused me!
But whenever geography gets the best of my memory, there is only one thing to do to put it all in place. I have to travel. So when we were invited to review the Hotel Elba Palace Golf's new gourmet package, I jumped at the chance to finally visit a Spanish island, despite the short trip not really fitting into my busy schedule.
A Quick 48 Hours in Fuerteventura
Yet despite only staying in Fuerteventura for two full days, we got to see a lot of the island thanks to renting a car. Fuerteventura is truly like no place I've ever visited-- as we flew in we could already see that we were landing in an enormous dessert, surrounded by gorgeous beaches. As the second largest of the Canary Islands, Fuerteventura is home to some very impressive volcanoes and its strange Mars-like topography and pristine beaches attract over 1.5 million tourists a year.
Fuerteventura in June can actually make for a great weekend getaway-- but don't expect to spend your days working on your tan. We didn't realize that June is actually the off-season for Fuerteventura, and also the windy season. The cool winds made it too chilly to go swimming, but the low off-season prices made everything else even better. June would be a perfect time to go hiking with friends or to stay at one of the islands peaceful Casas Rurales.
Take a look at what we were able to see in Fuerteventura in only 48 hours!
Our GPS got us a bit lost upon arrival, but we ended up in old Antigua, where the island's famous windmills studded the dry landscapes.
Later, we decided to explore the south of the island, and drove along the FV-2 highway. We had to stop at a lookout point for a picture of the gorgeous Matas Blancas beach.
Later in the afternoon we made the brave choice to head up to El Cofete-- a twisty road that supposedly lead to a gorgeous lookout point and the island's most amazing beach. But the 19 kilometer drive was estimated to take an hour and forty-five minutes by our GPS! We didn't have enough time to go and come back, so we turned around after the mirador (lookout point), a mere 7 kilometers from the beach. Despite not making it to El Cofete beach (a good reason to return!) we loved the drive for the breathtaking views.
The lookout point was extremely windy-- I did not have my hair tied back, it's just that windy!
As we slowly drove along we passed plenty of goats, a staple of the island's history. Despite being surrounded by the sea, Fuerteventura was never a huge fishing island. Instead their inhabitants raised goats and cattle for many years. Goat stew is still an island specialty!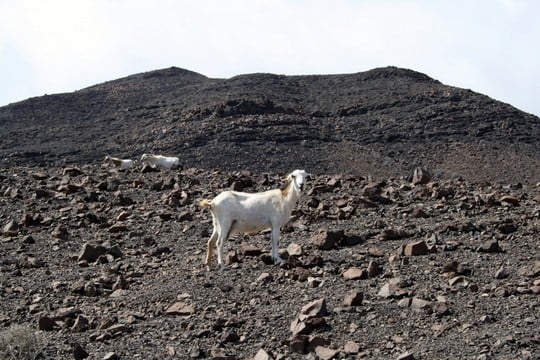 On our second day we took a day trip offered by the Hotel Elba Palace Golf. Appropriately called Sabores de Fuerteventura (Flavors of Fuerteventura) we were ready for a taste of the island! But apart from the fantastic food, we saw some more incredible sights. We started in a tiny fishing village, where the locals fished for lunch, and cats relaxed in the sun. I have to admit, I wanted to join them!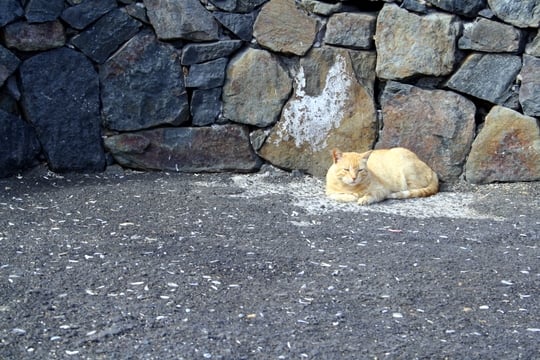 Throughout the day we saw plenty of cacti and palm trees. Little did we know that cacti were once very important to Fuerteventura...
The white chalky stuff on this cactus is actually a parasite. When crushed, the parasite lets out a bright red color, a common dye used around the world. Before other countries started cultivating this parasite at cheaper rates, Fuerteventura exported lots of this dye at very high prices. Sound gross? That's what I thought! But the dye is actually an ingredient in popular drinks like Campari, and used in plenty of lipsticks and other makeup too. Read more here.
Betancuria was the first capital of Fuerteventura. The lookout point upon arriving to the city was incredible.
The downtown of Betancuria was adorable, filled with while washed buildings and beautiful flowers.
Europe's biggest Aloe Vera factory is on Fuerteventura. I had no idea that the island produces so much of this soothing gel, but the plants were everywhere!
Our last stop was at the island's salt museum on Caleta de Fuste. The sea salt was drying in the sun, and would soon be on the way to the dinner tables of island residents.
Unfortunately, 48 hours is not enough time to see all of Fuerteventura. We didn't even touch the popular beaches and nature parks of Northern Fuerteventura, and I would've loved to have spent a few days strolling the beaches of the south of the island. But what was important was that we got a taste for the island and I can now identify it on a map without a problem! I know we'll be back.
Our trip to Fuerteventura was made possible in collaboration with the Hotel Elba Palace Golf. All opinions of the island are our own.