Our recent trip to Fuerteventura was in collaboration with Elba Hotels. They were looking for people to review their new Gourmet Volcano Break at the Elba Palace Golf, and since we'd never been to Fuerteventura, we figured it was worth the price of the plane tickets and rental car to experience new some new flavors of Spain.
We woke up early for our 6:00 a.m. Ryanair flight to the island. As usual, we had no problems flying Ryanair, and appreciated the reasonably priced fares (about 120€ round-trip per person with carry on luggage only). We'd been so busy before the trip that we hadn't had time to look at car rental companies, so we opted for the cheerful sounding CICAR (Canary Island Car) upon arrival. 48 hours with a small but comfortable Opel Astra cost us 75€.
We arrived to the hotel after a short 10 minute drive from the airport. I was immediately struck by the landscaping, being a golf course everything was immaculate. We were greeted kindly by the reception staff and had a proper sit down check in, complete with a glass of cava, cool hand towels and some aloe vera cream.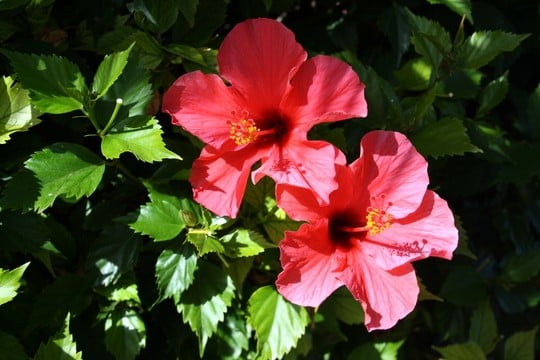 After checking in we headed off to explore the island, as it was only 9:00 a.m. and our room wasn't quite ready. That evening we returned for dinner, which was included in the half-board pension of the Gourmet Volcano Break. We ordered a la carte, although they told us that in the busy season (November through April) they often have a buffet instead.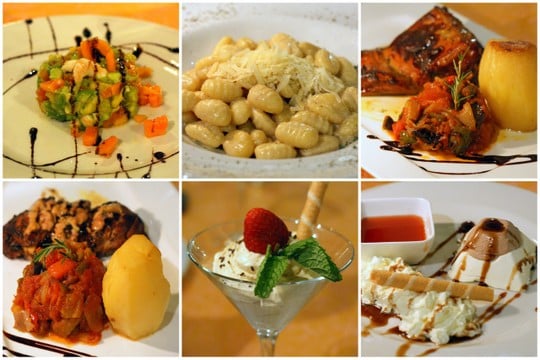 Everything was very good and the service was fantastic. My favorite dish of the evening was actually one of the appetizers, a tartar of avocado, papaya, and shrimp. It was so delicious I've already tried recreating it back home!
The Room
Our first glimpse at our room came shortly before dinner, right as the sun was setting over the sea. Like the rest of the hotel, the rooms are traditional and beautiful, with plenty of space, a beautiful balcony, and large bathroom.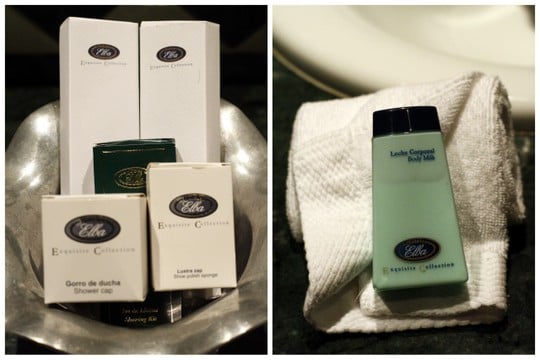 Flavors of Fuerteventura Day Trip
The following day we participated in the rest of the activities offered in the package. Starting at 9:00 a.m. we headed out on our Flavors of Fuerteventura day trip. The trip was well-planned, with comfortable transportation by mini-bus and friendly guides. We were able to try a wide array of regional specialties, such as cheeses, liquors, and the famous papas arrugadas.
Our last stop were the local salt flats, conveniently located a few blocks from the hotel. This peaceful museum and lookout point is definitely worth a stop!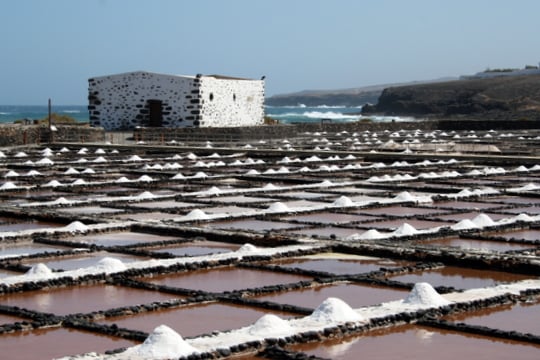 Hotel Pool and Patio
We arrived back with enough time to enjoy the pool. We sat in the sun with the cool breeze (it was too cold to swim) but the patio was beautiful. I found it odd (but wonderful) that there were no children splashing around anywhere. We were later told that the Elba Palace Golf is kids free, making it the ultimate spot for a couple's escape.
Spa and Cheese
After a lazy hour relaxing by the pool, it was time to enjoy an hour in the hotel spa, a perk included in the package. We entered to find the jacuzzi bubbling and a bottle of cava waiting for us. Between the jacuzzi and sauna, the hour passed quickly!
Next up was a wine and cheese tasting in the bodega. We tried two different Mahorero cheeses with some fruit and a local red wine from the nearby island of Lanzarote.
A Romantic Dinner
Finally, we tried the hotel's tasting menu, which features different island dishes such as cabrito (goat) and local fish. It was a lot of food, but gives you a good idea of what the island has to offer.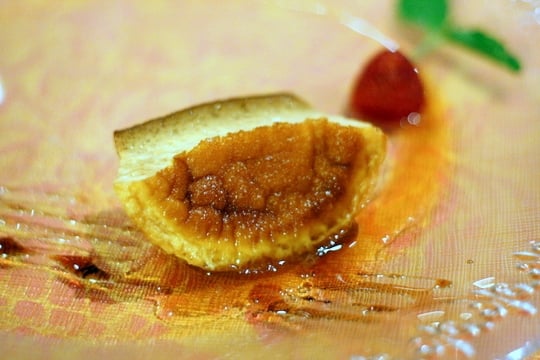 Verdict
The Gourmet Volcano Break was a great escape from busy Madrid life. We were only there for the two days included in the package, but I wish we'd been able to stay one more day (I'd recommend it). The hotel Elba Palace Golf does everything to make your experience the best it can be, and their attentive staff was wonderful. Even the manager was always making the rounds, checking in with guests and asking if he could help with anything. When we go back to Fuerteventura we would definitely stay with them again.
Disclosure: We were guests of the Hotel Elba Palace Golf, but opinions are all our own.