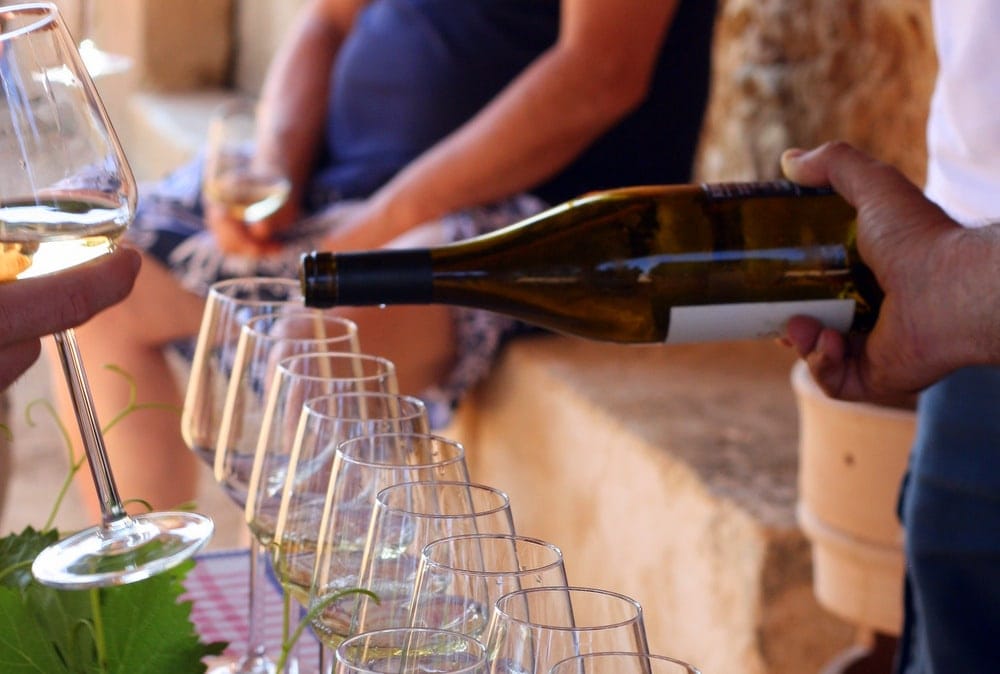 While searching for things to do in Palma de Mallorca, I came across a beautiful website featuring bright green vineyards, smiling people and (importantly) generous pours! Mallorca Wine Tours captured my heart at first glance. I'd been planning to explore at least one of Mallorca's 60 or so bodegas on the trip, and leaving the transport and organization to somebody else was too tempting to resist.
That's how I wound up in the back of a van with Gil, one of the founders of Mallorca Wine Tours along with his brother Julian. He was driving us out to the company's signature tour, the Mallorca Wine Express: Gourmet Tour, which started right at the Jose L. Ferrer Wineries.
He explained that the company began as a sort of accident, the brothers ran a small B&B and had a small vineyard-- a hobby really. But their interest and passion for wine led them to start offering informal wine tours with B&B guests, and before they knew it they had a company on their hands!
Now Gil and Julian pride themselves on offering experiences for all of the island's varied guests, from the affordable trip I was taking (45€ for 4 hours and 8 wines!) to helicopter and bodega tours that are probably well out of my price range!
Jose L. Ferrer Wineries
The first bodega on our itinerary was Jose L. Ferrer, a family run winery since 1931 and possibly the island's most well known. The bodega produces 900,000 bottles a year (a lot for a Mallorca winery where the average is only 30,000 bottles). To compare to a popular Rioja winemaker, Marqués de Cáceres, the latter produces up to 12 million bottles a year (crazy!).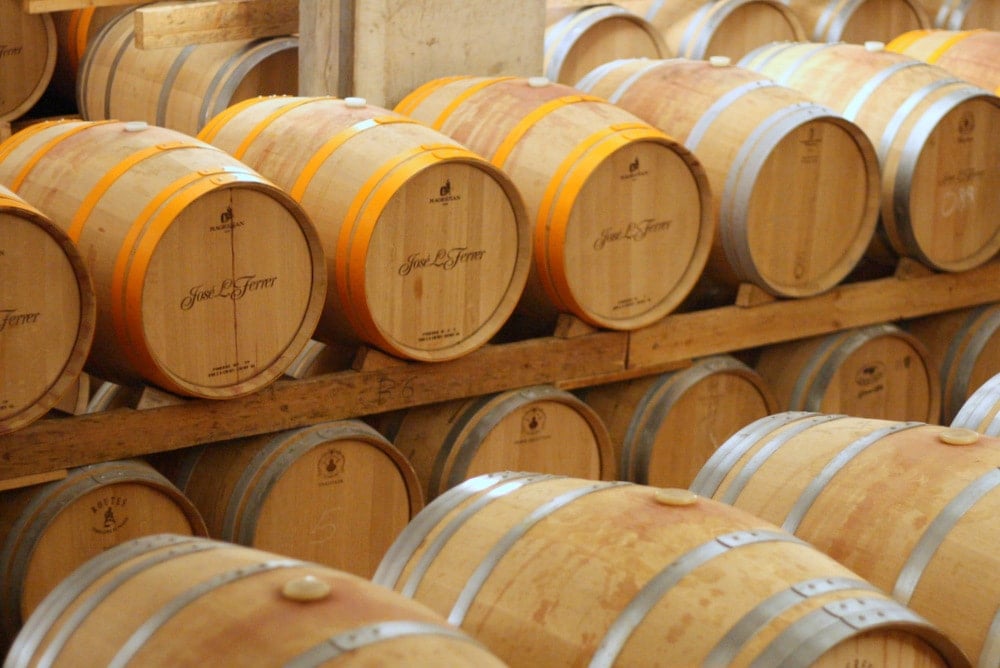 Julian met us there and gave our group of about 15 English speakers (there was another group in German) a tour of the facilities, explaining the wine making process in general terms and the specific challenges that Mallorcan winemakers face when working with local grapes.
After about a half an hour tour, we concluded with our tasting-- 4 wines paired with different tapas (think sobrassada, Menorcan cheese, and local jams) under a gorgeous covered trellis. I was soon tipsy and very happy-- Ale and I were already making plans to leave Madrid behind and live off the land in Mallorca (sounds poetic, but in all likelihood we'd starve-- we are notorious for killing even the healthiest house plants!).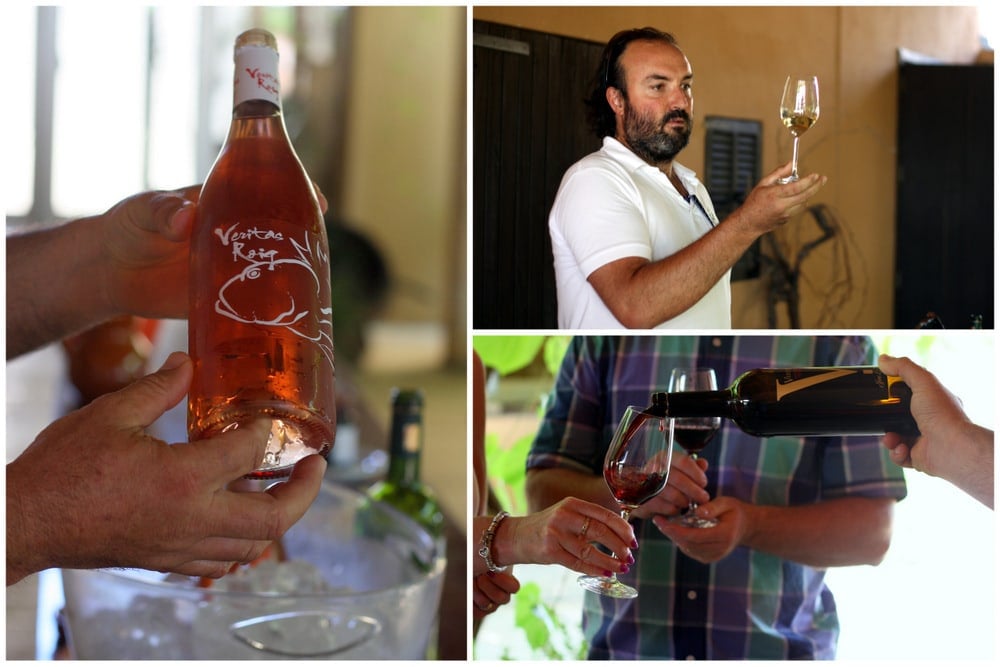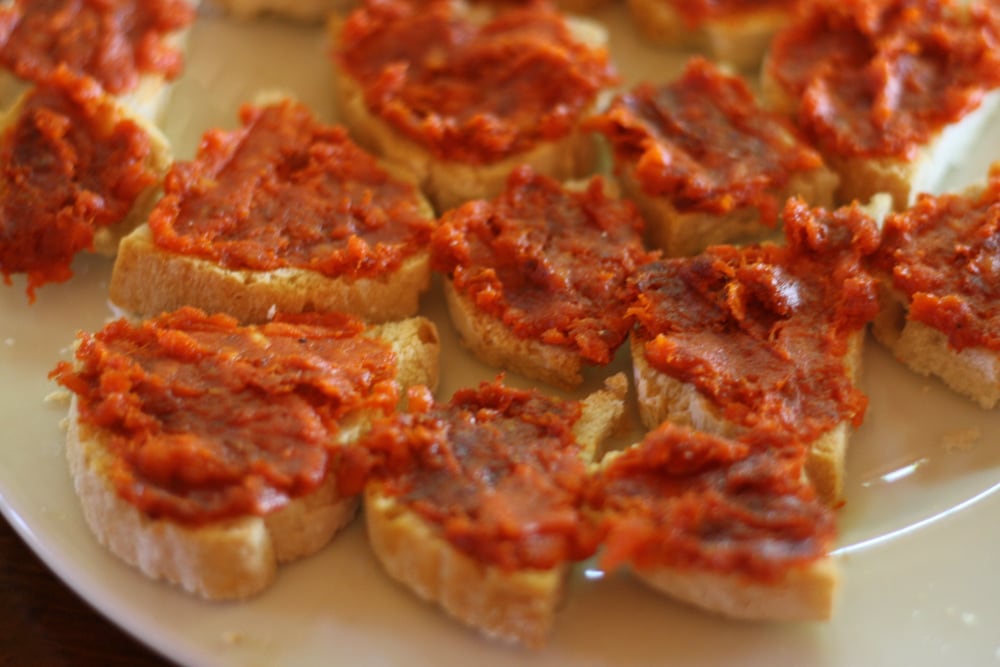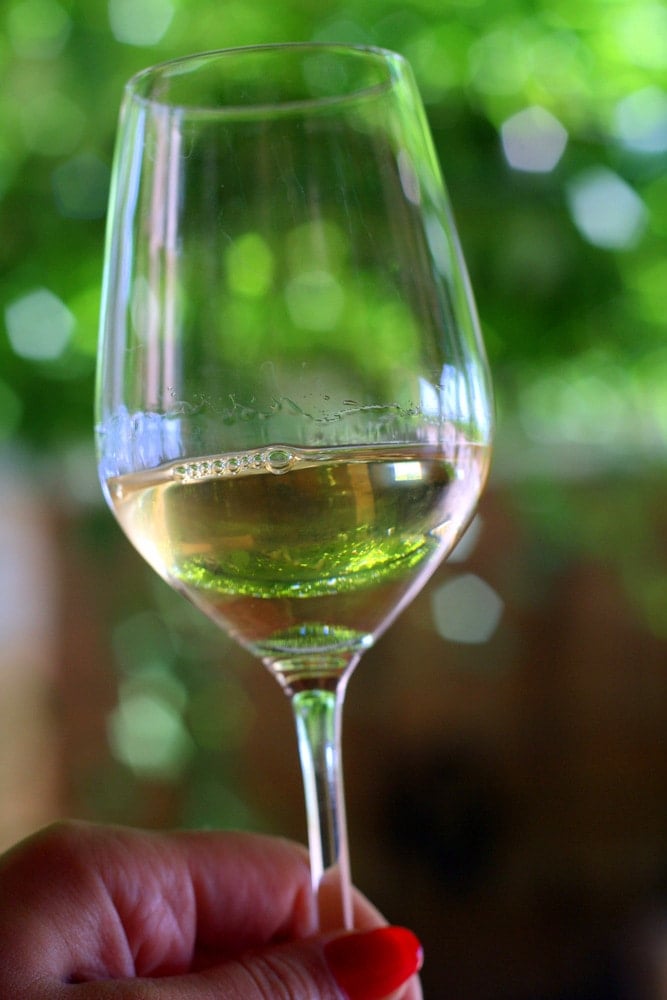 Bodegas Ribas
I realized why the tour was called the Mallorcan Wine Express when I saw what came next. It wasn't because it was an express tour of Mallorcan wine (as I originally thought). Nope-- it was because the brothers had built an mini train to take us to the next winery!
As good tourists would, we hopped on the "train" and enjoyed the 20 minute ride over to the next bodega. Despite the touristy nature of our transport, getting a look at the local scenery was lovely. The afternoon sun, not so much!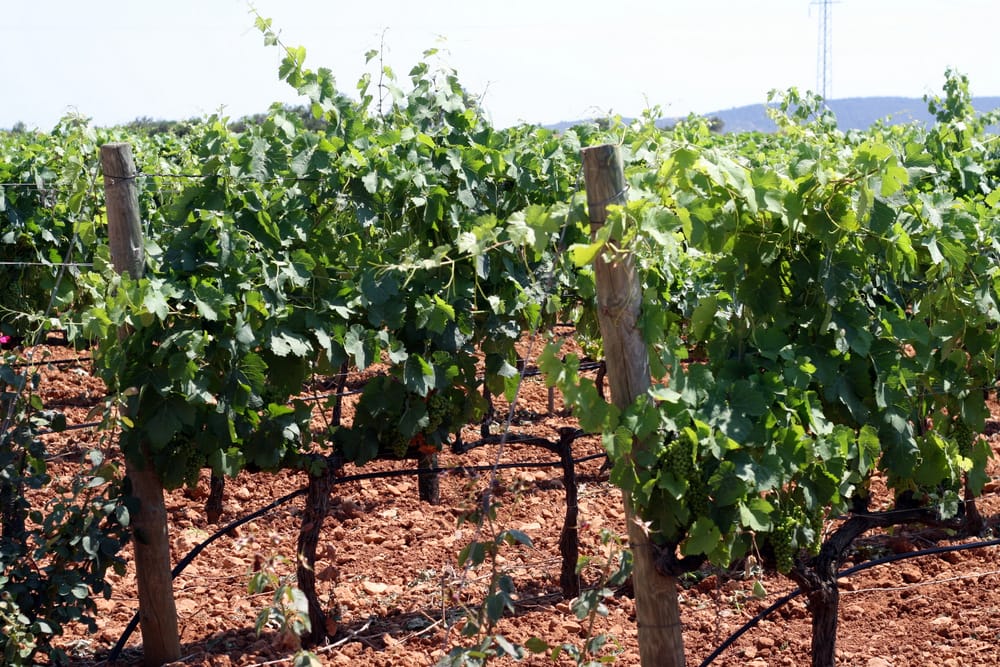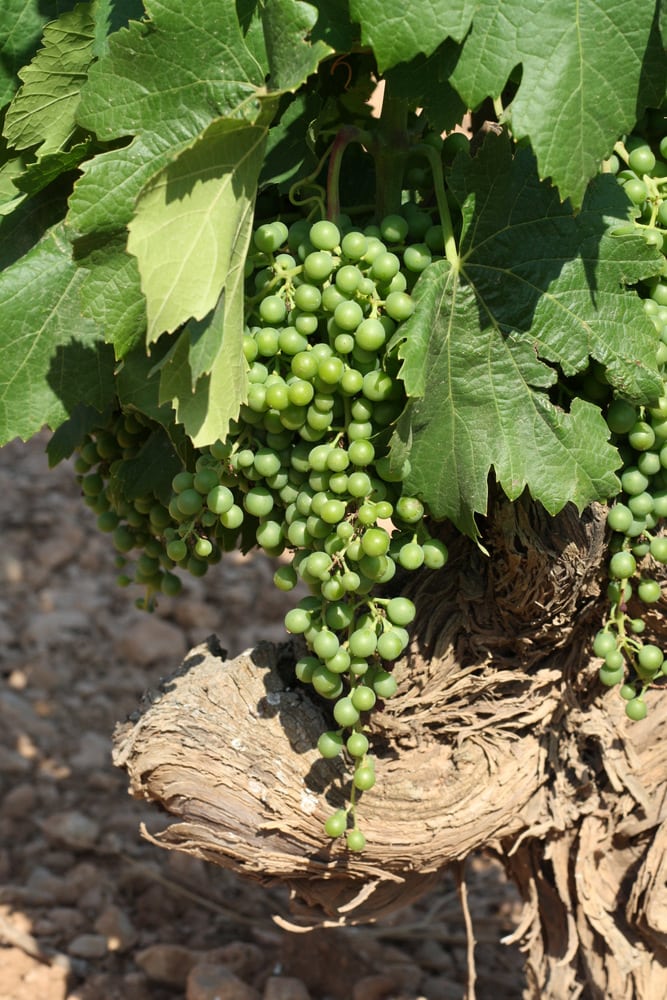 We stopped at the Bodegas Ribas Vineyard where Julian explained the local vines and production process. Bodegas Ribas is the third oldest family run winery in all of Spain-- founded in 1711!
We then tasted another wine with a Mallorcan coca de trampó-- a sort of cold veggie pizza. Delicious. I thought we were done, and accepted a refill-- oops!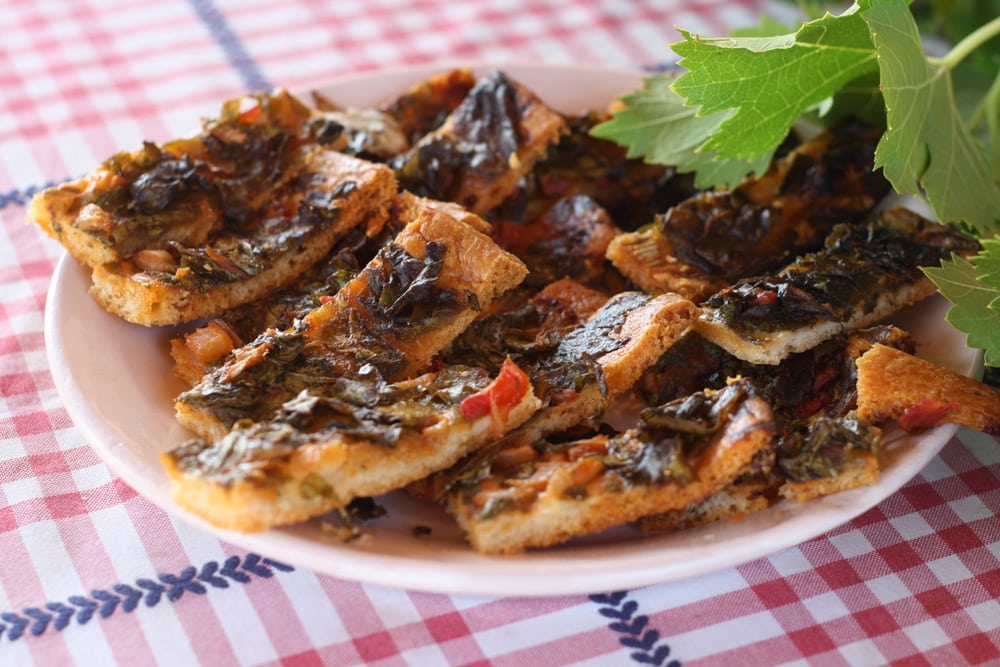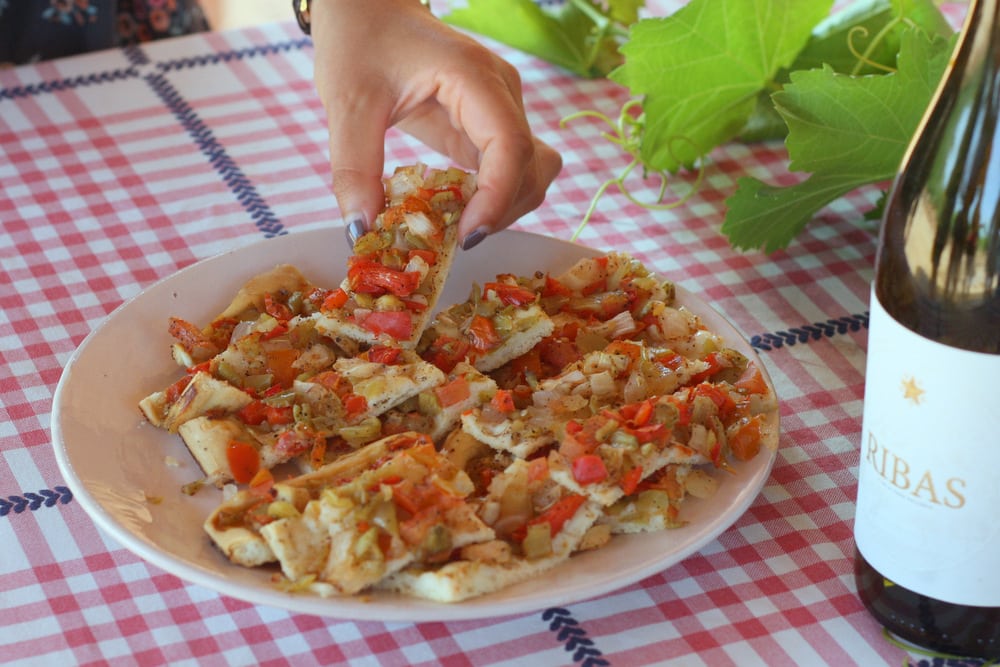 We got back on the train and continued to the Bodegas Ribas Bodega, where we relaxed on their gorgeous outdoor terrace and tried three more wines-- why not?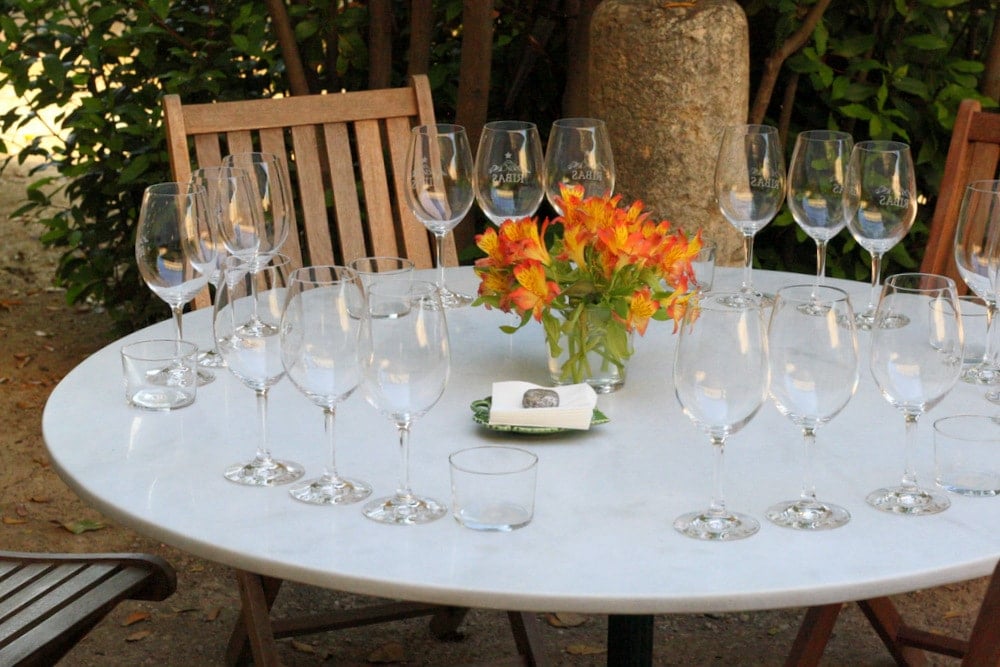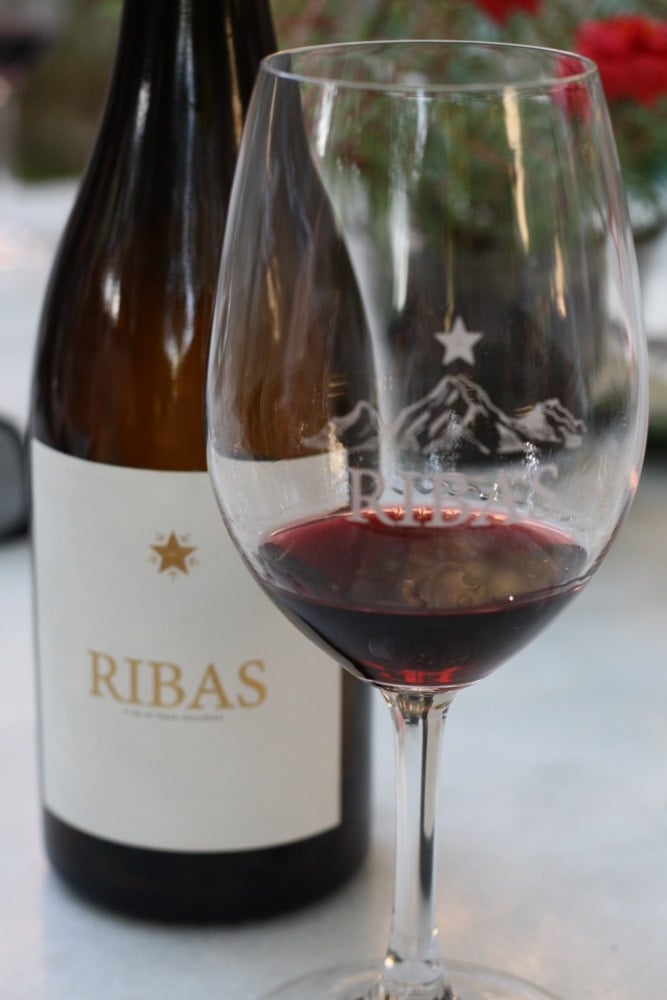 Fun Facts About Mallorcan Wine
Over 100 years before Christ, Mallorca was making wine!
Winemaking continued in Mallorca, even when banned during Arab rule.
Mallorca is currently home to two denominaciones de origen (appellations of origin): Binissalem and Pla i Llevant. There are also vinos de la tierra outside of the DO system.
Manto Negro, Callet and Prensal Blanc are three of the island's native grapes and they are problematic-- they want to oxidize too quickly meaning they have to be mixed with more stable grapes like Cabernet Sauvignon.
In 1891 the phylloxera insect made it to Mallorca, destroying the vines as it did elsewhere in Europe. Of the 40,000 hectares of vineyards at that time 2,500 remain! Much of the land is now used for almond trees.
I fell head over heels for the red wines of Mallorca (though the whites were nice too). Earthy, smoky and full of fruit, I recommend you seek out Mallorcan wines before the world discovers the secret!
I love doing food and wine tours when traveling, and Mallorca Wine Tours didn't disappoint. Our four hour tour with passionate Julian was informative and lots of fun. Eight glasses of wine later (with food) we were truly wishing we could stay forever!
You can book a tour with Mallorca Wine Tours here.
Disclaimer: We received a complimentary wine tour for two, but all opinions (and my new obsession) are my own.