Mallorcan food has an identity all its own. This beautiful island is bursting with fresh flavors, from locally caught seafood and homegrown produce to spicy cured sausages and mouthwatering pastries. Ready to discover this Mediterranean culinary paradise?
The Balearic Islands are a world-famous travel destination, and for good reason. Everybody knows Ibiza for its glitzy villas and luxurious parties. Menorca is famous for isolated coves and picture-perfect beaches. But what about Mallorca?
The largest of the islands, Mallorca's got a little bit of everything—from culture and nightlife to natural beauty—but we're especially obsessed with its food. This place is chock full of local specialties, many of which reflect the unique climate and landscape. Locals will tell you that the sea air infuses every recipe, making it impossible to recreate authentic Mallorcan food anywhere else in the world.
Whether you're planning a trip or hoping to get as close as possible to the real thing from home, here's everything you need to know about Mallorcan food culture.
History of Mallorcan Food
Mallorca belongs to the Spanish autonomous community of the Balearic Islands, an archipelago off Spain's eastern coast. In many ways, these islands exist in their own little bubble, preserving the unique identity that distinguishes them from the rest of the country. In other ways, however, they reflect diverse influences from Spain, Catalonia, and beyond, creating a unique cultural fusion.
Like most of the Iberian Peninsula, Mallorca has been conquered and occupied by several groups throughout its history. At different times this island has been ruled by the Phoenicians, the Romans, the Moors, the Catalans, and the Spanish, among others—all of whom left their mark on Mallorcan food history.
Mallorca has long been known for its olives, wine, salt, and almonds, which were originally imported by the Romans. The Phoenicians introduced wild goats as a food source. When the Moors took over, they helped to improve agriculture through irrigation.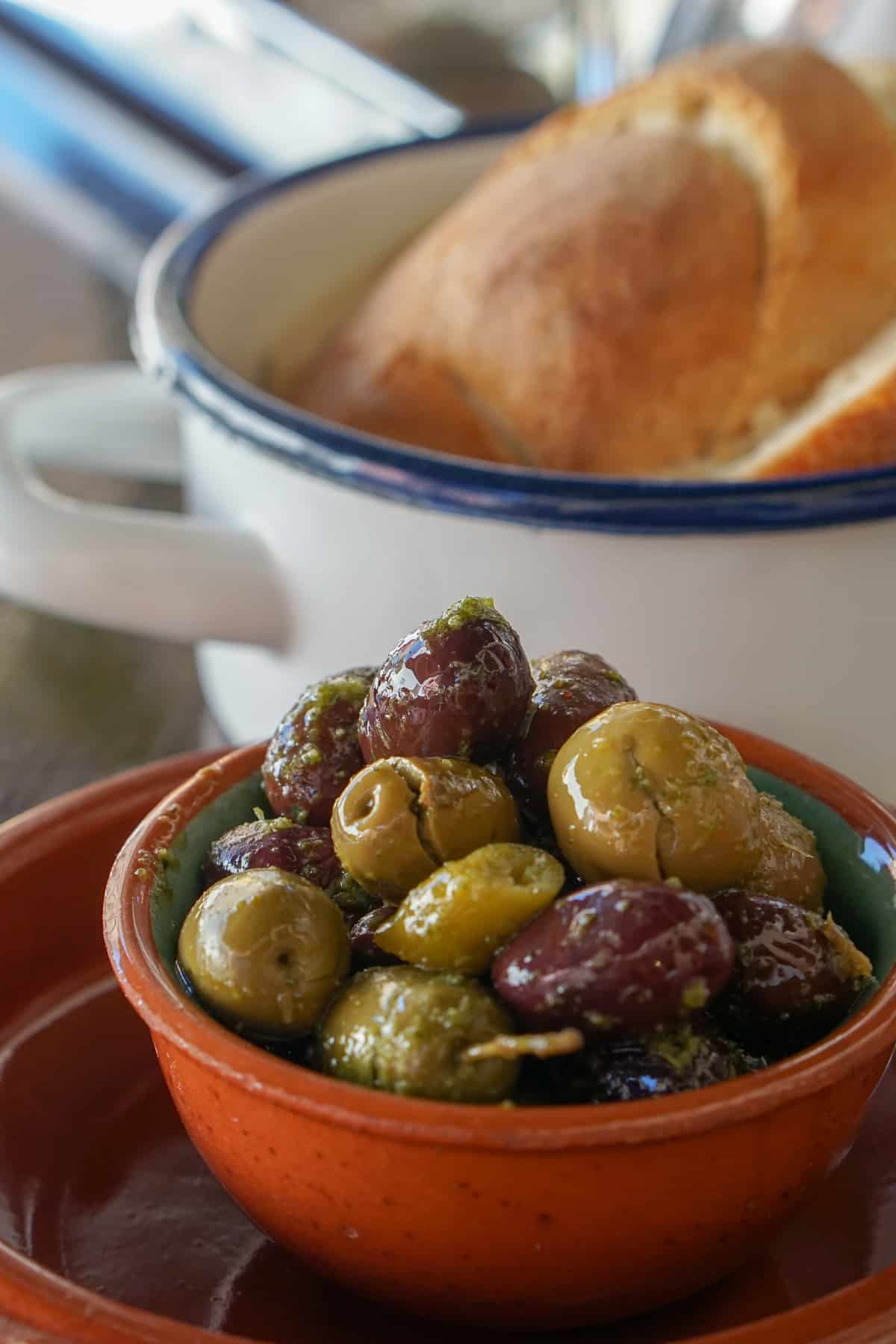 And it's easy to see the similarities between classic Catalan, Spanish, and Mallorcan dishes. Each group influenced the local food in some way, creating an eclectic cuisine that combines disparate elements with the island's own unmistakable flavors.
Today Mallorca is a popular destination for international tourists, offering everything from upscale sushi to molecular gastronomy. But its history still shines through in the classic dishes that define it—revealing a story of adaptation, resilience, and dedication to preserving tradition even in the midst of change.
Mallorcan Food Vocabulary
While most Mallorcans speak Spanish, the local language is a dialect of Catalan known as Mallorquí. But lots of locals also speak English, so you don't need to worry too much about language barriers. And if you already speak Spanish or Catalan, they'll also come in handy!
That said, it can't hurt to learn a few key words and phrases in Mallorquí to help you navigate the island's dining scene. Not only will this make your life easier-- but it'll also show the locals that you have a genuine interest in their language, culture, and cuisine.
Useful Mallorcan Food Words & Phrases
Per favor – Please
Gracies – Thank you
Perdó – Sorry
Bon profit – Bon appétit
Es compte – The check/bill
Puc veure el menu? – May I see the menu?
Tip: Mallorquí is quite different from both Catalan and Spanish, so your best bet is to practice with a local speaker if you really want to get the pronunciation right.
Local Mallorcan Products
Traditional industries in Mallorca include farming and fishing—which makes sense considering the temperate climate and abundance of natural resources. Lots of the products you'll find in Mallorca were grown or made right here on the island, and the best seafood comes straight from the waters that surround it.
Here are a few of our favorite local Mallorcan products:
Sobrassada – This cured pork sausage is one of Mallorca's most famous products. It's distinguished by its bright red color and spreadable consistency—due to an abundance of paprika and unique climatic conditions, respectively. The island's humid, mild weather makes it perfect for curing this particular type of sausage.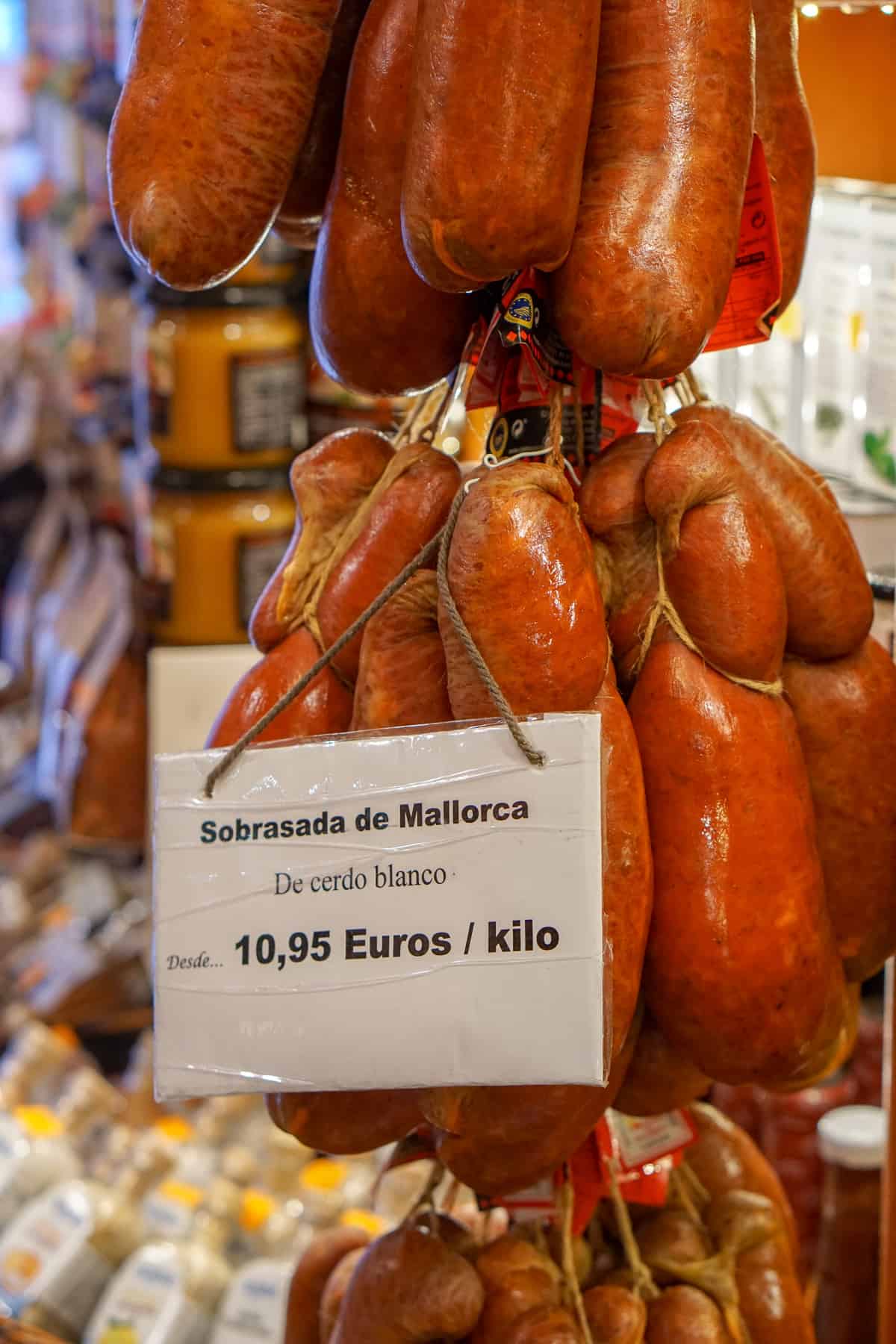 Almonds – This is another local product that benefits from the Mallorcan climate. The island is full of almond trees, making these nuts one of its most important exports. They have a higher fat content than almonds from other places, lending them a special flavor and texture.
Olives – Mallorcan olives come in three varieties: black, green, and split green, the latter of which is slit down one side and seasoned with spices. They're all the same type of olive; the differences are due to the moment when they're harvested and how they're flavored afterward.
Cheese – The aptly named formatge mallorquí (Mallorcan cheese) is a locally produced cheese that's available fresh, semi-cured, or cured. It can be made from the milk of cows, sheep, or goats, which is pasteurized, curdled, and then—in the case of semi-cured and cured varieties—fermented and aged.
Produce – Common fruits and vegetables grown in Mallorca include oranges, lemons, apricots, grapes, potatoes, mushrooms... and many, many more. The Mediterranean climate and soil are ideal for agriculture, which means you can always find fresh, seasonal produce on the island.
Fish – There's no shortage of fresh fish in Mallorca, but we recommend trying the cap roig (scorpion fish), gallo (John Dory), and moll (red mullet), all of which are local favorites.
Lobster – The Balearic Islands are known for lobster, and Mallorca is no exception. You'll find it on plenty of restaurant menus, especially during lobster season in the spring and summer.
Traditional Mallorcan Dishes
Mallorcan cuisine has its fair share of specialties, many of them based on the local products above. These dishes highlight the best of the island's ingredients and reflect its diverse history. Whether you're looking for meat, fish, vegetarian fare, or a simple snack on the go, there's a traditional Mallorcan dish for every craving. Here are some of the best bites in Mallorca.
Pa amb alioli
This is a super simple snack or appetizer, consisting of bread with alioli, a delicious garlic aioli/mayonnaise. Fun fact: Some historians believe that mayonnaise was invented in the Balearic Islands!
Coca Mallorquina
Cocas are delicious flatbreads that can be topped with pretty much anything, which you'll find everywhere in Mallorca. Common varieties feature local vegetables and sometimes sobrassada, but we're partial to coca de trempó...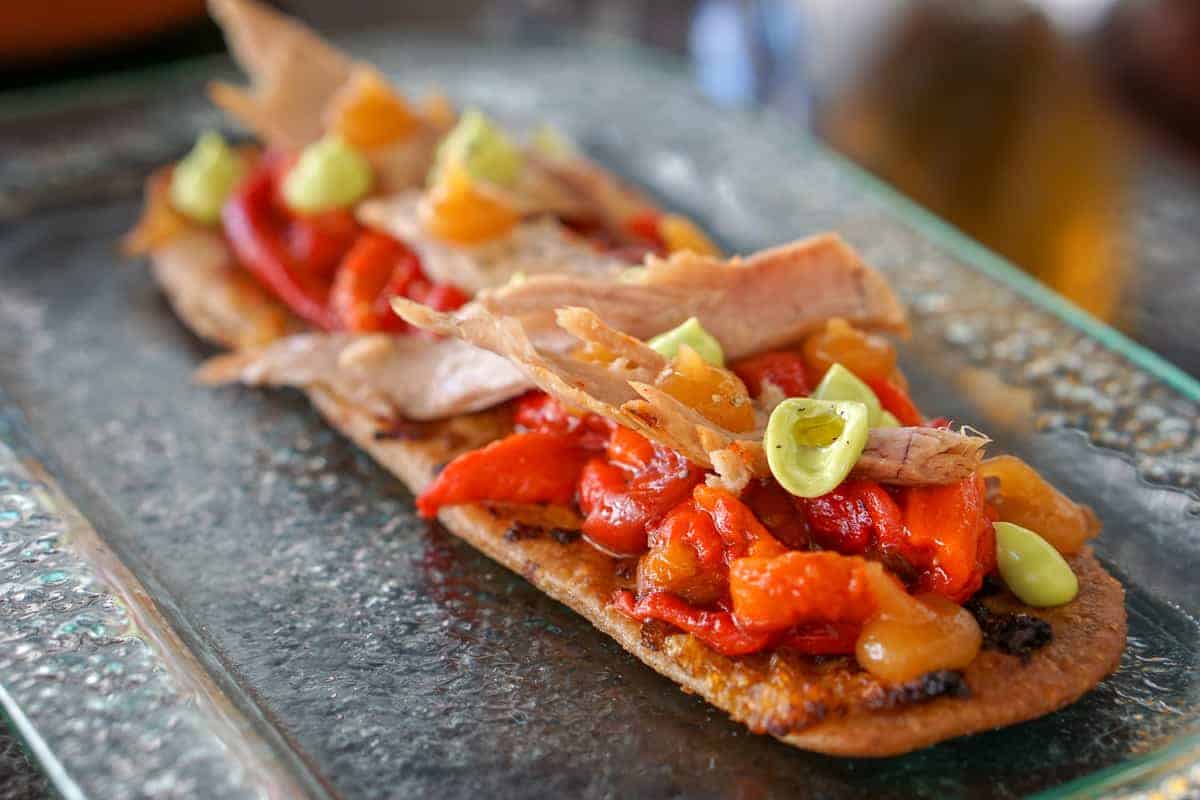 Trempó
This iconic salad is a mix of tomatoes, green peppers, and onion dressed in olive oil and salt. It's the epitome of exquisitely simple Mediterranean cuisine, letting the quality of local ingredients shine through.
Tumbet
Mallorcan tumbet is a combination of sautéed red peppers, eggplant, potatoes, tomatoes, and garlic—similar to French ratatouille, Spanish pisto, or Catalan samfaina. It's a great plant-based dish when eaten alone, although it's sometimes also accompanied by a fried egg, fish, or meat.
Frito Mallorquín
This is a super traditional dish of diced vegetables and potatoes sautéed with small pieces of lamb, pork, or offal. It's rich, hearty, and emblematic of the island.
Arròs brut
Literally meaning "dirty rice," this hearty dish features seasonal vegetables and meats in a rich broth that soaks into the rice. It's kind of like a soupier (and much more Mallorcan) version of paella.
Llom amb col
Llom amb col consists of cabbage rolls stuffed with pork, pine nuts, and raisins, then cooked with tomatoes and wine until tender.
Caldereta
This is a typical stew that can feature various types of seafood, though lobster is especially common. It's a must-try on any trip to Mallorca—look for caldereta de langosta on local restaurant menus.
Caragols
Caragols are snails are boiled in water with lots of herbs, often including mint, fennel, and oregano. They're kind of like Mallorcan escargot, but with their own distinctive flavors.
Pica pica
This is a stew of squid or cuttlefish made with tomatoes, onion, and garlic. It's one of the most unique Mallorcan tapas to try!
Burballes
This soup is named after a traditional type of pasta (also called burballes) in the form of long strips, which can either have smooth or squiggly edges. The soup also contains rabbit, lamb, goat, or other meat.
Mallorcan Pastries & Sweets
If you've heard of one typical Mallorcan dish, it's probably a pastry: the legendary ensaimada. But Mallorcan bakeries offer much more than this specialty. Whether you're craving something sweet, savory, light, or indulgent, the island's many pastry shops have got you covered. Here's a selection of our favorite Mallorcan desserts and baked goods.
Ensaimada
The ensaimada is the king of Mallorcan pastries! This large, spiral-shaped treat is made with lard and dusted with powdered sugar. It's a popular souvenir in Mallorca, as locals insist that it's not quite the same when made anywhere else. If you notice a lot of tourists carrying large octagonal boxes, they're probably packing ensaimadas.
Panades
This is a kind of Mallorcan empanada, usually round in shape and stuffed with meat and vegetables. The traditional version with lamb, pork, and peas is especially popular at Easter.
Cocarrois
This is another, slightly different type of empanada, which is also a classic Easter treat. It's shaped like a half moon and commonly filled with cabbage, cauliflower, peppers, and pine nuts.
Carquinyols
Carquinyols are crunchy almond cookies that you can find in most bakeries and markets across the island. They're one of the best ways to enjoy Mallorca's locally grown almonds!
Bunyols
These are basically Mallorca's take on doughnuts, made from a potato-based dough and coated in sugar. They're especially popular at the local festivals celebrated in autumn.
Coca de cuarto
Coca de cuarto is an impressively fluffy cake made with eggs, sugar, and potato starch or corn starch. It's super light and spongy in texture.
Coca de patatas
This is a sugary roll made with boiled potato and lard—much more delicious than it sounds!
Rubiols
These crescents of sweet dough filled with homemade jam, cream, or chocolate are especially common at Easter.
Greixonera de Brossat
This is a special kind of cheesecake made from brossat, a fresh cheese that can best be compared to cottage cheese. It's often topped with powdered sugar and cinnamon.
Pastís de pobre
This delicious cake consists of layers of cream and puff pastry. The top is covered in burnt egg yolk, with shredded coconut on the sides.
Sorbet
If you're looking for something a bit lighter (but still sweet), the fruit sorbet at Ca'n Joan de S'Aigo is a refreshing treat to balance out all those pastries!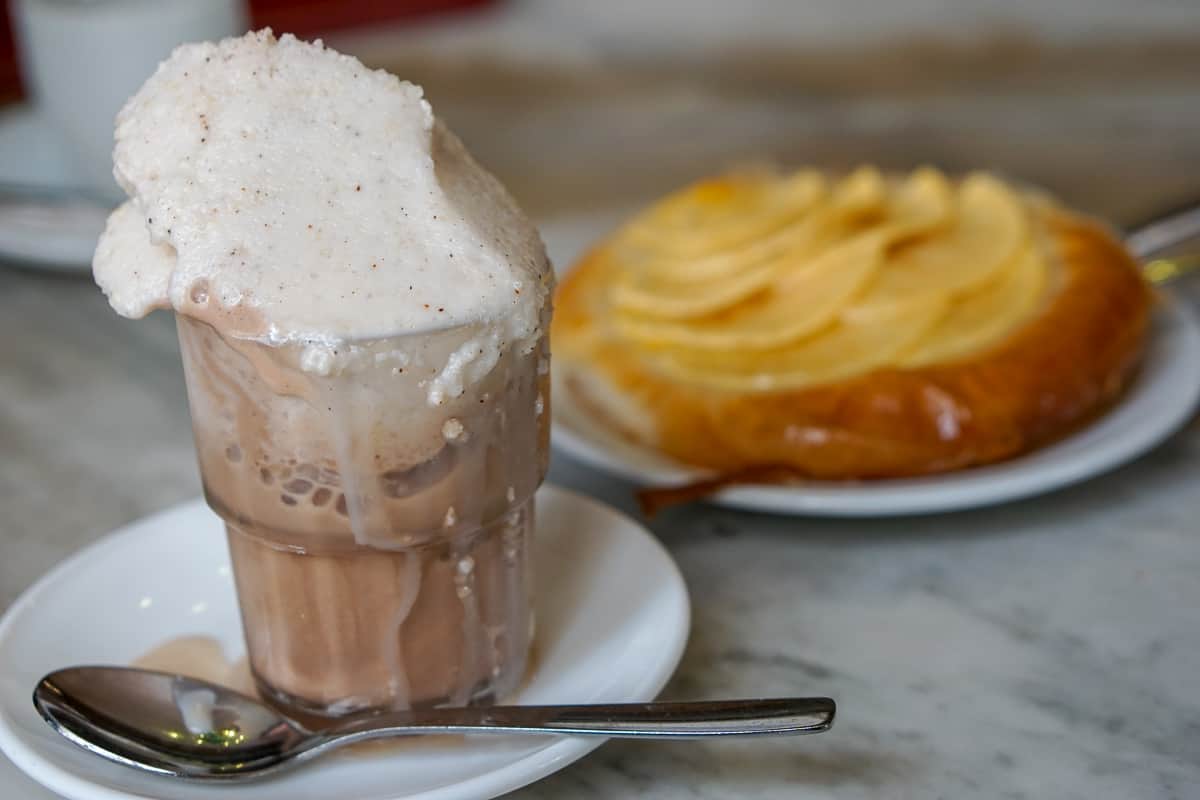 Popular Mallorcan Recipes
Mallorcan locals swear that certain dishes simply don't taste the same anywhere else—but that doesn't mean we can't try! It's not always possible to hop on a plane to the Balearic Islands, of course, and that shouldn't stop you from enjoying Mallorcan food at home. To help get you started, here are a few Mallorcan recipes that are easy enough to recreate in your kitchen.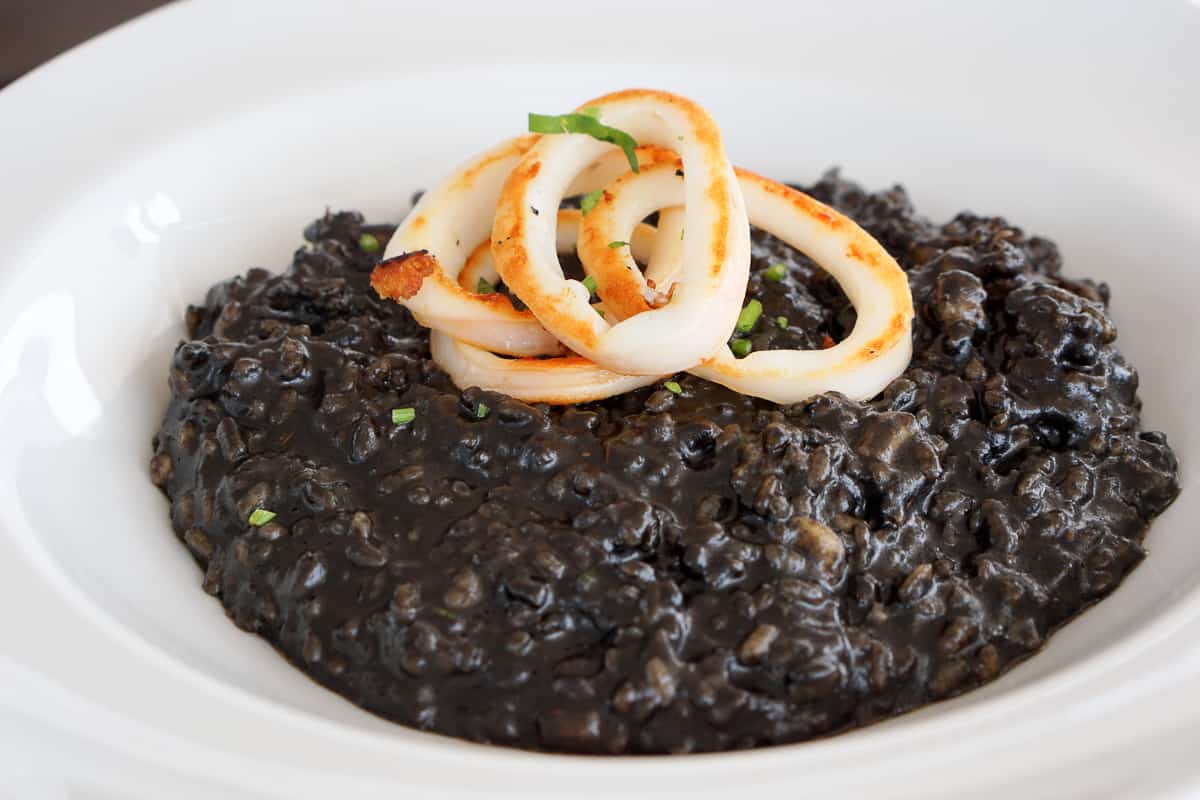 Mallorcan Tapas Culture
Mallorca's tapas culture mostly stems from Catalan and Spanish influence, but the island has made this tradition its own. It's full of lively tapas bars that fill up with locals every evening, especially in the capital city of Palma. You'll find everything from century-old tabernas to trendy hangouts, plus quite a few hidden gems.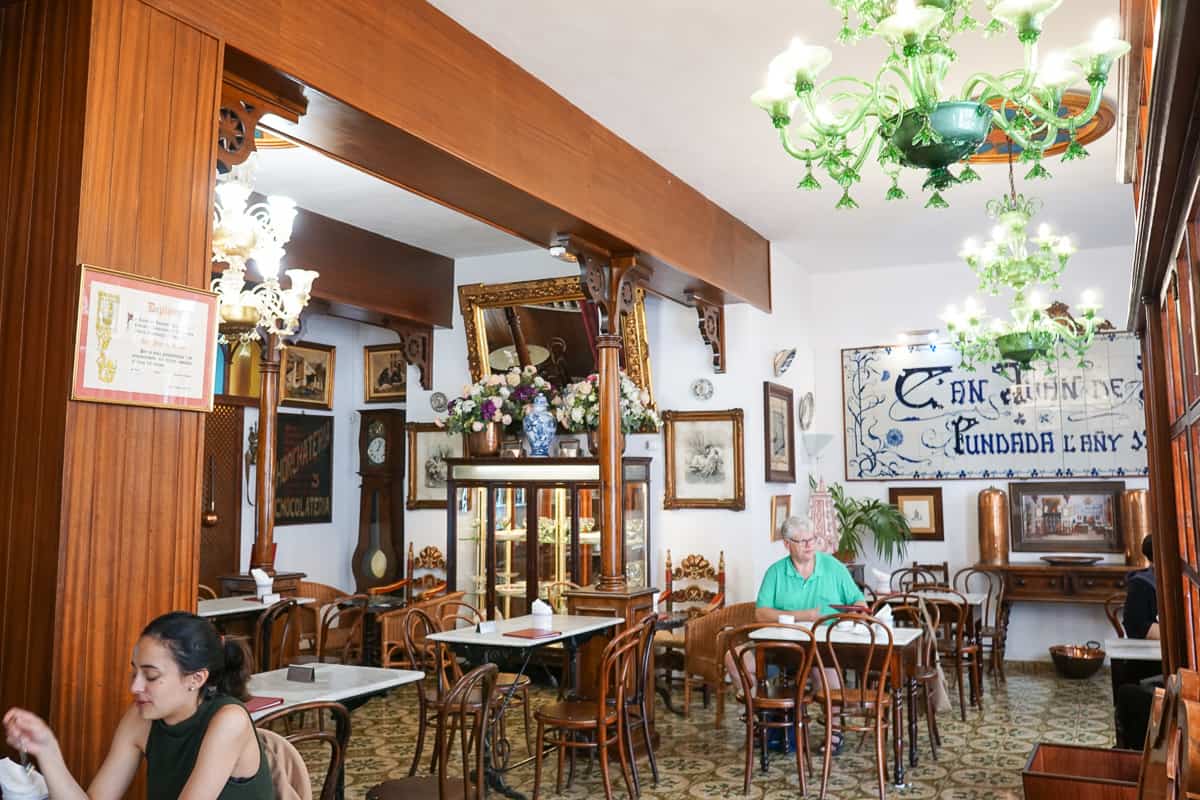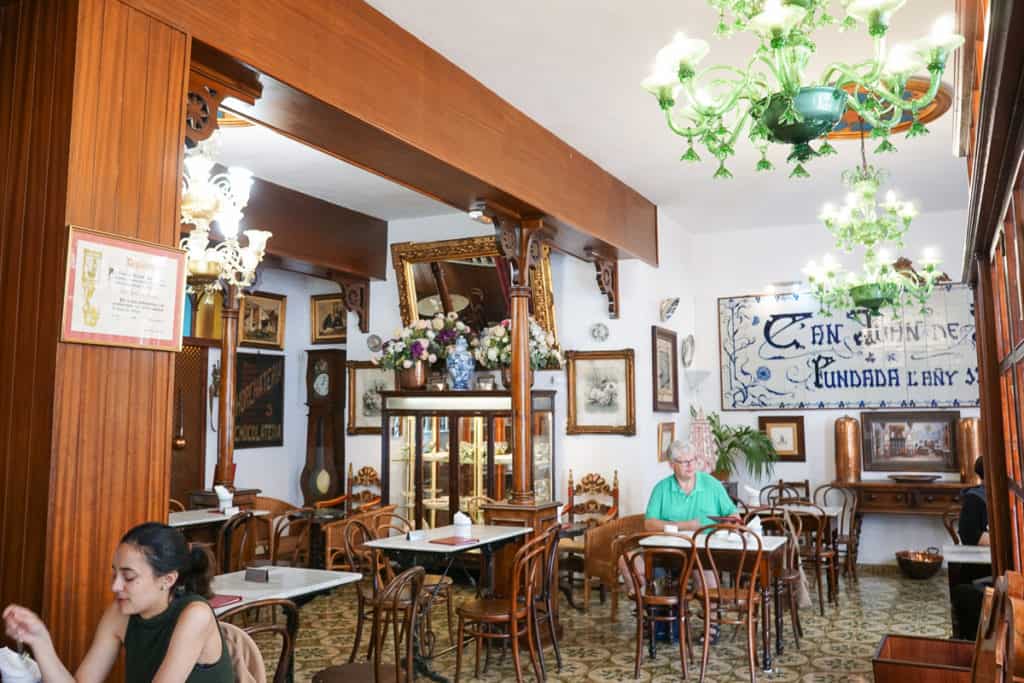 Mallorcan tapas often feature local ingredients and products, such as fresh vegetables, locally made cheeses, and cured sausages. We recommend trying anything with Mallorcan sobrassada (especially when spread on bread and drizzled with honey), trempó, or alioli. A dinner of light tapas and a few rounds of drinks is the perfect way to end the day in Mallorca—especially if you've indulged in a heavier lunch like arròs or caldereta.
Tip: If you're looking for a place to stay in Mallorca, we highly recommend Cas Xorc and Santa Clara Hotel, both of which are ideal for food lovers!
Mallorcan Wines
Mallorcans have been making wine for thousands of years, and it shows. The locally produced wines are delightfully unique, with two denominaciones de origen protegidas: Binissalem and Pla i Llevant.
Native grapes include Manto Negro, Callet, and Prensal Blanc, which are often combined with other varieties to keep them from oxidizing too fast. We especially love the island's red wines, which you can sample on a Mallorca wine tour.
Another common Mallorcan drink is hierbas, a liqueur flavored with herbs like anise, chamomile, mint, fennel, and more. This strong spirit is often served as an aperitif before a meal or a digestif afterward, and the alcohol content and level of sweetness can vary. Many local families still make their own hierbas at home!
Mallorcan Food FAQs
What food is Mallorca famous for?
The most famous Mallorcan food is probably the ensaimada, a spiral-shaped pastry made with lard and dusted in powdered sugar. Some people say that the salty sea air and humidity cause the dough to rise differently here—making it impossible to get an authentic ensaimada anywhere else in the world. Other traditional Mallorcan foods include arros brut, trempó, coca, tumbet, cocarrois, frito mallorquí... the list goes on and on.
What language do they speak in Mallorca?
There are two co-official languages in Mallorca: Spanish and Catalan. However, Mallorcan locals speak a unique dialect of Catalan called Mallorquí. If you're traveling to Mallorca, you'll probably be able to get by with English—but it never hurts to learn a few words and phrases in at least one of the local languages!
How long is the boat ride from Barcelona to Mallorca?
It takes between 6 and 8 hours to travel from Barcelona to Mallorca by ferry. The exact time varies according to the type of boat you take and whether you're going to Alcúdia or Palma. Alcúdia is a bit closer to Barcelona, as it's located on the island's northeast side, whereas Palma is in the south.
What is the difference between Majorca and Mallorca?
This is just a difference in spelling! Mallorca is the island's official name in both Catalan and Spanish, while Majorca is the Anglicized version of this word. The pronunciation is also the same, and both spellings are technically correct, but you're more likely to see "Mallorca" on the island itself.
Is eating out in Mallorca expensive?
Like any popular tourist destination, Mallorca can be expensive or affordable depending on where you choose to eat, drink, and stay. As it's the capital, Palma is usually a bit more expensive than the rest of the island. But no matter where you go, you can find reasonable prices—just try to avoid tourist traps and seek out low-profile local spots instead.
Hungry for more? Sign up for my free weekly newsletter and receive a new Spanish recipe once a week! Join today and get my FREE Spanish ingredient essentials guide!