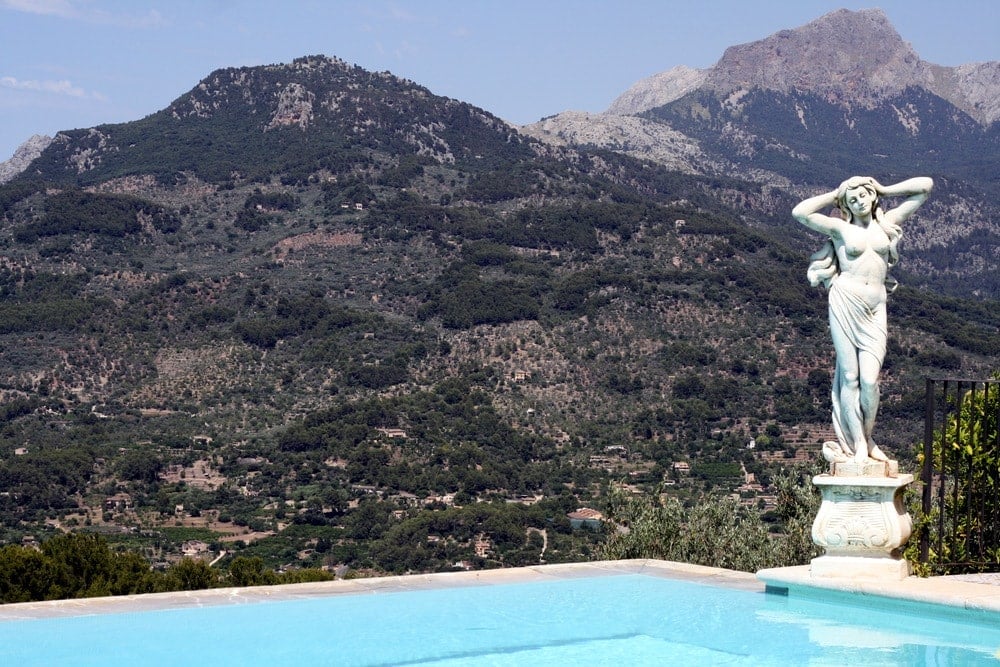 Have you ever stayed at a place so beautiful that you could imagine staying forever? I recently had the pleasure of staying at Cas Xorc Boutique Hotel in Mallorca's Tramuntana Mountains and began to seriously consider asking for a job!
History
Winding up the narrow and curvy mountain road, I feared we would never actually arrive at Cas Xorc, a beautiful looking agroturismo (country hotel) nestled deep in the mountains of Mallorca. When we finally pulled into the tiny parking lot, we made the wise decision to not move the car until we had to leave,-- two days later!
As we wheeled our suitcases to the front door of the hotel, I was immediately enchanted. I'd told Ale that we were staying somewhere very "Instagrammable" and indeed we were. Every corner of the renovated farmhouse and its grounds was begging to be photographed.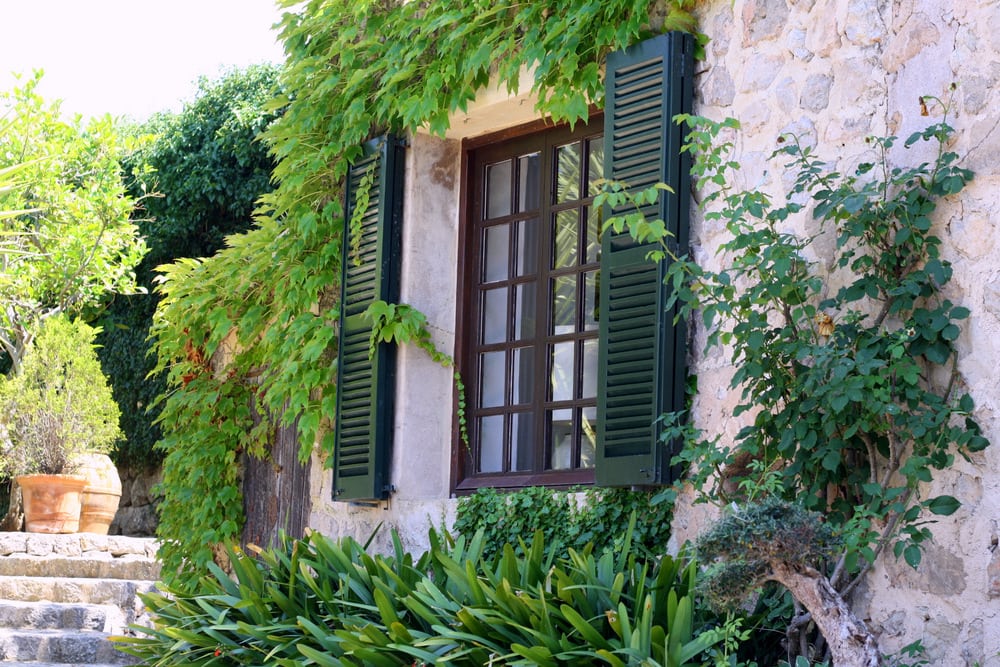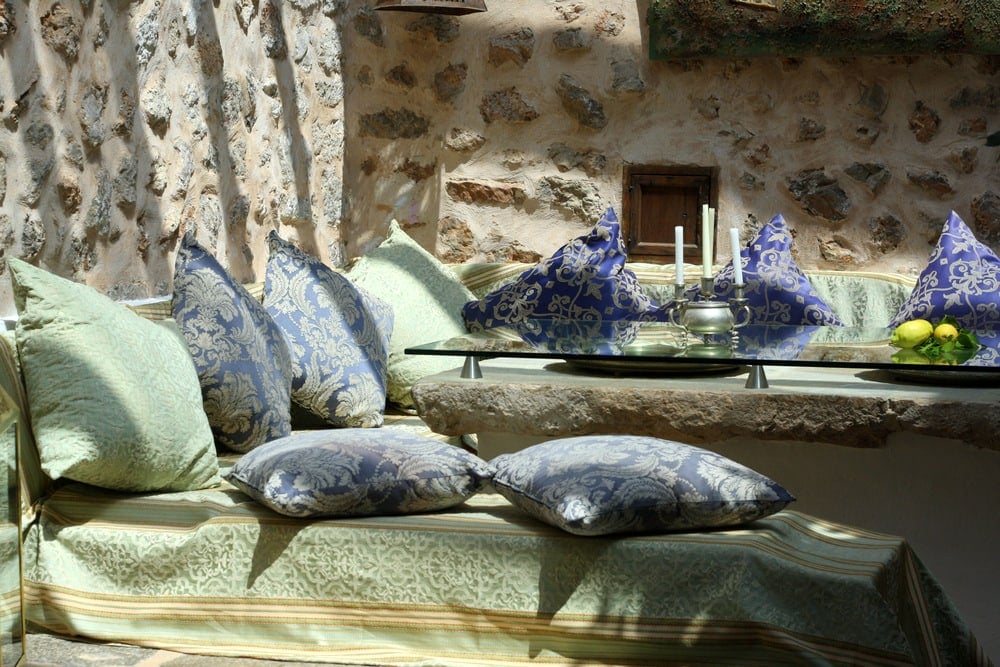 Cas Xorc is a former olive mill (which is still on display as the main feature of the indoor dining room) and was built in 1790. In 2000 Klaus C. Plönzke fell in love with the estate, and began to painstakingly restore Cas Xorc to become the incredible boutique hotel and restaurant it is today. No detail was left untouched, and the grounds (still filled with local hundred year old olive trees) are immaculate. Today it's managed by a lovely man named Iñigo who was there to greet us and give us a tour of the property.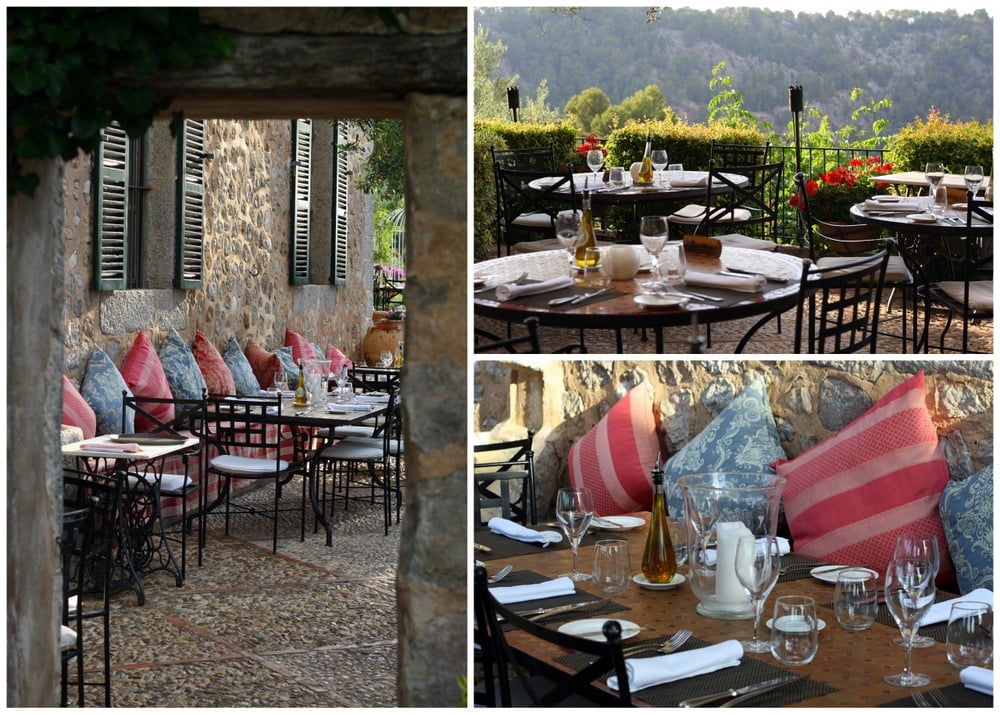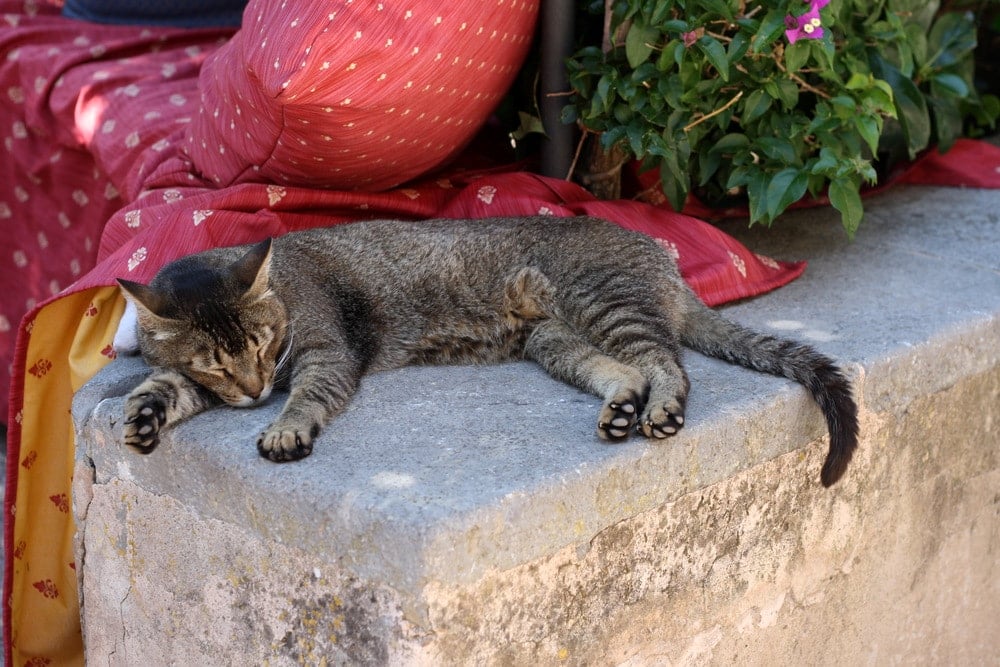 Rooms and Amenities
There are a total of just 15 rooms at Cas Xorc, which sleep about 35 guests. We stayed in a standard room and it was absolutely charming. Spacious enough to never feel claustrophobic, it had a beautiful bathroom (including a rain head shower), and a comfortable double bed. To be perfectly honest, we didn't spend too much time in here (the grounds were just too pretty!) but it was certainly a great place to relax.
Location
The location of Cas Xorc Boutique Hotel is absolutely stunning. Less than an hour from Palma, yet smack in the middle of the Tramuntana Mountains, the hotel is accessible only by winding mountain roads and it is truly a place to escape. The views of small towns like Soller and Puerto de Soller, complete with a sweeping view of the Mediterranean Sea, make it one of the most amazing places we've ever stayed. Their infinity pool is my definition of perfection.
Our Stay
We spent a very relaxing two days at Cas Xorc, but it wasn't nearly enough. We woke up each morning and enjoyed a leisurely breakfast on the outdoor terrace. One day we made full use of the pool and lounge chairs before a delicious dinner, and then next we opted for a hike to the towns of Soller and Puerto de Soller-- a hot walk in the June sun, but doable and fun nonetheless.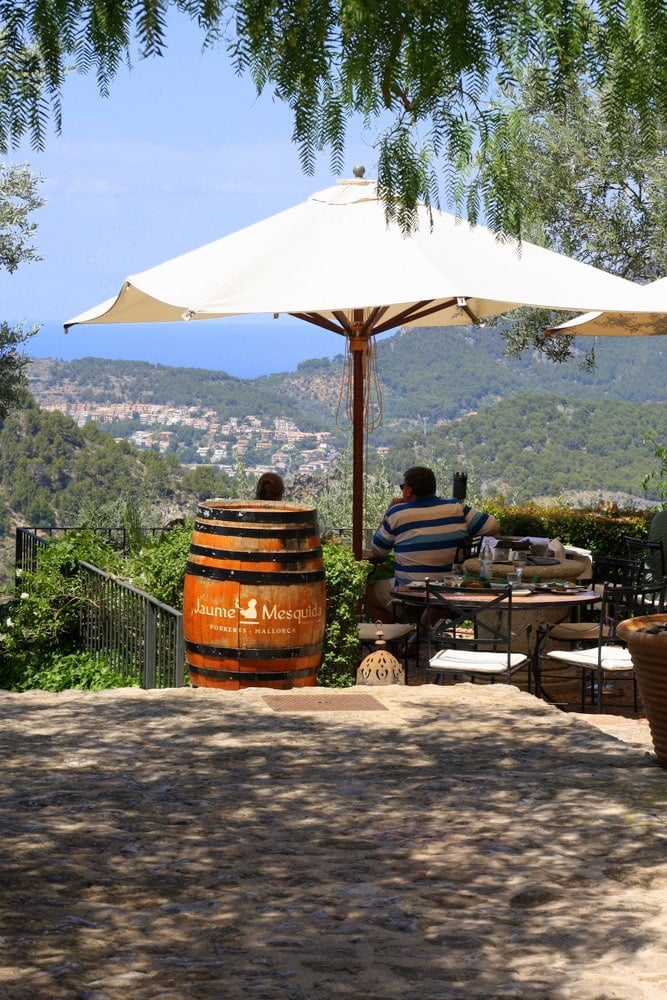 Hike Tip: If you happen to stay here and do the same hike, it is about an hour to Soller and another hour to Puerto de Soller (we walked a bit slow because of the sun). But you can also take the tourist train from Soller to Puerto de Soller (and back if you wish), cutting walking time in half!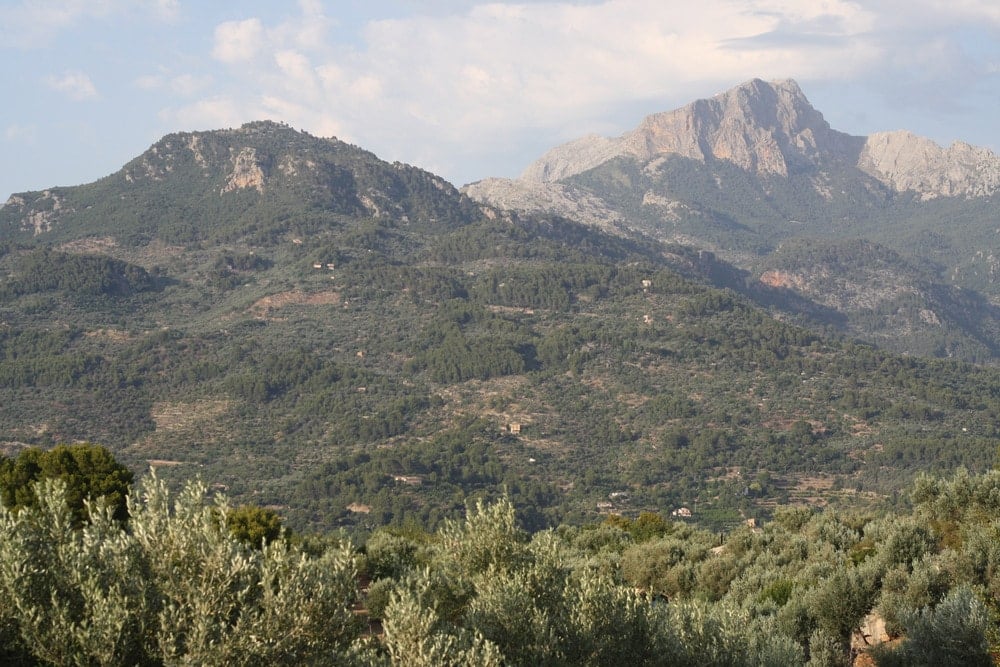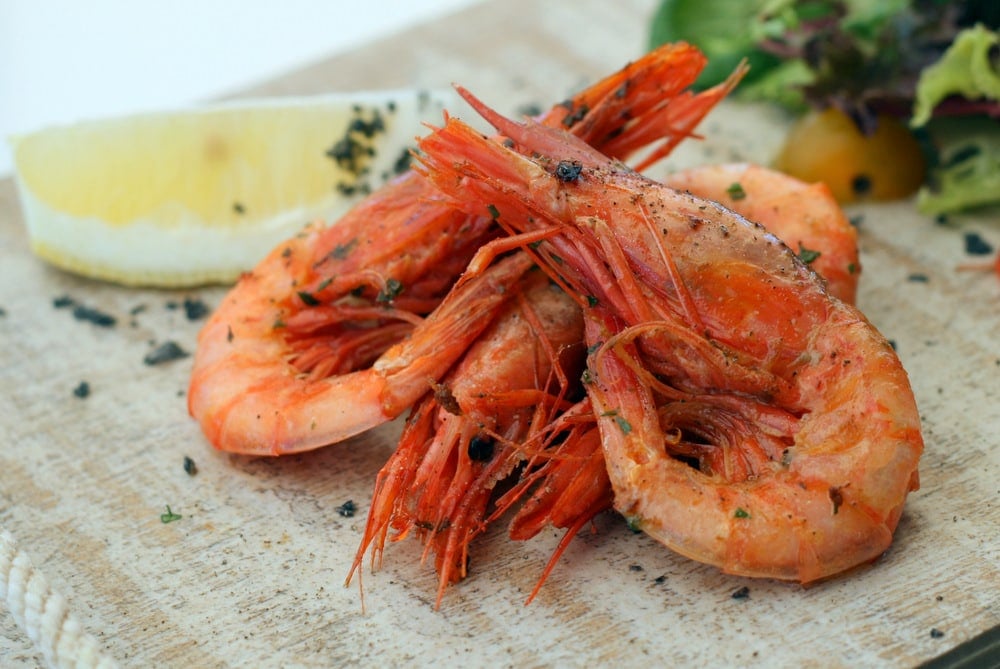 For Foodies
Cas Xorc is a dream come true for food lovers. Surrounded by olive trees, the hotel stays true to its roots and makes a signature olive oil and black olive tapenade (click for recipe!). They employ fantastic local chefs in the kitchen, and offer an eclectic and always changing menu, a fresh and local breakfast buffet, a great wine list... what more could you ask for?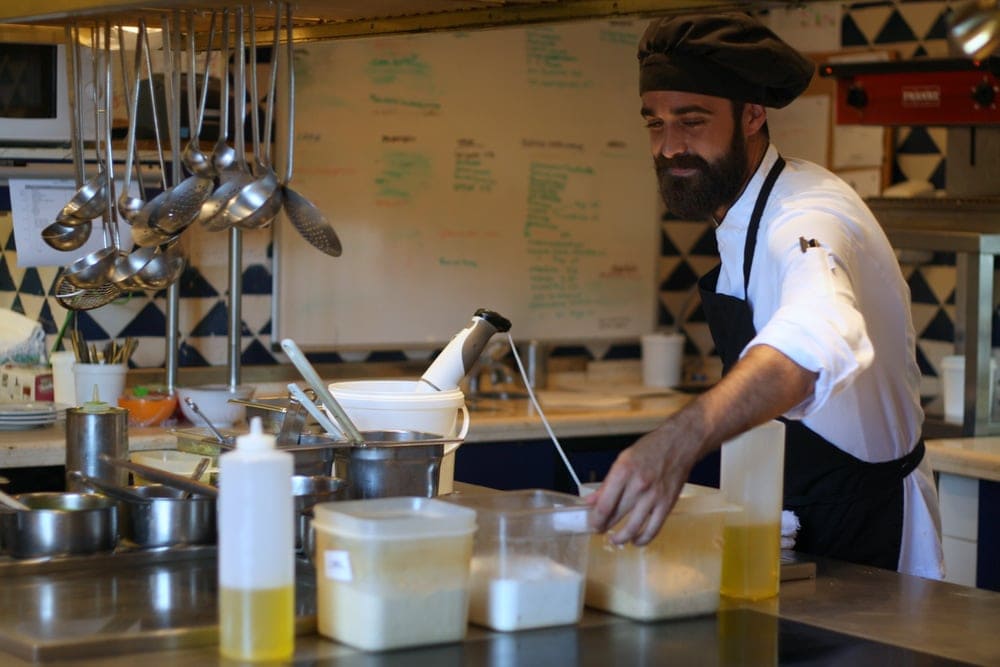 When we first arrived, it was lunchtime, and we'd already decided that we wouldn't be hopping in the car again. We sat down on the terrace and ordered a delicious rice with monkfish and a glass of wine. It was a perfect start to our perfect stay.
Breakfast was also delicious, freshly squeezed juice from local oranges, warm breads with delicious Mallorcan charcuterie (including my favorite, sobrassada), fresh fruit and yogurt, eggs prepared to order, and great, GREAT coffee (so important). We always planned to eat a light breakfast, but somehow things never worked out that way...
We also had dinner at the Cas Xorc restaurant both nights-- and had to reserve early each morning as 90% of the restaurant guests aren't staying at the hotel! This allowed us to try a variety of the dishes on their small menu, which features a mix of international and Mallorcan flavors featuring local products. Iñigo told us that they always try to give their guests an experience that they wouldn't be able to find in their home country and they constantly change and modify the menu. Everything was delicious (Ale said it was his favorite meal of the year!) and the wines we drank with our meals matched perfectly. I was crazy about their passion fruit dessert-- if you go you must order it.
Unforgettable
Cas Xorc is one of the most relaxing hotel stays I've ever enjoyed. Their beautiful grounds, amazing views and warm hospitality was simply unforgettable.
Being there really made me think-- why do I live in a city? Should I move into the mountains and restore an old farmhouse? Have a small veggie garden? Live off the land? This all sounds so tempting, but I'm sure it would be more work than imaginable in the end!
So I won't be making such drastic changes right now, but perhaps I'll take a yearly vacation to Cas Xorc while I weigh the pros and cons!
Cas Xorc Boutique Hotel and Restaurant
Carrer Deia, 1, Mallorca
I was graciously hosted for my two nights at Cas Xorc, but all opinions, photos and gushing praise are genuine and my own.