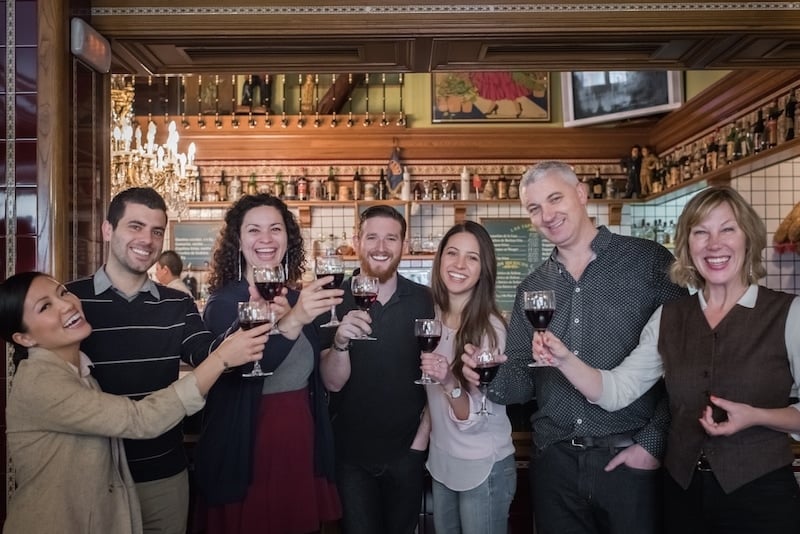 My days lately have been filled with wine-- lots of it. From big, full-bodied Spanish Rioja to crisp Chablis, and nutty sherry, I've been tasting as much as possible the past few weeks. And it's not just the fact that I love wine (which I do) but I'm actually studying for the WSET level 3 exam-- a challenging feat that I hope to accomplish in July. So where have I been studying? Luckily my job allows me many opportunities for wine tasting in Madrid! Read on for my top picks...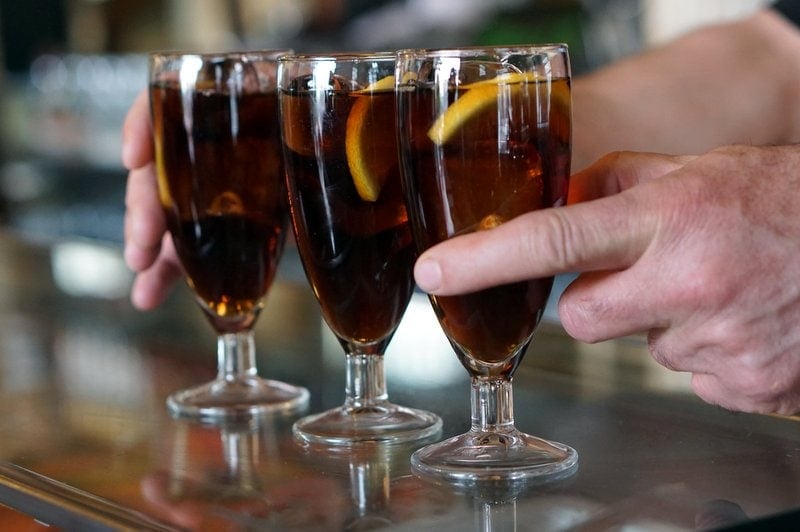 Wine Tours and Wine Tastings in Madrid
Secrets of Spanish Wine Tasting Experience: What if I told you that you could learn the lay of the land when it comes to Spanish wine in six delicious glasses? You can at Devour Madrid's wine tasting experience, offered in our underground wine cave! Bookings must be made in advance, and tapas are served with the wines.
Madrid Tapas & Wine Tasting Tour: Our newest Devour tapas tour, our Madrid tapas and wine tasting tour features four of Madrid's best tapas bars as the venues where guests will taste eight of Spain's distinct wines. This tour is the perfect intro to Spanish wines and wine culture for beginners, or a further exploration of regional styles for those who are already initiated! Tastings include vermouth, cava, rosé, red wine (3 different ages), white wine, & dessert wine.
Madrid Uncorked Spanish wine tastings in English: Funky and fun, Madrid Uncorked offers monthly wine tastings for around 20€, including a tasting of four unique Spanish wines and snacks to accompany. The tastings go by theme-- think "Rioja vs. Ribera del Duero", or "A Whiter Shade of Wine".
Private Madrid wine tasting: Devour also offers private wine tastings in Madrid by request-- get in touch here!
Reserva y Cata: A great little wine shop in the Chueca neighborhood that does frequent thematic tastings (usually in Spanish) but can also offer English tastings by request.
Enoteca Barolo: My favorite wine shop in Madrid, Enoteca Barolo is a bit of a trek, but the selection is worth it. Their schedule of catas (also in Spanish) is pretty impressive, including tastings of rare and international wines.
See also: 5 of my favorite wine bars in Madrid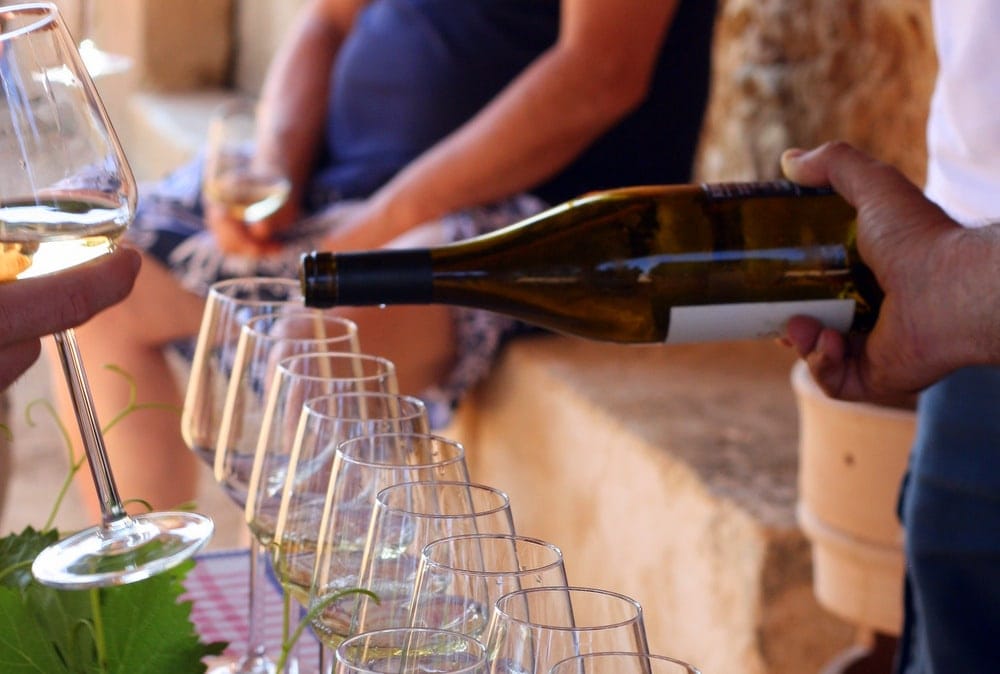 Shops & Bars
While not really places to do a geeky, spitoon-ready wine tasting in Madrid (more like wine drinking or wine buying!) these are still great places to taste and buy Spanish wines.
Casa Gonzalez: Part shop part bar, I love visiting Casa Gonzalez to drink wine and then buy wine. Their small but curated selection features some great choices-- I especially love their selection of white wines from Penedés. We feature Casa Gonzalez on our daytime Madrid food tour, where participants have a wine tasting of Monsant (a delicious Spanish red) and Albariño (one of Spain's most famous whites)
Dónde Sanchez: Nestled in the incredible Antón Martín Market, Dónde Sanchez offers a wonderful selection of wines by the glass, perfect for pairing with some of the country's best cheese or cured meats. Luckily, everything is available for sale-- it's a great place to try before you buy!
Los Rosales: This is a beautiful, semi-new wine shop in Madrid in the gorgeous Literary Quarter. Their selection is excellent (though completely Spanish focused). They offer mainly mid-priced to premium priced bottles here, so don't come for a mixer for your tinto de verano!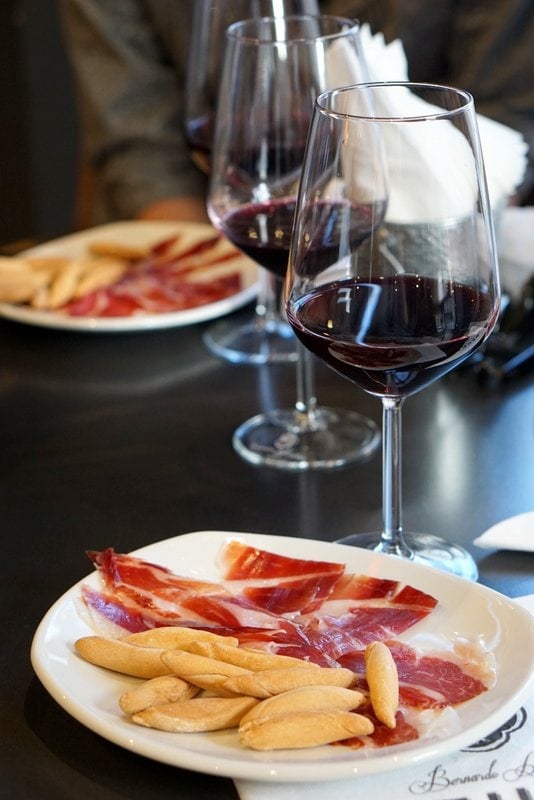 Restaurants
Madrid is filled with fantastic restaurants for tasting Spanish wines-- international wines can be a bit more tricky. Here are some of my favorites!
Angelita Madrid: Brand new (as of spring 2016) this is a fantastic wine bar and restaurant only steps away from Gran Via (and 5 minutes from my house!). Their selection of 25 wines by the glass is constantly changing and includes some lesser-known Spanish regions as well as a few international wines (mainly French or Italian). Their underground cocktail bar is also pretty impressive!
Palo Cortado: A wine bar in Madrid specializing in sherry wines-- finally! This gorgeous bar near Madrid's opera house and Royal Palace is the place to go if you want to learn about and taste some of the world's most undervalued and incredible sherry wines.
Taberneros: This tiny tapas bar (and full restaurant) is a delicious gourmet experience. They serve yummy food and a great selection of wines by the glass. Get there early (about 8pm when they open) to get a spot in the bar area.
Madrid is the perfect place for wine tasting, offering a huge selection of fantastic Spanish wines from all over the country! Don't miss trying some of the good stuff while here-- resist the sangria! 🙂
What's your favorite Spanish wine?