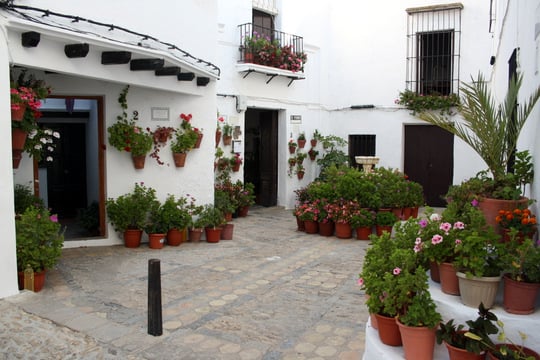 In southern Spain, I often find myself visiting what I've deemed "ugly-pretty" cities. They are places that aren't manicured, where there are old decaying buildings and broken sidewalks. I absolutely love these cities and had begun to think that the truly picture perfect pueblo blanco of the tourism brochures didn't even exist.
Then I visited Vejer de la Frontera. 
Perfectly manicured and downright gorgeous, I realized that there can be just as much charm in a "pretty-pretty" city too! Vejer is located on the top of a steep hill, and driving up the windy path to the top makes you wonder if it's all worthwhile-- I had to remind myself not to look down as the locals sped around the tight curves. But upon parking in the first public garage available, you walk out to a spectacular view that makes you loose your breath for a moment.
And it doesn't stop there. As you continue to loose yourself in the maze of Vejer's twisty cobblestone streets, once surrounded completely by the old city walls, you'll see remnants of the town fortress, glimpses of locals' hidden patios, and no shortage of outstanding views. As a city that was under Moorish rule for five centuries, you definitely notice the influence, especially in the architecture of the houses. Vejer's sister city is Chefchaouen in Morocco, and I must say they both have the same magical feel to them.
Yet although Vejer was pretty as can be (surely groomed for summer tourism, its main moneymaker), it didn't feel at all false as some other places do. While we sipped a cool amontillado sherry in a local bar, we witnessed about half the town walk by-- talking, laughing, and shouting. I thought it must have been some type of festival, and we asked a passerby to confirm. It turns out it was a funeral, a local man had passed away, and apparently everyone knew him. It was the first time I've seen such a cheerful funeral procession-- no one was dressed in black, and it all seemed so natural.
After walking around, battling the hot afternoon sun for an hour or so, we took the advice of our friend Anne Mason, who runs the popular Annie B's Spanish Kitchen (a local cooking school), and we headed to the rooftop of the town's popular Moroccan restaurant and hotel, Califa, for a tea and baklava. It wasn't the best I've had, but the view more than made up for it and I'd return anytime to stay in their incredible rooms!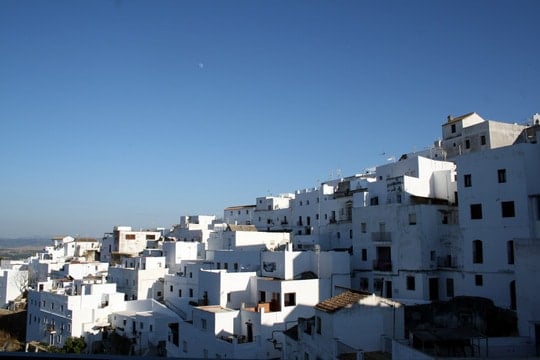 As we left Vejer I felt a bit sad, I would have loved to have seen the city by night-- I'm sure it would've been even more magical. But I know we'll be back sometime soon, it's only a short drive from Ale's hometown after all. If you are looking for a beautiful summer or fall destination, Vejer de la Frontera (and the entire region of Cadiz) make for an amazing option. Cheap tapas, free beaches, and inexpensive lodging make the area the perfect choice for a budget friendly getaway, and if you look enough you can find some great last minute deals.
Have you ever visited a picture perfect town?