It's rare that a hotel captures the essence of a city as well as the Alma Sevilla Hotel, also known as the Palacio de Villapanés. Located right in the center of Seville, a city that I know and love, I'd probably passed by it many times during the three years I lived there, without ever thinking about what was hiding inside.
The historic city center of Seville is a maze of cobblestone streets, old churches and former palaces, all scattered throughout the central neighborhoods to a degree that, when living there, you barely notice the history all around you. But coming back as a visitor is different. I noticed, I stopped, I appreciated!
When looking for a luxury hotel for a couple of nights in Seville, our search kept taking us to the Palacio de Villapanés. No one had to convince me that staying in a restored palace was a good idea, and we were able to book two nights.
A former palace
El palacio de los marqueses de Villapanés was an 18th century Baroque palace that took its name from the aristocrats that lived there for most of the building's history. Until 2007 there were still descendants of the original Marqueses de Villapanés residing there, and it was then when the family finally sold the building to the new Alma Hotels chain, a new brand of luxury hotels that had only opened in Berlin until then.
The restoration and transformation into a hotel was done with the utmost attention to historical details. The hotel left as many original structures as possible intact, and the rooms and common spaces were done in a beautiful modern-meets-historical type of way. When you enter the hotel, you are first captured by the beautiful Andalusian patio, a lovely fountain in the center and gorgeous pillars. There was no reception desk in sight, and we finally figured out that we were to check-in at a small and unobtrusive office to the left.
As we were given the tour, we couldn't help but marvel at the Villapanés family's coat of arms, proudly displayed by the hotel on their main staircase. If only families still had works of art like this produced!
To make it to our hotel room, we had to pass through an interior patio, which was the definition of peace and serenity. Covered with orange trees and inviting outdoor furniture, we both imagined a glass of wine and a book here (which, unfortunately, never happened in out short stay!).
What was truly amazing to me, was the way that the hotel was really quite modern and minimalist in style, yet so luxurious and respectful of the building's history at the same time.
The hotel opened its doors in 2009 and offers 50 different rooms, each slightly different. It also has a spa and wellness center, a rooftop pool, and a restaurant and bar on site.
Rooms and Amenities
The hotel offers four room choices: Deluxe, Grande Deluxe, Executive, and Suite. We had a Deluxe room, which we found spacious and very comfortable. We were welcomed with a glass of champagne and some snacks, and all rooms include unlimited access to a small mini-bar with water, juice and beer.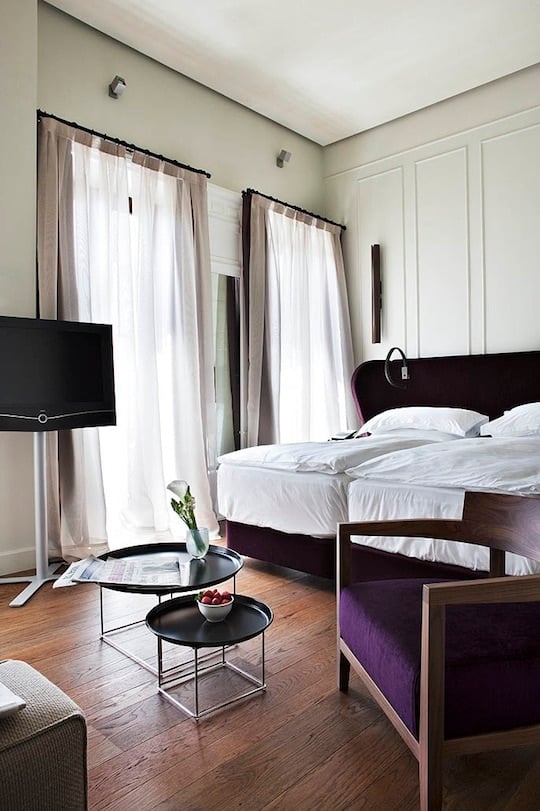 The shower was my favorite part of the room-- and I don't have a picture to share, unfortunately. It was enormous, with a large rainfall showerhead, wall jets you could turn on as well, and another shower head that detached from the wall too.
Location
Perfectly located on the quiet Calle Santiago in the Santa Cruz neighborhood, we walked everywhere while here. Seville is a great city for walking anyway (you wouldn't see all of the hidden corners and beautiful balconies any other way). The staff was really helpful with tips for getting around and eating out, even recommending a few tapas bars we already had on our list (Eslava and El Rinconcillo). As we already knew Seville pretty well, we didn't need much assistance, but you could tell they knew their city.
Check out my best bites in Seville here!
Our Stay
Short and sweet, we enjoyed every minute of our visit that we spent in the hotel. We were basically running around town all day, but we tried to return for a few hours in the evenings to relax and read. The floor to ceiling windows looking out at the patio made us feel like we weren't just holed up in some hotel room. We didn't have time to try out the wellness center or restaurant-- next time!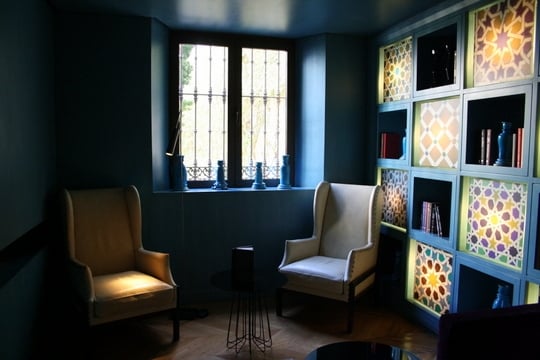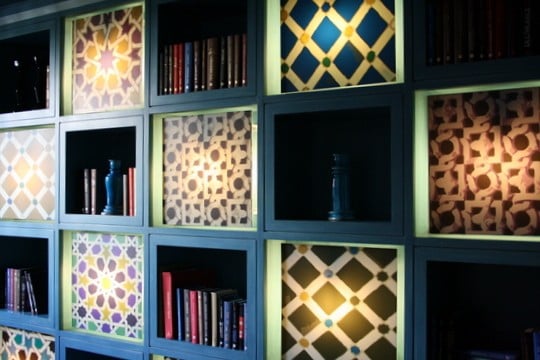 For a true luxury hotel in Seville, with the perfect location and plenty of history, this is your place!
Alma Sevilla Hotel Palacio de Villapanés
Calle Santiago, 31
41003 Sevilla