Wondering where to eat in Seville? Not only will I share my favorite local spots below, I'll also tell you the 21 must-try foods and drinks in Seville so you can be sure to order well in this foodie paradise!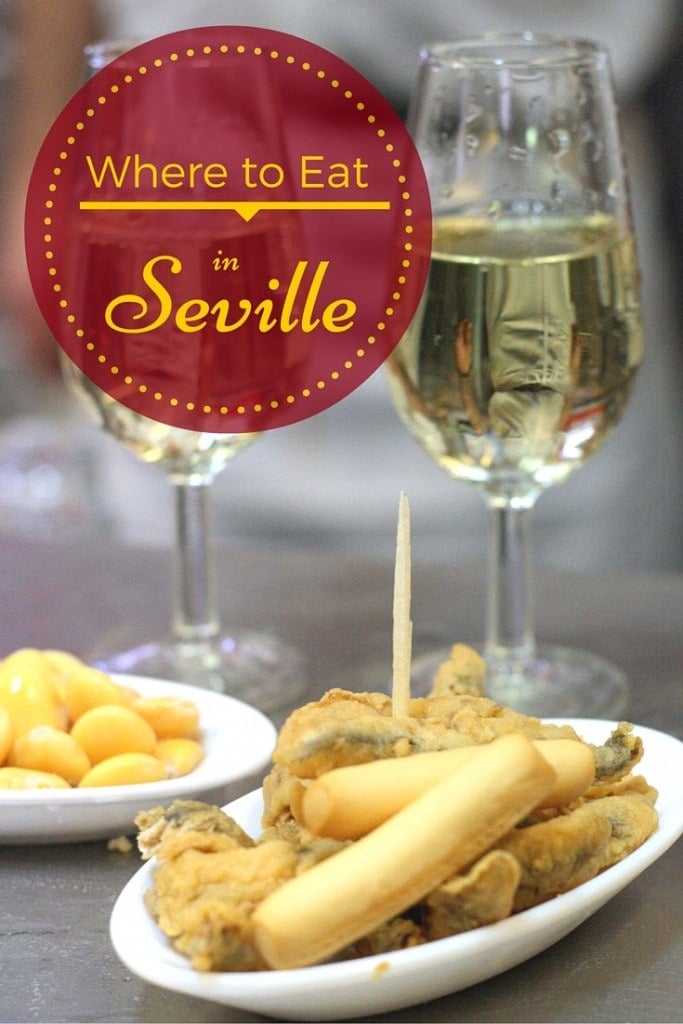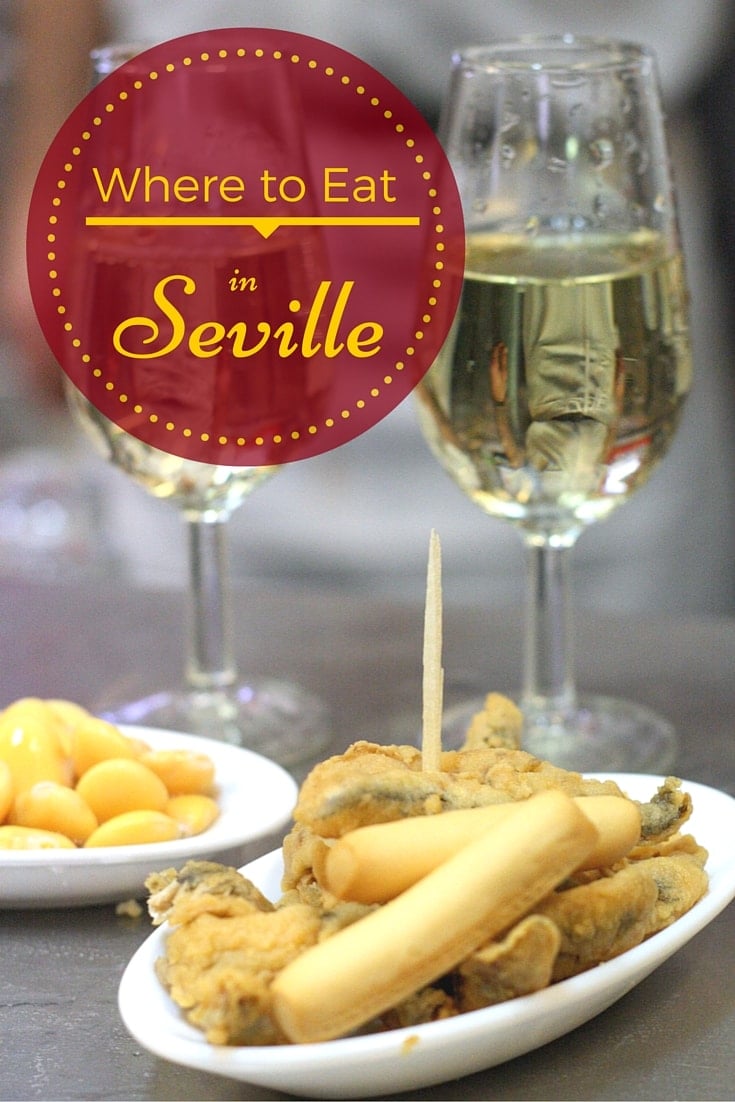 Seville is the city that captured my heart quickly. I fell in love with its narrow streets, its tiny bars, and its stunning cathedral—and, of course, with its amazing food.
I greatly admire the devotion of the locals to their city; they're obsessed (and rightfully so) with its festivals, climate, and cuisine. And I still envy their unwavering belief that they live in the best city on earth!
My years spent living in Seville were wonderful, filled with frequent tapas crawls, bike rides on the river, and midnight strolls through the illuminated reminders of Spain's Golden Age.
And in the midst of my love affair with Seville, I left.
I desperately needed to break out of my comfort zone, and moving to Madrid by bus (in two trips) was certainly one way to do it. With a determined now-or-never mentality, my move inspired me to fall in love with another Spanish city, to start this blog, and to start my food business in Spain.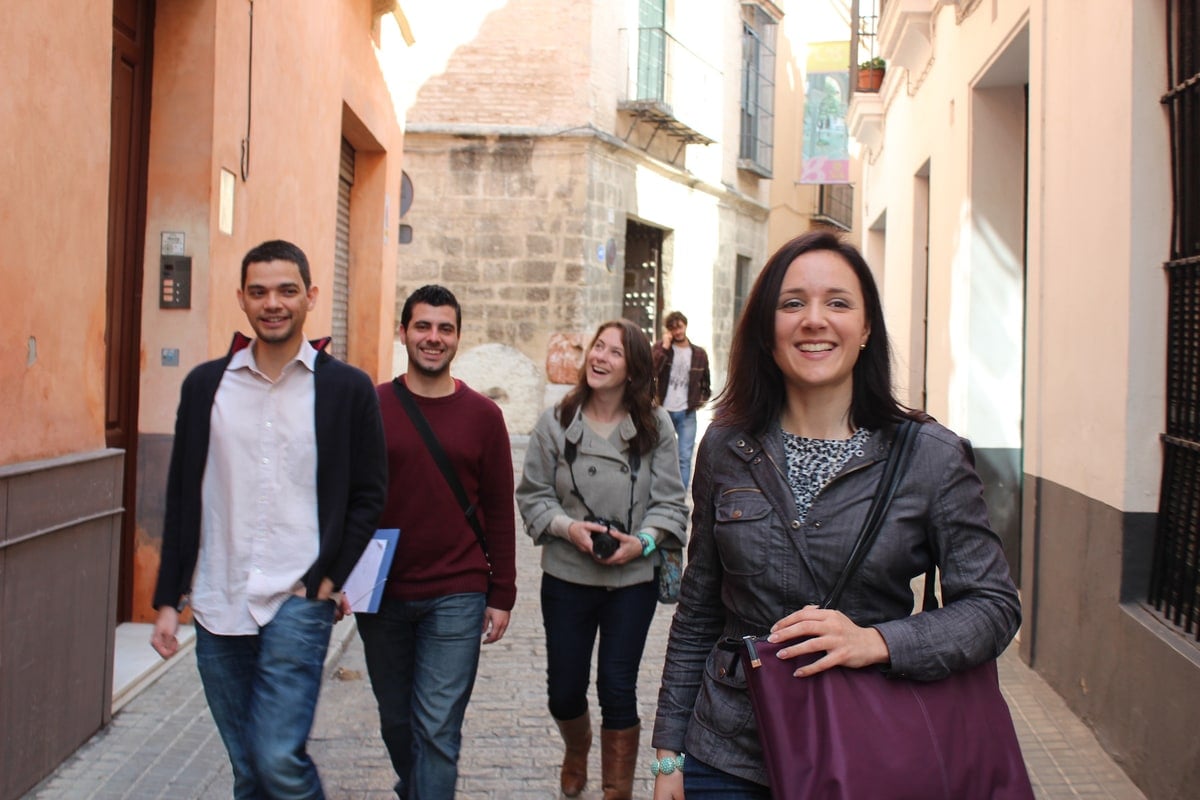 Nearly four years later in April 2015, I was thrilled to have the opportunity to return to Seville as we launched our Devour Seville food tours. Moving back to the city where I first fell in love with Spanish cuisine (and also with my husband!) was a wonderful experience.
I was constantly looking at Seville in a new light, curious about each and every building (being a tour guide does this to you!), and as excited about the city's history as its future.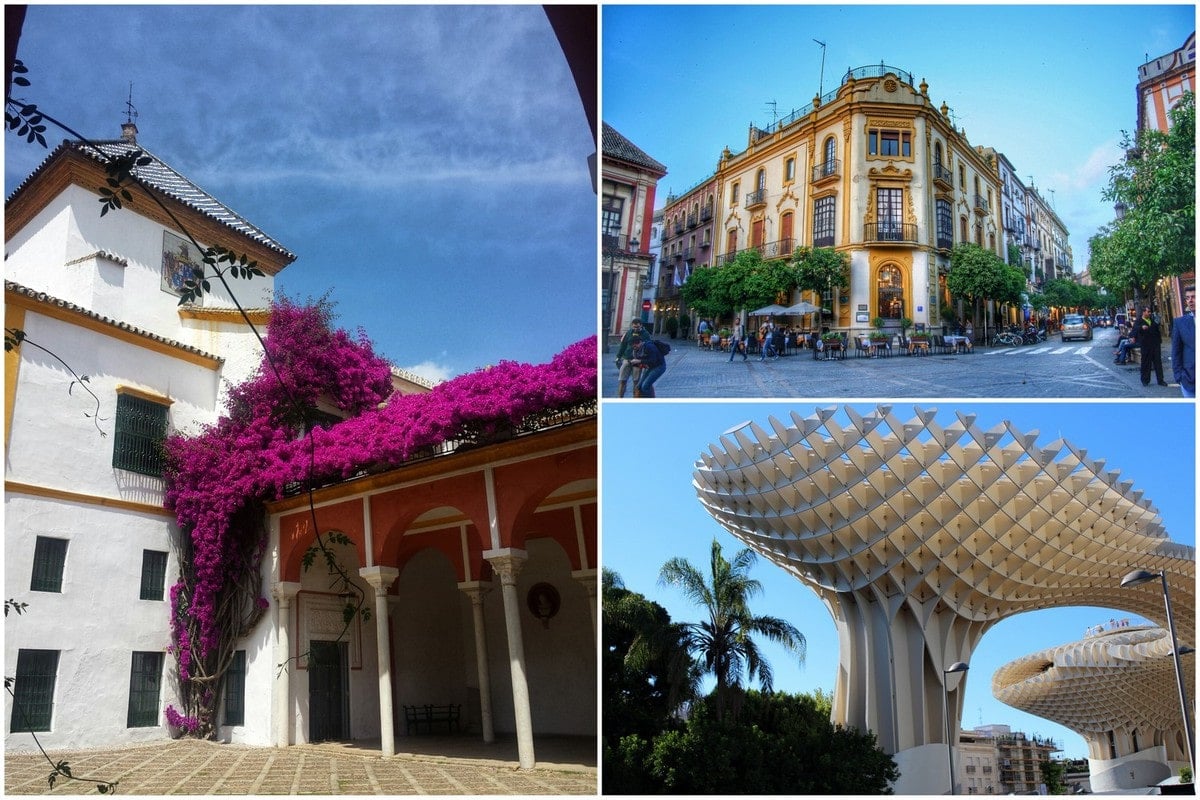 While investigating for our Seville food tours, I thought there would be no better time to finally publish my guide to eating in Seville. I had been wanting to write this guide for years, but writing about a city that claims over 3,000 tapas bars is quite the task.
I've kept my list of recommendations for eating in Seville as short as possible, knowing that most of you have only a few days to enjoy this incredible city. Hopefully, by the end of your time here, it will inspire you as it did me. Perhaps you'll even return as I do, time and time again!
See Also: Where to Stay in Seville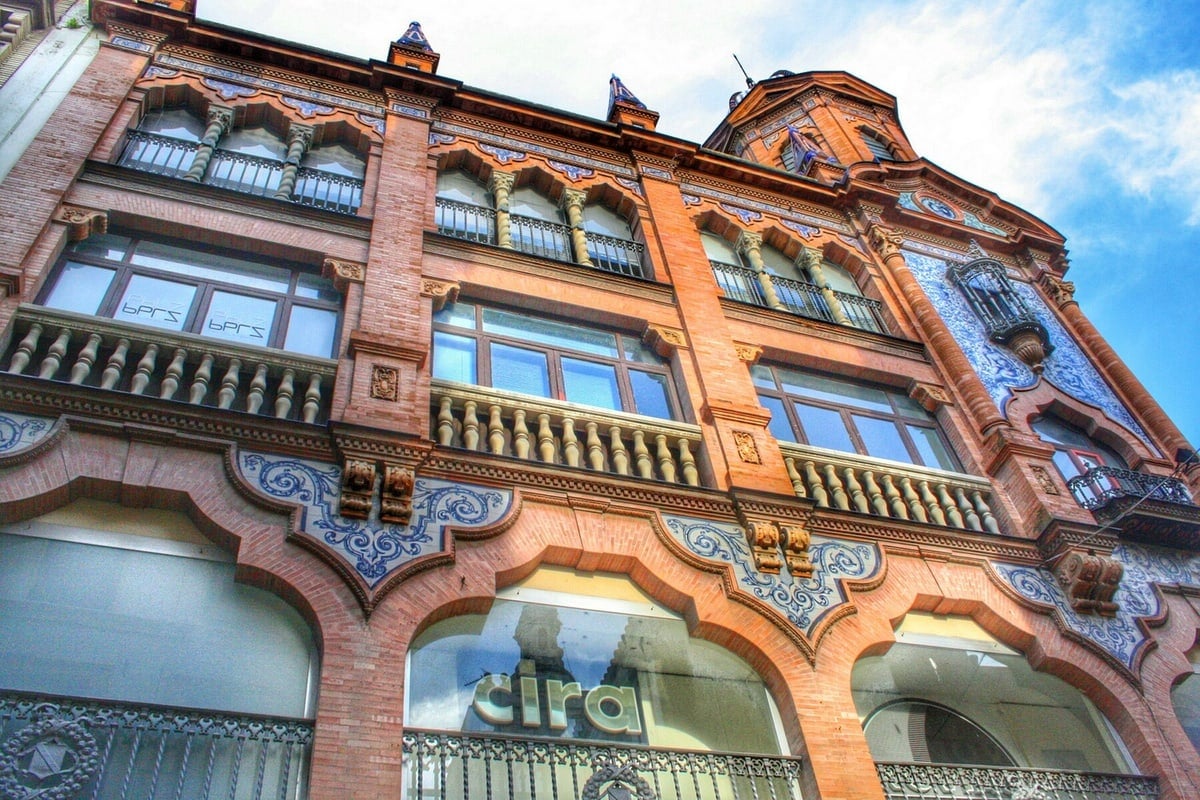 Eating in Seville
The food scene in Seville is simply unrivaled.
The self-proclaimed tapas capital of the world has so much to offer a food lover, and you could live here for years and still have more to discover.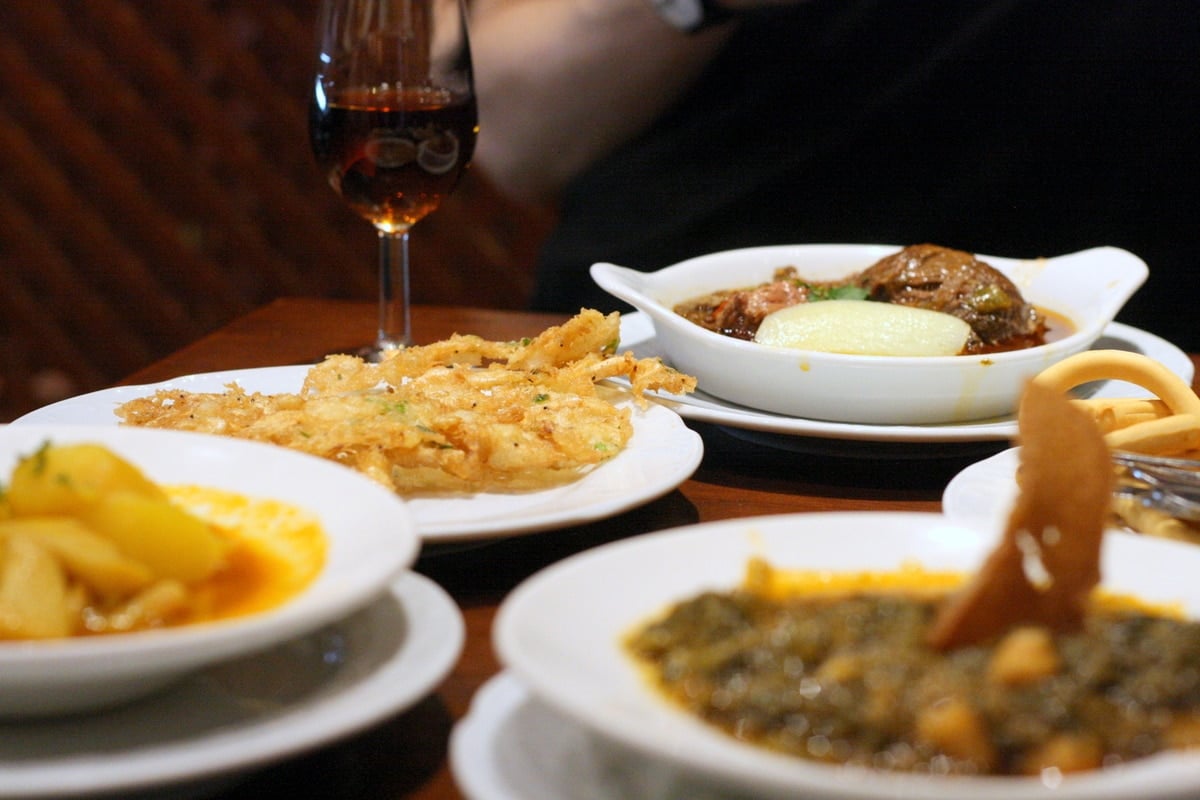 From traditional abacerías (tiny grocery stores that often serve gourmet products like wine, cheese, and charcuterie), to traditional tapas bars, to some of Spain's most inventive and modern cuisine, this is a city with a bit of everything.
Seville's dining scene rarely disappoints; the prices are low and the quality is high, and as long as you know where to go and what to order, you can't really go wrong.
Here's where I come to help—this guide will tell you first what to eat in Seville, and then where to eat in Seville. I hope you enjoy!
Seville Tapas 101
First of all, what are tapas in Seville?
It's important to know that the definition of tapas varies greatly throughout Spain, but in Seville they have what I'd consider the perfect system (and the best tapas!).
In Seville tapas are small plates, and on most menus you will see three columns:
Tapas
Media raciones (half plates)
Raciones (full plates)
These are simply three serving sizes of the same dish. Media raciones and raciones are meant to be shared, and tapas are generally individually sized, although many people share a few tapas among close friends or family.
In Seville you pay for your tapas, unlike in some other cities such as Granada or even Madrid. But this means that you have full control (which I prefer) and the quality is much better than the majority of restaurants offering free tapas. Of course it all depends on the place you choose!
Tapas prices in Seville range from €2 for something simple at a traditional tapas bar (such as cheese or potato salad) to around €4. At more modern tapas bars, the prices may go up to €6 for a tapa, but generally this implies an expensive product (bluefin tuna or grass-fed beef, for example) and expert preparation.
Don't rush your tapas experience. Tapas tend to come out quickly, and it's not uncommon (or a negative thing) to hear a microwave ping. Many tapas are prepared in advance and reheated when ordered. The best way to enjoy tapas in Seville is to order little by little, pairing each tapa with a drink. This ensures you won't over order and you'll be able to enjoy everything while still hot!
Tapas with an expert: As I love both Seville's tapas and its history, I couldn't separate the two! You can join my company, Devour Seville, on our 2-in-1 Tapas, Taverns & History Tour for a fantastic evening out!
See Also: A Guide to Seville's Best Cocktail Bars
What to Eat in Seville – 21 Must-Try Foods & Drinks
I've tried to narrow this down—some foods I love eating in Seville didn't make the list, but here are the traditional foods from Seville that you should aim to try while here!
We try nine (or more!) of Seville's signature dishes (including some tapas) on our Seville food tours (while we also learn the history of Seville's culture and cuisine). I'd love to have you along!
Iberian Acorn-Fed Ham from Huelva (Jamón Ibérico de Bellota)
You can't leave Spain without gorging on the best Spanish jamón (especially my fellow Americans who can't bring it back to the US!). The best of the best is acorn-fed Iberian ham, jamón ibérico de bellota.
Seville is only a short drive from the province of Huelva, where they produce some of the country's most flavorful and delicious ham. If you can't make a day trip to a town like Aracena, at the very least you must fill up on ham while in Seville!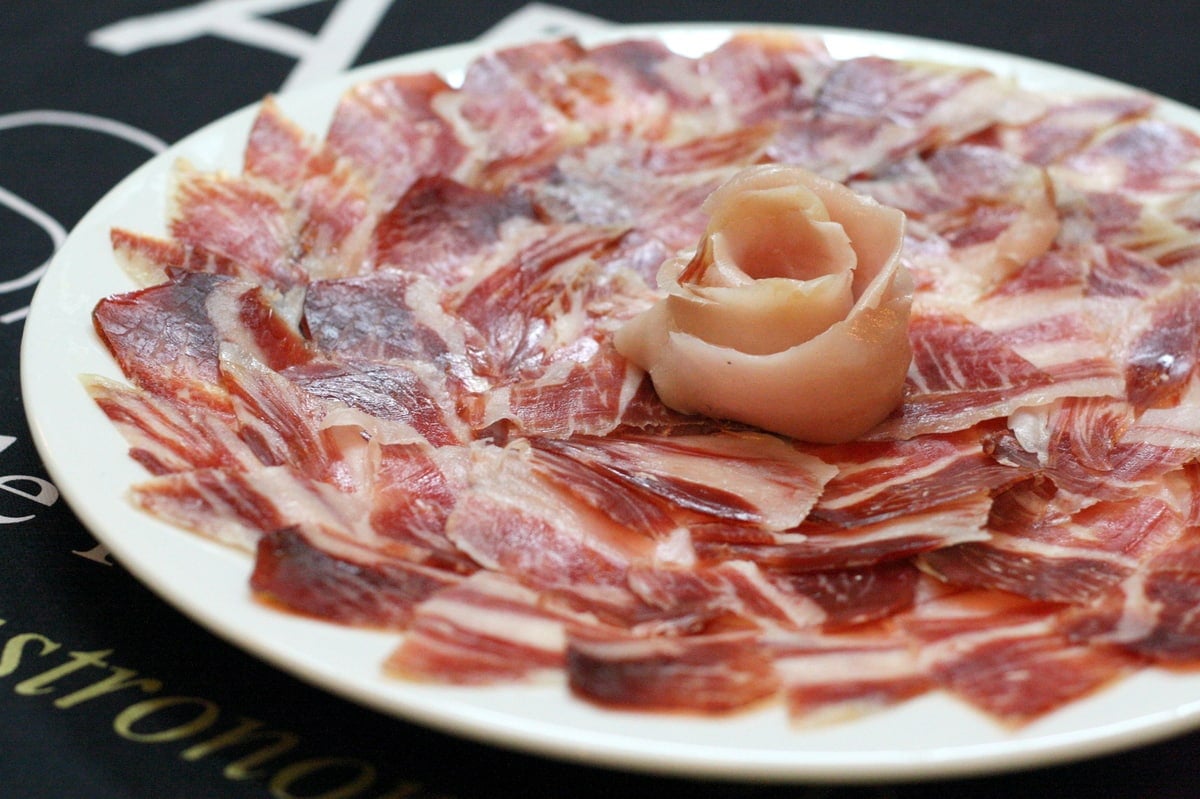 Fried Fish (Pescaíto Frito)
Sevillanos adore fish and seafood in all forms, and are especially partial to a well-seasoned plate of fried fish. There are all sorts of fried fish on offer, best enjoyed at a freiduría (a snack bar that specializes in fried fish).
Here is a list of some common fish you'll find on a menu in Seville:
Bacalao: Cod
Merluza: Hake
Gambas: Shrimp
Tortillitas de gambas: Tiny shrimp fritters
Calamares del campo: Fried peppers and onions (vegetarian-friendly)
Calamares: Calamari/squid rings
Choco: Thick slices of squid
Huevas: The roe sacks of different fish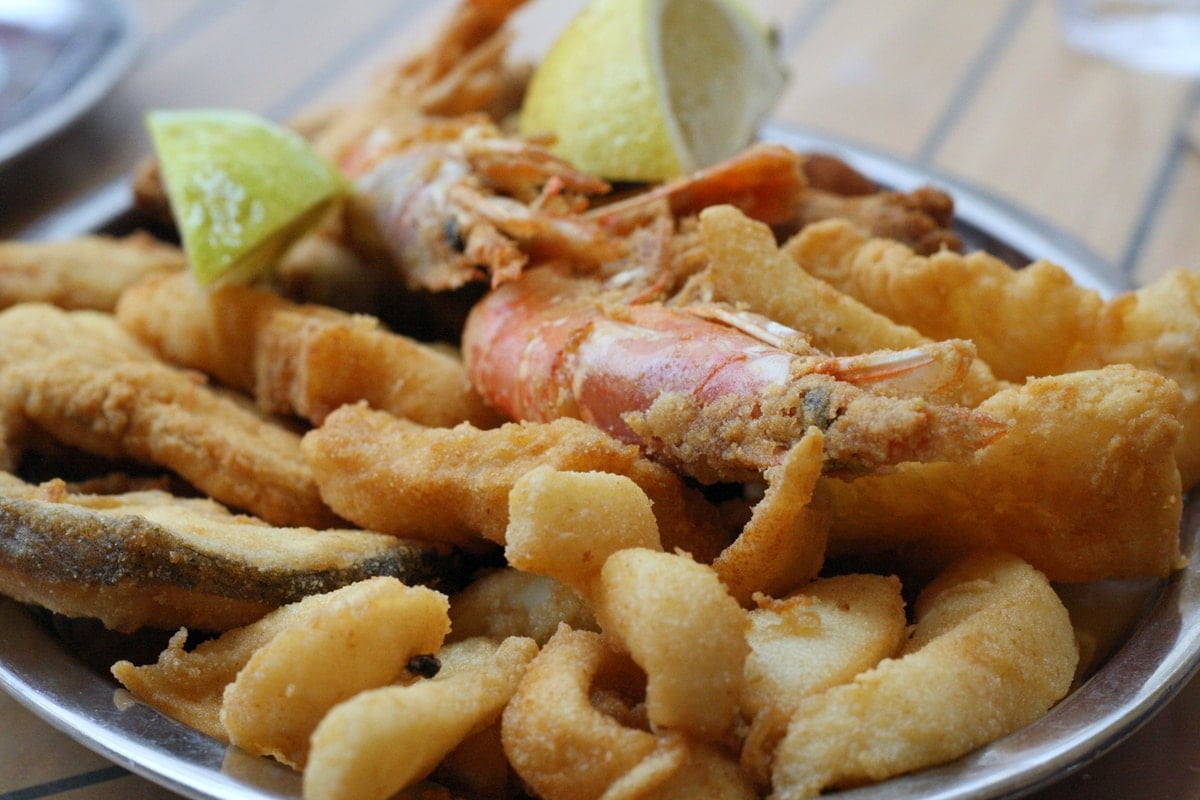 Carrillada
Once a poor man's dish, carrillada is slow cooked cheek—either pork cheek (carrillada de cerdo) or beef cheek (carrillada de ternera). Now found on all the best tapas menus around town, it's a worthy choice for a delicious and hearty tapa.
Get my carrillada recipe here!
Manzanilla
Sherry wines are some of the most fascinating in the world. Only produced in the tiny Sherry Triangle (about an hour away from Seville), Andalusia is the place to indulge.
Manzanilla is the driest of sherry wines (along with fino) and has a saltiness to it from its contact (through the aging barrels) with the ocean breeze. Manzanilla pairs perfectly with Seville's salty fried almonds, jamón ibérico, and plenty of other traditional tapas.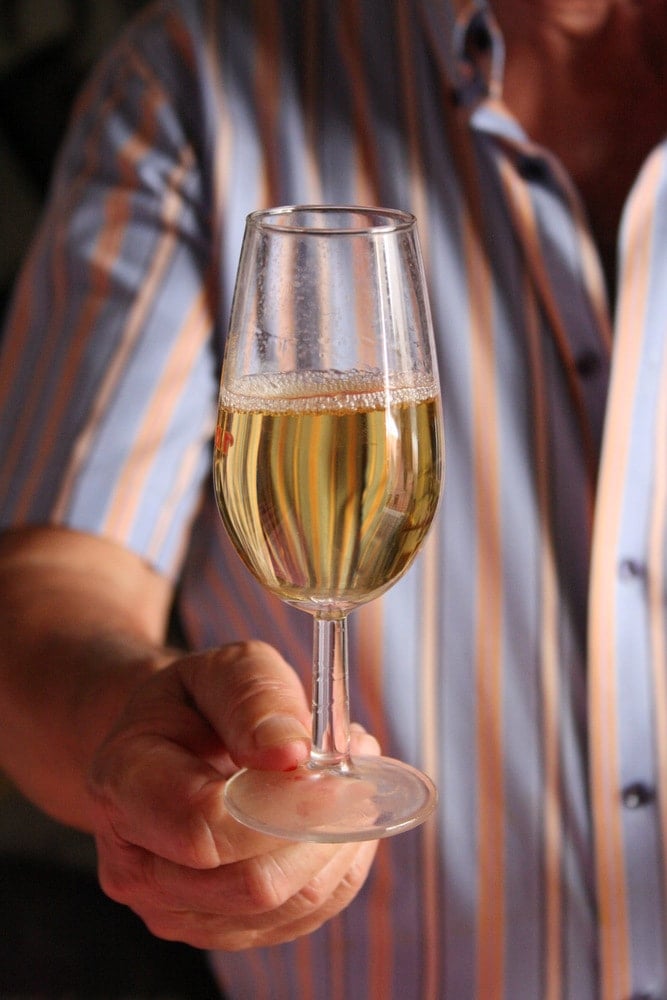 Torrijas
A mix between french toast and bread pudding, these delicious sweets are generally served around Easter (Holy Week/Semana Santa) but are sometimes found year round as a dessert. In Seville you can find a few different varieties, but the classic ones are soaked in either honey or milk with cinnamon and sugar.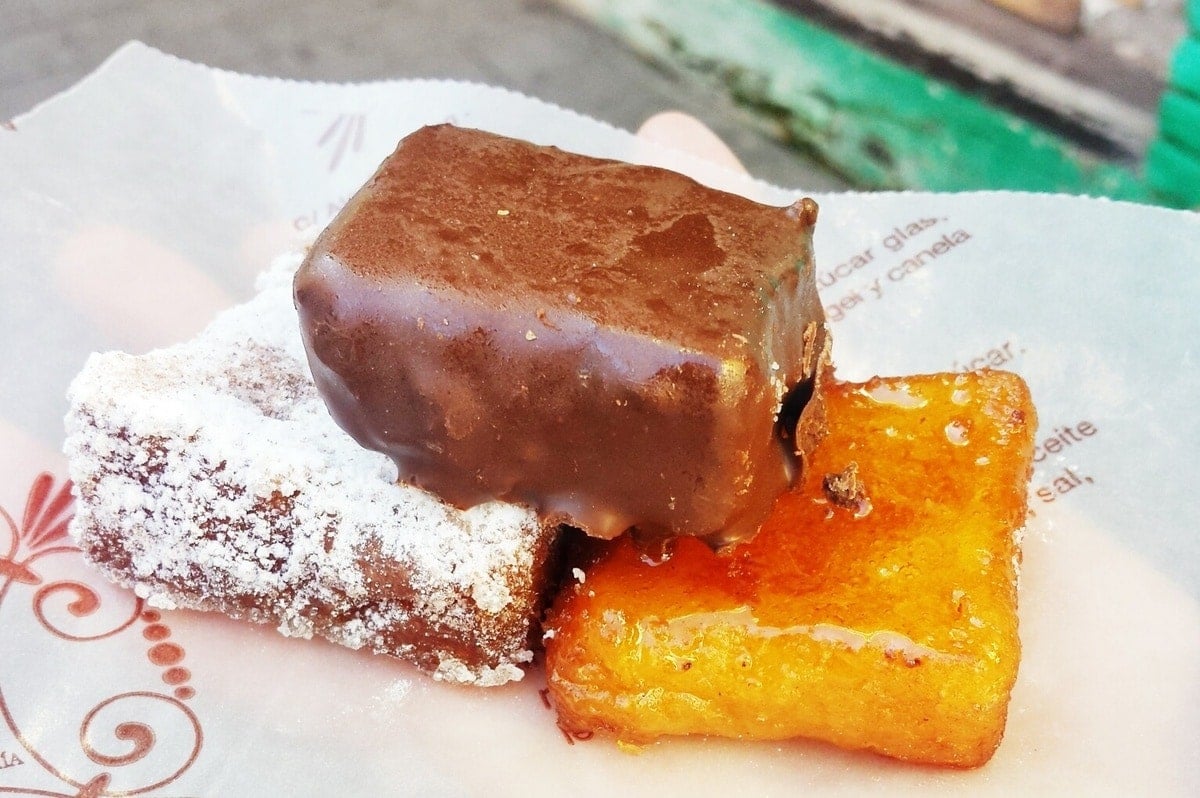 Dulces del Convento
Seville has over 15 different convents where the nuns bake sweets. Some convents specialize in only one sweet, while others have a long list of delicious pastries and cookies on offer.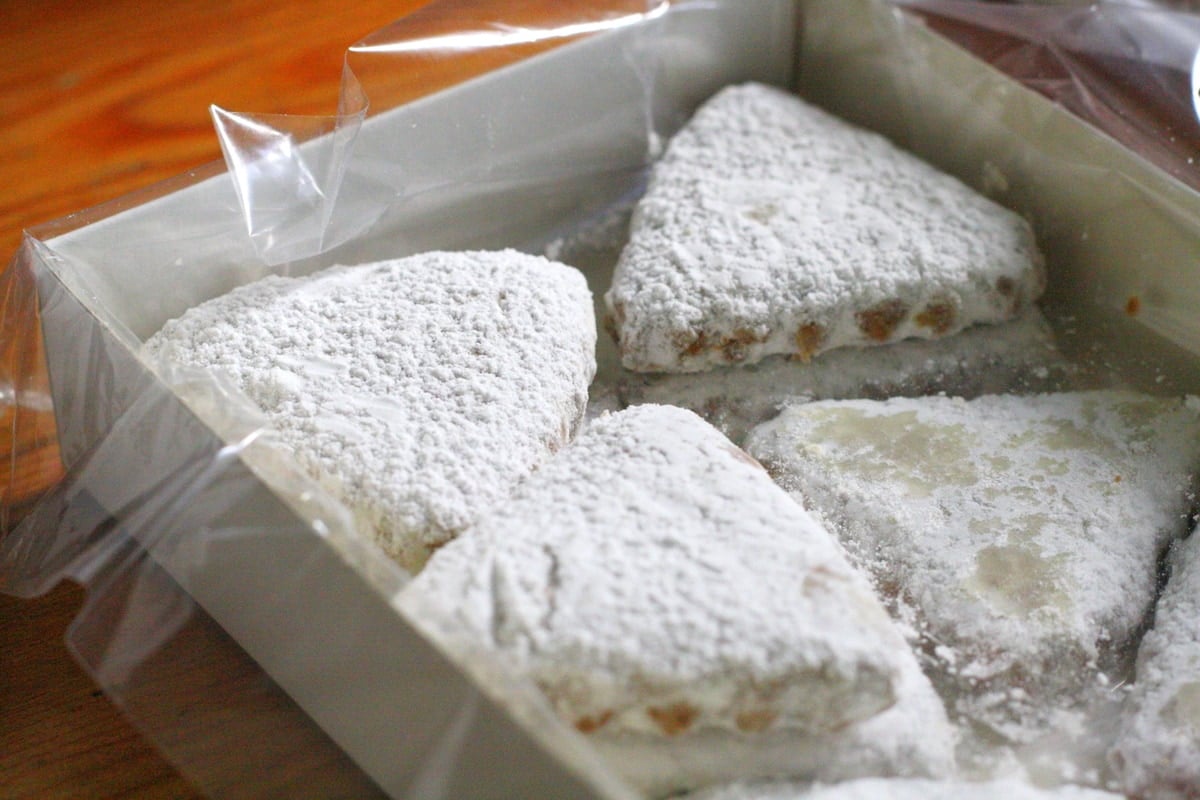 Ortiguillas de Cadiz
Deep-fried sea anemone is not for the faint of heart. But this delicious and unique food is hard to find outside of Andalusia and is a true delicacy.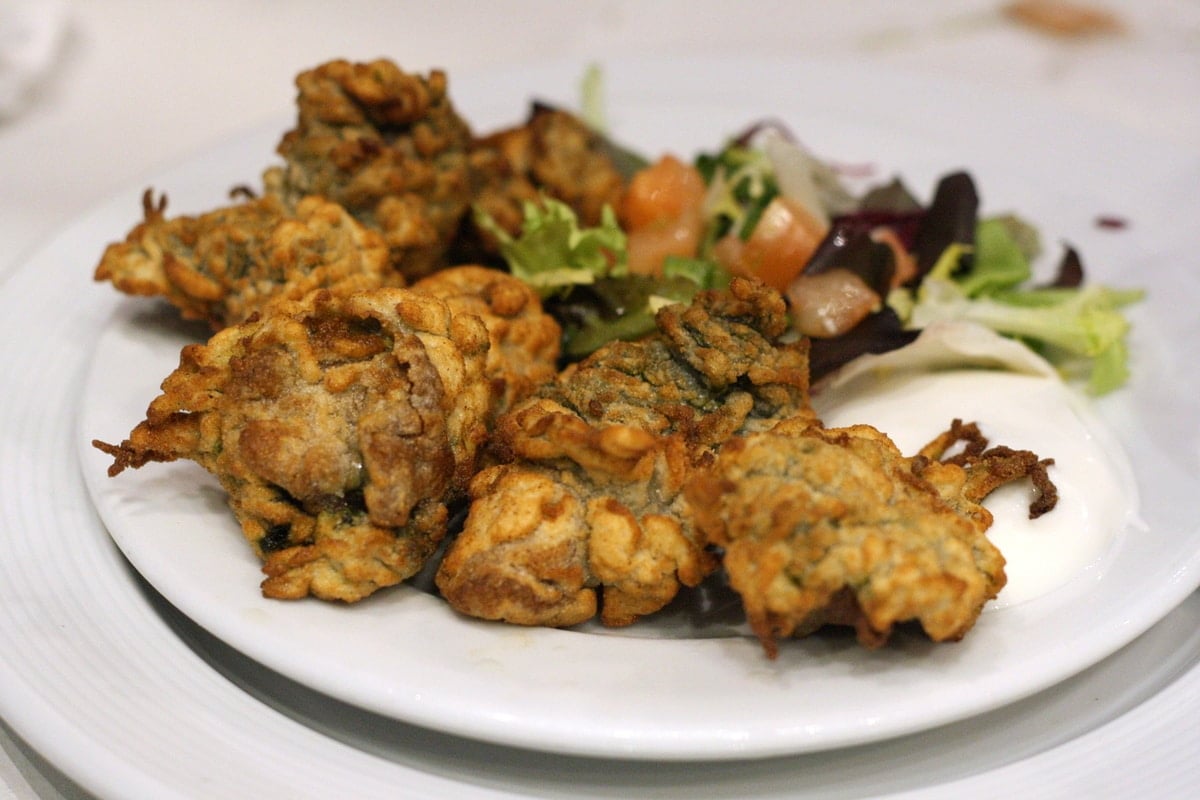 Espinacas con Garbanzos
This spinach and chickpea stew is clearly influenced by the Moorish history of Seville. Heavily spiced with plenty of cumin, it's a comfort food for many locals. Here's my recipe for espinacas con garbanzos—a slightly more modern version than what you'll find in Seville.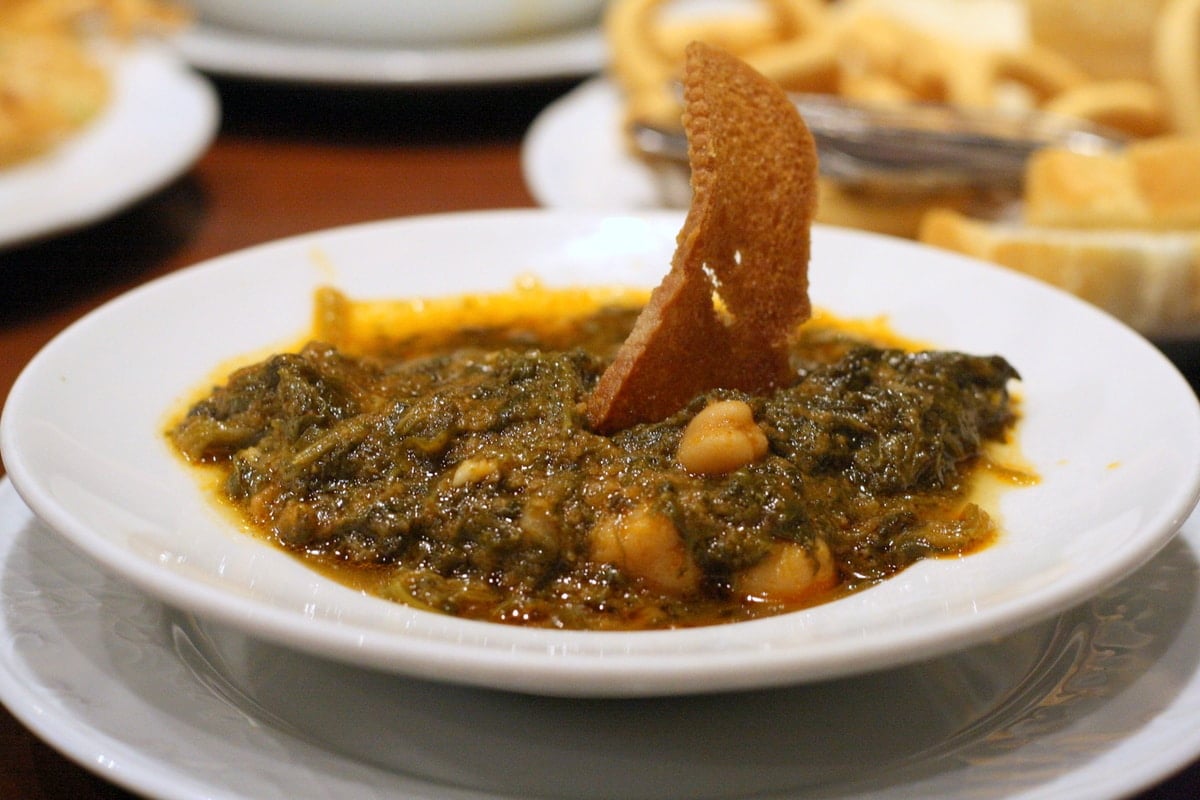 Salmorejo
There's nothing better on a hot Seville day than a cold dish of salmorejo, a cold tomato soup. I like mine the classic way topped with hard-boiled egg and plenty of jamón.
See my favorite salmorejo recipe here!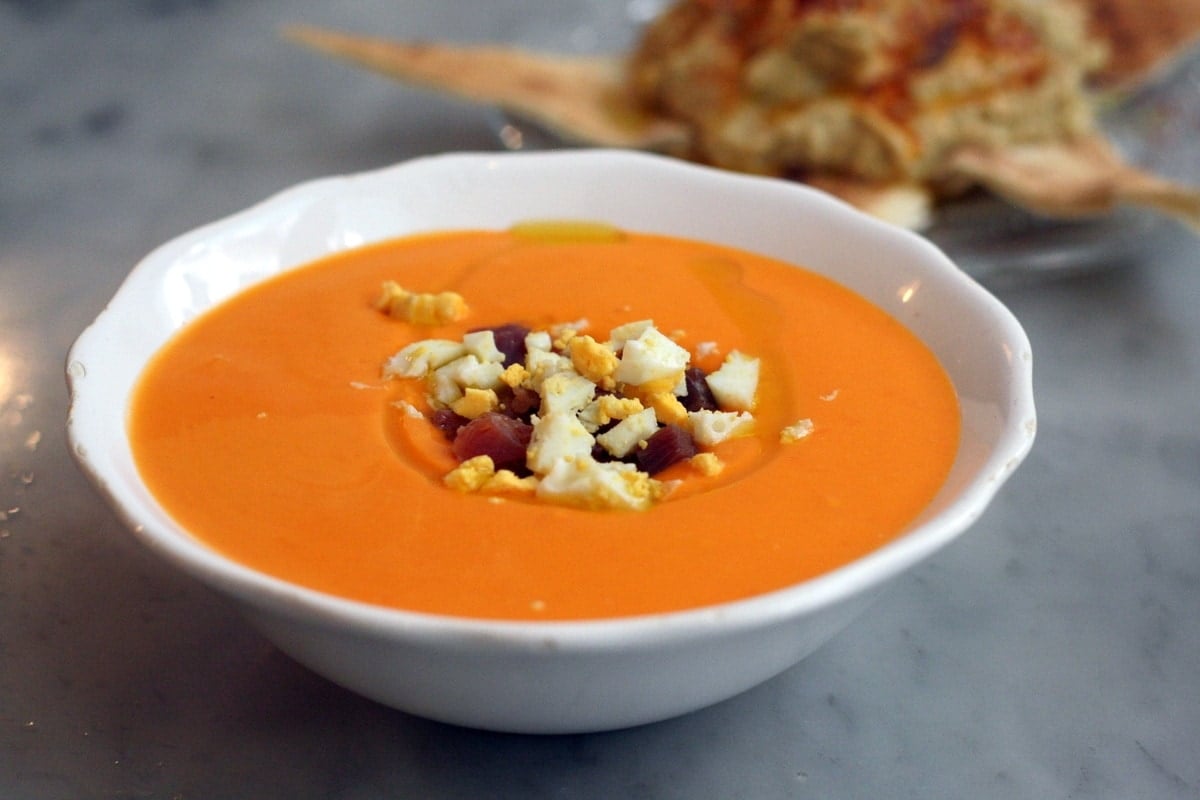 Carne de Toro
Seville is home to one of Spain's most beautiful bullfighting arenas, and the local markets always have at least one butcher who specializes in bull meat. Whether you try carne de toro (stewed bull meat) or rabo de toro (stewed bull tail), it'll likely be delicious.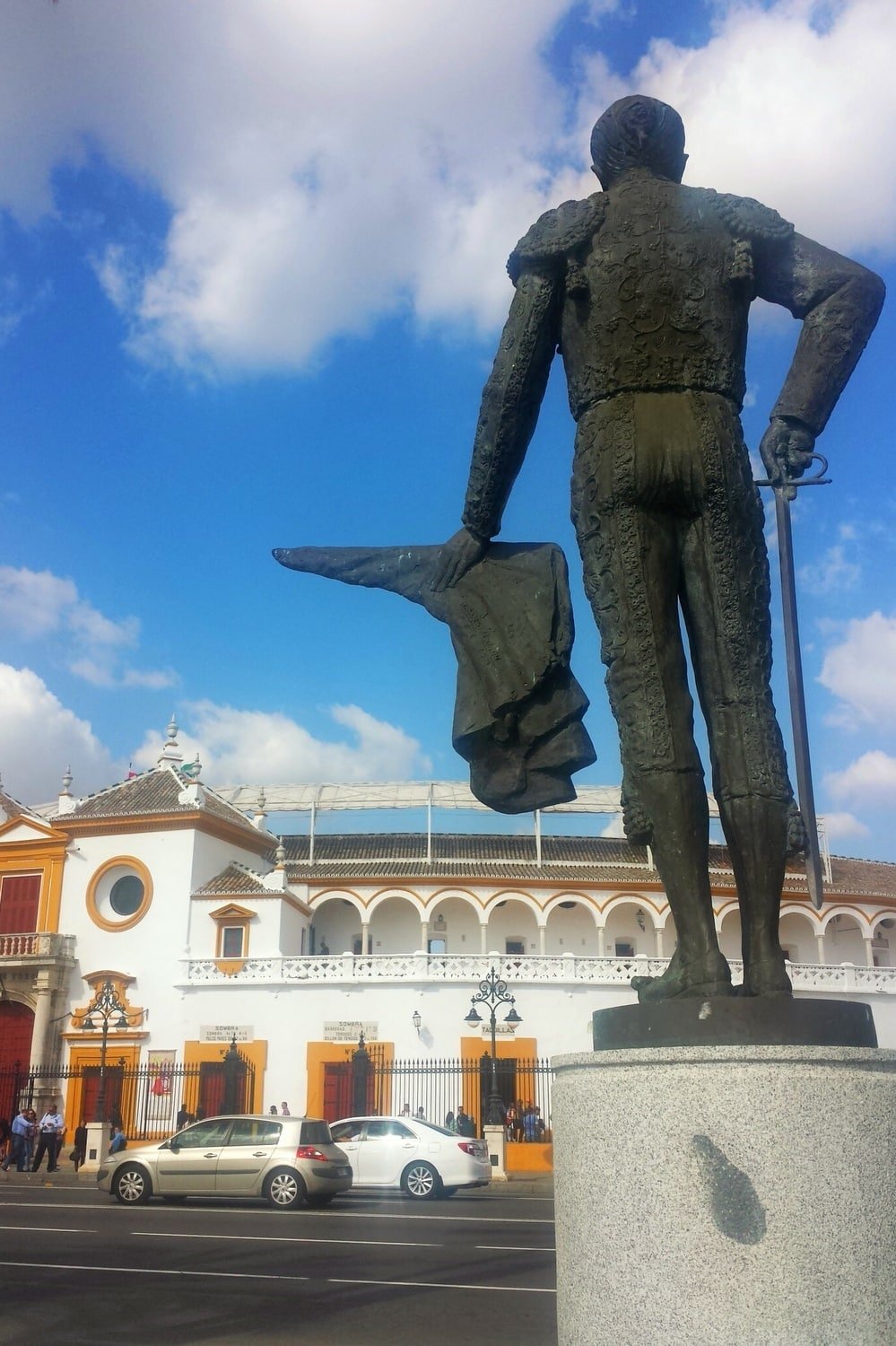 Montaditos
Montaditos are small sandwiches that make the perfect snack with a cold glass of sherry or a beer. There are all sorts of versions to be sampled around town; for a list of some of the best check out this article about Seville's best sandwiches.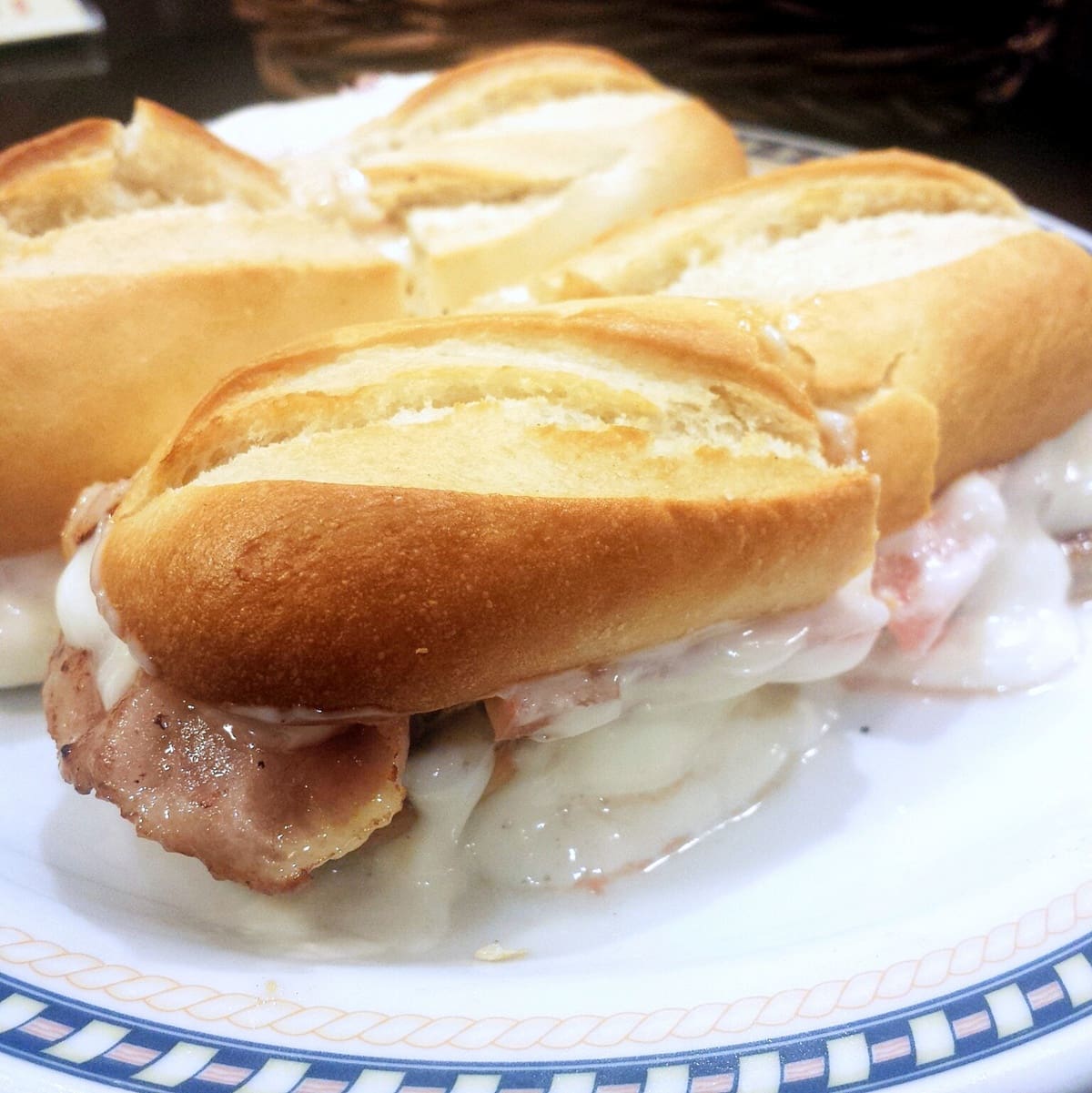 Solomillo al Whiskey
We aren't quite sure how Seville's whiskey sauce became so famous, but it's the sauce of choice for pork loin tapas all over the city. Garlicky and delicious, everyone has their favorite place to dig in.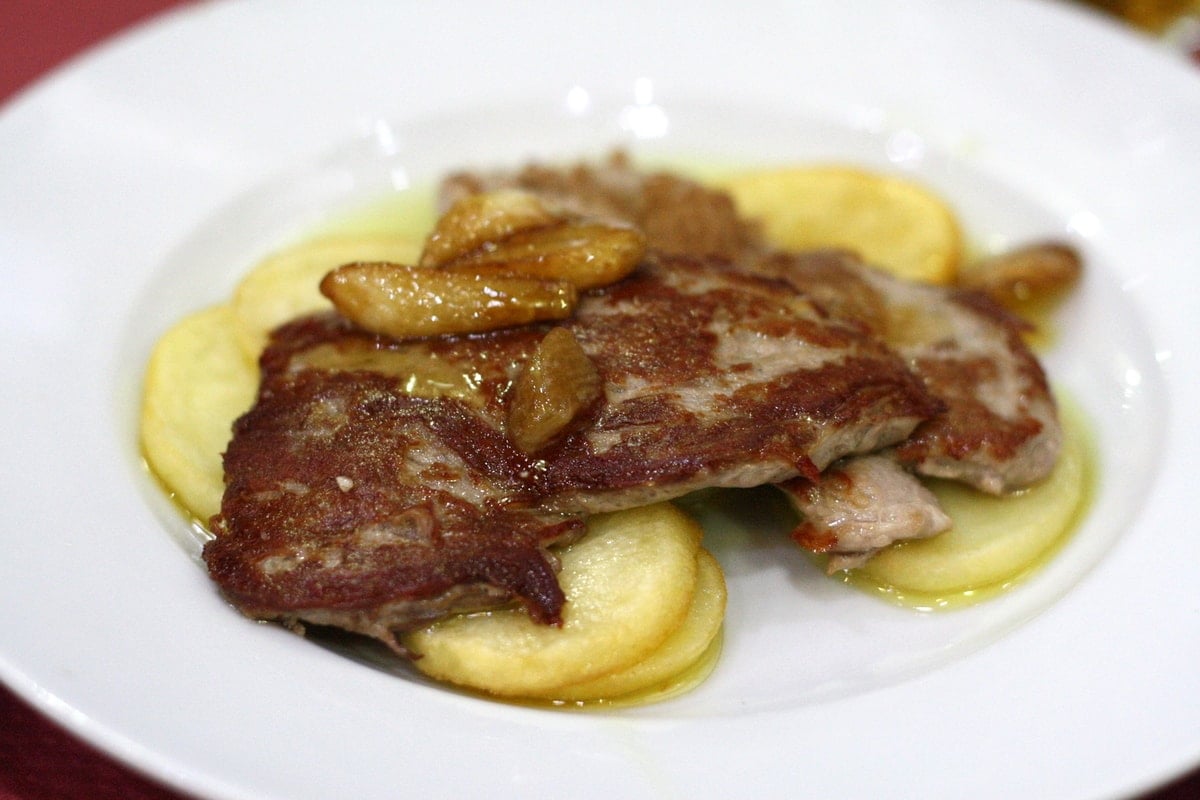 Cruzcampo
Some call it the best beer on earth (most likely they're born and bred Sevillanos...) and others call it the worst. You be the judge. Bars in Seville pride themselves on serving their local tap beer ice cold (the tap is often frozen). On a 40°C day (104°F), I have to admit it tastes pretty good.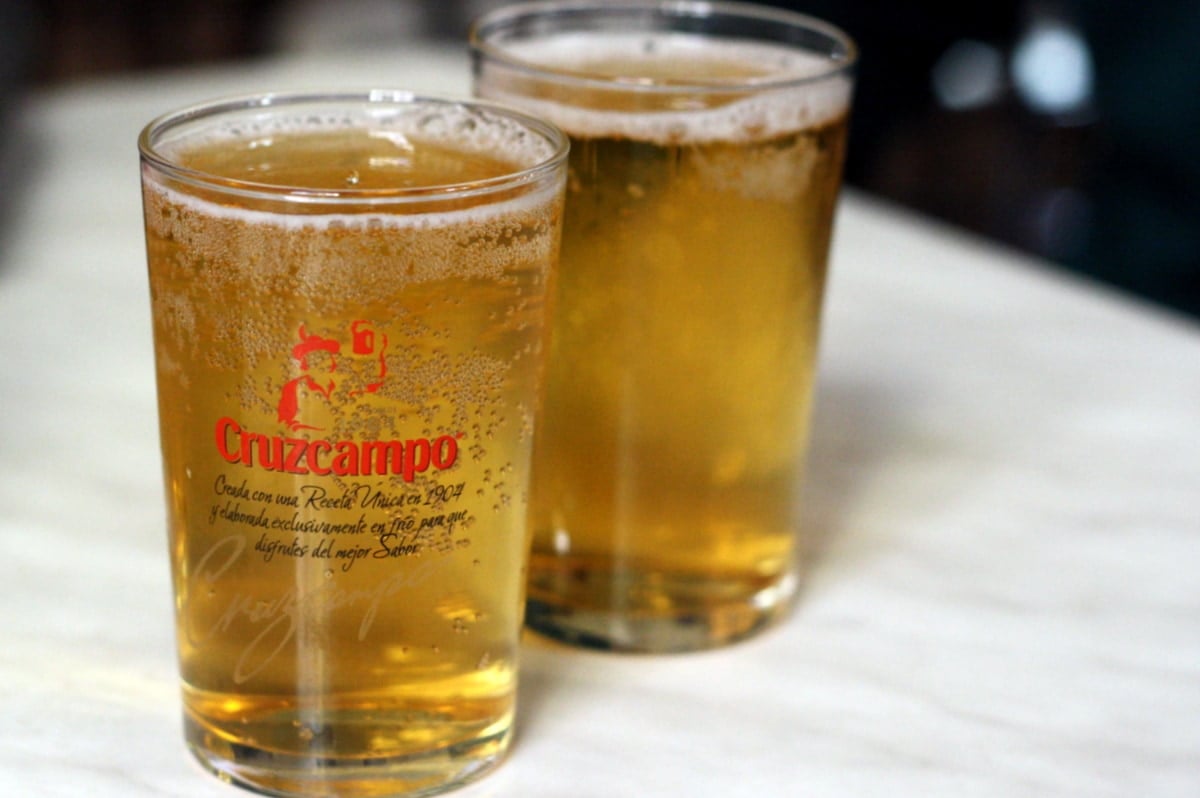 Zanahorias Aliñadas
One of the first tapas I fell in love with in Seville was a plate of marinated carrots. Another Moorish-inspired dish, these pickled carrots are marinated in sherry vinegar, and spiced with cumin and oregano. Then they're smothered in the best-quality extra virgin olive oil. Just try them!
See my recipe for zanahorias aliñadas here!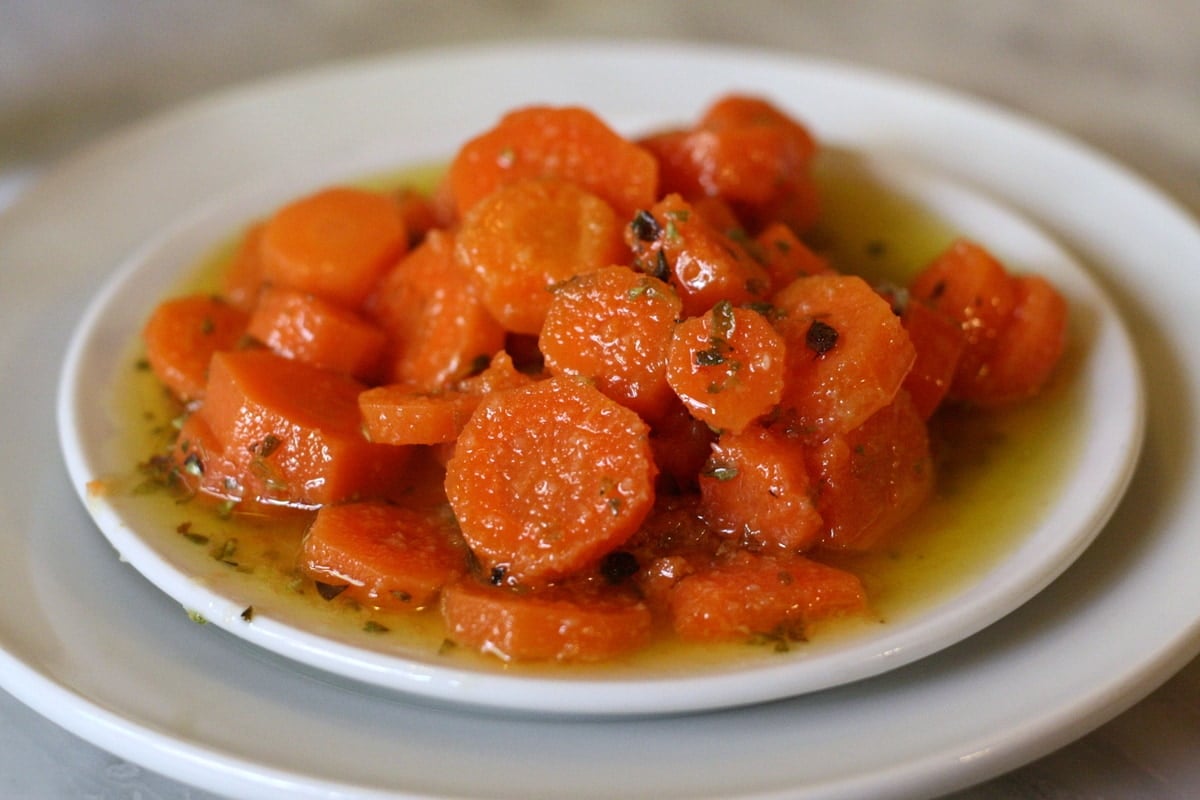 Ajo Blanco
Before tomatoes were introduced to Europe by Spanish conquistadors (they were a food brought from the Americas), Spanish favorites like gazpacho and salmorejo didn't exist. What they ate instead was ajo blanco, a delightful cold soup made with garlic and blanched almonds.
Lucky for us, ajo blanco seems to have made a comeback in some of Seville's best restaurants, where you'll find it topped with delicacies like grilled prawns or chopped grapes and tomatoes.
Check out my ajo blanco recipe!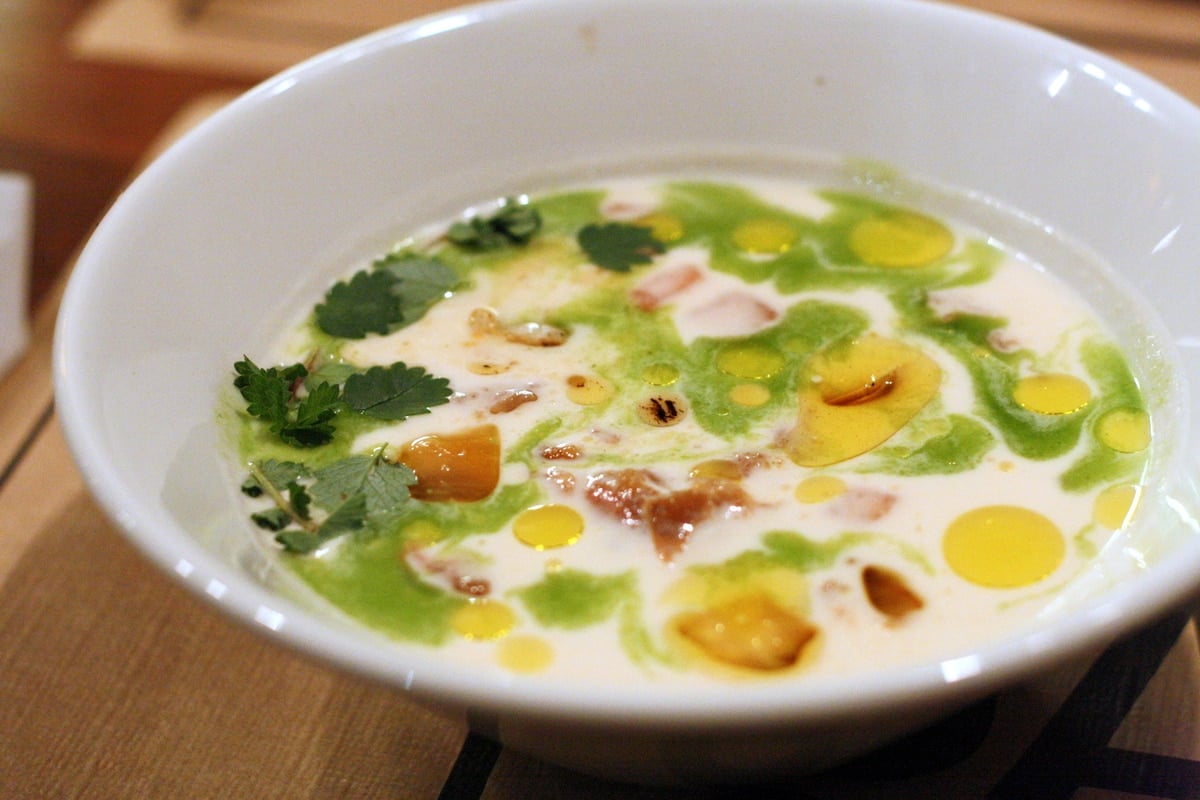 Pringá
Everyone in Seville has their favorite place for a pringá sandwich. Pringá is quite possibly one of the most delicious foods in Seville! It's a sort of spread made with the leftovers of a traditional pork-based stew.
Everyone makes their pringá slightly different. I love mine with plenty of fatty pork bits, chorizo, and a good amount of morcilla (blood sausage). Again—just try it (and thank me later)!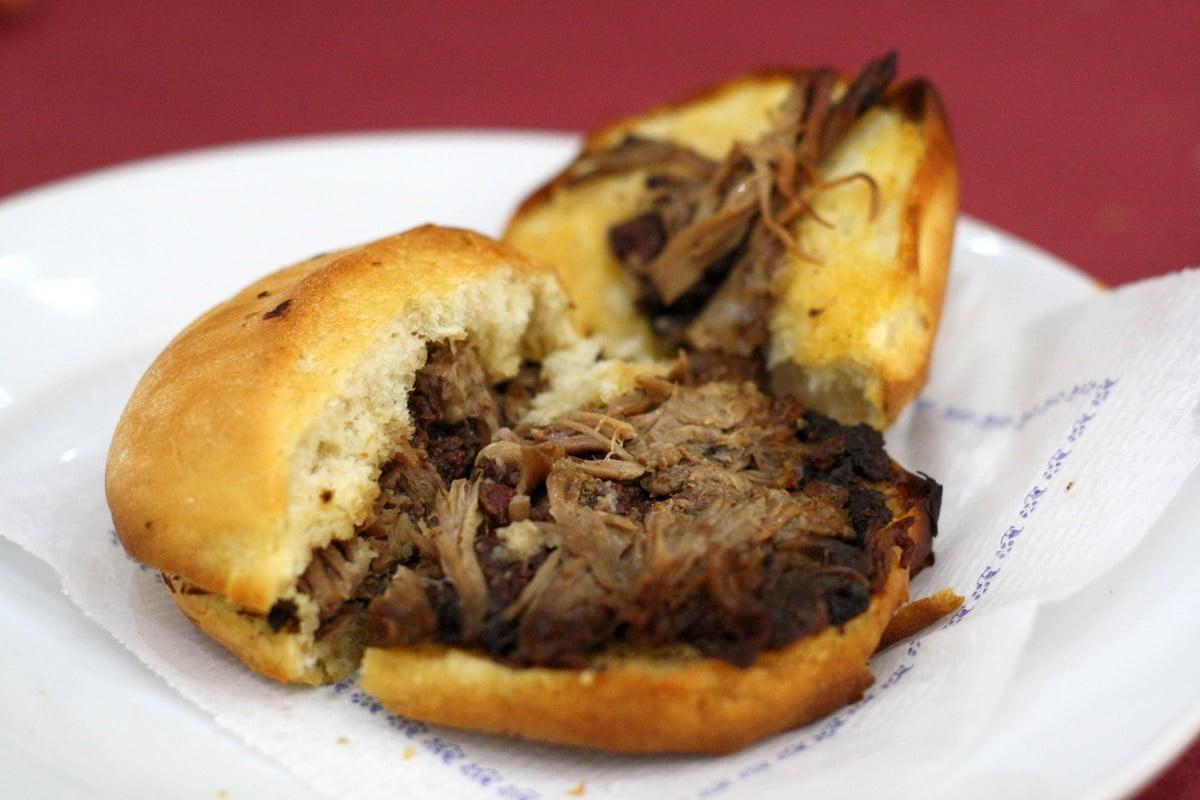 Secreto Ibérico
This is one of the juiciest and most delicious cuts of Iberian pork. The first time I tasted secreto ibérico I actually had no idea what I was eating. I'd never had such flavorful pork—didn't even know it existed!
Secreto ibérico is a cut that comes from just below the ribs, so it's marbled with melt-in-your-mouth fat that makes you smile.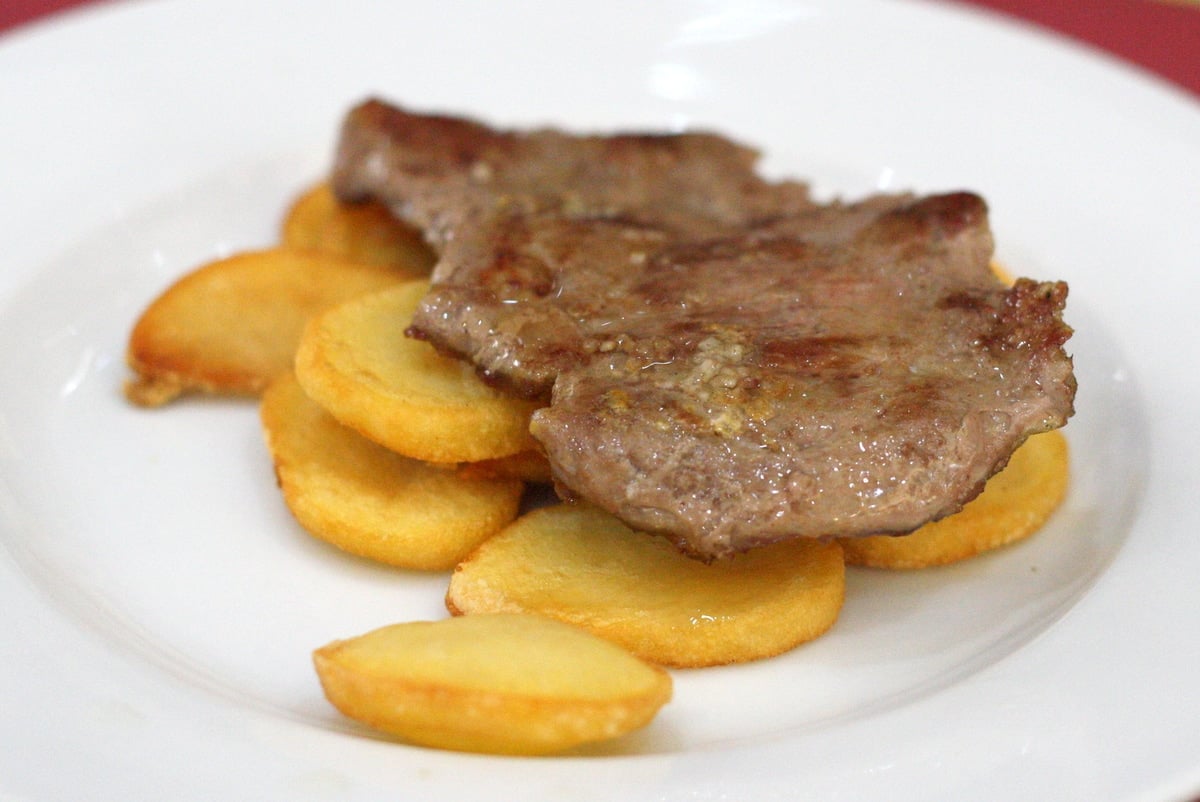 Presa Ibérica
Another of the most prized cuts of Iberian pork, best cooked medium rare and served simply.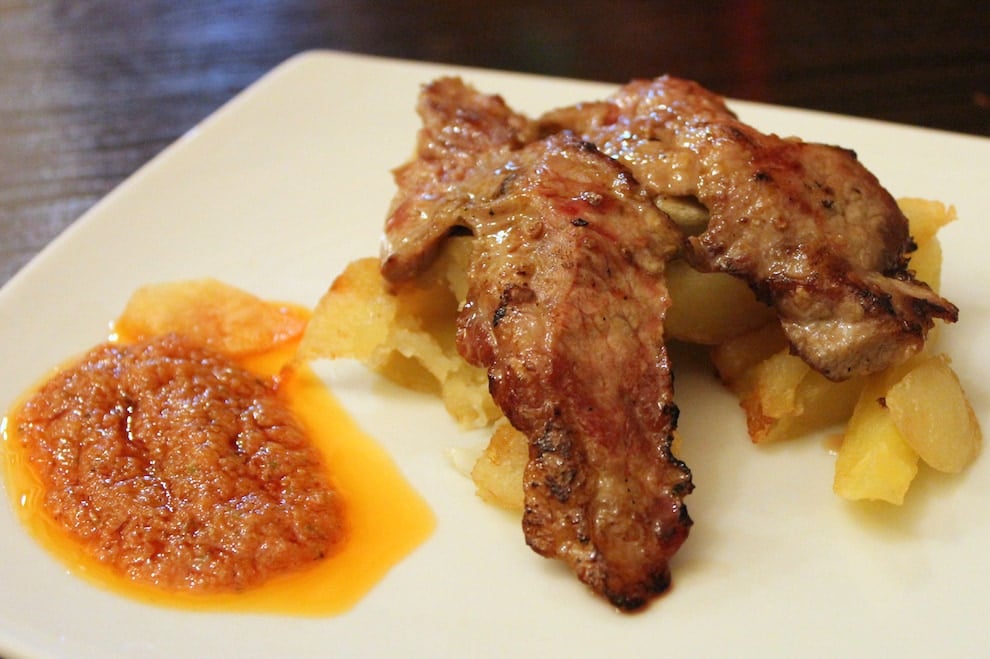 Serranito
Seville's signature sandwich (and one of my favorite sandwiches ever) is called the Serranito. Pork loin, Serrano ham, and a roasted green pepper combine for this delicious masterpiece. Some places even add tomato, egg, and alioli, while others offer a chicken substitute instead of pork.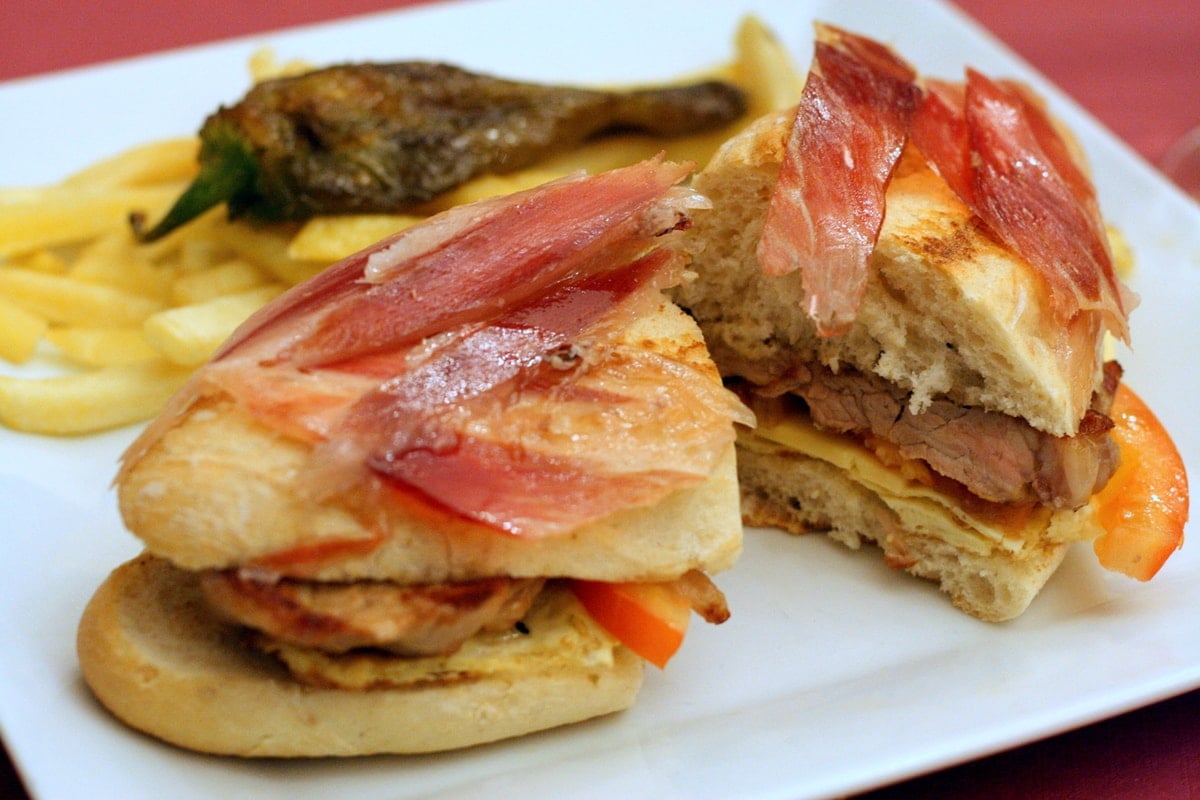 Tortas de Aceite
Invented by a woman named Inés Rosales in the early 1900s, these olive oil crackers are usually eaten with coffee for breakfast or a snack. The company has now grown to produce around 12 million packages each year, and has introduced a variety of flavors apart from their signature sugar and aniseed.
Orange Wine
Orange wine sounded pretty terrible to me when I first heard about it, but it was love at first sip. It's a sweet fortified wine, but the bitterness from the orange peel it's infused with makes it delicious. Perfect with some cured cheese.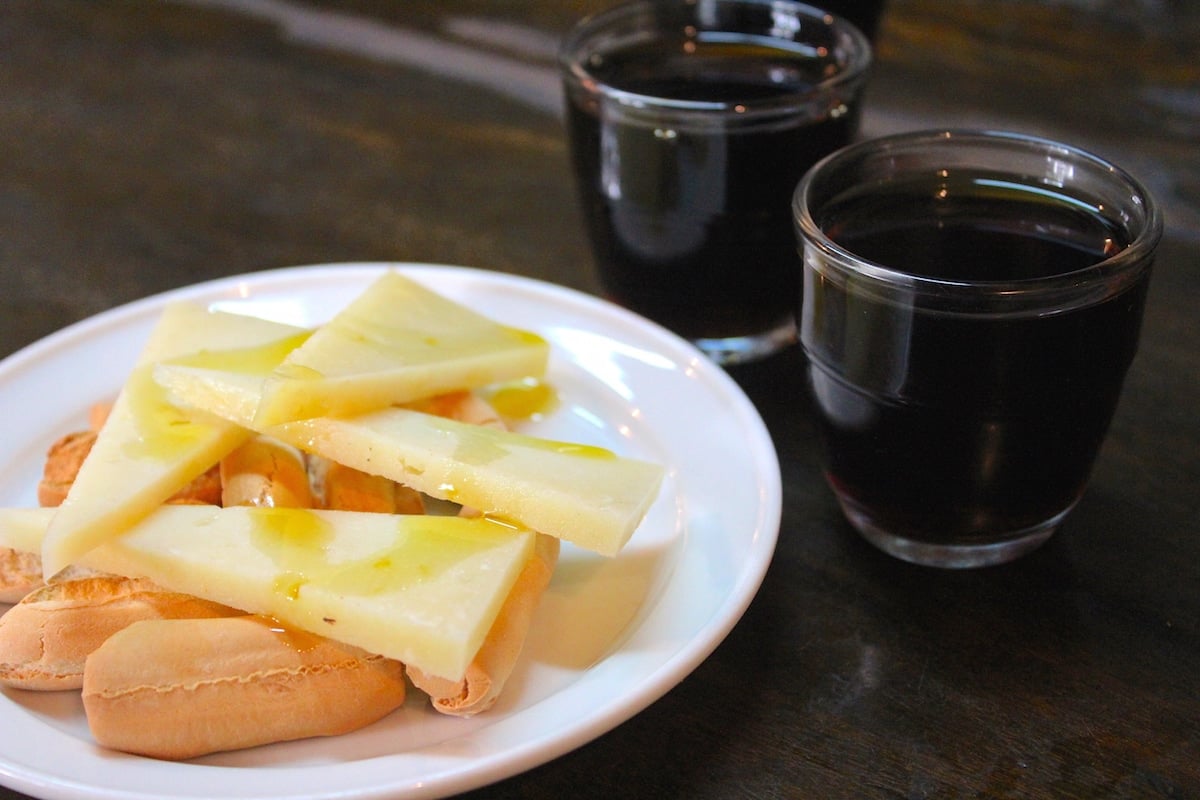 Where to Eat in Seville – Top 24 Tapas Bars & Restaurants
A city with 3,000+ tapas bars isn't easy to narrow down! But here are 27 places I consider fantastic—choose a few and you can't go wrong!
Eslava
Known to many as the best tapas bar in Seville, this tiny classic bar has kept its prices very low and the quality high. You can reserve a table (which is recommended because it gets packed). They do great seafood, especially coquinas (tiny clams) and fried ortiguillas (sea anemone).
Calle Eslava, 3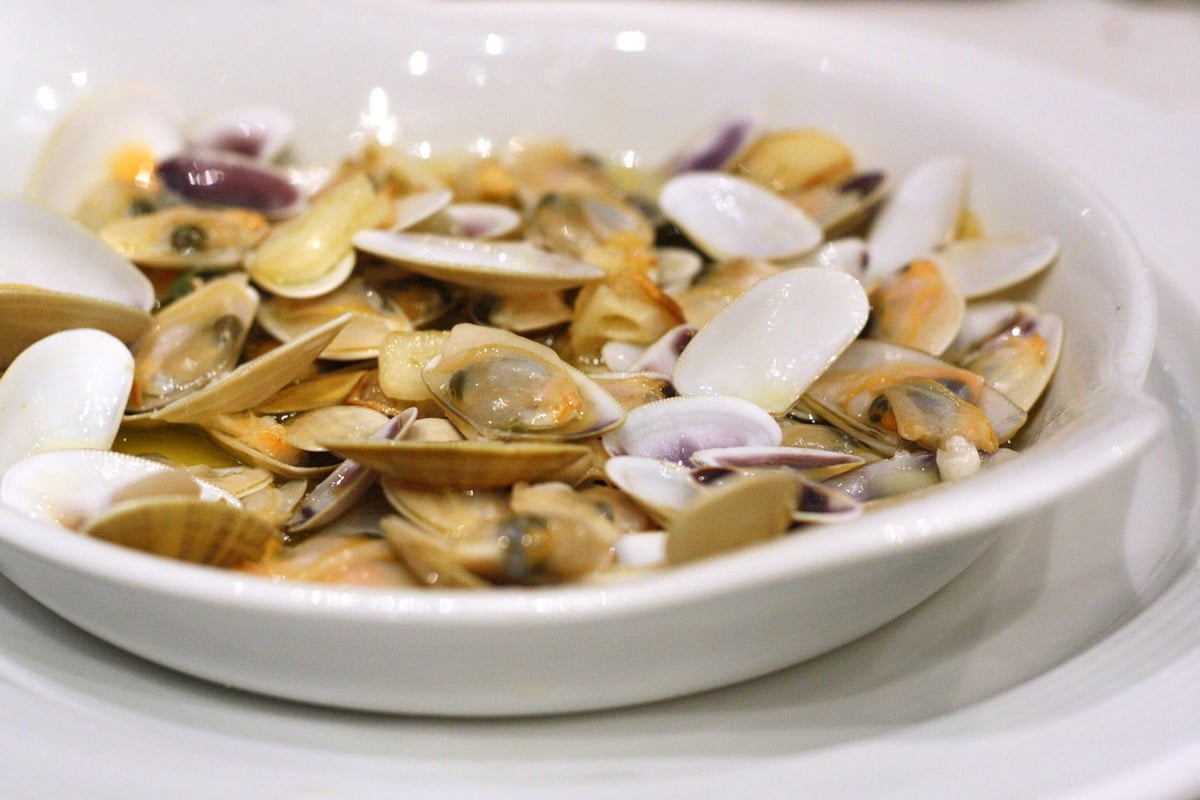 Bodega Dos de Mayo
The quintessential Seville tapas bar loved by locals and tourists alike, Bodega Dos de Mayo offers an enormous menu and cheap prices. Things do get a bit chaotic, but just go with the flow! Make sure to be assertive when ordering, and order only one or two tapas at a time.
Plaza de la Gavidia, 6
La Cacharrería
I love the breakfasts at La Cacharrería, but expect to wait a long time to enjoy them. As it's often understaffed, you truly have to be in a relaxed mood to enjoy coming here. But, if patient, you'll be rewarded with homemade bread and marmalades, sweet freshly squeezed orange juice, and great coffee.
Calle Regina, 14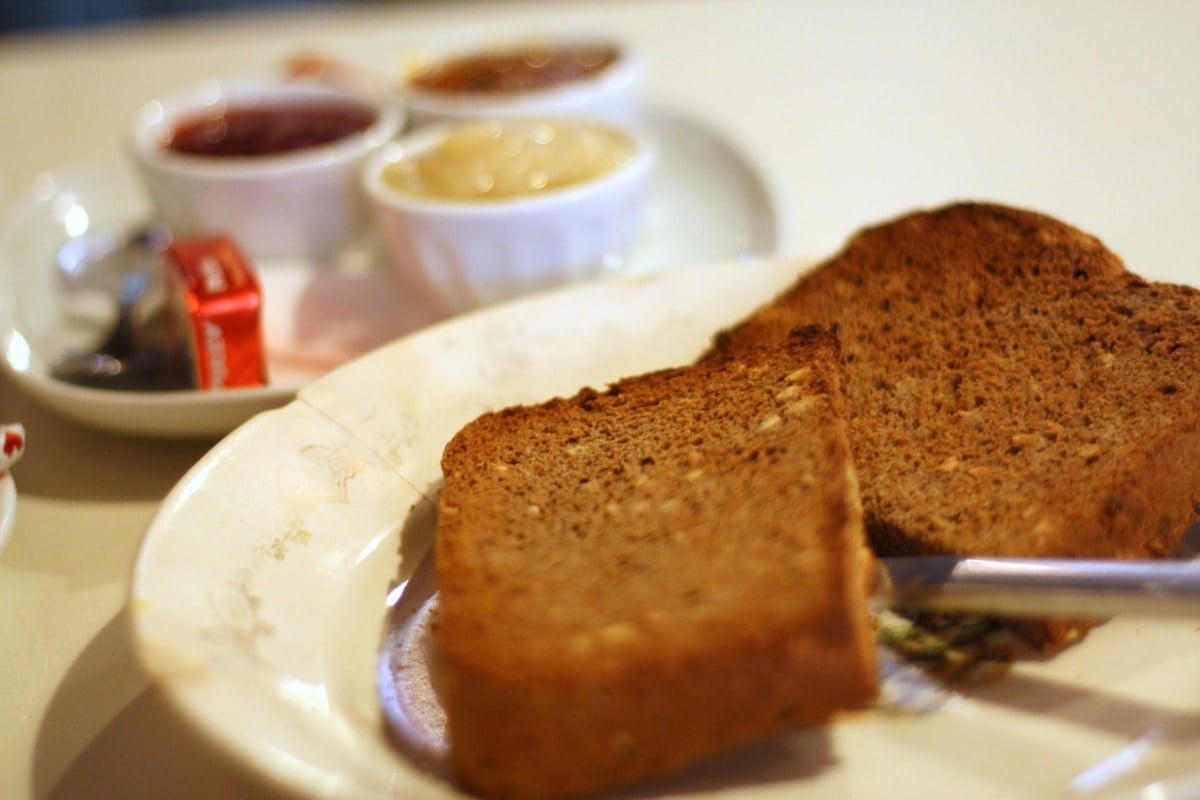 Bodega Santa Cruz (Las Columnas)
One of the most classic bars on the border of the Santa Cruz neighborhood (and only a stone's throw from the cathedral), this is one of Seville's most popular places for tapas—especially montaditos. They do a great Serranito sandwich and a respectable pringá.
Calle Rodrigo Caro, 1
La Azotea
One of the city's best spots for more modern tapas, La Azotea has multiple locations—but I stick to their original bar on Calle Jesús del Gran Poder. The menu is constantly changing depending on the season, and you can instantly tell there is true passion in the kitchen.
I prefer eating in the bar area where you can always order tapas portions and see a bit behind the scenes.
Calle Jesús del Gran Poder, 31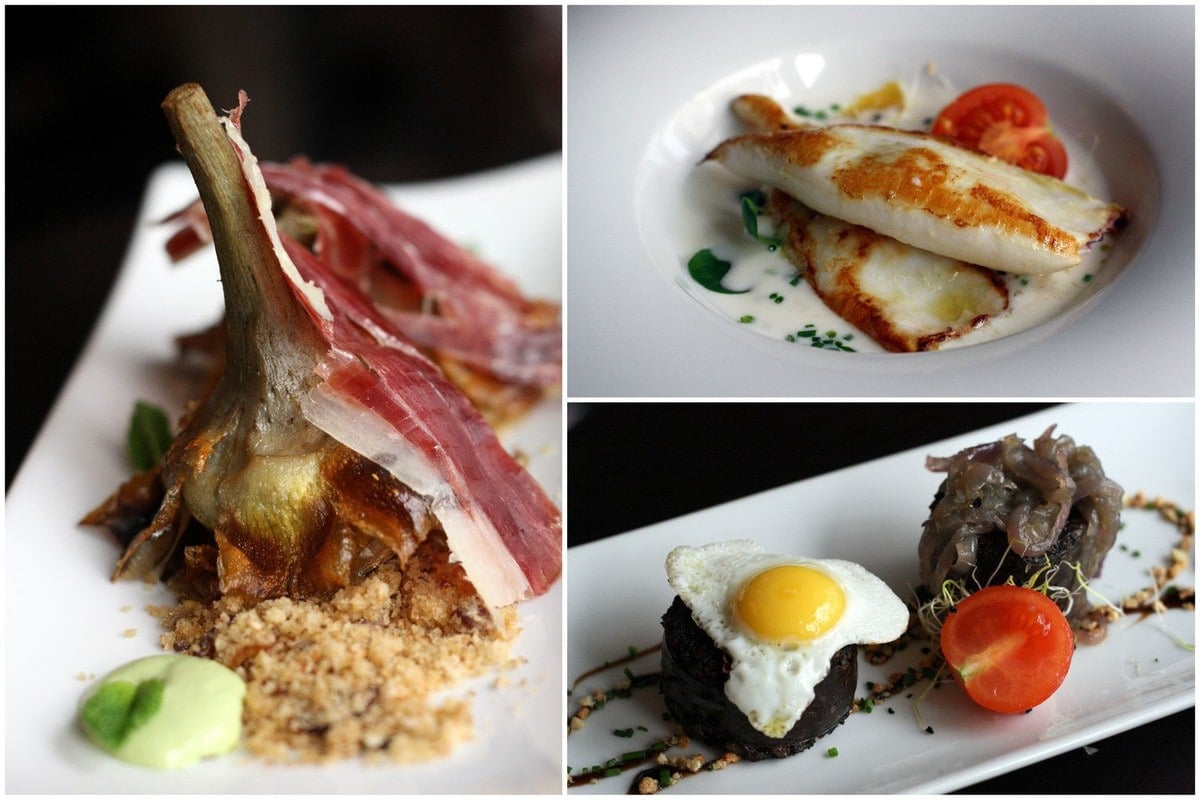 La Brunilda
A delicious husband-and-wife-owned and operated tapas bar with great food and a respectable wine list. It's a tiny place and often highly ranked on Tripadvisor, so get there early!
Calle Galera, 5
Sal Gorda
One of my favorite places right off of Plaza Alfalfa, this small and unassuming tapas bar serves some wonderful food, and the prices are unbeatable for the quality. They also have craft beers and a good variety of wines by the glass.
Calle Alcaicería de la Loza, 23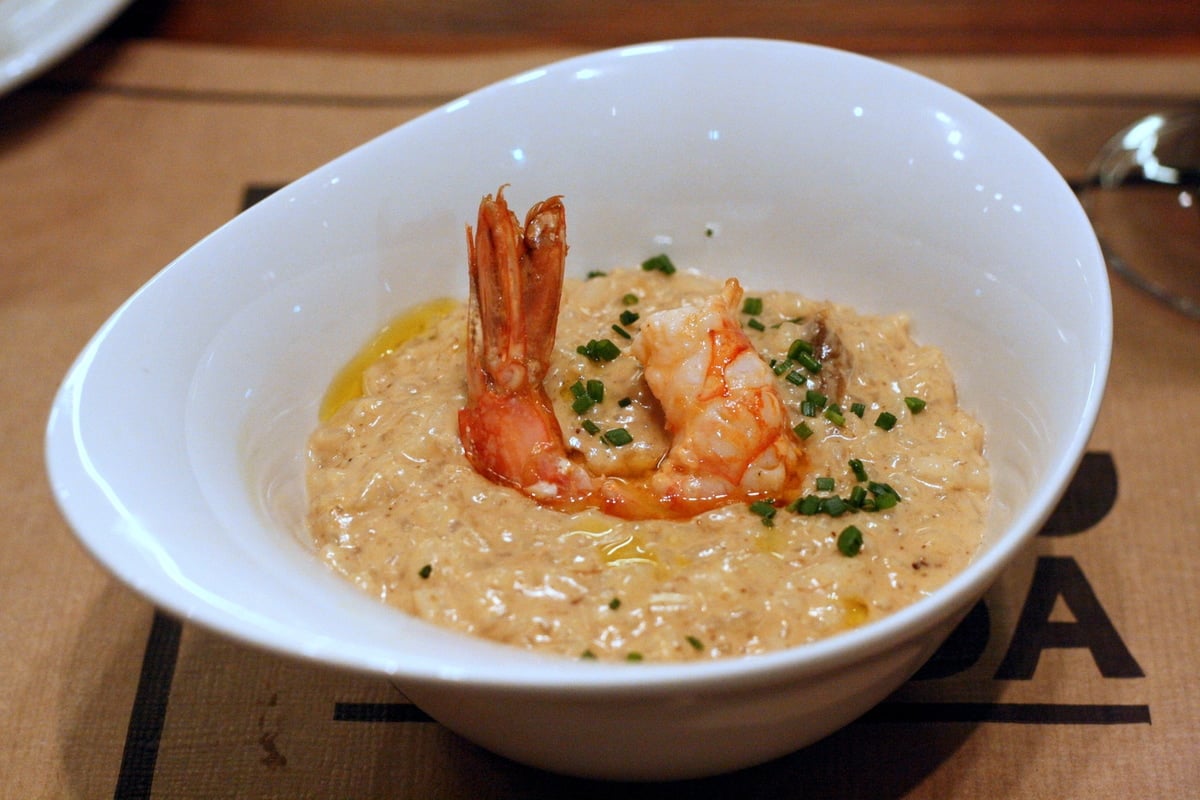 Petit Comité
A great place to reserve a table, this innovative restaurant serves up modern and delicious tapas and raciones in a lovely space.
Calle Dos de Mayo, 30
Mechela Restaurante
This is definitely a place to reserve if you want a sure thing. The food is well worth it, and everything is prepared with lots of love.
They serve one of my favorite dishes in Seville (yes—in Seville!), a vegetable lasagna. Sounds a bit boring, but it is truly remarkable—I'd work for them for free in exchange for the recipe!
Calle Pastor y Landero, 20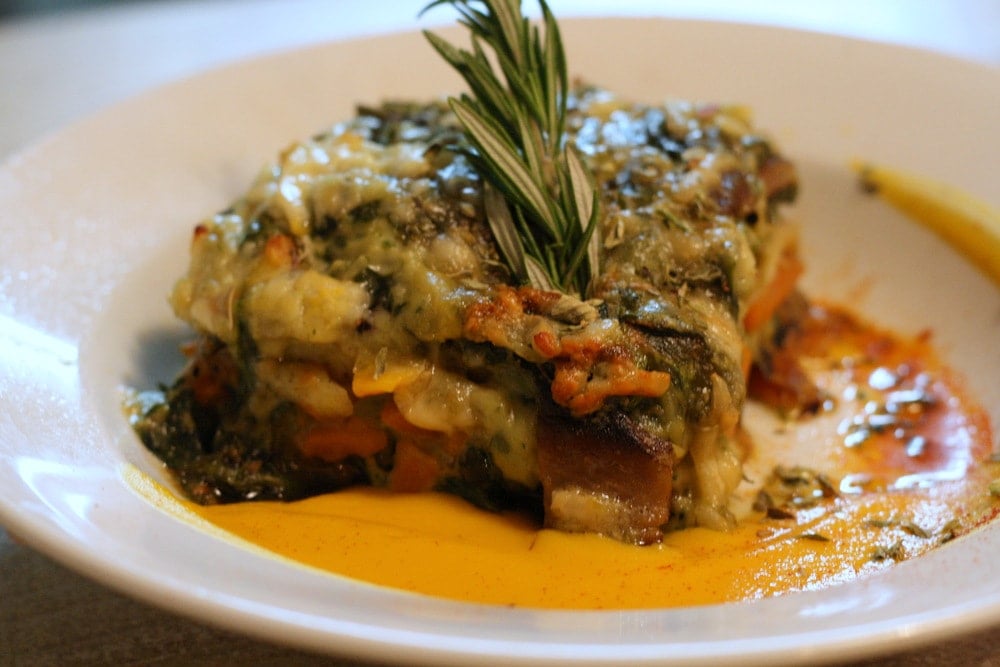 La Moneda
Another of my favorite tapas bars in the city center, Bar La Moneda serves seafood tapas (at the bar only). They're famous for their sopa de galeras (mantis shrimp soup!) and I adore their fish in manzanilla wine sauce.
Calle Almirantazgo, 4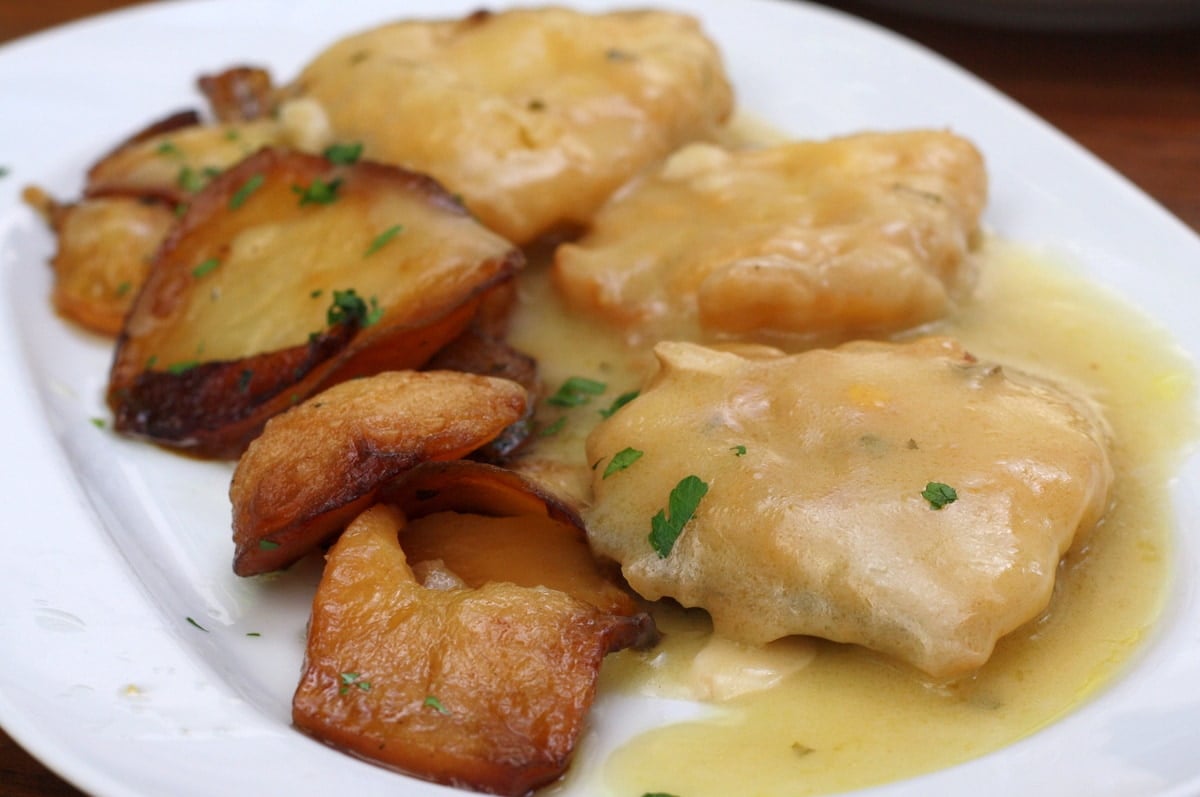 Confitería La Campana
For pastries there's no bakery more picturesque than La Campana. Known for traditional Spanish pastries and seasonal Seville sweets, their window displays are absolutely stunning.
Calle Sierpes, 1
Bar El Comercio
The best churros in Seville definitely come from Bar El Comercio. Try them for an early morning breakfast or an afternoon snack.
Calle Lineros, 9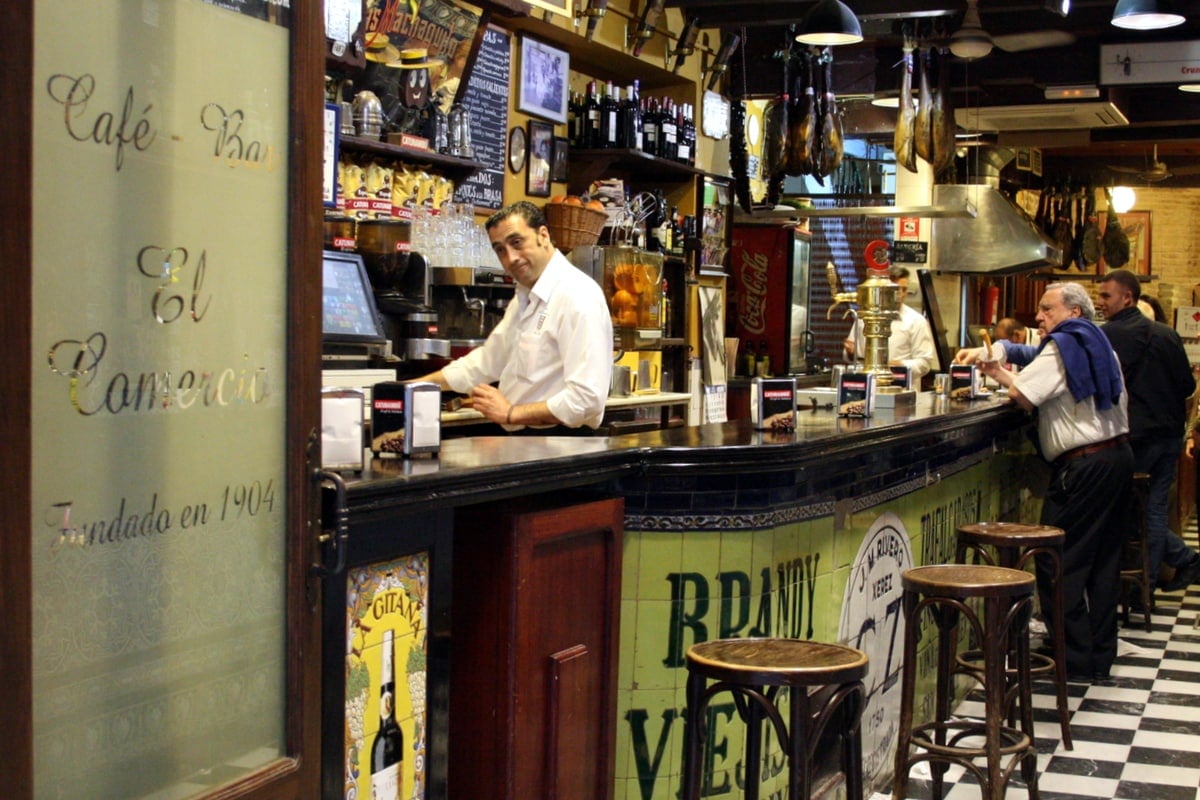 Bar La Fresqui
Another of the city center's most popular breakfast spots, Bar La Fresqui is where you'll rub elbows with the locals who crowd in each morning to enjoy their tostadas (I get mine with jamón, tomate, y aceite) and a hot cup of coffee.
Calle Juan de Mesa, 645
Bodeguita Romero
One of Seville's best classic tapas bars, this comfortable spot makes one of the city's best pringá sandwiches. It also does delicious spinach and chickpeas, and great secreto and presa cuts of Iberian pork.
Calle Harinas, 10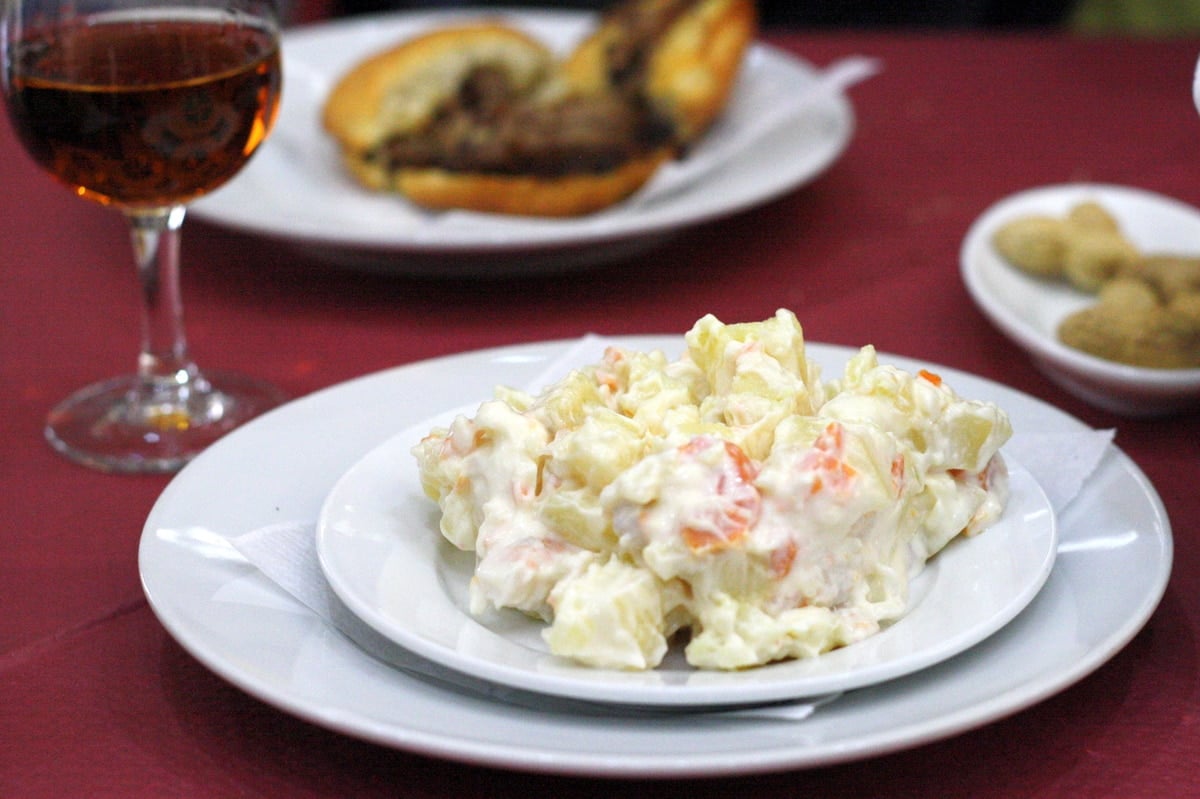 Taberna Águilas
One of Seville's most traditional small tapas bars, here you'll find delicious salmorejo and plenty of montaditos. The tiny space is decorated with April Fair memorabilia, and you can even order a rebujito (a mix of sherry and Sprite traditionally served at the Feria).
Calle Águilas, 10
ConTenedor
An eclectic space that focuses on top-quality ingredients (many of which are organic), this is a restaurant—no tapas. But it's well worth it to bypass the small plates for an evening of conTenedor's delicacies. Try their duck rice—it's life-changing.
Calle San Luis, 50
Las Golondrinas
Hidden away in Triana's ceramics district, this classic spot is known for its delicious and simple tapas, including marinated vegetables such as radishes, carrots, and peppers.
For hot plates try their punta de solomillo (grilled pork skewered atop bread) and chipirones a la plancha (grilled cuttlefish). Their mushrooms with alioli are also delicious!
Calle Antillano Campos, 26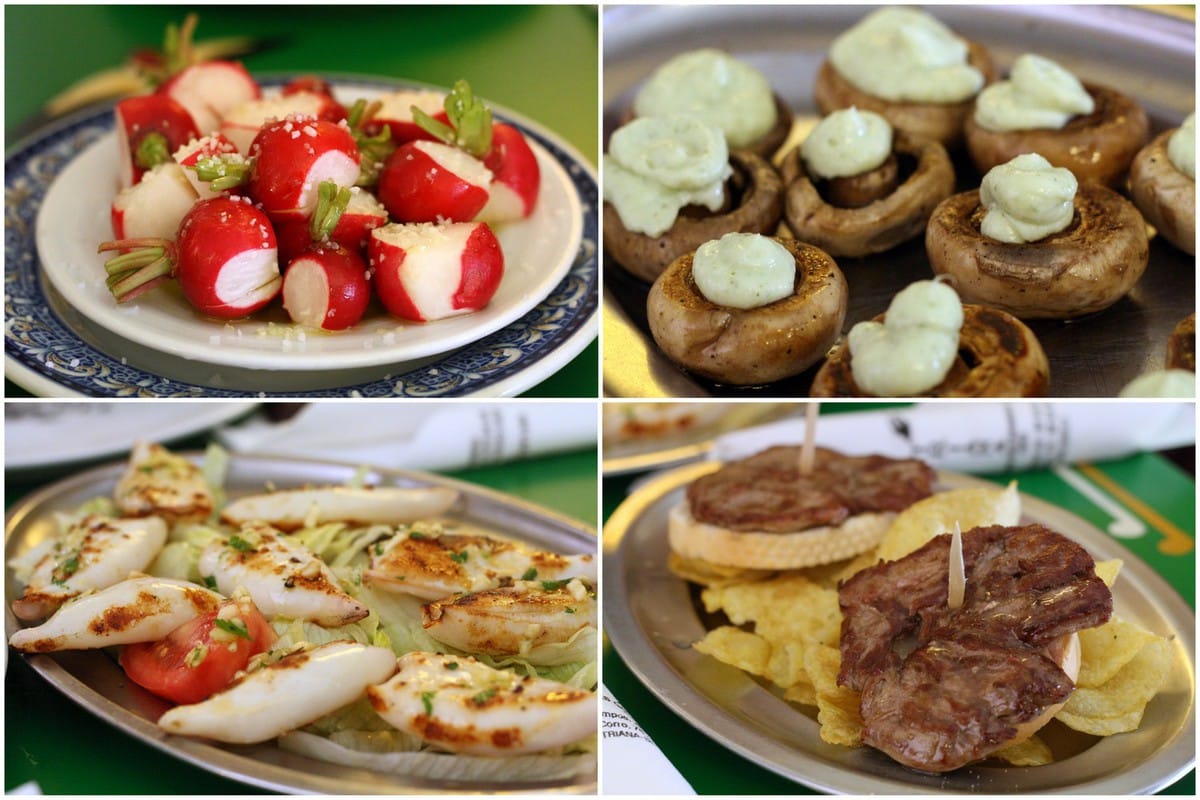 Mercado de Triana
One of Seville's most beautiful and historic markets is just over the Triana bridge. A stroll through its colorful booths is a must, and if you're lucky enough to have access to a kitchen while visiting, you will certainly be tempted to buy the fresh fish, meats and spices for sale.
Luckily, if you don't have time to cook, there are various bars inside the market that will do the difficult work for you.
Calle San Jorge, 6
Casa Moreno
One of Seville's many abacerías (part grocery store, part bar), this spot is easy to brush off as a tiny store from the outside. But hidden in the back is a narrow bar where people squeeze in for a sherry and a tapa. Their montaditos are among the city's best.
Calle Gamazo, 7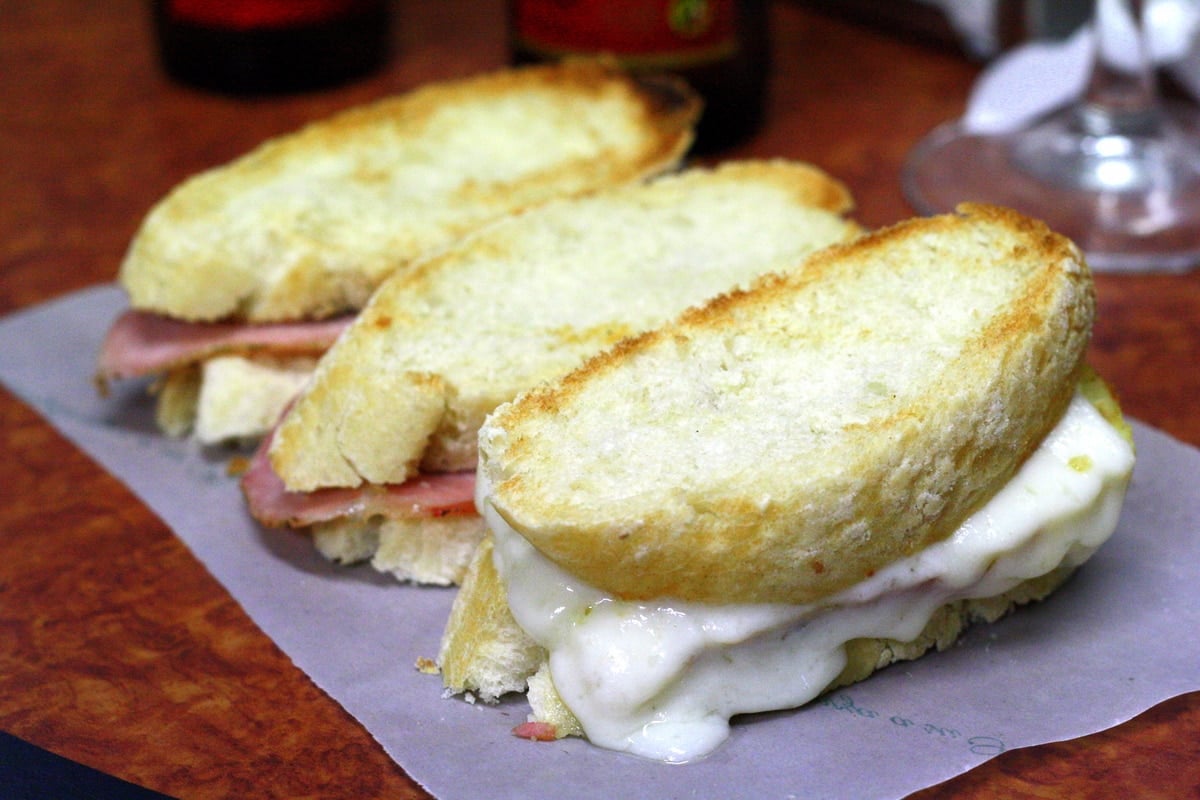 Casa Morales
This is my favorite old-fashioned bar in Seville, and entering it feels like traveling back in time. It was opened in 1850 and was a place to enjoy little more than a glass of wine. There are two halves to the space, and I much prefer the part surrounded by old wine barrels called tinajas.
Calle García de Vinuesa, 11
Freiduría La Isla
Seville is famous for fried fish, and my favorite comes from La Isla. Family-run since 1938, they get their seasoning and marinades right. They also do delicious calamares del campo. This is a no-frills kind of place that is self-service, and perfect for an informal lunch. We visit on our Seville food tours to taste their famous cazón!
Calle García de Vinuesa, 13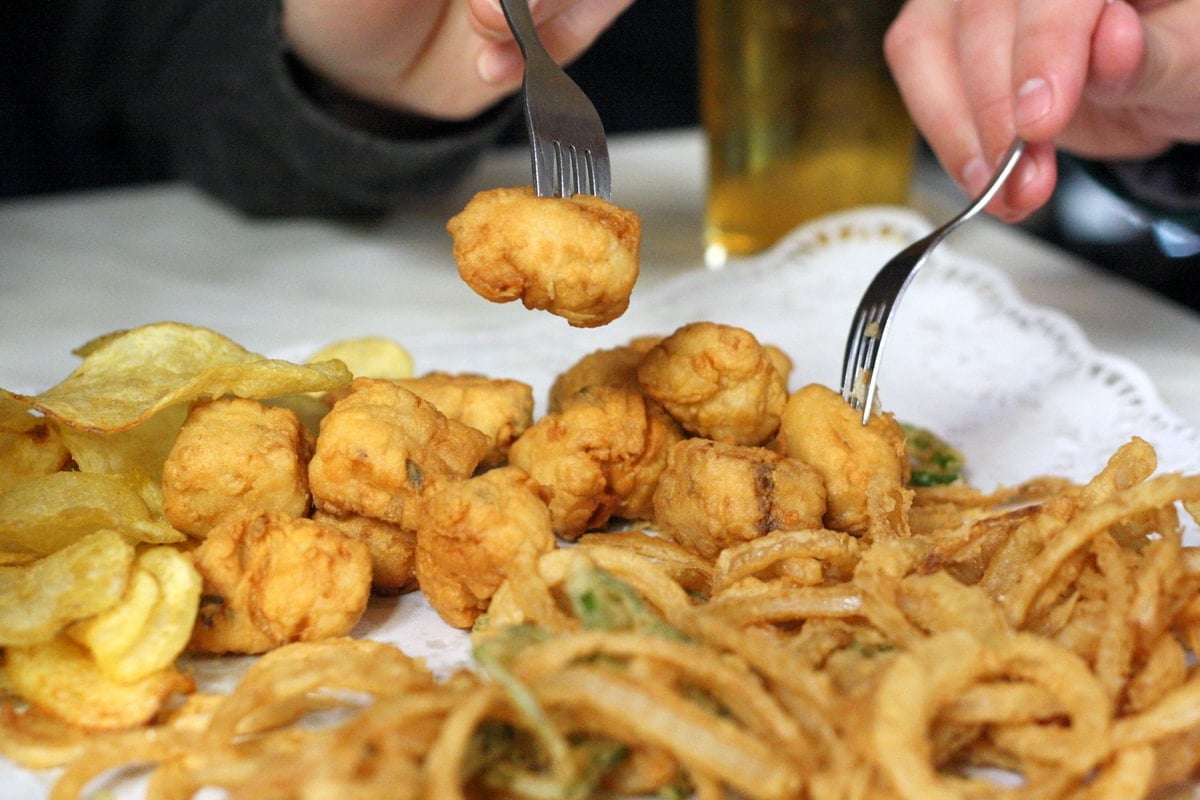 El Rinconcillo
The oldest bar in Seville (founded in 1670!) El Rinconcillo is a can't-miss. I prefer it for a pre-dinner apertif, preferably a sherry and some olives. You'll feel like you've gone back in time (despite the tourists and locals crowded in beside you).
Calle Gerona, 40
La Taberna
Another of Seville's best traditional tapas bars, La Taberna is run by Maria and Miguel. It's a friendly and wildly popular place—so squeeze in and don't be shy. Maria's rice of the day tapa is delicious, as is her skewer of grilled grouper and vegetables (among many other things!).
Calle Gamazo, 6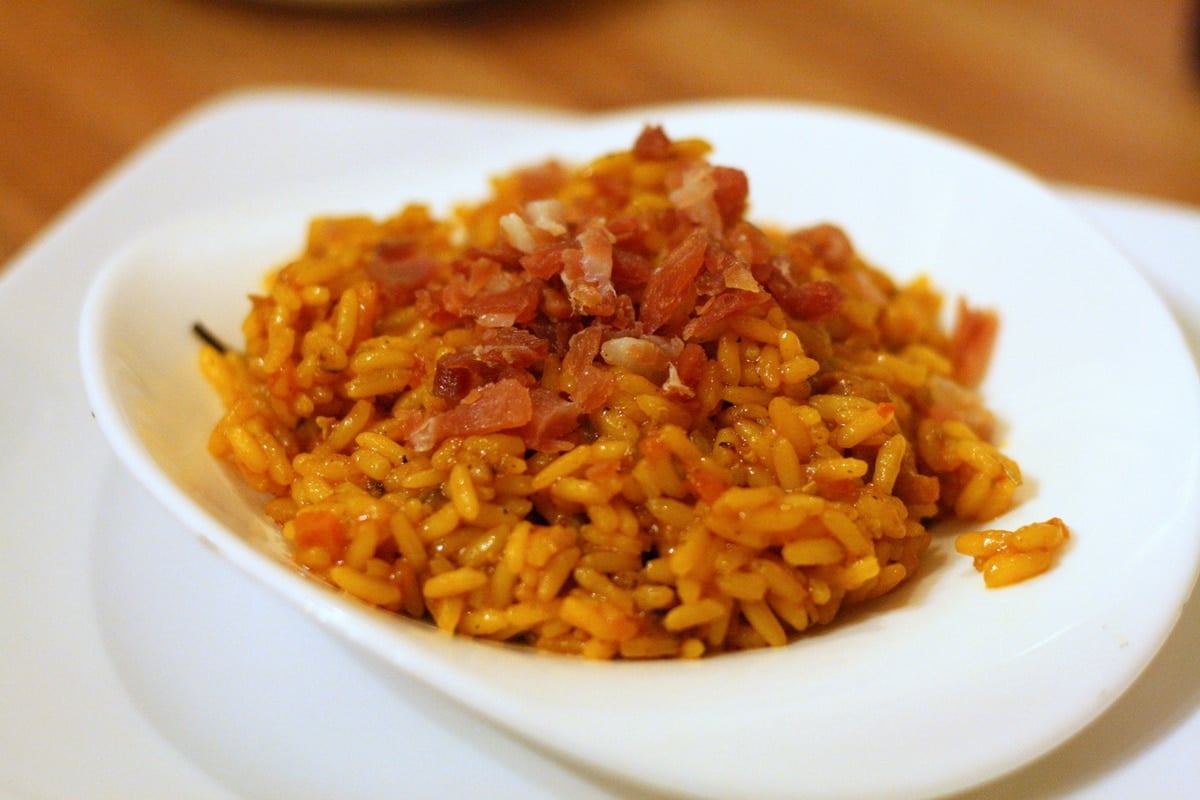 Blanco Cerrillo
No visit to Seville is complete without popping into Blanco Cerrillo. Locals don't often even know the name of this place—they just know the smell of freshly fried anchovies that hits them as they make their way through Seville's shopping district. A cold manzanilla and a tapa of boquerones fritos are musts!
Calle José de Velilla, 1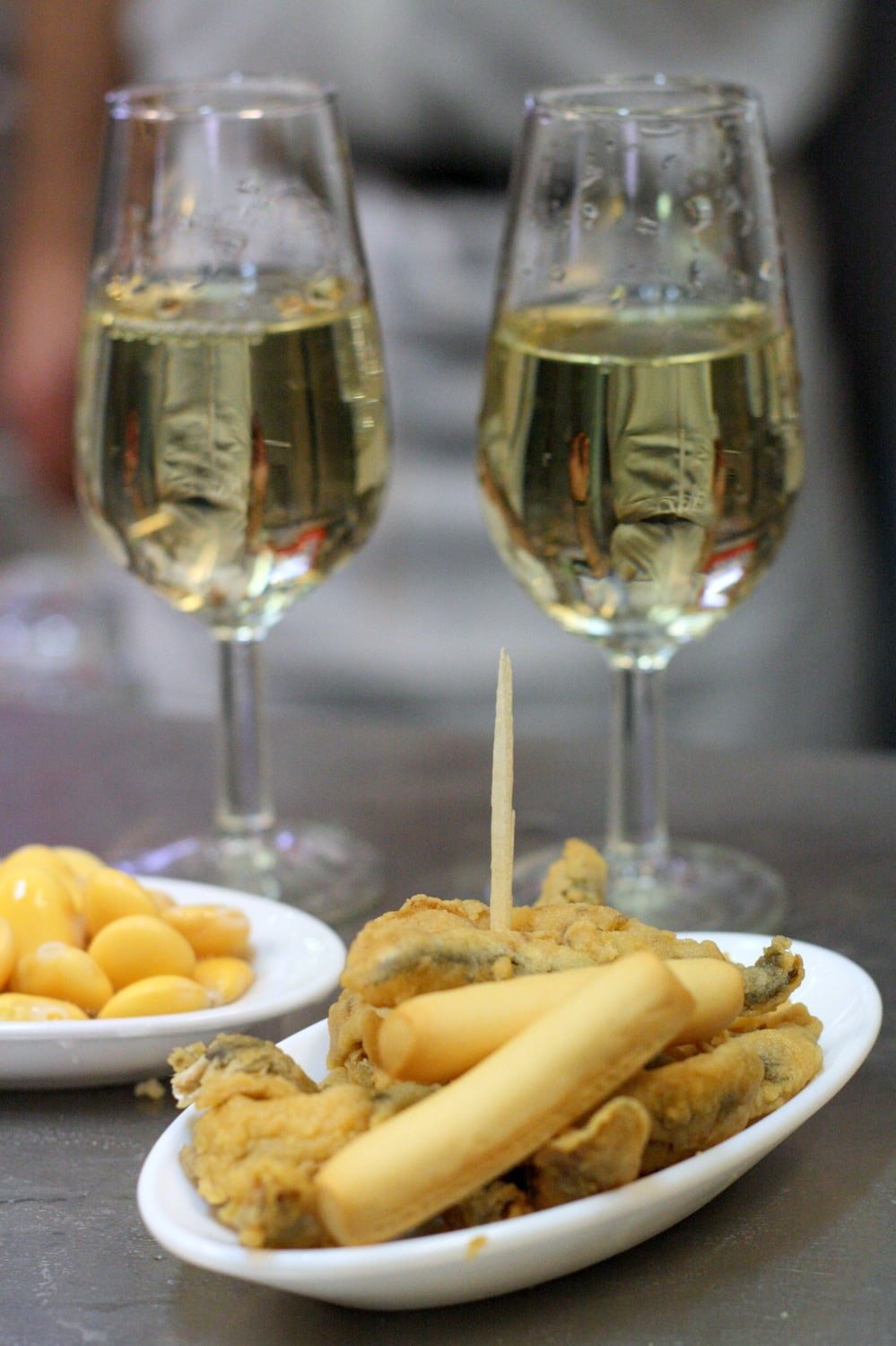 Guide to Eating in Seville – Know Before You Go
A bread and service charge is often added to the bill and ranges from €1 or less per table to €2 per person, depending on the place. If you don't want bread brought to the table, specify "sin pan por favor," though unfortunately sometimes you'll still be charged. Feel free to complain if this is the case, though the easiest thing to do is to eat like a Spaniard and enjoy your bread!
Don't take offense when waiters are running around and slam down your drink—it's not rude, just a part of the show they put on! You often have to be assertive to get a waiter's attention—feel free to signal him/her over. This is not rude. Don't expect to be asked if you want a second drink, more food, the check, etc. Just be assertive and ask!
You aren't required to tip in Seville, but rounding up the bill and leaving up to 10% for excellent service is definitely appreciated (I always tip my servers). Waiters work hard and earn a very low monthly wage.
BYOT—bring your own toilet paper! Seville's best tapas bars get busy and the bathrooms often lack toilet paper—especially in the ladies' rooms. Go prepared with a pack of tissues to be safe.

Learn to love the afternoon merienda. From around 5:30 to 7:30 you'll see locals having a drink and a bite to eat in local cafés and pastry shops, instead of having dessert right after a meal. And remember—an afternoon snack at 7:30 pm means dinner is late! Do as the locals do and don't dine before 9:30 pm!
Seville is definitely among Spain's best food cities. The combination of traditional and modern is one of the best I've ever experienced, and value for money is unbeatable.
Working in Seville to set up our new food tours was pure temptation to simply move back—and we might really consider it! For now (luckily) I have Ale's family and many friends there, and am at least able to split my time!
Seville Food Tours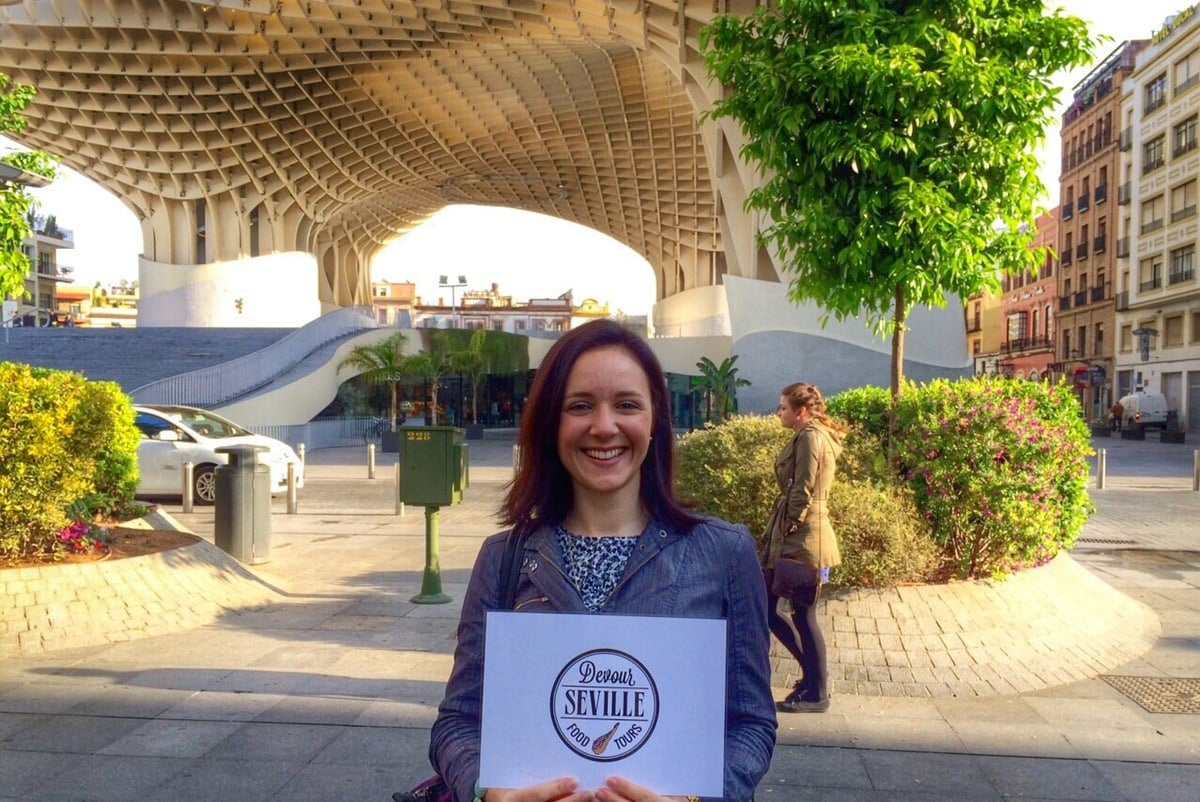 If you are planning to visit Seville, we'd love to have you join one of our Seville food tours. The tours are about 4-hour experiences where you'll try 10+ different foods at variety of traditional family-run establishments. Between bites, you will learn plenty about Seville's incredible history and culinary identity.
All three of our tours are super fun (and I'm not just saying that because I helped design them!). They really capture the essence of traditional Seville, and they've been created, tried, and tested by born-and-bred Sevillanos too! Book a Seville food tour online to reserve your spot.
Where to Stay in Seville
Luckily, during most of the year you are spoiled for choice when staying in Seville. The city is filled with lovely hotels, some even housed in former palaces! I've stayed in my fair share of Seville's hotels these past several years, and there are a couple that have really stood out.
For boutique luxury in Seville, I'd strongly recommend the CoolRooms Palacio Villapanés and also the Hotel Corral del Rey. Both are extremely well located, and are gorgeously renovated former Andalusian palacios.
Read More: My reviews of Palacio Villapanés and Corral del Rey
If you are looking for something different, there are plenty more options. You can find some great deals in the area around the Museo de Bellas Artes, and also if you cross the bridge into the famous Triana neighborhood.
One thing you want to make sure of is that your hotel in Seville has air conditioning and heating. Seville can be extremely hot most of the year, and is surprisingly cold (due to the humidity) in winter.
For more recommendations, check out my guide to where to stay in Seville.
Love Spanish food? Sign up for my free weekly newsletter and receive a new Spanish recipe once a week! Join today and get my FREE Spanish ingredient essentials guide!