If you follow me on Facebook or read my newsletter, you may have already heard the news-- I am officially a homeowner. But don't raise the cava glasses yet-- my home is not quite liveable (and by not quite, I mean absolutely not!). Want more details on this crazy decision? Read on (and enjoy the video tour at the end!).
Never did I imagine that the first property I ever bought would be two adjoining Spanish ruins in a village of 30 (ish) full-time residents. Nestled in the mountains of rural León (northwest Spain), there's no seaside view, but there is something totally magical about it!
We fell in love with Pozos from the first time we visited Laura and Esmeraldo of Esme Tours, and when we found out that some of the ruins were for sale (and cheap) we considered it the opportunity of a lifetime-- to restore two beautiful homes, full of history and memories, in a gorgeous and undiscovered part of Spain.
Read more: See our first visit to Pozos here, and why we love this place so much here.
We are only just beginning this journey (currently looking for an architect who believes in our vision-- then a builder who can make it happen within our budget!). But I am so excited for this adventure, and the day we can finally open the doors to our mountain retreat (which we might rent out to friends/acquaintances too!).
Here are some photos of the before-- as I said, this is a ruin!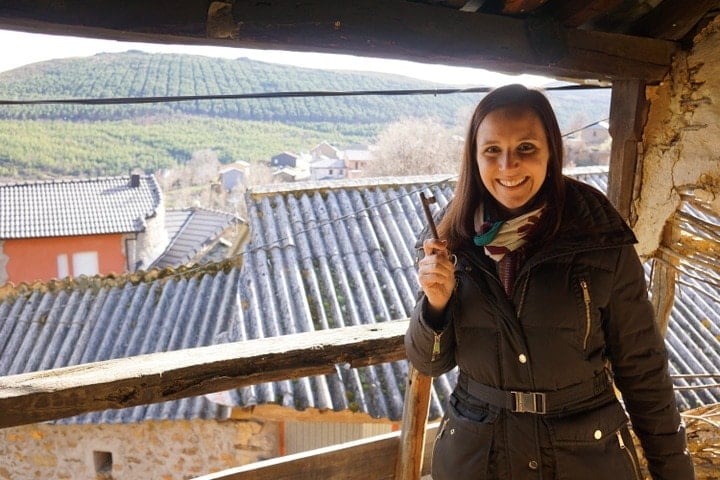 Once it's done, we look forward to escaping from Madrid for long weekends of cooking and hiking, picking seasonal herbs, berries and nuts, and maybe even tending to a small garden. This is awhile away-- I'd guess two to three years-- but I'm already starting to dream 🙂
To keep up with any updates, join my mailing list!
My Video Tour
It's vertical because it was supposed to be an Instagram story! But got too long... sorry! 🙂
Have you ever dreamed of restoring a ruin? Where?