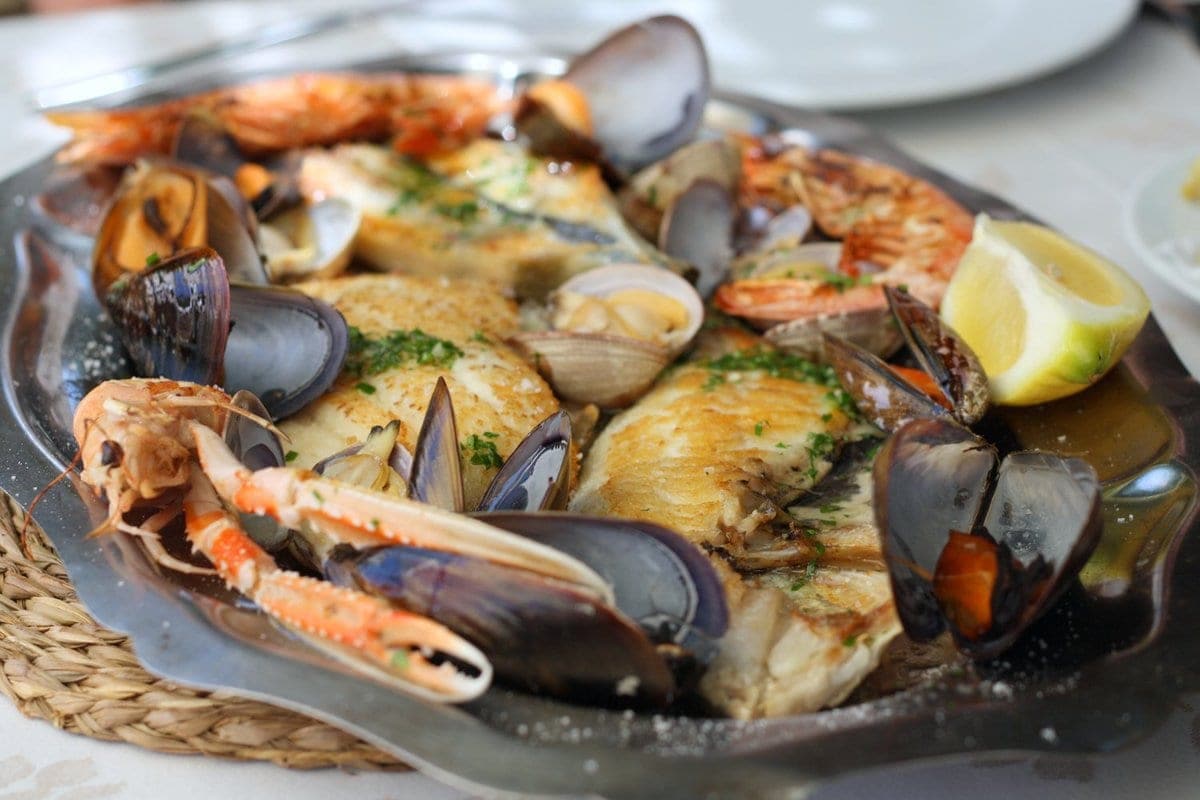 One of the best things about working in the food industry is eating. One of the worst things about working in the food industry is eating. Often my job is to eat and (surprise!) I don't always enjoy it. As a health conscious person, trying 10 croquettes in a day can be difficult-- though I will always oblige in the name of research! I'm not complaining (I love what I do) but there are plenty of times when I crave nothing more than simple home cooking, and the last thing that appeals is another meal out!
Alejandro and I were at that point when we visited Mallorca. We were craving simplicity, homemade cooking, and we were hoping that eating in Mallorca would mean great seafood and vegetables.
Luckily, it did-- finding great food isn't difficult on the island. While the touristy areas have their fair share of tourist traps and, on the opposite end of the spectrum, Mallorca also has a wonderful array of fine dining restaurants, the backbone of Mallorcan cuisine has always been the amazing variety of products from the area. Local meats, vegetables and seafood are transformed by island cooks into rich stews or simple grilled platters smothered with local olive oil and sprinkled with sea salt.
During our six days in Mallorca we were able to try many typical foods from Mallorca. As usual, my best bites weren't always the most impressive or expensive things we tasted-- but to me they were the most surprising and delicious! Each warrants a trip back for sure!
Cheat Sheet: The Best Bites in Mallorca
Fresh grilled local seafood
Rice at Cas Xorc
Spicy Sobrassada from Colmado Santo Domingo
Red Wine from Bodegas Ribas
Ensaimadas and Sorbet from Can Joan de S'Aigo
Fresh grilled local seafood
It was what we were craving and it's what we got! We forgot about TripAdvisor for the week and stumbled into the most convenient (and full) beachside bars. We were always pleasantly surprised by the fresh seafood, which was perfectly grilled and seasoned. Local seafood in Mallorca may include:
Red prawns from Soller
Local lobsters
Gallo (John Dory)
Cap Roig (a type of scorpion fish)
Rice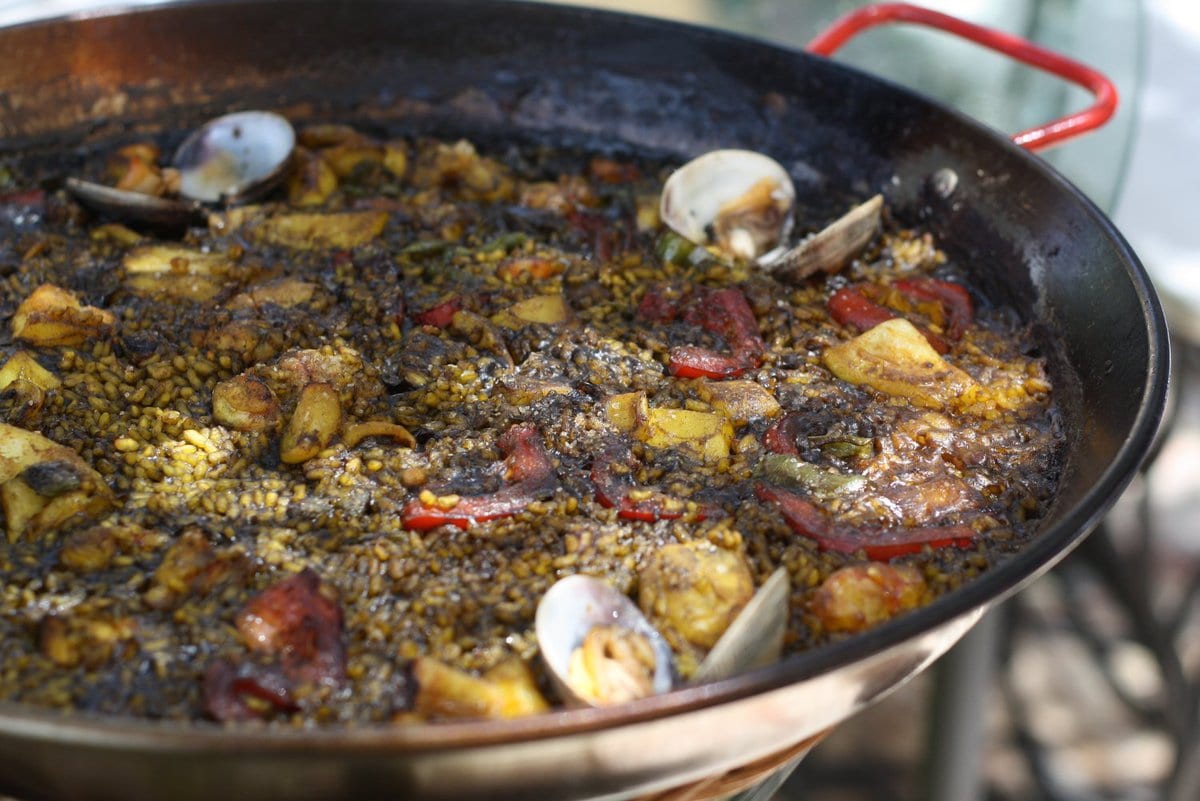 Arroz (or paella if you must), is cooked in different ways all over Spain, and Mallorca is no exception. When we arrived at the beautiful Cas Xorc Hotel (about 40 minutes by car from Palma) after a windy drive up the Tramuntana Mountains we had one thing clear-- we weren't going back down! Luckily, their popular restaurant was able to accommodate us, and we ordered one of the most delicious rice dishes we've tried this year, a black rice with monkfish and clams. The restaurant is worth it for the views alone, but with food like this it's no wonder there's always a waiting list!
Sobrassada
I'd tried Mallorcan sobrassada (one of the must try Spanish cured meats in this guide) before and loved it, but trying it at a 100+ year old shop hidden in plain view in downtown Palma de Mallorca was a whole other story.
The woman working (the cousin of the owner, she explained) was a 5th generation family employee. She warned me against trying the picante (a spicy version-- homemade made by her cousin's family), convinced it would be unbearably hot. It wasn't of course, but it did have the perfect amount of kick. I brought home one and would've bought more if it weren't for the fact I'd need a new wardrobe with all those extra sobrassada pounds! For the uninitiated, sobrassada is soft cured sausage from local Mallorcan black pigs seasoned with paprika made with island peppers. I am now hooked for life (and as my bounty reaches its end I may soon suffer withdrawals!).
Colmado Santo Domingo: Calle Santo Domingo, 1, Palma de Mallorca
Red Wine
Our Mallorca wine tour brought us to two local bodegas, and I fell hard for Mallorcan red wine. I especially loved our visit to family run Bodegas Ribas, in operations since 1711 (the third oldest family run bodega in all of Spain!). We tasted the Ribas Negre, made with 50% of the local Mantonnegro grapes.
Bodegas Ribas: Carrer de Muntanya, 2, Consell
Ensaimadas and Sorbet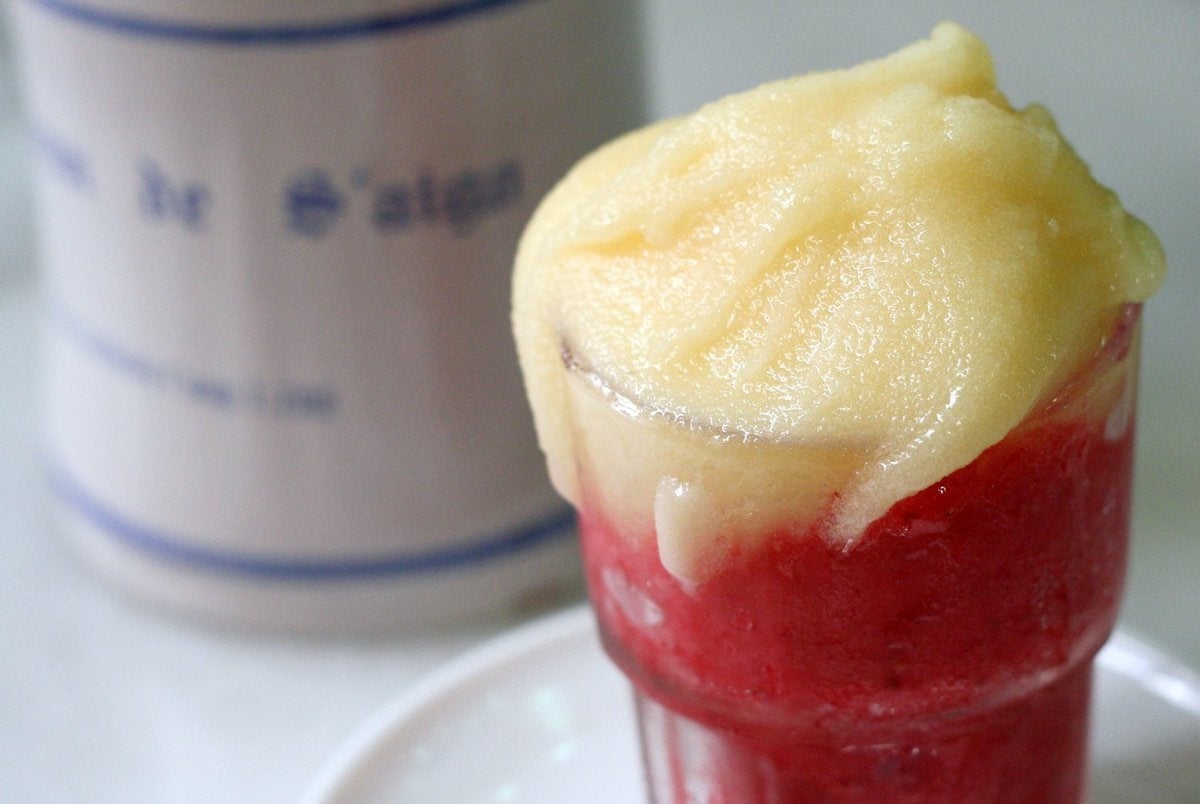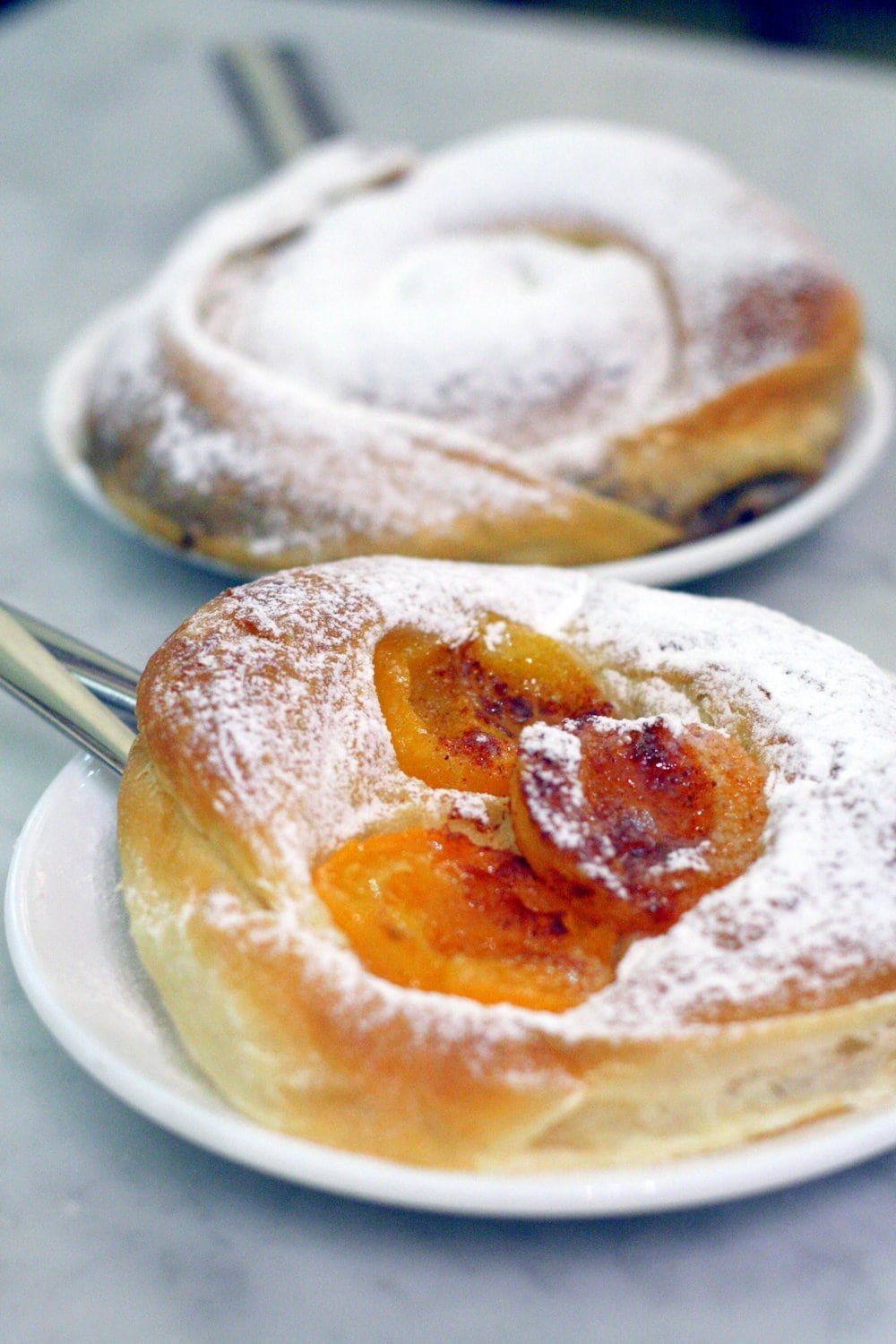 Hands down one of the best little places I've been to in a long time! I've never been a big fan of ensaimadas (a lard based pastry made topped with powdered sugar) but I finally understand their appeal. Turns out I haven't had very good ones in the past! Can Joan de S'Aigo is an institution in Palma de Mallorca specializing in traditional sweets, and has had plenty of practice at their craft. Open since the early 1700s, it started as a local ice shop (they made and sold ice which was used for refrigeration) and soon became at shaved ice shop, selling ice cream like you see in the photo above, made with ice and fruit juices (they say the first was made with almond milk).
I'm not a big ice cream person, but I could eat this EVERY DAY! I loved the combination I ordered of fresh apricot and strawberry. If you visit Mallorca you absolutely must come here.
Can Joan de S'Aigo: Carrer Can Sanç, 10, Palma de Mallorca
Mallorca is filled with delicious food, and we only scraped the surface. I already look forward to another visit-- we have so much left to taste!
Have you visited Mallorca? What was your best bite?