Banana Bread Pudding: A Quick Homemade Dessert Anyone Can Make!

I credit my wonderful mother for countless good things in my life, but I blame her for my terrible sweet tooth. Growing up with her delicious cakes, cookies, breads, and pies there was no way to avoid loving buttery and fattening, yet lovingly homemade, desserts. Yet as much as I adore sweets, as I grow older, I find myself preferring to cook rather than bake, and that means depending on local cafés and bakeries to provide my dessert fix. In Massachusetts there was no problem. The state is full of creative dessert bars, cute cupcake shops, diners with huge slices of pie… and you expect that when you chose to dine at a nice restaurant the dessert menu will be an innovative mix of sinful sweets.
In Spain the dessert situation has been different thus far. While living in Andalusia, the selection was quite limited. Most cafés do have a variety of pastries (each small town usually specializes in something sweet), which they eat for their afternoon snack (merienda) but they aren't too creative when it comes to other desserts. Typical menu offerings are fresh fruit, yogurt, puddings, and flans. The only postres I'd sometimes order were arroz con leche or sorbet. They were good, but I missed my apple crisp, lemon meringue pie, death by chocolate cake, pumpkin crème brulee…
Here in Madrid there are definitely many more dessert options. There are countless cafés and bakeries that have international desserts and pastries. Specialty cupcake shops have popped up throughout the city, with such success that some are charging customers up to $5 per tiny cupcake! Madrileños know what brownies and carrot cake are—and they adore them. That being said, their dessert trends are still very outdated when compared to those of the US, and I also don't have the cash to dine out in posh cafés and gourmet restaurants very often, so I'm still stuck!
So finally (after avoiding it for the past few years) I've started to bake here in Spain. I've tried to put this day off, as I know that once I bake something warm and delicious I'll end up eating the entire thing! This is not okay when I have to be in my sister's wedding in a month! But sometimes homemade sweets are simply necessary for one's well-being.
A couple of weeks ago was one of those critical times and I decided to attempt to recreate one of my favorites. I made and wrote about Banana Bread Pudding with Banana Foster Sauce for my Spanish recipe blog Recetas Americanas. But it was so amazing that I must share it with you here too. It is based on a recipe I found from Brown Eyed Baker (one of my favorite baking blogs) and it is adjusted to be a bit lighter, substituting whole milk for heavy cream.
The recipe is very easy to make and it came out delicious. It's very rich, so I'd recommend making it when entertaining so that you don't have too many leftovers! I've gained 7 pounds since before Christmas and I'm convinced this may have had something to do with that.
Moral of my post: If you are looking for a taste of America here in Spain (or wherever you may be) just buy some bananas and some bread and get baking. It'll be well worth it!
It may sound like a lot of steps, but I promise you that it is not difficult. If I made it in my tiny closet of a kitchen you can certainly make it in yours! I recommend making this delicious banana bread pudding when you need a big dose of comfort food, and it would also work for a Valentine's Day dessert to surprise your significant other!
What dessert reminds you of home?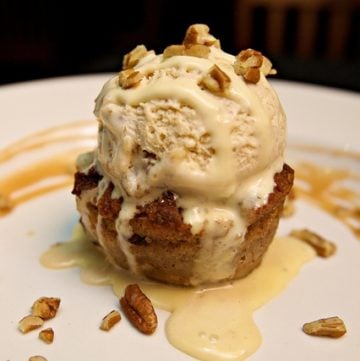 Ingredients
For the bread pudding:
3

eggs

2

yolks

1

teaspoon

of cinnamon

½

teaspoon

of nutmeg

2

mashed bananas

I used what I had, 1 fresh and 1 frozen

1

teaspoon

vanilla extract

¾

cup

sugar

⅓

cup

fine brown sugar

1 ¾

cups

of whole milk

or heavy cream

7

slices

of a thick white bread

about 5 cups of torn pieces
For the Banana Foster Sauce
½

stick of butter

4 T

3

heaping tablespoons of brown sugar

½

shot of rum

or 1 T vanilla if you prefer

A splash of heavy cream

or whipping cream Reserve the rest to whip and put on top of the dessert.
Instructions
Whisk the eggs and egg yolks together until frothy.

Add the cinnamon, nutmeg, vanilla, and mashed banana until everything is mixed evenly.

Add both of the sugars and whisk for 30 seconds.

Finally, whisk in the milk and then add the pieces of bread that are already torn up (a slice of bread should yield about 5 town pieces).

Stir slowly to ensure that all of the bread has absorbed the liquid (but don't stir too much or the bread will decompose).

Pour the mixture into an 8x8 in pan and let it sit for 30 minutes.

Preheat the oven to 350°F (180°C)

After allowing it to rest, put the pan into another bigger pan that has been filled with 1 inch of warm water (a water bath/bain Marie)

Bake the pudding for 45 minutes. Make sure it isn't liquidy when you take it out and you want it to be browned on top.

While the pudding is cooling, make the Foster sauce and whip the whipping cream.

To make the sauce, start by melting the butter in a heavy pan on a low heat.

When it is almost all melted, add the sugar and whisk.

Add the rum or vanilla and allow the alcohol to evaporate (if you use rum it'll catch on fire for a moment).

Take the pan off the heat and slowly incorporate the cream. Spoon the sauce over the pudding and put a spoonful of whipped cream on top. Garnish with fresh sliced banana if you wish!

Serve immediately and enjoy!
Nutrition
Calories:
458.38
kcal
|
Carbohydrates:
70.46
g
|
Protein:
9.23
g
|
Fat:
15.72
g
|
Saturated Fat:
8.32
g
|
Cholesterol:
177.84
mg
|
Sodium:
215.81
mg
|
Potassium:
329.43
mg
|
Fiber:
1.99
g
|
Sugar:
52.77
g
|
Vitamin A:
619.11
IU
|
Vitamin C:
3.42
mg
|
Calcium:
199.02
mg
|
Iron:
1.83
mg