I last visited the US in December 2018 for Christmas. I had just finished culinary school, and could only spend a short week there before heading back to Spain.
I would never have guessed it would be 2+ years before I'd visit again. Since moving to Spain in 2009, I've gone to see my family two or three times a year. Being a business owner has meant I have flexibility over travel dates (for the most part) so we were often able to snag trips at cheap times -- think November (for Thanksgiving!) and February/March.
Luckily, it's always been pretty easy to travel to the US, Alejandro does need the ESTA visa authorisation, but luckily he doesn't need anything else as a Spaniard.
Visiting the US during COVID
Fast forward to right now and I (like many other expats) have no idea when I'll be in the US again.
I've been trying to get passports for Alex and Sofía for months now (since I am an American they have to travel to the US with US passports -- they cannot simply get the ESTA and use their Spanish passport), but an error on Alex's Spanish birth certificate has turned into a bureaucratic nightmare. And even when we do have the passports in hand, I'm not sure how I'll feel about traveling with fidgety one-year-olds during COVID times...
So, for now, I am surviving on WhatsApp video calls with the babies and my family, an obscene amount of photo sending (my phone's storage is constantly full!), long chats to my mom and sister while on a walk, and plenty of comfort food.
My US Comfort Food
There's something about cooking my family's comfort foods that makes me feel closer to home right now. Does this happen to anyone else?
My family has Polish heritage on my mom's side and Italian heritage on my dad's side. I grew up in a mainly Italian-American household though, with plenty of classic "all-American" baking thrown in as well! And of course, I'm from New England (Massachusetts) so a lot of my comfort food is from this region.
Here are five of my favorite foods that make me feel at home. I've also linked to some of my favorite recipes since this blog doesn't have too many of my non-Spanish favorites.
1. Mom's apple crisp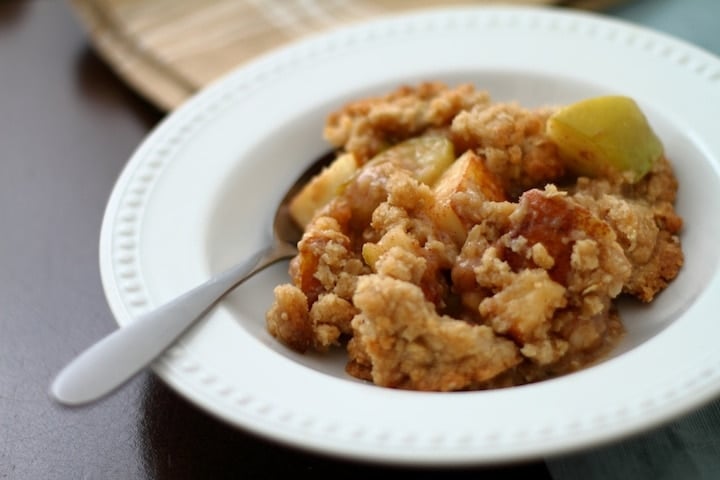 There is nothing that says fall in New England quite like apple crisp. This is my mom's classic recipe, which is buttery and crispy on top and filled with delicious, cinnamon filled apples on the bottom.
Get my mom's apple crisp recipe
2. Sunday morning pancakes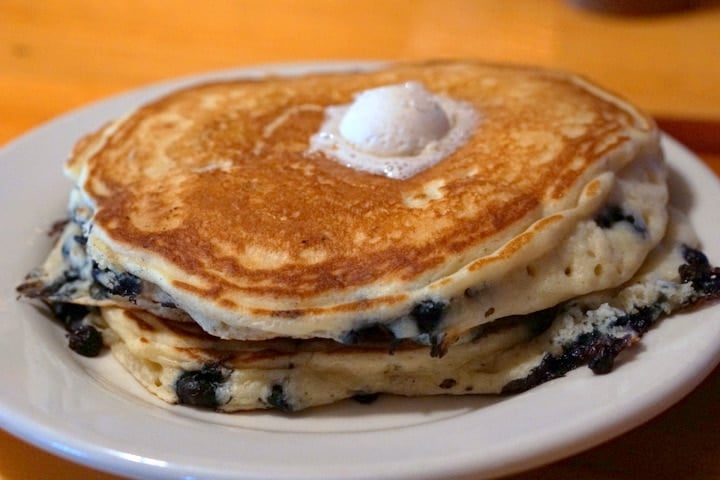 Every Sunday morning was special growing up. My dad would make pancakes or my mom would make crepes. I love homemade pancakes doused with real maple syrup. Growing up I was a maple syrup snob -- I just couldn't eat the fake stuff! As I've grown older, I've experimented with a lot of different pancake recipes. One of my favorites at the moment comes from my friend Katie, a fellow American living in Spain.
Get Katie's fluffy yogurt pancakes
3. My Dad's chili
Another classic meal that my dad would cook during winter was his spicy chili. Loaded with kidney beans and just enough ground beef, it was a delicious meal that we'd serve over rice and top with sour cream, cheese, and hot sauce. At the moment, I don't eat much meat so I love this vegetarian version here.
My favorite vegetarian chili recipe
4. Mom's carrot cake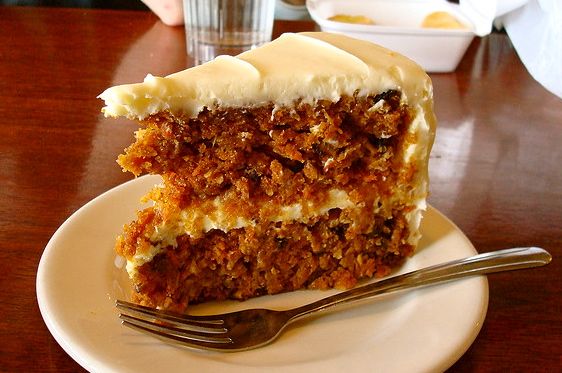 My mom's traditional carrot cake was a family classic growing up. It's a super simple recipe where the only spice used is cinnamon and the carrots are boiled and mashed instead of grated. But it's super delicious and everyone always wants the recipe. I've never been able to recreate it exactly like hers here (no idea why!) but I keep trying. I have the recipe over on my American recipe blog (in Spanish) -- let me know if this is something you'd like to see here as well and I could add it in English!
Tarta de zanahoria (my mom's carrot cake!)
5. New England clam chowder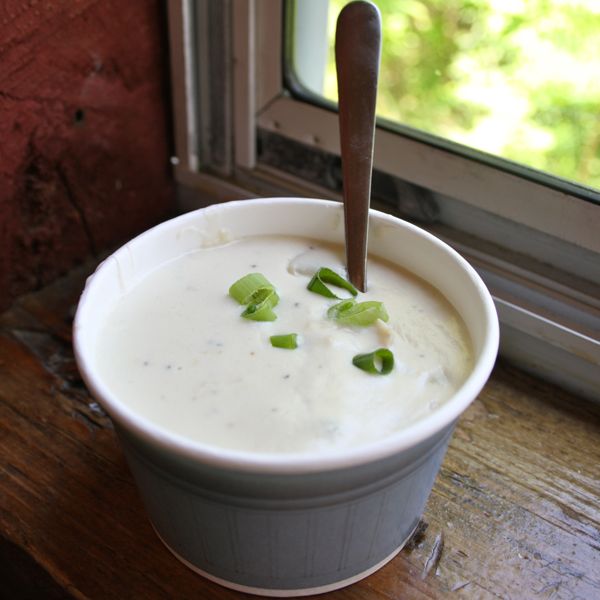 Last (but not least!) on the list today is comforting clam chowder. This is something I order almost every time I go out for lunch or dinner in the US. My mom also makes it in the summer a lot, and also on Christmas Eve for the past years (as a starter before we dig into a lobster dinner!).
The classic clam chowder recipe
A Note About the ESTA Right Now
We are very fortunate that Alejandro only needs the ESTA form when he travels. Since he is Spaniard and not planning to stay in the US for a long period of time, a visa isn't needed. I know that many of my friends around the world aren't as fortunate.
To apply for the ESTA all we have to do is submit an online application. Prices range depending on the service used -- but generally range between $14 if you do it yourself to around $35 for a high-quality service to take care of things for you.
While you can still get an ESTA right now (during COVID) you will have to check if you'll be allowed to enter the US. There are a lot of restrictions in place, but as the spouse of an American citizen, Alejandro should be able to enter when we decide to go. If nothing else changes in the meantime!
You can read more about common visa questions during COVID here on the US Embassy in Spain website.
Other Ways to Cope?
Is anyone else in a similar situation right now? How are you doing? I have to say that it is a pretty awful feeling when I start to think about how quickly the twins are growing and how long it's been since my mom has seen them (and that my dad and the rest of my family haven't even met them yet!).
I can't wait for the day we're reunited. Until then, I'll be busy cooking 🙂
Please share your comfort food recipes with me in the comments!
Pin me!