This creamy Spanish rice pudding recipe comes from my mother-in-law, Antonia. Her famous arroz con leche recipe is the perfect blend of cinnamon, sugar, and silky Spanish rice. You'll try it once and be a fan for life!
Want to try some other Spanish desserts? Try my recipes for Spanish flan and buñuelos.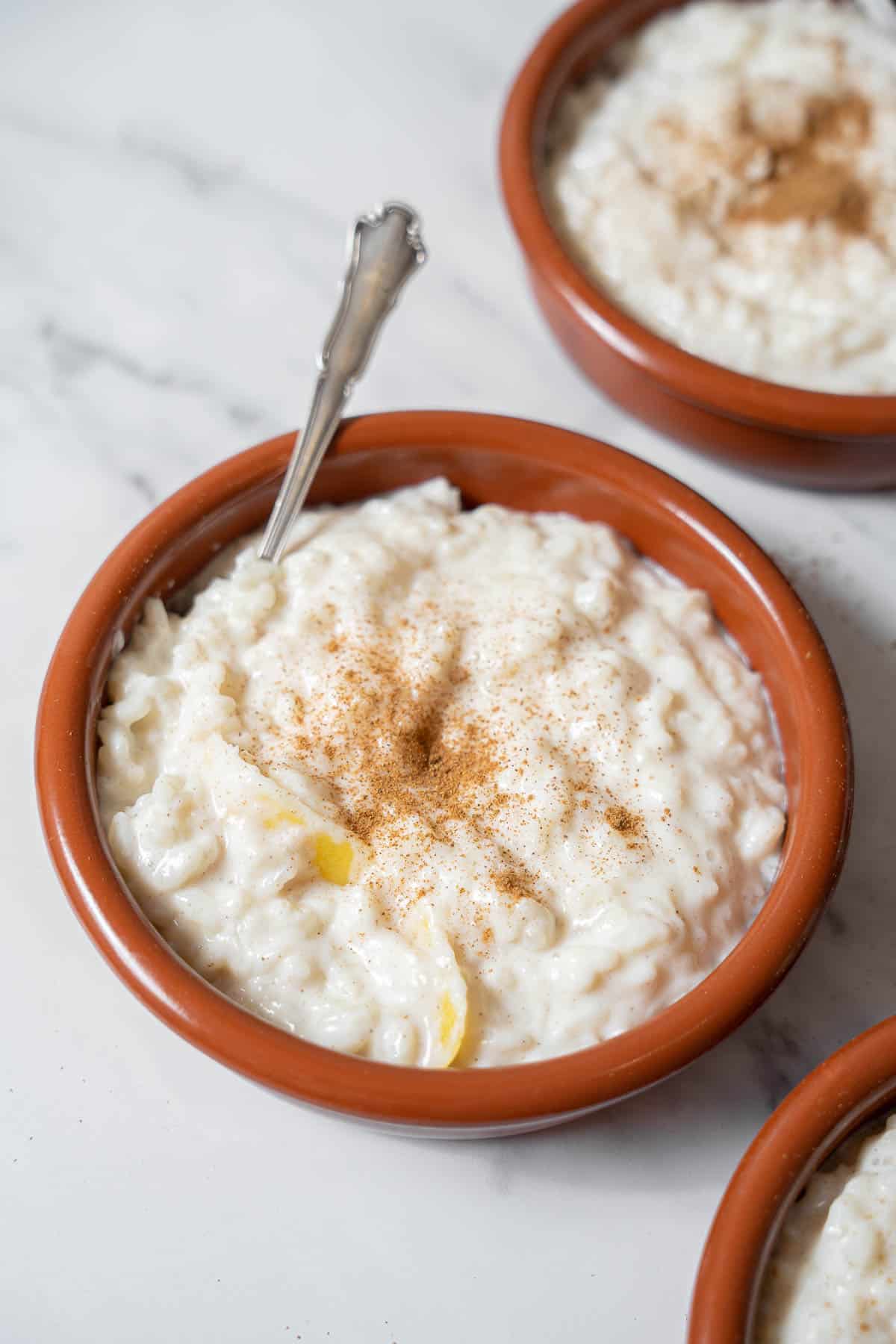 Jump to:
Introduction
I'm grateful that my mother-in-law, Antonia, has taught me so much of what I know about Spanish cooking--including her amazing salmorejo recipe.
Occasionally, I like to cut most carbs and sugar out of my diet, which is a bit of a struggle when I'm around Antonia! The last time I was eating healthy she bought me two enormous bars of chocolate and made her famous arroz con leche.
I nearly got angry with her because it feels like she's not respecting or supporting my preferences... but then I realize that feeding people is just how she shows her love. And I do love her rice pudding...
Ingredients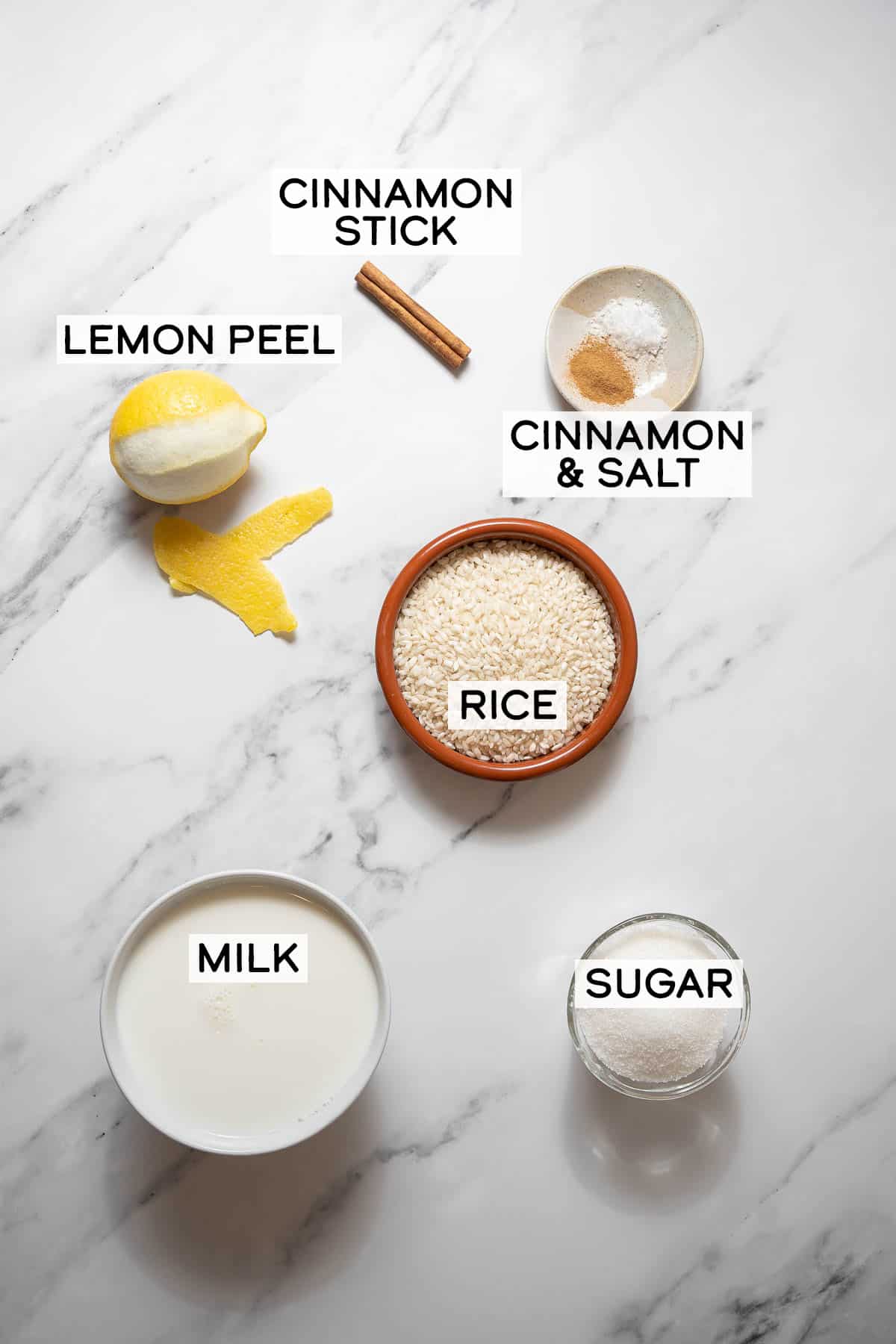 Curious what ingredients you need to make arroz con leche? You probably already have these simple ingredients in your pantry!
Rice: Use Spanish bomba rice, or a similar round, short-grain rice.
Milk: Use whole milk for the creamiest pudding!
Salt: A pinch of salt adds a little flavor to the pudding. Don't skip it!
Lemon Peel: A piece of lemon peel adds a delightful hint of citrus to the pudding.
Cinnamon: You'll use a cinnamon stick when you're cooking the rice pudding, but you'll also need a little ground cinnamon to garnish it when it's done.
See recipe card for full information on ingredients and quantities.
Substitutions
Milk: Whole milk is the traditional option for the best texture and flavor. For a dairy-free version, use full fat coconut milk. The flavor will be different, but you'll still get a creamy texture.
Sugar: This Spanish rice pudding is sweetened with plain white sugar. You can try other sweeteners without a problem.
Spices: This classic Spanish arroz con leche recipe uses only cinnamon, but sometimes I add other spices like star anise, clove, and cardamom.
How to Make
If you'd like to see the full ingredients and instructions, scroll to the bottom of the post for the printable recipe card.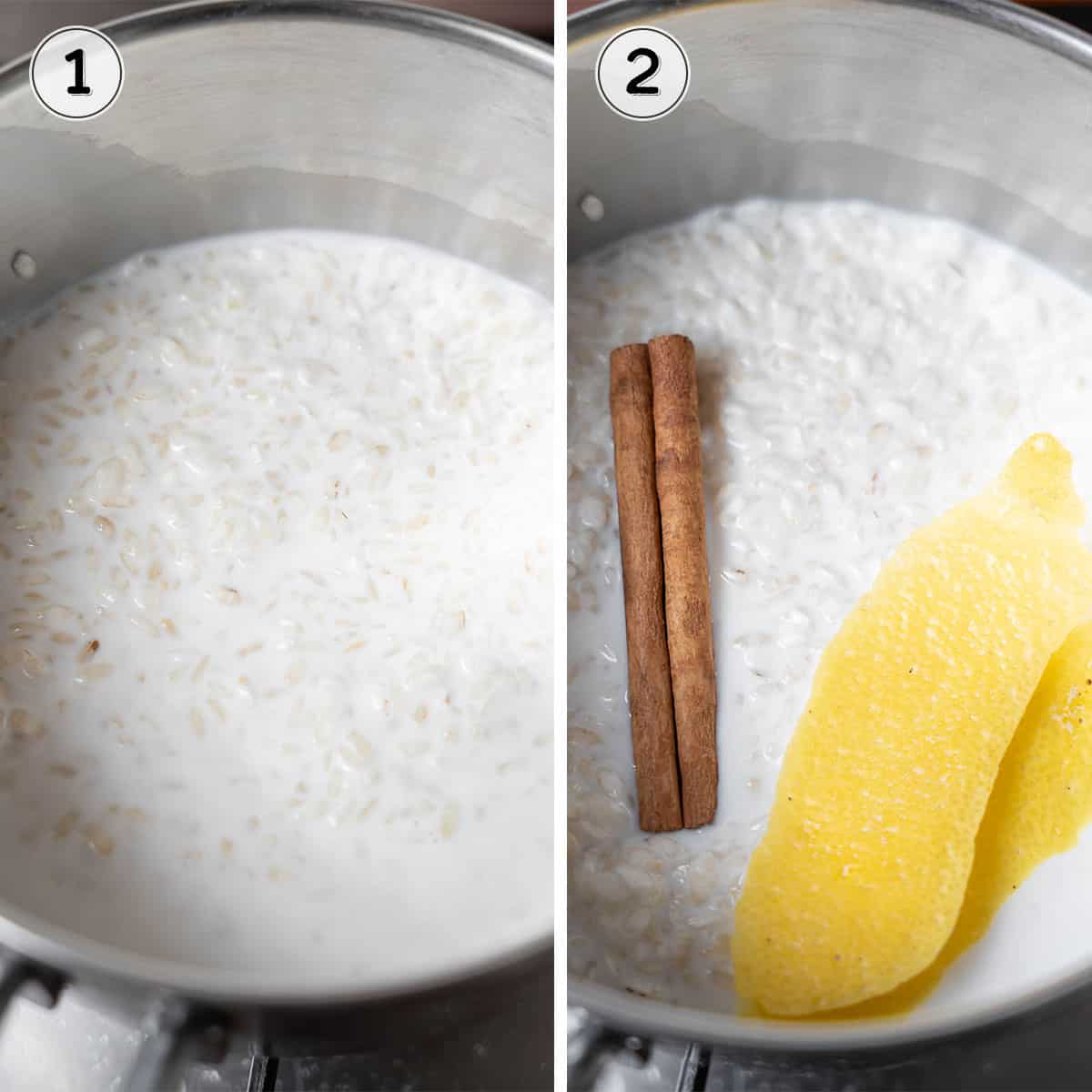 Cover the rice with water or milk.
Bring to a simmer along with the cinnamon stick and lemon rind.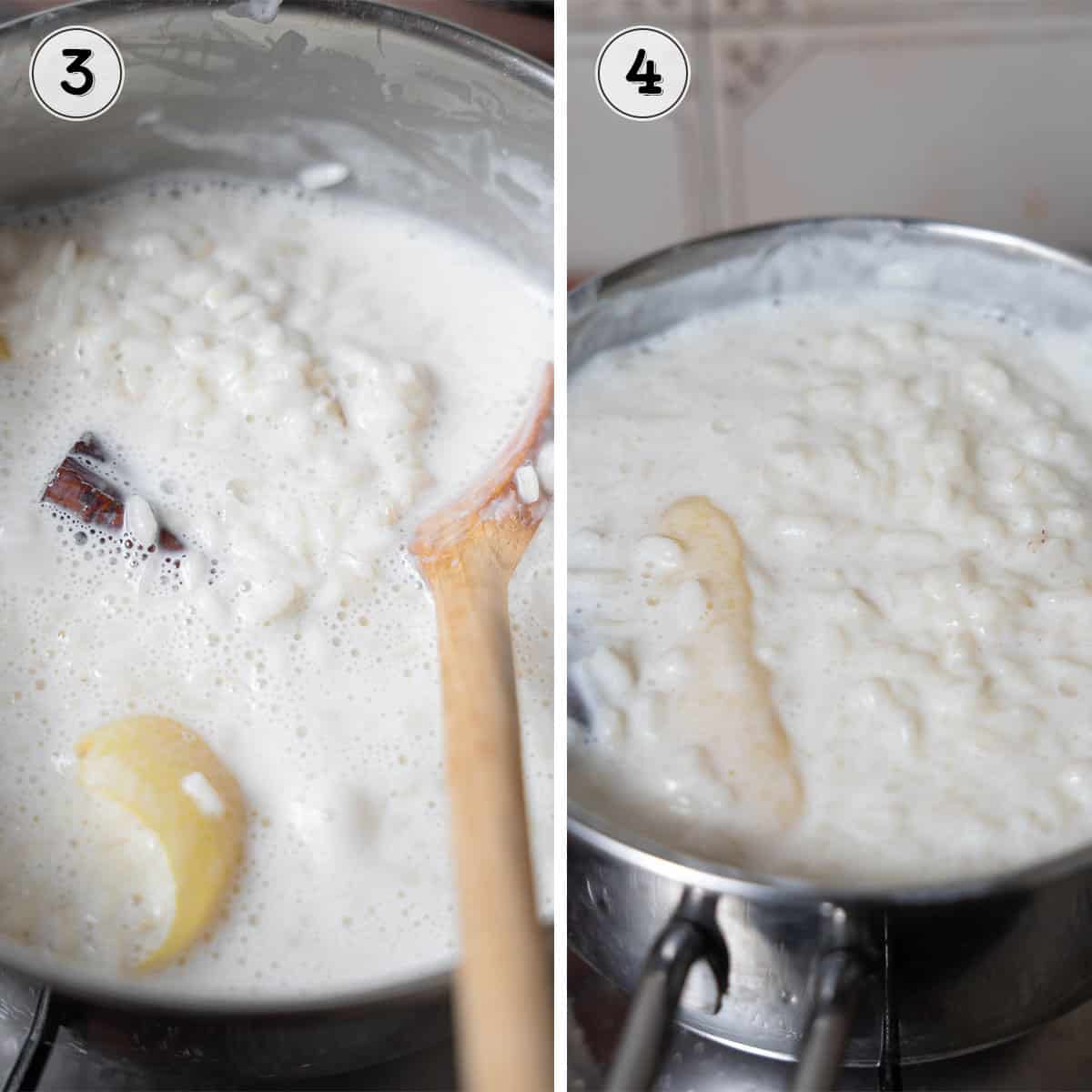 When the liquid is almost fully absorbed, add more milk to cover the rice again.
Keep simmering and stirring.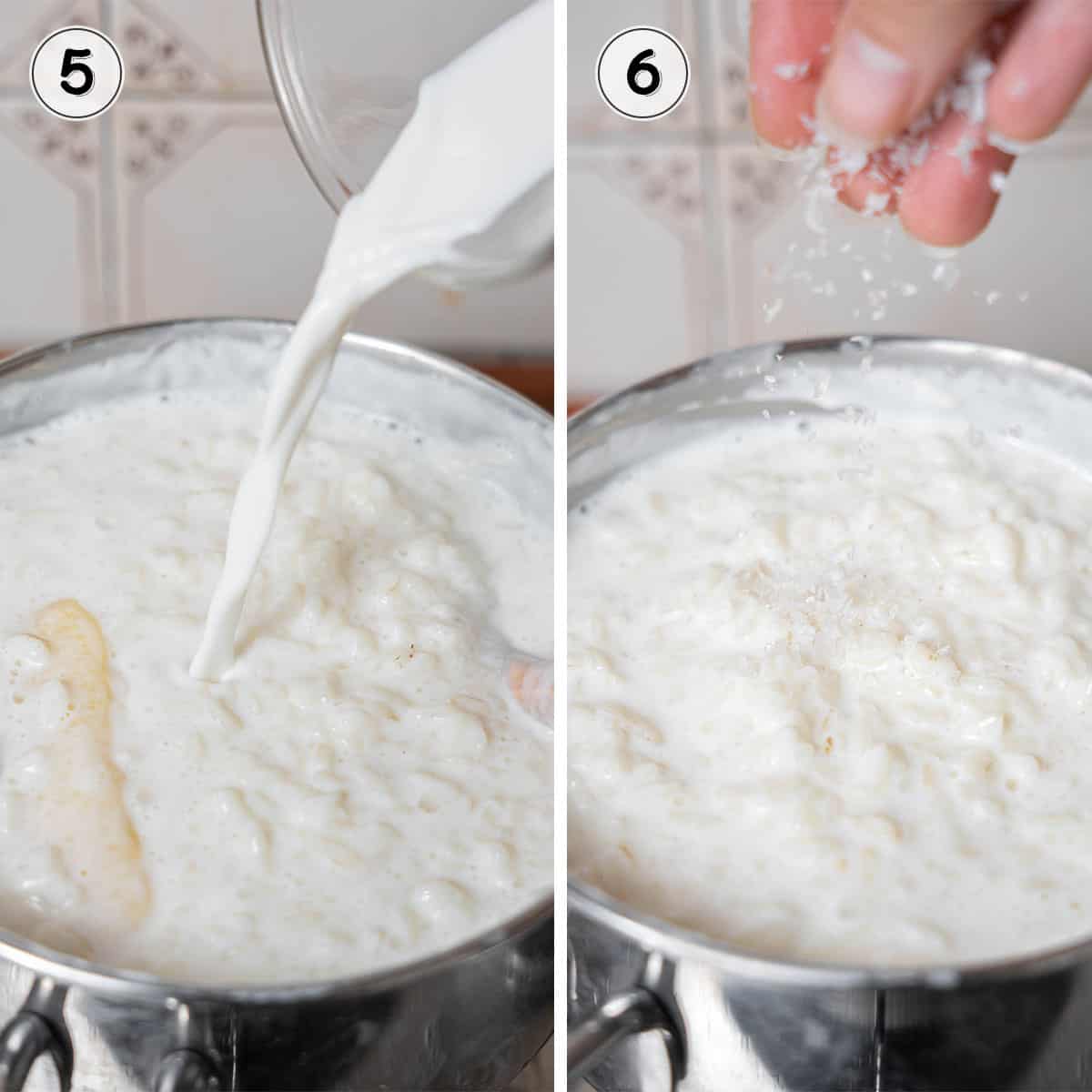 Add more milk until you've added almost the full liter.
Taste the rice. You want it fully cooked, but some people like it a little more firm than others. Take it off the heat and add a pinch of salt.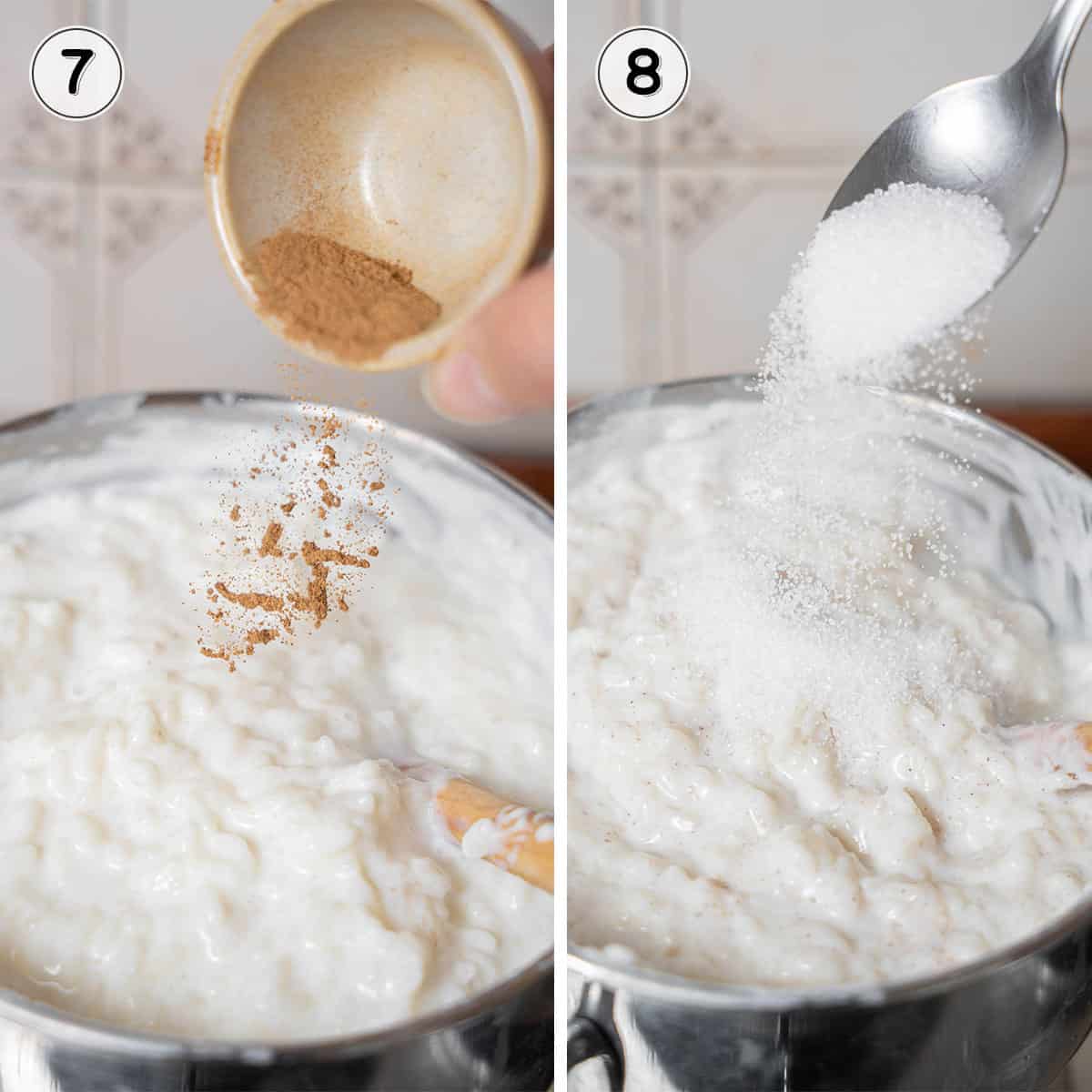 Add a dash of cinnamon.
Add the sugar little by little until it's the perfect sweetness for you.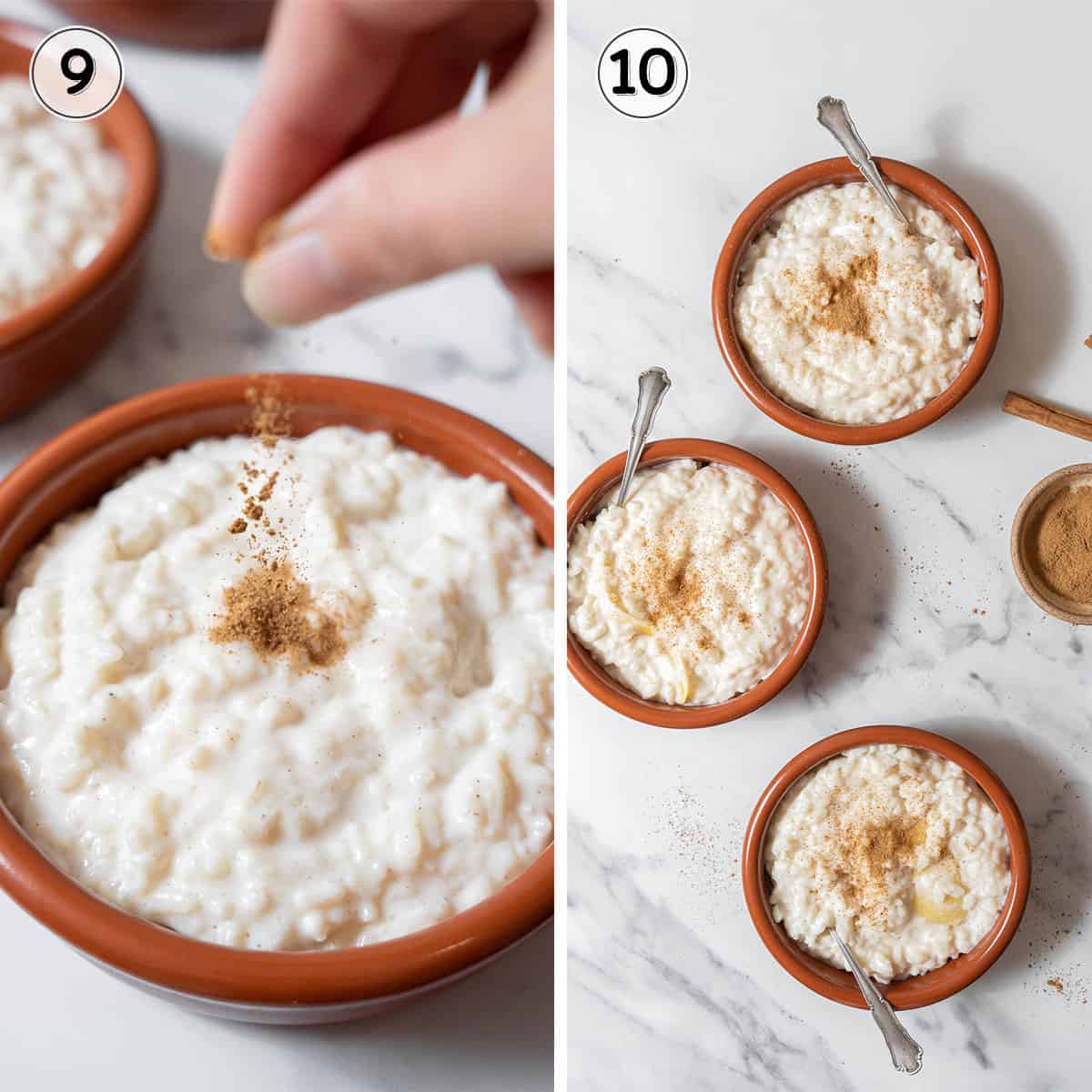 Serve the arroz con leche in small dishes and garnish with cinnamon.
Enjoy the rice pudding warm or chill it in the fridge in small serving dishes for a couple of hours and eat it cold.
Recipe FAQs
What does arroz con leche mean in Spanish?
It literally translates to rice with milk. It's a common dessert that is enjoyed throughout all of Spain.
What is the origin of arroz con leche?
Rice puddings are found throughout the world, and many people think they may have originated in Asia. It was the Moors who brought rice and cinnamon to the Iberian Peninsula. Many Latin American countries also make versions of arroz con leche, often using sweetened condensed milk instead of whole milk.
What rice is best for arroz con leche?
Bomba rice is the most common rice used for arroz con leche in Spain. It's the same rice as paella rice -- a short-grained rice that absorbs a lot of liquid. You can substitute Arborio rice.
How do you thicken arroz con leche?
During the cooking process, the rice absorbs most of the milk or water, and the starch from the rice thickens the remaining liquid. Your arroz con leche should thicken after about 30 minutes of cooking and stirring over medium heat.
Is arroz con leche served hot or cold?
You can enjoy arroz con leche hot or cold, however in Spain it is most often served chilled for dessert.
Serve
You can serve arroz con leche hot or cold; whichever you prefer. Be sure to sweeten it to taste, and garnish it with a pinch of ground cinnamon for extra flavor.
Feel free to enjoy it for dessert, at breakfast, or simply as a comforting snack. Arroz con leche is a wonderful treat to enjoy anytime!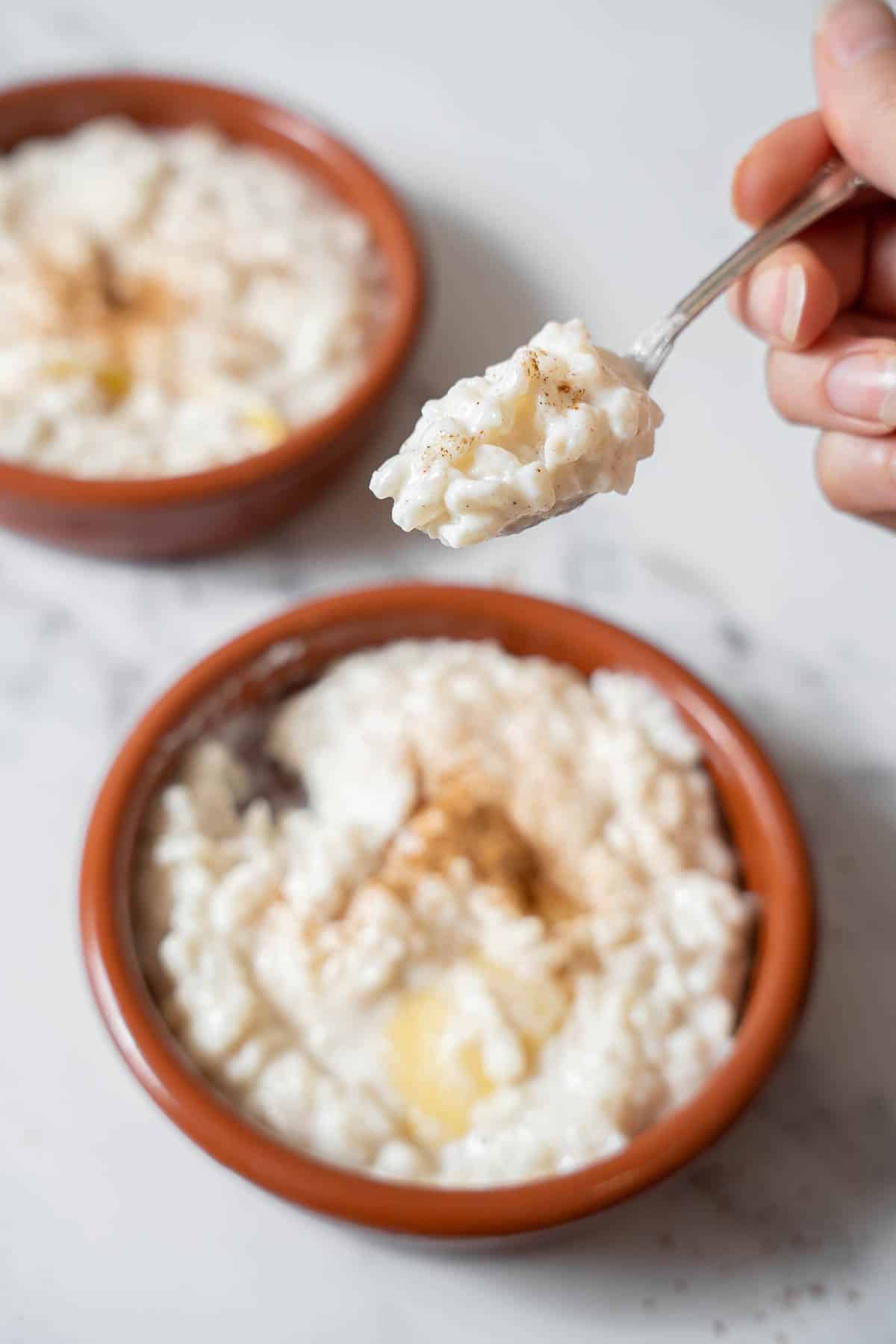 Store
Leftovers: Rice pudding keeps in the fridge for 3-5 days as long as it's tightly covered.
Freezing: Let the pudding cool completely, then freeze in an airtight container or zip-top bag for up to 3 months. It may not have quite the same texture when defrosted, so it's best not to freeze it if possible.
Expert Tips
Always use whole milk for the creamiest arroz con leche. For a dairy-free version, use full fat coconut milk.
Cook the rice pudding with a cinnamon stick, not cinnamon powder. Garnish with a dash of ground cinnamon on the top when finished.
Don't skip the pinch of salt.
Add the milk little by little and stir frequently to make the rice pudding creamy.
Add the sugar slowly and taste; if it's too sweet, you can't go back!
More Delicious Spanish Desserts
If you liked this recipe, please share it with others!
Follow Spanish Sabores on Facebook, Twitter, Pinterest, and Instagram for more recipes and travel tips.
If you've made and enjoyed this recipe, please leave a 5-star review!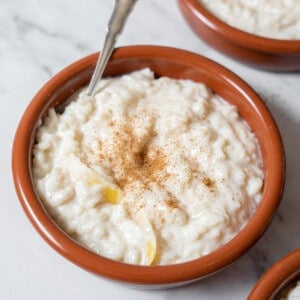 Spanish Arroz con Leche Recipe
This creamy Spanish arroz con leche recipe is my mother-in-law's favorite. It's Spanish rice pudding done right!
Print (images optional)
Pin
Rate
Ingredients
1

cup

short grain rice

arroz Bomba or arborio

1-2

wide slices

lemon rind

1

cinnamon stick

1

teaspoon

ground cinnamon

1

pinch

salt

4 ¼

cups

whole milk

or full-fat coconut milk

sugar

to taste
Instructions
Rinse the rice under cold water, and then put it in a saucepan. Pour in enough milk to barely cover the rice, then place over medium heat.

Add the cinnamon stick and lemon rind , and stir continuously until all of the milk is absorbed.

Add the rest of the milk about ½ cup (120 ml) at a time, stirring between each addition until all the milk is absorbed.

Once all the milk is added, taste to see if the rice is cooked to your liking. Some like it al dente, while others like it almost mushy.

When the rice is cooked, remove the rice from the heat, and add a pinch of salt and the ground cinnamon. Add the sugar a few tablespoons at a time until it is sweet enough for you.

Serve warm or cold with a garnish of cinnamon on each dish. Enjoy!
Notes
Always use whole milk for the best flavor and texture. For a dairy free version, use full-fat coconut milk.
Use a cinnamon stick in the rice pudding.  Save the cinnamon powder for a garnish on the top when serving.
Don't skip the pinch of salt for the best flavor; I like to use sea salt.
Add the sugar slowly to taste.  If it's too sweet, you can't go back!
Make it slowly; don't be in a rush. Adding the milk slowly and stirring constantly will make the best, creamiest rice pudding.
Nutrition
Serving:
1
dish
|
Calories:
329.48
kcal
|
Carbohydrates:
51.38
g
|
Protein:
11.25
g
|
Fat:
8.45
g
|
Saturated Fat:
4.75
g
|
Cholesterol:
25
mg
|
Sodium:
119.74
mg
|
Potassium:
383.19
mg
|
Fiber:
1.49
g
|
Sugar:
13.82
g
|
Vitamin A:
405
IU
|
Vitamin C:
1.94
mg
|
Calcium:
309.23
mg
|
Iron:
0.52
mg
Photography by Giulia Verdinelli