This creamy Spanish rice pudding recipe comes from my mother-in-law, Antonia. Her famous arroz con leche recipe is the perfect blend of cinnamon, sugar, and silky Spanish rice. You'll try it once and be a fan for life!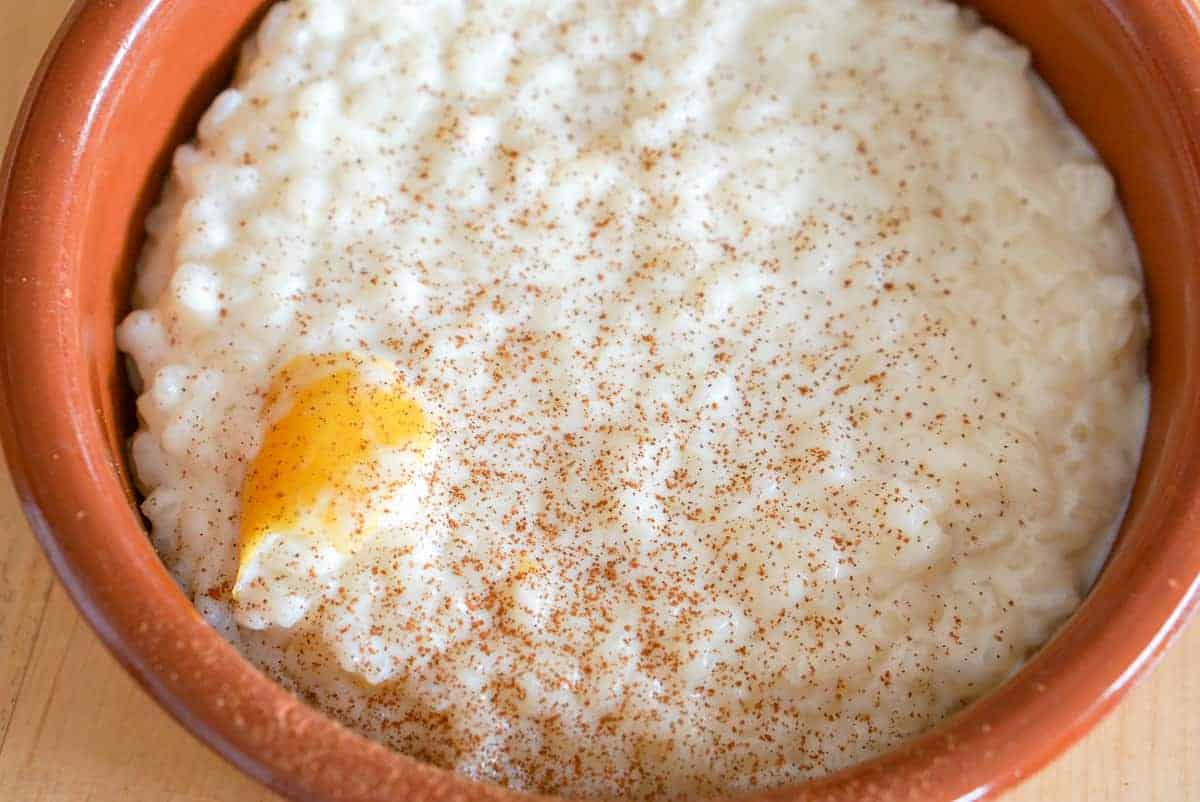 I've said it before and I'll say it again, I'm a lucky girl. My mother-in-law, Antonia, is a wonderful Spanish cook and has taught me so much of what I know about Spanish home cooking.
Her salmorejo recipe is one of my all-time favorite Spanish foods, and every time we're together we try to cook something new.
The only downside to her cooking abilities has been the few times I've dared to "diet" in her presence.
It wasn't even really a diet, just eating fewer carbs before my wedding! Every now and then I like to cut most carbs and sugar out of my diet (the month of December is not one of those times) as a way to cleanse my body.
Anyway, I've learned not to tell her this. At the mere mention of this locura she seems to make every possible thing I "can't" eat and then shakes her head when I say "no, gracias."
The last time I was eating healthy she bought me two enormous bars of chocolate and made her famous arroz con leche.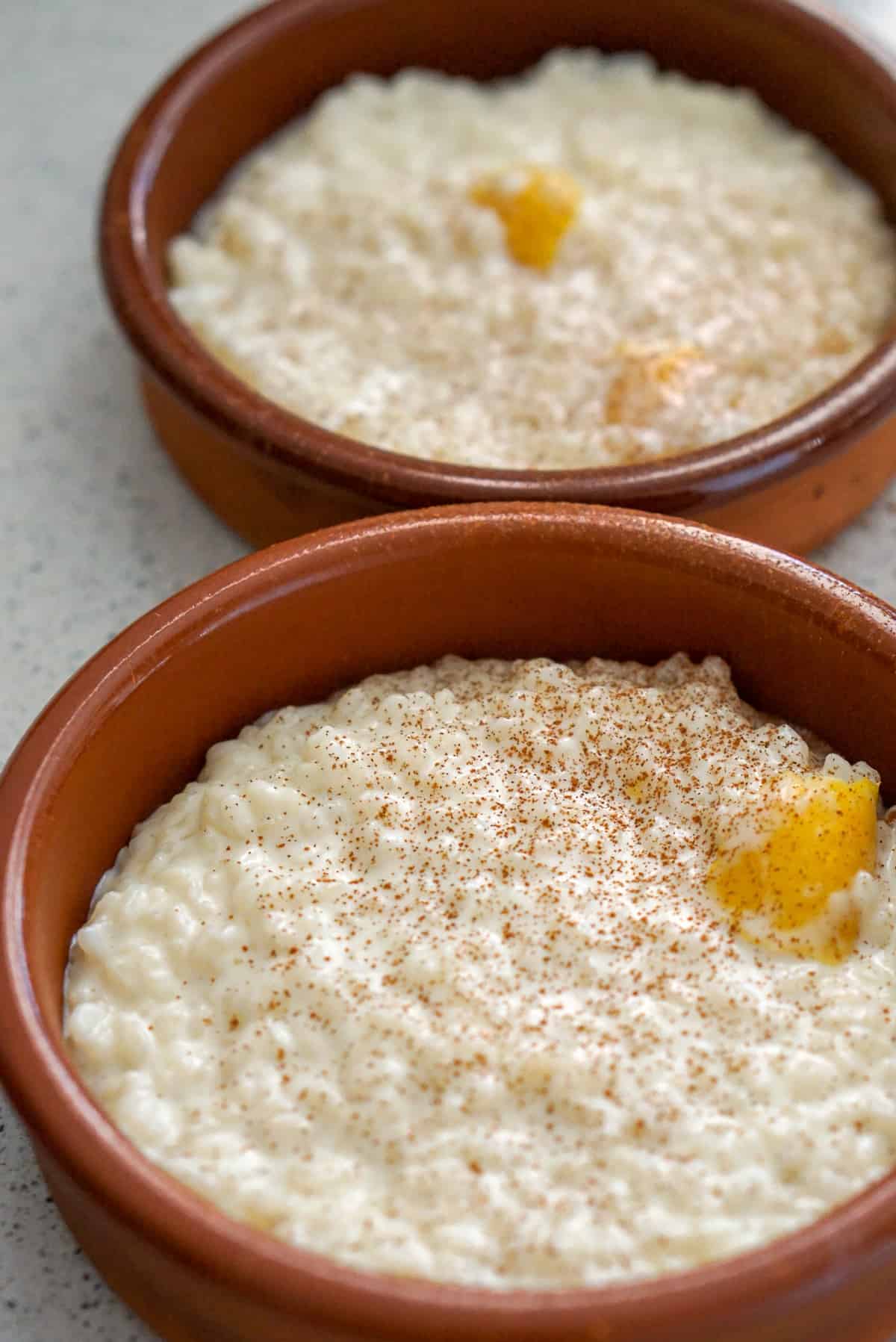 I nearly got angry with her because it feels like she's not respecting or supporting my preferences… but then I realize that feeding people is just how she shows her love.
And I do love her rice pudding…
The Secrets to Antonia's Arroz con Leche
After watching her make this many times, I think there are a few key things to keep in mind:
Always use whole milk
Use a cinnamon stick (not cinnamon powder) — except for a dash on the top when finished
Don't skip the pinch of salt (sea salt is best)
Add the sugar slowly and taste — if it's too sweet you can't go back!
Make it slowly – don't be in a rush. Add the milk little by little and stir, stir, stir! This will make it super creamy.
Watch how to make Spanish arroz con leche (1 minute video!)
Key Ingredients
You'll need to buy Spanish bomba rice (or a similar round, short-grain rice), whole milk, sugar, cinnamon (ground and whole) and a pinch of salt along with some citrus peel gives great flavor.
Ingredient Notes & Substitutions
Milk: Whole milk is traditionally used, and I would definitely recommend using a full fat milk for the correct texture and flavor. If you must substitute, I like to use a full fat coconut milk. The flavor will be different but you'll still get the creamy texture.
Sugar: This Spanish rice pudding is sweetened with plain white sugar. You can try other sweeteners without a problem.
Lemon Rind: Antonia's arroz con leche always has a few large pieces of lemon rind in it. Orange rind also gives a lovely flavor.
Spices: This classic Spanish arroz con leche recipe uses only cinnamon, but sometimes I add other spices like star anise, clove, and cardamom.
Arroz con Leche: Step by Step
Making this rice pudding couldn't be easier. It's really only four steps!
Step 1: Cover the rice with either water (or for a more creamy version, with milk) and bring to a simmer along with the cinnamon stick and lemon rind.
Step 2: When the liquid is almost fully absorbed, add more milk to cover the rice again. Keep simmering and stirring, adding more milk every time the rice gets dry.
Step 3: When you've added almost the full liter, start to taste the rice. You want it fully cooked, but some people like it a little more firm than others. It's a matter of preference.
Step 4: When it's to your liking, take it off the heat. Add a pinch of salt, a dash of cinnamon, and add the sugar little by little until it's the perfect sweetness for you. Enjoy your pudding warm or chill it in the fridge in small serving dishes for a couple of hours and eat it cold.
Recipe Tips & FAQs
What does arroz con leche mean in Spanish?
It literally translates to rice with milk. It's a common dessert that is enjoyed throughout all of Spain.
What rice is best for arroz con leche?
Bomba rice is the most common rice used for arroz con leche in Spain. It's the same rice as paella rice — a short-grained rice that absorbs a lot of liquid. You can substitute Arborio rice.
Is arroz con leche from Spain?
Rice puddings are found throughout the world and many people think they may have originated in Asia. In Spain, the Moors brought rice and cinnamon to the Iberian Peninsula. Many Latin American countries also make versions of arroz con leche, often using sweet condensed milk instead of whole milk.
Is arroz con leche served hot or cold?
You can enjoy arroz con leche hot or cold, however in Spain it is most often served chilled for dessert.
More Delicious Spanish Desserts
If you love this traditional arroz con leche recipe, you must try these other classic Spanish desserts!
Hungry for more? Sign up for my free weekly newsletter and receive a new Spanish recipe once a week! Join today and get my FREE Spanish ingredient essentials guide!
Spanish Arroz con Leche Recipe
This creamy Spanish arroz con leche recipe is my mother-in-law's favorite. It's Spanish rice pudding done right!
Print (images optional)
Pin
Rate
Ingredients
1

cup

of short grain rice

Arroz Bomba is what I use in Spain but Arborio also works well.

1-2

wide slices of lemon rind

1

stick of cinnamon

1

teaspoon

of ground cinnamon

1

pinch

of salt

4 ¼

cups

of whole milk

(1 liter) you can substitute non-dairy milks if desired

Sugar to taste
Instructions
Rinse the rice under cold water and then put it in a saucepan over a medium heat, just barely covered with water (you could also cover it with milk for even creamier arroz con leche).

Add the cinnamon stick and lemon rind. Stir continually until all of the water is absorbed.

Add milk about ½ cup at a time, stirring each time until all is absorbed. Continue adding up to the whole liter of milk, stirring continuously.

When is seems creamy enough, taste to make sure the texture of the rice is correct. Some prefer it al dente and others like it very cooked (almost mushy).

When it is to your liking, turn off the heat and add a pinch of salt and dash of cinnamon. Then, add the sugar a few tablespoons at a time until it is sweet enough for you. Enjoy warm or let cool.

Sprinkle a bit more cinnamon on top to decorate!
Notes
Always use whole milk for the best flavor and texture. If you must substitute, use full-fat coconut milk for a different (but equally delicious) version.
Use a cinnamon stick (not cinnamon powder) — except for a dash on the top when finished.
Don't skip the pinch of salt (sea salt is best).
Add the sugar slowly and taste — if it's too sweet you can't go back!
Make it slowly – don't be in a rush. Add the milk little by little and stir, stir, stir! This will make it super creamy.
Nutrition
Calories:
329.48
kcal
|
Carbohydrates:
51.38
g
|
Protein:
11.25
g
|
Fat:
8.45
g
|
Saturated Fat:
4.75
g
|
Cholesterol:
25
mg
|
Sodium:
119.74
mg
|
Potassium:
383.19
mg
|
Fiber:
1.49
g
|
Sugar:
13.82
g
|
Vitamin A:
405
IU
|
Vitamin C:
1.94
mg
|
Calcium:
309.23
mg
|
Iron:
0.52
mg
Update Notice: This recipe was originally published on December 16, 2011. It was republished with new photos and text on February 18, 2021.
Voila! Spanish arroz con leche a la Antonia! I promise that if you prepare this you will taste the love. Try it– and tell me how it turns out!
Look here for more tempting Spanish dessert recipes!