Today Lindsey shares a delicious Seville walking tour itinerary-- designed for foodies! It has my stamp of approval (don't miss the fried fish!). 
It's hard not to fall in love with Seville. Its ubiquitous orange trees and frilly flamenco dresses have become synonymous with Spain as a whole, but there's so much more beneath the surface of this fascinating city. And personally, for me, there's no better way to really get to know a place than through its food.
Unsurprisingly, Seville delivers on that front as well. There's so much to see, do and eat in the Andalusian capital that you could spend months here and still have so much more to discover. (After all, Seville is home to an astonishing 3,000+ tapas bars!)
That's where this guide to the best walking tour in Seville for foodies comes in. You'll experience the can't-miss sights and get the lay of the land, all while devouring some of the best bites this city has to offer. No, you won't hit up all 3,000 tapas bars, but there's plenty of variety along the way so that you'll get an idea of just what Seville's iconic tapas scene is really like.
Are you hungry yet? Let's get moving (and eating)!
The Best Walking Tour in Seville for Foodies
1. Something Sweet: Pastries & Coffee
It's no surprise that the best walking tour in Seville starts off at the best bakery in Seville! Manu Jara is a household name when it comes to fabulous sweets and pastries here in the Andalusian capital. The Triana location of the iconic bakery (Calle Pureza, 5) is an especially lovely place to start your morning with a coffee and pastry. If you can't decide what to order (which is understandable when everything looks so good!), you can't go wrong with a palmera de chocolate, which is perfect for sharing.
2. An Authentic Market: Olives & Jamón
Triana itself is full of incredible foodie finds, many of which come courtesy of the eponymous neighborhood market (Calle San Jorge, 6). Step inside and take some time to wander among the stalls, many of which have been proudly run by the same families for generations. After all, there's no better place than a market to experience an authentic slice of local life.
Once you've gotten the lay of the land inside the market, make your way over to stall 47, home to Aceitunas El Puente. They've got some of the best olives in Seville (which is saying a lot!), but with more than 50 years of experience, it's safe to say that they know their stuff. Try a gilda, which is a small but mighty skewer with just three ingredients (an olive, an anchovy, and a spicy guindilla pepper) that pack a big punch. This popular bite gets its name from the 1946 Rita Hayworth film—it's said to be "spicy and salty," just like her character in the movie!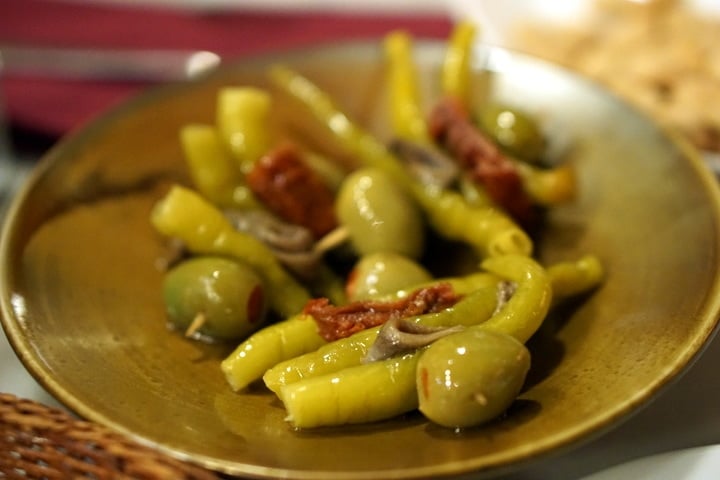 Don't leave the market without heading to stalls 57–59, where Jamonería José Luis Romero turns the act of slicing cured ham into a verifiable art form. Be sure to try the Cinco Jotas brand of acorn-fed Iberian jamón, said to be the best in the world (and after trying it, you'll almost certainly agree!).
3. Simple Pleasures: Sandwiches & Beer
After leaving the market, it's time to start heading into what many trianeros would consider Seville (the neighborhood identity is strong here!). Take your time crossing the Puente de Isabel II (locally known as the Puente de Triana), and remember there's no shame in stopping to take as many pictures as you want. The bridge offers stunning views of the bullring, the Torre de Oro, the iconic Giralda, and even the distant spires of the Plaza de España. Don't forget to turn around and admire Triana's colorful waterfront buildings, either.
Anything that calls itself the best walking tour in Seville wouldn't be complete without a stop at one of the city's most emblematic bars. Family-run Bodega el Picadero has become so beloved in the many decades they've been open that they now boast several locations throughout Seville. However, our route takes us to the original bar (Calle Almansa, 14), a friendly, no-frills local favorite beloved by adorable abuelos and hip youngsters alike. Order a few montaditos de pringá (bite-sized sandwiches filled with a hearty pork stew) and wash them down with an ice-cold Cruzcampo beer.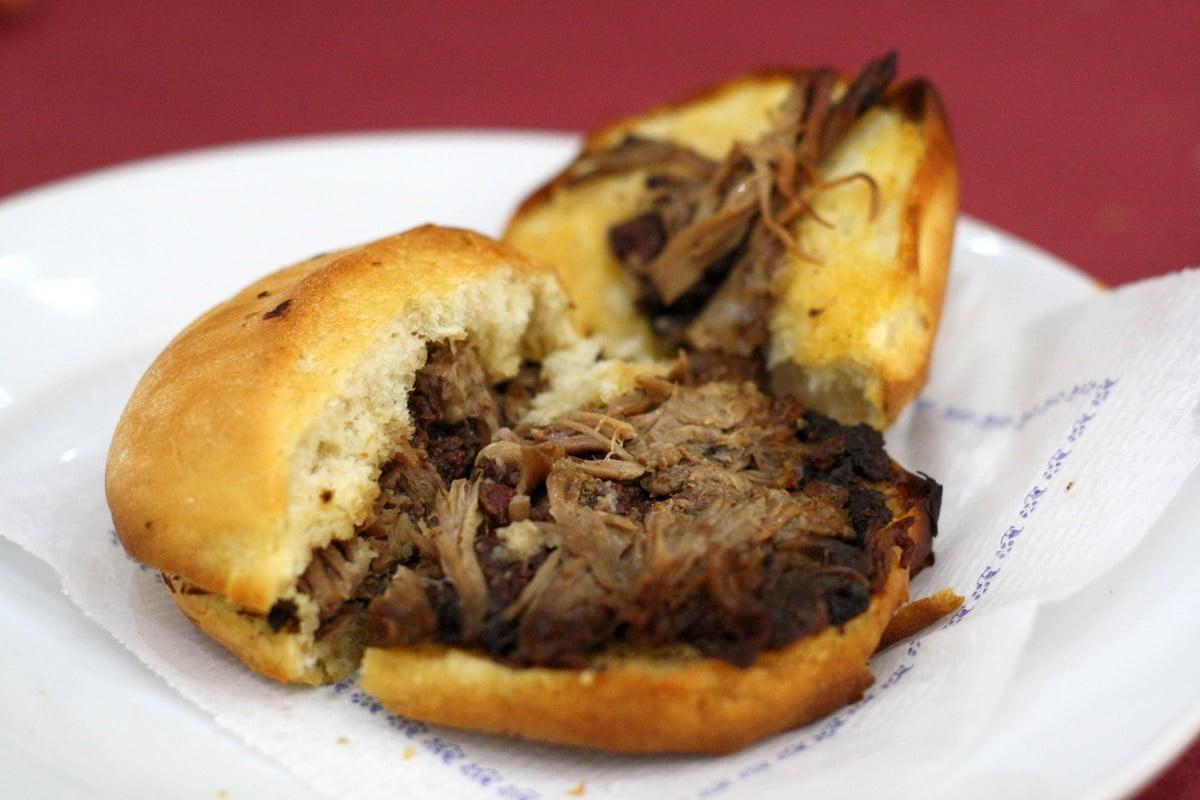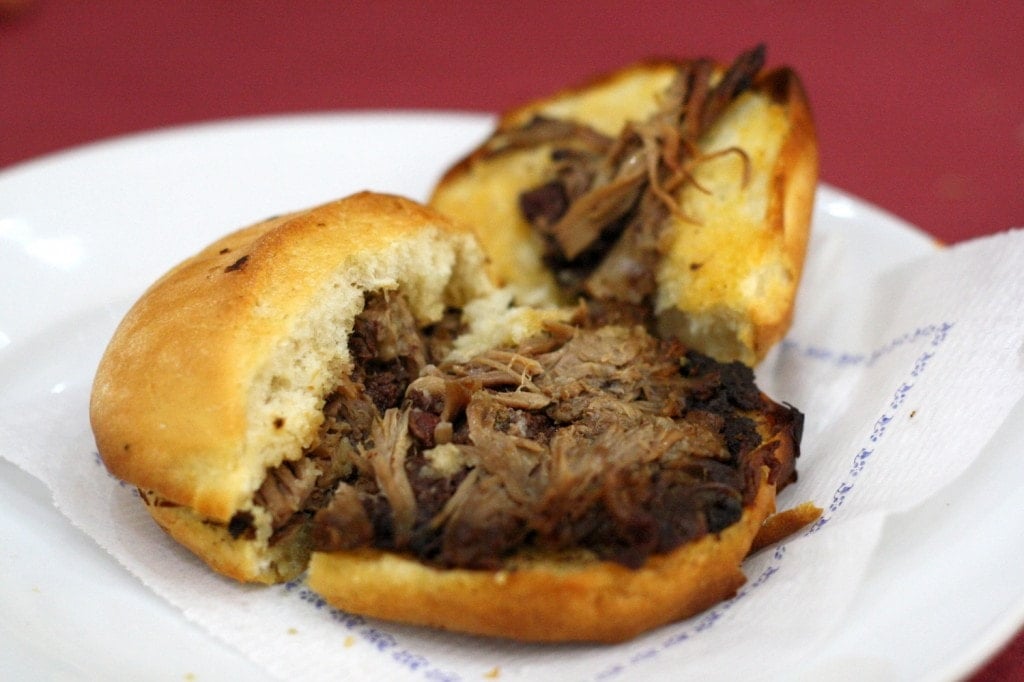 4. A Seville Staple: Fried Fish
Despite its inland location, Seville is crazy about its fried fish (pescaíto frito), and they do it well. One particular standout is El Arenal Freiduría (Calle Arfe, 8), which serves up some of the best cazón en adobo north of Cádiz. Tender, flavorful dogfish marinates to perfection in a mixture of sherry vinegar and spices (usually garlic, paprika, oregano and cumin, though recipes can vary) before hitting the fryer. The result: an unbelievably tender, flavorful fish that's fried just right—not too greasy or oily, but perfectly crispy. You'll almost feel like you're at Seville's famous April Fair (pescaíto frito is one of the event's typical foods!).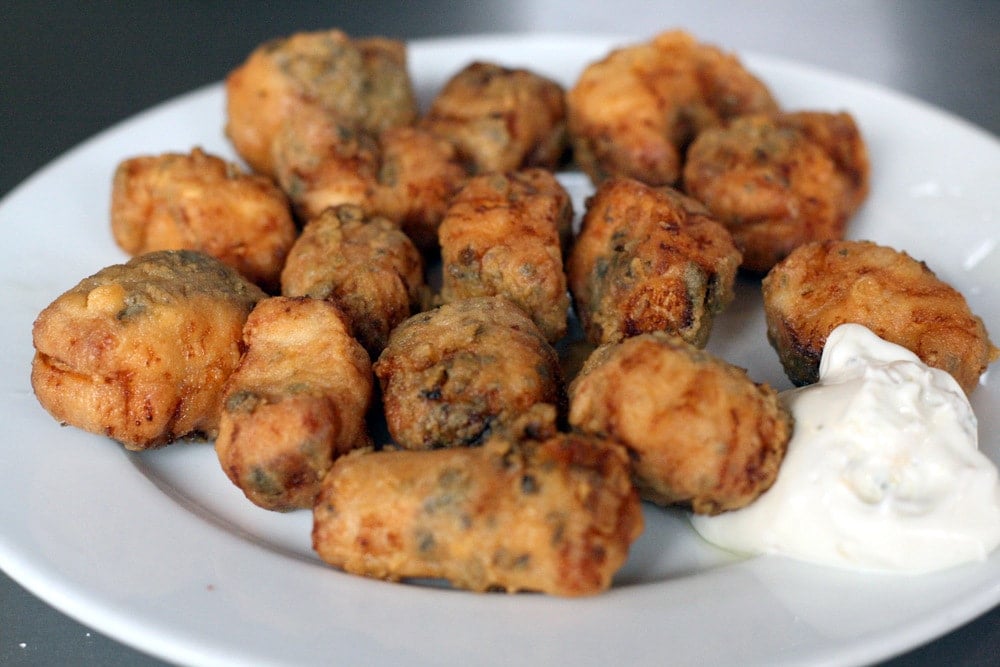 5. A Local Icon: Drinks & Tapas
The next stop on the best walking tour in Seville is a tapas bar, but it's worth a visit just for the stunning building alone. The locale that houses Pepe Hillo (Calle Adriano, 24) dates back to the 1920s, and has retained its glamour for nearly a century. Its old-school charm (half 20th century Parisian bistro, half vintage bullfighter's paradise) is anything but stuffy, and the young, hip ambiance makes it an essential stop on any tapas crawl. Their menu is full of excellent choices, but for the full experience, go with an authentic Andalusian tapa, such as salmorejo or espinacas con garbanzos and wash it down with a glass of sherry.
6. Another Sweet Treat (Baked by Nuns!)
Last but not least, you'll definitely want to finish off your culinary journey with something (else) sweet. This time, though, we'll skip the obvious pastelería and head instead to somewhere a bit off the beaten path. El Torno (Plaza de Cabildo, 2) is a tiny sweets shop selling handmade goodies with a surprising origin: they're baked by cloistered nuns! Get some to go, and enjoy your sweets while sitting on the steps of the nearby cathedral and watching the world go by.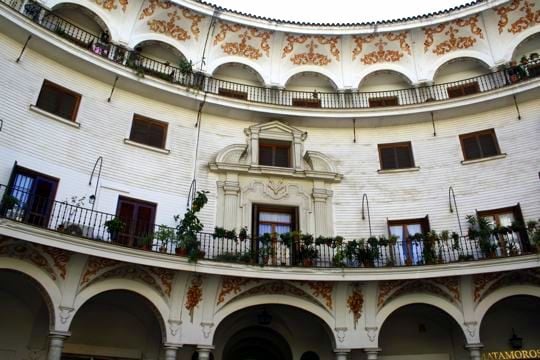 Not ready to hit the streets of Seville solo just yet?
Devour Seville's Tastes, Tapas & Traditions Tour might be just what you need. You'll get a peek at three of the city's most iconic neighborhoods all while eating your way around town at the bars and bakeries locals know best—what could be better?
Watch: Demystifying Seville's tapas scene—both the traditional and the modern!
Pin me!