Where and What to Eat in the Capital of Andalusia
Visiting Seville is like how I imagine it must be for some people to see an ex after a long time. I get butterflies in my stomach and try to convince myself I'm better off without her, but she just keeps on trying to seduce me with her beauty and charm. My recent, unplanned visit to Seville brought on strong waves of nostalgia, but I survived the temptation to stay behind, and write this from a train back to Madrid.
I ended up in the city I once considered home when my friend Alondra invited me to tag along with her and some American friends she had visiting. The four of us took advantage of Renfe's table rates (a deep discount offered to groups of four people who reserve together) and headed down to Seville on the high-speed AVE train.
As we arrived, I was excited to enjoy the mild weather, as I introduced my new friends to the incredible food I've come to associate especially with Seville. I haven't found a comparison for price and quality in Madrid, which often makes me sad. I also caught up with some old friends and even made some new ones too-- a very productive few days!
Here is where (and what) I ate in Seville:
Updates! I now offer food tours in Seville for people wanting to get the best idea of what Seville has to offer! I'd love to have you along!
1. La Azotea
La Azotea is without a doubt my favorite restaurant in Seville. Unfortunately, I think many other people feel the same way, and their two small locations are often overflowing with hopefuls for a seat at the bar. The first Azotea opened shortly before we moved away from Seville, and I remember it as a refreshing place at the time, where everyday tapas (like carillada, solomillo, ventresca de atún, etc.) had been elevated to the next level. Fresh, seasonal ingredients, expert preparation, and lots of love-- without even a trace of being pretentious. At the time, I remember thinking their tapas were a bit pricey, but now coming from Madrid they seem ridiculously inexpensive! We ate at both locations on this visit and had too many dishes to remember. Here are a couple that I captured on Instagram:
2. La Brunilda
I first visited La Brunilda when I met Shawn, the famous tapas queen of Seville and owner of Sevilla Tapas and Azahar Sevilla. We met to talk about our respective food tour companies, and she shared a few of her special places that I had never dined at while living in Seville. La Brunilda is hidden away on a small side street and is small but comfortable inside. The tapas are simply fantastic, as are their wines served by the glass. They also do great desserts (a difficult thing to find in other tapas bars!).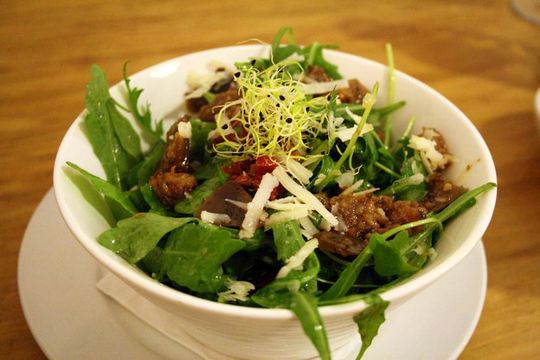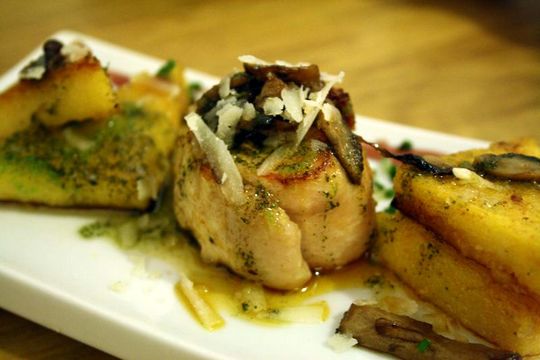 3. La Fábrica
I met Lindsay through Facebook as we both share an interest in Spain, food, and event planning. She lives with her husband in Seville, and was therefore in charge of choosing where to go for our first face to face get together. She brought me to a new little eatery called La Fábrica. Despite the trend in this type of gastrobar establishment (see Shawn's article about Seville's Gastrobar Glut), I rather liked La Fábrica. From the thoughtful decor (Lindsay pointed out their zip code painted across the bar) to their tempting tapas menu, I would have loved to spend all day here. Unfortunately, time would only permit for a quick tapita, and we both were eyeing the Pulpo a la Feria (Galician style Octopus). It was the right choice, tender and flavorful served over a potato puree. We were then surprised with an enormous croquette of tuna on the house (and they had no idea I was a blogger or a tour operator). It was equally delicious and they are now on my must visit list in Seville.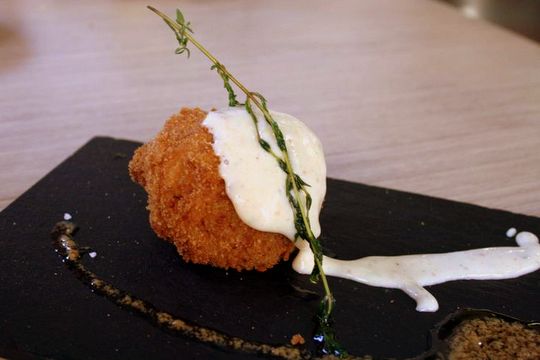 4. Lumbreras Tapas
Lindsay recommended that we have dinner at Lumbreras Tapas. Of all the tapas bars mentioned so far, this was perhaps the one with the least amount of style and charm. But, that doesn't matter when the food is good, and it was. I tried goat cheese wrapped in crispy bacon with caramelized piquillo peppers, oxtail canelones, and seared aged beef with Canarian style papas con mojo (roasted potatoes with sauce). I couldn't fit any more, but next time I'll be sure to save my appetite.
5. La Cacharrería de Sevilla
I went to La Cacharrería, a central all day café, three times in the three days I was in Seville, twice for breakfast and once for the merienda, Spain's afternoon snack. It is a tiny place (are you sensing a trend among Seville's best eateries?) but one of the best places to have breakfast in the city. Both mornings I opted for toast (with mollete bread), topped with jamón serrano, olive oil, and crushed tomato. I added on a latte and glass of fresh squeezed orange juice (it is orange season after all!). The cost of such extravagance? Under 3€, a tip included! They also do great American style cakes in the afternoon. Yes, I miss Seville, A LOT!
I am so happy I said yes when Alondra asked me about going down. It has been two years since I lived in Seville, and I'd only been back once before for a quick day visit. I realize that I truly did leave a big part of my heart there, and that there are certain things Madrid will never be able to offer that Seville does. At the same time, I know that for what I want to do at this time in my life, Seville just isn't the place. And as long as it stays a 2.5 hour AVE ride away, I'm okay with that for now. But who knows? Maybe one day we'll return…
Do you miss a place you used to live? Any favorite Seville restaurants I should try next time I'm in town? Let me know in the comments!