On our first morning in San Sebastian we woke up to this view:
The clouds were a bit dark and some rain was predicted in the forecast, but we were happy to see the gorgeous La Zurriola beach from our window. We'd already made plans to spend our first morning in San Sebastian on a sightseeing tour with Keith Schimmel, owner of San Sebastian Walking Tours.
A fellow American, Keith met his wife Sandra nearly 10 years ago while working in Latin America. She is Basque, and after living in various locations around the world together, they finally returned to her homeland about two years ago. Shortly after, Keith, a retired army member, started his tour company in hopes of providing his unique perspective on the Basque cuisine, culture and society.
From 10:00 to 1:30 Keith lead our small group of six throughout the city, condensing the long and complicated Basque history in a lovely and respectful way. He took on the issues of separatism and terrorism and made them relevant to what we were seeing. He knew his history well, but also focused on modern city life, bringing us through the local markets, where he said you could really see the local people in action (a philosophy I definitely agree with!).
Ever since starting Devour Tours I've become a huge fan of taking tours myself, and Keith did justice to our shared profession. Though we now run our own San Sebastian food tours, we still highly recommend his services!
San Sebastian Walking Tour
Visiting the San Martín Market.
Our Pintxo Crawl
Update! As of Spring 2017 my company, Devour Tours, offers food tours and pintxos crawls in San Sebastian. We mix the city's incredible culture and history with some of the best bites in town, at local, famil-run gems. Join us!
We let our tour smiling, and feeling like we'd seen and learned a lot about the city in a short time. We'd even been lucky with the weather, as the predicted rain held off until the tour's end!
After we said our goodbyes we headed off to grab some pintxos. We started at the famous Bar Zeruko, a friend's recommendation and a highly reviewed place on Tripadvisor. The must-try pintxo there is called La Hoguera (the bonfire) and was a piece of cod that you smoked yourself over a little fire. We ordered that, along with a variety of other things, as it had started to rain and my parents weren't too keen on the idea of "crawling" too much in the rain without umbrellas!
I'll be honest, Bar Zeruko was a complete disappointment. The pintxos were beautifully displayed and obviously very time consuming to create. They were priced accordingly. But the flavor just wasn't there! The cold pintxos we took from the bar (most of which they heated up in a little oven) were bland and mediocre at best. Ale even saw the waiter drop one on the counter and put it back on the bread and serve it to us. He told us this after we'd eaten it... And while their famous cod dish was interesting, I just don't see the big deal. Cured salt cod is delicious on its own, and here was a small piece over smoke (which made the flavor too smoky in my opinion).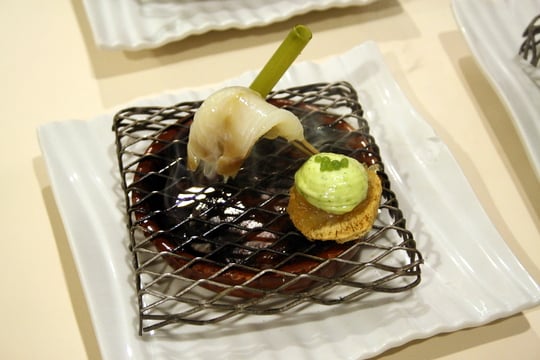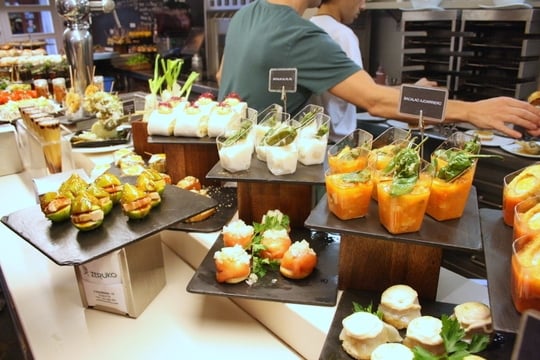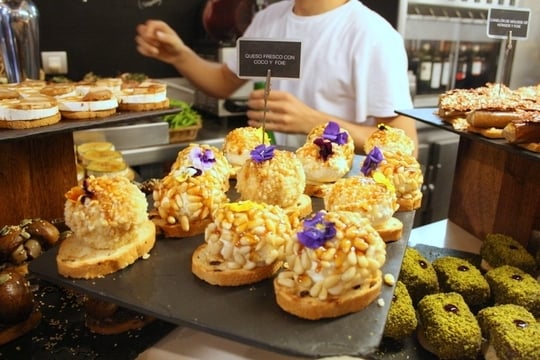 After last night's success at Bar Haizea, I was afraid that our second day's attempt had failed. I had 10 more places on my list, but my travel companions were quite full. But I managed to drag them across the street to the La Bretxa mall, a shopping center with a market on the bottom floor. Crammed between market stands we found Bar Azkena, a tiny place with about five pintxos on display. But despite the lack of choices, the food was gorgeous, prices were low, and I pinched myself for not going there first. We were too full to try much, but the carrillada (braised pork cheek) delivered, and Bar Azkena is definitely on my list for next time.
More tips: For a complete San Sebastian food guide, don't miss my recently updated guide to where to eat in San Sebastian.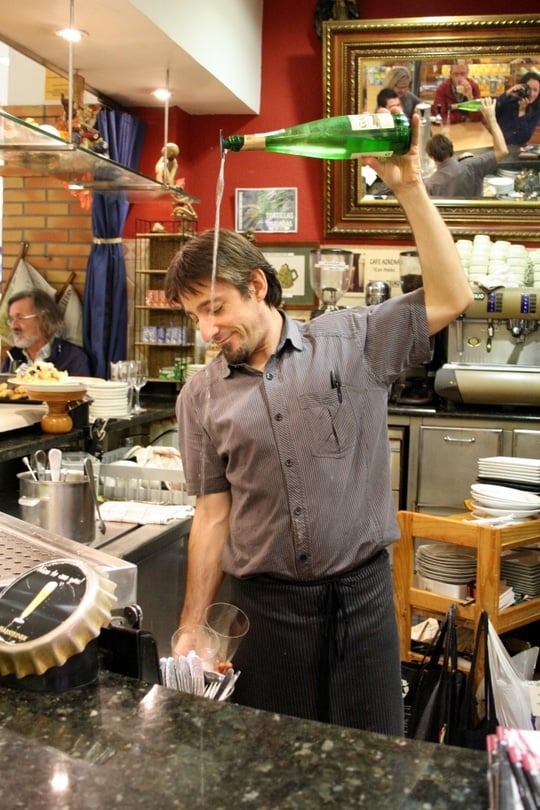 Cheesecake at La Viña
Stuffed, we made room for dessert. La Viña is known to have the best cheesecake in San Sebastian, so we headed over and squeezed into the corner of a wooden table where a Basque family was already having some pintxos. I must admit that Basque hospitality was excellent throughout our trip!
We ordered two large slices of the cheesecake and some coffee. Now, I'm not a big cheesecake fan in general, but this was delicious. Light and fluffy, it wasn't at all heavy like some versions of the world-famous dessert.
Taste it! Visit with us (and learn the best wine pairing) on our Ultimate San Sebastian Pintxos & Wine Tour!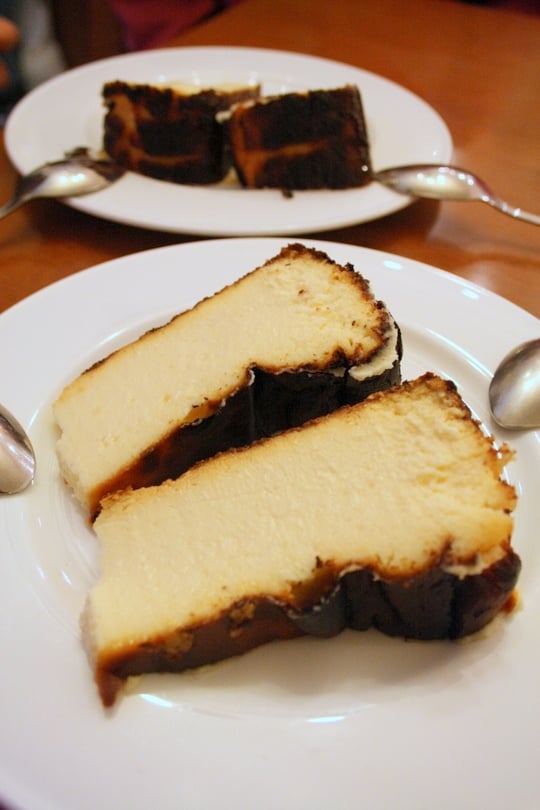 Full and sleepy, we headed off to our apartment before an evening of shopping and dinner. I wanted to try the famous Basque txuletas (T-Bone steaks) and needed to do my research!
What are your favorite pintxo bars in San Sebastian?