Today Lindsey share's some of Seville's best vegetarian tapas. These traditional bites are easy to find all over town!
Spain is, at first glance, not a very vegetarian-friendly country. With cured ham legs all over the place, it's pretty evident that this country loves its meat—and while that may be true, there are plenty of equally delicious vegetarian tapas and dishes that are just as traditional as any leg of jamón.
Despite its outward meat-loving appearance, Spain offers plenty of veggie-friendly options. And thanks in part to the fresh local produce that grows here in the sunny south, Seville is an especially great place to seek out vegan and vegetarian food. These vegetarian tapas in Seville are proof that you don't need meat (nope, not even jamón!) to make a truly delicious and authentic Spanish meal.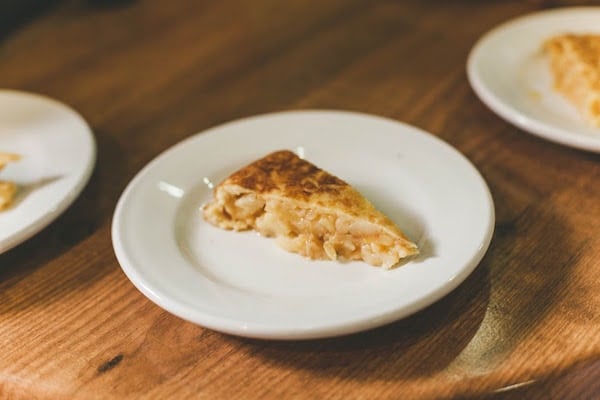 10 Delicious Vegetarian Tapas in Seville
1. Espinacas con garbanzos
Let's start things off with a trip back in time. Perhaps none of these vegetarian tapas in Seville captures the essence of Moorish Spain quite like espinacas con garbanzos, or spinach and chickpeas. With ingredients that have their roots in the Middle East and more spice than your average Spanish dish, the exotic flavors in this dish have become nothing short of timeless. Centuries after the heyday of Al-Andalus, it remains a staple on tapas menus throughout Seville, eagerly devoured by vegans and carnivores alike. It's hearty, filling, and always hits the spot after a day of exploring.
Make it: Lauren's espinacas con garbanzos recipe is a quick and easy meal that comes together in no time.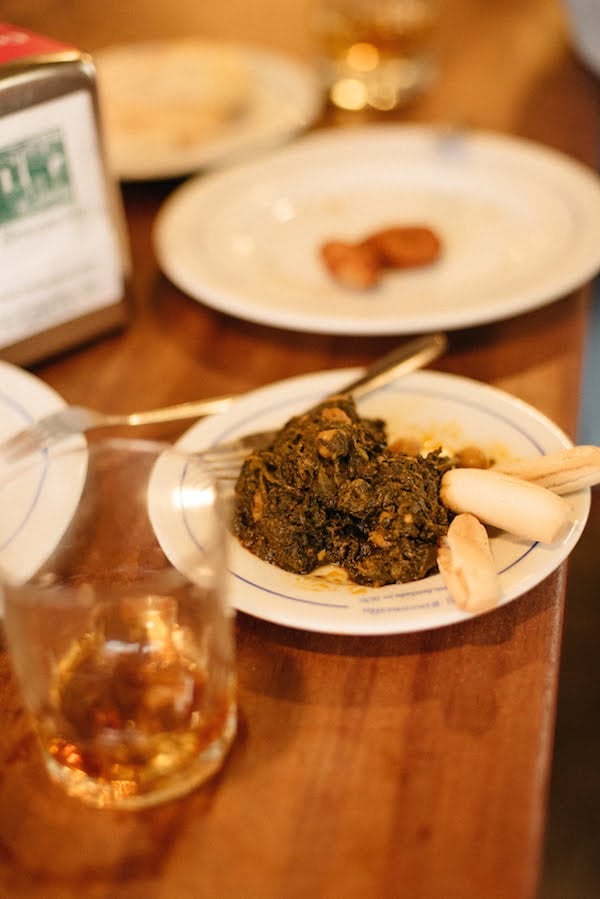 2. Salmorejo
My personal favorite on this list of vegetarian tapas in Seville (or on any list of Spanish food, really), salmorejo is one of the most typical foods from Córdoba, my adopted hometown just down the river from Seville. But this thicker, creamier cousin of better-known gazpacho has become a favorite in the Andalusian capital as well, and for good reason. It puts simple, traditional, local ingredients in the spotlight (think juicy red tomatoes, exquisite golden extra-virgin olive oil, and more) and combines them into one perfectly refreshing chilled soup that's a staple on dining tables throughout Andalusia, particularly in the scorching summer months.
Most traditional salmorejos are completely vegan (although Lauren's go-to salmorejo recipe, passed along from her mother-in-law, includes an egg for extra creaminess). However, most bars and restaurants will often top theirs with a sprinkling of cured ham and hard-boiled egg—not exactly vegan- or vegetarian-friendly! Be sure to order yours sin jamón and/or sin huevo.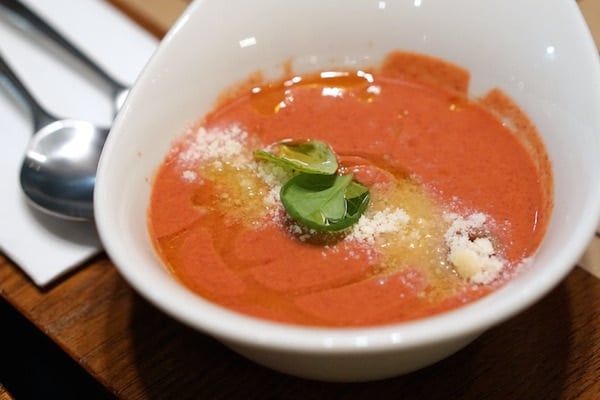 3. Ajo blanco
Continuing the theme of cold Spanish soups, ajo blanco is another unbelievably refreshing option in sunny Seville. Hailing from the nearby Costa del Sol, it's one of the most typical foods in Malaga and just as popular throughout the rest of Andalusia as well. Often considered a predecessor to dishes like salmorejo, this dish dates back centuries (before tomatoes had arrived in Europe from the Americas!) and places a heavy emphasis on garlic and almonds. As a bonus, there's no egg involved, so you can be sure that any ajo blanco you order will be completely vegan.
Try it: Lauren's ajo blanco recipe is the perfect summer dish!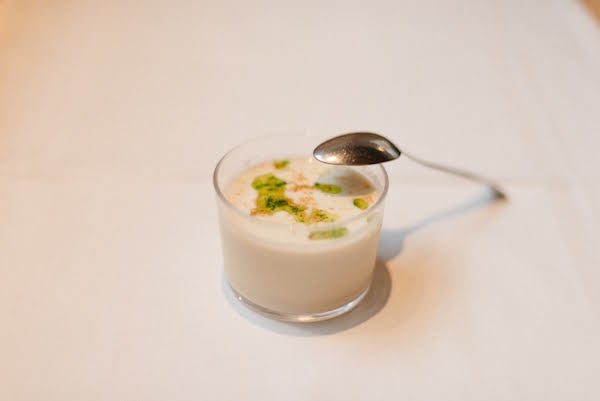 4. Fried eggplant with honey
Sound strange? Don't knock it 'til you try it. Not many dishes successfully reach the same level of savory-sweet perfection as berenjenas con miel, one of the most popular vegetarian tapas in Seville and throughout southern Spain. Fresh eggplant gets fried to perfection in olive oil and drizzled with honey or molasses (miel de caña -- which is vegan), and the end result is crispy, just sweet enough, and as Andalusian as it gets.
Try it: Berenjenas fritas con miel are one of the easiest tapas to make at home!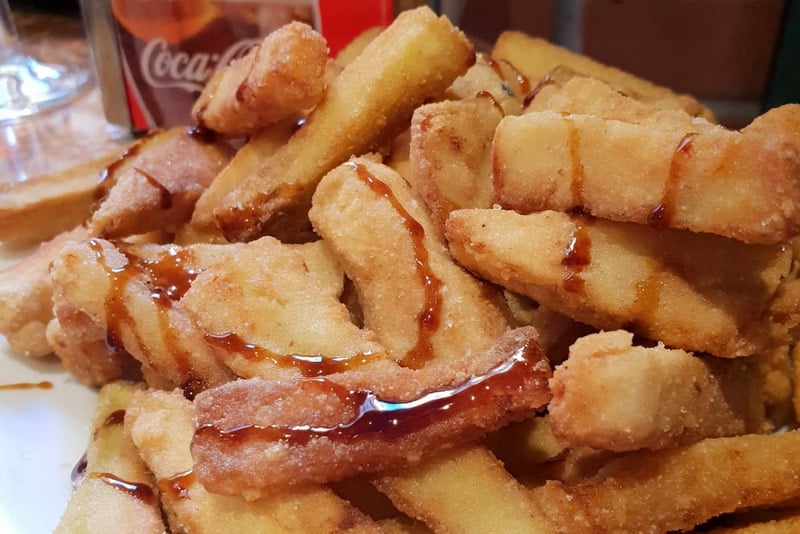 5. Alcachofas
You'll be hard-pressed to visit Seville in the fall without seeing artichokes. Come autumn, alcachofas are everywhere, and for good reason. Locally sourced and incredibly versatile, this nutrient-packed veggie comes in just about every form imaginable in Seville, where ingenious local chefs are constantly reinventing it. While some include animal products such as jamón or coquinas (small clams), there are plenty of completely veggie-friendly artichoke dishes as well.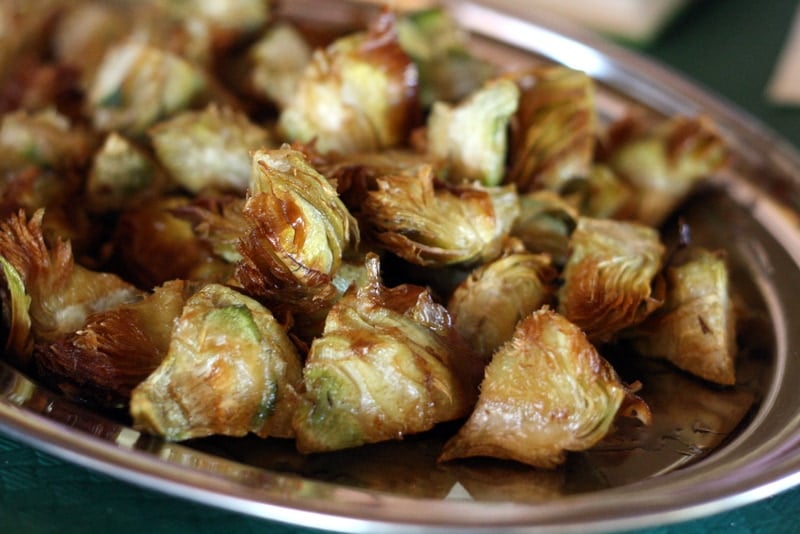 6. Tortilla española
No list of vegetarian tapas in Seville—or vegetarian food anywhere in Spain—would be complete without the country's unofficial national dish: the humble tortilla de patatas. The very definition of simple Spanish cuisine, the ingredients of a traditional Spanish omelet are all pantry staples: eggs, potatoes, olive oil, salt, and (occasionally) onion. When in doubt about what to order, this is always a winner.
Try it: The tortilla de patatas is surprisingly easy to make at home (despite the seemingly complicated flip!).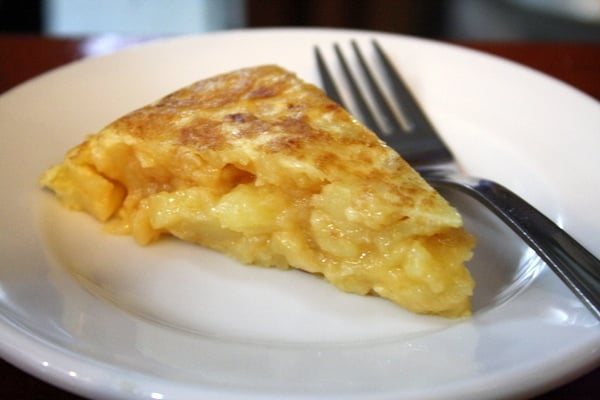 7. Grilled mushrooms
Who knew mushrooms could be so addicting? The phrase "bet you can't eat just one" may be popularly associated with Lay's Potato Chips, but the same goes for champiñones a la plancha. Grilled with just a dash of very simple seasoning, these tasty bites are guaranteed to be gone within seconds—and you'll probably need to order another round. Sevillanos are particularly fond of the grilled mushrooms with alioli at Las Golondrinas (Calle Antillano Campos, 26) in Triana—and unsurprisingly, they're a universal crowd pleaser on Devour Seville's Tapas Like a Local Tour.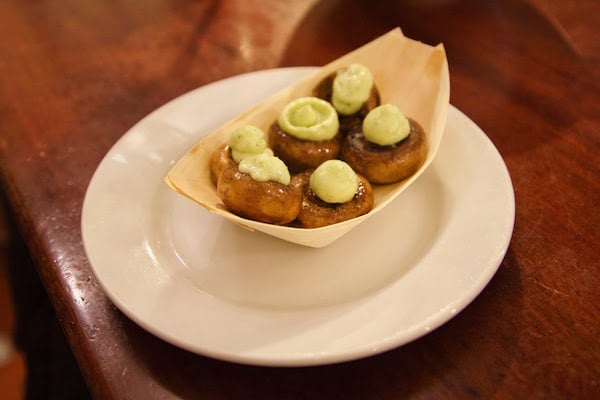 8. Calamares del campo
Don't let the name fool you—though this dish is literally known as "country calamari," there's not an ounce of seafood to be found in it. Instead, it consists of fried vegetables—onions and peppers, to be exact—cut into ring shapes reminiscent of traditional fried calamari. It's one of the most popular vegetarian options on Devour Seville's Tastes, Tapas & Traditions of Seville Tour—one that often finds even the most voracious carnivores sneaking their fork in to try a bite!
9. Veggie croquettes
Croquetas are another one of my favorite Spanish foods—what's not to love about crispy, creamy bites of fried perfection? While many traditional croquette recipes are meat-based, some of the most popular vegetarian tapas in Seville are perfectly veggie-friendly. From spinach to pesto to cheese to mushrooms and more, there's pretty much nothing you can't stuff into a croquette, and the vegetarian options are just as filling and delicious as their meat-based counterparts.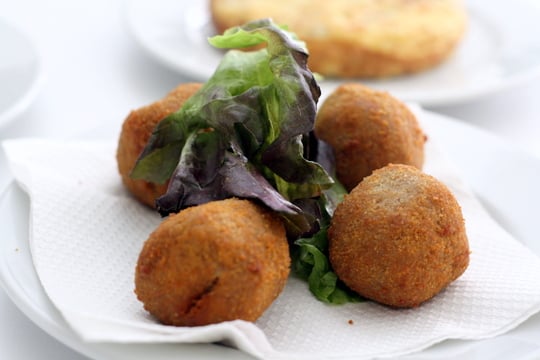 10. Pimientos asados aliñados
A simple, healthy, and flavorful option to round out this list of vegetarian tapas in Seville, this traditional roasted pepper and onion dish is the most delicious way to get one of your daily servings of veggies in. Like so many Spanish foods, the beauty lies in its simplicity, which combines the roasted vegetables with a simple dressing of olive oil, vinegar, and salt (some recipes also use garlic) to create rich, memorable flavors. Vegetarian or not, this is one dish you'll want to order again and again.
Eat vegetarian in Seville—like a local!
Devour Seville's Tapas, Taverns & History Tour is more than just a fascinating 2-in-1 food and history experience. Sure, you'll have the most fun and interesting history lesson of your life as you eat your way through some of Seville's most storied establishments, but the food you'll try along the way is something you'll be talking about long after you've swallowed the last bite. With plenty of vegetarian options available, this popular tour is easily adaptable for a meat-free diet, too. Just let us know when booking!
Pin me!