Today David takes on Madrid's famous fried calamari sandwich recipe. Transport yourself to Spain with this easy and delicious sandwich recipe!
The most famous food in Madrid isn't what you think it is. No, it's not patatas bravas, roast suckling pig, or flan! Instead, the thing that madrileños love most is a simple sandwich. The humble bocadillo de calamares (fried calamari sandwich) is the real culinary symbol of Madrid.
The first time you try one, you might be confused. "Is this it?", you might think, seeing a crusty bread roll with a few rings of breaded and fried calamari inside. But take your first bite and you'll be convinced!
The secret to a good calamari sandwich recipe is the simplicity. It's just good bread, good calamari, and a light and creamy alioli that hums with garlic.
It's quick, easy, cheap, and better than the sum of its parts!
But finding a good calamari sandwich isn't always easy. There are plenty of bad versions out there, even in Madrid! Soggy, greasy calamari, stale and chewy bread, and alioli from a packet... the crimes against bocadillos are heinous indeed.
Luckily, making your own version at home is super simple! In no time at all, you can bring the taste of Madrid into your kitchen with only a handful of ingredients.
How to Make a Madrid-Style Fried Calamari Sandwich
You can either buy the calamari in pre-cut rings, or buy the squid whole. If you choose to buy it whole, make sure to clean it properly or ask for it to be prepared for you. Look for a squid with a little more substance, so it doesn't dry out when you go to fry it.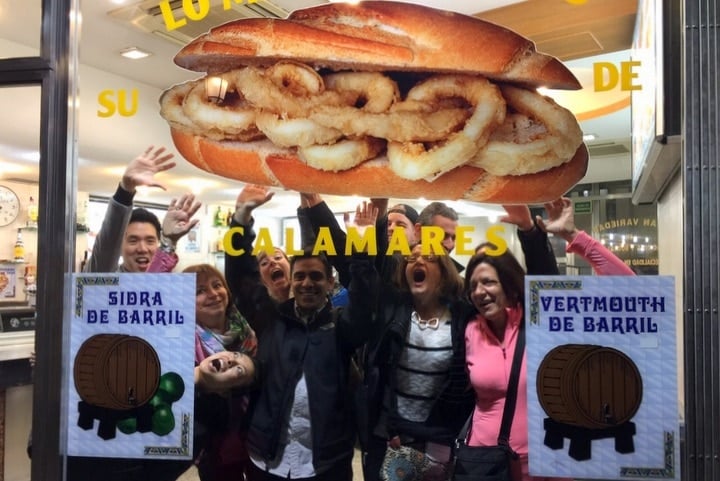 To prepare the squid, it's important to let them first marinate in lemon juice to tenderize. (You can also use milk). Dry them completely before frying, otherwise, they might go soggy or shed the batter. Just pat the squid dry between two paper towels before dunking them in the batter. You can also make the alioli your own by adding spices like smoked paprika, chili, lime, or whatever takes your fancy.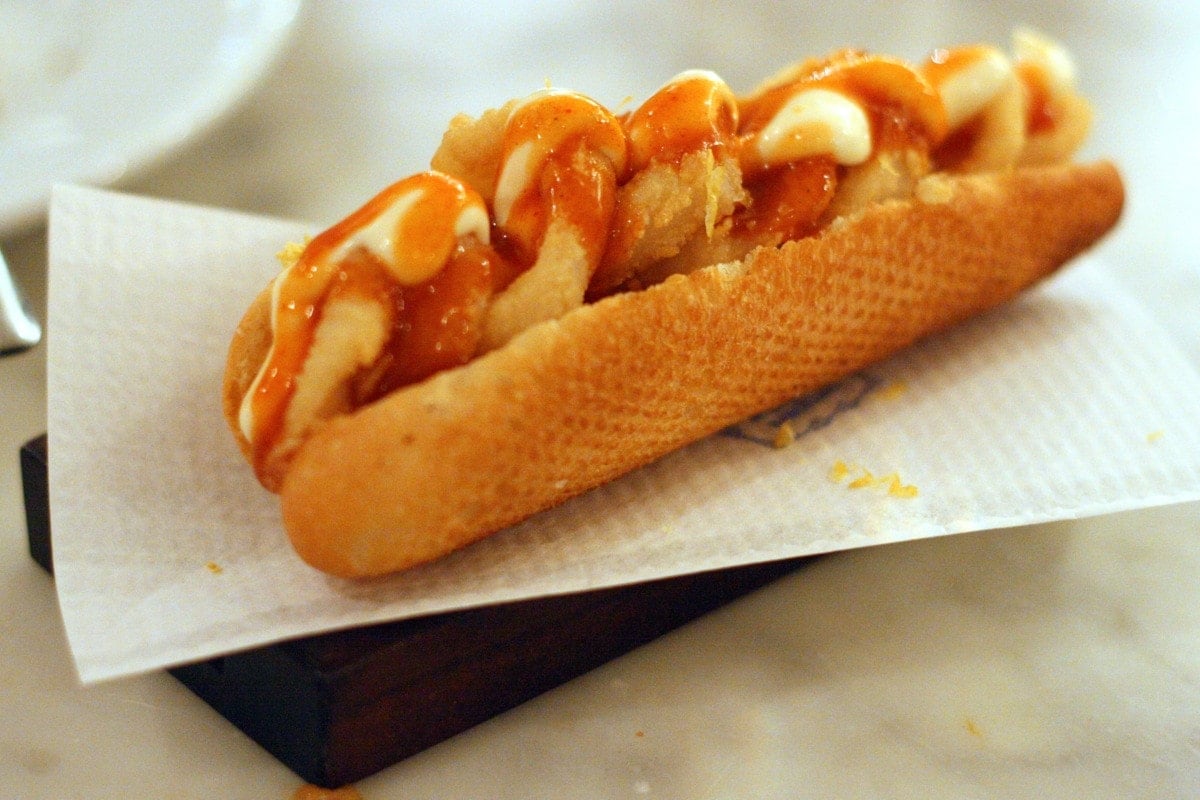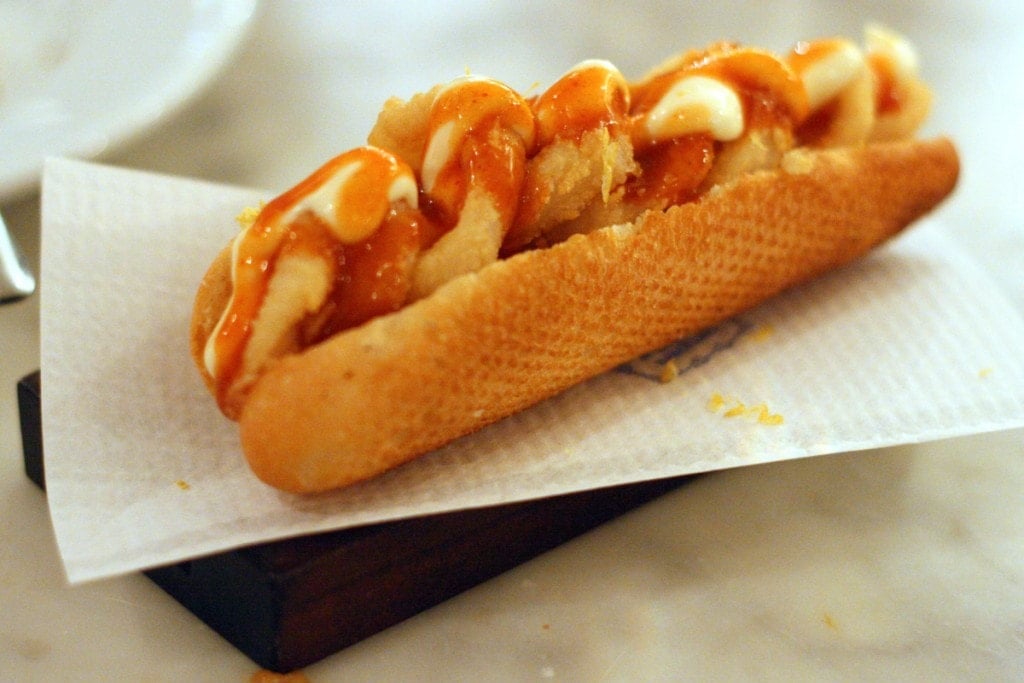 Bocadillo de Calamares Recipe
Will you try this fried calamari sandwich recipe at home? Let me know how it turns out in the comments!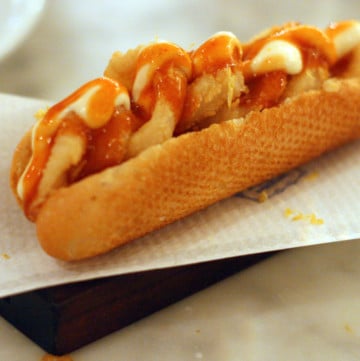 Fried Calamari Sandwich Recipe (Bocadillo de Calamares)
This classic calamari sandwich is the culinary symbol of Madrid! Make your own bocadillo de calamares at home with just a handful of simple ingredients.
Print (images optional)
Pin
Rate
Ingredients
1

pound

calamari

cleaned and sliced into ¼-inch rings

30

g

¼ cup all-purpose flour

½

teaspoon

of sweet paprika

½

teaspoon

of ground black pepper

Milk

Salt

Olive oil

for frying

2

bocadillo style bread rolls

1

lemon

sliced into wedges
For Garlic Alioli
1

medium egg

at room temperature

½

teaspoon

sea salt

1

tablespoon

lemon juice

⅓

cup

extra virgin olive oil

1

clove

garlic

crushed
Instructions
Place the calamari rings in a large mixing bowl and cover with milk. Leave in the fridge for at least 2 hours to tenderize. (Alternatively, marinate with lemon juice for 10 minutes, though this isn't quite as effective and can be harder to dry).

In a separate bowl, combine the flour, paprika, and black pepper. Rinse the calamari in water and then dry by patting between 2 paper towels.

Place a large skillet over medium-high heat and add an inch of olive oil. Carefully take the calamari rings, dip them in the flour mixture, and fry in the olive oil 5-6 at a time. Remove from the pan when golden, about 1-2 minutes on either side.

To prepare the aioli, combine the egg, salt, lemon juice and crushed garlic in the bowl of a stick blender (immersion blender). Place the stick blender at the base of the bowl, and blend at high speed, slowly adding the olive oil. When it starts to combine into a mayonnaise, carefully and slowly pull the stick blender upwards and remove when the alioli is ready.

To prepare the bocadillo, cut the bread roll in half, place a few rings of calamari in there, and top with two spoonfuls of the aioli. Serve with a wedge of lemon.
Nutrition
Calories:
884.51
kcal
|
Carbohydrates:
47.12
g
|
Protein:
45.06
g
|
Fat:
57.63
g
|
Saturated Fat:
9.07
g
|
Cholesterol:
611.5
mg
|
Sodium:
1078.64
mg
|
Potassium:
716.77
mg
|
Fiber:
3.11
g
|
Sugar:
5.05
g
|
Vitamin A:
439.92
IU
|
Vitamin C:
43.21
mg
|
Calcium:
186.24
mg
|
Iron:
4.71
mg
Pin me!