Ever since starting Madrid Food Tour I have become a huge fan of organized tours— but only when they're with the right company. I used to think that I personally didn't need a tour guide– I prefered to travel without much structure, simply discovering things along the way. But after realizing how much research and stress an occasional organized tour can save you, I began to book them on nearly every trip I take.
A Good Tour is Well Worth It
In Playa del Carmen, Mexico we spent the day with Jay of Your Private Tour, and we realized that we could have never done so much in one day without his services. Of our 10 day honeymoon we spent 9 days on our own, but having one day organized by Jay and not having to worry about a thing was fantastic and relaxing. In Bologna, Italy, we went on a fantastic food tour of the region with Martina, trying balsamic vinegar, parmesan cheese, and Italian wines all in one day. Some of the places we visited aren't even open to the public! Needless to say, we would never have done this on our own (and if we had we would've required a rental car, GPS, and the guts to brave the windy mountain roads!).
On my last trip home in March I wanted to take my parents on a food tour. They haven't been to Madrid yet, and haven't gotten to spend the day with me or my amazing team. So I decided to search for something similar that was offered in Boston. I came up with a lot of different food tour companies, but there was only one that truly caught my eye. Boston Foodie Tours stood out because it offered a variety of routes (which shows passion for the city) and, while well-structured, I didn't get the feeling that we would be rushed along, with the annoying "no shopping on the tour" rule that so many other companies seem to have.
I analyzed the reviews on Tripadvisor and Yelp, and decided that Boston Foodie Tours was worth a try. We reserved the Beacon Hill and Back Bay Tour, advertised as "two tours in one" and rumored to last 5+ hours.
As we made our way downtown we were all curious as to what owner Audrey would have in store for us. My family lives about 40 minutes from Boston and go into the city often, although they generally tend to go out in the North End. My father went to law school in Boston too, so any trip to the city always brings back a bit of nostalgia.
Highlights of our Boston Food Tour
I don't want to give away the whole tour (although each tour changes seasonally, depending on the products available, food truck schedules, and farmers' market days) but here are some of the highlights. We ended up spending six hours with Audrey and her assistant Adrienne, but the time flew by, and we enjoyed every last minute!
Love it or hate it, these pictures were taken with Instagram, as I unfortunately didn't bring my camera on the quick trip home!
We walked the city with sunshine and chilly temperatures, but couldn't have asked for more on a mid-March day!
I was so surprised by the level of detail on our food tour, this stop even prepared a custom menu for our group, allowing us to taste a portion that the average customer wouldn't be able to try!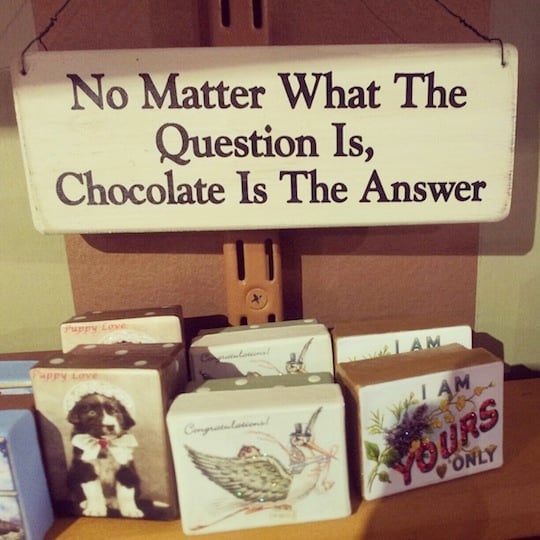 Chocolate lovers will be thrilled with the selection of artisan chocolates featured on the tour. From hot chill pepper chocolate to chocolates with potato chips or pop rocks, there was plenty to take home too.
We happened to visit when Boston's famous ducklings were decked out in their Easter best.
Something special that Audrey's Boston Foodie Tours include are the takeaways. Every now and then we were given something from a shop or restaurant that was already packaged to take away and enjoy later that evening at home. I'll be honest, Boston's most famous sticky bun didn't quite make it home…
A couple of the stops were in some of Boston's most beautiful hotels. I'd never thought about visiting the different hotels in the city before, but even a quick glance at the lobby is well worth it!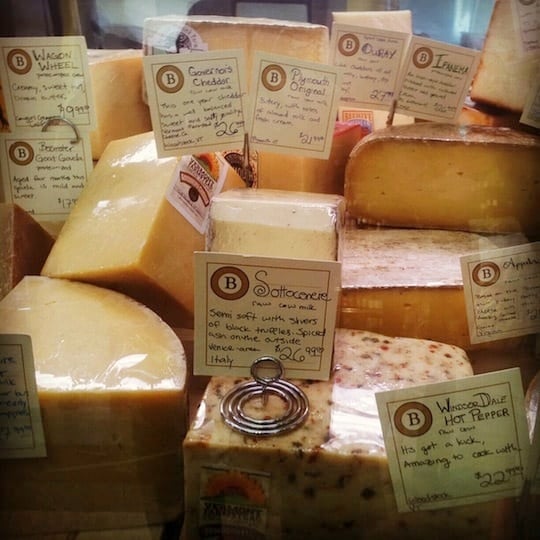 Our tour included stops at a few gourmet shops, and my favorite tasting had to be the cheese. I could have spent all day at that cheese counter tasting and tasting…
Only in Boston would the city's most famous macaroons be made by a 75-year-old man named Frank Goodwin. He makes his St. Emilion macaroons to help out nearby schools– wow! You better bet we grabbed a box, one of the last ones before they sold out.
We made a quick stop at Savenor's grocery store, where we learned that Julia Child loved to buy rendered duck fat. I'm sure it makes anything taste amazing, but resisted the urge to buy…
It definitely wouldn't be a Boston food tour without a piping hot bowl of clam chowder! We tried one of the best bowls in Boston, and even got the recipe.
The ice cream choices at JP Licks were overwhelming! After sampling a rather interesting bite of Beer & Pretzels, I opted for the fresh Wild Maine Blueberry sorbet— perfect!
My last bites of the day were a trio of creme brûlée. I especially loved the creamy ginger one. But my favorite bite on the tour isn't pictured– it is the dessert that both of my parents ordered at Audrey's recommendation (I should've listened) and was one of the most amazing desserts I've ever tried!
I'm afraid I can't tell you about it (and without a picture to show it my description wouldn't do it justice) so you'll just have to take Audrey's tour to find out about Boston's best dessert!
Overall, we spent a fantastic day in Boston with Boston Foodie Tours, and would highly recommend their food tours to Boston visitors. And even if you think that organized tours aren't your thing– give them another chance! I'm so happy I did.
Have you ever taken a food tour? Where?