These are one of my favorite Portuguese cookies—and not just because we have the same name (no relation, officially). They're dense, sweet and satisfying... and simple enough to recreate at home with this easy broas de mel recipe!
What are broas de mel?
Broas de mel are a typical Portuguese cookie, commonly eaten around holidays like Christmas or Easter. They can vary greatly in texture, shape and size (so don't worry if your cookies look a little different!) The name is a bit hard to translate; mel means honey, which is obvious enough, but broas is more complex. This word can refer to many different foods in Portugal.
The most common is broa de milho, a type of bread made with cornmeal, sometimes combined with wheat flour as well. It's savory, but in its purest form it takes on a slight sweetness from the corn. Broa de milho is a traditional accompaniment for caldo verde, grilled sardines, and many other classic dishes.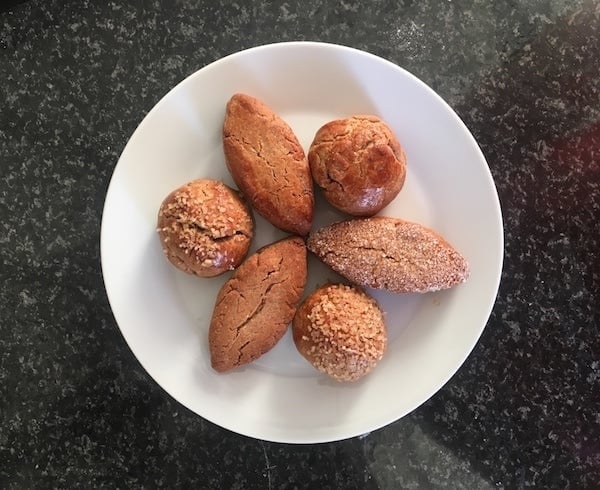 Broas can also refer to any number of sweet confections, which usually have a certain bread-like consistency. There are broas de noz (walnuts), broas de canela (cinnamon), broas de batata doce (sweet potato) and many more. But my all-time favorite kind is broas de mel: delicious little honey-flavored gems that never fail to satisfy a sugar craving.
Broas de mel to the rescue
My first encounter with broas de mel was born of a hunger emergency and a lack of options. I was in Sintra, a magical town in the hills north of Lisbon. After climbing up a mountain and exploring a fairytale castle, I was in serious need of sustenance. The only place selling food was a crowded café with sad-looking prepackaged sandwiches and not much else. In desperation, I grabbed a bag of oval-shaped, sugarcoated cookies that seemed like a promising snack for my descent to the town center.
I started down the trail, opened the bag, bit into a broa—and literally stopped in my tracks. It was an explosion of honey and cinnamon. Like a full mouthful of the best graham-cracker pie crust you can imagine. It was all I could do not to eat the whole bag before I made it down the mountain. Ever since, I've been obsessed with broas de mel, and with figuring out just what makes them so addictive.
Simple but essential ingredients
The ingredients list for any broas de mel recipe isn't long, but there are a few key items that make all the difference. The most important ingredient is, of course, honey. I like to think these cookies are healthier than average; half the sweetness comes from honey, and they're made with olive oil instead of butter. In other words, a natural sweetener and a source of high-quality monounsaturated fat. What's not to like?
Speaking of honey, you'll want to use the best kind you can get your hands on. It's one of the main elements of flavor, so the better the honey, the better your broas will taste. And the kind of sugar you use matters too. Most Portuguese recipes call for açucar amarelo (yellow sugar), which you might say is halfway between white sugar and brown sugar. If you don't have access to it, light brown sugar is your best bet.
My short and sweet broas de mel recipe
I developed this recipe to recreate my favorite Portuguese cookies at home, with minimal ingredients and effort. It requires hardly any prep time and just a few minutes in the oven. Enjoy!
Broas de Mel
Author:
An easy recipe for classic Portuguese cookies made with honey, olive oil and cinnamon.
Ingredients
4 cups flour
½ cup light brown sugar
2 tablespoon cinnamon
1 teaspoon baking powder
½ teaspoon salt
½ cup honey
¾ cup olive oil
3 eggs
Granulated or raw sugar to decorate (optional)
Instructions
Preheat oven to 350ºF (180ºC) and line a baking sheet with parchment paper.
In a large bowl, mix flour, sugar, cinnamon, baking powder and salt until combined.
Heat honey and oil in a small saucepan over low heat until warm (but not hot).
In a medium bowl, beat two of the eggs.
Add oil and honey mixture to the bowl and combine.
Add this mixture to the dry ingredients and mix until you have a uniform, slightly wet dough (it's easier to use your hands for this).
Separate into 24 equally sized pieces and form into small spheres or ovals.
Beat the remaining egg in a small bowl.
Brush the top of each broa lightly with egg, then roll in granulated or raw sugar if desired.
Place on the parchment-lined baking sheet, spaced at least an inch apart.
Bake for 10-12 minutes, or until the tops are golden brown—watch closely to make sure they don't burn.
Let cool before enjoying!
Notes
Broas de mel are usually either round or diamond-shaped—but feel free to get creative! You can decorate with granulated sugar, raw sugar or even nuts if you like. Sometimes dried fruits and nuts are also added into the dough!
3.5.3251