Spain is undoubtedly more famous for its savory dishes than its desserts. Iconic tapas and pretty paellas steal the spotlight from the country's sugary treats... but, trust me, they exist. And they're amazing. See for yourself by trying one of the most traditional Spanish desserts with this leche frita recipe!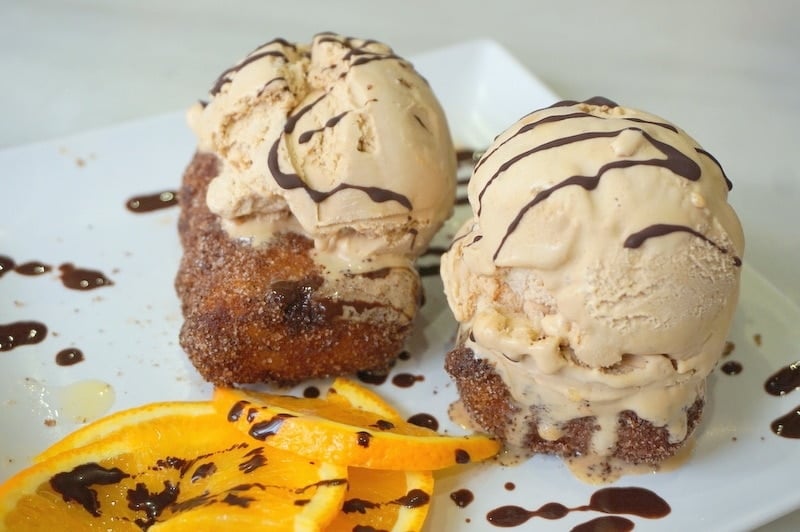 What is leche frita?
Good question. The name itself is not exactly self-explanatory; leche frita means, literally, "fried milk." Intriguing, to say the least.
One day a few weeks after I arrived in Spain, I was hanging out at the primary school where I was working at the time. A cheerful mother of one of the students was passing around a Tupperware, offering some kind of homemade goodies to the other teachers. When she held it out to me, I peeked inside to see what looked like small, square nuggets of... something. I politely—but apprehensively, I'll admit—asked her what it was.
"¡Leche frita!" she replied and then offered me one of the nuggets. Following my food policy of "try everything at least once," I accepted and took a bite. It was sticky and soft, and underneath the golden coating was a sweet, creamy filling. The name started to make more sense.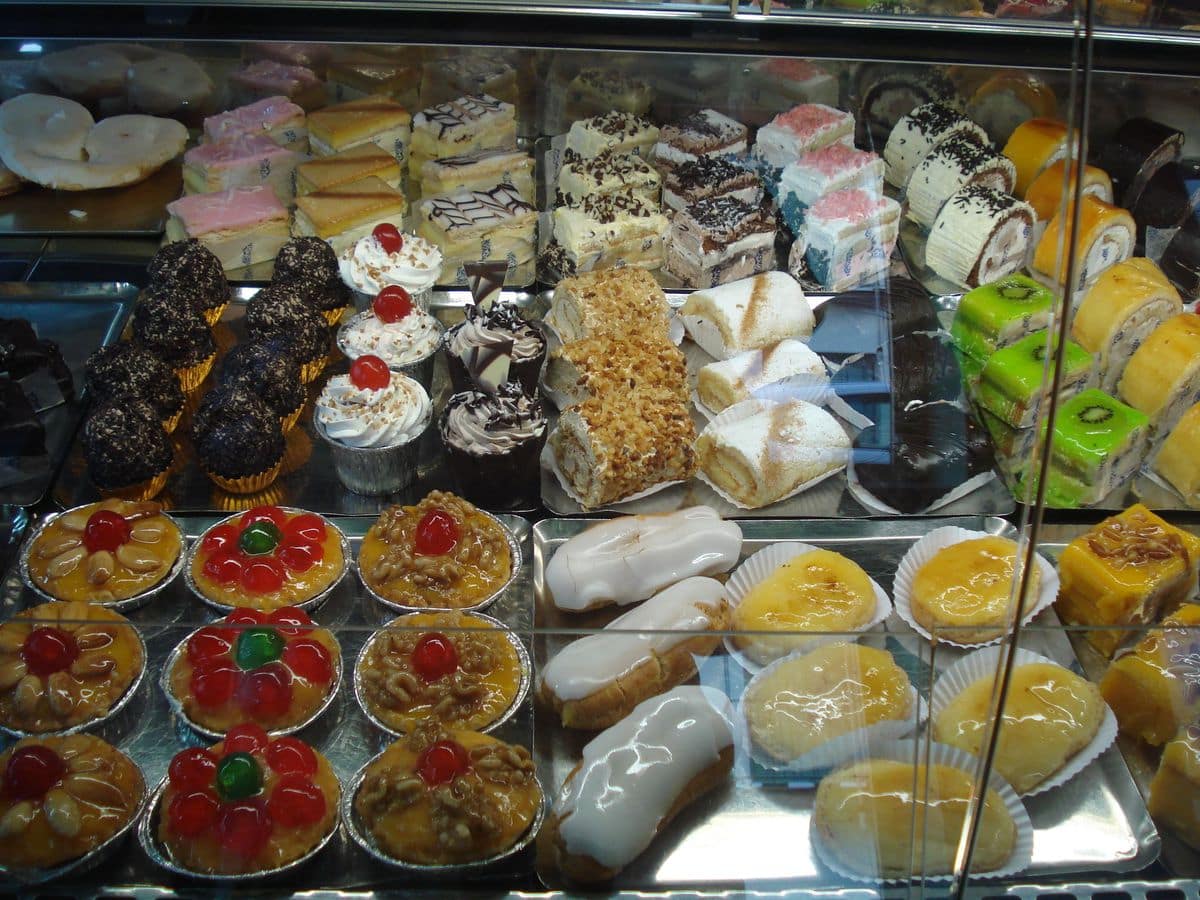 Leche frita isn't the only delicious Spanish dessert...
See also: Mantecados – Traditional Spanish Cookie Recipe
How do you make leche frita?
Afterward, I resorted to the internet to figure out exactly what I had eaten. Essentially, leche frita is a mixture of milk, flour, and sugar that's coated in eggs and flour and then fried in olive oil. But of course, everyone has their own take on it, adding things like cinnamon sugar or lemon peel to create unique variations.
I get the feeling it's the kind of thing that everyone's mom/grandmother/aunt/uncle etc. has their own special recipe for. And although I didn't grow up eating it, for me it will always be a symbol of belonging; of feeling like part of the family that was my school.
As a recently arrived foreigner, 4,000 miles away from my real family, that mysterious nugget was, somehow, a comforting touch of the familiar. It may not have been a chocolate chip cookie or a homemade brownie, but a mom—any mom—handing me a paper towel-wrapped baked good made me feel surprisingly at home.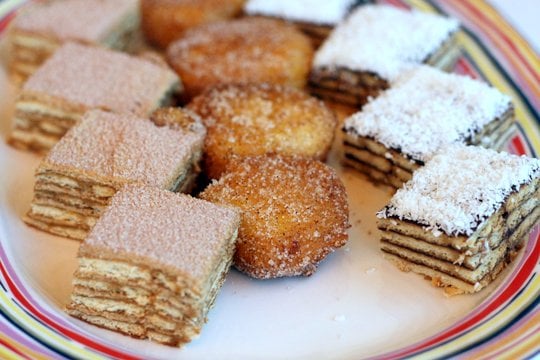 Where to try leche frita
If you want to taste authentic leche frita, making it yourself at home is probably your best bet. I've rarely seen it on a restaurant dessert menu or being sold in local bakeries. So unless you've got a Spanish grandmother to invite you over for merienda, you're pretty much on your own. In fact, it was a lucky coincidence that I happened to be standing there in the school that day, or I may never even have known it existed.
See also: Essential Spanish Recipes to Make at Home
A classic leche frita recipe
If your interest is piqued, try this leche frita recipe to sample one of the tastiest traditional Spanish treats!
Ingredients
4

cups

of whole milk

950 ml

3 ½

Tbs

of cornstarch

25 g

7

Tbs

of flour

50 g

½

cup

of white sugar

100 g

1

cinnamon stick

Lemon peel

½

teaspoon

vanilla extract

2.5 ml

½

cup

of olive oil

120 ml

2

eggs

Sugar and powdered cinnamon to garnish
Instructions
Whisk together the cornstarch, sugar, and half of the flour.

Add 1 cup of milk and combine. Set aside.

Heat the remaining milk over medium-low heat in a large saucepan until it starts to bubble.

Remove from heat and add the cinnamon stick, lemon peel, and vanilla. Mix and let sit for 5 minutes.

Gradually strain the milk from the saucepan into the mixture from the first step, and stir until combined.

Return to saucepan and heat over medium-low heat, stirring constantly, until the mixture thickens considerably (at least 15 minutes).

Oil a large baking dish and pour the mixture into it. It should be about ¾ inch (2 cm) deep.

Cover with plastic wrap or wax paper so that it's resting on the surface of the mixture, and refrigerate for a minimum of 4 hours (overnight if possible) until it has solidified.

Turn the cooled mixture out of the pan and cut into small squares.

Heat the olive oil in a frying pan over medium heat, at a depth of about ¼ inch (½ cm)

Beat the eggs in a small bowl. Put the remaining flour in another bowl.

Dip each piece in the beaten eggs and then the flour, to form a light coating.

Fry in the oil for about one minute on each side, until the coating turns golden.

Let cool on a paper towel, then roll in sugar and cinnamon.

Serve fresh or at room temperature, ideally with ice cream!
Notes
The most important part of this recipe is making sure that the mixture thickens enough to solidify in the fridge. If it doesn't, you won't be able to fry it without it falling apart. So plan ahead, take your time when heating it on the stove, and refrigerate it for as long as possible!
Nutrition
Calories:
198.19
kcal
|
Carbohydrates:
18.09
g
|
Protein:
3.96
g
|
Fat:
12.39
g
|
Saturated Fat:
3
g
|
Cholesterol:
35.41
mg
|
Sodium:
46.02
mg
|
Potassium:
122.16
mg
|
Fiber:
0.35
g
|
Sugar:
12.51
g
|
Vitamin A:
171.36
IU
|
Vitamin C:
0.65
mg
|
Calcium:
98.94
mg
|
Iron:
0.43
mg
Have you tried this leche frita recipe yet? Got any tips, tricks, or personal touches? If so, share them in the comments!