When I visited Mallorca last summer I pretty much ate my weight in flakey ensaimadas. Today David shares an easy Mallorcan ensaimada recipe so that you can enjoy this Spanish treat at home!
Ensaïmada (or ensaymada) is the traditional sweet pastry from Mallorca. Any visitor to the sunny Balearic island knows it well, and it makes for one delicious breakfast or afternoon snack!
Traditionally, it was a sweet bread eaten at Easter, but these days you'll find it sold all throughout the year. The pastry comes in a coil shape, with a very generous sprinkle of powdered sugar on top. While the classic version is served plain alongside a coffee or hot chocolate, you can also find ensaimadas filled with pastry cream, pumpkin jam, or even nougat! In my books, though, nothing beats the classic.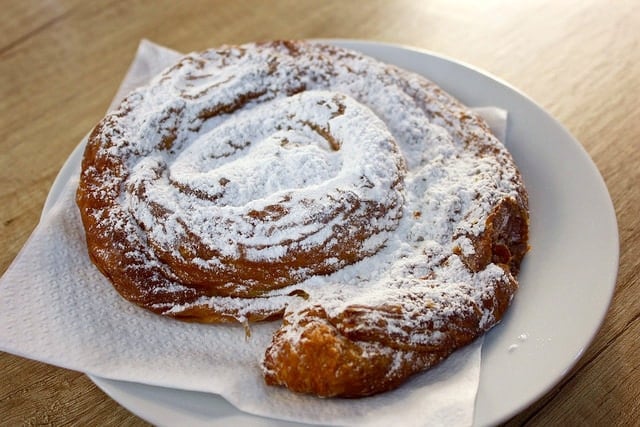 The name gives you a good hint as to the ingredients and the history of the dish. Saim is a Mallorquin word meaning pork fat; from the Arabic word shahim. And (you guessed it) pork lard features prominently in the original recipe!
Ensamaida is similar to other traditional Spanish desserts that feature pork products heavily. In the times of the Spanish Inquisition, eating pork helped to prove your Catholic beliefs.
But to help with hungry vegetarians (and to bring up the healthiness) I use butter in my ensaimada recipe! You can also substitute vegetable shortening, or the classic pork lard if you're really keen to keep it traditional.
The proving time is crucial to letting the dough rise and become fluffy, so make sure to leave yourself enough time to let the pastry rest. You could even start the recipe the night before you plan on baking! The dough is fine to be left overnight to rise, and you can leave it in the fridge for a few hours if you're worried about it over-proofing.
Easy Mallorca Ensaimada Recipe
Mallorca Ensaimada Recipe
Get your traditional ensaimada recipe here! This classic sweet pastry is from the Spanish island of Mallorca, and makes the perfect sweet breakfast treat or afternoon snack.
Print (images optional)
Pin
Rate
Ingredients
2

teaspoons

dried active yeast

200

ml

¾ cup + 2 tablespoons lukewarm milk

110

g

½ cup granulated sugar

2

eggs

450

g

3 cups bread flour (plus extra for dusting)

¼

teaspoon

salt

200

g

7 ounces salted butter, cubed

Powdered sugar

to dust
Instructions
Whisk the yeast, milk, and one teaspoon of the sugar together in a bowl and leave until frothy (about five minutes).

Put half of the flour into a separate mixing bowl and make a well in the center. Slowly pour in the milk-yeast mixture and stir with a fork to form a shaggy dough. Cover the bowl with plastic wrap or a damp cloth and leave in a warm spot for about an hour, or until the dough has doubled in size.

When the dough has doubled, punch down to deflate. Add the eggs to the dough and use a fork or your hands to combine. Do the same thing with the sugar, and then the remaining flour. Knead for around 5 minutes and form a ball. Cover again and leave to prove for 30-45 minutes in a warm place.

When ready, lightly flour a large board or another workspace. Use a rolling pin to roll out the dough to about an 18-inch square. Working quickly, use a knife to spread the butter evenly over the dough.

Roll the dough up from the bottom of the square to the top, and slice into rounds that are about 1-inch thick. Transfer to a plate.

Lightly re-flour your workbench. Using your hands, roll out each individual round of dough into a long rope shape. Then shape each rope into the traditional snail-shell coil of the ensaimada.

Line baking trays with parchment paper, and put the ensaimadas on top (leave plenty of space as the pastry will expand). Leave to rise until dough has doubled again in size (at least 3-8 hours, you can leave overnight).

When ready to bake, preheat your oven to 350F (180C). Bake for 12-15 minutes or until golden brown on top. Leave to cool for at least 20 mins, and then dust with powdered sugar.
Nutrition
Calories:
317.5
kcal
|
Carbohydrates:
38.3
g
|
Protein:
6.89
g
|
Fat:
15.53
g
|
Saturated Fat:
9.21
g
|
Cholesterol:
64.78
mg
|
Sodium:
186.89
mg
|
Potassium:
92.72
mg
|
Fiber:
1.44
g
|
Sugar:
10.14
g
|
Vitamin A:
483.1
IU
|
Calcium:
32.56
mg
|
Iron:
0.51
mg
What's your favorite Spanish pastry? I'm always looking for new ways to get my daily sugar fix, so let me know in the comments below!
Pin me!