Today David shares one of my favorite Portuguese recipes ever -- the famous pastel de nata recipe for Portuguese custard tarts!
Whenever I'm in Portugal, I know I'm coming back a few pounds heavier.
Aside from all of the delicious seafood dishes, bowls of rice, and endless glasses of wine, Portugal is also home to my waistline's arch-nemesis: pastéis de nata (pastel de nata in the singular -- but who stops at just one?)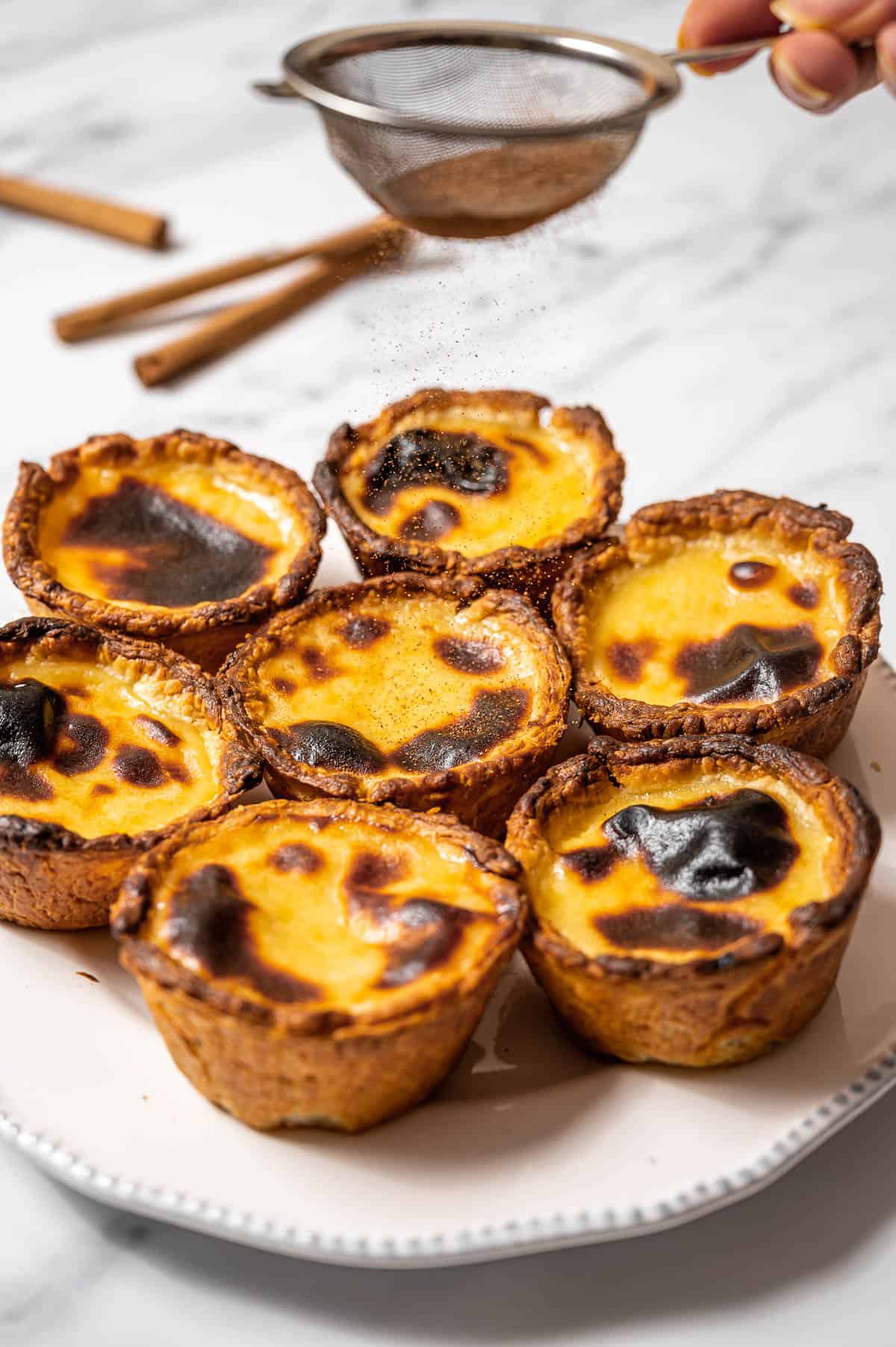 These Portuguese custard tarts are dangerously delicious. You might think that one would be enough, but only if you've never tried one. Because there's something addictive about the combo of blistered, caramelized custard and flaky golden brown puff pastry.
Try one, and you're hooked for life!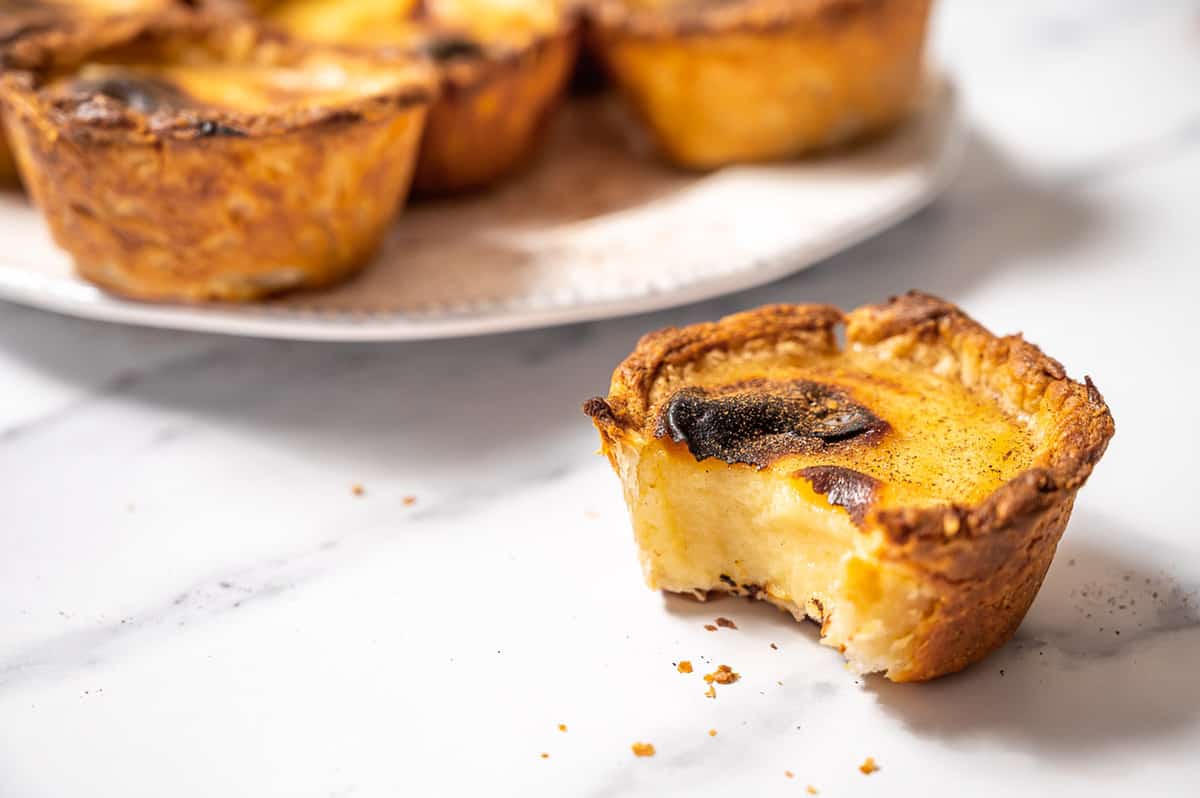 The most famous custard tarts come from the town of Belém, just outside of Lisbon. Here, in the Jerónimos Monastery, the famous recipe was born!
The version below gives you as close a taste to the original as possible. For a real classic taste, serve the pastéis warm, dusted with cinnamon. I opted for pre-made puff pastry, but making your own from scratch is definitely an option too!
Read more: The history of the Portuguese custard tart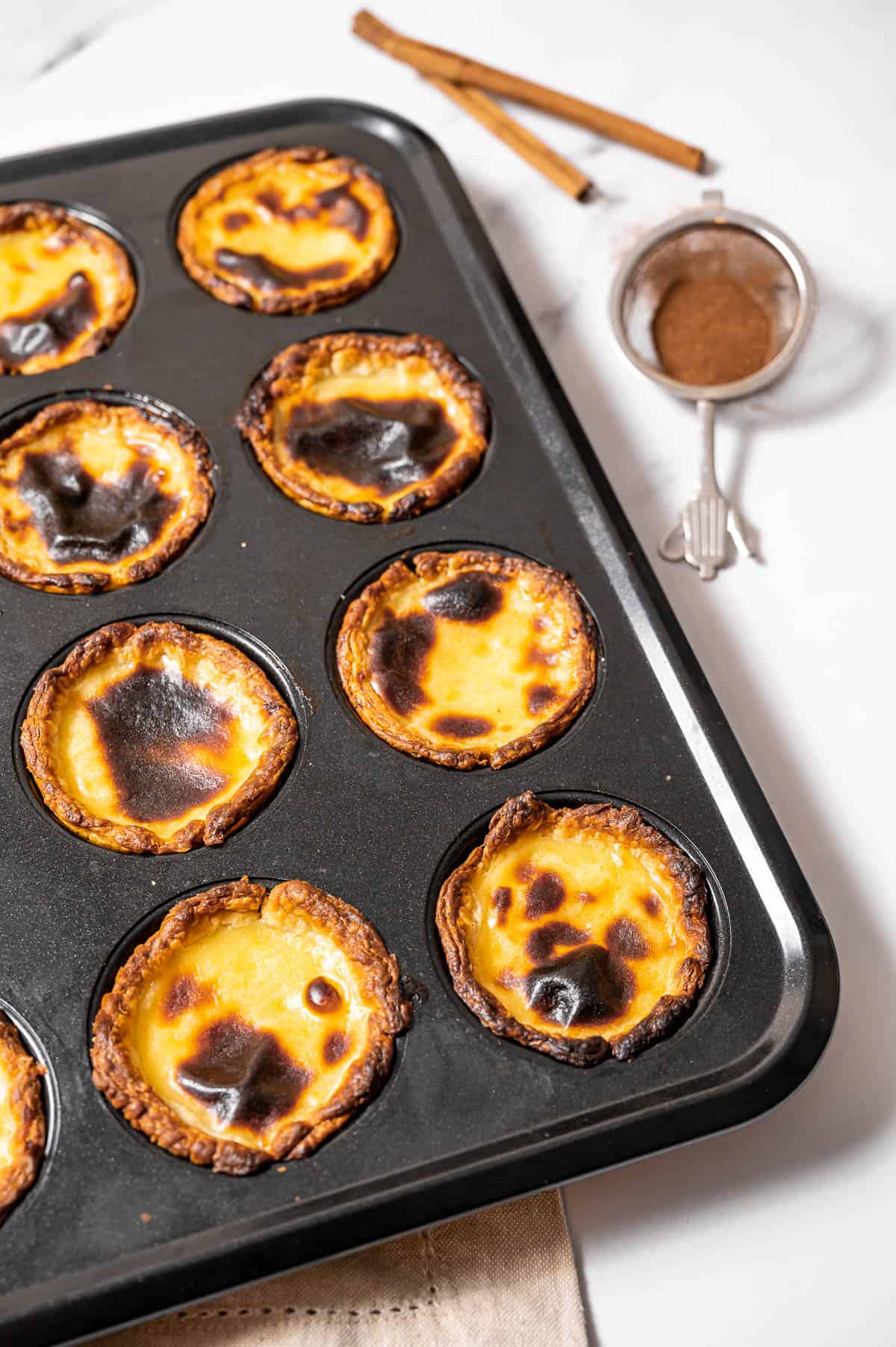 Key Ingredients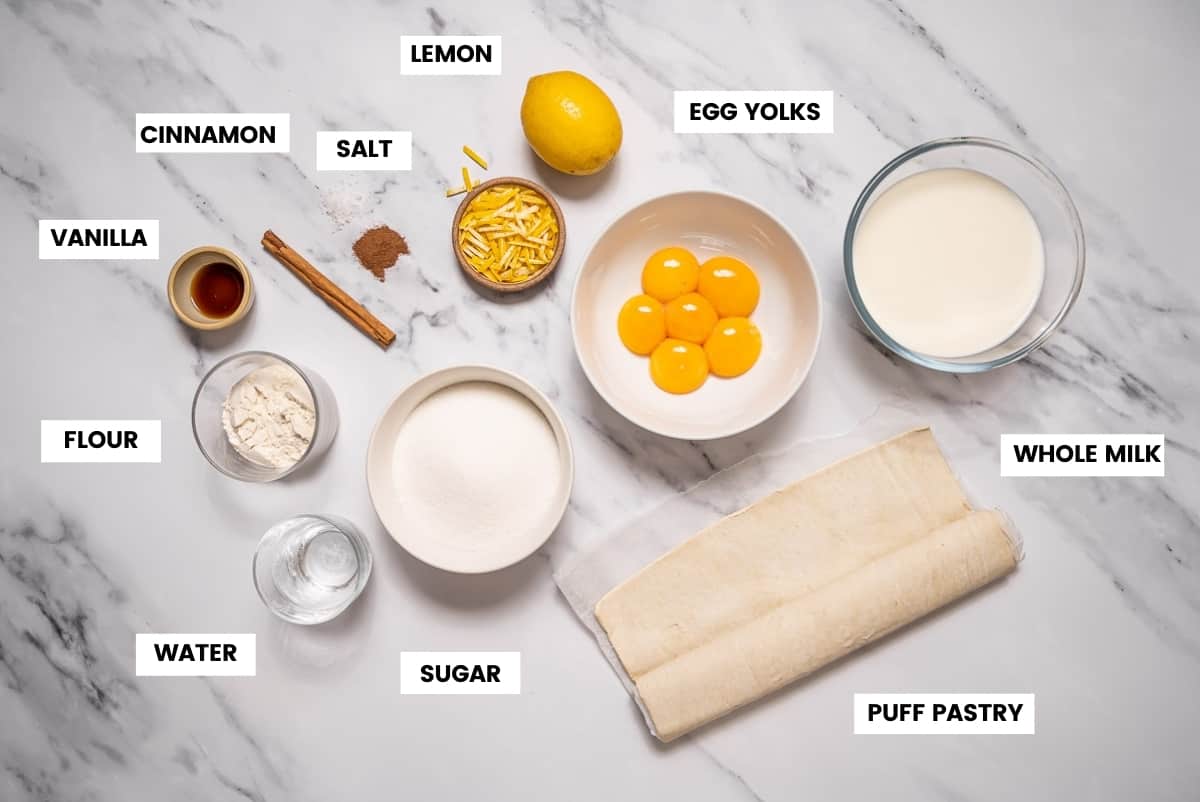 Key Ingredients: Egg yolks, milk, flour, salt, cinnamon, sugar, water, lemon, vanilla, and puff pastry.
Ingredient Notes & Substitutions
Custard: Use a pastry thermometer for best results (if you like to make sweets or fried foods, this is a great investment!).
Dough: I don't make my dough from scratch here. I did once... it was a lot of work and quite fussy. I find that good quality puff pastry dough works very well. For the homemade dough, I look forward to my next trip to Lisbon!
Oven temperature: A quick note about the oven temp -- it's high! If your oven doesn't go this high, just put it at the max. heat. And if you have a convection oven, this is a recipe to use that setting!
Pastel de Nata Recipe (Portuguese Custard Tarts)
Here is my step-by-step tutorial to delicious Portuguese custard tarts every time. For the full printable recipe (including exact measurements) scroll down.
Steps 1-2: Begin by making a sugar syrup. Combine the sugar, water, vanilla extract, lemon zest, and cinnamon stick in a saucepan and cook at a medium heat until a thermometer reads 220°F (100°C).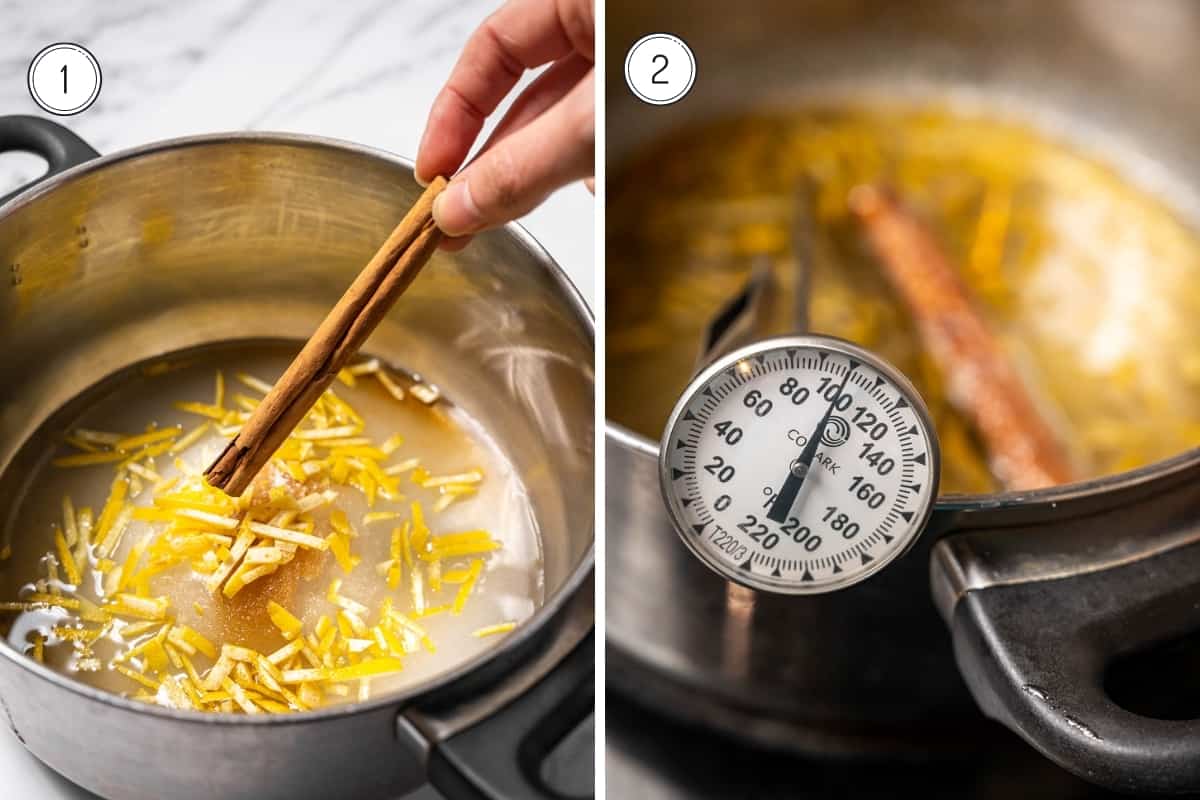 Steps 3-4: In a separate saucepan, whisk the milk, flour, and salt together until well combined. Cook over medium heat, whisking constantly, for about 5 minutes until thickened. Remove from the heat and let cool for 10 minutes.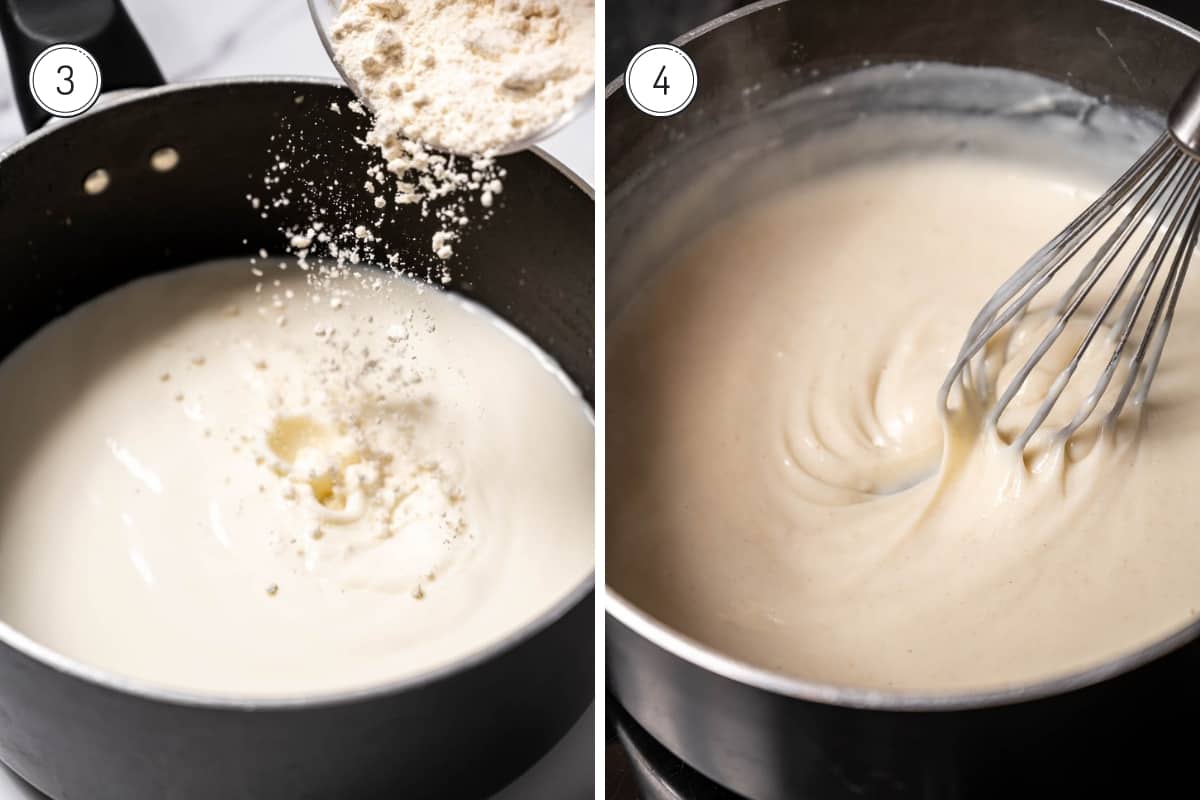 Steps 5-6: Whisk in the egg yolks until well combined.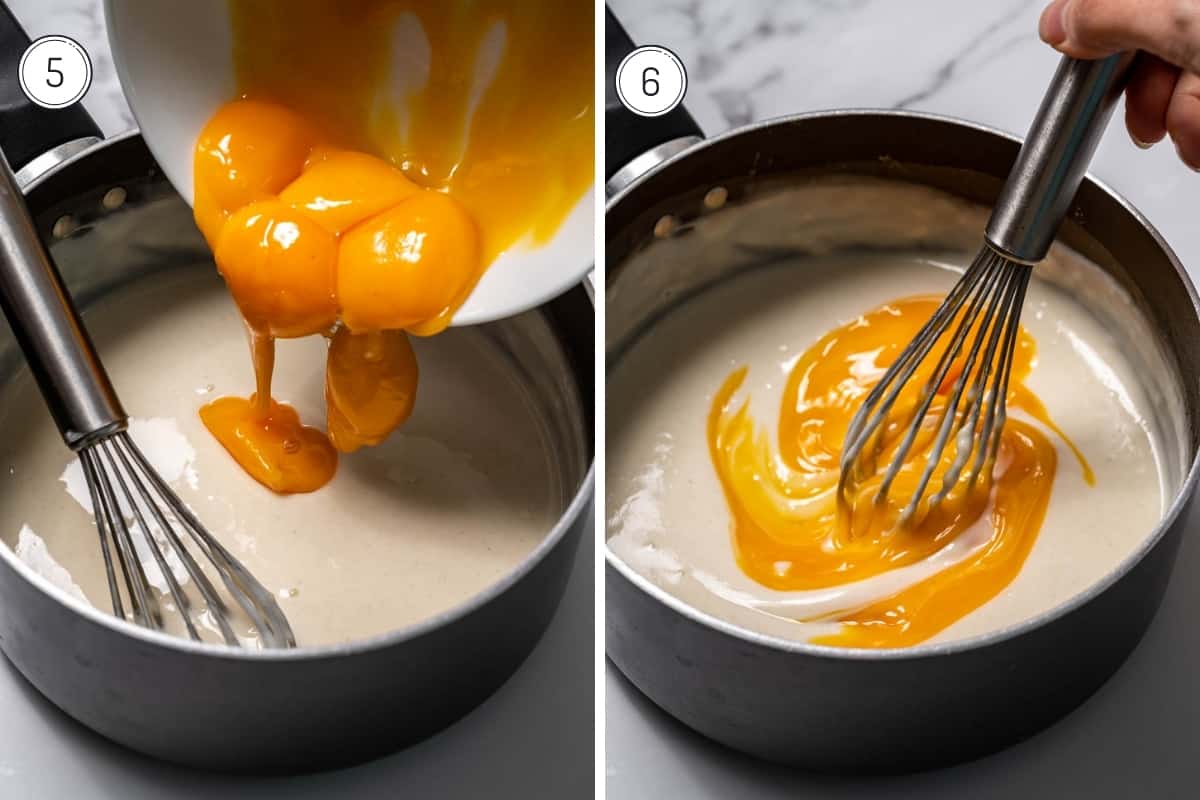 Steps 7-8: Remove the cinnamon stick from the sugar syrup and slowly add to the mixture. Then strain into a pouring cup.
Steps 9-10: Cut the puff pastry in half and place one half on top of the other. Then roll into a tight log (across the shorter side so you have a long log). Cut the log into 12 equal pieces (not pictured).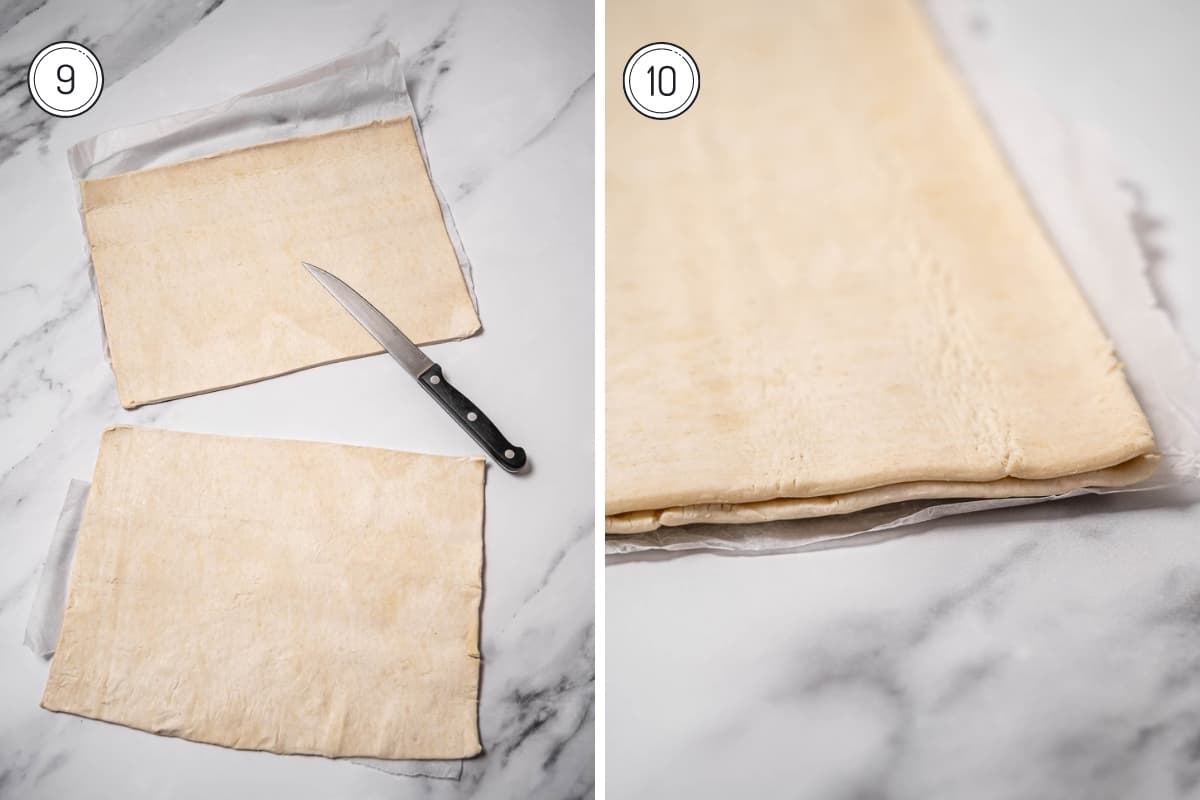 Steps 11-12: Now press each of the 12 pieces into a well greased muffin tin. You can wet your thumb with cold water to keep the dough cool enough. The dough should extend slightly past the edges of the tin.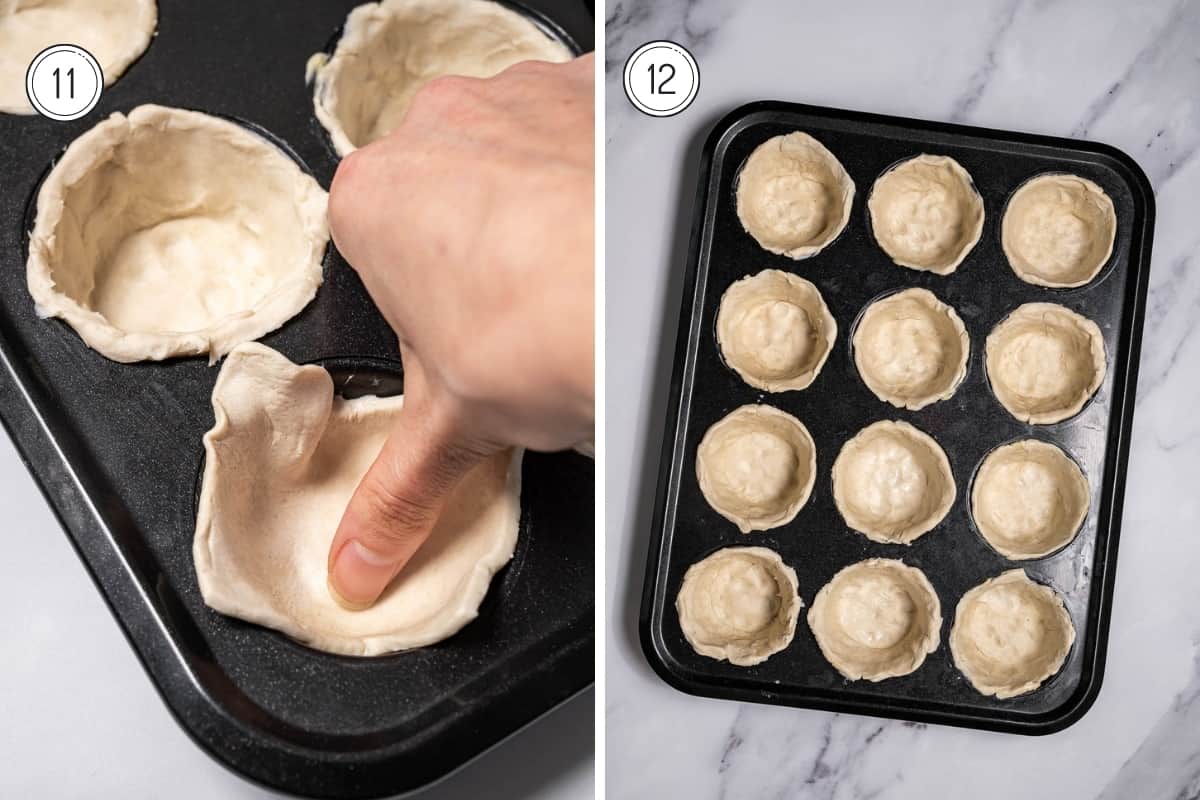 Steps 13-14: Fill each cup of dough ¾ of the way to the top with custard and bake at 550°F (290°C) (or the highest your oven goes) for about 10-12 minutes. You want the custard to brown and even blacken a bit on top -- this is a sign of a true pastel de nata!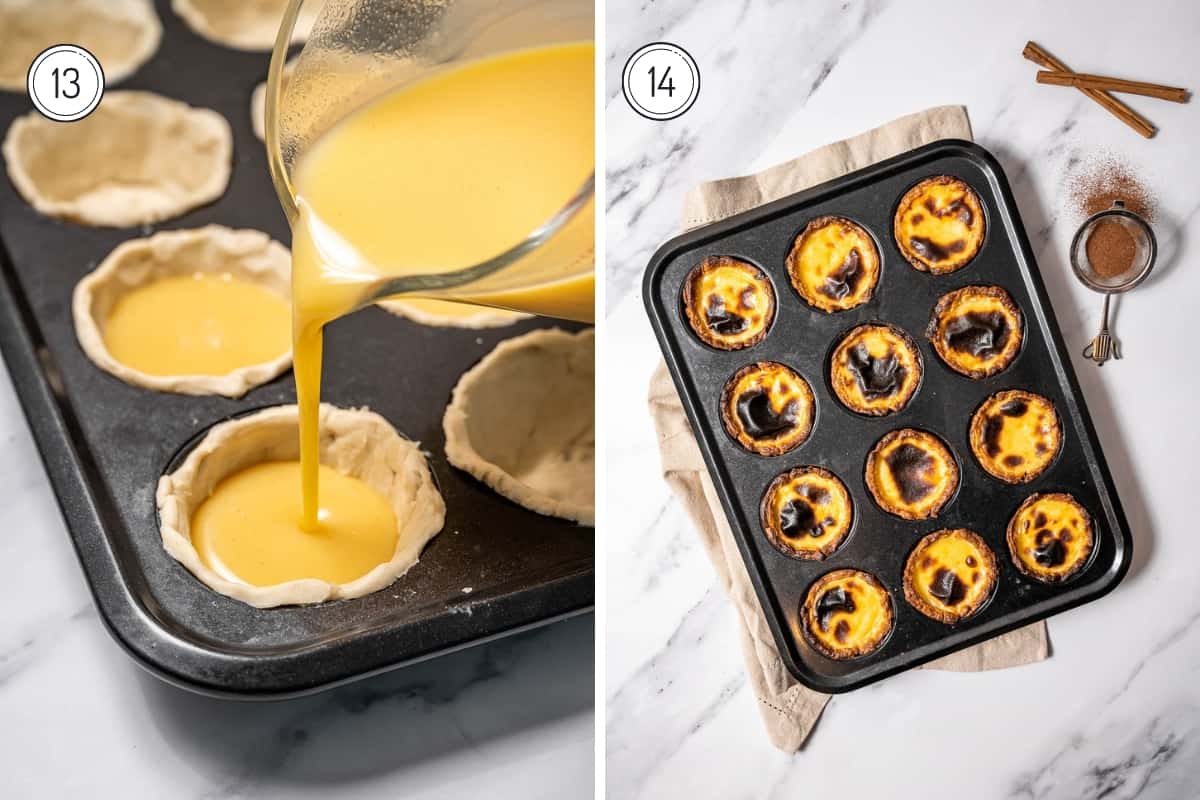 Recipe Tips & FAQs
Can I freeze a pastel de nata?
While you can freeze pasteis de nata, these Portuguese custard tarts are much better when eaten immediately. If you must freeze them, use them within one month and let them come to room temperature before you pop them in a hot oven (400°F/200°C) for a minute or two.
How long do Portuguese custard tarts stay fresh?
These pasteis de nata will last up to five days. But the dough loses its distinctive crispy texture pretty quickly. Even on day two you'll notice a difference. I recommend making small batches to enjoy within a day or two.
How do I store pasteis de nata?
Keep them out on the counter the day you make them, and if there are still leftovers you can store in the fridge. But make sure they come to room temperature before enjoying the next day (or feel free to pop into the oven for a quick warm up).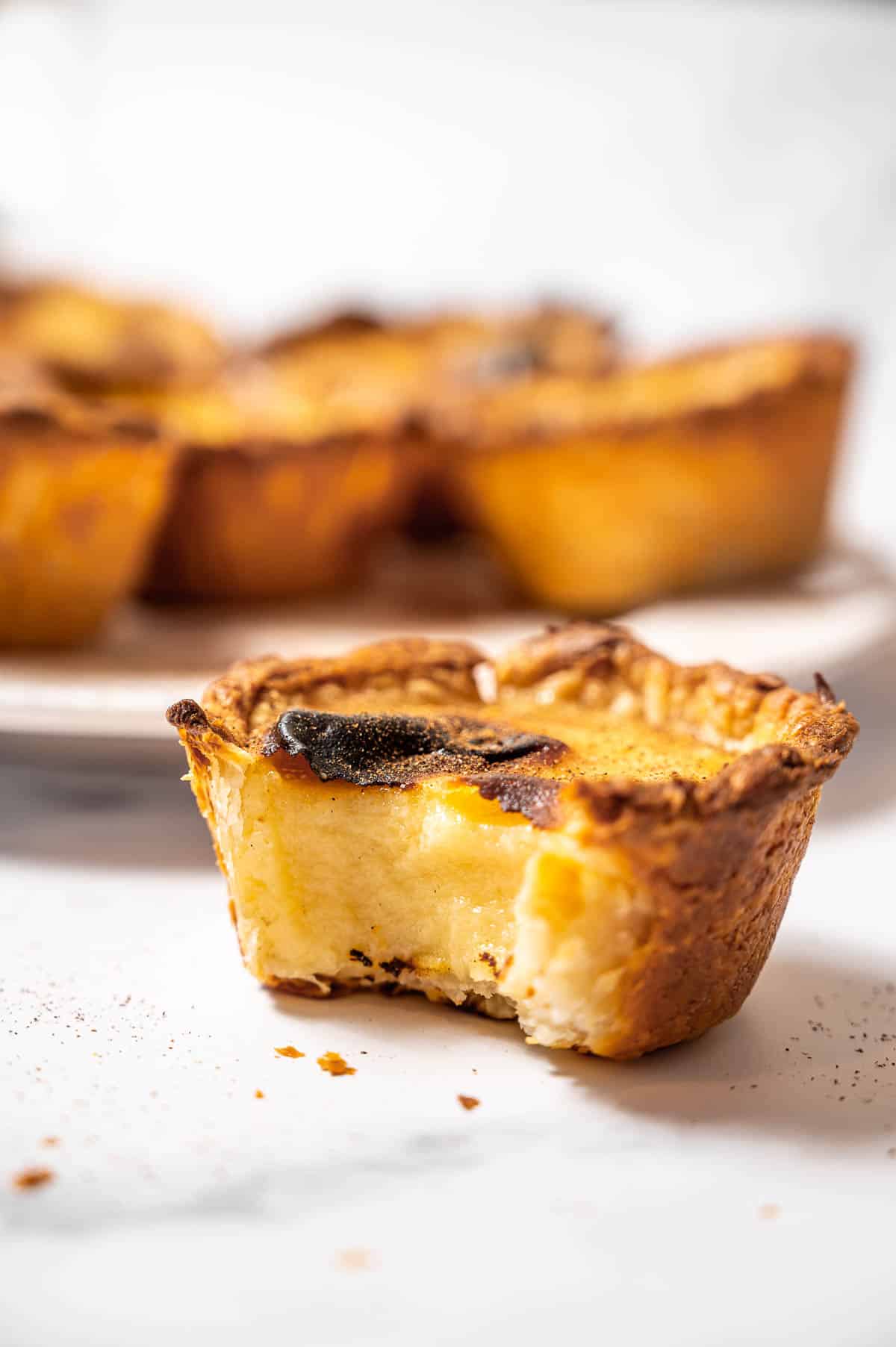 Serving Suggestions
A custard tart is perfect any time of day -- breakfast, snack, dessert... but always with a cup of coffee! I love it with a "bica" (espresso) but many of my friends go for a café con leche (or café com leite should I say!).
More Portuguese Recipes
Yes... this is a (mostly) Spanish food blog! But I have spent lots of time in our neighboring country and LOVE Portuguese cuisine and culture. Here are some other Portuguese favorites on the blog!
Hungry for more? Sign up for my free weekly newsletter and receive a new Spanish recipe once a week! Join today and get my FREE Spanish ingredient essentials guide!
Pasteis de Nata (Portuguese Custard Tarts)
These Portuguese custard tarts are dangerously delicious! The famous pasteis de nata come from a small monastery outside of Lisbon, but this recipe gets you as close to the authentic original as possible.
Print (images optional)
Pin
Rate
Ingredients
⅓

cup

all-purpose flour

(40 g)

¼

teaspoon

salt

1 ½

cups

of whole milk

(350 ml)

1 ⅓

cups

white sugar

(265 g)

⅓

cup

water

(80 ml)

6

large egg yolks

1

teaspoon

vanilla extract

(5 ml)

1

cinnamon stick

1

lemon

peel only, cut into strips

1

sheet pre-rolled puff pastry

(about 300g or 10 oz)

Optional ground cinnamon for dusting on top
Instructions
Preheat your oven to 550°F (290°C), and lightly grease a 12-cup muffin tin.

In a saucepan, bring to a boil the sugar, water, vanilla extract, lemon zest, and cinnamon stick. Cook until a thermometer reads a temperature of 220°F (100°C). Resist the urge to stir!

Separately, whisk the milk, flour, and salt together very thoroughly. Cook over medium heat, whisking constantly, for about 5 minutes or until well combined and the milk is thickened. Take off the heat and let cool for 10 minutes.

Once cooled, whisk in the egg yolks. Then add the sugar syrup (first removing the cinnamon stick), and mix until everything is well-combined. Strain into a measuring jug.

Meanwhile, cut the puff pastry sheet into two pieces and place them on top of each other. Tightly roll the sheets into a log, from the short side. Next, cut the log into 12 evenly sized pieces.

Place one piece in each of the 12 wells of the muffin tin. Dipping your thumb in cold water first, press your thumb down into the center of the dough piece and press outwards to form a cup with the pastry. The pastry cup should have its top edge just above the top of the well of the muffin tin.

Fill each pastry cup ¾ of the way to the top with custard.

Put the tray in the oven and bake until the custard starts to caramelize and blister and the pastry goes golden brown (roughly 10-12 minutes).

Serve warm, with powdered sugar and ground cinnamon (both optional, but delicious)!
Nutrition
Calories:
260.71
kcal
|
Carbohydrates:
36.79
g
|
Protein:
4.32
g
|
Fat:
11.06
g
|
Saturated Fat:
3.37
g
|
Polyunsaturated Fat:
1.44
g
|
Monounsaturated Fat:
5.63
g
|
Cholesterol:
100.7
mg
|
Sodium:
116.54
mg
|
Potassium:
80.61
mg
|
Fiber:
0.8
g
|
Sugar:
24.2
g
|
Vitamin A:
182.23
IU
|
Vitamin C:
4.78
mg
|
Calcium:
54.35
mg
|
Iron:
1.02
mg
Update Notice: This post was originally published on June 25, 2019 and was updated with new text and photos on June 8, 2021.
Have you tried out my recipe for authentic pasteis de nata? Let me know if you got that blistered golden goodness that makes this pastel de nata recipe so good!
Photography by Giulia Verdinelli